25 Stunning Long Hairstyles For Black Women - 2023
Ana Campbell
Updated At 16 Aug 23
Looking for the best long haircuts for black women? If yes, we have got you covered!
Having the right hairstyle for you long hair is extremely important as it can transform your look completely. If you are confused and are looking for hair inspiration, do check out our guide as we list all the popular long hairstyles for black women. From curls, long box braids, stylish updo, marley twists to ponytails, we have covered all trending long black hairstyles. Lets begin!
25 Best Long Hairstyles For Black Women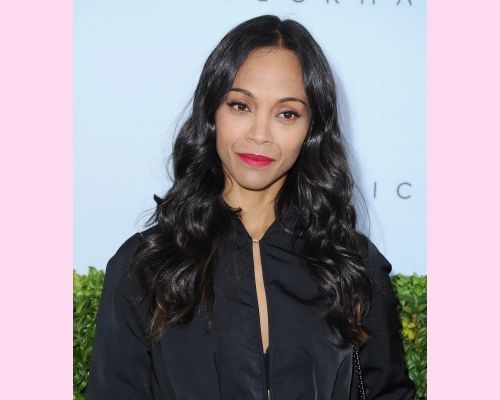 1. Face Framing Layers
Shorter hairstyle layers that are appropriately positioned across the face can assist draw attention to or soften your features. They are incredibly attractive, and the way the layers fall even works to elongate and shape your face.
Also check out our guide on haircuts for long hair to find out 50+ trending hairstyles. From layered haircut to curly wavy hair, we list all the popular ones trending this year.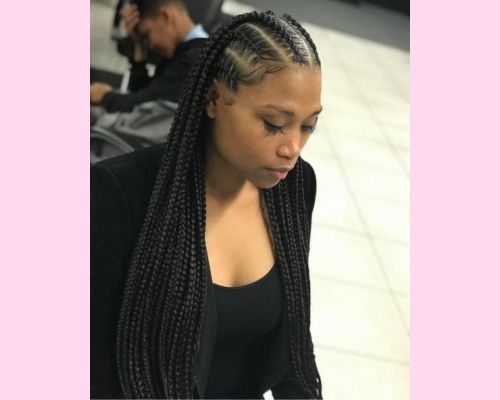 2. Cornrows For Long Hair
In order to create continuous, elevated rows of hair, the hair is braided very closely to the scalp in the classic style known as cornrows. As the name suggests, cornrows are frequently styled in simple, straight lines, but they can also be shaped into intricate geometric or curvilinear patterns.
Looking for more inspiration? Do check out our guide on Senegalese twist hairstyles as these trending haircuts can you a new look altogether. We cover 50+ stunning options which have been trending this year.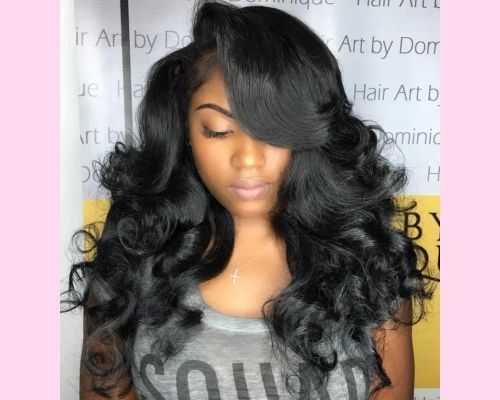 3. Bouncy Curls for Black Hair
This voluminous long hairstyle for black women can be opted if you have thick hair and is one of the best haircuts for long black hair. If you have thin hair and still want to opt for it, first give your base hair a simple layer cut and then opt for it to have prominent bouncy curls. One can also opt for a glueless lace front wig in case hair densi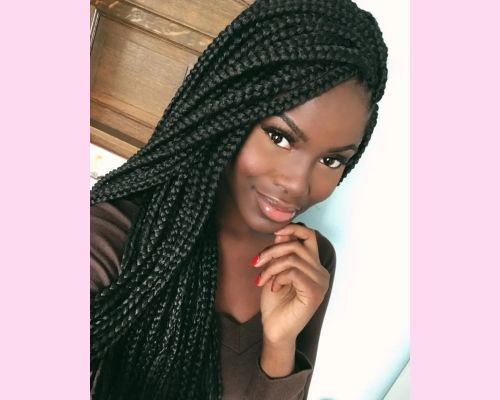 4. Long Box Braids
Box braids are among the most popular protective long hairstyle for black women and is one of the best haircut for long black hair. The appearance lasts at least two months, needs little maintenance, and is always in style regardless of your age.
Check out our guide to find the best braids hairstyles as we list 55+ stunning options which can help you in transforming your hair. From long box braids to briads with beads, we cover all the popular options.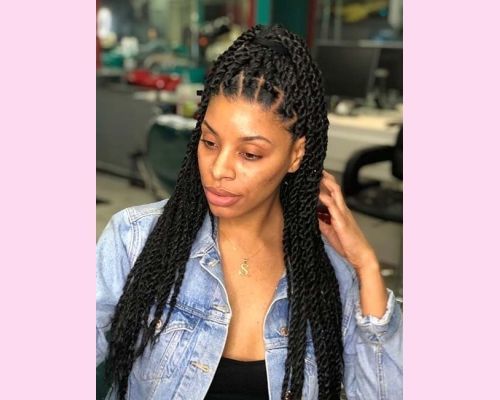 5. Long Marley Twists
Marley twists, which are among the best long hairstyles for black women similar to box braids, are perfect for women who want low maintenance. The type of hair used is the only variation, not including the braiding pattern.
If you like braids and have long hair, do check out our guide on box braids with beads as we cover 55+ gorgeous hairstyles which showcase amazing options for hair transformation. From long ponytail to beaded cornrows, we have covered all of them.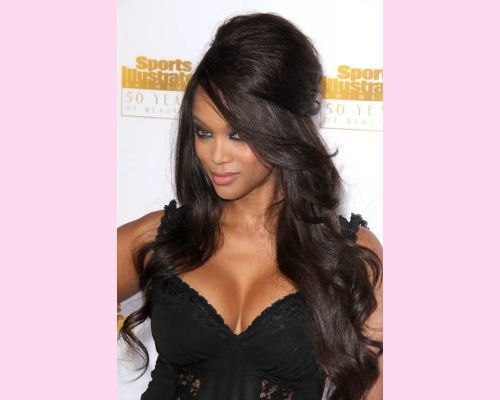 6. Long Hair With A Bouffant
An example of a puffy, round hairstyle is the bouffant, which has hair piled high on the head, frequently covering the ears or drooping on the sides. Makes your hair look thick, healthy and hydrated. Opt for a basic step cut or do basic fringes to get the best out of this haircut. Mostly for people having long thick hair. Short haired people should not opt for it.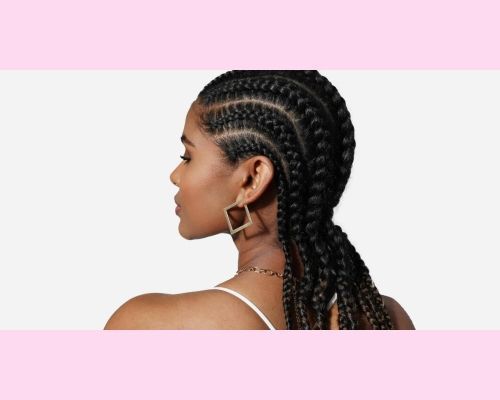 7. Chunky Cornrows
There is nothing new about cornrows in the black community. A hefty straight back style with a stop in the middle of the back characterises the modern flat braids, giving them a cool, edgy appearance is one of the best long hairstyle for black women.
Fulani braids provide another amazing option if you are looking for a different hairstyle. These look stunning and elegant at the same time and are apt for all occasions.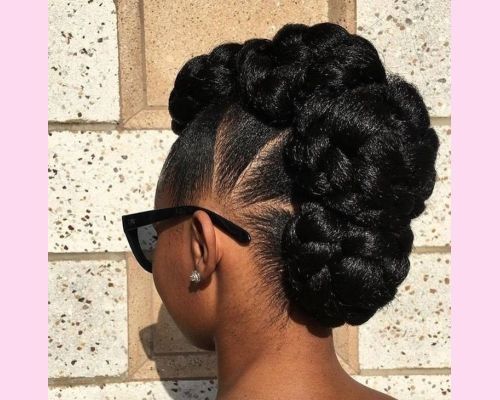 8. Simple And Stylish Updo
This hairstyle is a basic french braid with a low bun which is perfect for work and play. For getting this look you need to tie all your hair into two ponytails and then begin rolling the hair around itself towards your head (imagine rolling it around a roller). Then try to tuck the top of the bottom between our two topsy tail.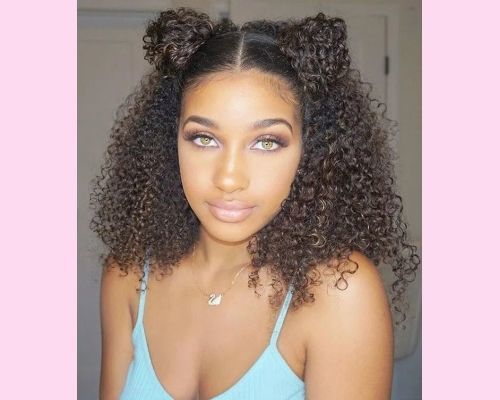 9. Flower Child Weave
The single "hive" sewed in weave is not for you if you desire the flexibility of wearing your hair in a variety of ponytails, updos, or buns like those pictured. The style is essentially fixed for a month or more due to the tracks and the manner your hair is braided and is among the most famous long hairstyle for black women.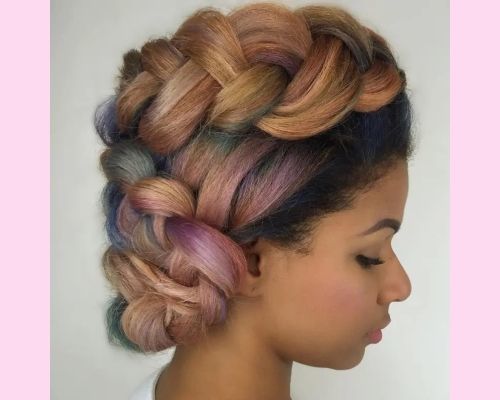 10. Rainbow Updo
Wearing weave styles allows you to produce almost anything without a lot of work or harm to your own hair, which is one of their best features. Your hairdresser can colour the bundles before your visit if you desire a bespoke colour job.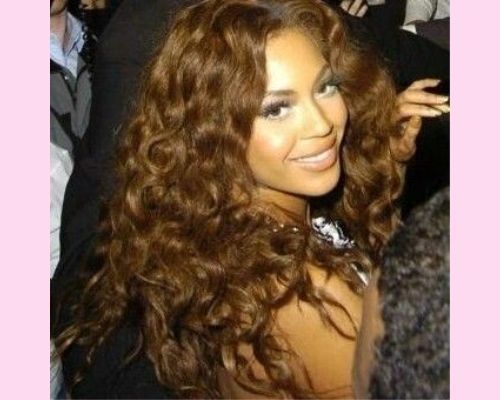 11. Long Golden Brown Curls
Long golden brown curls fit every face shape and give a classic look which looks fine with almost all kinds of outfits and is one of the finest long hairstyle for black women.
Check out our guide to finid the best options for black curly hair as we list 25 most popular haircuts which are trending this year. These cover options for all hair lengths and textures.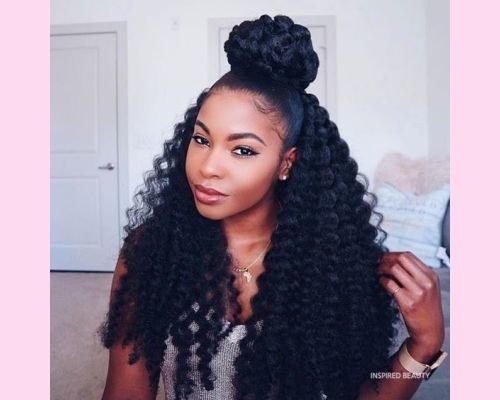 12. Messi Half updo
A simple and stylish hairstyle for relaxed hair or a sew-in is a messy half-updo. The best hairstyles are half-updos because they let you draw your hair back without exposing any braided pieces on the outside which is a common long hairstyle for black women.
Check out our guide on cornrow braids ponytail to find out 25+ amazing hairstyle options which have gone viral this year.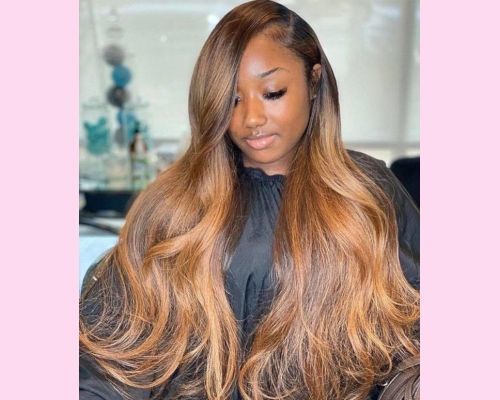 13. Weave With Ombre
This long hairstyle for black women is executed with the help of an angled brush. Mostly for women with long straight thick hair. People having thin hair can also opt for it. You can do a basic layer cut and then opt for this which would give it an extra edge. A subtle gradual fade of the hair colour from black at the roots to lighter towards the hair tips.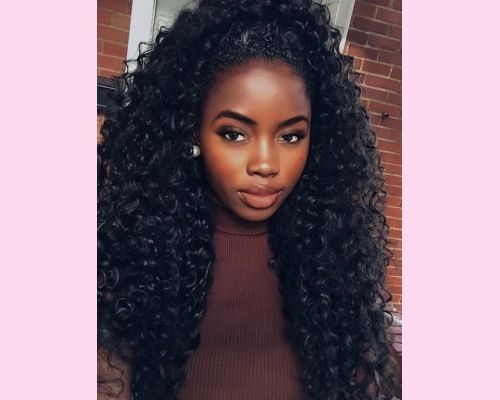 14. High Half Ponytail With Weave
Blending is the secret to lengthy weave hairdo success. Your natural hair will not look authentic if the extensions do not match your natural hair. To integrate this any edges or hair that was missed when the tracks were placed, use gel or a flat iron.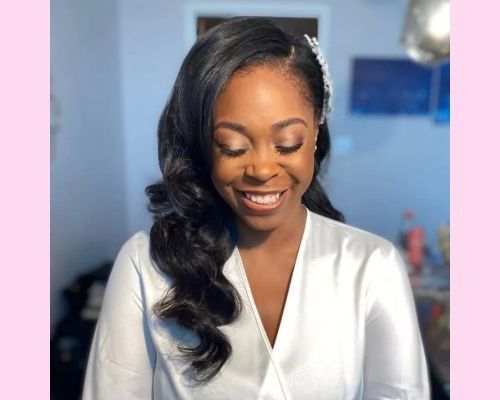 15. Side Swept Cascading Waves
This weaved hairstyle shows off the magnificent cascades of soft dark brown, black, and blonde waves enveloping the facial structure by sweeping the weave to one side.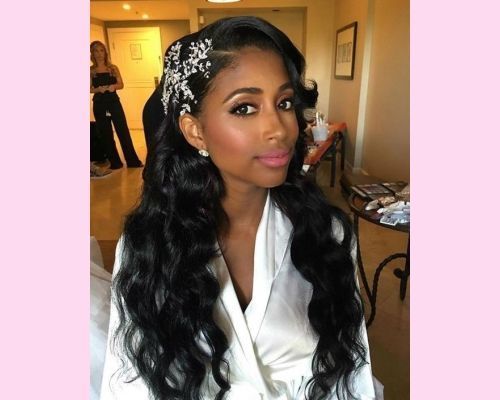 16. Simple Long Hairstyle For Black Women
A simple hairstyle with light waves which are swept forward, symmetrically split at the roots and teased slightly would be prefect for a special occasion.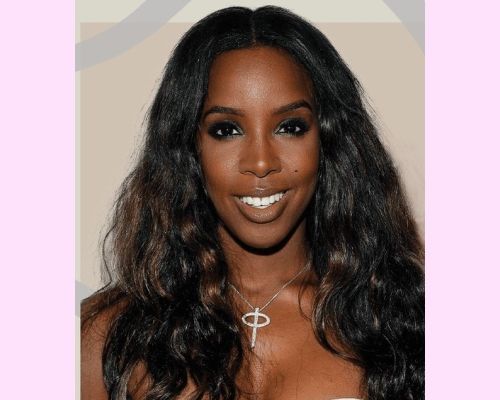 17. Classy Hollywood Locks
The stylish appearance of the clean, big locks curled away from the face is enhanced by the depth impression provided by the medium brown tint, which softens the dark base colour.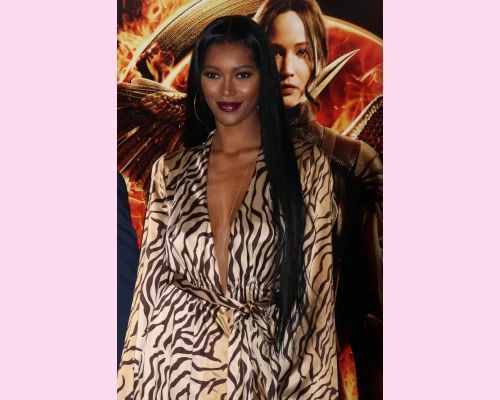 18. Straight And Sleek
The strongest features of this hairstyle are the optimum sleekness and subtle lift at the roots. And this is one of the most preferred hairstyles among women.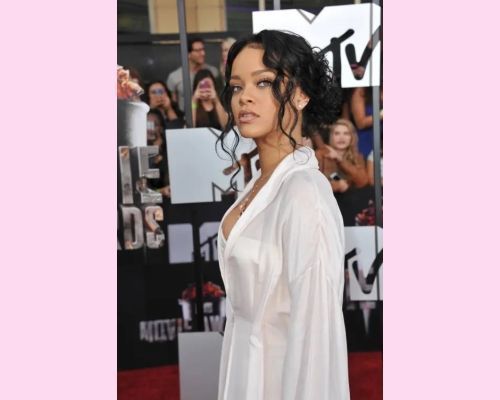 19. Low Curly Knot
A low, unkempt knot and adorable waves frame the face. It resembles the hair you style before entering the shower and is the simple, seductive updo.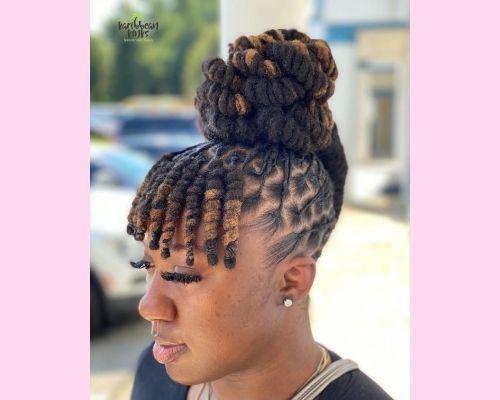 20. Braids and Dreads
This combination of Dreads and cornrows can result in some very creative solutions.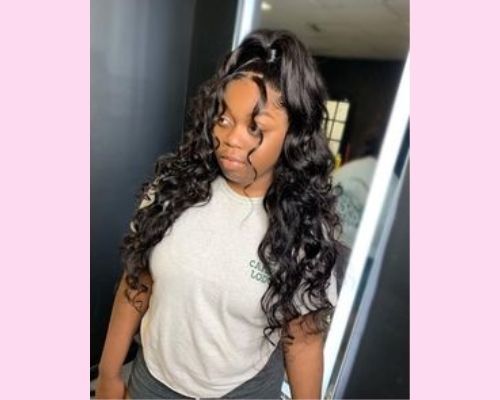 21. Pretty Ponytail With Bangs
It is kind of like a medium to high updo with a ponytail to mainly preserve curls. You can think of it as an incredibly high ponytail with locks.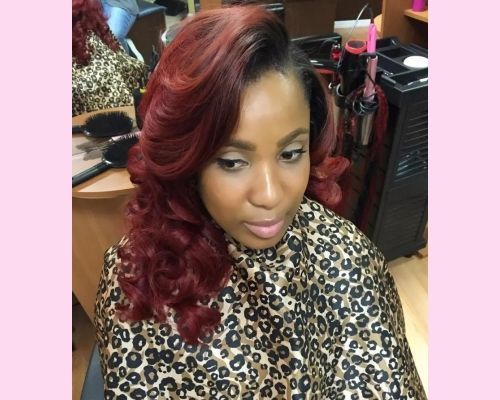 22. Burgundy Weave
Over the course of a month or so, a sewn-in weave will expand by about an inch. Because of this, it is advisable to leave the roots dark to better match with your new growth if you have colour in your style. This look is a terrific choice for African-American women who wish to experiment with new hairstyles without making a commitment, despite the care.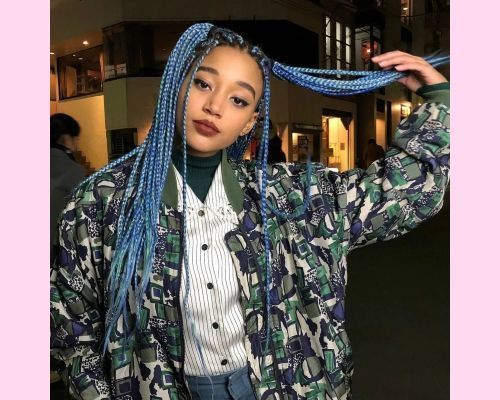 23. Protective Style Locks
They can be as basic as twists or braids or more complex like weaves, box braids, or crochet braids. They can be used to curls to shield them from the rigours of regular style and/or bad weather (heat in the summer and cold in the winter)
Over the course of three to four weeks, protective styled locks are worn. However, if they are kept in for too long, the hair may become matted or suffer from product buildup at the roots.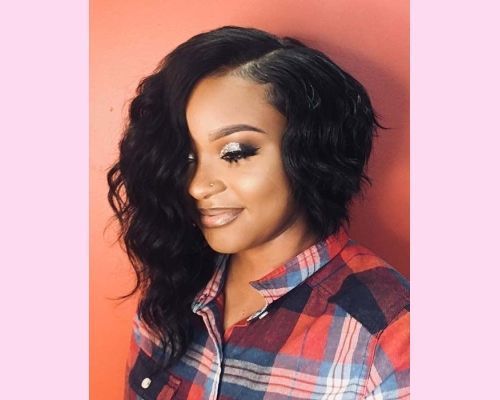 24. Asymmetrical Long Cut
Try an asymmetrical haircut instead of the conventional one, which entails cutting your hair shorter on one side and leaving the other side of it longer at an angle. Asymmetrical hairstyles give cuts an undeniably hip element.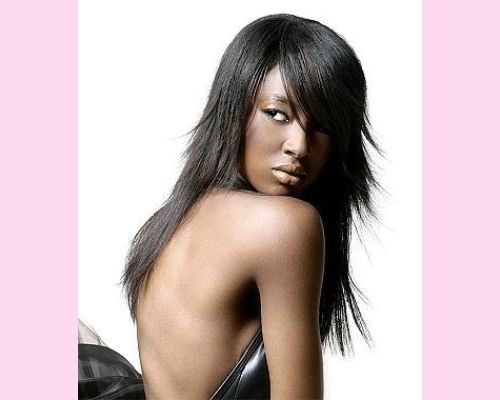 25. Razor Cut And Colour
Popular today, these choppy cuts with wispy bangs are typically used to highlight the eyes. There are numerous variations in hair lengths. You can maintain the layers clipped with a razor comb at home, making it a perfect cut to keep.