25 Cornrow Hairstyles With Natural Hair (With Photos)
Ankita Ghoshal
Updated At 01 Aug 23
Are you tired of your hairstyle but don't want to go for a cut yet? Do you go gaga over trendy hairstyles but you dread the idea of colouring your locks? Well, we have got the perfect solution for you- cornrows hairstyles with natural hair! Cornrows never seem to go out of style and they are the coolest hair trends in 2023. With their origins in Caribbean and African regions, these super amazing braids are loved by people across the globe. Cornrows are not just easy to make and jazz up your look, they are very low maintenance as well. No wonder why hairstyle enthusiasts and beauty gurus can never seem to get enough of them.
If you want to spice things up in your hair department without breaking the bank, cornrows with natural hair are going to be your BFF this season. Here are some amazing long and small cornrows hairstyles with natural hair which are trending in 2023. We also cover cornrow with natural hair styles so check the entire list. Lets begin!
25 Best Cornrows Hairstyles With Natural Hair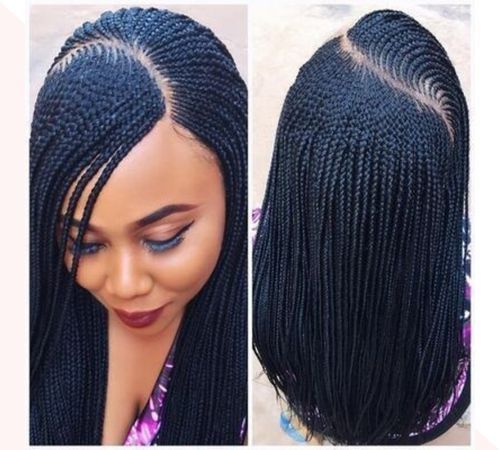 1. Layered Cornrow Hairstyle
If you have medium to long hair, going for the layered cornrow braid would be a great choice. It is one of those cornrows hairstyles with natural hair that look good with any outfit and on any occasion. Use a serum for that glossy effect on your braids and you are sorted. One of the best black hairstyles, layered cornrows can tranform your look completely.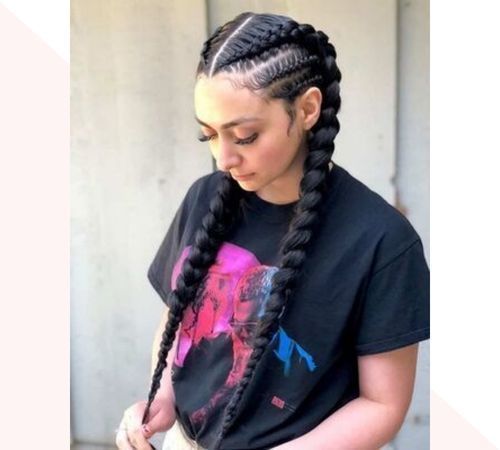 2. Pigtail Cornrows
If you want a hairstyle which is stylish and sporty at the same time, you must give pigtail cornrows a shot. It will not just keep your hair away from your face but will also frame and highlight your features. It is a great no-mess hairstyle that will look fabulous on everyone. If you are looking for cornrows with natural hair then this can be an excellent option. Also check for micro braids as these look amazing as well.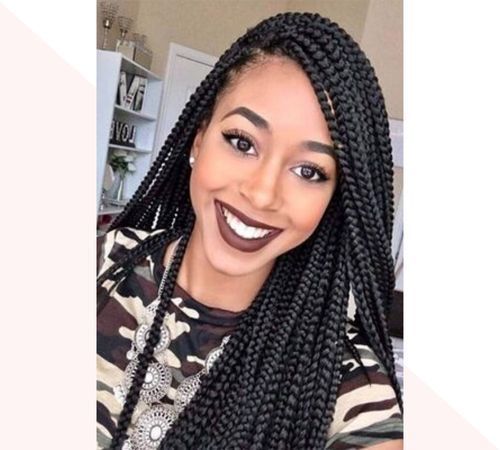 3. Classic Box Cornrows
Instagrammer's latest obsession is the classic box cornrow hairstyle and rightfully so. Although you will need a lot of time, patience and skilled hard work to turn your mane into this work of art, it is all going to be worth it. One of the top cornrow with natural hair styles, classic box cornrows hairstyle always works.
Check out our guide on braids hairstyles to find out 55 most popular box braids which have been trending this year.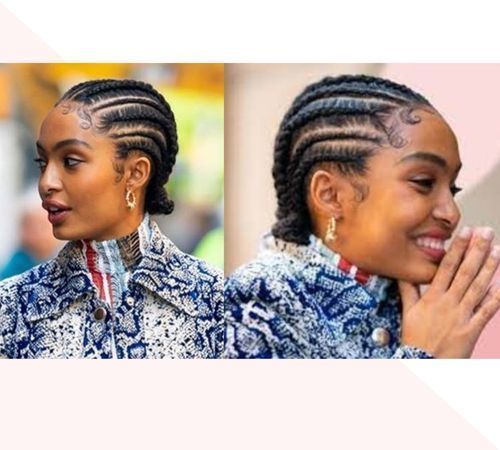 4. Cornrows with Slicked Baby Hair
Every once in a while, you must flaunt your baby hair unabashedly. For this stylish cornrow hairstyle, you need a hair gel to slick down your baby hair while you braid your long hair into the classic and oh-so-amazing cornrows. If you have short hair and are looking for cornrows for natural hair, then this can be the perfect option.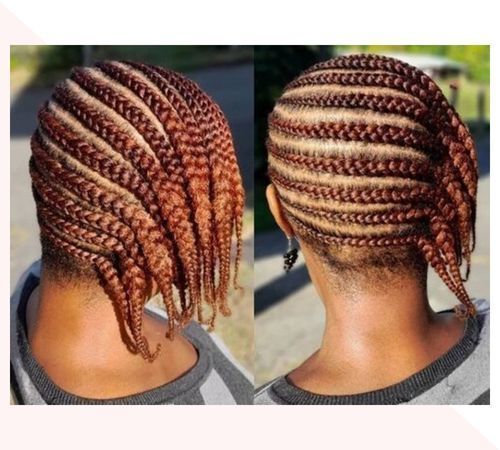 5. Lemonade Cornrow Braids
This is yet another trendy cornrow hairstyle that is killing it this year. Although these lemonade braids have been in the hairstyle culture for ages, it has gained fame in contemporary culture after Beyonce's iconic lemon cornrow look in her music album.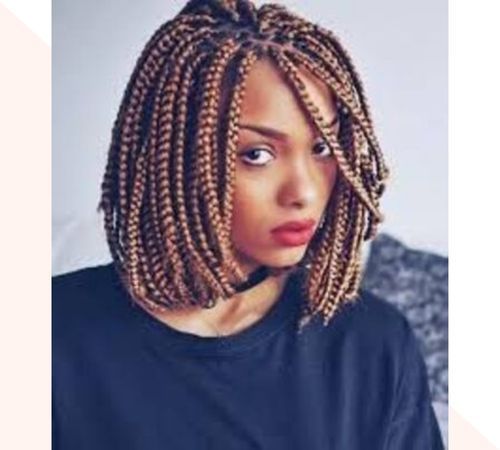 6. Bob Braids With Side Cornrows
If you are the old-school kinda chick and looking for small cornrows hairstyles with natural hair, this one is for you. The latest bob braids paired with side cornrows are inspired by the 90s and look incredible. It looks very sophisticated and you can even add a tinge of glam with little beads on your braids.
One of the best short hairstyles for black women, one can go with bob braids to transform the look completely.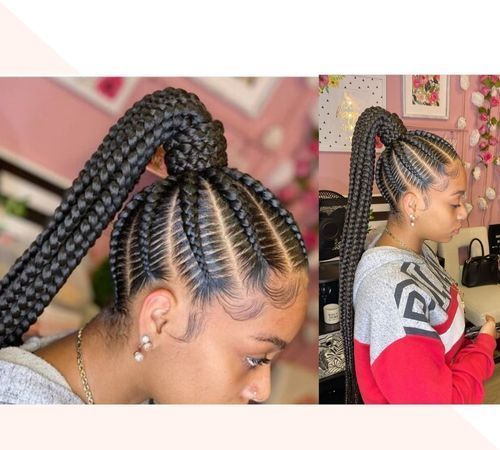 7. Cornrow Braid Ponytails
Cornrow braid ponytails are the perfect blend of youth and femininity. Their exquisite and intricate beauty is here to woo us all. This one is perfect for people with long or medium hair. What's more? This edgy hairstyle will not even damage or stress your hair and scalp. If you have long hair and if you are looking for cornrows with natural hair, then you have got one that will work for all occasions!
Check out our guide on cornrow braids ponytail as we list 25+ stunning options which are apt for a hair makeover.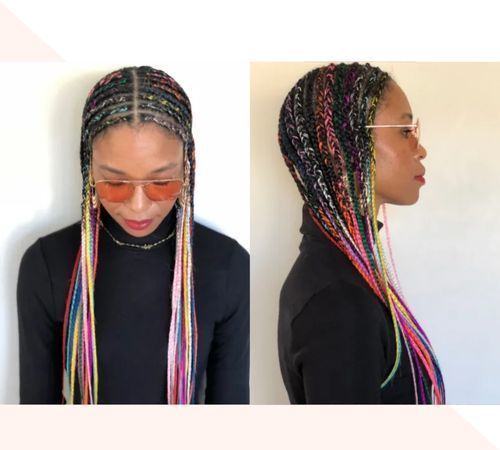 8. Rainbow Cornrows With Center Parting
You can never go wrong with a middle parting on your scalp. To turn it into an eye-catchy fashion statement, use hair braiding threads to achieve the most gorgeous cornrows. Make it a multi-coloured rainbow fest on your head with cornrows sectioned horizontally. You can also try kinky twist hairstyles if you are looking for a hair makeover as these look stunning and elegant.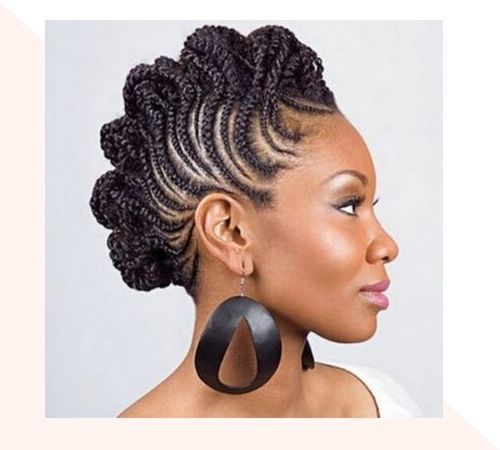 9. Mohawk Cornrow Hairstyle
Mohawk cornrows are the perfect choice for people up for experimenting with their hair. This hairstyle goes well with all sorts of hair textures and lengths. If you want to look different without going for a chop or colour, Mohawk cornrows are all that you need!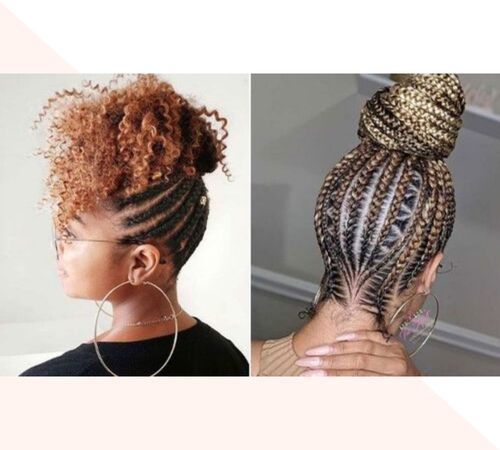 10. Full Braided Updo Hairstyle
One of the most stunning cornrows hairstyles with natural hair is the full braided updos that people love these days. Bring all your braids together in an extremely messy bun and let some hair strands stay loose. That is the perfect recipe for a an amazing hairstyle!
Check out our ultimate guide on fulani braids as we cover top 25 hairstyle options which include blonde braids, haircuts with beads, blue braids and many more.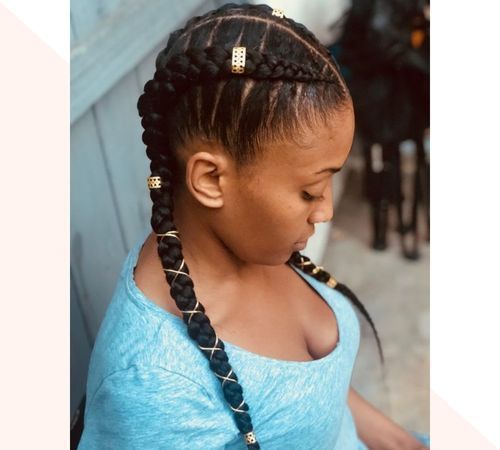 11. Golden Wires In Cornrows
If you love cornrow buns but are bored of the top knots, it's time to switch to a low bun and jazz it up a bit. Get your hands on golden wires and threads and intersperse them over and around your cornrow bun. This glam look idea is totally inspired by Bianca Lawson and you are going to love it.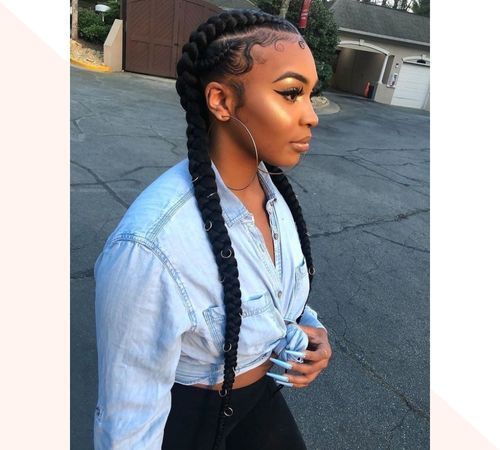 12. Two Cornrow Braids
If you are a sucker for hassle-free easy hairstyles, try the two cornrow braid style. It is not just attractive, classic and elegant but is also a supremely easy hairstyle to go for, especially if you are a beginner. It may not be one of those cute small cornrows hairstyles with natural hair but if you have a long mane, it will look amazing on you.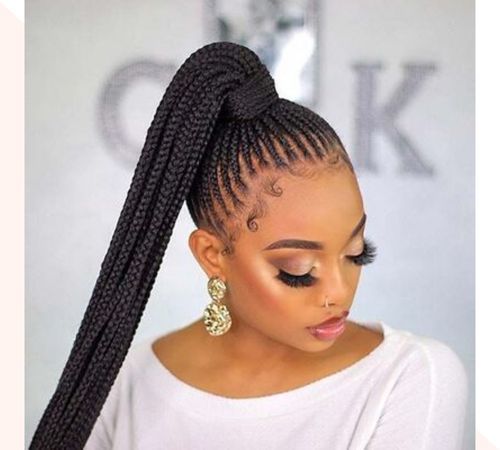 13. Classy Braided Ponytail
This one is not just a style statement but an everyday staple for many fashionistas. A long ponytail of cornrow braids is one of the most classic and elegant ways of doing your hair. Be it a party or a business meeting- this look will suit you on every occasion for sure.
Check out our guide on afro hairstyles to find out the best ones trending this year which include short afro hairstyles, defined curls, afro hair bun and many more.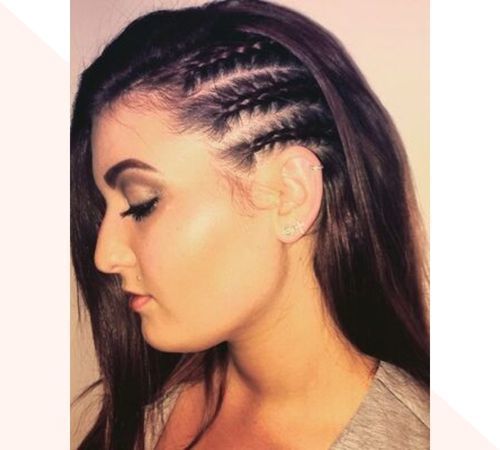 14. Cornrow Braids On The Side
Be it medium, long or small cornrows hairstyles with natural hair, the side braids are best for all. The loose hair coupled with sleek cornrows on the side is a look we are dying for this year. You can style it with all kinds of outfits and your hair texture would not be a problem in flaunting this gorgeous hairstyle.
15. Six Feed In Braids
If you want to go beyond the two or four cornrow braids, you will be impressed by the six cornrow braids. These long and straight-back braids look wonderful on people with voluminous hair. If you want a charming and modern look, you need to try this right away.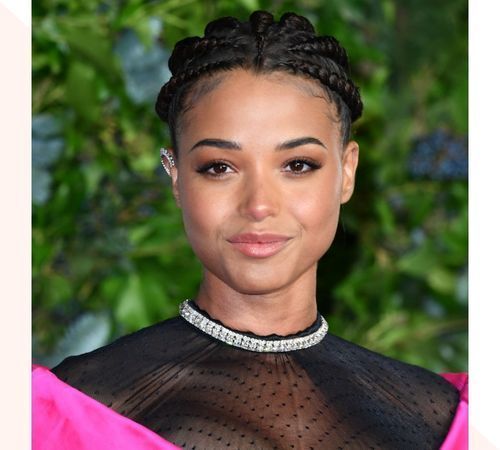 16. Sunbeam Cornrows
Add a little flare to your elegant slick-back look by going for this beautiful sunbeam cornrow hairstyle. This will resemble multi-dimensional cornrows, making you look like a total diva in no time. You can even style up your baby hair to make this look all the more glamorous.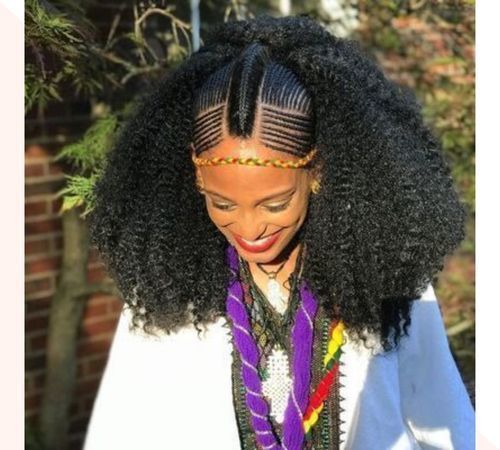 17. Albaso Cornrows
Also known as "shuruba", Albaso cornrows are one of the most famous cornrows hairstyles with natural hair. For this, cornrow down the front half of your hair in such a way that it resembles a crown. Let down the remaining hair to create the stunning half-up, half-down hairstyle.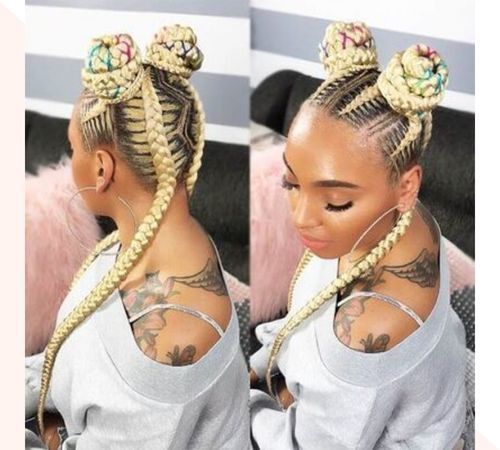 18. Half Up Cornrow Space Buns
One of the most incredible cornrows hairstyles with natural hair is the half-up buns that we are absolutely in love with. It is the perfect blend of convenience and style and would make for a regal look. For this, just neatly cornrow the front portion of your hair to ensure longevity, and braid the rest of the hair at the back. Bun-up two chunks of cornrows at the top of the head letting the other braids fall freely.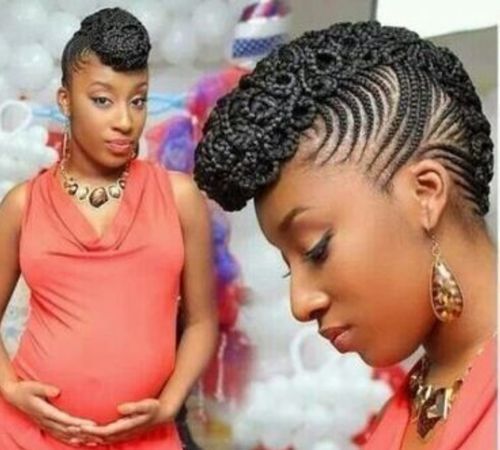 19. Fauxhawk Cornrows
There is no denying that fauxhawks look marvellous with cornrows. The braided parts look like shaved sections and take one at the top of their style game. If you or your pal is skilled enough, you may even experiment with different braid designs for adding your own twist to this beauty.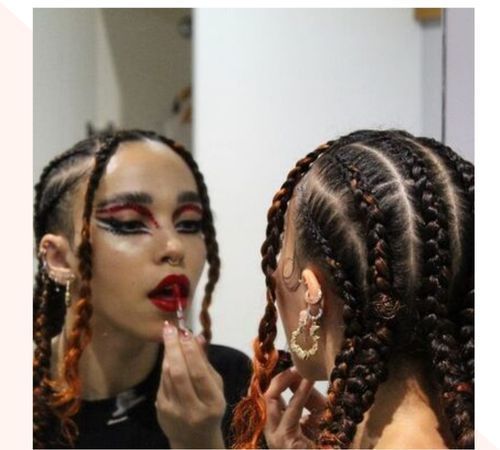 20. Face Framing Cornrows
Face framing cornrow fringes are all the rage these days. They are one of the most sought-after small cornrows hairstyles with natural hair. For adding that extra stylish oomph, let the ends remain loose. If your hair unravels easily and you want to secure the ends, use an elastic which matches the colour of your hair.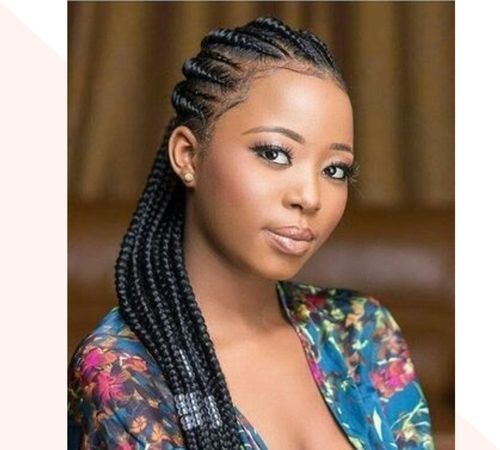 21. Alternating Thickness Cornrows
If you are up for experimenting with your hair texture, try this intermixing of jumbo, mini and regular-sized cornrows. It will not just make you stand out in a crowd but would also give an artistic touch to your overall getup.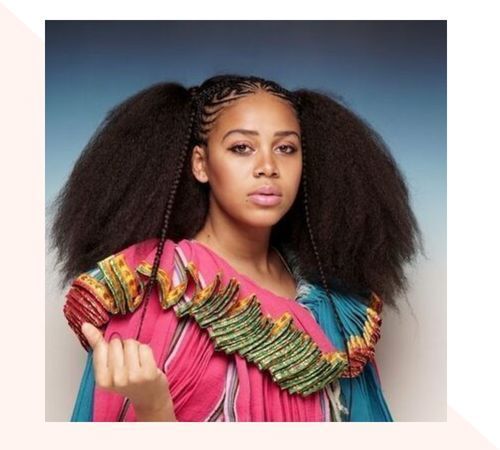 22. Half Cornrow Crowns
This hairstyle is a must try for people with thick, long hair. All you need to do is cornrow just the front part of your hair while leaving the rest in spiral curls. Connect your braids for making a crown and then just let them be for an attractive contrast.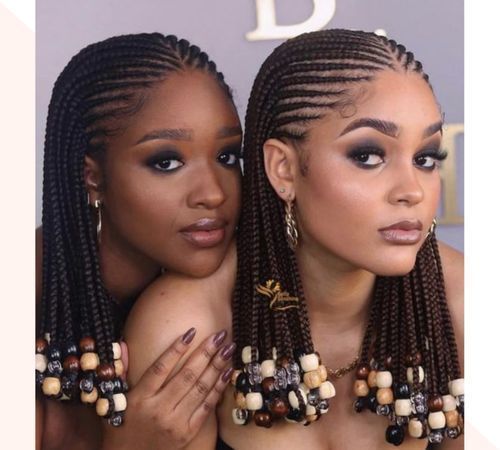 23. Beaded Cornrows
How can we talk about cornrows and not mention beads? Africans traditionally use accents like shells and beads to make their gorgeous cornrows even prettier. You can use beads on the ends of your braids or just put them up randomly- no matter what you do, you are all set to make heads turn.
Check out our guide on box braids with beads as we list 55+ stunning hairstyle options which include beads for all hair lengths, new haircuts, beads on braided updos, chic small box braids and many more.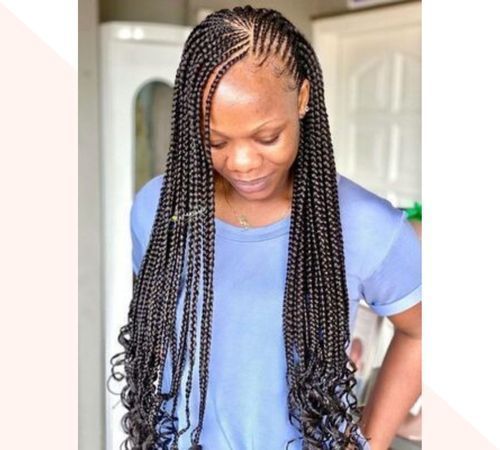 24. Half Box Braids And Half Cornrows Hairstyle
If you are up for a fusion, let the box braids mingle with the cornrows! Combine these two incredible styles to create unique braid patterns and shapes. You can even style them as per different themes and occasions to get into the vibe perfectly.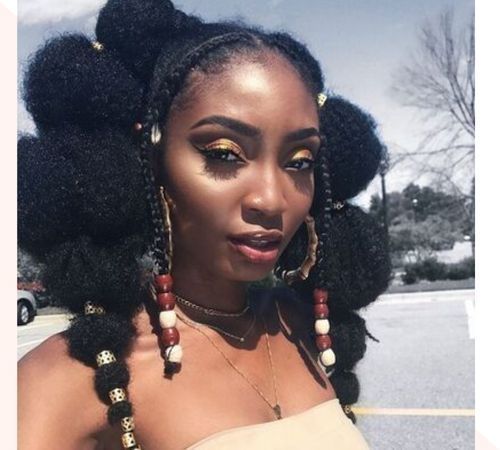 25. Accented Cornrow Style with Puffs
Afro puffs go incredibly well with cornrows, especially when you use bold accents like charms, beads, and threads to stand out in the crowd. You can even ditch the usual one braid and go for two cornrows for accentuating the look.
Now that you know some of the trendiest, easiest and our favourite cornrows hairstyles with natural hair, it's time for you to give your hair the makeover it truly deserves!