31 Stunning Mehndi Designs For Bride's Sister - 2023
Mohini Banerjee
Updated At 20 Sep 23
Mehndi holds a special meaning in weddings. They represent our best wishes and love towards the bride who's embarking on a very special journey. Weddings are a perfect occasion to get the henna on your hands. It's like a mandatory duty for every bride's sisters and bridesmaids to get mehndi on this special occasion. 
To make your search for beautiful bride sister mehndi design easier, we have put together a list of some of the stunning mehndi designs for you to recreate in 2023. 
31 Best Mehndi Designs For Bride's Sister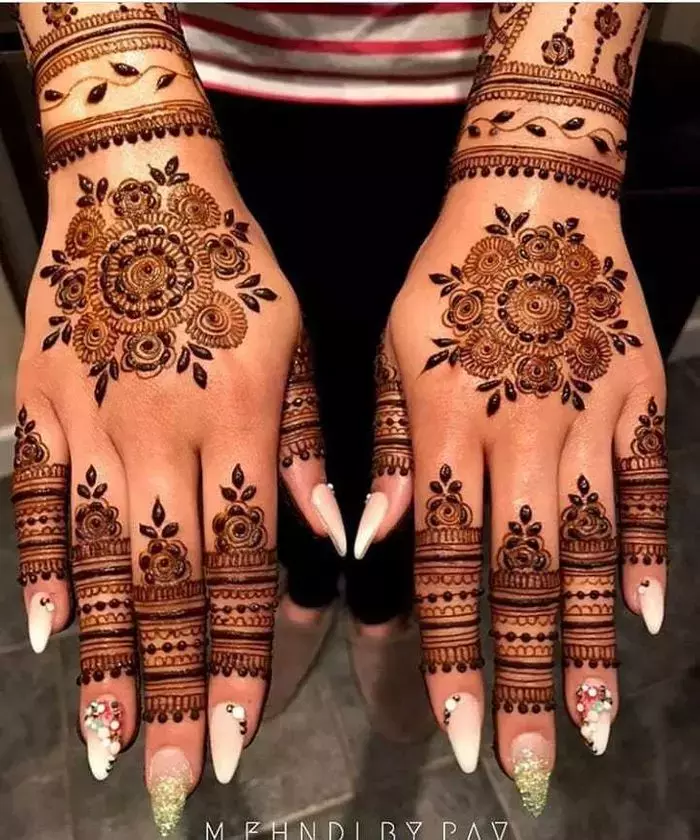 1. Back Hand Simple Mandala Design
This is one of the most liked and popular bride sister mehndi design. Instead of a big circle surrounded by a simple design, the henna artist created a small flower design and surrounded it with a bunch of flowers and leaves. This design is completed with some pretty patterns of the fingers making it simple yet eye-catching.
Also check out our guide on cone designs and we cover 50+ amazing designs which have been trending this year.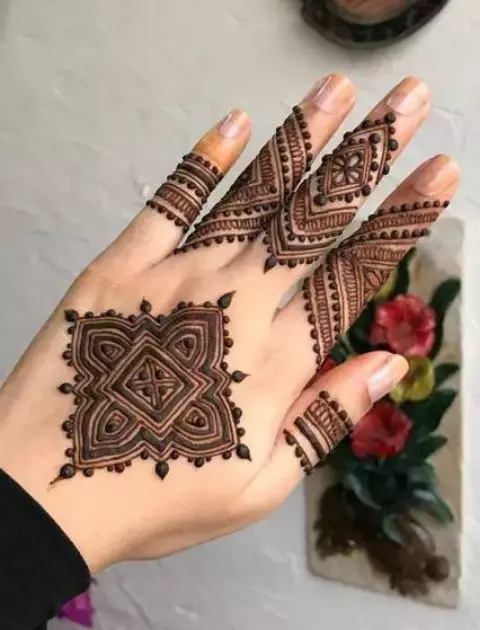 2. Tikki Mehndi Design
Why do classic mehndi designs for bridesmaids, when you can amp it up a little? This tikki mehndi design is very easy to create and would look absolutely stunning with a fresh coat of nail polish. The motifs drawn on the fingers add charms to the overall work.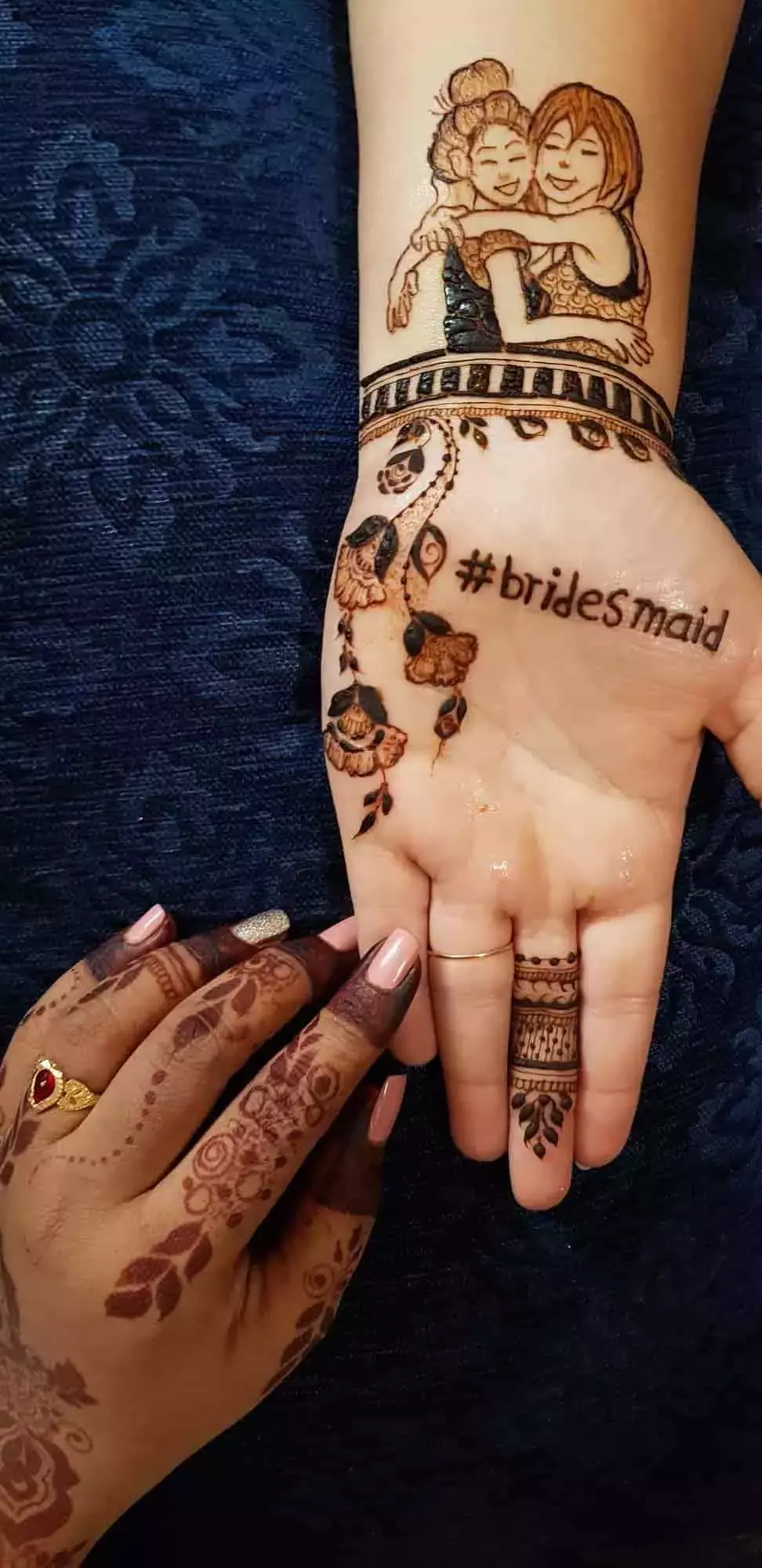 3. Bridesmaid Mehndi
For bride's sisters who are also part of the bridesmaid squad, this design is for you. Among all the wedding preparations, having mehndi made is one of the big responsibilities (at least we wish to believe). This wedding season get a special mehndi design dedicated to your sister to show her how much you'll miss her.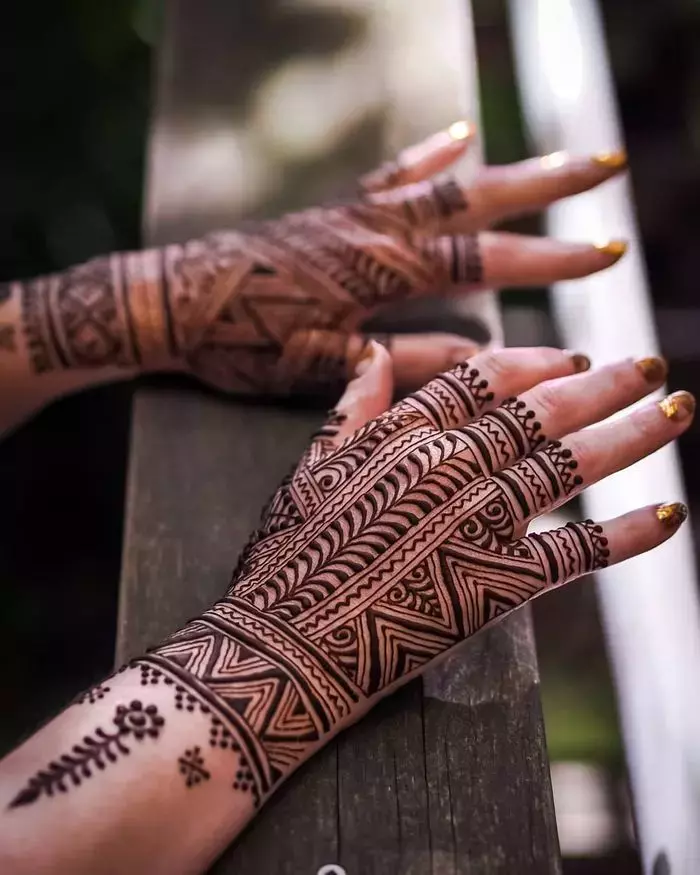 4. Modern Geometric Design For Bride's Sisters
This geometric design covering the back of your hand completely is a perfect blend of traditional and modern mehndi design. The fingers are not filled completely with henna, which makes it modern and elegant at the same time. This design would also look spectacular on the palms.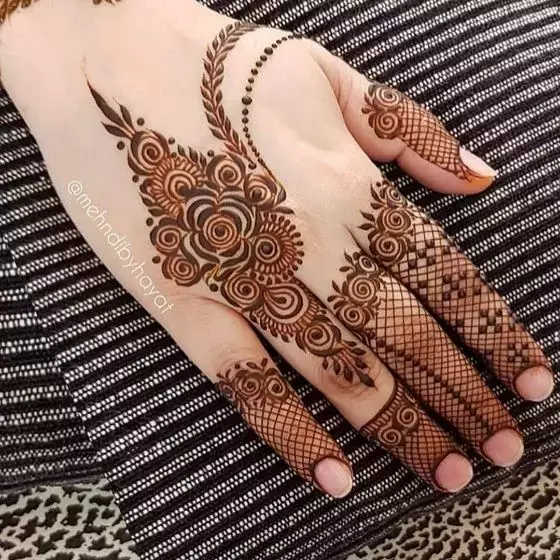 5. Elegant Bride Sister Mehndi Design
Sometimes filling the whole hand with mehndi feels too much to some.  And for such bride's sisters, this elegant mehndi design is ideal. It's simple, uses circular flowers, and is perfect if you are wearing full-sleeve dresses. The main element of this design is made while focusing it around the ring finger, hence it somewhat resembles a ring bracelet.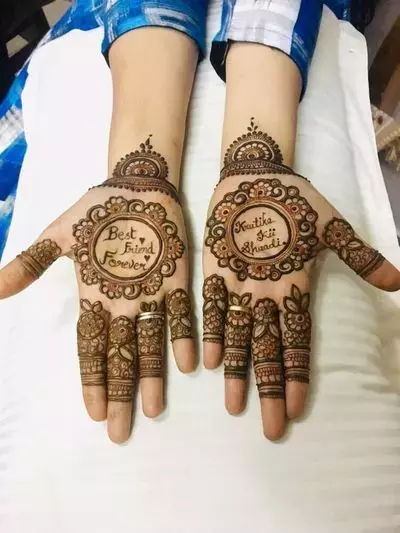 6. Best Friend Mehndi Design
A simple mandala design with best sister/best friend written in the middle would be one of our favorite mehndi designs for bridesmaids. You can even spice this design up by adding a sarcastic comment or advice. Well, everyone loves a fun element in the good old fashioned mehndi tradition.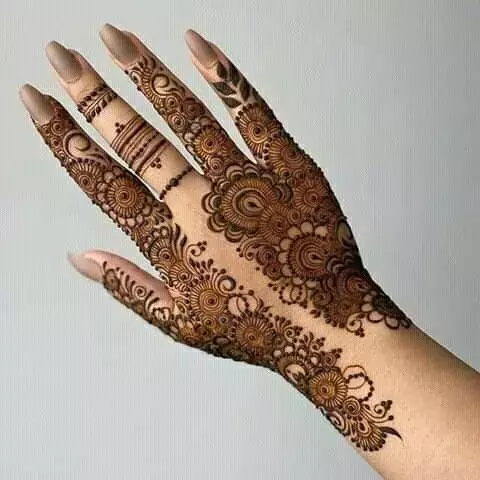 7. Flower Mehndi Design
A mehndi design filled with flowers is an absolute favorite of many. This design specifically leaves a middle space of the hand empty and look how it perfectly works out. The design is filled with a lot of detailed flowers and somehow they don't feel overcrowded.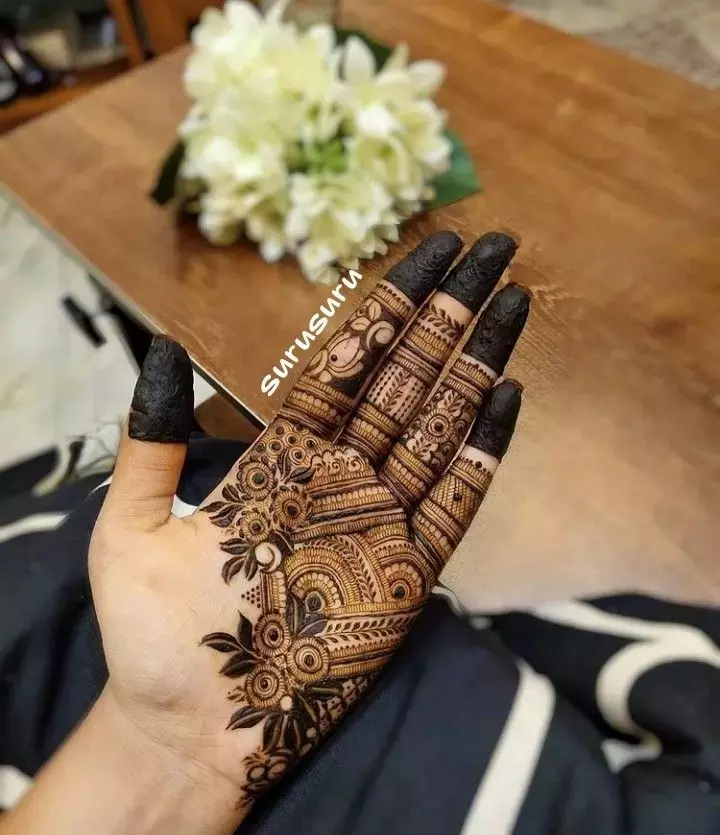 8. Half Palm Bride Sister Mehndi Design
If you want a mehndi design that doesn't look too crammed and at the same time not too simple because you're the bride's sister, then this design is for you. Intricate and beautiful patterns including stripes, flowers, motifs, and leaves are made on the upper hand and the rest of the hand is kept empty including the thumb.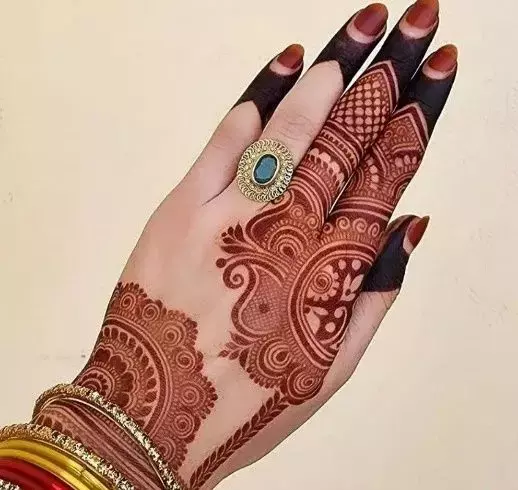 9. Mandala Based Bride's Sister Mehndi Design
This design is a creative take on mandala designs. Here, one-fourth of a mandala is created on the lower side of the hand and the rest of the design is focused around the first and middle fingers. What makes this design unique is the way the henna is filled around the fingertips.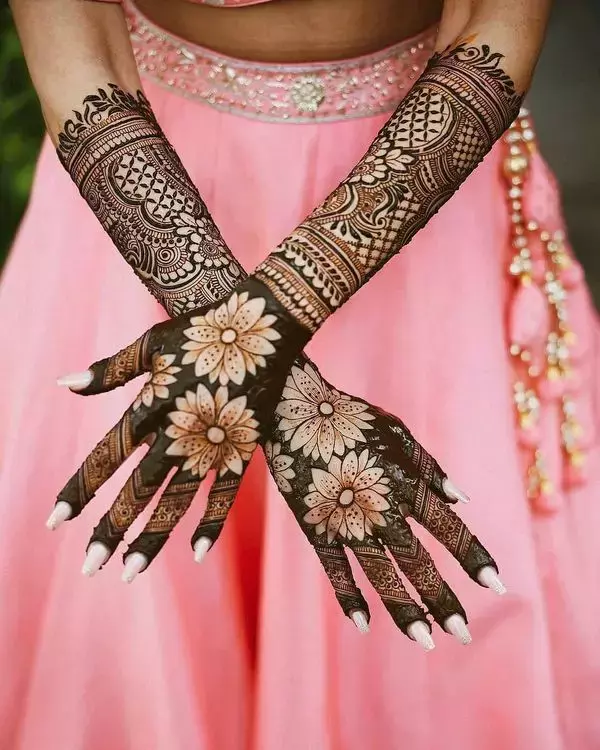 10. Big Flowers Mehndi Design
Big flowers are created on the back part of the hand and the rest is completely covered in henna. Beautiful patterns are created on the arms which is adding all the needed goodness to this bride sister henna design.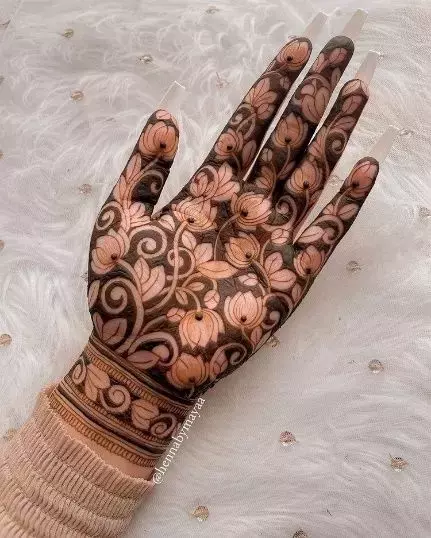 11. Lotus Covered Mehndi Designs For Bridesmaid
This unique mehndi design features lotus flowers all over the palms. This lotus inspired mehndi design is a must for all the flower loving bridesmaids out there. This design is a must try if you are not into traditional mehndi designs.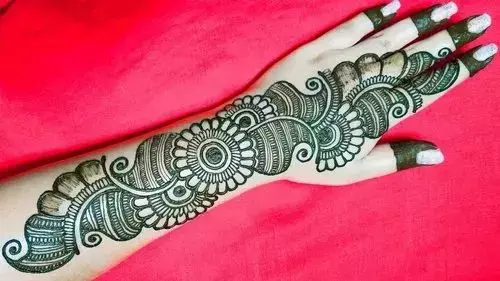 12. Arabic Mehndi Designs
For most of the girls, Arabic mehndi designs were their first encounter when it came to getting mehndi made for the first time. These are one of the most elegant and simple mehndi designs you can find. The Arabic mehndi designs mostly feature flowers and differently shaped paisleys.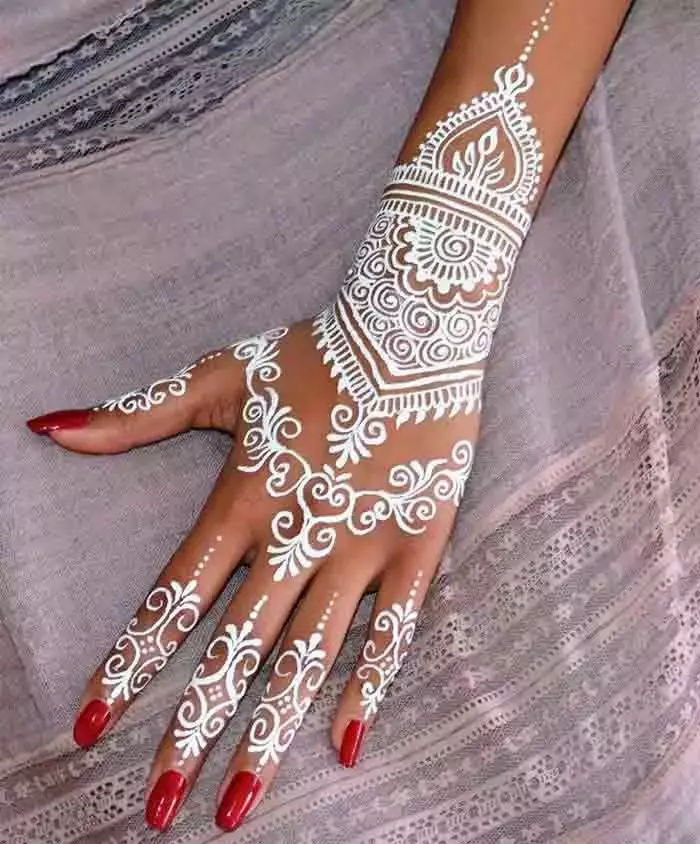 13. White Mehndi Designs
Red, brown, and black are the classic mehndi colors. White colored mehndi is not seen often but they are fun to look at. Selecting the right design that doesn't look overwhelming is the key here.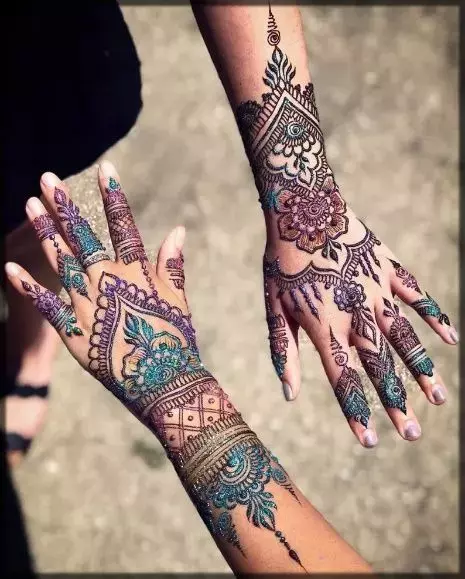 14. Colorful Mehndi Designs
Feel like ditching the traditional colors of mehndi and experimenting a little? Then colorful mehndi is what you should get. There are several ways you can incorporate colors in the bride sister henna design. Mehndi designs can be created using a mix of different colors or they can be mixed and matched with traditional brown henna.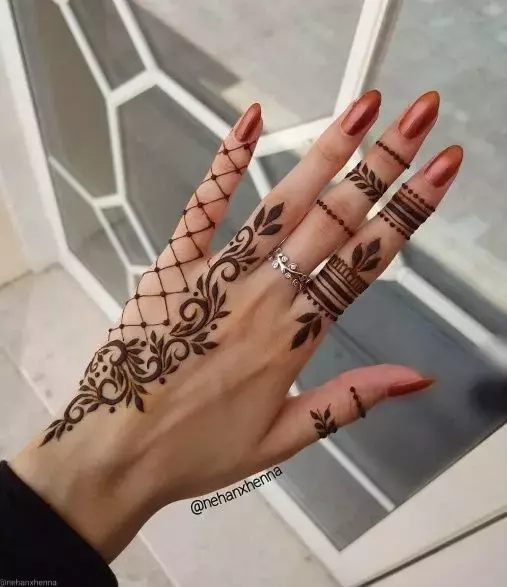 15. Minimalist Bride Sister Mehndi Designs
Minimalist mehndi design is one of the popular mehndi designs for 2023. These designs are extremely simple but very modern. These designs are created using simple elements and are perfect for attending engagement parties as bride's sisters.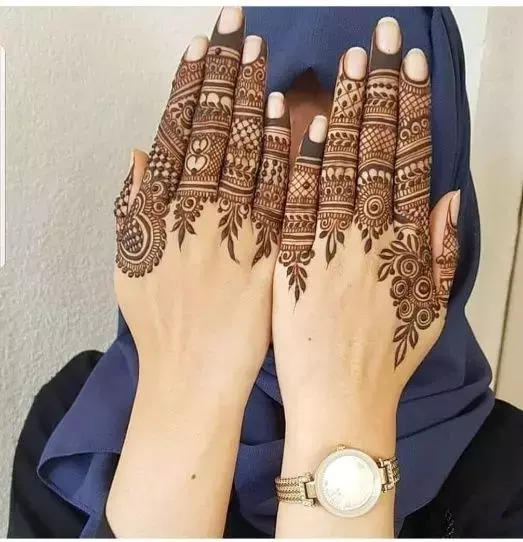 16. Finger Mehndi
This simplistic yet gorgeous mehndi design is ideal for the bride's sisters who don't want to spend too much time but still want a unique mehndi. The designs made on the fingers include a different element which makes it simple yet complicated.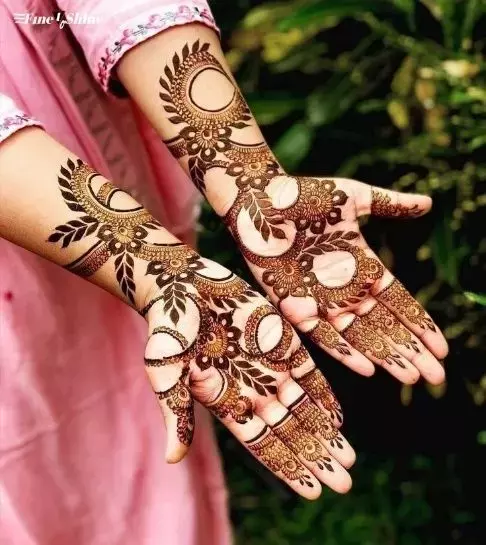 17. Overlapping Circles Mehndi Designs
This year ditch the boring mehndi designs and get this overlapping circles mehndi design for special occasions. The design is filled with a lot of circles, a few flowers, and tons of leaves. Overall, this eccentric mehndi design is the best way to get creative with mehndi.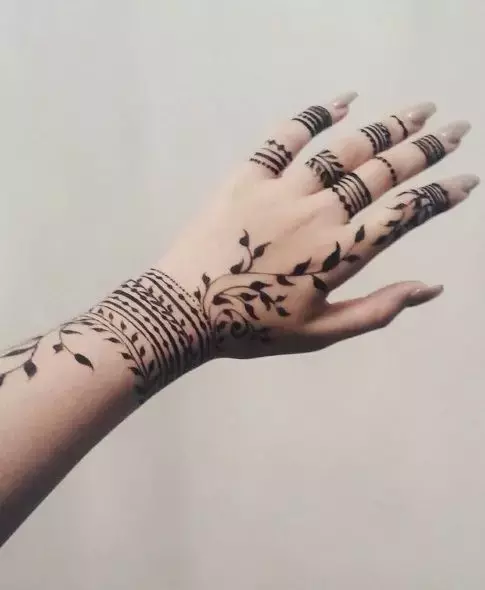 18. Minimal Mehndi
Almost everyone is loving the minimalist culture so why should our mehndi designs not match the vibe? This minimalist mehndi design is a must try for bridesmaids who like their mehndi simple and unique. There are no flowers or mandalas which makes this design extra special.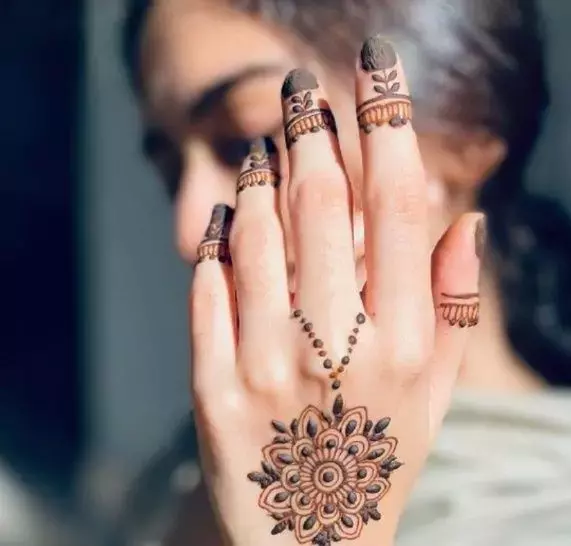 19. Keychain Mehndi Design
This is another simple mehndi design for bridesmaids to get this wedding season. This design looks like a keychain hanging from a finger and looks really beautiful. Moreover, this design can be tweaked by changing the design of the flower.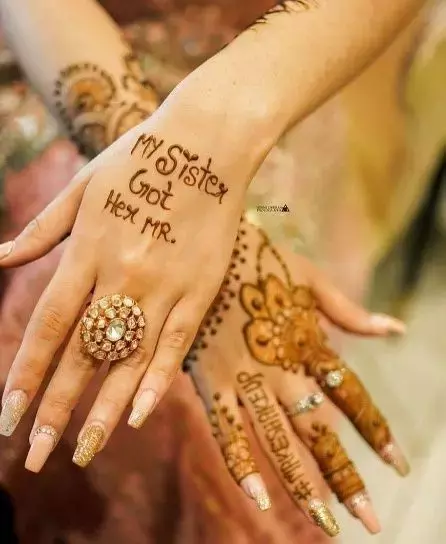 20. 'My Sister Got Her Mr.' Mehndi Design
Let everyone know that your sister has found her prince charming with this mehndi design. If bridesmaids only want mehndi in one hand but don't want the other hand to look completely empty, then get this design. This is a fun mehndi idea to recreate.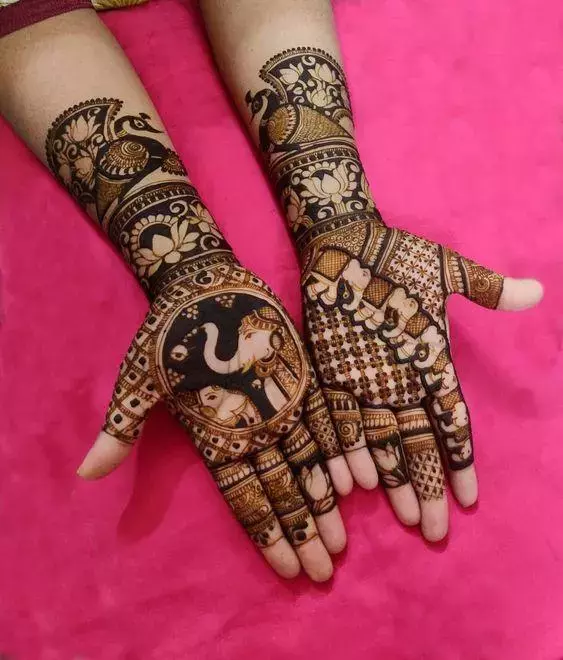 21. Elephant Inspired Mehndi Designs 
In 2023, let's take inspiration from elephants and add them to bride sister mehndi design. Elephants are royal and adorable, so who wouldn't like some cute little animals making their mehndi designs even more majestic?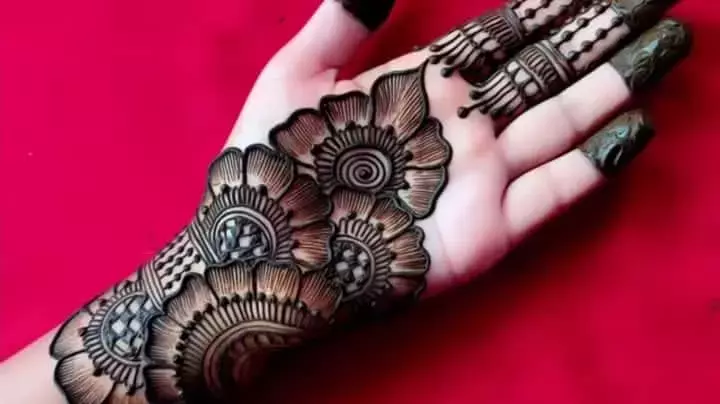 22. Big Heart Petal Flower Mehndi Designs 
Most flower centric mehndi designs use a plethora of tiny little flowers, but this design is different. This mehndi designs only majestic heart petal shaped big flowers. Since the designs use big flowers, it is easy to create and takes comparatively much less time.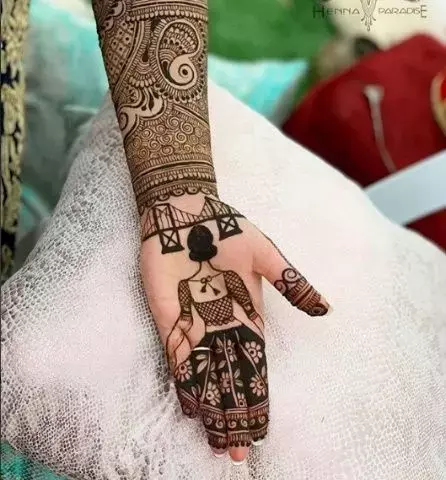 23. Mehndi Designs Featuring Bridesmaid
This mehndi design featuring the beautiful bride/bridesmaid is dreamy and a piece one cannot stop adoring. Especially, each silhouette of the lehenga aligns perfectly with each finger. Bridesmaids are invited to rock this chic mehndi design this wedding season.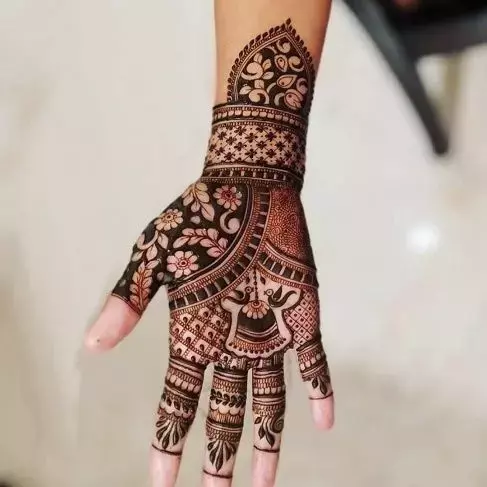 24. Full Hand Mehndi Design
Mehndi designs covering full hand are a classic and will always be evergreen at weddings. These designs are quite time consuming and would need skills to perfect them. When complete, they look gorgeous and royal and this is why most brides/bridesmaids prefer this.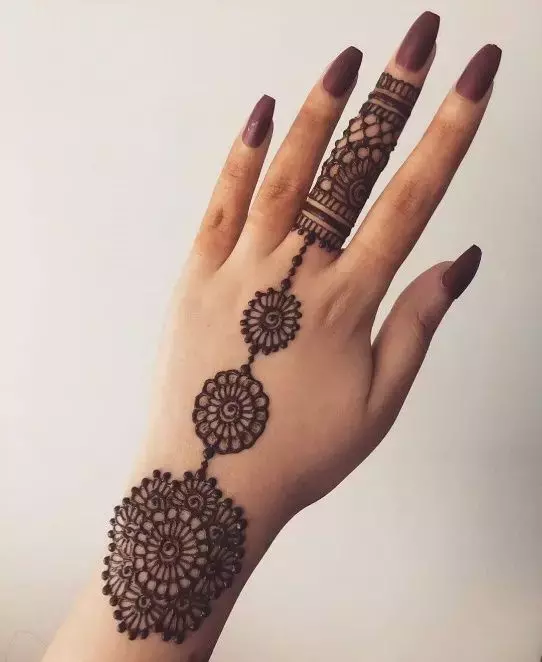 25. Hand Ornament Mehndi Design
Mehndi designs inspired by hand ornaments are also a fine choice for the bride's sisters. Now, who wants an extra piece of jewelry to carry when you can get the same done in henna, right? This simple mehndi design is also beginner friendly and can be easily created on your own.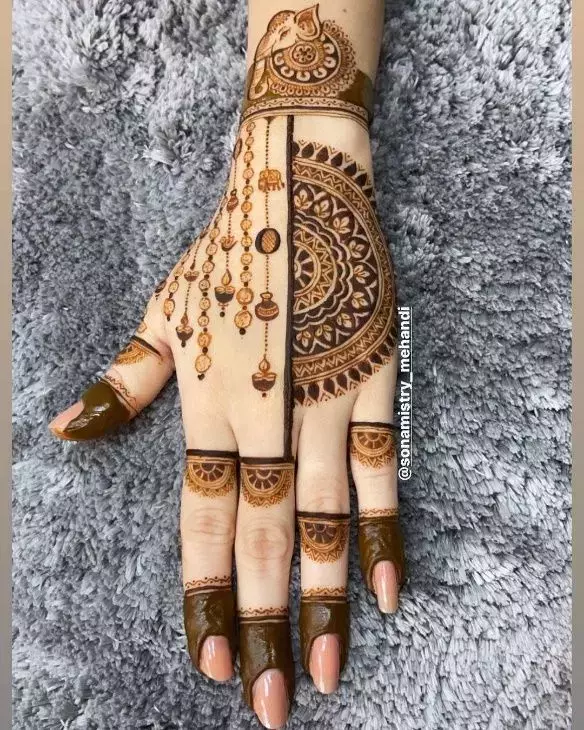 26. Half And Half Bride Sister Henna Design
Here's a modern twist to the good old fashioned mehndi designs. When you cannot decide between two mehndi designs, then why not get them both? Different patterns are used to create the semi-circle mandala with diyas and pots hanging on the other part of the hand. A perfect Half N Half.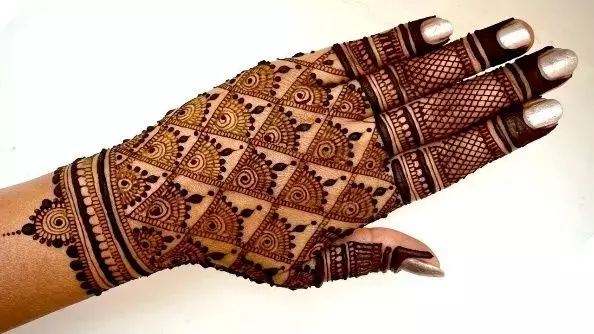 27. Elevated Net Bride Sister Mehndi Design
A netted design is one of the simplest yet sophisticated looking mehndi designs that is perfect for every special occasion. The net designs can be made bigger or smaller, but we definitely prefer these big diamond blocks filled with flower designs.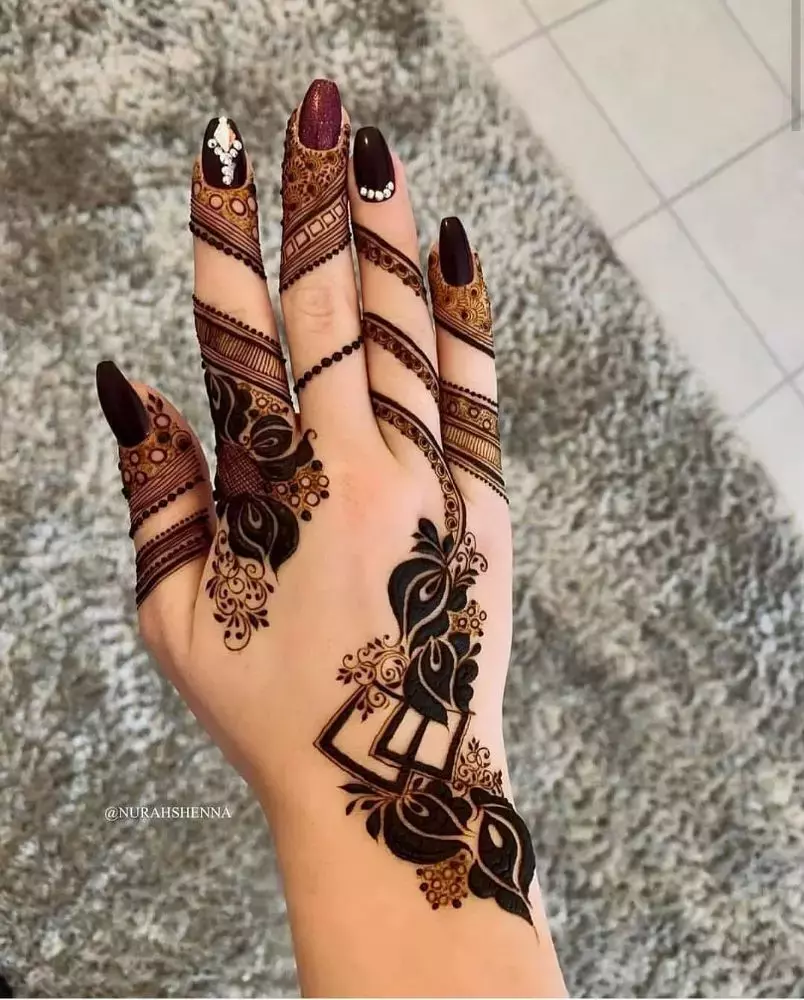 28. Modern Mehndi Design For Beginners
Want bride sister mehndi designs that are modern, easy to make, and look elegant at the same time? Then this mehndi design is a must for you. This is an ideal design for all the bridesmaids that are going to wear indo-western outfits.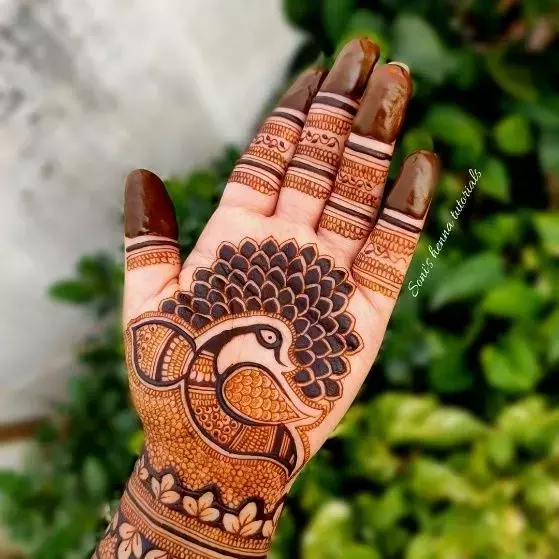 29. Peacock Mehndi Designs
Confused about which bride sister mehndi design to get? Peacock is the answer. These magnificent birds with exotic feathers are a national treasure. The different shades and outlining done to create this bird are praiseworthy.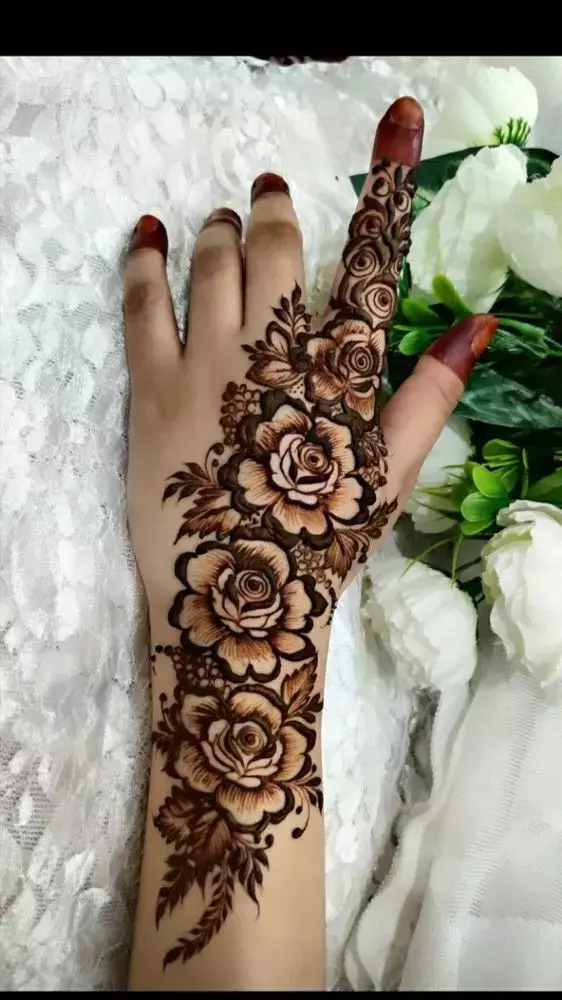 30. Arabic Rose Mehndi Design
This rose mehndi design made in Arabic style is picture perfect. The shaded petals and thick strokes outlining the petals' border make the rose pop. If you want rose to be highlighted in your mehndi, then this design would not be disappointing.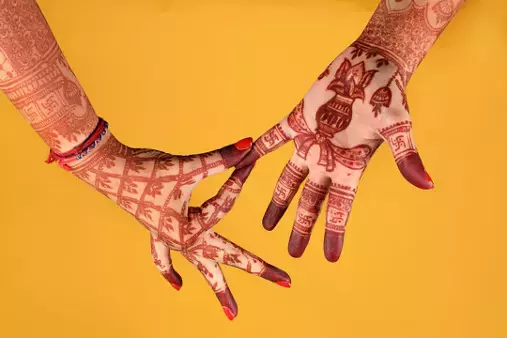 31. Kalash Mehndi Designs
A kalash is highlighted in the middle of this bride sister mehndi design, and it looks so apt for weddings. The fingers are decorated with swastikas and simple elements. This design beautifully features some religiously important aspects of Indian weddings.