51 Best Cone Designs For Hands - 2023
Shalu Bhati
Updated At 21 Mar 23
Want to see some of the best cone designs for hands? Looking for a stylish and simple cone design? You have come to the right place.
Mehndi painted hands have become an integral part of our celebrations. Call it their auspiciousness or the beauty of the red stain, but mehandi cone designs have taken over festivals and major celebrations. And, indeed, we cannot have enough of them. Why would we? There are just so many designs to choose from. From simple to intricate, there is a whole world of cone designs for you to explore. This is why we have brought for you the 51 best cone designs for hands in 2023. Check out these latest cone designs for full hands images and add even more joy to your celebrations. Let's begin!
51 Most Popular Cone Designs For Hands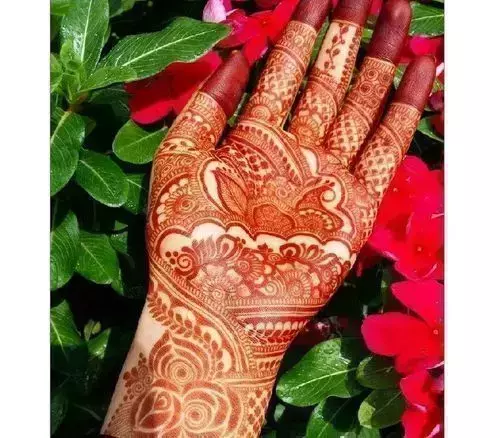 1. Anything For Flowers
Henna cones have made life easier. Earlier, mehndi was applied using sticks or fingers. The designs used to be simple then. But with the advent of henna cones, the cone designs have graduated from being simple to now having the most intricate designs of them all. Take a look at this pretty floral mehndi design and admire its intricate detailing. This front hand mehndi design is just stunning and is perfect for all occasions.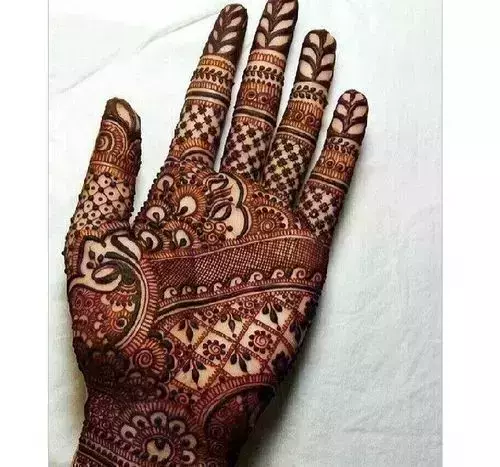 2. Latest Cone Designs For Brides
Henna designs hold a special value at weddings. Both the bride and groom decorate their hands with beautiful cone designs. And this particular design is an example of one of the latest cone designs for brides.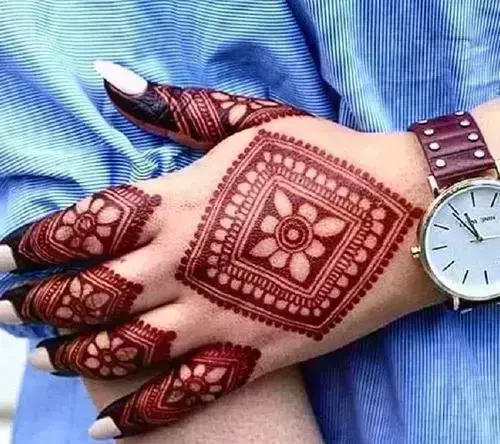 3. Best Cone Designs For Hands
Cone designs are extremely versatile. You just need to have imagination and creativity. We especially love this piece of beauty. With the same theme over the back of hands and fingers, this design looks elegant despite its simplicity. Check this out especially if you are looking for a simple mehndi design.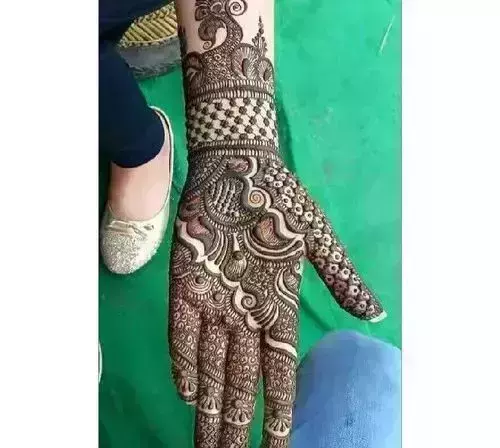 4. Paisleys And Peacocks
Full hand cone designs are surely a sight to see and admire. Have a look at this pretty detailed mehndi design. It incorporates almost all the traditional and modern motifs from paisleys and peacocks to the lace and tiny wildflowers. If you are looking for trending Mehndi Designs For Hands then paisleys and peacock based designs are the way to go!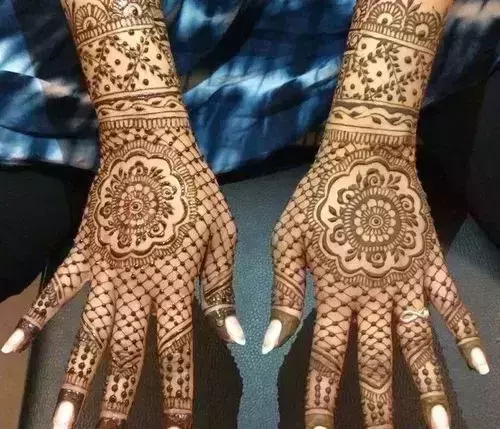 5. The Floral Lace Beauty
The lace or the jaali pattern has been a favorite amongst mehndi artists for the past few years now. It is a simple but effective design and can be the perfect dulhan mehndi design. Use it as a stand-alone design or couple it with other motifs and patterns, it is your choice. But one thing is for sure. You won't be disappointed with the results.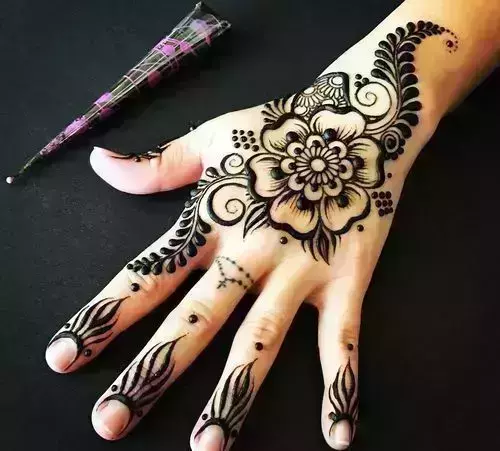 6. Simple Cone Designs For Hands
Simple cone designs always win the race. Take this one for instance. The big floral pattern in the center and flowy leaves on the fingers come together to paint a very eye catchy and elegant picture. This easy mehndi design can be an automatic choice if you are looking for simple yet impactful mehndi designs.
7. Paisley Love
Paisleys are one of the oldest motifs out there. It has been used as part of cone designs since time immemorial. And we don't see why this tradition should not be continued. So when in doubt, go for paisleys.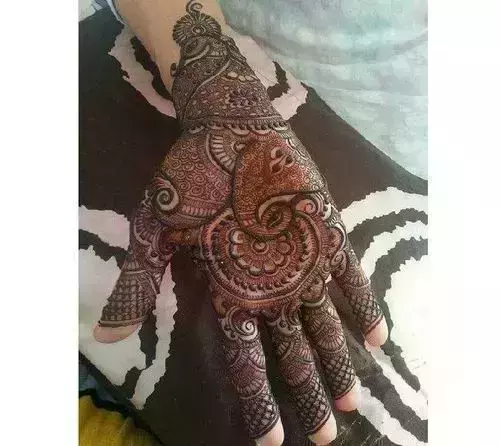 8. For The Love Of Peacocks And Paisleys
Both paisleys and peacocks are traditional motifs that are loved too much. This is one of the best cone designs for hands that use the traditional motifs in a modern light. From the peacock to the different floral patterns, we love it all.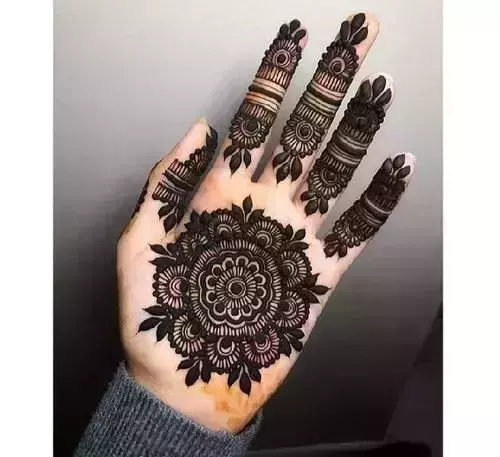 9. Pretty Floral Mandala Design
A mandala represents the circle of life. It usually starts with a circular dot in the center of the palm and can take multiple forms from there. One of the latest cone designs is a floral mandala. And we are sure that this is the answer to all your spring obsessed floral dreams.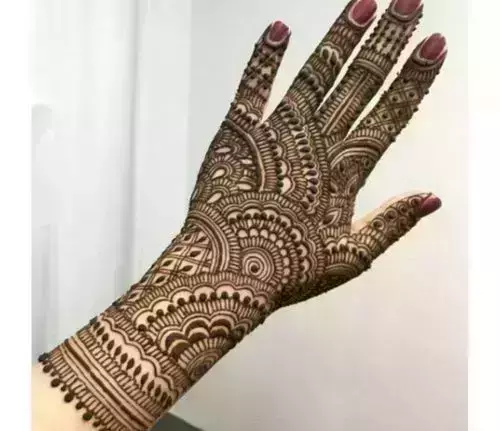 10. Pretty Designs From Henna Cones
Who doesn't love a full hand mehndi design? We surely do. The beauty and variety of motifs used in this design will win it the most beautiful cone design award if there was one.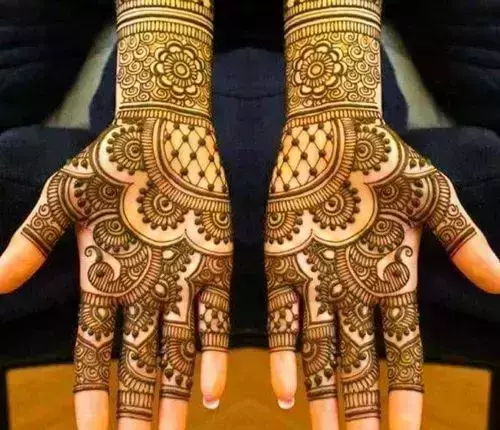 11. Modern Cone Designs For Hands
Are you a fan of royal elegance? Here is a beginner's design that exudes royalty and elegance. Everything from the peacocks to the lace motif looks beautiful. Its symmetry adds more to its sophisticated beauty.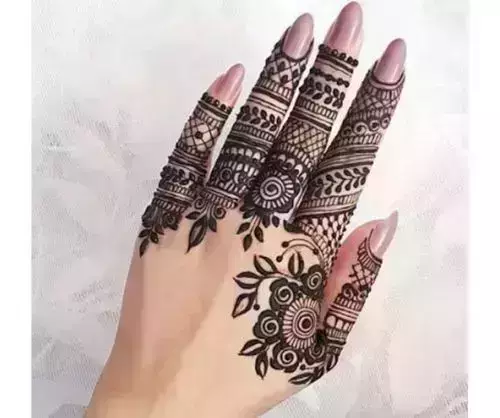 12. Intricate Cone Designs 2023
Not a fan of the usual Arabic floral vine design? Don't you worry! We have just the simple cone design for you. It has floral motifs as well as leafy vines. But in a different arrangement and that has made all the difference to this arabic mehndi design.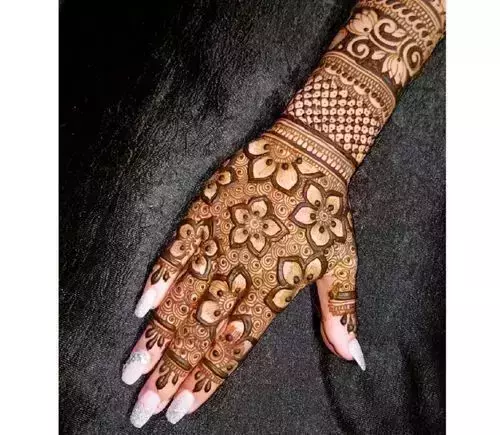 13. The New Age Floral Design
If "something different" interests you, then we got you covered too. Here is one of the prettiest cone designs we laid our eyes on. The bold floral motifs with the smaller intricate flower detailing blew our minds.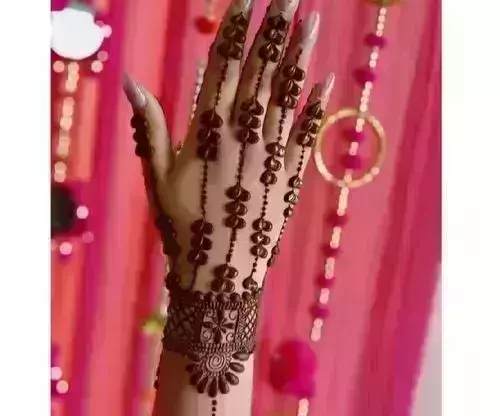 14. Hathphool Cone Design
This is one of the most simple cone designs for hands. It is called the Hathphool design as it resembles a piece of hand jewelry of the same name. It is usually worn by the bride and so is this mehndi design.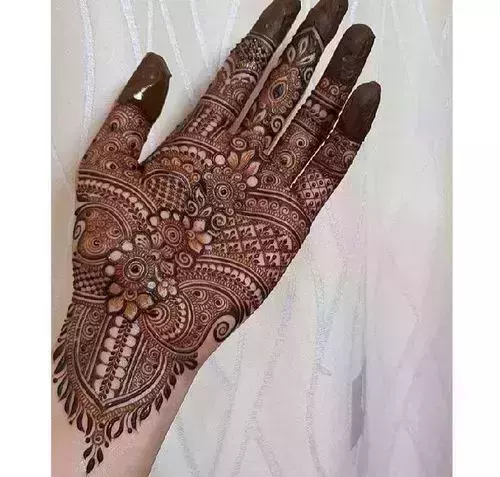 15. Latest Cone Designs For Hands With Flowers
Allow us to bring you some intricate royal elegance. Full hand cone designs are still extremely popular and are something that a bride usually wants. This is a design perfect for weddings as well as celebrating Teej and Karvachauth.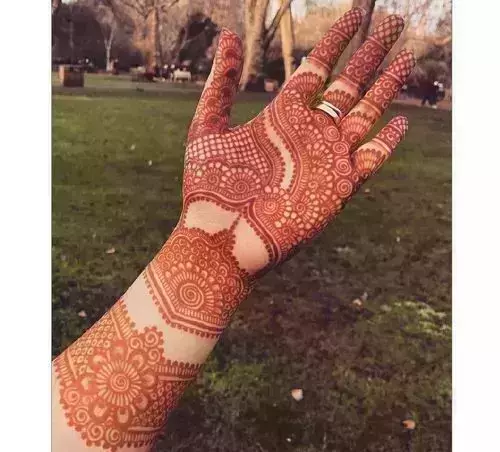 16. Artsy Floral Pattern
Here is another simple cone design. From spirals to floral motifs to the use of lace motifs, this is a cone design that presents a perfect balance of modern elegance and tradition.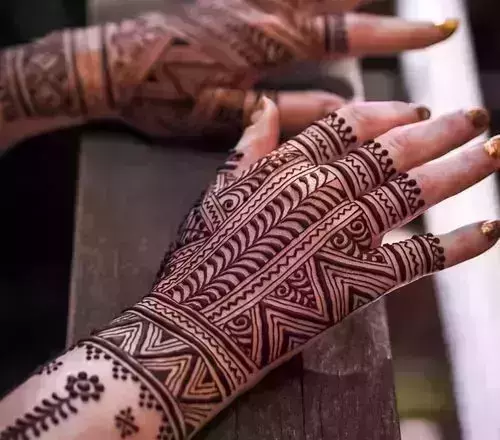 17. Aztec Love
The Aztec pattern is a famous Moroccan mehndi design. It has gained popularity over the years. And we love it too. The small geometric motifs combine to form a beautiful artsy piece on your hands.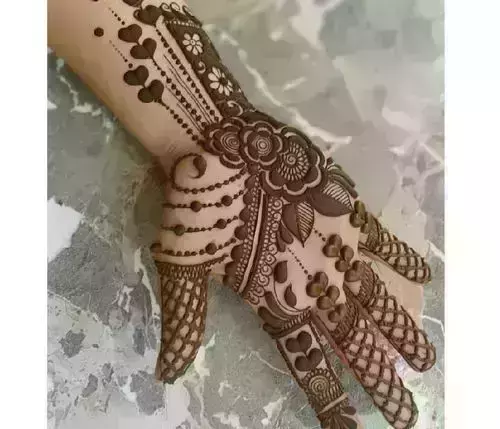 18. Bold Floral Cone Designs
Gone are the days where thin lines were the style of choice in a mehndi design. This year, we are going back to our ancient roots and using the thickest of strokes to create bold cone designs that can set your hearts on fire.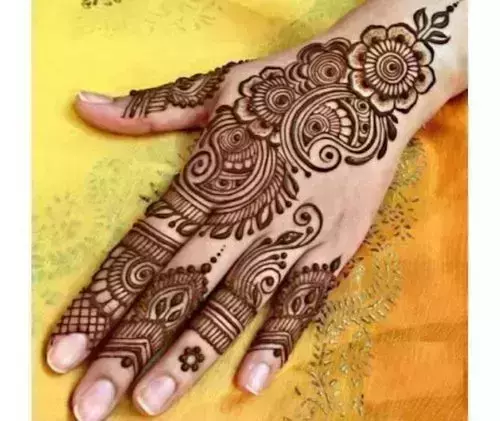 19. Pretty Paisley Design For Back Hands
You can never have enough of paisleys. This is a motif that is traditional and versatile. It can fit with almost any other patterns or motifs. So why wait? Try out this paisley cone design.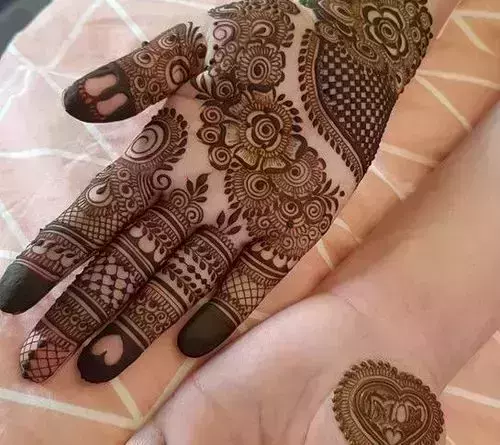 20. Latest Cone Designs For Hands 2023
A single flower looks pretty but a bouquet looks prettier. This cone design follows the same rule and comes with floral patterns with no space between them. This beautiful cluster is eye-catchy and is surrounded by other pretty motifs.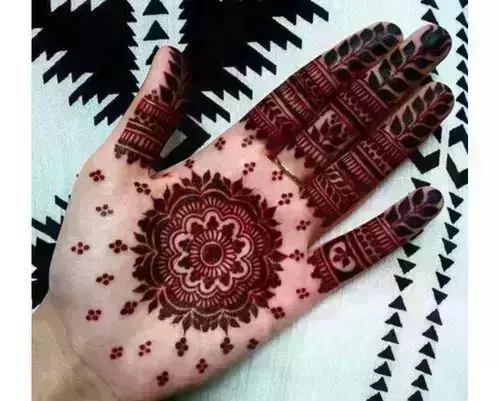 21. A Floral Mandala
Can we get over flower mandalas already? Umm, no! Because, this style is not only extremely elegant, beautiful and the answer to all our flowery dreams, but, it is also going to be one of the top choices for cone designs in 2023.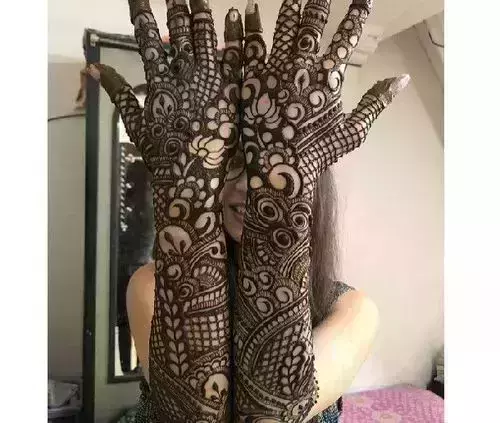 22. Pretty Cone Designs For Full Hands
Bridal cone designs go up to the forearms. And we found a beautiful one for you. This majestic design combines all the latest and pretty motifs. Be it the beauty of the lotuses or the spiral vines, we love it with all our hearts.

23. The Floral Twist
Floral motifs are one of the most common elements of cone designs. But, they are also the most versatile. This means that they can be used in various ways and they can be drawn in various ways. This one is a classic example.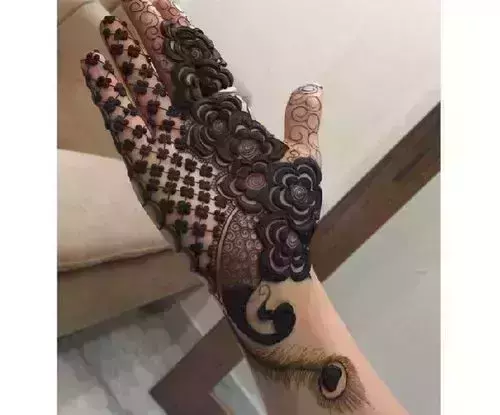 24. Dark Floral Magic
Thick and bold flowers, elegant lace pattern, pretty peacock, and its airy feather—all done in black mehndi, do we need to say more?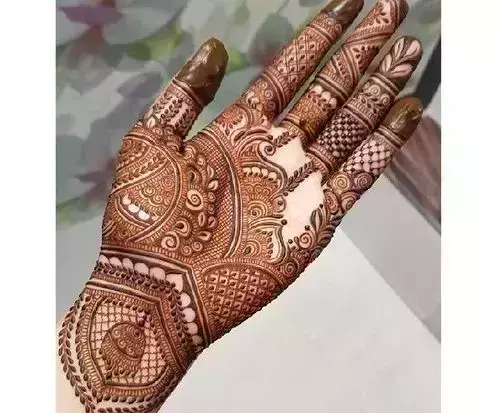 25. Rajasthani Cone Designs
Rajasthan is a treasure trove when it comes to cultural history, monuments, jewelry, clothing, or even mehndi designs. The Rajasthani cone designs are especially popular due to their clean, intricate, and elegant beauty. Look at how intricate the details are here in this featured mehndi design.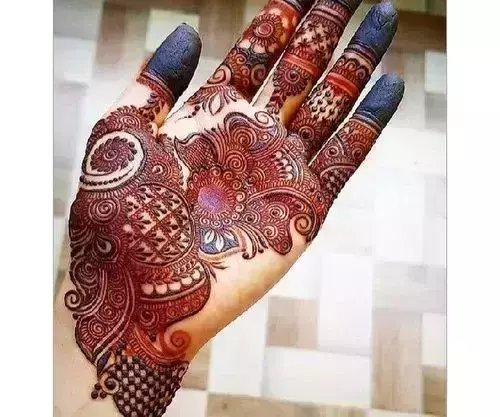 26. Latest Cone Designs For Festivals
Here is another example of the Indian style of mehndi. Its intricate details have taken the center stage and exude elegance. From weddings to festivals, you can never go wrong with this design.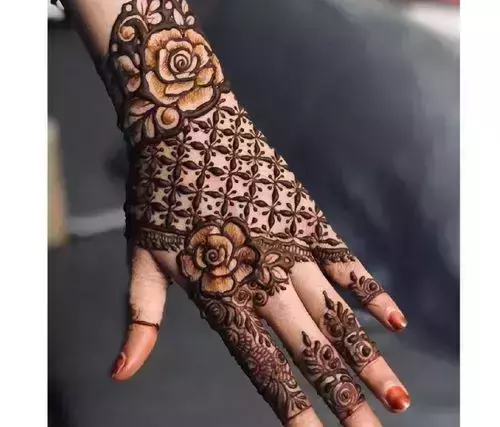 27. Mughal Mehndi Cone Designs
It was only a few years back that the Mughal art and architecture began inspiring the mehndi artists. In their search for new designs, they picked up old Mughal paintings and voila, a new style was born. The Mughal-inspired cone designs have patterns similar to those found in Mughal era paintings. For instance, the big beautiful roses in the design featured here.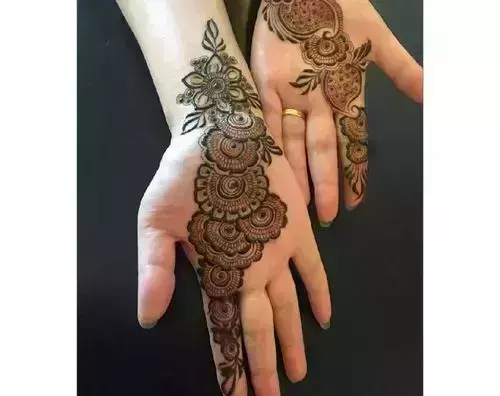 28. Flowery Magic
Arabic cone designs are some of the prettiest designs. And the good thing about these is that you don't have to worry about being symmetrical. This means that you don't have to make the same design on both hands.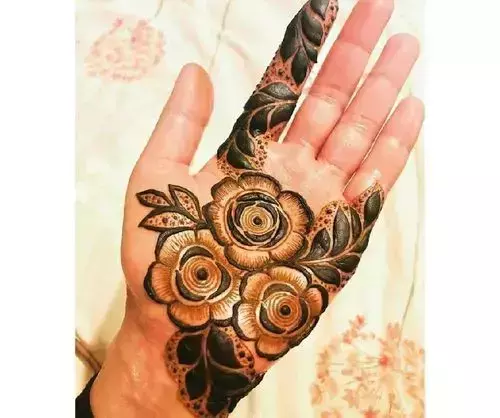 29. Roses To The Rescue
Do you have a special love in your heart for roses? Then you are in luck as the mehndi art gods have heard your prayers. The cone designs this year are big on the rose motif.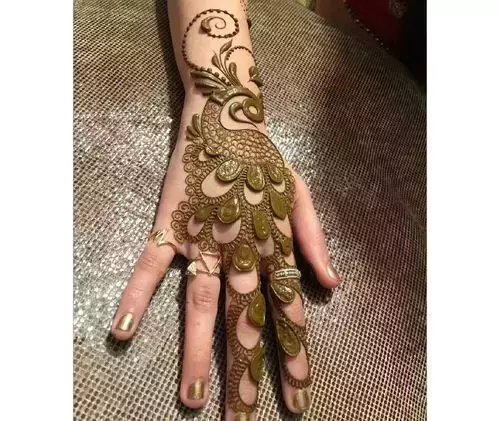 30. Power Of The Peacock
Ever seen a peacock dancing? Oh just how majestic that bird looks! Imitate the same majestic magic on your hands with this peacock cone design. It is not your usual paisley peacock but a grander version complete with its glorious feathers.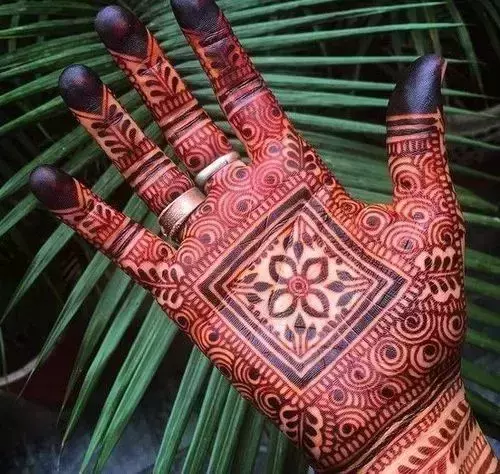 31. Simple Cone Designs For Hands 2023
The secret behind turning a simple design into something interesting is to add details. This is one such simple design. With a flower lying in a square border, this design uses spirals to fill up the rest of the space.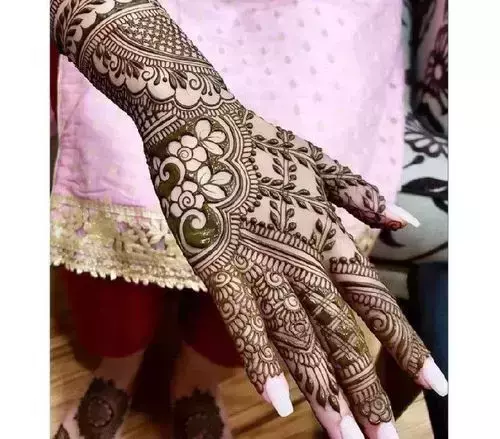 32. Cone Designs For Full Back Hands
Get down to combining different motifs like the lace vines, teardrops, and flowers. Use space to your advantage. Go wild and let your imagination take control when it comes to making any of the cone designs in 2023.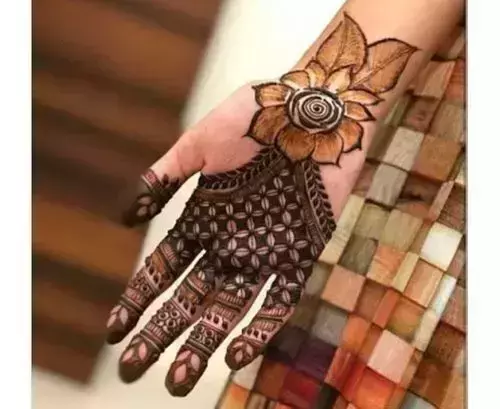 33. Big, Bold, And Beautiful
It is one of the most unique designs we found. We adore its beautiful geometric floral pattern adorned with the huge rose.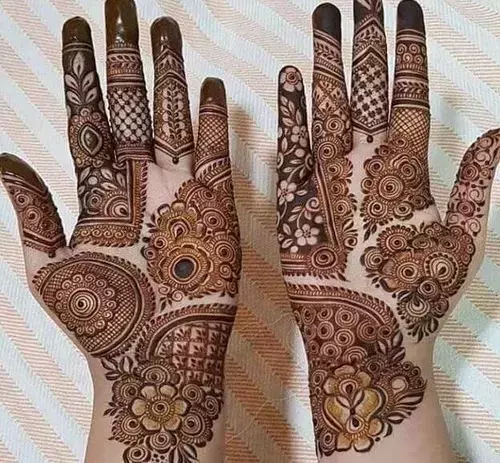 34. Mughal-Inspired Cone Designs
Here is one of the latest cone designs that are inspired by the grandeur and beautiful art of the Mughals. These motifs and patterns are so intricately drawn that their beauty and elegance know no bounds.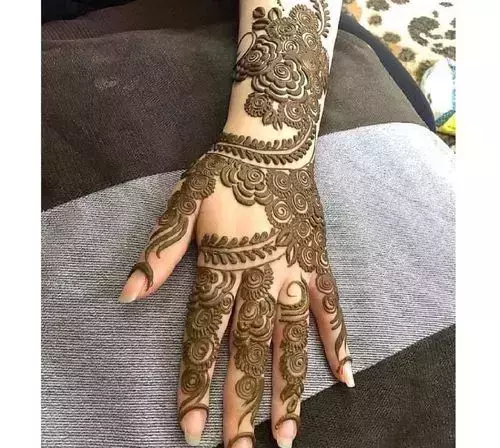 35. The Floral Spiral
Usually, Arabic mehndi designs use an almost straight leafy vine that starts from the top of a finger. Give that old-style a rest this year and opt for something new like this swirly cone design that we love.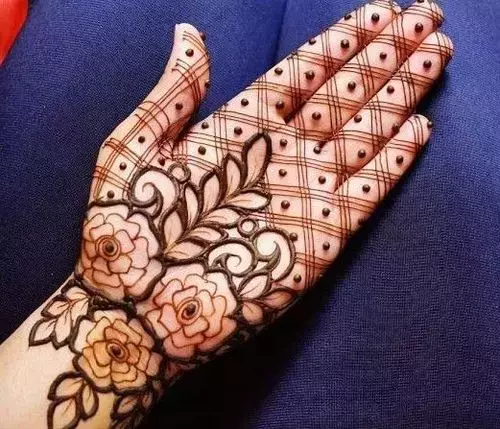 36. It's A Rosy Affair
It will take something special to get over the latest trend of rose and lace patterns. They can look beautiful on their own but when combined, they look even more beautiful.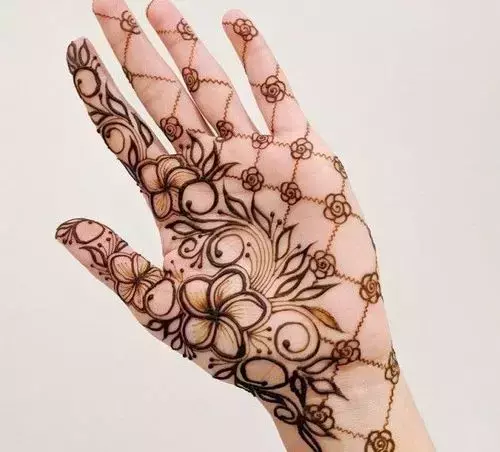 37. Serene And Simple Mehandi Cone Designs
Are you a big fan of simple cone designs for hands? We have something for you too. We found one of the prettiest cone designs out there. It looks so elegant and heavenly. The contrast of the big flowers and the tiny roses create a rare magical piece of art.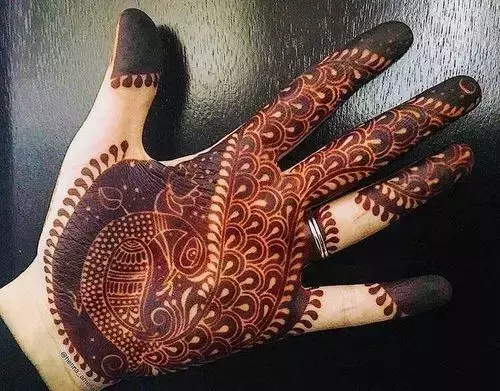 38. Full Hand Peacock Mehndi
Black mehndi designs exude a beauty that is out of this world. But there was something more to this design when we found it. Can you see that majestic peacock and his glorious feathers? Notice the impeccable use of positive and negative spaces. Out of the world, right?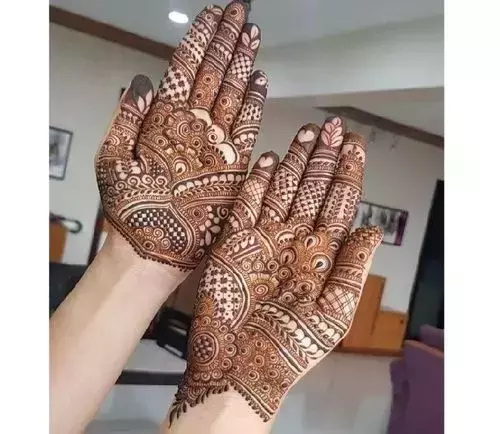 39. Latest Cone Designs For Hands With Intricate Details
As much as we love minimal designs or those latest cone designs that play with space, we can feel our hearts slipping away every time we come across such intricate cone designs for full hands images.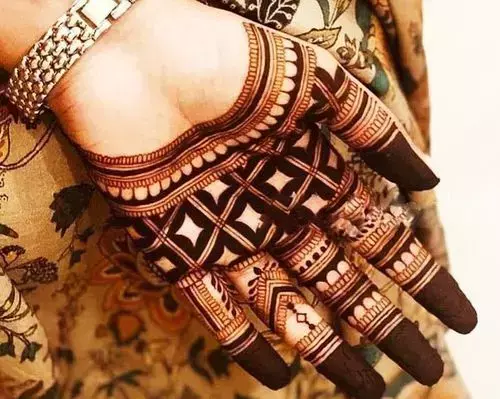 40. Unique Henna Cones Designs
If you are not into the usual floral and paisley motifs, then this is the cone design for you. It is one of the simple cone designs for hands but also the most beautiful. Its uniqueness lies in the motifs and their placement.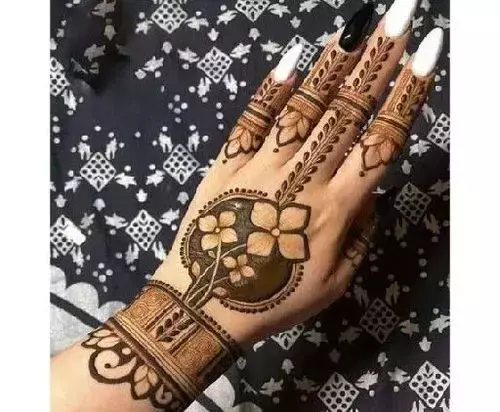 41. Latest Cone Designs For Back Hands
Brilliant piece of art—this is what we thought when we first laid eyes on this pretty cone design for the back of the hands. What do you think?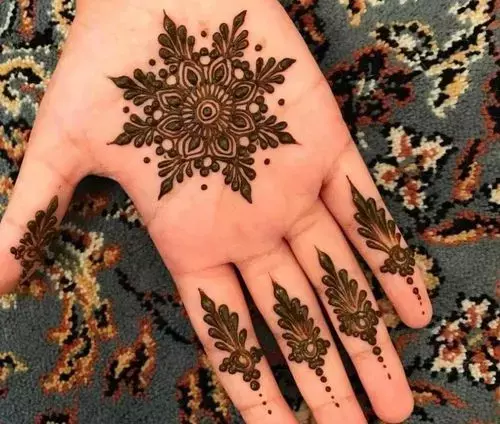 42. Simple Floral Cone Designs
Thinking of getting a simple cone design? Give this flowery mandala a try. It is simple in execution but looks amazing. It is the answer to your minimalistic dreams that are not too minimal.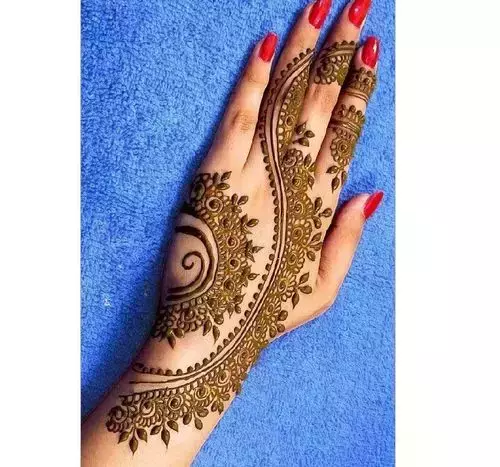 43. Swirl All The Way
Think new and different. Let the kites of your creativity soar high. Change things up with this swirly cone design. It is one of the latest Arabic cone designs.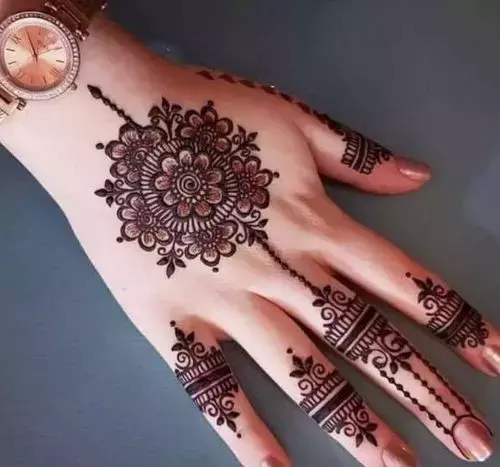 44. Pretty Hathphool Design
Jewelry inspired cone designs are going to be big this year too. They can range from simple to intricate. And each such design would have its charm.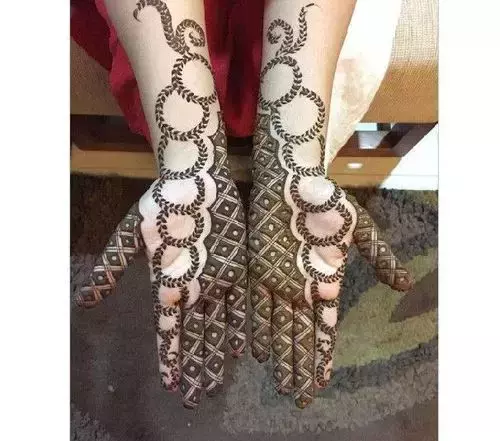 45. Geometry With A Twist
Geometric cone designs always look good. What if someone were to couple it with the usual motifs? That's exactly what happened here. This cone design is symmetrical and uses geometric patterns with a twist. We love those circles of leafy vines.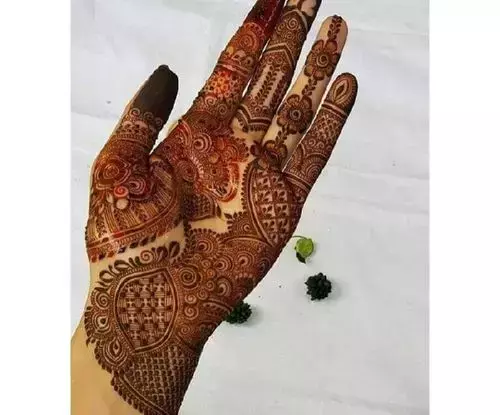 46. Detailed Cone Designs For Hands
This is one of the latest cone designs for hands. It uses all the new and modern motifs using thin as well thick strokes. This combination of thin and thick strokes breathes a new kind of life in this design.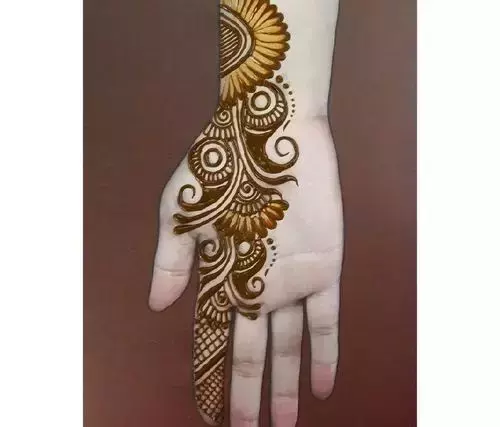 47. Simple Mehandi Cone Designs For Hands
If all else fails and you cannot make up your mind, then choose this simple sober and traditional design as your go-to. Pair it with your fancy bangles or bracelets to complete the look.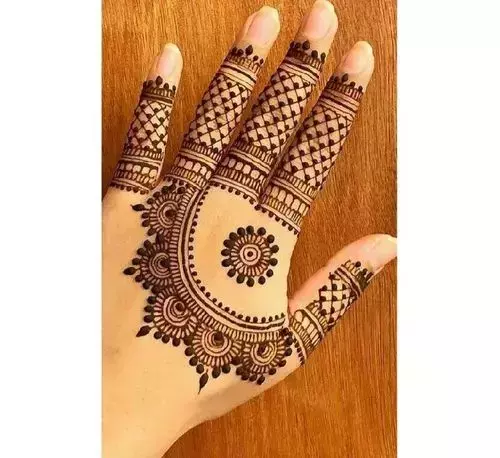 48. Exquisite Lace Design For Back Hand
This is one of the simple cone designs for the back of the hands. It is simple but so exquisite that you cannot take your eyes off it easily. It is the effect of the elegant lace pattern and the floral motifs that sit prettily on a circular vine.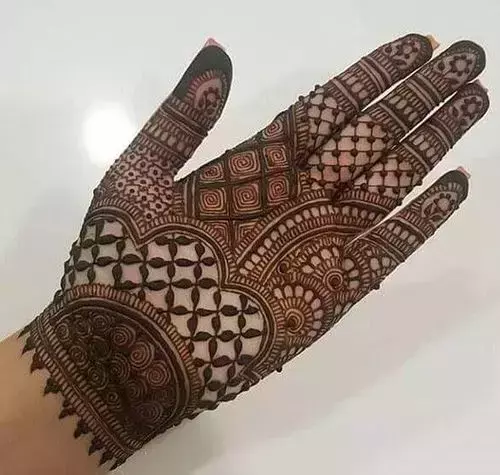 49. Lacy Roses
The latest cone designs usually mix and match a lot of different and contrasting motifs. Take a look at this one for instance. From thick and bold to thin and intricate, this design uses a variety of motifs.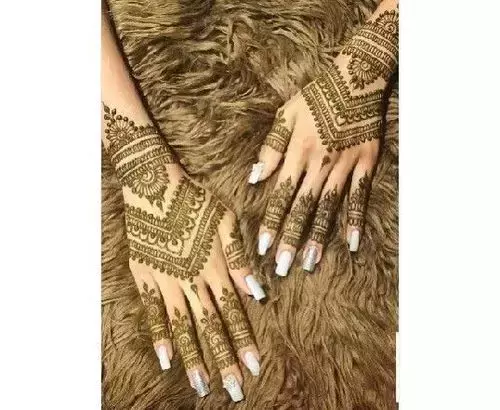 50. Elegant Cone Designs For Hands
If the traditional Arabic mehndi design is not the one for you then go for this latest jewelry-inspired cone design. It is elegant and a perfect fit for many occasions.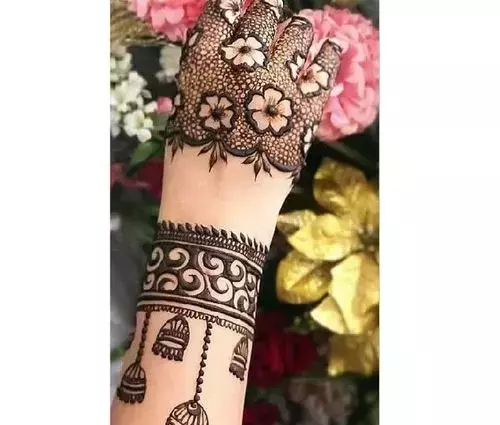 51. Pretty Pieces
It is beauty. It is grace. It is the cone design that will ace all the celebrations. This is one of the best cone designs that are perfect for the modern bride as well as for other big fat celebrations.