25 Most Popular Celebrity Piercing Ideas For 2023
Olivia
Updated At 28 Aug 23
Piercing is body art, decorated with fine jewellery, in which a hole is made in the skin or cartilage and a piece of jewellery is inserted in the hole. Piercing can be done on various parts of the body. Certain Piercing becomes famous a celebrity who gets a certain piercing done. Whenever a celebrity gets a new piercing done, it receives a lot of media attention and it becomes a trend among their fans. Today, let's explore such celebrities' piercings which have become a trend and inspire their followers.
25 Best Celebrity Piercing Designs And Ideas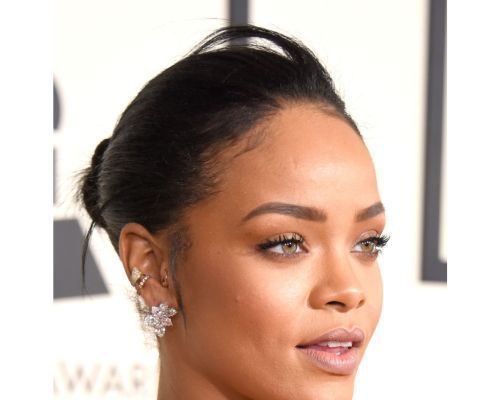 1. Rihanna
Rihanna, a Barbadian, singer, actress and songwriter, has many piercings. She has several piercings in her earlobes, as well as a tragus piercing in her right ear. In her piercings, Rihanna adores sporting a variety of jewellery, such as studs, hoops, and hanging earrings. Her body piercings have always complemented her fashionable and daring looks. In addition, Rihanna has navel and nipple piercings.
Read More: Ashley Piercing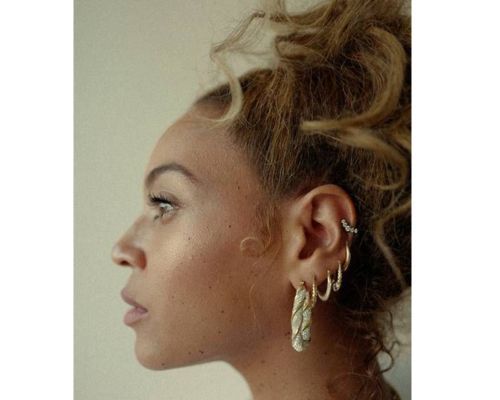 2. Beyonce
With a total of five piercings along her cartilage, Beyonce looks stunning with her ear piercings. Brian who has worked with many celebrities quotes,
"Beyonce is one of my favorites. She's just a class act," he gushes. "I just love her to death. She's great to work with and is an exceptional human being who deserves everything that she has."
Read More: Best Ear Piercing Ideas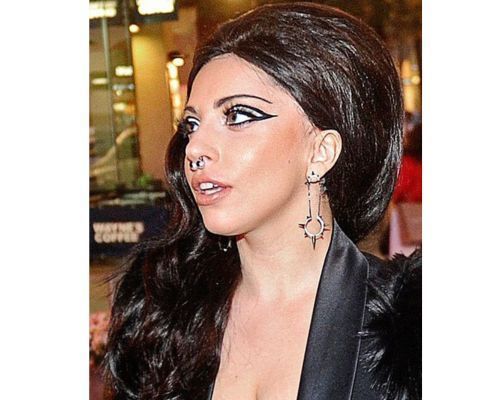 3. Lady Gaga
Lady Gaga has numerous body piercings. Lady Gaga has made numerous fashion presentations while sporting multiple septum and ear piercings. She also has a labret piercing in the lower lip on the left side and a Monroe piercing just above the upper lip. Lady Gaga also has a dermal piercing, often referred to as a microdermal piercing or a single-point piercing, which entails implanting a tiny piece of jewellery beneath the skin's surface.
Read More: Snake Eyes Piercing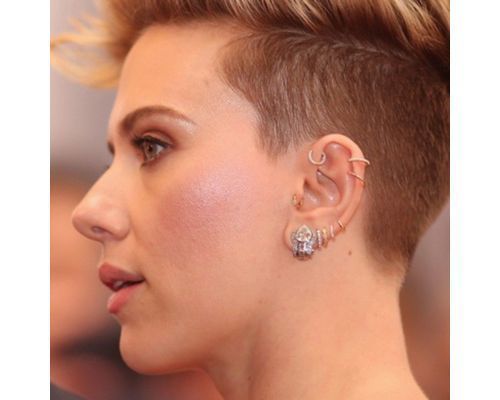 4. Scarlett Johansson
Scarlett Johansson enjoys accessorising with jewellery and has many piercings on her ears. The actress stunned fans with a chic septum piercing at one of her appearances, enhancing her ageless appeal. This celebrity piercing has a wide fanbase and she has at least eight holes, which can be found in Scarlett Johansson's left ear. But given that she accessorises with delicate jewellery, you probably wouldn't notice.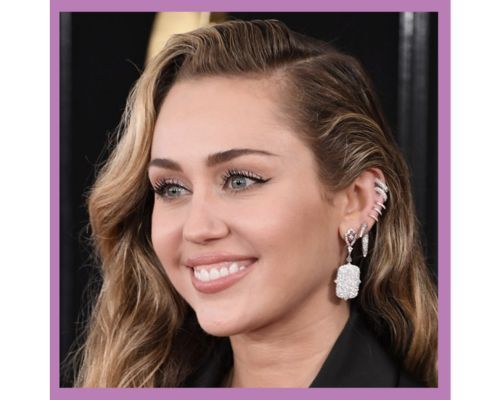 5. Miley Cyrus
One of the most popular celebrities for getting piercings is Miley Cyrus, who is known as the "queen of piercings." Her multiple ear piercings are stunning and give her fashion statement a tremendous boost. She likes completing a look with a dangler and several little rings of the same style.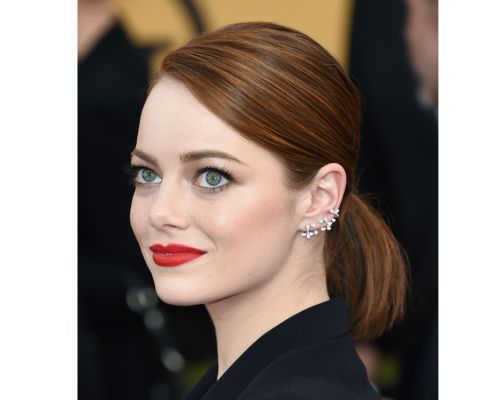 6. Emma Stone
Emma Stone's ears have small cartilage piercings and lobe piercings. Emma's ethereal beauty seems even more like she just stepped out of a storybook thanks to the diamond jewellery on her lobes. Emma Stone's tasteful celebrity piercings are gorgeous and motivational.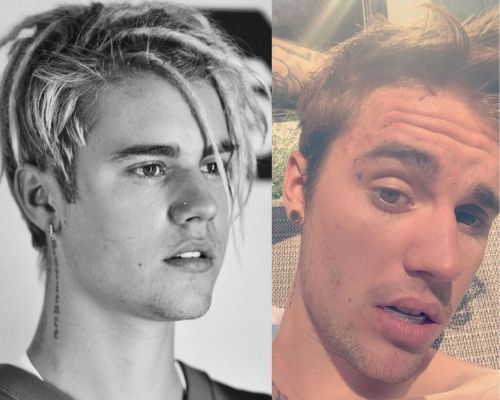 7. Justin Bieber
Over the years, Justin Bieber received numerous piercings, including those on his ears, nose, and eyebrow. Justin has several piercings in his ears, a nose piercing that he loves to show off with a tiny diamond earring, and a piercing on the end of his left eyebrow. His followers have always admired his daring appearance and have been motivated by this celebrity piercing.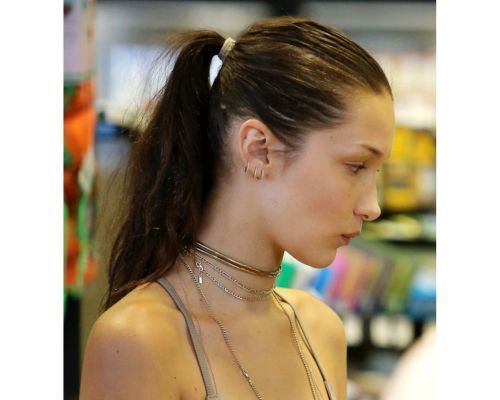 8. Bella Hadid
One of the most beautiful women in the entire globe is Bella Hadid. Bella Hadid enjoys making fashion statements and has several body piercings, including many ear piercings, a nipple piercing, and a tiny piercing on the left side of her nostril.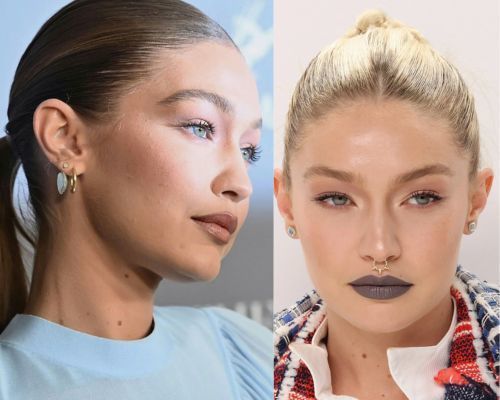 9. Gigi Hadid
Gigi Hadid has several body piercings. Gigi has frequently been spotted wearing jewellery and loops with diamond accents in her various ear piercings. Additionally, Gigi Hadid has a tiny piercing on the top of her left ear and a belly button piercing. One of the most popular celebrity piercings is Gigi's gorgeous spiked ring nose piercing.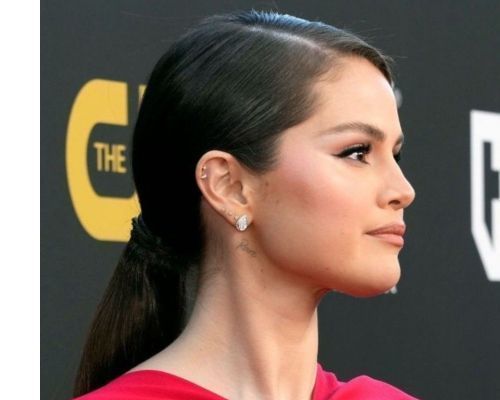 10. Selena Gomez
Selena Gomez has a stunning Helix ear piercing. Selena has frequently been spotted with a little gold ring on her helix piercing. She made a classy and understated piercing choice. She also has several piercings in her ears. Selena posted pictures of her helix piercing on her social media accounts.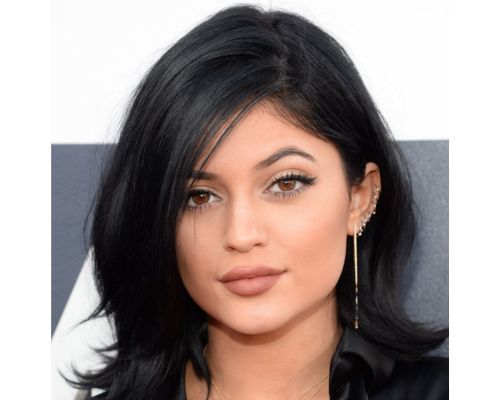 11. Kylie Jenner
Kylie Jenner has several piercings in her ears, and she looks stunning while wearing all of her fashionable jewellery. She likes wearing danglers, hoops, and studs. Her stack of silver hoops covering both ears is magnificent.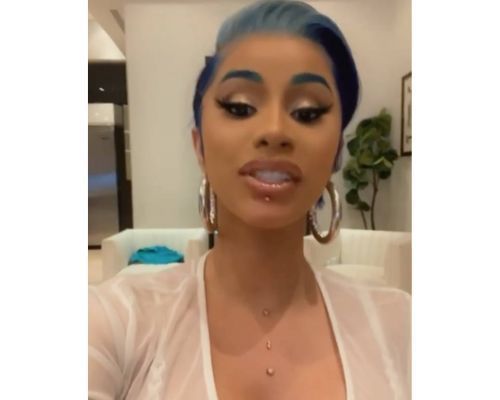 12. Cardi B
Cardi B, an American rapper, astounds everyone with her dramatic appearance and outspoken fashion choices. Cardi B has several body piercings. Her lips, navel, and several ear piercings are all pierced. Cardi B stunned everyone with her chest piercing, which is one of her most recognisable celebrity piercings.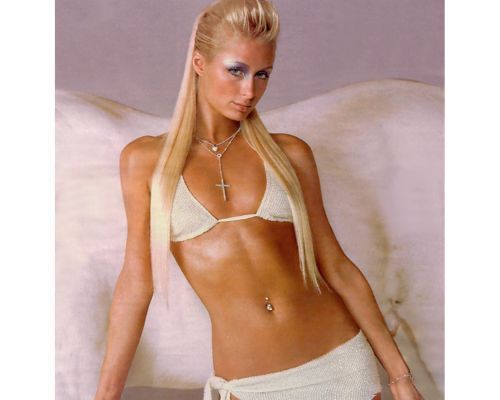 13. Paris Hilton
The attractive and incredibly stunning celebrity has a breathtaking belly button piercing that is set with diamonds, whether you call it a navel or belly button piercing. Parish Hilton boldly displayed her flawless features, including her flat stomach and delicately accented piercings. This celebrity piercing exudes an inspirational vibe.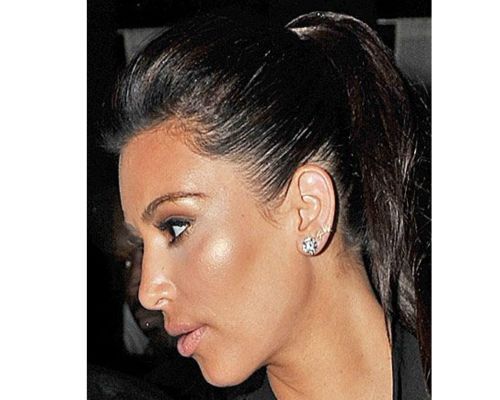 14. Kim Kardashian
In a previous interview, Kim Kardashian stated that she has six piercings. The well-known reality personality is renowned for her stunning appearance and has never failed to enthral her fans. Kim has multiple piercings in her ears in addition to a belly button piercing. On the SKIMS set created by her friend La La Anthony, Kim was also spotted on social media getting her ears pierced again. In addition, Kim Kardashian also pierced her long nails and wore a false lip piercing as a fun temporary look.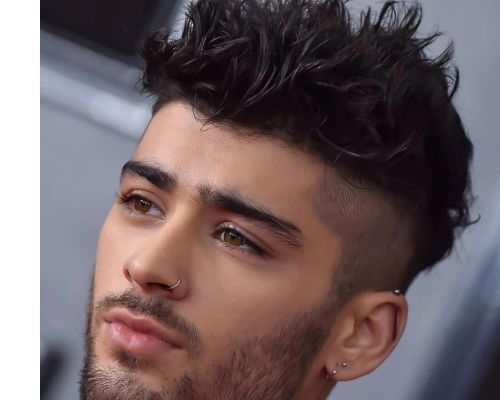 15. Zayn Malik
British musician Zayn Malik, a former member of the boy band One Direction, is well-known for sporting several piercings. He has been spotted with lip, nose, and ear piercings.
Zayn has previously worn numerous earrings in his ears, including studs, hoops, and gauges, as well as a hoop nose ring. Additionally, he once wore a silver lip ring on his bottom lip, which became a trademark appearance for him while he was a member of One Direction.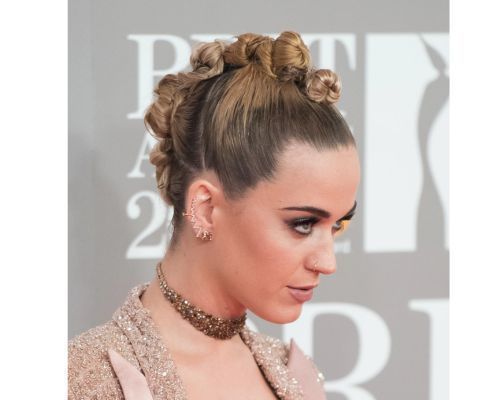 16. Kate Perry
Kate Perry's ear piercings are one of the popular celebrity piercings that serve as an example. She is believed to have pierced ears, nose, and belly button. In addition to multiple cartilage piercings, Katy Perry's ears also have tragus and lobe piercings. Her other two piercings are her belly button and nose piercings, which she usually conceals with a small earring or ring.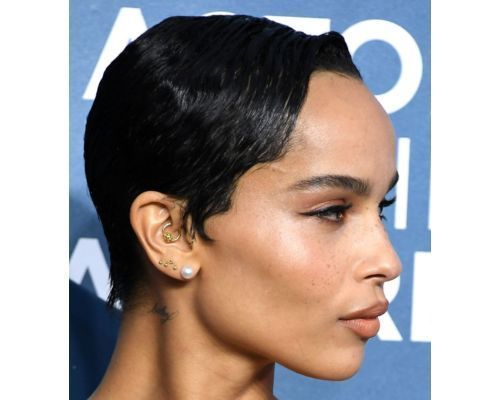 17. Zoe Kravitz
Zoe Kravitz has quite several piercings. She has three piercings in her ears: an Upper Lobe, a Rook, and a Conch. She elegantly displays her piercings by accessorising the rook with a gold ring and little, exquisite gold studs. One can get celebrity piercing inspiration from Zoe Kravitz because of how adorable her overall pierced appearance is.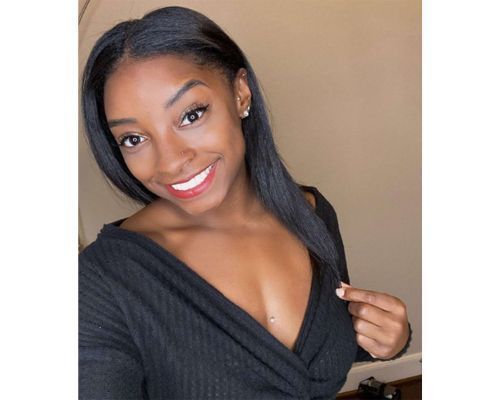 18. Simone Biles
The well-known gymnast has numerous body piercings. Simone Biles startled and awed admirers with her edgy sternum piercing in a selfie that she posted on her social media account. Her current collection is beautifully finished off by a nose stud, several ear piercings, and other body jewellery. A fantastic source of motivation for celebrity piercing is this.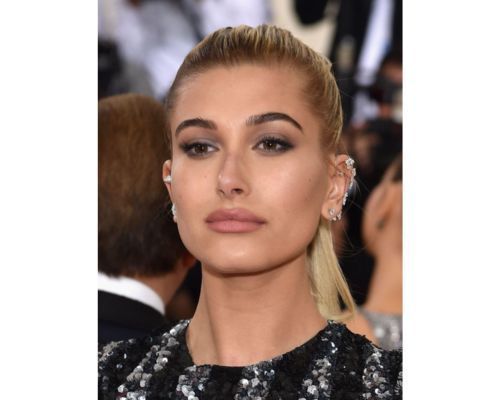 19. Hailey Bieber
Hailey Bieber is very much fond of piercings and has multiple piercings on her body. Hailey Bieber showcased in one of her appearances, with studded ear piercings. In one of her appearances, Hailey Bieber displayed her studded ear piercings. On days, Hailey frequently shows off her chich navel piercing.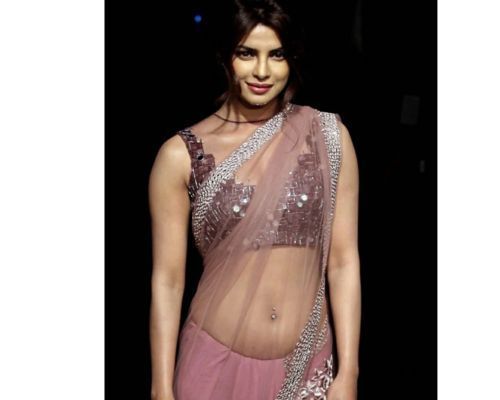 20. Priyanka Chopra Jonas
Another one of the celebrity piercing crew is Priyanka Chopra Jonas with her belly button piercing. With the studded jewellery on her belly button piercing, Priyanka has displayed her flat stomach and toned curves in her numerous films and video albums.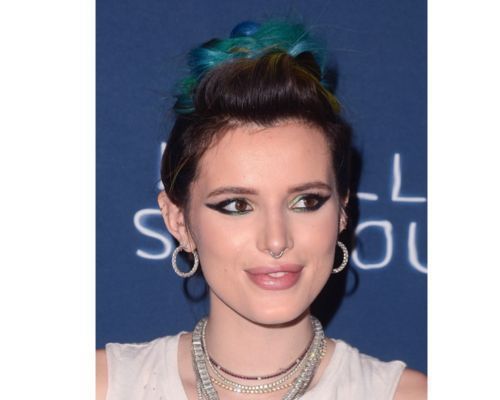 21. Bella Thorne
Bella Thorne enjoys accessorising her appearance with the numerous body piercings she sports. Bella enjoys accessorising her piercings, which include her ear and nose, with stylish jewellery. Bella Thorne additionally has a nipple piercing.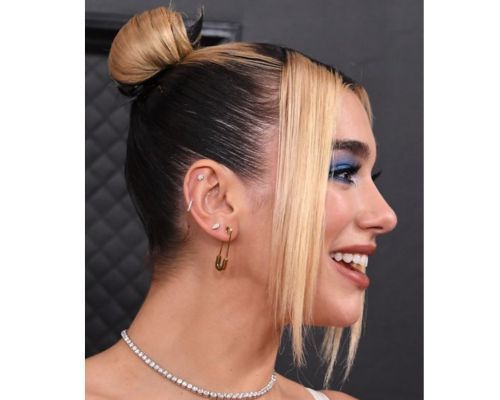 22. Dua Lipa
Dua Lipa has several piercings, including a belly button piercing and various ear piercings. She has also been spotted with a tiny nostril piercing on her left. Her right ear is pierced with a rook, which relieves stress. She also has an upper lobe piercing, which promotes relaxation. Additionally, Dua Lipa claims that these piercings aid with acupuncture therapy.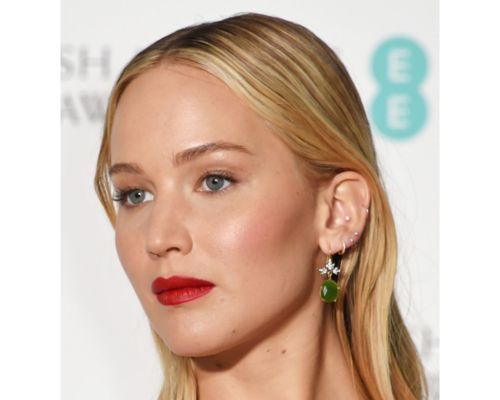 23. Jennifer Lawrence
Jennifer Lawrence, has multiple ears piercing. Conch, Cartilage, Helix and upper lobe piercings. She loves to wear minimal jewellery and decorates the ear piercings with small studs and rings. If you are looking for elegant and subtle piercing, then this celebrity piercing is a great option.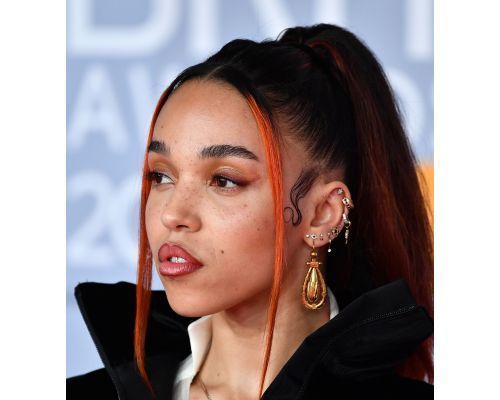 24. FKA twigs
FKA Twigs is a well-known British singer with several piercings. She has more than ten piercings in her ears, including piercings in the rook, daith, cartilage, conch, upper lobe, and tragus. She elegantly displays a range of jewellery on her pierced ears.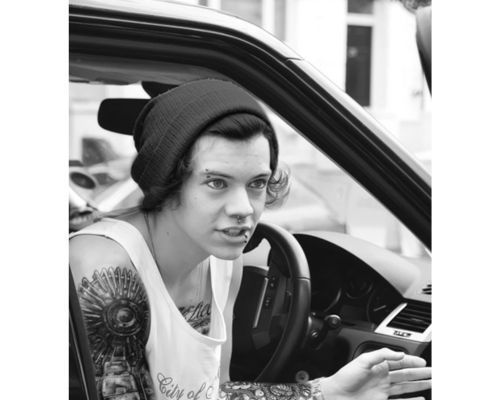 25. Harry Styles
Harry Styles, a British singer and actor, has several piercings on his body. He has pierced his ears, nipples, nose, lips and eyebrows. Harry Styles has several piercings in his ears, including several cartilage piercings, a daith piercing, and regular lobe piercings. He has been observed with studs, hoops, and dangling earrings in his body piercings.