Christina Aguilera Plastic Surgery Secrets - Know Everything
Ankita Ghoshal
Updated At 24 Sep 23
Christina Aguilera is a well-known American singer, TV personality, as well as a famous songwriter. She is often called as the 'Voice of a Generation' and is credited as one of those artists who are responsible to revive teen pop during the late 1990s. Aguilera has time and again used her fame and vocal ability for addressing topics such as domestic violence, sexuality, and feminism. She is known for frequently reinventing her image and becoming famous for her much-talked-about unconventional looks. She is often termed as an "influence" by several artists and she has garnered both critical praise as well as controversies in the media.


Christina Aguilera Plastic Surgery Secrets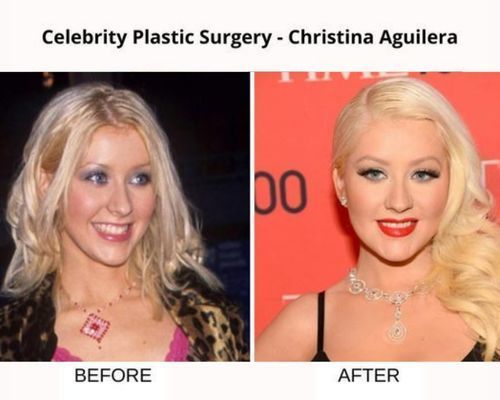 It has been over twenty years since Christina Aguilera rose to fame yet she looks like she has barely aged. She started off her career in 1993 with Genie in a Bottle, her debut single and then went on to release a eight music albums. She also toured the world and is now a proud mumma of two kids. Even after all these years of hardwork and success, Aguilera, aged 40, looks fantastic. Now, we all know there are certain beauty secrets that celebrities shy away from revealing in public. A popular surgeon, however, has spilled the tea about Aguilera's ageless beauty. As per the surgeon, Aguilera has gone under the knife several times to fight off wrinkles and other horrifying signs of ageing. Come, let's look at all the Christina Aguilera Plastic Surgery secrets.
Also check out our guide on celebrity plastic surgery as we cover 30+ celebs who have undergone plastic surgeries for various reasons!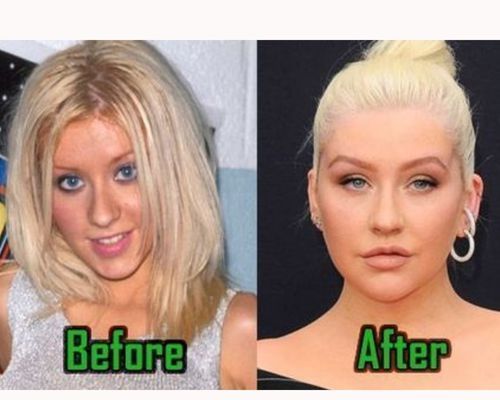 1.  Botox
Aguilera is said to have had anti-wrinkles injections, which are more commonly known as Botox, around the eyes for the crow's feet as well as on her forehead.  The non-surgical treatment is known for creating a smooth forehead while limiting expression or frown lines. 
According to the surgeon, the treatment cannot last longer than 3 to 6 months. This is because the muscle action would slowly return, making the wrinkles and lines reappear. This method is often used for making the skin appear smoother if you want a youthful appearance. It can also be used like a preventive measure for slowing down the signs of ageing, such as wrinkles or fine lines.
Also check out the details of Courteney cox plastic surgery as her unique story outlines how she started taking fillers and how she stopped taking the same later on.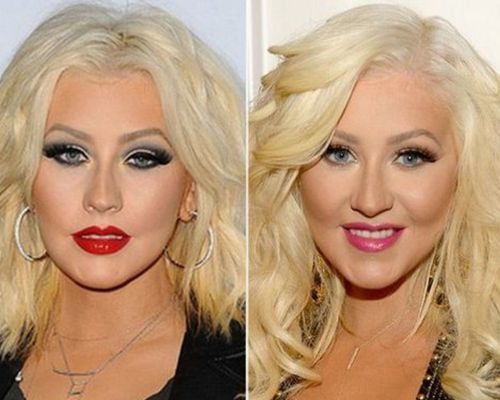 2.    Cheek Fillers
If you look at Christina Aguilera Plastic Surgery before and after pictures, you will notice a drastic difference in her cheeks. This is because she has undergone the non-surgical method of dermal fillers for her cheeks. Fillers are known for giving volume to one's cheek region. The process involves the injection of dermal fillers around the contours of one's cheekbones for creating more definition. This treatment usually costs around £200-£500 a session.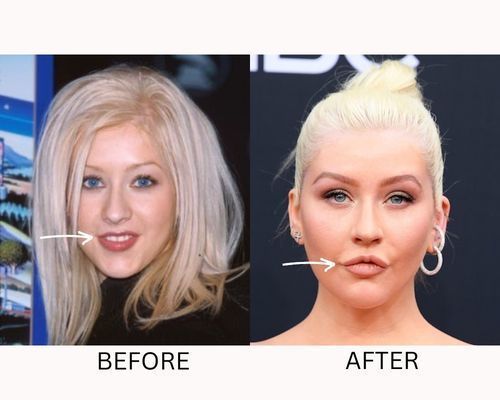 3.    Lip Fillers
Most probably, Christina Aguilera plastic surgery also included lip fillers. Her lips look slightly fuller than how they appear to be in her previous pictures. In the UK, the average rate of lip fillers can vary from provider to provider and the quantity of filler that is used. On an average, it would be £200 - £1000 every treatment.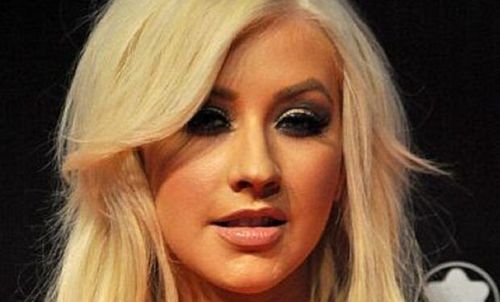 4.    Jaw Contouring
Christina Aguilera plasic surgery also includes chin and jawline contouring through non-surgical method of dermal fillers. The treatment is known for creating a more slimming and defined look to the jawline and chin area. It can cost up to £150 to £300 per contouring session. The rates actually depend on the quantity of product which is used. Although weight loss can bring a similar change to the shape of one's face, it is the fillers which add specific definition to that region. These are clear gel filler which gets injected beneath one's skin. The fillers lift and volumise the jawline and cheek region for giving a more young and youthful look. If done in large amounts, the fillers may end up looking unnatural. Hence, celebrities need to be careful about not overdoing them.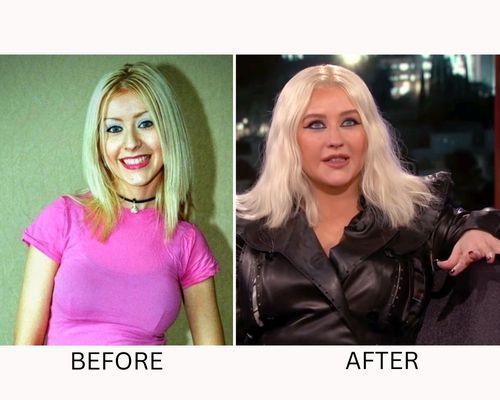 5.    Breasts
One look at Christina Aguilera Plastic Surgery before and after photos, and you will see that her breasts have undergone significant changes over the years. In her initial days of fame, her breasts looked young and developing. However, within 3 to 4 years, they started looking very new and different. Well, she had been pregnant which made her body change and shift in many ways. This would have obviously impacted her breasts too. But, one cannot overlook the wonders of Christina Aguilera Plastic Surgery here. If you take a glimpse of some of her promotional photos, you will see scar marks over the underside of Aguilera's breasts. This simply proves that she has gone under the knife for her breasts too.
Other major Christina Aguilera Plastic Surgery includes one or two nose jobs, as well as a potential procedure of liposuction after her pregnancy. This helped her in getting back in shape faster than most people can get. She has taken help of Botox pretty much on a regular basis. It is also believed that Botox is to be credited for her porcelain-like, brilliantly crystal clear complexion.
FAQs On Christina Aguilera Plastic Surgery
Q.    Has Christina Aguilera done plastic surgery?
Christina Aguilera has got nose jobs done. She has also used botox on her lips, jawline and cheeks. Her breasts have also undergone some kind of treatment.
Q.    Why are Christina Aguilera Plastic Surgery Before and After pics look so different?
Christian Aguilera looks different in her recent pictures as compared to her old photos. This is because of multiple plastic surgeries and injections.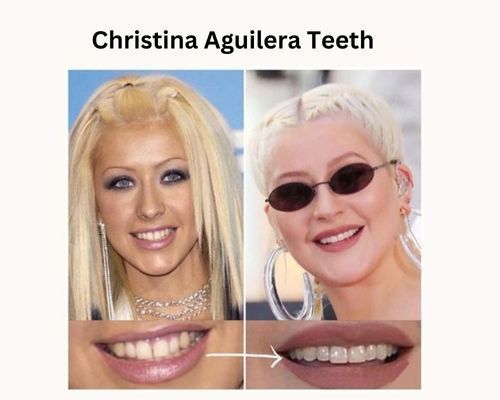 Q.   Why does Christina Aguilera teeth look so different now?
The before and after photos of christina aguilera teeth shows she has done something to enhance her tooth color and close the gap between teeth. Experts are of the opinion that she has gone for porcelain veneers to enhance her tooth color and shape.
Q.    How old is Christina Aguilera? Why does she look so young?
Christina Aguilera is 42 years old. She looks young and youthful because of working out, eating healthy, as well as numerous botox treatments and plastic surgeries.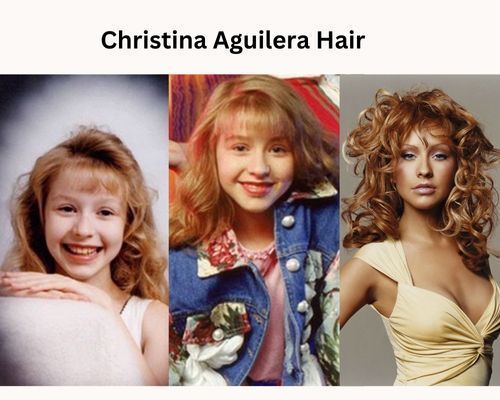 Q- What is the natural hair color of Christina Aguilera?
Christina Aguilera is naturally blonde as shown in her photos. She had dark blonde hair naturally but over the years she had experimented with various hair colors and now prefers to go with light blonde.
Q- Did Christina Aguilera get breast implants?
Christina Aguilera is rumored to have undergone a boob job. If one looks at Christina Aguilera Plastic Surgery before and after photos, and you will see that her breasts have undergone significant changes over the years. In one of the promotional photos, scar marks were also visible over the underside of her breasts. This simply proves that she has gone under the knife for her breasts too.
Q.    Did Christina Aguilera get plastic surgery on her face?
In the recent pictures of the superstar, Christina Aguilera's jawline and lips look fuller. It can be due to plastic surgery, make up and weight gain. She has used dermal fillers to bring changes to her contours and face shape. The fillers have lifted and voluminised her jawline and cheek to make her look half her age. That is why, she appears so different in her latest pictures.
Q.    What has Christina Aguilera used on her face?
Christina Aguilera has used dermal fillers on her face. These are clear gel fillers that are injected deep into the skin. These are known for lifting and adding volume to the jawline region and cheeks.
Q.    How many plastic surgeries does Christina Aguilera have?
Christina Aguilera has gone for liposuction after she gave birth to Max, her son. Apart from that she has got breast implants, nose job, and collagen injection on her lips.
Q.    How much do Christina Aguilera's plastic surgeries cost?
Christina Aguilera's cheek fillers costed her somewhere between £200 to £500 per session. The lip fillers are priced at in the range of £200 to £1000 every treatment. Her jaw contouring costed her around £150 to £300 every contouring session.
Q. Who is Christina Aguilera's husband?
Christina was married to Jordan Bratman from 2005 to 2011. She is currently engaged to Matthew Rutler (from 2010 till present).
Related Articles