Top 31 Mehndi Designs For Hands - 2023
Shalu Bhati
Updated At 08 Jan 23
Looking for mehndi designs for hands? Do you want simple mehndi designs for hands without giving up on their beauty aspect? Then you have come to the right place.
Mehndi designs form an integral part of our festivities now. They are not just the select few easy henna designs to be painted on palms but these also have historical and cultural significance. The use of mehndi is considered auspicious and over time, mehndi designs have grown to incorporate motifs and patterns which are equally auspicious.
Keep reading as we have brought for you a list of 31 most stunning mehndi designs for hands which also include the popular maruthani design photos. Let's begin!
31 Best Mehndi Designs For Hands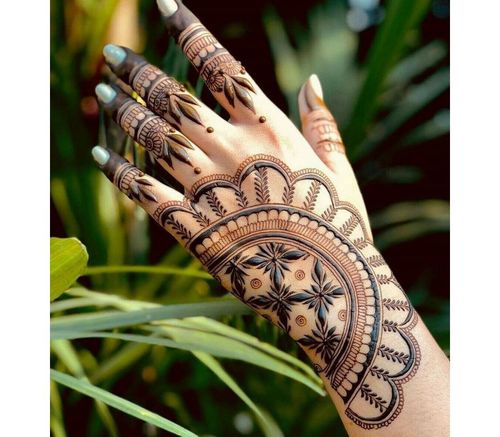 1. Beautiful Mehndi Designs For Hands
Let's start this list with a gorgeous mehndi design. This mehndi design for the back of the hands uses the latest styles and designs. This is a modern half and half mehndi design which looks elegant and very attractive.
Check out our list of 125+ easy mehndi designs wherein we cover all the type of mehndi desings for various occasions!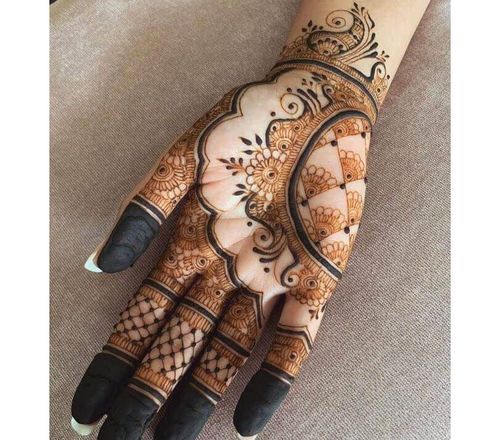 2. Pretty Hand Mehndi Design For Hands
This is a hand mehndi design that makes use of light and dark tones of mehndi to create this wonderfully ethereal design. It is the latest trend to leave space strategically while making mehndi designs for hands. And this pretty design makes use of the same.
If you are looking for the best front hand mehndi design then check out our guide as we list 51+ Top Front hand mehndi desings.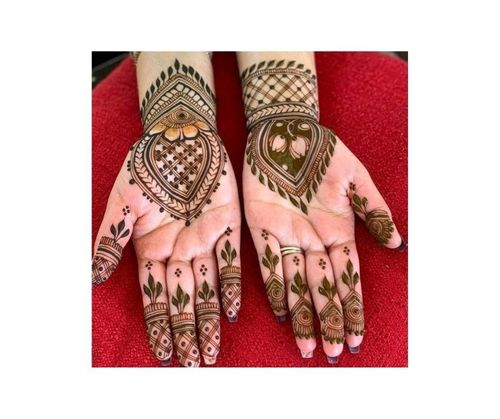 3. Lotus Flower Mehndi For The Win
Do you know what doesn't get old or out of trend? The influence of Mughal paintings in mehndi designs. It was a trend that started a few years back and continues this year as well. This is a simple and stunning mehndi design that fits well with the essence of modernity and minimalism and yet catches upon the artistic traditions.
Also, check out the 25+ best floral mehndi designs for hands and feet which include the top mehndi desings for wedding and all specific occasions.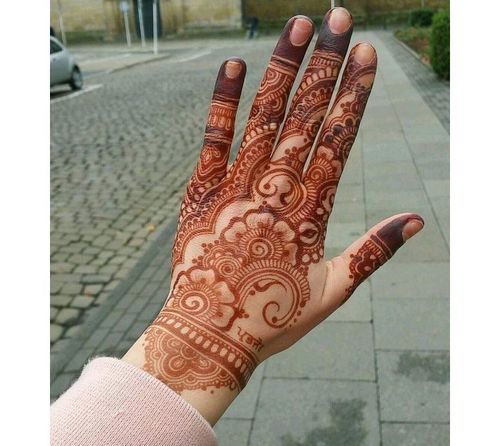 4. Arabic Hand Mehndi Design
This is another one of the Arabic mehndi designs for hands. It is a refreshing design even though it uses the same old patterns and motifs. The trick here is the placement of each motif. There is an interplay of space and the filled up area which adds to the beauty of this design.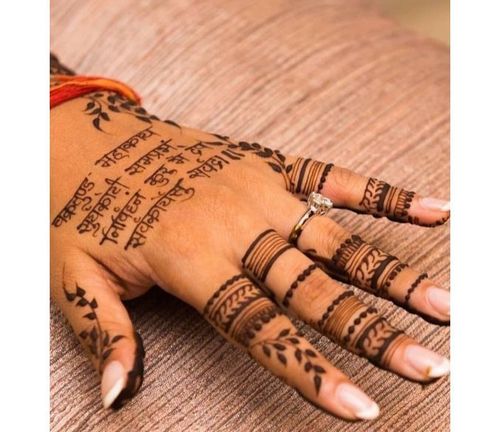 5. Praising Lord Ganesha
It is a Hindu custom to start new things and ventures with the name of Lord Ganesha. So, what better way to show devotion to the deity than a mehndi design? This design uses a minimal and simple design on fingers while the back of the hand is covered with a small prayer for Ganesha in Sanskrit.
Check out our guide of 51+ latest bridal mehndi designs which are trending this year!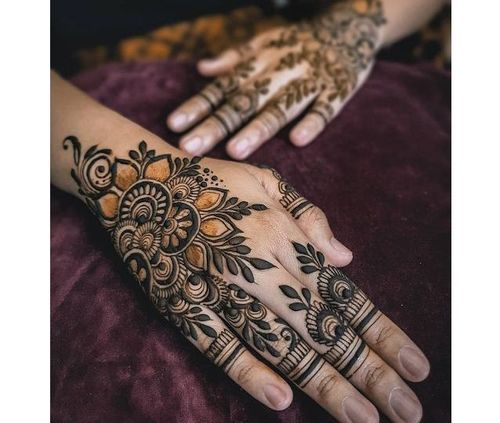 6. Maruthani Design For Hands
This is yet another maruthani design for hands. It uses space as a marker between two parts of the mehndi design. The intricate motifs and patterns are very well complemented by the bold floral as well as leafy patterns and make this hand mehndi design look simply gorgeous.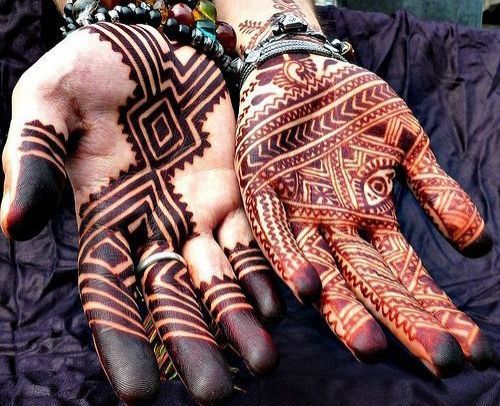 7. Beautiful Moroccan Hand Mehndi
This is another example of the beautiful Moroccan mehndi designs for hands. It mixes different geometric patterns which are differentiated rather clearly by bold straight lines. What makes this design so beautiful is the eye-catchy interplay of thin and thick lines.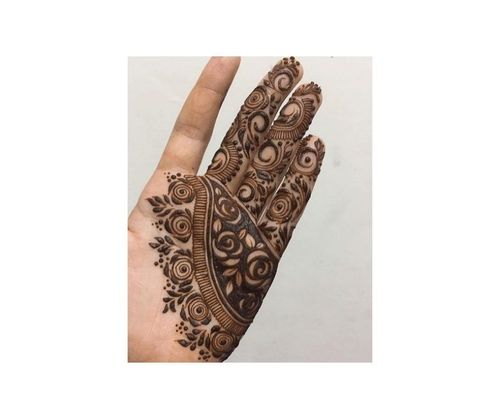 8. Rose Hand Mehndi
Roses are red and beautiful. Everybody loves them and when used as a pattern for mehndi designs for hands it brings a mesmerizing beauty with it. This hand mehndi design makes use of both positive as well as negative space to highlight the roses. Even the fingers are adorned with a combination of roses and leaf patterns. This design, however, is one of the simple mehndi designs for hands that look minimalistic chic.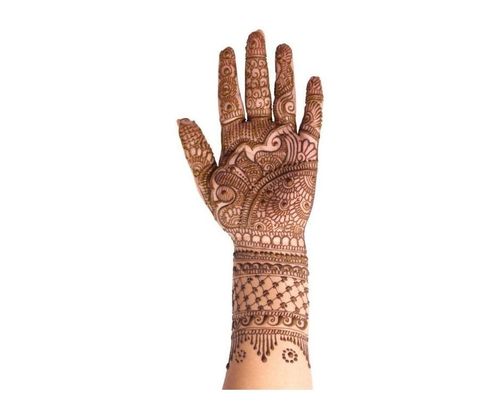 9. Maruthani Design
A maruthani design is what a mehndi design is called in Chennai. And this particular hand mehndi design is one such design that comes from the capital of Tamil Nadu. This is a beautiful design that comprises so many different patterns including floral, paisley, and net as well as a peacock. It uses intricate details to fill in the spaces and paints a pretty picture.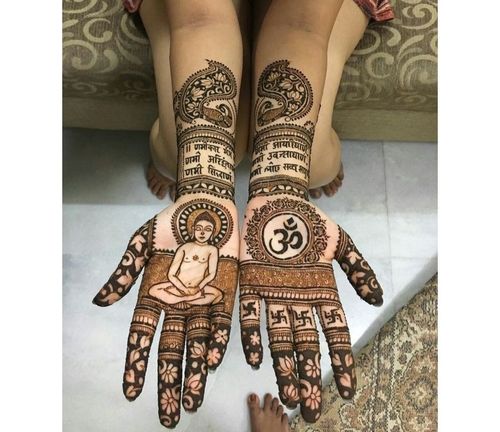 10. Mehndi Designs For Hands With Mantra
Mehndi designs are considered auspicious. Then why not add to this auspiciousness by adding shlokas or mantras as part of the hand mehndi design. This particular design uses Om and a caricature of Lord Buddha on the palms which are then surrounded with floral motifs. The use of thin as well as thick bold lines brings out a new kind of beauty to make this mehndi design very artistic and engaging.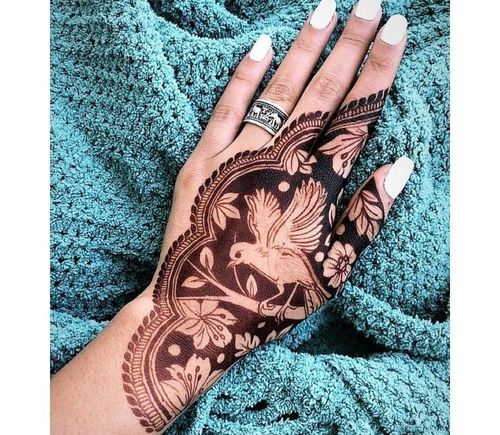 11. Stunning Hand Mehndi
You must have seen birdhouses as part of mehndi designs but now is the time when you become obsessed with birds other than peacocks. This is one of the popular back hand mehndi designs. This hand mehndi design comprises of a bird perched on leafy branches. This design boasts of ethereal beauty and we cannot take our eyes off it.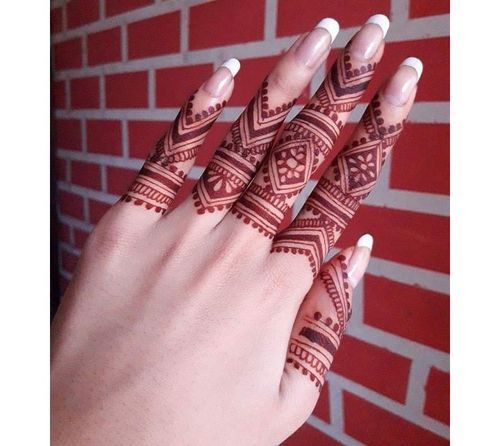 12. Simple Mehndi Designs For Hands
This is a simple mehndi design for fingers and can give a perfect start to beginners. It is a simple and minimal design of mehendi where only the fingers are decorated with a different design for each one.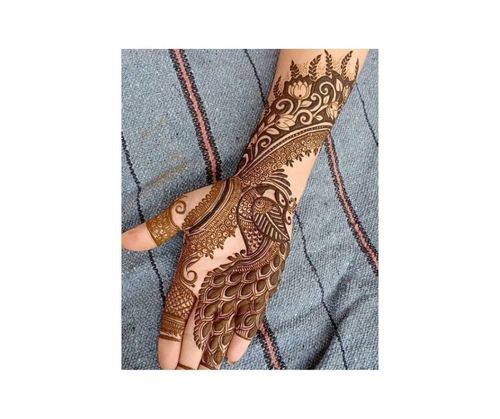 13. Peacock Glory
This is not your regular peacock hand mehndi design. This is a fashion designer mehndi. The peacock here twists its necks to glance at its feathers which are spreading through the fingers. It is a stunning design that will make you the talk of the town with its beauty.
Check out our guide to find 61 amazing leg mehndi designs which have been trending this year.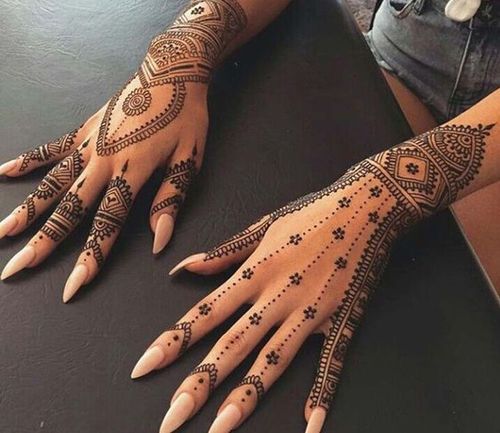 14. Fashion Designer Mehndi
This is a perfect example of the asymmetrical mehndi designs for hands. The asymmetrical design here means two different designs on both hands instead of similar and symmetrical ones. Designs on both hands feature a Moroccan style of mehndi which is simply stunning.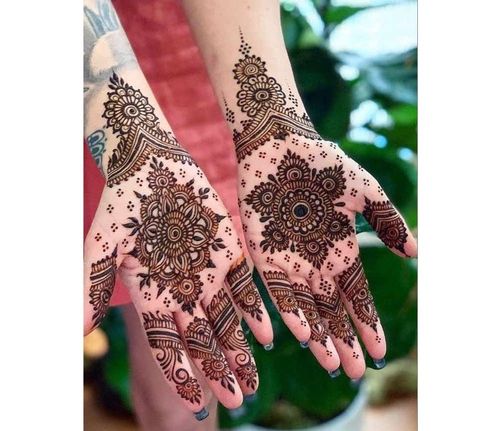 15. Flower Mehndi Design For Hands
This flower mehndi design is as pretty as a picture. This design has uniformity all over when it comes to the choice of motifs and patterns. The same motifs can be seen on the fingers, palm as well as on the cuff and resultantly make this hand mehndi design very eye appealing.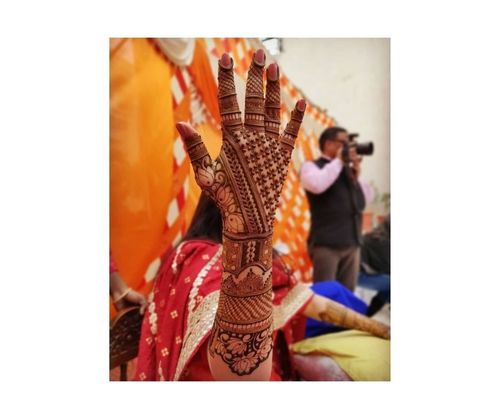 16. Marwari Mehndi Designs For Hands
Marwari festivities are known to be big on pomp and show and so are the Marwari mehndi designs for hands. This particular hand mehndi design fills the entire palm and spreads out through the cuff area. The intricate details combined with bold floral motifs make this design extremely alluring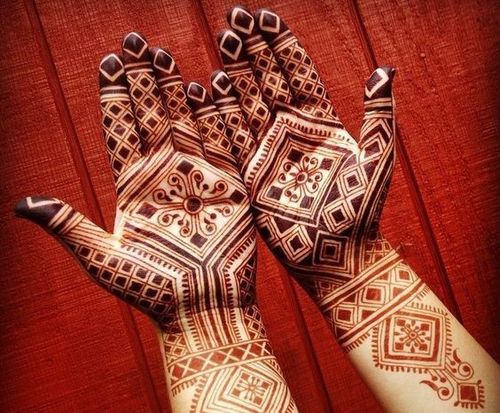 17. Moroccan Mehndi Designs For Hands
Moroccan designs of mehndi are not angular but they are straight and symmetrical. Take this amazing geometric design for instance. Bold straight lines divide little portions on the palms within which different geometric patterns take their place. This design is easy to draw but leaves a lasting impact.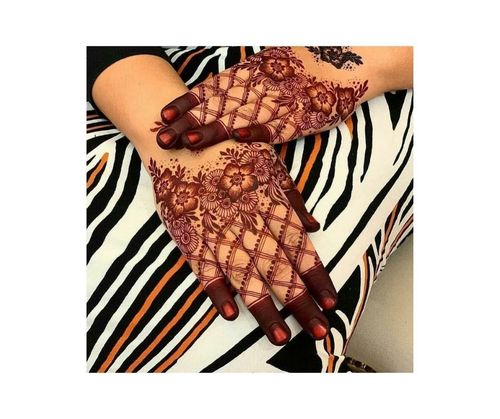 18. Henna Mehndi Design For Palms
This is a henna mehndi design for hands that uses two different shades of henna, one for outlining the patterns and the other one for shading. This dark and light combination makes this hand mehndi design very appealing to the eyes.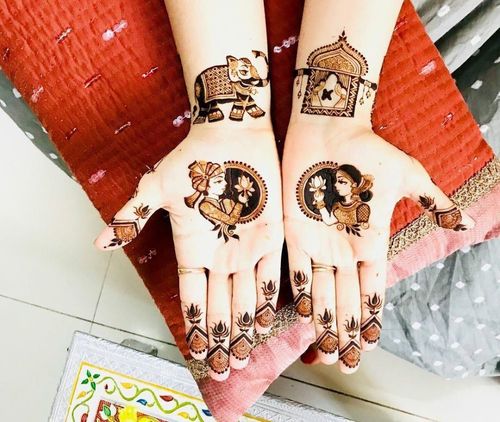 19. Chic Bridal Mehndi Design
If you are a bride who wants to keep it simple yet impressive, this is the mehndi design for you. It is a bride and groom mehndi design. Meaning, it uses the images of a bride and her groom on each palm. It also uses other wedding memorabilia on the cuffs. This design might bank upon a lot of space but it sure is gorgeous.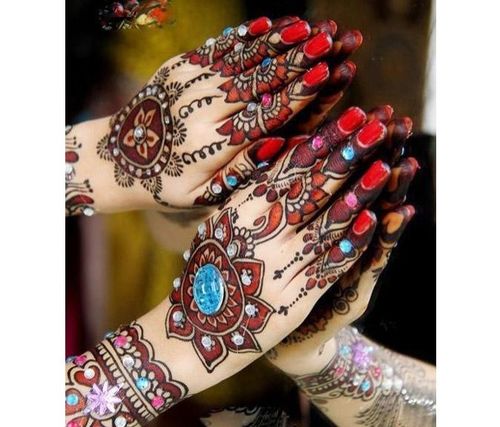 20. Zardozi Henna Mehndi Design
Zardozi is not just limited to bridal attire. Now, you can have the same zardozi mehndi designs for hands. This particular henna mehndi design is simply stunning. It uses colorful stones to take the entire hand mehndi up a notch on the beauty scale.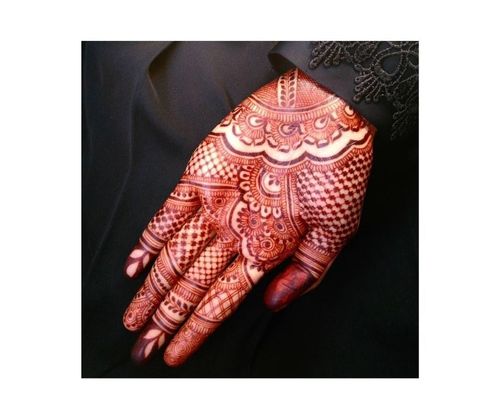 21. Beautiful Mehndi Designs For Hands
This maruthani design of hand mehndi is yet another one that made us fall in love with itself. And can we be blamed? It uses a variety of motifs and patterns along with the use of negative and positive spaces to make this design even more impactful.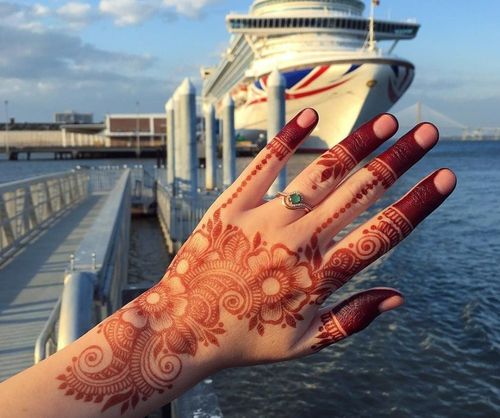 22. Arabic Flower Mehndi
This is one of the simple mehndi designs for hands and is a very beautiful example of Arabic mehndi designs. Floral patterns combined with teardrop motifs form a pretty combination.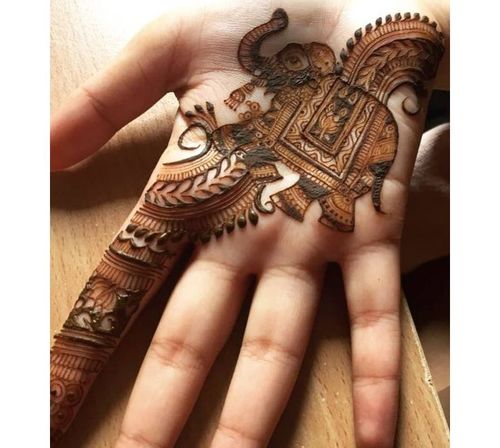 23. Simple Rajasthani Mehndi Design
Rajasthan is known for its heritage, culture, and magnificent palaces left behind by the Rajput rulers. And this bridal mehndi design represents everything about Rajasthan. Its clean, sophisticated, and beautiful design seems to be giving out a taste of royalty. From the lotuses to the elephant at the center of the palm, we love everything about this hand mehndi design.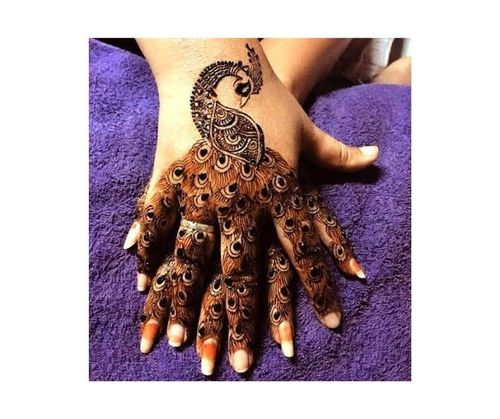 24. Pretty Peacock Hand Mehndi
Gone are the days of making a peacock out of paisley. Get your creativity rolling with this magnificent peacock hand mehndi design. It is not just the peacock but the entirety of its feathers spreading throughout the hand which makes this mehndi design stand out with its exquisite beauty.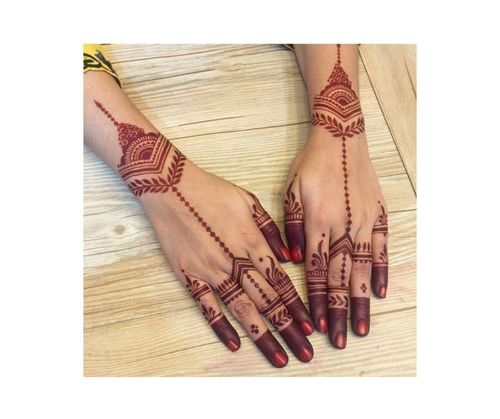 25. Jewellery Design Mehndi For Back Hand
Jewellery Mehndi has been a popular choice for quite some years and is here to stay. Such mehndi designs for hands-only keep on improving and have gotten more creative. This particular design is no simple feat and includes a lot of intricate details especially on the cuff area. It beautifully imitates a heavily engraved bracelet as well as a hathphool.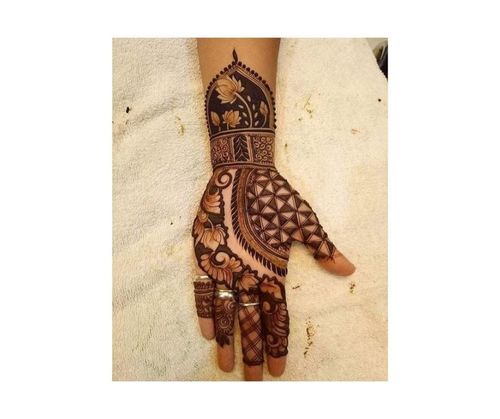 26. Rajasthani Hand Mehndi
Rajasthani mehndi designs for hands are known for their intricate details and ethereal beauty. Take a look at this mehndi design and you will know what exactly we are talking about. The interplay of negative and positive spaces through floral, leafy, and other patterns makes this mehndi design very attractive and aesthetically pleasing.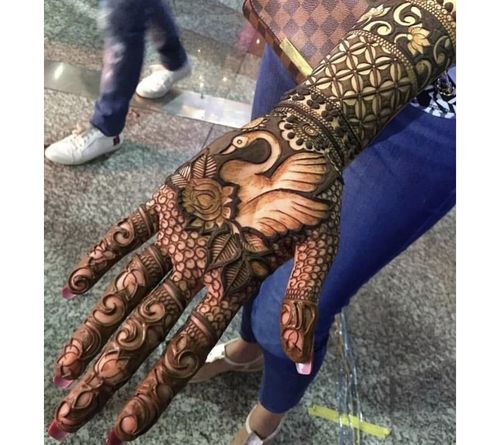 27. Swan Mehndi Designs For Hands
Move on from the regular flower and paisley designs and go for something new and different like this exquisite hand mehndi design. This is a mehndi design which is in touch with all the latest trends and incorporates a variety of motifs from leafy net pattern to the floral ones. But what would catch everybody's attention is the caricature of a swan at the center. We also love the lotuses on the fingers.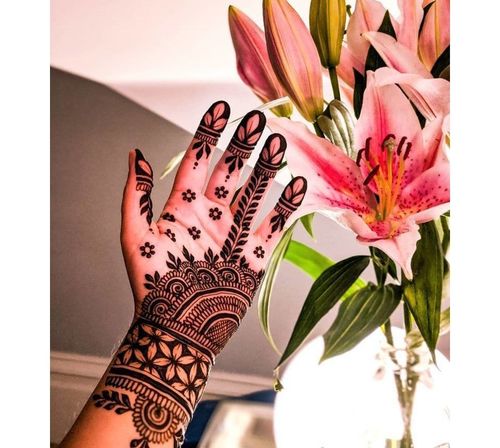 28. Lillies For Palms
Move over rose and lotus. This is the year of the lily. Mehndi designs for hands have a new favorite in 2022. Lilies have become a popular choice of design. Here, they can be seen adorning the cuff while the rest of the palm uses a mix of floral patterns to create a beautiful design.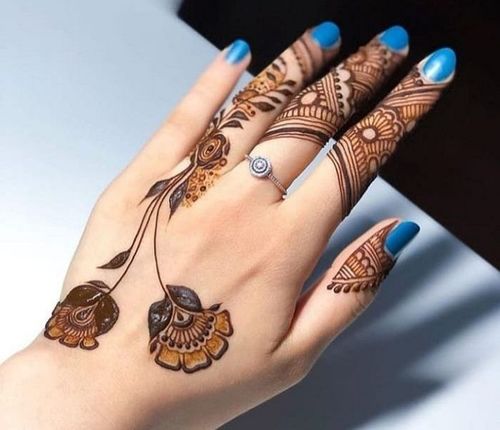 29. Latest Simple Mehndi Designs For Hands
This is a simple yet very pretty Pakistani mehndi design. It uses motifs and patterns that we generally see in mehndi designs for hands and yet its execution is very different. It is minimal, elegant, and very beautiful.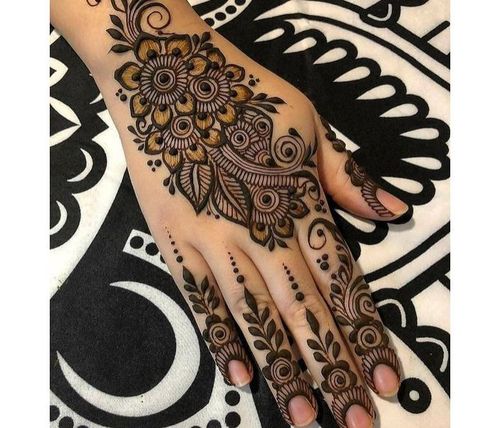 30. Flower Mehndi For Back Hand
Flower mehndi designs for hands are extremely popular. And this one is a combination of mew as well as old motifs and patterns. This design comprises of paisleys, roses, floral, leafy, and dot motifs. It beautifully covers the backhands and reaches till the cuffs. Overall, this hand mehndi design exudes beauty and grace.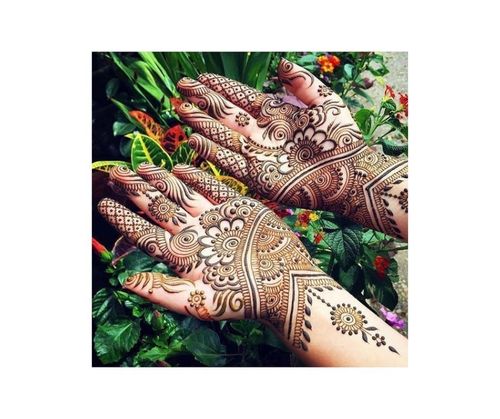 31. Khafif Mehndi Design
Khafif mehndi designs for hands are known for their immense beauty and intricate details. And that is why we know you will be impressed by this hand mehndi design. It uses a variety of basic floral patterns and motifs. The use of the net pattern complements the rest of the design extremely well and just fits in so perfectly.