55 Stunning Creative Henna Designs - 2023 (With Images)
Pooja Angurasu
Updated At 03 Jan 23
Mehndi is a very traditional form of art that exists in India for a long time. Mehndi is mainly associated with weddings but today women are applying mehndi for diverse occasions owing to the variety of designs that exist today. There are so many types of mehndi design today for a variety of occasions. Let's see some of the creative henna designs which take us to the creative world.
55 Creative Henna Designs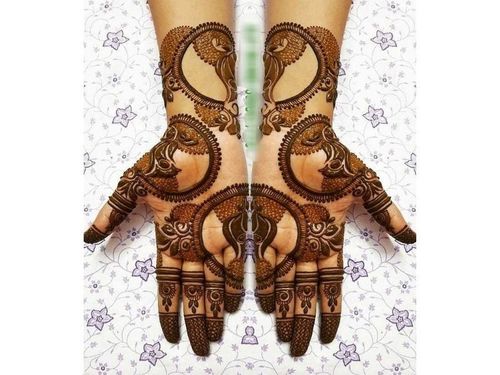 1. Creative Henna Design
Get creative with the mehndi design this time and try out this uniquely drawn mehndi for both hands. It has pretty lotus patterns as well as beautiful small grid detailing on the fingers.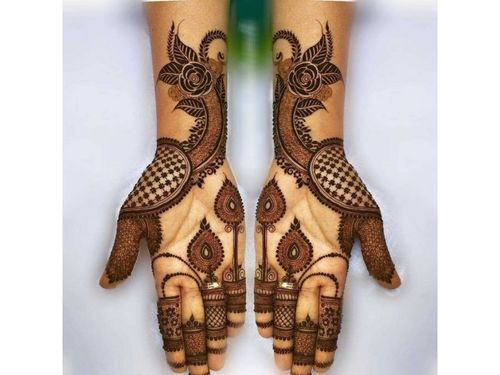 2. Paisley Mehndi Design
Paisley mehndi designs are quite apt for festive occasions like Rakshabandhan. Furthermore, dangling mehndi designs are very much in trend this year. Such a gorgeous creative mehndi design.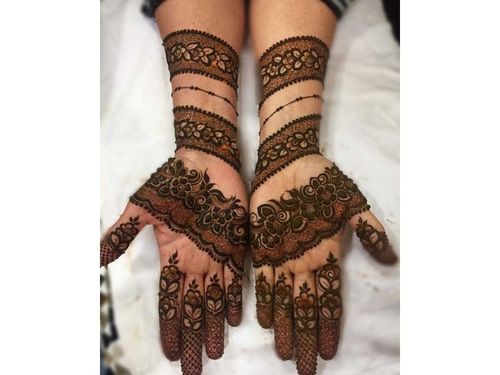 3. Spaced Out Creative Henna Design
Get matching mehndi designs done on both hands for that exquisite look. The spaces between each creative design make the overall henna design more special. Such an exotic creative mehndi design.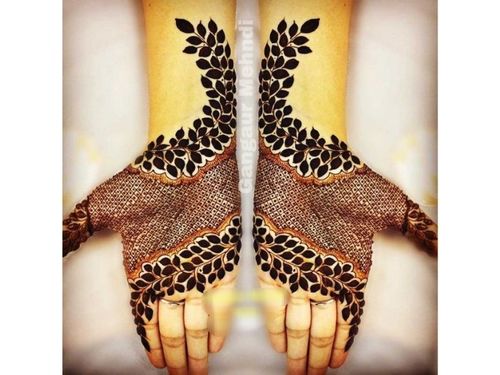 4. Grids And Leafs
Grids Mehndi's designs are a total stunner! Amp up its look by adding buttons and some leafs to make it appear more alluring. Just rock any occasion with this modern creative henna design.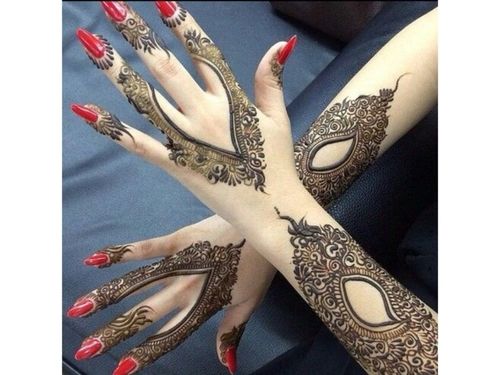 5. Modern And Creative Henna Design
Stunning and latest mehndi design highly inspired by trendy Moroccan motifs, this creative Mehndi design stands out as unique in its design, giving it a filled-up look yet simple and modern.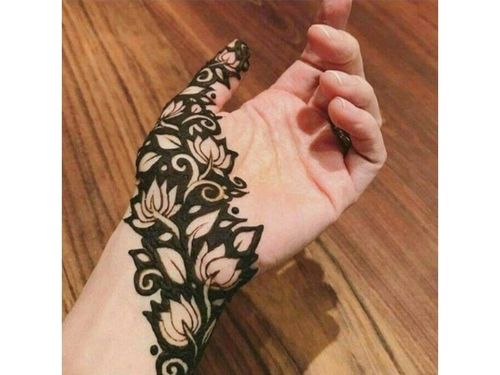 6. Palm Cuff Design
Palm cuffs became quite a rage a few years back! Now that the trend has declined, we decided to add a creative mehndi design which gives an impression of that jewellery piece. We love how this one displays patterns like lotus & leaves with so much panache.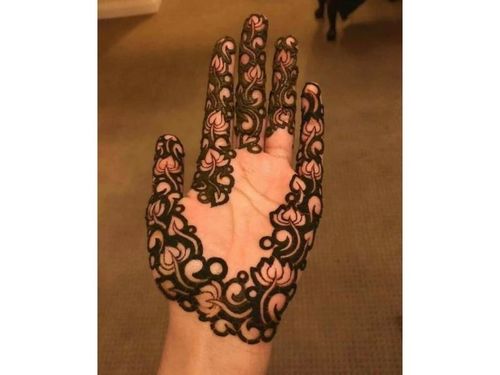 7. Lotus Mehndi Art
Love the variation of thickness in this unique creative mehndi design. This creative henna design looks traditional as well as modern. This modern design will be suitable for modern outfits.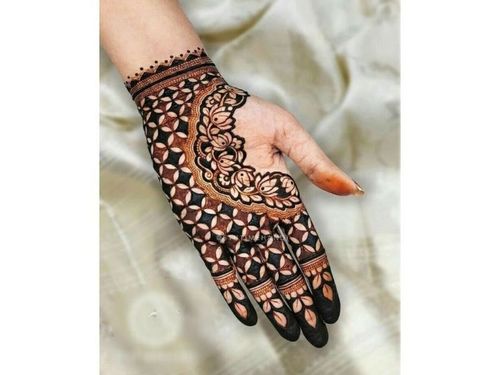 8. Modern Floral Arabic Design
This creative henna design has different dark colours in different shades. Since Arabic designs involve thick mehndi, this design would look rich once the colour sets in. Arabic design lovers can give it a try!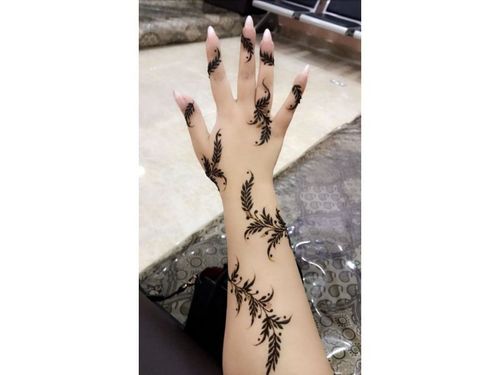 9. Scattered Leaf Branches
This one's just about foliage! Little leaf branches scattered around the hand and forearm. For the oh-so-simple bride who doesn't like being extra, this simple creative mehndi design is just your pick!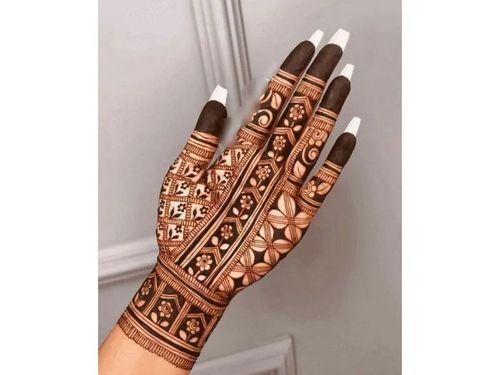 10. Separated Designs
Did you notice how this bridal mehndi is divided into three parts with unique patterns? This one just won our hearts. Each partition has a different design. This creative henna design gives a stunning look.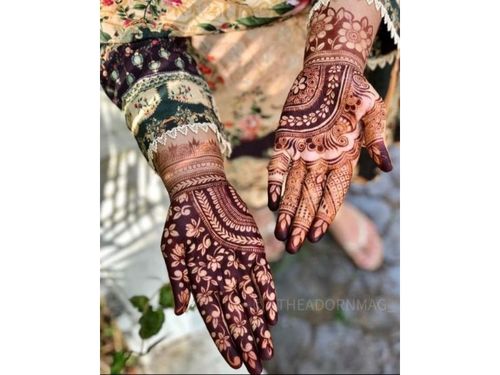 11. Arabic Bridal Design
This design consists of various layers of mehndi illustrations! And we loved it to bits. Brides who love Arabic design can decorate their hands with this beautiful Arabic creative henna design.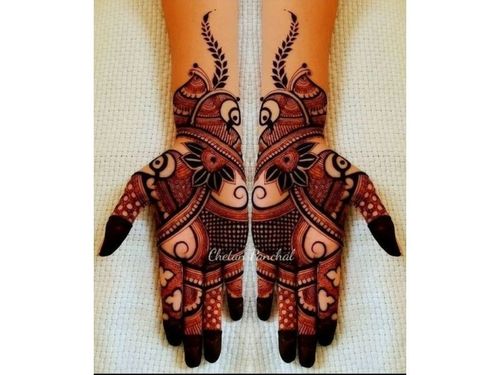 12. Peacock Design
A creative henna design that is too beautified further with peacock motifs? We say it's a win-win! Brides can try this amazing peacock design for their wedding. This creative henna design gives a traditional outlook.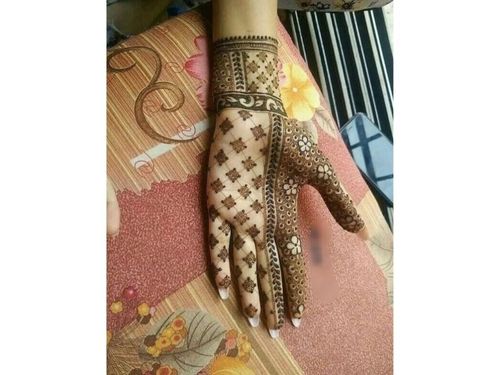 13. Jaali Mehndi Design
This one is a mix of mesh with a floral/leaf pattern. It proves to be a stellar example of out-of-the-box Arabic mehndi designs. This creative henna design proves that Arabic designs can be done creatively.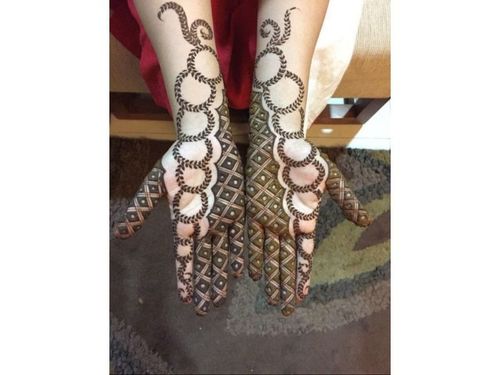 14. Contrasting Mehndi Design
Creative Mehndi design with two opposite patterns featured together. It's the simplicity of this design that makes it popular amongst modern women! Don't they complement each other perfectly?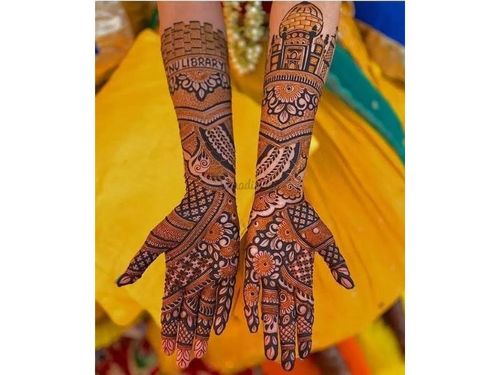 15. The Place We Met
An ode to the library where this couple met first. One can do such creative henna designs which might be based on their love story or references or places which commemorate their love.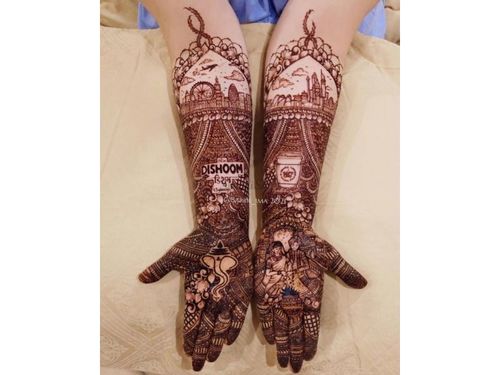 16. Knocked Out
This creative henna design tells about the couple's funny love story. One can make the wedding funnier and happier like this creative mehndi design.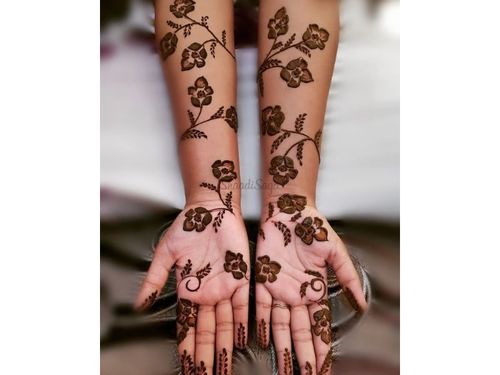 17. Flower Power
Loving this flowering vine creeping up the hands! Also, don't forget to bookmark these traditional floral and creative mehndi designs for brides. Florals are usual in mehndi but doing it creatively is great!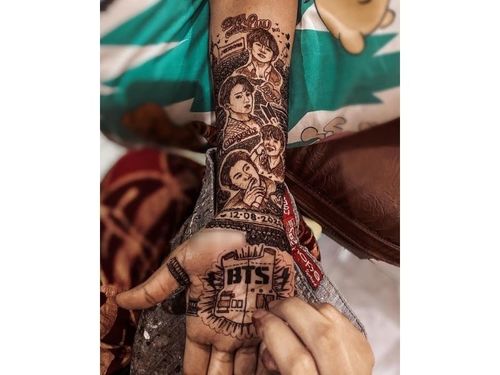 18. BTS
This cheeky and creative mehndi design says a lot about the bride's love for music! Not only brides but people who love music and BTS can recreate this design on any special occasion.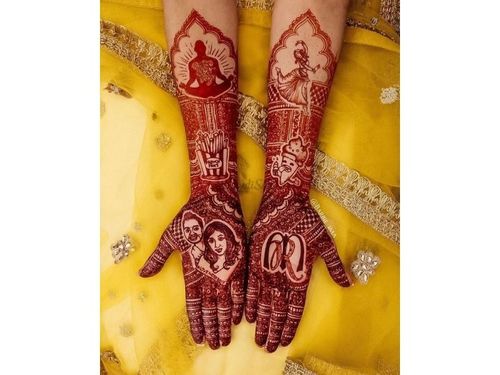 19. Their Favourites
Fries and ice cream are the perfect combination for the perfect couple! That couple mentioned their favourite foods and favourite hobbies that they loved to do. They even carved their first letters creatively.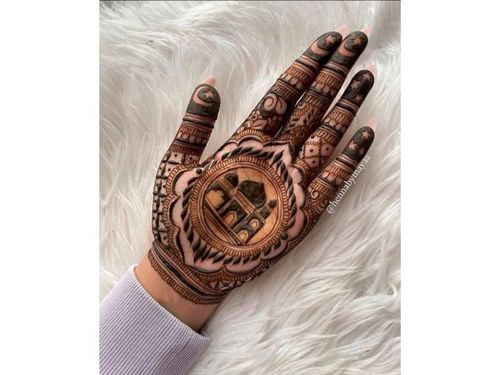 20. Cultural And Creative Henna Design
This creative henna design represents tradition and culture. This creative mehndi design has stars, moons and a religious place which is etched elegantly. This creative henna design is suitable for any festive season.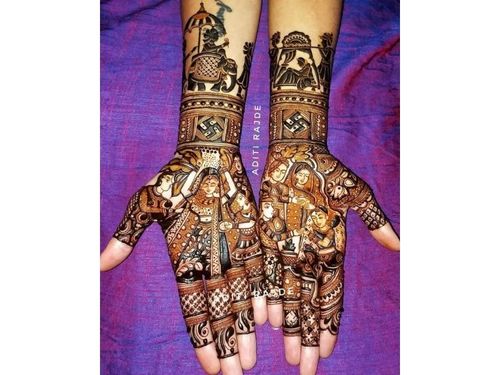 21. The Wedding Day
This creative henna design shows the important event that takes place at every wedding. This creative mehndi design is engraved smoothly and perfectly. Brides can prefer this creative henna design.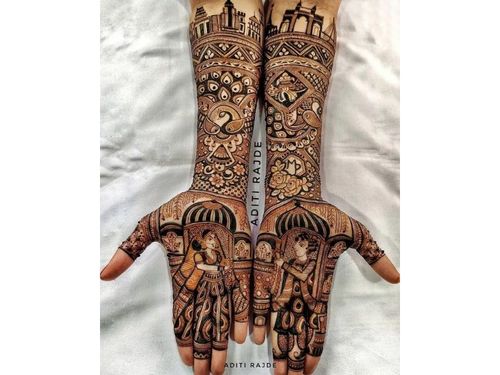 22. Facing Each Other
Lovely and creative henna design with peacocks, flowers, bride and groom facing each other with their adorable costumes. This creative mehndi design has dark and light shades which look like amazing paintings.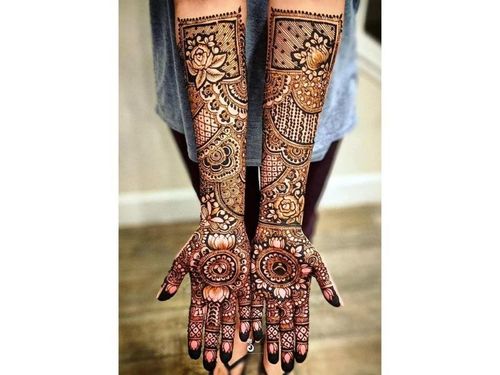 23. Exotic Floral
It is usual to decorate the mehndi with flowers but this exotic floral makes this creative henna design unusual and out of ordinary. Yes, these lotus flowers make this creative mehndi design extraordinary.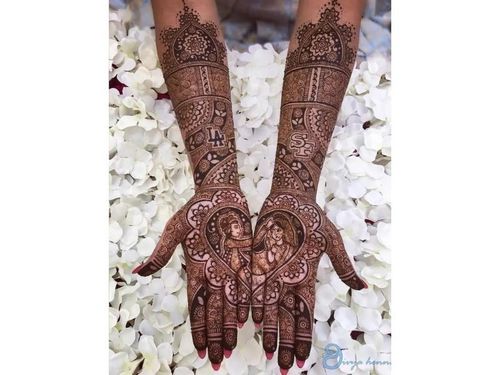 24. Bride In Bliss
The dream moment for the bride can be seen in this creative henna design which is inside the heart. It is a perfect creative mehndi design for brides. This creative henna design has a gorgeous finishing touch.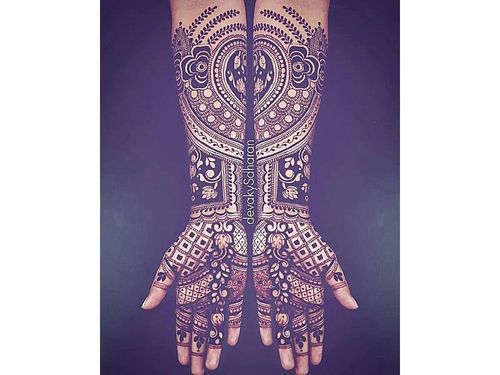 25. Symmetrical Design
Florals, leaves, dots and swirls are important elements to create a henna design. These elements form together to give a symmetric and chic creative henna design. This symmetric creative mehndi design gives a mirror effect.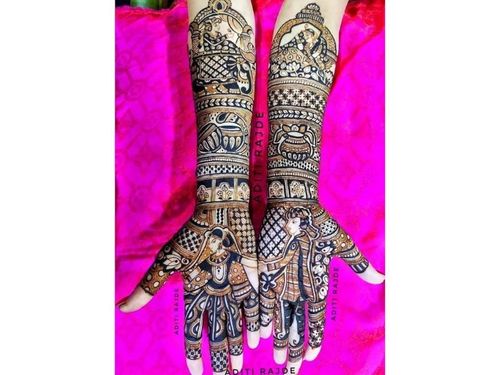 26. Pots And Palanquin
Pots, Drums, elephants and palanquins no doubt it's a happy wedding scenario. Make the wedding memorable with this stunning creative henna design. This creative mehndi design is especially for brides.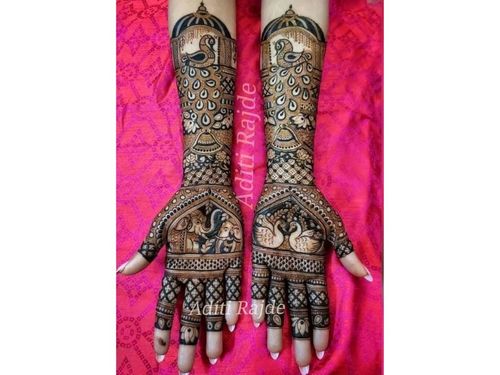 27. Peacocks Inside Palanquins
Instead of the bride and groom, the peacocks were placed inside the palanquins. This creative henna design is decorated with swans, elephants, flowers, peacocks feathers and hanging bells.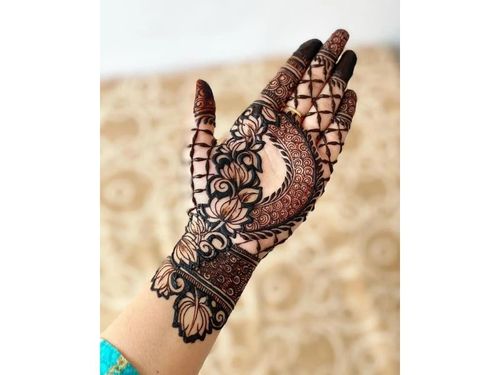 28. Modern And Tradition
Some people love being modern and some people love being traditional, but few want to be modern but they don't want to give up their tradition. To them, this creative henna design is discovered.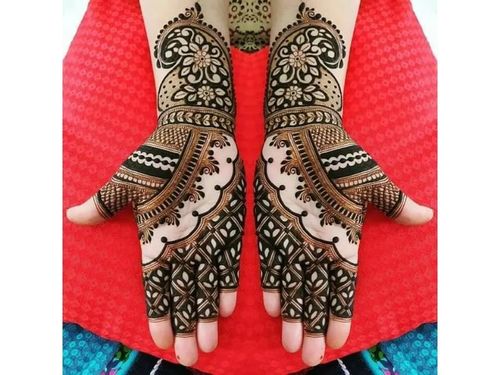 29. Spaced And Symmetric Design
Some space is needed in life and also in creative henna design to make the look fantastic. This creative mehndi design has mango motifs, netted patterns, florals, swirls and dots.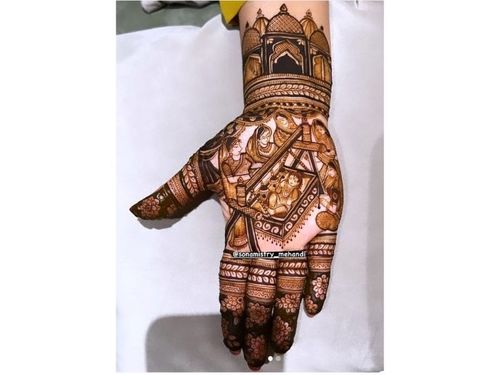 30. The Birth Of God
A marvellous creative henna design representing the birth of his Krishna. This creative mehndi design will be suitable for new moms or women who are going to celebrate baby showers can go with this design.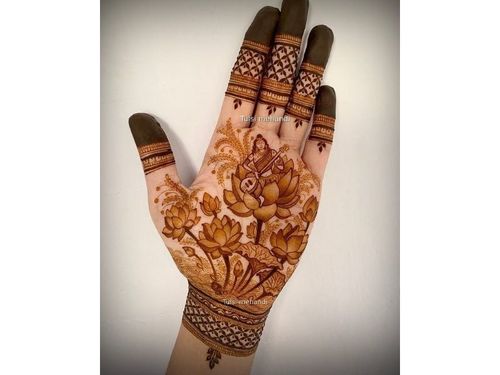 31. The Goddess Saraswathi
The Goddess Saraswathi peacefully sits on the lotus with her instrument. She was called the goddess of education. If Saraswathi puja is celebrated in our home, just make it more devotional with this creative henna design.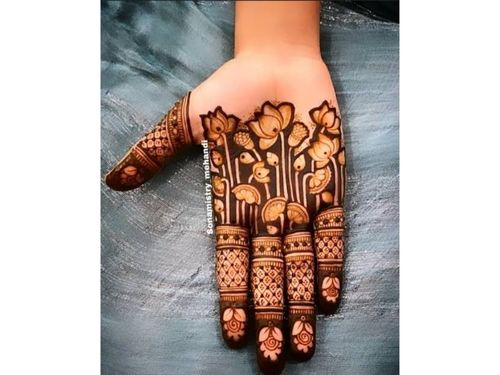 32. Hanging Lotus
For any occasion, flowers will play a vital role to make that event more auspicious. Just make your hands auspicious with creative henna design. Teens can go with this creative mehndi design.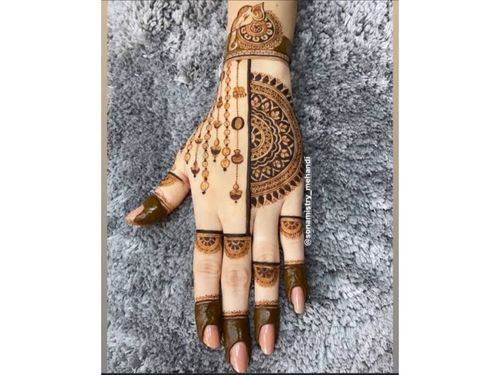 33. Half Mandala
If one wants their henna to be more creative? yes, here is the creative henna design one can go with. This creative mehndi design can be done during Diwali because it has hanging light lamps with half mandala.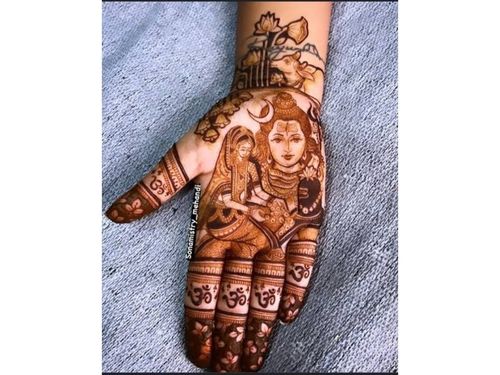 34. Lord Shiva
If there are any special events in nearby temples, just make the occasion more divine with his creative henna design. People of different ages can give it a try. Lord Shiva and Parvati, what a divine design!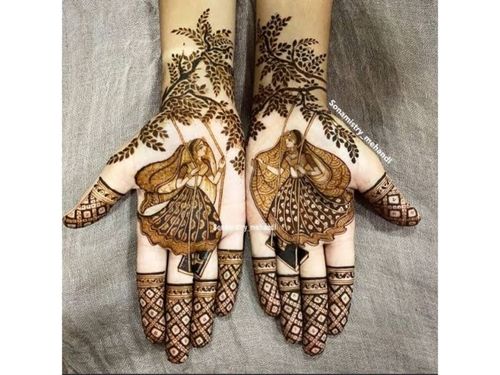 35. Friends Forever
To commemorate your friendship or sisterhood on any special occasion, one can choose this flawless and creative henna design. In this design, two girls were happily swinging under the tree. Golden childhood memories!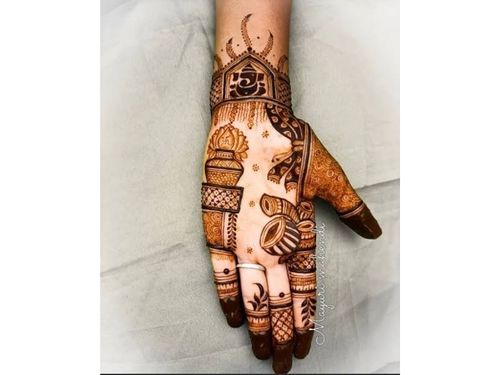 36. Pre-Wedding Design
Decorated pots and curtains, drums and other musical instruments with falling flowers are the main elements in this creative henna design to show the people that the girl is going to get married.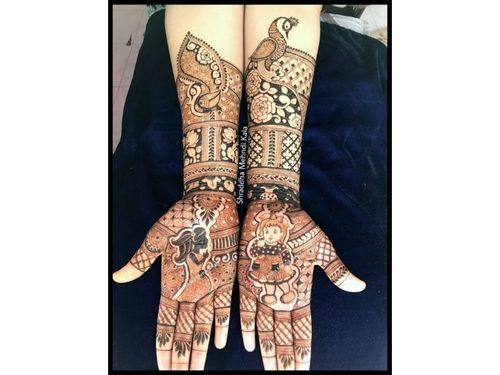 37. Baby Girl
To welcome the baby girl into this world, a pregnant woman can decorate her hand with this creative mehndi design. This design has a beautiful baby girl seeing her mother and there are some cute dresses on the wrist. Impressive!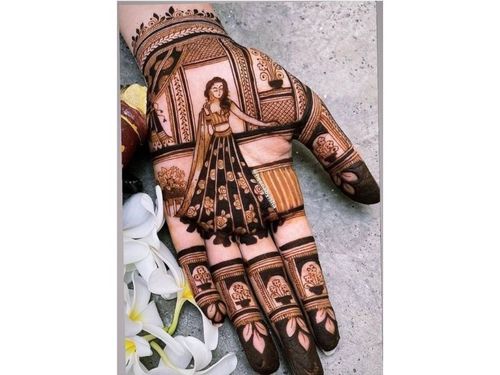 38. My World
A woman in her beautiful dress looks calm standing near the window. This is one of the prettiest creative mehndi designs, not only for the woman but also for the window and the flower vase. Every small design adds elegance!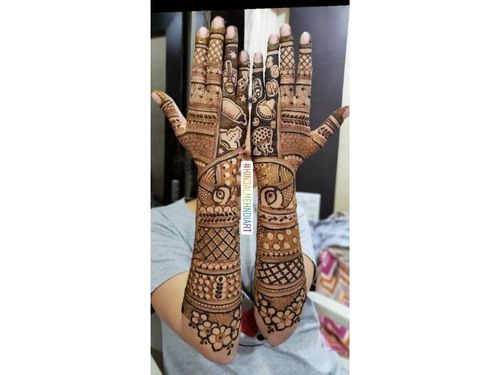 39. Just Baby Things
A mother's dream is engraved enormously in this creative henna design. Some of the things she needs to buy before delivery are dresses, a feeding bottle and toys for her princess or prince.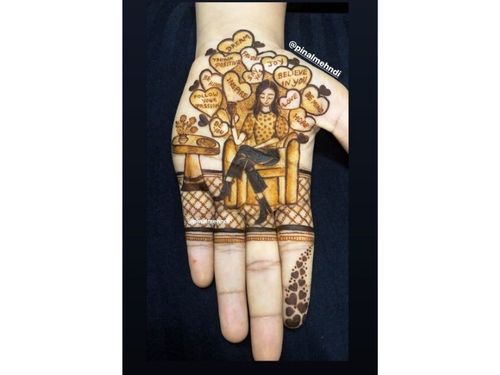 40. Ambitious Girl
Every girl's dream is to follow their passion, inspire, and be joyful and kind. The dream of every girl is etched in this creative mehndi design massively. The girl in this design is sitting with a great attitude.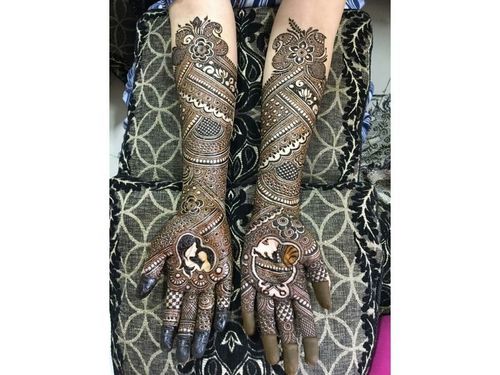 41. Creative Mehndi Design For Mom's
Just fill the hand fully with this creative henna design. This creative mehndi design is especially discovered for upcoming moms. Mothers' love is the most unconditional and purest form of love.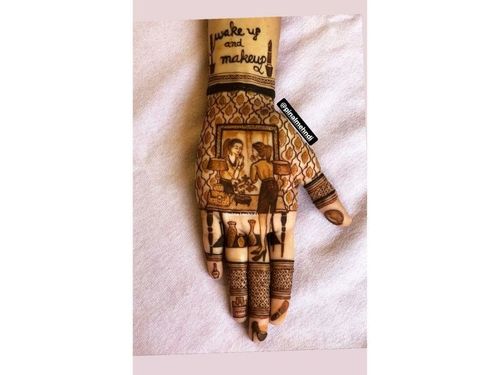 42. Wake Up And Makeup
This creative henna design can be done for a woman who loves makeup. The mirror, lamp, flower vase and those makeup kits were drawn perfectly. Such an admiring creative mehndi design.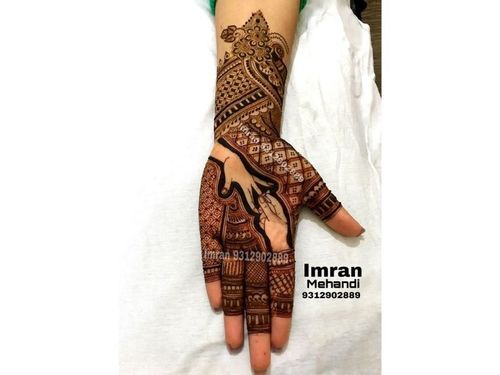 43. Mehndi For Marriage
One of the most important moments in a woman's life is getting married. The day when the ring goes to her ring finger is celebrated like a festival. Recreate this creative henna design on that special day.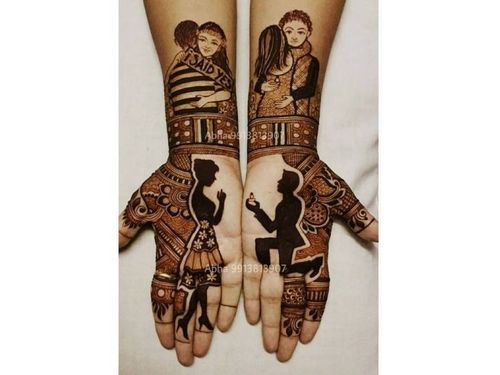 44. The Proposal Scene
The moment she got the proposal is engraved beautifully and creatively. Make this creative henna design to tell people how love was started. Modern brides can try this creative mehndi design.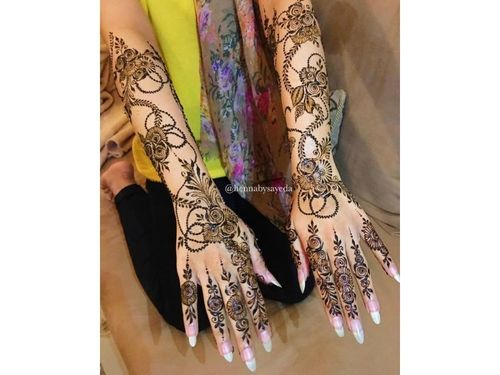 45. Elongated Swirls And Chains
This creative henna design might look complicated and elongated but it is an easy design with swirls, dotted chains, florals and leaves. This creative mehndi design gives both a modern and traditional look.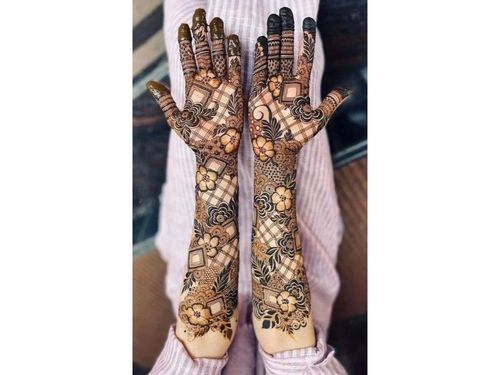 46. Floral Net Pattern
Celebrate your friend's wedding with this stunningly creative mehndi design. To get this flawless design one should be perfect in drawing every structure neatly. Just spend less time getting this design.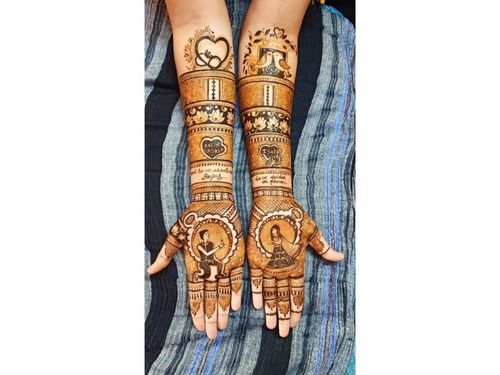 47. Love Scenario
Getting married to a loved one is a blessing. Etching the lovable memories of the couple in the form of creative henna design is pure bliss. Brides can get the happiest feeling after engraving this design on their hands.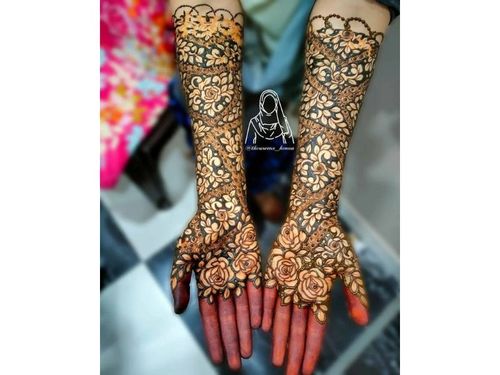 48. Fabulous Florals
Fond of florals? No doubt this will be the grand creative mehndi design for floral lovers. Make the festival auspicious and divine with this fabulous creative henna design.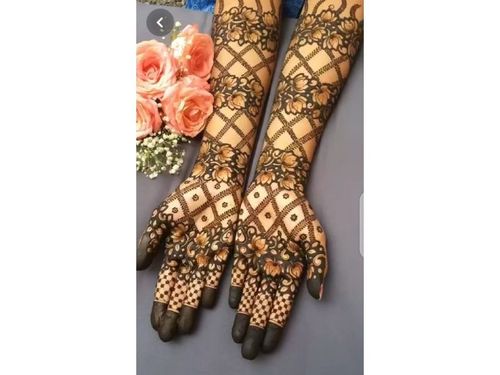 49. Jaali Pattern With Lotus
It's a pleasure to see the jaali pattern with lotus bracelets. This creative henna design is spacious but also gives a clean and chic look, which is considered favourable by many young girls.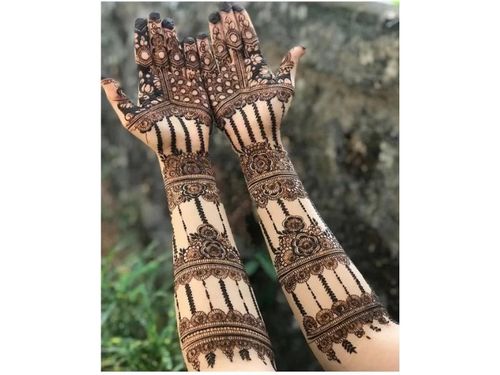 50. Spectrums
Nowadays, in the name of trend and fashion, the latest mehndi designs are bringing with them their imagination and the allure of past beauties. Among all of them, this creative mehndi design is one.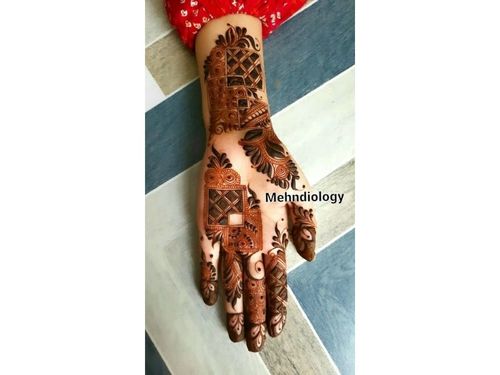 51. Geometrical Romance
Geometric shapes romance with floral elements and artistic leaves to add the freshness of nature's beauty to the palms. A creative henna design for a woman who loves minimalism.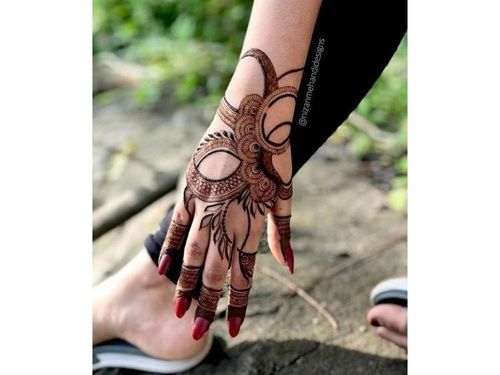 52. Simplicity Is the Best
This back-hand simple mehndi design fills the hands elegantly with simple swirls without adding too much noise to the palms. For western outfits, this creative henna design is the best choice. Beauty lies in this simplicity!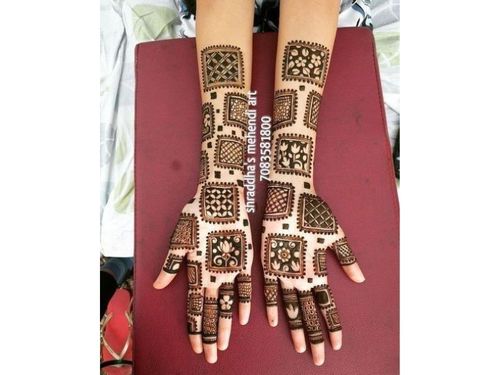 53. Separated Squares
Tired of florals and leaves? Try this creative henna design. If experimenting with art is your nature, don't hesitate to try this geometric mehndi design. One can try it with circles and other shapes too.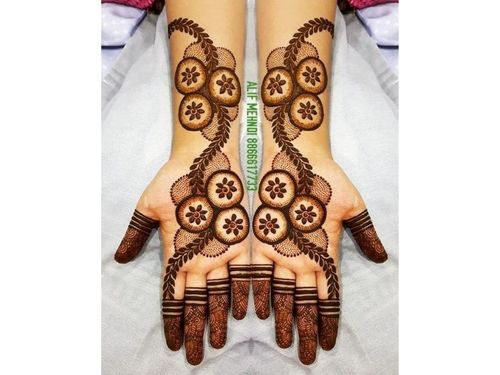 54. Floral Circles
Choose an evergreen favourite design with vines twirling around the palms and ankles or one can go all minimal, floral circle design is a minimal creative mehndi design and there are endless iterations to try.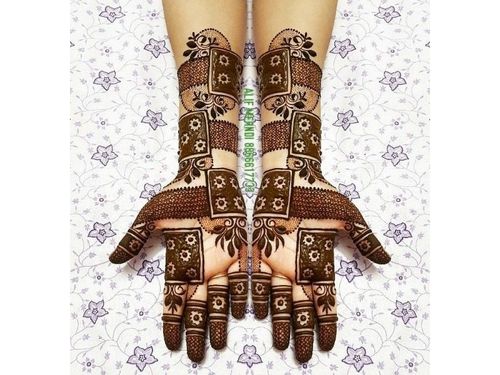 55. Mesh And Squares
Let these creatively drawn squares and mesh win your look. This creative mehndi design picture is everything a millennial could ask for and more! With just the right amount of space in the palm, this creative mehndi design flaunts the hand flawlessly.