Ultimate Guide To Types Of Mehndi Designs
Ashwini
Updated At 25 Aug 23
As the celebration season commences, everyone must be busy with their preparations and worried over the same. After reading this article, you wouldn't need to worry about the Mehndi design for your perfect celebration as our ultimate guide covers all the different types of mehndi designs.
Mehndi Design Types Guide
12 Mehndi Design Types
Finding the perfect mehndi design for the occasion can be a tedious task. However, once you know the various types of mehndi designs, you can choose one to get the perfect look.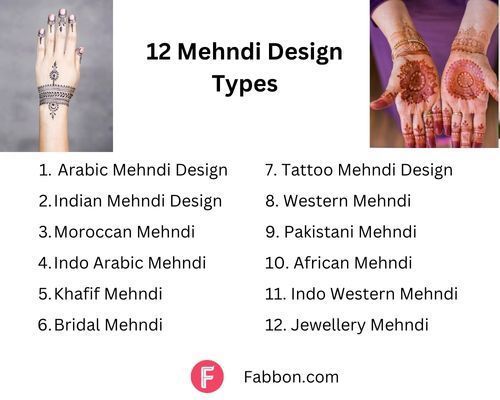 Our ultimate guide covers all the 12 types of Mehndi designs in detail along with all the popular FAQs. Lets begin.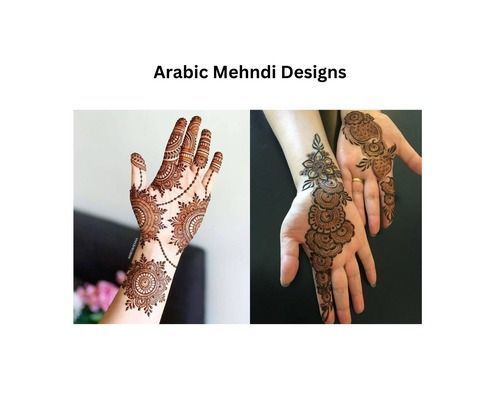 1. Arabic Mehndi Design
Arabic mehndi design is one of the most popular and preferred designs. As the word says, its origin is Arab. These designs are much broad and involve a lot of shading and floral patterns. These designs are also referred to as easy and quick mehndi designs.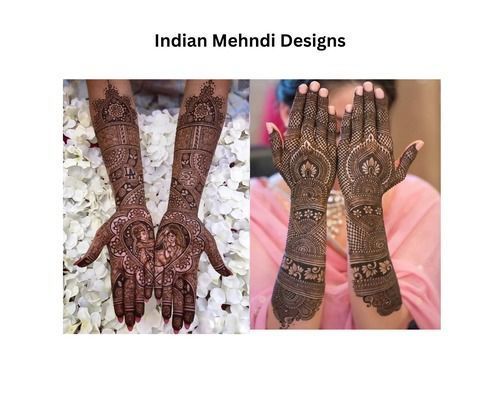 2. Indian Mehndi Design
The Indian mehndi design is one of the most charming and sublime types of designs of all. Every design you wear has a special message and meaning to it. The detailing is impeccable and every piece of the design is beautiful. Elements like Animals, birds, bride and groom, and flowers make some perfect designs.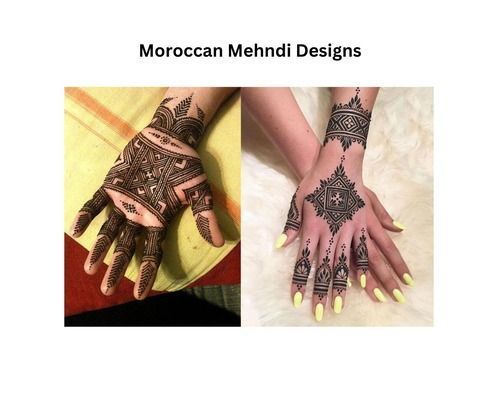 3. Moroccan Mehndi Design
Inspired by the traditional tribals' symbols and patterns, this unique Moroccan mehndi design is western loved art, which is made using many shapes and geometric patterns. The most important shape is the diamond-shaped element of this mehndi style, which is considered an evil eye, protecting the bride & groom. The Moroccan mehndi design is trending around the globe.
Do check out our detailed guide on Moroccan mehndi designs as we list 25+ latest designs which have been trending this year. From full hand to finger mehndi designs, we list all the popular ones.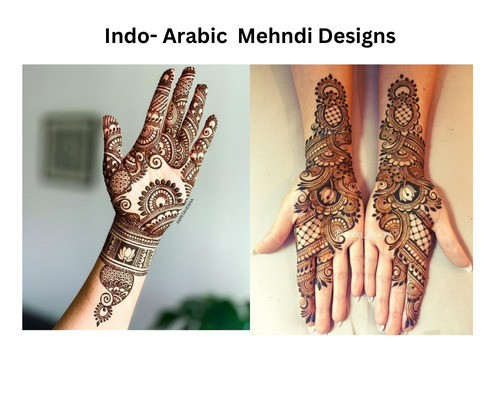 4. Indo Arabic Mehndi Design
As the word suggests, these mehndi designs are a beautiful combination of Indian & Arabic mehndi designs. This design is an all-purpose design, which looks stunning. It involves spaces, and shading adding to the elements used in the Indian mehndi. for important functions, one can also go for a designer mehndi design to transform the look.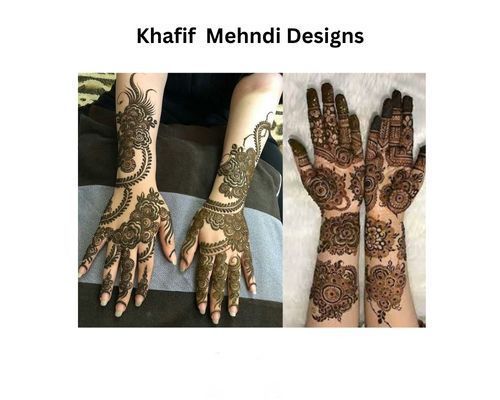 5. Khafif Mehndi Design
"Khafif " is an Arabic word, which means light. The Khafif mehndi designs are nowadays prominent. These types of designs need a lot of detailing and attention for every figure and pattern used. Most of these designs use patterns and floral elements. A must-try design for this season.
Do check out our detailed guide on khafif mehndi designs as we list 25+ latest designs which have been trending this year. From net designs to intircate ones, we list all the popular ones.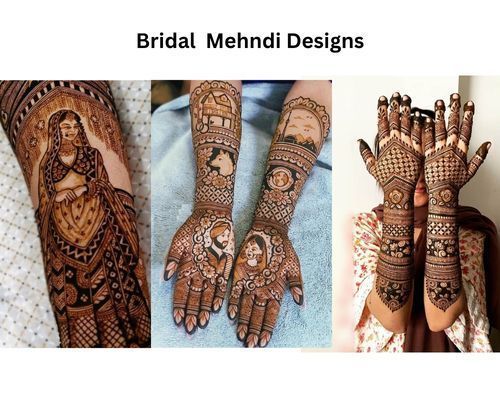 6. Bridal Mehndi Design
Bridal mehndi is important during weddings and is followed as a ritual in many countries. These designs are used for the bride and multiple elements are inculcated in the mehndi design such as bride and groom sketches, flowers, birds, and especially peacocks. This mehndi design has a cultural significance and is considered very fortunate.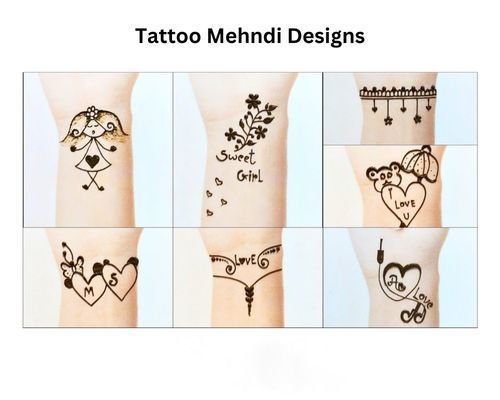 7. Tattoo Mehndi Design
Tattoo mehndi is a temporary form of body art. Some people who want to avoid the tattoo process and are scared of needles and pain, go for this tattoo mehndi design. This mehndi design doesn't have to be created only on hands or legs. This style can be created on any part of the body. As this mehndi tattoo is a temporary form and fades within a short period, new designs on alternatively can be made creating a new look every time. So, if you thinking to get inked, get yourself a Mehndi Tattoo and we are sure you will love it!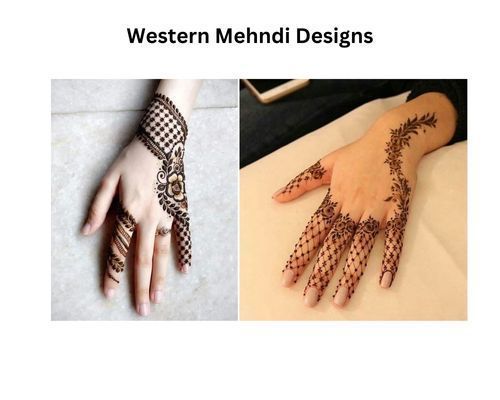 8. Western Mehndi Design
Short, quick and beautiful is the word, associated with western style mehndi design. These designs are loved in the west. Easy and basic designs play an important part in this design. Not going to apply mehndi all over the hands, this western style mehndi design is the art of placing designs in a pattern and minimum creation. So, bookmark this western-style mehndi design for your next!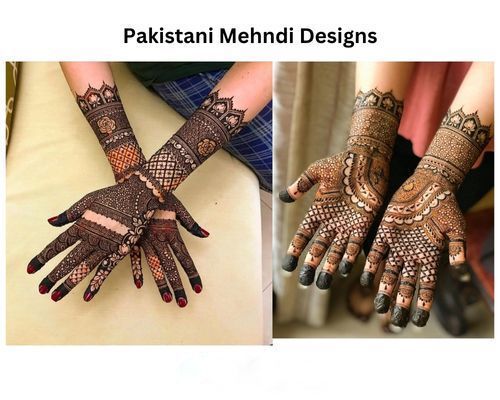 9. Pakistani Mehndi Design
Pakistani mehndi design is a representation of their culture and value. These designs also involve a lot of elements like flowers, leaves, domes and mandala art. This mehndi design has a broad outline to the patterns and looks stunning when applied. Pakistani mehndi designs can also be short and long designs covering the hands and palms.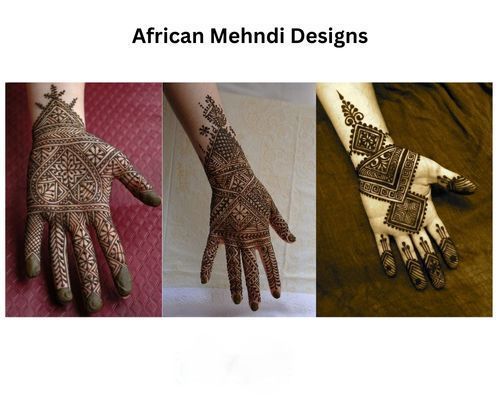 10. African Mehndi Design
Africans are very fond of mehndi art and have been into this for ages. The designs in this style are very simple and elegant. Mostly the designs have a lot of gaps in between, unlike the Indian mehndi design. You may say, it is somewhat similar to Arabic designs.
Check out our guide to find the best African mehndi design as we cover 25 most popular designs trending this year.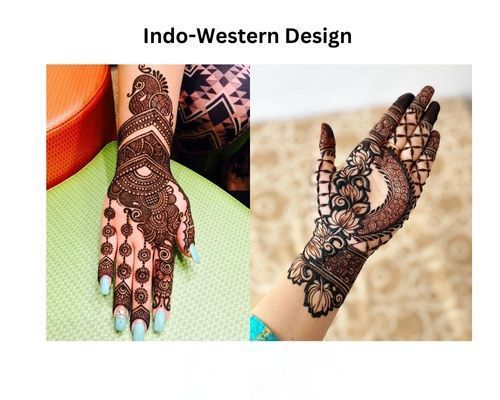 11. Indo-Western Design
The Indo-Western design is a fusion of east and west and the combination is just wow! Easy to apply, quick in its style and the stunning look it gives makes it one of the prefered designs of all time. These designs are created with patterns, a modern touch, and a gist of the Indian Mehndi design. You can surely explore this pattern and make it a part of your celebrations this season.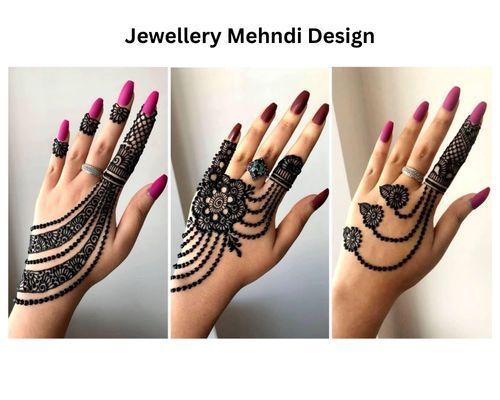 12. Jewellery Mehndi Design
This mehndi style is creating designs which look like jewellery on the hands. It's a quick and basic mehndi which looks amazing on the hands. Nowadays, the brides or the bridesmaids are making trends with this minimalist mehndi design. Also, such mehndi designs don't need to be accompanied by any hand jewellery as the design covers it all. This is the season's super try mehndi design.
Do check out our guide to find the best engagement mehndi designs for bride as we cover 30+ stunning designs which have been trending this year.
Mehndi Frequently Asked Questions
1. What is Mehndi (Henna)?
Mehndi is also called Henna, and it's a type of dye which is prepared from one of the plants named Lawsonia inermis. It's also called a henna tree. Mehndi designs are a part of art which is applied to the body adding various elements and styles.
2. What is the difference between Arabic mehndi design and Indian mehndi design?
Arabic mehndi designs and Indian mehndi designs are one of the preferred and prominent styles used globally. Arabic mehndi design is styled with flowers and elements in shapes and patterns, with adding spaces and symmetric forms. It also involves a lot of shading too. Indian mehndi designs are filling of the palm mostly with a variety of elements like animals, birds, and flowers.
3. How to apply mehndi?
Nowadays, we can very easily get mehndi cones available in the market or at any nearby shopping store. So, select any design and show your creativity. You can also seek assistance from Mehndi artists, who will love to make your favourite mehndi designs for you.
4. How many days does the mehndi design stay on hands?
Generally, mehndi designs may last for more than 2 weeks, depending upon the end person. Post this, the design starts to fade slowly and gradually.
5. Is there any quick method for the removal of mehndi?
If you're looking fotoeremovef mehndi design from your hands, then you may use some of the tips mentioned below, which may help!
* Soak your hands in Salt Water for 15-20 minutes, and you will see the mehndi design will start to fade. Try this twice or thrice for the complete removal of mehndi. Recommend using warm water, as the water and salt mixture will help to get rid of dead cells and remove the mehndi.
* Scrubbing the mehndi part with an exfoliator or body wash will remove mehndi quickly. Don't forget to apply a moisturising cream post exfoliating the skin.
* Makeup remover is a gentle way to get rid of Mehndi. Apply makeup remover on a cotton bud or use make-up remover strips and easily try removing the mehndi.
* Micellar water can also help in lighten the appearance of mehndi on the skin. All you need to do is soak your skin in micellar water, and let it absorb. Later, gently apply pressure on the skin and rub the skin in a circular pattern.