Dukan Diet: Meal Plan For Quick Weight Loss
Shalu Bhati
Updated At 26 Aug 23
Are you interested in a quick weight loss diet plan which gives positive results? But then, you also don't want to feel hungry all the time. What if we told you that there is a diet that will help you lose all the extra pounds you have been carrying around without leaving you hungry?
Yes, such a diet exists which unlike any other diets won't leave you with an unsatiated hunger. And it is called the Dukan Diet. In this article, we will tell you everything related to this diet. We have specifically covered what is the Dukan diet, Dukan diet foods, and Dukan diet plan along with the various phases of this diet.
So, what are you waiting for? Keep scrolling!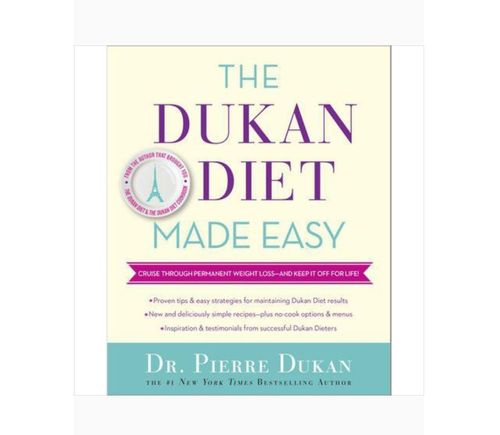 What Is The Dukan Diet?
The Dukan diet is a high protein, low carb, and low-fat diet which has taken the world by storm. It claims to provide a permanent solution to your weight issue by completely redefining your eating habits.
Created by Dr. Pierre Dukan, this diet is highly favored by celebrities across the globe. From singer Jennifer Lopez to supermodel Gisele Bundchen, they all swear by the Dr. Dukan Diet. So much is its influence that the duchess of Cambridge, Kate Middleton followed this diet before her wedding to Prince William and successfully dropped down two dress sizes.
But how did the Dukan diet came into being? How did it become so popular? Let's find out.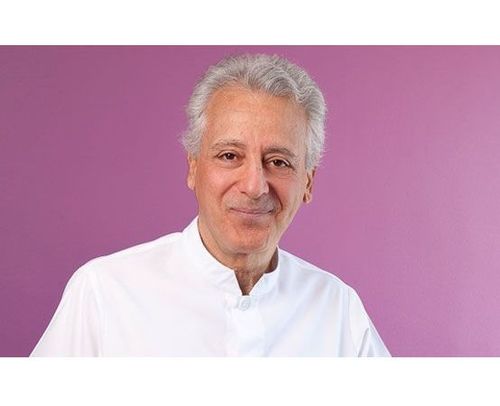 Origins Of The Dukan Diet
The Dukan diet is named after its creator Dr. Pierre Dukan, a French practitioner, who originally specialized in neurology. It was sometime later in his practice that he came across a friend who went through a tremendous weight loss. About his diet, he told the doctor that he could give up any food if it meant weight loss, but he could not even think of giving up on meat. Dr. Dukan was so impressed by this weight loss that he switched to the study of nutrition and dedicated his time and energy into developing this diet further.
Also Read: What is Paleo Diet?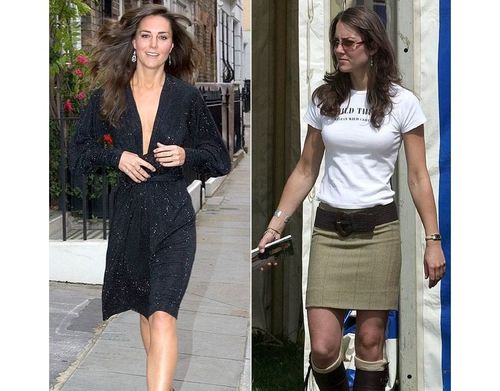 It was in the year 2000 that Dr. Dukan came out with his very own permanent weight loss remedy. It was published under the name "I don't know how to lose weight". Fast forward to 2010 and the Dr. Dukan diet movement crossed the borders of France to take entire Europe in its grip. And since then this movement has become unstoppable.
The Dukan diet was published in 14 languages and sold across 32 countries. It provided an effective and quick weight loss which led to its immense popularity. Over 8 million copies were sold making the Dukan diet a household name.
Also check out Kate middleton diet as she has been one of the early adopters of Dukan diet.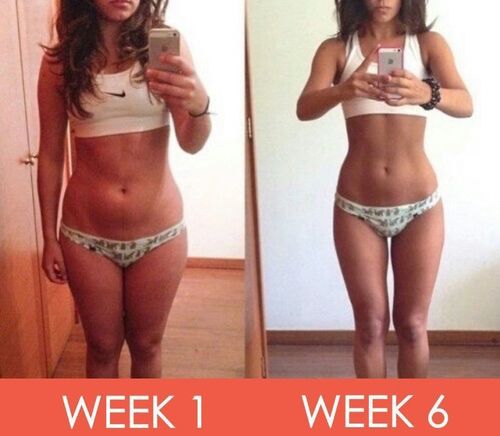 How Does It Work?
The Dukan diet might look similar to some other popular diets like the keto diet or the Atkins diet but it is completely different and has its unique characteristics. This diet does not limit your calorie intake. It can be described as an all you can eat buffet but the table will have only a specific kind of food. (Keep reading to know what exactly we mean by this.)
The Dukan diet is high on protein with low carbs and low fat. It works with a twofold mechanism. First, its high protein content will keep you full and trigger weight loss at the same time given the low calorific value of proteins as a food group. Second, the low carb and low-fat feature will force your body into the starvation mode. Resultantly, your body will start using the stored fat which will lead to further weight loss.
One can easily lose up to 10 pounds within the first week of starting this diet. So when you can lose this much weight without feeling cranky and hungry all the time, then why torture yourself with a liquid diet for weight loss fad?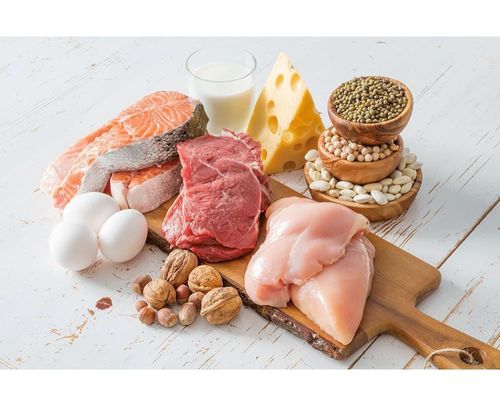 Phases Of Dukan Diet And Foods You Can Eat
Here comes the technical part of this diet which you would have to follow religiously.
The Dukan diet has four phases. Two phases enable weight loss while the other two help in maintaining your newly achieved true weight. These phases are listed below: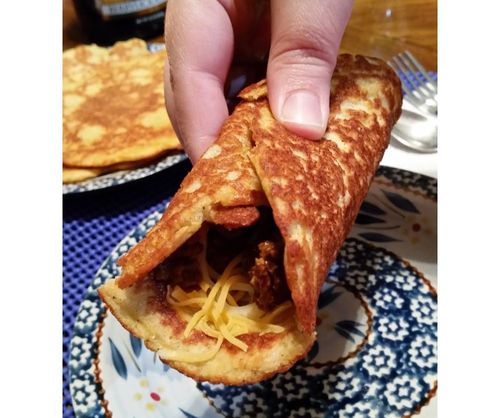 The Attack Phase
What: This is the first phase to kickstart the Dukan diet. You can eat unlimited lean proteins in this phase without worrying about the calorie count. But you have to say no to carbs and fats.
How long: 5 to 10 days
Dukan diet foods allowed: You are allowed to choose from 68 high protein foods which include beef, chicken, pork, eggs, soy, fish, tofu, and tempeh among others. You will also be required to consume 1.5 tablespoons of oat bran and to drink 1.5 liters of water every day during this phase.
Exercise: Mandatory 20 minutes of brisk walking.
How will you feel: This phase will let you see immediate results with a quick weight loss and you will feel motivated to continue further.
Also Read: Meghan Markle Weight Loss Diet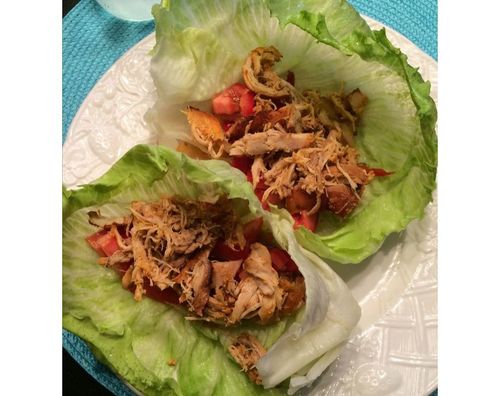 The Cruise Phase
What: From this phase onwards, a new food group will be added to your diet. This phase allows you to add certain vegetables to your high protein diet. You will have to maintain an alternating schedule of your proteins and vegetables. One day you will consume a high protein diet just like you did in the attack phase while the next day you will add vegetables to your protein-rich diet. Fruits are still not allowed.
How long: Till you reach the goal weight
Dukan diet foods allowed: Now you have a total of 100 foods to choose from. Apart from the 68 high protein foods, you also get to choose from the list of 32 vegetables which include asparagus, bean sprouts, broccoli, Brussels sprouts, kale, lettuce, eggplant, squash, spinach, and tomato among others.
In this phase, you are supposed to take 2 tablespoons of oat bran daily.
Exercise: 30 minutes
How will you feel: You will feel more satisfied as you get closer to your goal weight.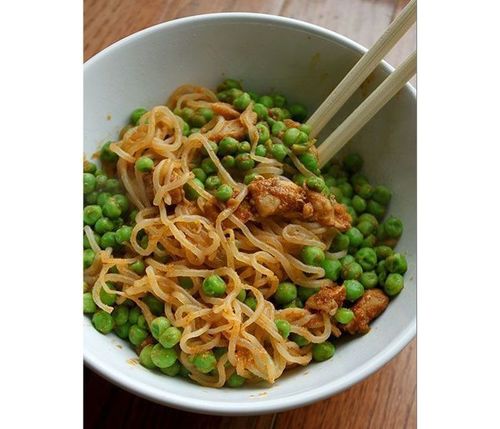 The Consolidation Phase
What: This is the third phase of the Dukan diet and is supposed to prevent the regaining of the lost weight. It reintroduces fruits and dairy products. This phase also allows for two celebratory meals per week in which you are allowed to eat anything of course with certain restrictions.
How long: 5 days for every pound lost in the cruise phase
Dukan diet foods allowed: Apart from the 100 foods, you can now choose fruits, starchy foods, whole grain bread, and cheese. You will also be required to take 2.5 tablespoons of oat bran.
Exercise: 25 minutes
How will you feel: Your body will be at its most vulnerable. You will have to be very careful as the body can regain the lost weight.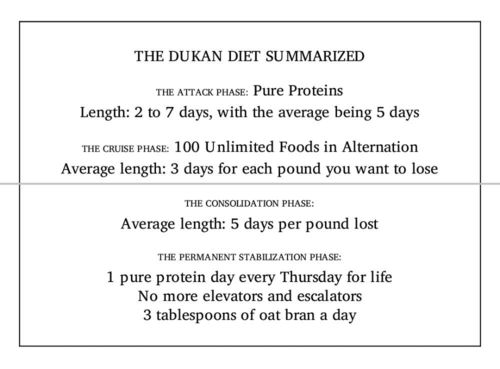 The Stabilization Phase
What: This is the fourth and last phase of the Dukan diet which is meant to maintain your true weight for the long term. This phase is known to be the easiest but that doesn't lessen its importance.
How long: Lifetime
Dukan diet foods allowed: You are allowed to eat anything as long as you maintain your true weight. Now, you have to take 3 tablespoons of oat bran per day and have a pure protein Thursday.
Exercise: 20 minutes
How will you feel: This phase is challenging and will test your will power as a wide variety of food groups are reintroduced into the diet.
The complete Dukan Diet food list can be accessed from www.dukandiet.co.uk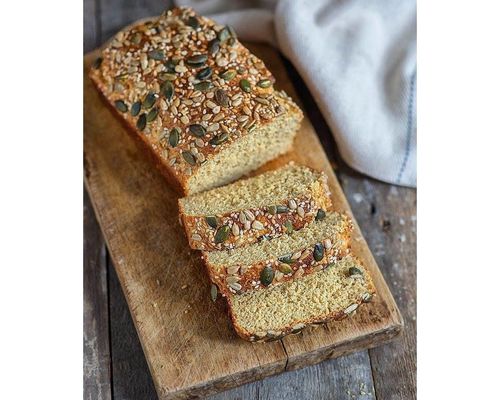 Sample Dukan Diet Plan
Following is a sample Dukan diet meal plan as created by Simone Gloger, the nutritionist who helped in designing recipes for the Dukan diet:
Breakfast: 2 eggs, 2 slices of bacon, oat bran, black organic coffee
Snack: Slices of Turkey and string cheese
Lunch: Grilled chicken with shirataki noodles
Snack: Fat-free cottage cheese or Greek yogurt
Dinner: Shrimp and steak
Breakfast: 2 eggs, oat bran hot cereal with cinnamon, black organic coffee
Snack: Vital choice wild salmon burger or tofu/tempeh
Lunch: Salad with romaine, kale, carrots, beets, cucumbers, broccoli, and chicken tossed with red wine vinegar
Snack: Dukan turkey jerky
Dinner: Fish or chicken with vegetables and shirataki noodles or a big salad with a can of wild salmon or tuna
Breakfast: Eggs with cheese and spinach, coffee
Snack: Goji berries or any other fruit with Greek yogurt
Lunch: Turkey sandwich with a half cup of cottage cheese and oat bran
Snack: Tofu and cucumber salad tossed with olive oil
Dinner: Roast pork, grilled zucchini
Also check out the complete story of Adele weight loss alongwith Melissa Peterman weight loss.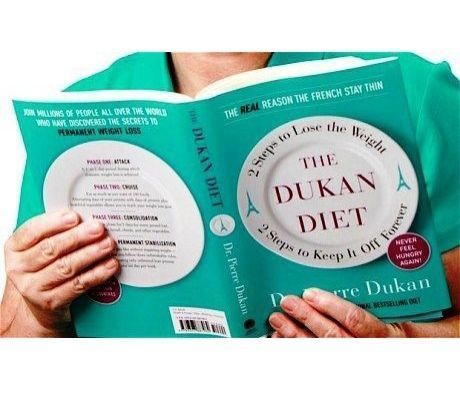 Things To Keep In Mind
Before you rush on to be a part of the Dukan diet culture, you should keep in mind the following aspects of this diet:
This diet is perfect for those who are looking for a quick weight loss
Though there have been no studies to prove the effects of this exact diet, its philosophy of a high protein meal is well established
This diet will require you to follow a lot of rules and guidelines
Your will power would be tested to the extremes
There is no calorie counting and you won't feel hungry unlike other diets
The Dukan diet makes dining out manageable as you can eat anything as long as it fits the approved food list
You can connect with fellow Dukan dieters online and you can also join a personalized online program for a fee
There are some side effects to this diet as well. Possible side effects of this diet may include:
Lack of energy
Fatigue
Dizziness
Bad breath
Dry mouth
Constipation
Nutrient deficiency
Subsequent weight gain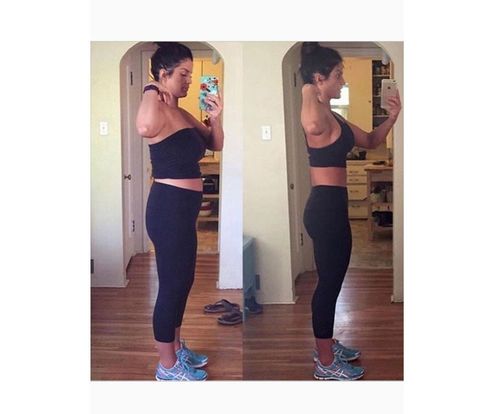 Is the Dukan Diet Sustainable?
Despite any scientific evidence, the Dukan diet has maintained its popularity. Though, it has also garnered its fair share of criticism and controversy for being nutritionally imbalanced. However, to counter this particular criticism, Dr. Dukan introduced a newer version of the Dukan diet called the Dukan diet 2.
The Dukan diet 2 follows the same principles as were behind the original Dukan diet. But it has 7 stages rather than 4 and reintroduces more food groups within a short period. The Dukan diet 2 will enable quick weight loss in the initial phase followed by a gradual weight loss and is considered safe. However, before making any changes in your diet, you should always consult a specialist especially those who have kidney problems, gout, or liver disease.
Verdict: The Dukan diet is safe except for some people with certain medical conditions. It does provide a quick weight loss but it will be difficult to sustain it in the long term. It also restricts the consumption of healthy fats unnecessarily. But, it is effective and is not based on starving oneself.