Meghan Markle Weight Loss Diet And Workout Routine
Shalu B
Updated At 25 Dec 22
Do you want to look as fit and fabulous as Meghan Markle? Want to know about the Meghan Markle diet and exercise? Are you interested in knowing more about the Meghan Markle weight loss? You have come to the right place then. Prince Harry and Meghan Markle are couple goals. And so is Meghan's fitness. Even Prince Harry follows Meghan's tips and has witnessed significant weight loss.
Keep reading and you will get to know about:
Meghan Markle Diet (With Daily Diet Plan)
Her Diet Tips
Meghan Markle Exercise Routine
Meghan Markle Weight Loss Tips
Meghan Markle has been an actress, a blogger and an activist. After her wedding to Prince Harry, she became the Duchess of Sussex. The titles may have changed but one thing remains constant and that is Meghan's fit physique.
Her glowing skin and toned body might look effortless but they are not. No doubt that Meghan Markle is blessed in the department of genes though still she has to put efforts towards her fitness. And we are here to reveal everything about the Meghan Markle diet and exercise routine for a better physique.
Also check out Kylie Jenner weight loss story to find out how she lost 25+ pounds!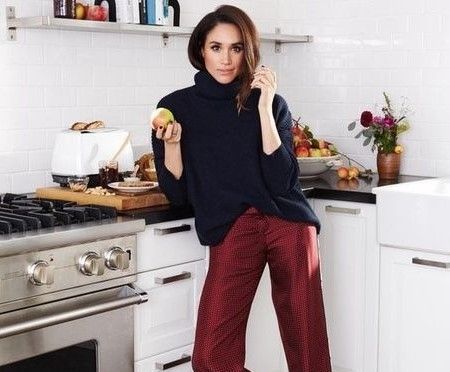 Take a look at her and you will find yourself asking how old is Meghan Markle and how can you look more like her. Worry not. We will answer all your questions. Meghan is 40 years old. Meghan Markle weight is 56 kgs and her height is 5ft 7 inches.
Her toned body and gorgeous looks are a direct consequence of a combination of healthy eating and sweat inducing exercise routines. She doesn't have to worry about maintaining her weight because of her overall healthy diet and regular exercise routine which she follows strictly.
She did however lose some pounds before her wedding. And she managed this Meghan Markle weight loss by just tweaking her current routine a bit. Meghan worked out more and reduced her cheat meals to zero for a quick weight loss.
The Meghan Markle diet and exercise secrets are easy to follow and very achievable. Follow them and say hello to a fitter you.
Do check out the details of Kim Kardashian weight loss wherein she lost more than 20 pounds through diet and exercise!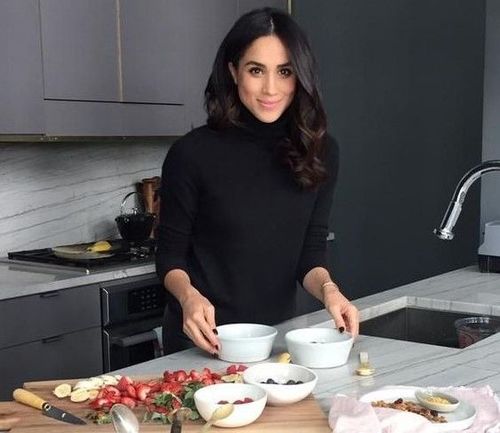 Meghan Markle Diet
Meghan is a self-confessed foodie and doesn't believe in going on fad diets for weight loss. Instead, she believes in eating sensibly which is why you will find the Meghan Markle diet quite easy to follow.
Meghan has changed her eating habits over the years but what has struck with her most is the vegan diet. Going vegan has worked wonders for Meghan Markle. She feels more healthy and energetic. But her love for food and especially for carbs and seafood won't let her be strict with her diet regime. This is why she sticks to a vegan diet during the week and goes free with eating whatever she wants during the weekends.
She is fond of cooking and has found healthy alternatives for almost all her cravings. Like homemade kale chips are any day a better preference than potato chips for Meghan. Similarly, green juices are more energizing than a cup of coffee.
The Meghan Markle diet has a simple and healthy approach. It includes a lot of green juices and food cooked with a variety of herbs. The Meghan Markle family traditions can be given the credit for her love for cooking with herbs.
Despite all the healthy eating, Meghan has one cheat meal which she loves a lot and that is boxed mac and cheese. She heats it up and throws in some peas to enjoy her favorite dish to the fullest. But she had to give up on all her favorite treats and followed with a strict diet in order to get into better shape for the Meghan Markle wedding.
Let us now find out about the Meghan Markle diet plan in detail.
Make sure to check out Seth Rogen weight loss as well as Rob Kardashian Weight Loss stories to find out how strict diet and exercise schedule can help decrease weight- Naturally!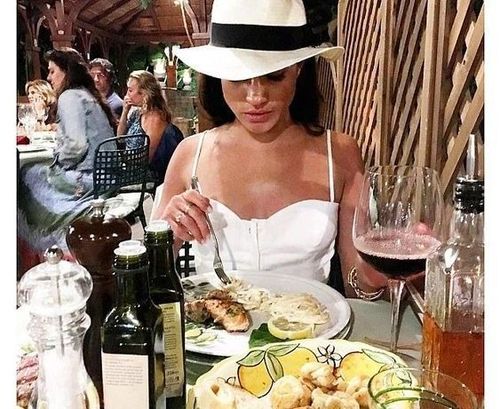 Meghan Markle Diet Plan
Meghan loves her carbs and her wine. Like us folks, she too loves to make her daily diet interesting. She has a highly trained kitchen staff at her disposal, yes, but even before prince harry and Meghan Markle were married, she used to cook for herself, her family, friends and guests. This is why you will find a lot of options for each particular meal and we have tried to cover them all.
Following is the exact Meghan Markle diet plan with different options to choose from:
Early morning: Lukewarm water with dash of lemon
Breakfast:

Steel cut oats with banana and agave syrup
Omelette prepared with herbs and cheese
Poached eggs and toast with avocado
Blueberry Johnny cakes with extra crispy bacon and maple syrup

Lunch:

Salad with protein rich food items
Quinoa with sautéed onion, garlic and various vegetables
Fish tacos with stuffed peppers

Snacks:

Apple and almond butter
Watermelon sprinkled with cinnamon
Mixed green juice
Homemade kale chips with olive oil

Dinner:

Chicken cooked in Filipino style
Fresh seafood
Pasta
Noodles topped with zucchini and cheese
Also check out Melissa Mccarthy weight loss and Melissa Peterman weight loss stories to find out how diet and regular exercises have helped them reduce 20+ pounds each!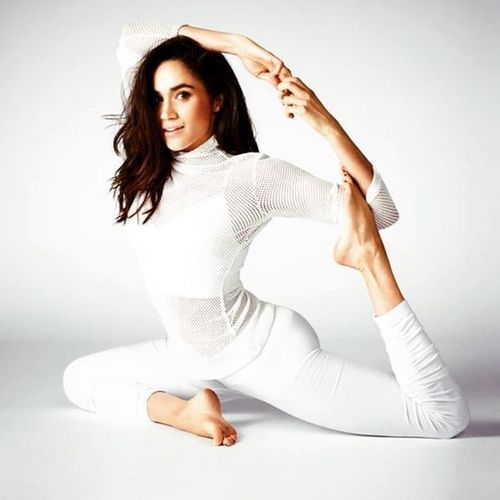 Meghan Markle Weight Loss Workout
Meghan Markle loves food but she also loves to works out. She never compromises on her exercise routine. She makes sure that she gets some sort of physical activity even when she has a busy schedule. Prior to the Prince harry and Meghan Markle wedding, Meghan was often seen going out for a run.
Meghan is a big fan of toning it up with yoga. Thanks to her mother who is a yoga trainer, Meghan was introduced to yoga and its benefits at an early age. She has been practicing yoga with her mother since she was a mere seven years old. Even now when it comes to weight loss after giving birth to her son Archie, Meghan has taken the yoga route to fitness.
Meghan also works out in the gym and according to her previous trainer, Meghan Markle's workout not only helps her to stay in shape but is also focused on helping her with the practice of various yoga asanas.
For the great Meghan Markle wedding weight loss, Meghan also added Pilates to her routine. With the combined effect of yoga, Pilates, running and gym she was able to lose a significant amount of weight. Adele weight loss of 15 pounds is stunning assuming she relied completely on diet and regular exercises!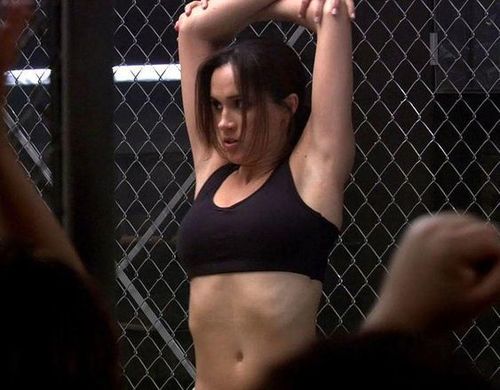 Meghan Markle Daily Workout
Following is the exact Meghan Markle weight loss workout as provided by her trainer:
Cardio warmup – 5 minutes
Dynamic stretching – 5 minutes
Circuit – 30 minutes
Stretching cool down – 5 minutes
In order to challenge the body, the circuit routine is changed from time to time. We have mentioned two of Meghan's favorite circuit routines below. You can opt for either of them.
Circuit 1
Rear foot elevated split squat and press – 10 reps on each leg
Single leg kettleball deadlift – 15 reps on each leg
Plyo step ups – 15 reps on each leg
TRX triceps extension – 15 reps
Hanging abs raise – 15 reps
Rest for 45 seconds. Repeat.
Circuit 2
Supine glute bridge – 20 reps
Single leg Swiss ball hamstring curl – 20 reps on each leg
TRX banded squat and row – 20 reps
Straight arm side plank with banded hip abduction – 20 reps on each side
Banded hip extension – 20 reps on each side
V-sit hold – 30 seconds
Rest for 45 seconds. Repeat.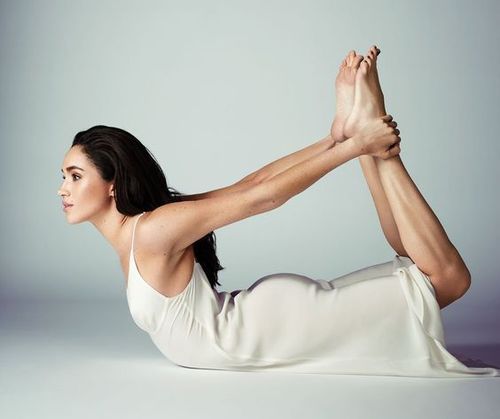 Apart from this workout, you can also try her daily yoga workout. Meghan makes it a point to include the below mentioned six yoga poses in her everyday routine. She calls them the six poses for rejuvenation.
The warrior 2 pose
Downward facing dog
Bridge pose
Thread the needle
Supine twist
Corpse pose
Meghan Markle Weight Loss Tips
We have told you about the Meghan Markle diet and exercise. Now it is time that we tell you more about the Meghan Markle diet tips and exercise tips which are a key to Meghan's fitness and wellness.
Following are the Meghan Markle diet and exercise tips for a better and fitter you:
Hydration is important which is why Meghan ensures that she drinks about 2 liters of water every day and so should you.
Meghan never skips a meal and especially breakfast. Skipping meals might lead to a quick weight loss but over time this weight will come back to haunt you. Always eat a good breakfast followed with a heavier lunch. Dinner should be done light.
Mental wellbeing is as important as physical wellbeing. Regular practice of yoga and meditation like the Duchess of Sussex can help you get calm and stress free mind.
A good morning routine is essential for maintaining your body's wellbeing. Stick to a fixed bed time and wake up time.
Weight is just a number and doesn't hold importance as long as you feel fit and healthy.
Indulge in the habit of healthy snacking. Find healthier alternatives to the unhealthy snacks you so often crave for. Replace potato chips with kale chips. Green juice will give you more energy than a cup of coffee. A glass of wine is a healthier option than a piece of cake.
Take a break from social media and spend some time with yourself.
Maintain your diet and exercise even while travelling by tweaking it as per your changed schedule but don't give up on them.
Eating healthy, being fit and feeling well all play a role in your skin's appearance. So try to eat a healthy diet, exercise and practice meditation. This will be most of the anti-ageing you need.
FAQs On Meghan Markle Diet And Workout
Q- What is Meghan Markle's favorite snack?
Meghan Markle likes to have watermelon with a few spices sprikled on top of it.
Q- What is Meghan Markle's favorite tea?
Meghan Markle prefers to have mint tea.
Q- What is Meghan Markle's favorite dessert?
Meghan Markle's favorite dessert is red wine - Tignanello.
Q- What are Meghan Markle's favorite foods?
Meghan Markle's favorite foods include sushi, watermelon (as snack), oats (breakfast), avocado toast, fish tacos, pasta with zucchini, red wine (as dessert).