Adele Weight Loss Story: How She Lost 100 Pounds?
Shalu Bhati
Updated At 28 Aug 23
Do you want to know more about Adele weight loss and her inspirational story?
Adele has the voice of an angel and everybody would agree. She made her debut in 2008 and it was probably the first time that the world finally saw her. But if you would look at Adele now, you will see just how much the singer has transformed over the years. One can even say that she looks completely unrecognizable from the older days. Her signature eyeliner look has stayed but she clearly has lost a significant amount of weight.
We have specifically covered the following:
Adele Weight Loss Journey
Adele Weight Loss Diet
Adele Workout Routine
Adele Beauty Routine And Favorite Products
FAQs On Adele Weight Loss Story
Adele has always shut off negative comments about her weight. She made it abundantly clear that her weight had nothing to do with her career—she is a singer, not a Playboy model. So, what changed now? What led to the Adele weight loss and how did she achieve it? Let's find it out through her inspirational weight loss journey.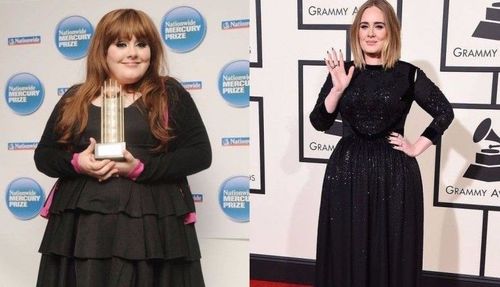 Adele Weight Loss Journey- Adele Before And After Weight Loss
When Adele made her debut in 2008, she was on the heavier side. But her weight never bothered her. She was confident in her skin and was way too far from feeling insecure. This self-loving attitude was instilled in Adele by her mother who told her to do things for herself and not others. The singer clearly followed her mother's advice and still does.
She has cleared the air around her weight in an interview. She said
I'd lose weight if I was an actress and had to play a role where you're supposed to be 40 pounds lighter, but weight has nothing to do with my career. Even when I was signing a contract, most of the industry knew if anyone ever dared say lose weight to me, they wouldn't be working with me.
However, it was first in 2011, after her vocal cord surgery, that Adele lost a few pounds. She had to give up on a few food items as part of her recovery and it triggered the Adele weight loss. Soon she became a mother to a beautiful baby boy named Angelo and it changed her life forever. What started as a journey to gain more stamina for her music tour was now changed into a will to live a healthier life in order to set a good example for her son.
Being a mother changed Adele's priorities. She was just enjoying herself and was focusing her energies on being a mother. She had stated in her interviews that this shift in her attitude had been deliberate. She wanted to lead a healthy life and set a good example for her son. And her weight loss was just an added benefit of this healthy change. Do check out Melissa Peterman weight loss story as well as its equally inspirational.
Also Read: How Kelly Clarkson lost 37 Pounds?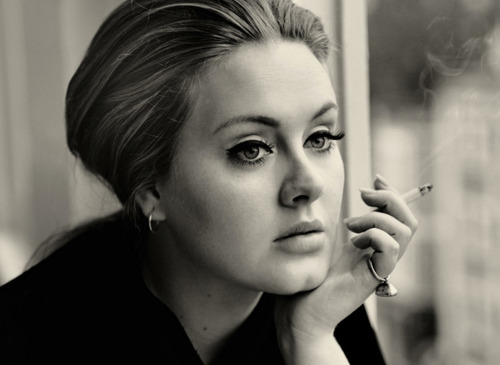 Adele On Smoking And Surgery: How It Changed Her?
Adele was riding high on her fairly new and successful career when she lost her voice while she was in the middle of singing live on French radio. "Like someone put a curtain over my throat…and I could feel it. It felt like something popped in my throat," said Adele while describing her experience.
She had a polyp on her vocal cords which had hemorrhaged leaving the singer voiceless. She had to undergo vocal cord microsurgery which is known to be a very risky and delicate procedure. She could have lost her voice completely. The surgery is not the only challenging part of Adele's journey. She was under the doctor's orders to remain silent for a number of weeks as part of the after-surgery recovery period. We cannot even imagine how she must have felt to be not able to sing or even communicate.
Adele also had to give up on some of her favorite foods—pizza. Even Adele smoking was to be a thing of the past now. She used to smoke 25 cigarettes a day but, after her surgery, she kicked this habit. Though, it was not just the surgery that led to this decision.
Adele said in an interview
If I'd carried on smoking I'd probably have died from a smoking related illness and I think it's really bad…If I was dying from lung cancer I would have potentially given it to myself and that wouldn't be something I'd be proud of,"
She further added, "I absolutely loved smoking, but it's not that cool when I'm dying and my kid is devastated.
Motherhood had clearly changed Adele's outlook on life. She had always liked to lead a life away from the constant public gaze despite being world-famous. She valued her privacy as well as that of her son's. She had not revealed the exact amount of weight she lost, but it is speculated that she lost about 100 pounds. Adele herself had revealed details about the Adele weight loss diet and exercise routine.
Let's find out how the Set Fire to the Rain singer did it. What was the Adele diet? Did Adele smoking play a role here? What did the Adele fitness routine look like?
Also check out Seth Rogen weight loss and Rob Kardashian Weight Loss stories to find out how each one of them lost more than 30 pounds!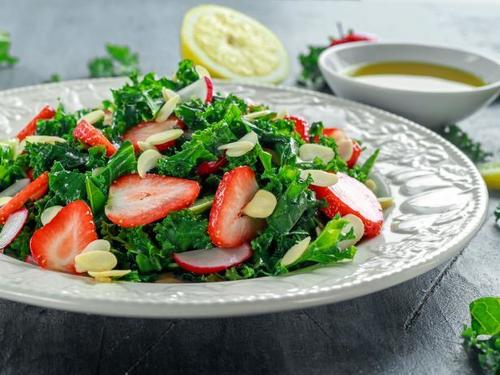 Adele Weight Loss Diet
Adele followed the Sirtfood Diet as part of her healthy eating habits. This diet has gained popularity in recent times and was recommended to Adele by her personal trainer, Pete Geracimo. Adele diet plan includeed foods that are a rich source of sirutin activators. Sirutins are a type of protein which control appetite, aid in the regulation of fat and sugar in the body and are also known to have an anti aging effect. They increase metabolism and thus aid in weight loss.
This diet includes nutritious and wholesome foods with low calorific value and is responsible for Adele weight loss. Adele loveed this diet mainly due to its emphasis on plant-based foods. She had said,
What I do love about this diet is the emphasis on plant-based foods that are chock-full of phytonutrients, antioxidant-compounds…loading up on leafy green veggies, fish, dark red/purple fruits and veggies, olives, and olive oil plus making an effort to eat more seafood—is key to overall health, weight loss, and longer life.
The Adele diet was based on eating in moderation and not on deprivation. Adele had not given up any food groups completely. She still ate everything but the key was to eat in moderation. She was allowed one cheat meal once a week as long as she deserved it.
Adele had also made multiple small changes in her diet which have aided in the Adele weight loss.
Adele used to drink ten cups of tea every day with two sugars each. This amount of sugar consumed was three times more than the recommended levels. But she had given up this habit and has found herself to be more energetic and many pounds lighter.
She also gave up her smoking and drinking habits for a healthier life. In addition to this, Adele avoided a number of her favorite foods including pizza for the sake of her vocal cords and it had an impact on Adele weight loss.
This is how the Adele weight loss diet looks like. Let's find out about the famous singer's workout routine.
Also check out Melissa Mccarthy weight loss and Kim Kardashian weight loss stories to find out how each one of them lost more than 20+ pounds!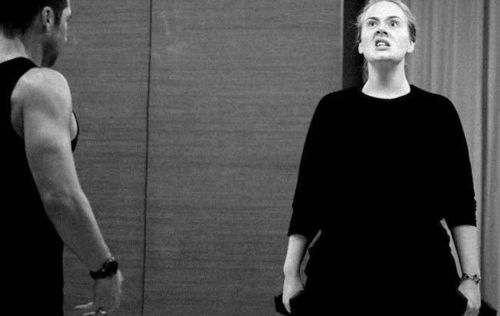 Adele Weight Loss Exercise And Fitness Routine
The Adele Weight loss exercise routine has changed over the years. She really loves her current workout and it is clearly working for her as she looks better than ever.
Adele had combined her healthy eating habits with a strict workout regime. She had been sweating it out in the gym for 60 minutes three times a week. A 60-minute session usually included a combination of cardio, circuit training, and Pilates.
Adele really liked to do reformer Pilates. It involved doing all Pilates movements with the help of special machines. This new form of exercise improved flexibility, posture, and balance while also strengthening the body. Reformer Pilates had been the new craze amongst celebrities. Adele often joined her friend Ayda Fields in a Pilates studio to get herself moving.
Adele liked lifting weights but what she didn't like was to look in the mirror. She had also revealed that she had to be cautious while lifting. Too much heavy lifting could have caused blood vessels on her face to burst.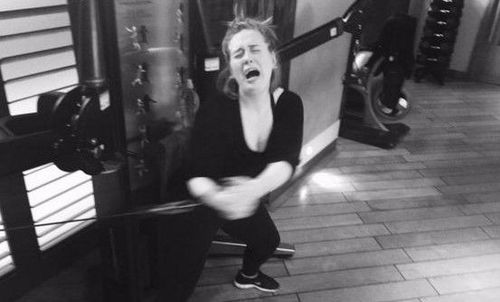 Adele had never liked working out and she still does not. She might have been regular with her fitness routine in the past but she definitely never liked going to the gym. On her gymming experience, Adele had said the following:
I mainly moan. I'm not, like, skipping to the gym. I don't enjoy it.
Relatable much?
Also check out Kylie Jenner weight loss and details of Meghan Markle diet and exercise to find out the details of how they lost weight!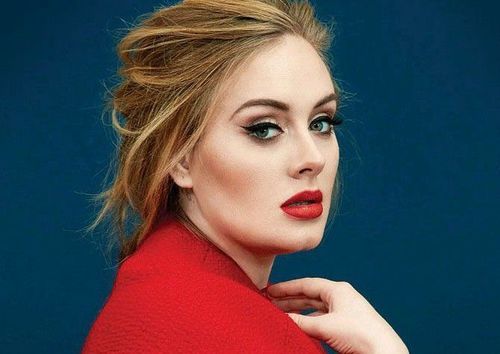 Adele Beauty Routine And Her Favorite Products
One thing is for sure. Adele looks good with and without makeup. Her red carpet looks have influenced many beauty bloggers and as a result, we see tons of youtube Adele makeup tutorials. This is why we thought you could use some tips straight from the singer's beauty routine as told by her makeup artist Michael Ashton and create her signature look.
- Prepping: Michael first, begins by prepping her face. He believes that this step is the best and one of the most important. He recommends double cleansing followed by a moisturizer or serum.
Favorite Products: Bioderma Sensibio H2O Micellar Water and La Roche Posay Micellar Cleansing Water
- Eye Makeup: The next step on the Adele beauty routine is to work on the eyes. Michael begins by shaping the brows. He uses an eyeshadow to keep Adele's brows look bold and shapely. He then goes on to prep the eyelids. He mixes two different colors to form the base for eyelids. He says this "product cocktailing" plays a major role in creating Adele's signature look.
After prepping the lids, he uses a black gel liner to outline Adele's eyes and finishes off with a waterproof liquid liner to further refine the look.
Favorite Products: MAC Cosmetics Eye Shadow Palette, Tom Ford Eye Color Quad in Nude Deep, Bobbi Brown Long-Wear Gel Eyeliner
- Face Makeup: The next step is to use a face primer followed by a foundation using gentle circular motions with the help of a tapered head brush. He blends the makeup thoroughly and ensures the coverage reaches the jawline and ears. A spot concealer works well for Adele's skin as she has naturally flawless and glowing skin.
Favorite Products: Marc Jacobs Coconut Primer, Estee Lauder Double Wear Light Stay In Place Makeup SPF 10, Marc Jacobs Shameless Foundation
Frequently Asked Questions
Q. Did Adele leave smoking?
Yes, Adele has left smoking since after her vocal cord surgery and the birth of her son Angelo.
Q. How did Adele become famous?
Inspired by the music of Etta James and Ella Fitzgerald, Adele dropped off from public school to join the BRIT performing arts school. It was during her time in the BRIT that she uploaded three of her demos on to her MySpace. Her voice and songs caught the attention of a London based record label with which Adele later signed to kickstart her career. With the release of her first album, 19, she shot to instant fame and hasn't looked back ever since.
Q. What has been key to Adele weight loss?
A combination of a healthy diet and a strict workout routine has been key to the Adele weight loss.
Q. What diet was followed by Adele?
Adele followed the Sirtfood diet which includes food rich in protein, fruits, vegetables and other low-calorie foods which aid in boosting metabolism.
Q. What is the regret Adele has about losing weight?
Adele has lost a considerable amount of weight but she is also left with a regret that now she can fit in normal, off the shelf clothes.
Q. As per Adele, what is the key to weight loss?
As per the singer herself, a Pilates routine has been key to her weight loss.
Q. Which is the favorite exercise of Adele for weight loss?
Adele likes to do reformer Pilates as well as weights. However, she does not like looking at herself in the mirror while doing weights.