20+ Most Popular Hairstyles For Round Face - 2023
Vanessa Pereira
Updated At 09 Jan 23
Looking for the best round face shape hairstyles? Read on to master the skill of styling the hair for a round face, as we bring you a list of the most flattering hairstyles for this face type.
20+ Best Hairstyles For Round Face
Round face shape is one of the most popular types of face shapes. The width and the length of a round face are equal, and this type of face shape has few to no angles.
Hence, when styling the hair, the focus should be on lengthening the face visually to give it a slimmer look.
Pixie is the most popular ear length hairstyle for round face that is low maintenance and easily manageable.
To amp up your look, combine your choice of hairstyle from the below list of pixie haircuts for round faces with a choice of hair colour.
1. Pixie cut with long bangs
This versatile haircut allows one to style the long bangs in waves, curls, in a pompadour, or worn to the side.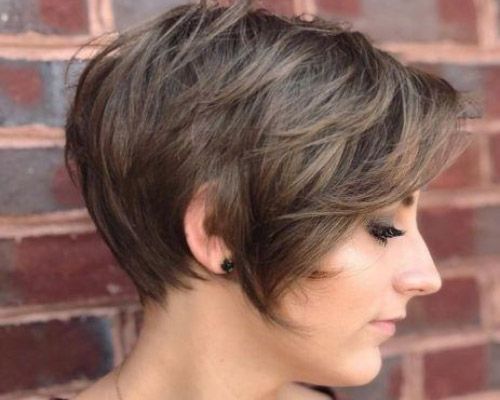 2. Layered pixie
A layered pixie adds volume to your hairstyle and is one of the best face-framing hairstyles.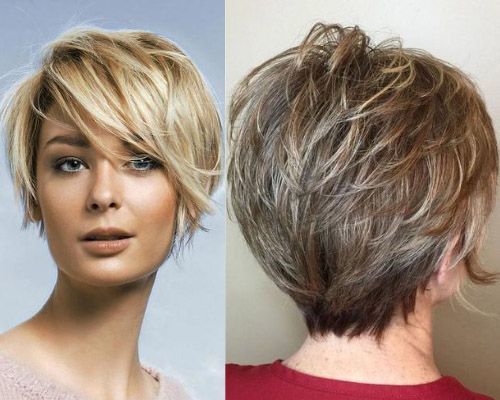 3. Shaved undercut pixie
A shaved undercut pixie helps to slim the face as it reduces the width due to its short sides. Pixie cut works perfectly well with oval face shape hairstyles as well.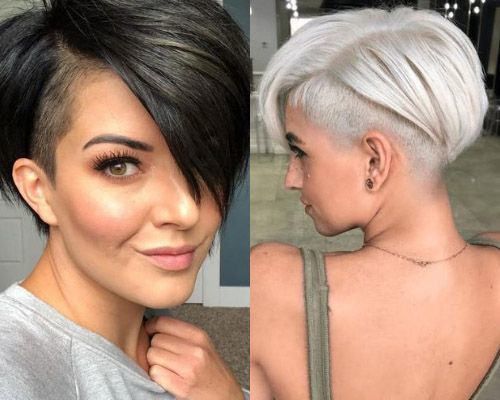 Looking for an in-between haircut that is not too short or long, then chin length hairstyles are the best option for you. Enjoy the illusion of a longer face as the elongated look by the sides of your face makes it appear narrow than it is.
4. Bob haircut
Opt for a classic bob or elevate the hairstyles with layers or bangs. No matter what you choose, the hairstyle is excellent for a low maintenance look that can be worn every day or styled with hair accessories for a special occasion. Bob haircut goes perfectly well with rectangle face shape hairstyles as well.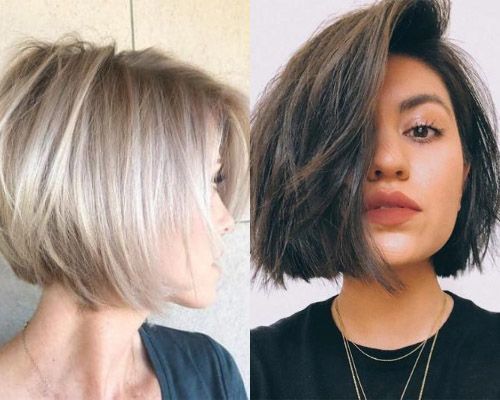 5. Asymmetrical haircut
An asymmetrical haircut is an uneven haircut, the hair is longer in the front or the sides of the face and shorter all around the back. This haircut is sure to accentuate your facial features by creating a narrow appearance.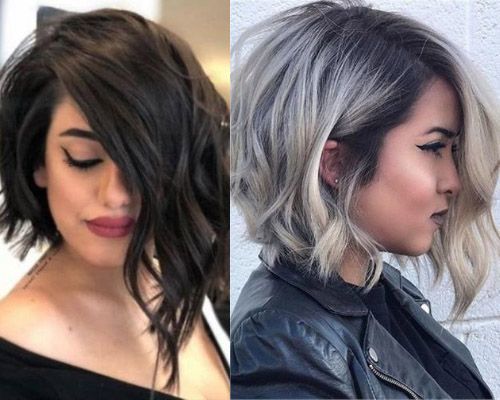 6. Layered Lob
A layered lob works well on thick hair as it reduces hair around your ends and adds volume to thin hair, giving your face the needed dimension vertically. This hairstyle is one of the best short haircuts for round faces and thin hair.
Shoulder length hairstyles
Leave it loose or tie it up, shoulder-length hair gives you numerous options on how to style your hair to suit your face shape. Take a look at the hairstyles best suited for round faces.
7. Shoulder length layered hair
Depending on the thickness of your hair, opt for more or fewer layers, to accordingly add volume to the hair.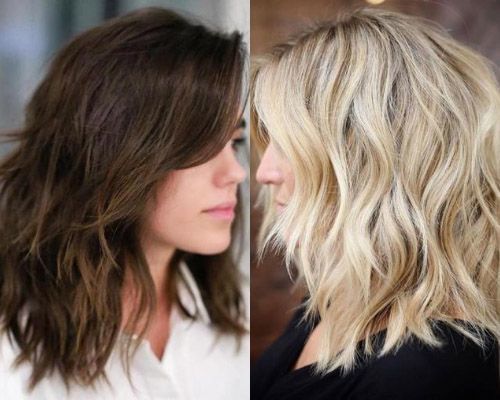 8. Blunt cut
This hairstyle is perfect for thick straight hair as the ends are blunt, which adds to the volume of your hair and creates the illusion of a thinner face appearance. One of the popular options for triangle face shape hairstyles this goes well with rounf faces as well.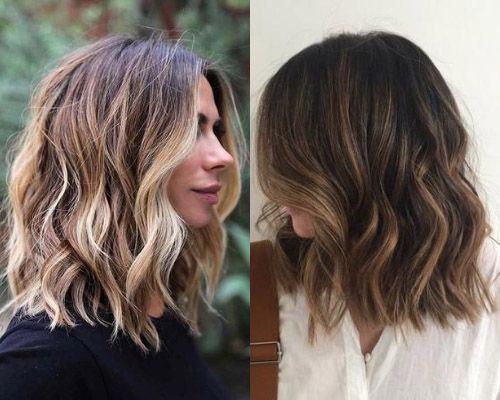 9. Medium length layered hair
Layered haircuts are known for their volume, as the top hair is shorter than the bottom portion.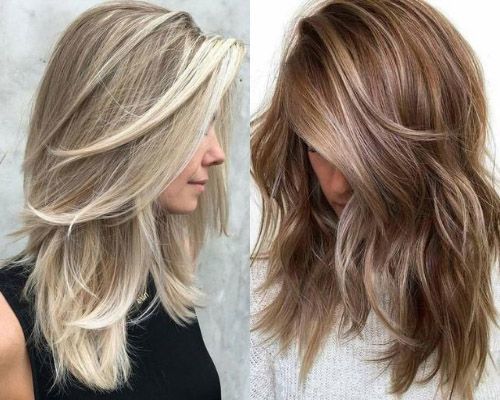 10. Feathered face-framing layers
This face-framing style creates the illusion of a slimmer face and an elongated neckline. If you like bangs, then pair this hairstyle with side bangs as it will complement your face more.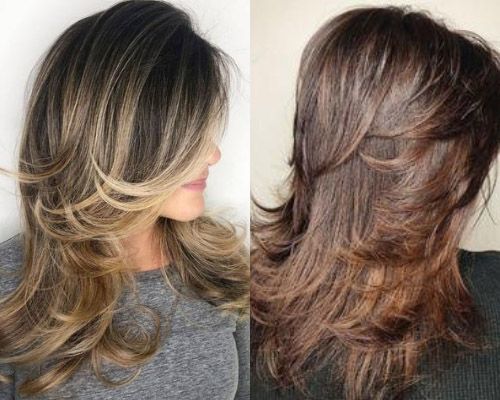 11. Long layered hair
Style your long hair with multiple layers as it adds volume on top and reduces the thickness towards the end, creating a slimmer appearance.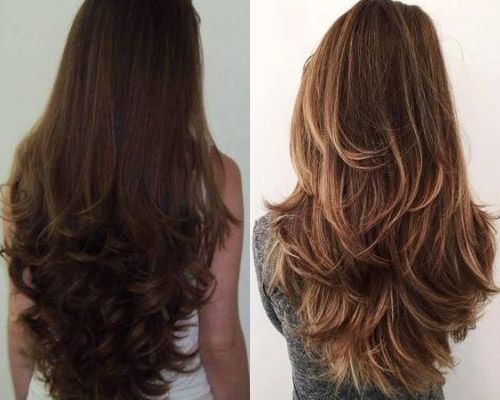 12. Blunt cut
Combine this haircut with side bangs or face-framing layers to enhance your facial features while visually creating a slimmer and longer face appearance. For the perfect red carpet look style the hair with soft waves or Hollywood curls.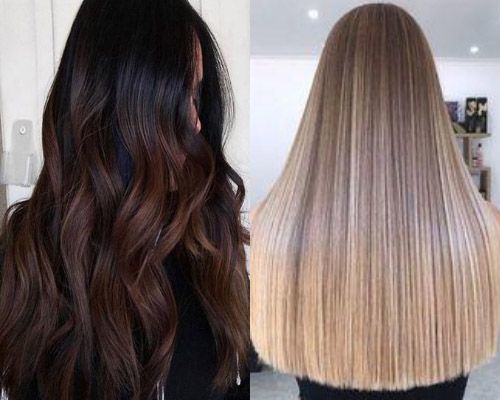 Want a tied-up hairdo, opt for a half-up half-down hairstyle as ponytails accentuate the face. Look for hairstyles that give you volume at the top of your head as this helps lengthen your face visually.
13. Classic half-up, half-down
A classic yet classy style; that can be worn as an everyday look or for a special event. To visually create an added length, the top portion of hair should be tied up high.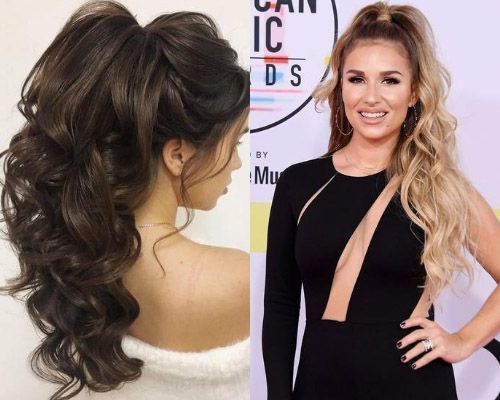 14. Topknot half up half down bun
For an instantly fun and glamourous look, style the top portion of hair into a high bun.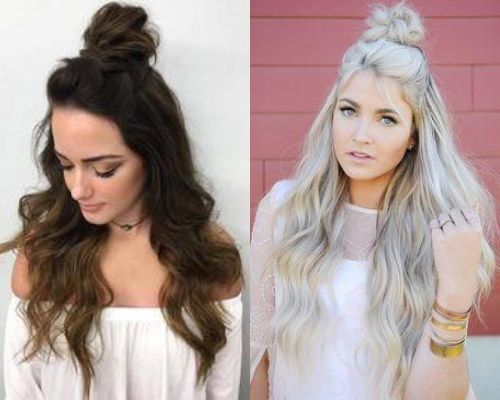 15. Top braid half-up, half-down
Get creative with the different types of braids you can use to style the middle portion of your hair. Here are a few of the top braid hairstyles you should try.
Dutch fishtail
Single French braid
Mohawk braid top knot
Triple French braid double waterfall mini bun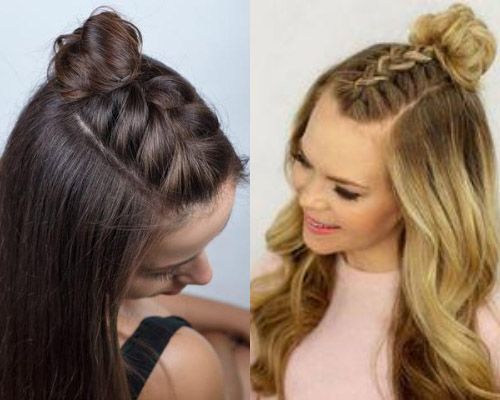 Other hairstyles and haircuts for round faces
16. Bun hairstyles
Style your hair with any bun hairdo but ensure to have side bangs or loose hair strands in the front as it helps reduce the width of the face visually.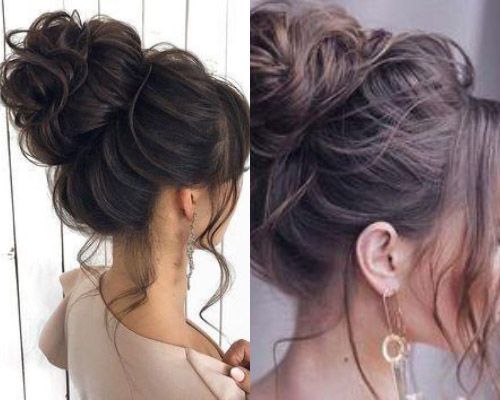 17. Side parting
As the cheekbones are the widest part of the face, a side parting helps cover this prominent feature by the hair that falls towards the sides of the face.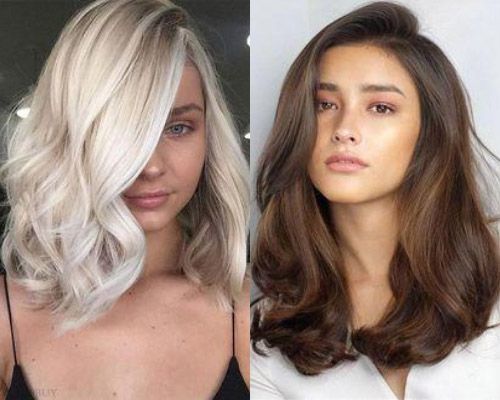 18. Side Bangs
Avoid straight bangs as it tends to widen the face visually whereas, side bangs elongate the face. This haircut can be created on ear length to long length hair and is best as a face-framing solution.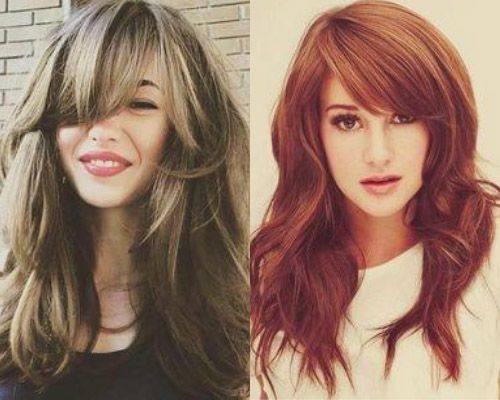 19. Loose curls
For added volume and bouncy hair opt for loose curls as tight curls add to the width of your face.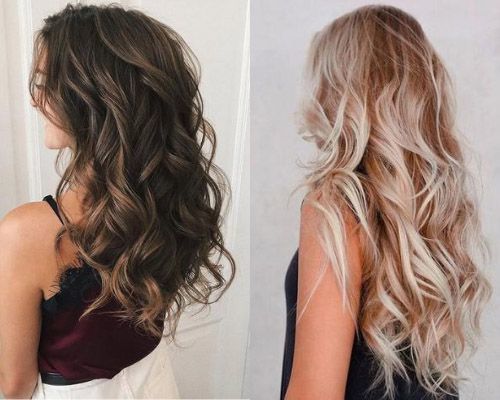 20. Beachy waves
A style that works well on chin-length to long length hair and is easy to create as it does not require any heat.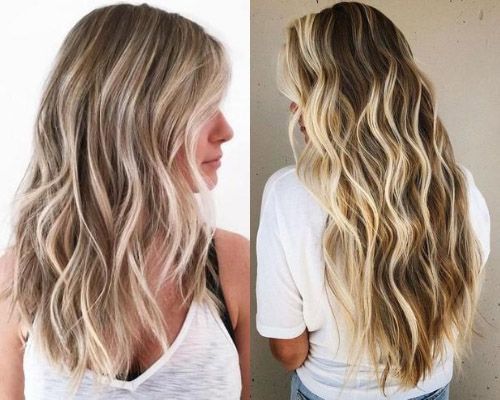 21. Hair colour
There is a variant of colours and hair colour technique available, consult a professional for the right hair colour and style that suits you.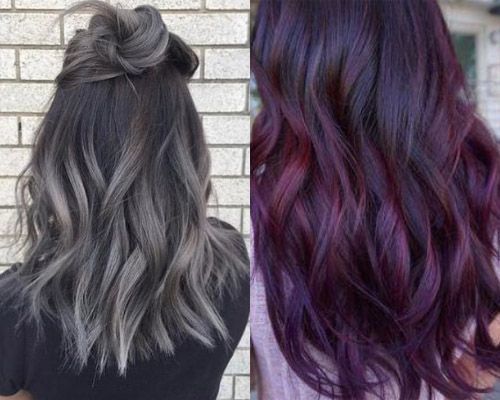 Need more inspirations on hair for round faces, go no further, as we bring you a list of celebrities with your face type.
Scroll through the names of famous stars and find one that you would like to twin with.
Celebrities with short length hairstyles
Ginnifer Goodwin, Michelle Williams, Kelly Osbourne, Sarah Hyland, Cameron Diaz, Kate Bosworth, Adele, and Queen Latifah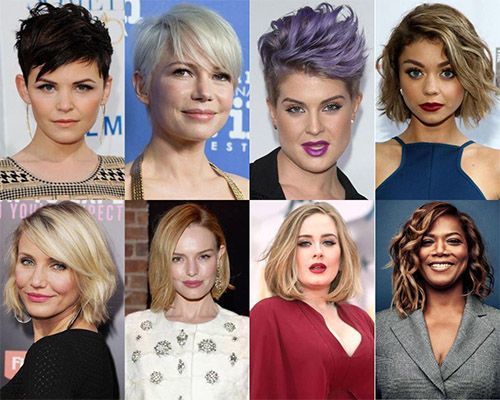 Celebrities with medium length hairstyles
Miranda Kerr, Elizabeth Olsen, Kirsten Dunst, Priyanka Chopra, Natalie Merchant, and Gemma Chan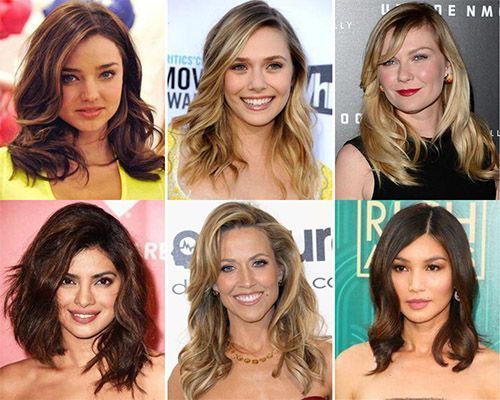 Celebrities with long length hairstyles
Mila Kunis, Drew Barrymore, Kate Upton, Catherine Zeta-Jones, Fergie, and Penelope Cruz