51+ Most Popular High Ponytails For Women - 2023
Vanessa Pereira
Updated At 01 Jun 23
I have always loved to wear my hair in high ponytails. It is comfortable, convenient, keeps the hair from touching my face (mostly anyway), and is the perfect way to mask a bad hair day. I wore it to school, university, and at times to work, when I did not have the time to style my hair. I however never associated high ponytails with sophistication and glamour.
Even when I saw Arianne Grande sporting the high ponytail hairstyle like a queen, I still had my reservations. I was not sure if it will work on my hair texture or my face type. Also, can it be worn for special occasions? If you have had the same doubts as I, read on to discover the many facets of this comfortable, sleek, and versatile hairdo, which works for short, medium, long, thick, or fine hair type and especially suits any face type when styled right.
51 Best High Ponytails For Women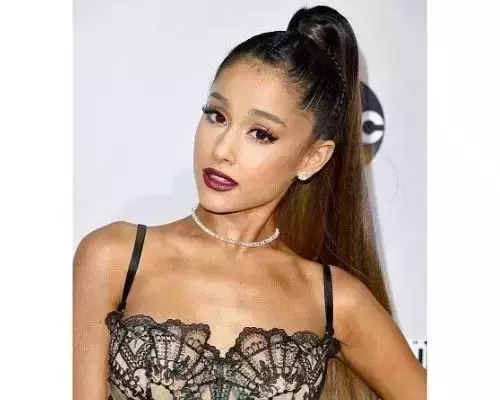 1. Arianne Grande's high ponytail hairstyle
This hairstyle with extensions rates high on both sophistication and class. One of the best celeb hairstyles, the tiny braids in the side and middle give this hairdo some spunk. This version of the high ponytail style is perfect for weddings and other special occasions. If you have a special event coming up, this high ponytail is a sure shot way to create that wow factor!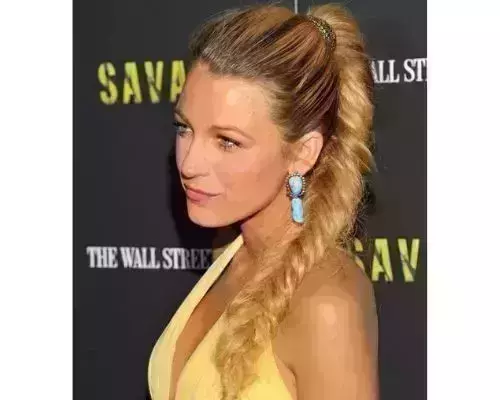 2. Blake Lively's combination hairstyle
This is the perfect high ponytail hairstyles for medium to long hair. This comfortable and sleek hairdo complements formal and casual attires. It can take you through from a day at work to date night. It is low maintenance and easy to create. Be sure to rock this fishtail ponytail hairstyle to amp up your style quotient, just like Blake Lively.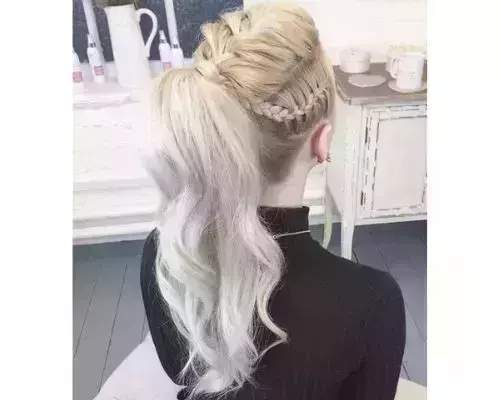 3. Three braids ponytail hairstyle
If your style is cute and feminine, then this high ponytail hairstyle is just for you. This hairdo looks absolutely stunning for thick hair; however, to add volume to your hair, opt for extensions. It is the perfect high ponytail hairstyle to rock at brunches, office parties, and even a fun girl's day out.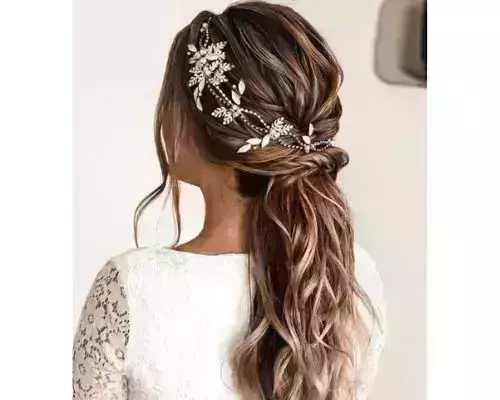 4. Boho ponytail hairstyle
If you are the kind of bride who inclines towards simplicity, then this high ponytail hairdo is just what you need to make your special day even more beautiful. Few beautiful hair accessories and a curling tool are all you need to create this beachy high ponytail wedding hairstyle.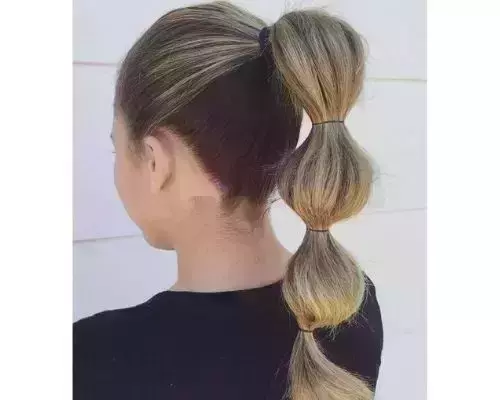 5. Bubble ponytail
Easy to do, beautiful to look at, very unconventional. The versatile bubble ponytail hairstyle can keep your hair out of your face during workouts, is easy breezy enough for casual occasions, and can perfectly complement your power suit.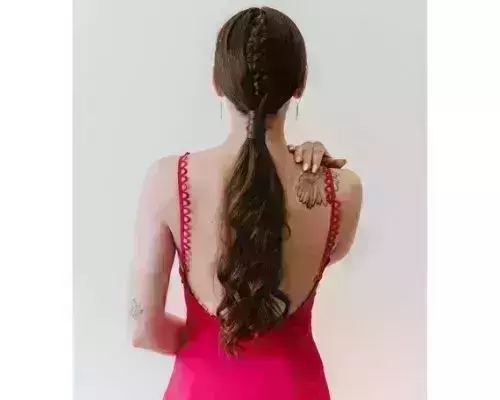 6. Center braid with a sleek ponytail
This sleek ponytail with a center braid is right out of a fairy-tale. It is perfect to style medium to long tresses. This ultra-feminine hairstyle is ideal for casual brunches, holidays, and any and every time you would like to look pretty!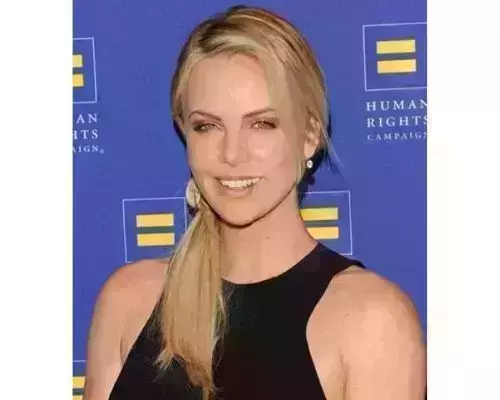 7. Side parted bangs with a one-sided ponytail
For all you beautiful women with short to medium length hair looking for a low maintenance ponytail hairstyle, this one is just for you. If you have bangs, this one-sided ponytail is all you need to look classy and stylish like the gorgeous Charlize Theron.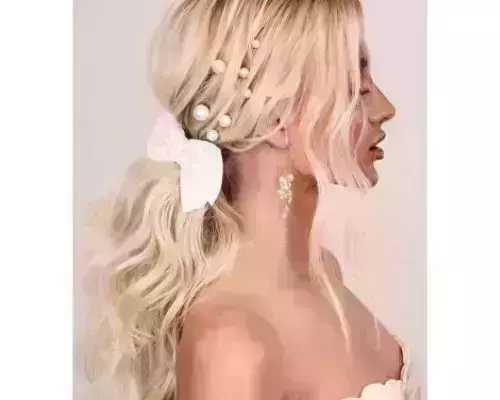 8. Chic in a bow
Another hairstyle for the bride to be or one you would like to style your bridesmaids in. Ditch the conventional hairstyles in favor of this cute and elegant low ponytail hairstyle for weddings. The finish of the look with bows, flowers, or any other of your favorite accessories, and you are good to go. The best thing about this look is that you can easily match the hair accessories to suit the dress color or theme of the wedding.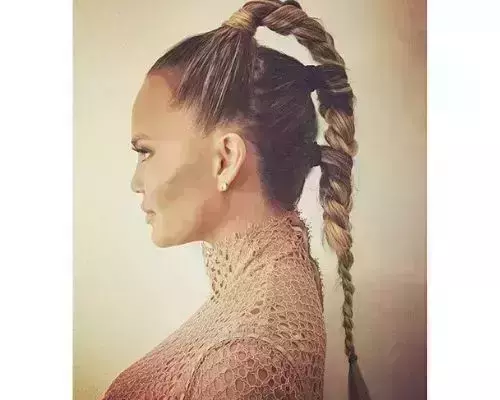 9. Segmented ponytail hairstyle
Make a style statement with Chrissy Teigan's segmented ponytail. It is the perfect high ponytail hairstyle combined with a braid. Wear this funky updo at special occasions and nights out to express yourself and stand out from the crowd. For a thicker ponytail, opt for a hair weave, it is a hair extension method where the hair wefts are sewn onto your hair, giving you a more natural look.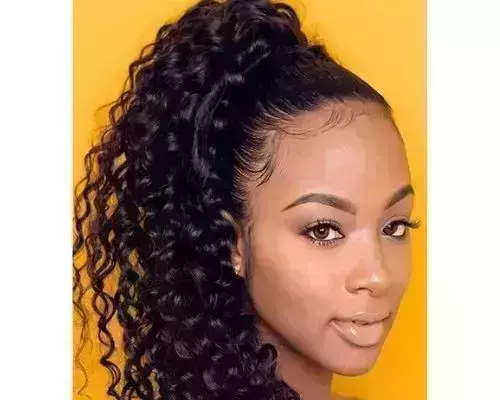 10. Curly high ponytail hairstyle
Show off your beautiful curls with this simple and rocking high ponytail hairstyle. Don this hairdo with sophisticated studs, and you are all set for your client meeting, swap the studs for long earrings, and you ready for a night on the town. This high ponytail hairstyle for black hair really takes you through the day and can be styled with weaves for that added volume and bounce.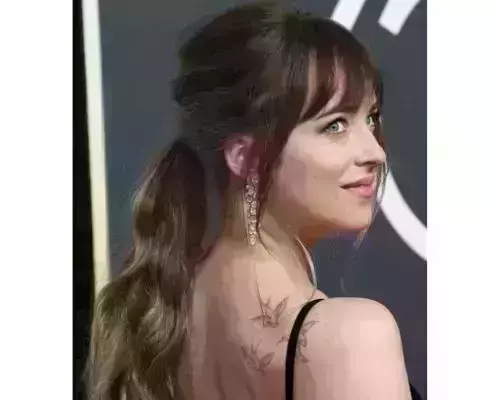 11. Classic ponytail with bangs
Who said low ponytails are not classy? All you need for this beautiful hairdo are some curling tools and spray to set your hair in place. Dakota Johnson's hairstyle is perfect to show off medium to long length hair. Add the extra oomph with bangs and side flicks to finish this gorgeous hairdo. If you are looking for inspiration for bangs for round face, then this can be an amazing option!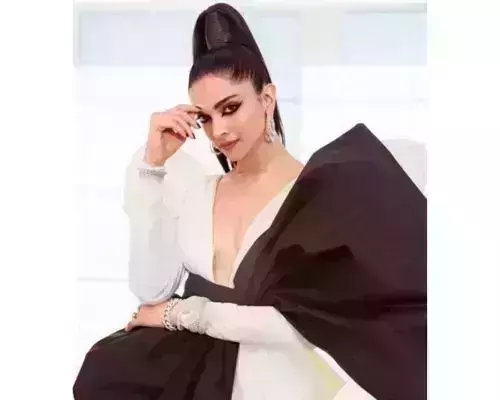 12. Red carpet ponytail hairstyle
This high ponytail with extensions hairstyle spotted by Deepika Padukone at Cannes Film Festival will require tools, expertise, and effort. But it is absolutely worth it when the end result is so high on fabulousness and style.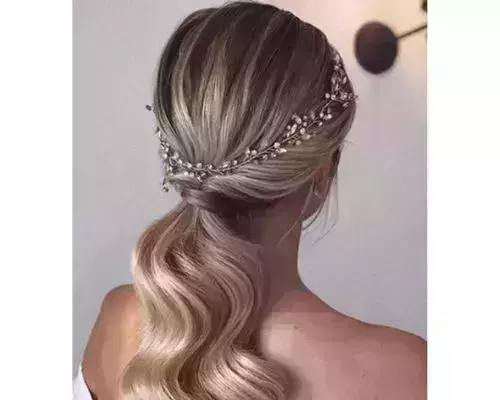 13. Ponytail hairstyle with hair accessories
This high ponytail hairstyle for medium hair is elegant, feminine, and the perfect way to show off your beautiful tresses. The best thing is this hairstyle suits all face shapes. Accessorize this simple hairstyle with a headband to finish off this super pretty hairdo.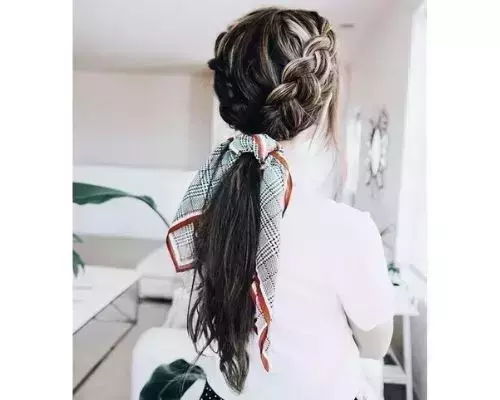 14. Double braid ponytail with a bandana
Start with two loose braids from the sides of your head, tie them up together just a little above your nape and finish off this cute look with your favorite scarf. This ponytail is the perfect hairstyle for school, college, work, or just hanging out at the mall.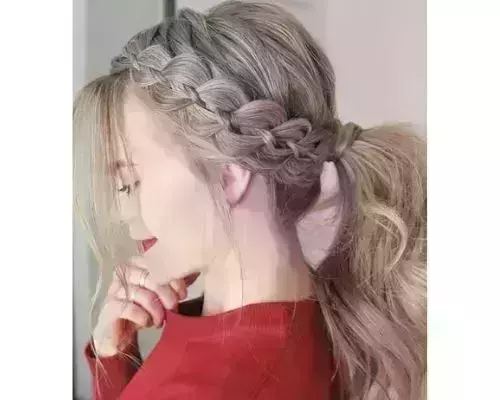 15. Ponytail hairstyle with Dutch braids
If a fairy-tale princess works a ponytail hairstyle, this would be the one! The braided band screams cute. This hairdo would look stunning on medium to long black hair. This gorgeous and girly hairstyle is for brunches, date nights, and special occasions.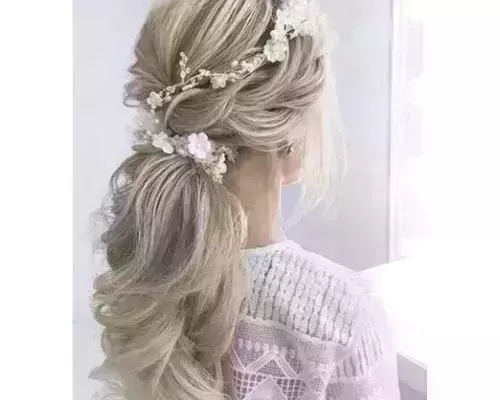 16. Style with flowers and waves
Classy and elegant hairstyle to complement medium to long length hair. Accessorize this hairdo to transition it into a chic ponytail hairstyle for a wedding.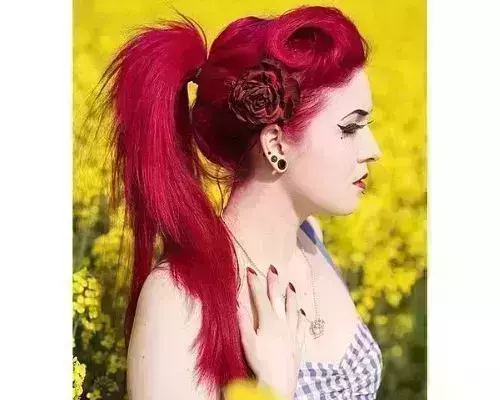 17. High ponytail hairstyle for dyed hair
For all modern and bold women, this is the high ponytail hairstyle for you. If you are not afraid to make heads turn and stand out, if you are looking for a hairstyle that is convenient, easy to do, and still makes a fashion statement, this one is for you.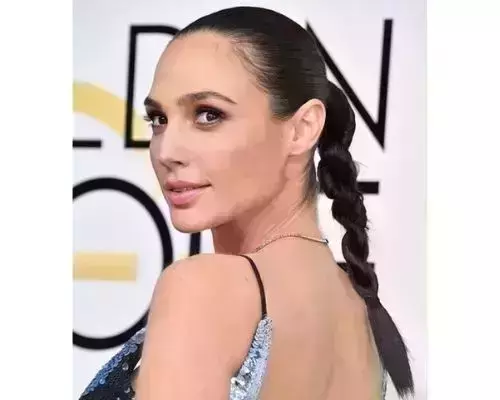 18. Ponytail with a classic braid
It does not get easier and prettier than this. This high ponytail hairstyle for black hair has been spotted by none other than the iconic Superwoman Gal Gadot. This hairdo looks great, is comfortable and easily manageable, and is perfect for school, college, offices, and even special occasions.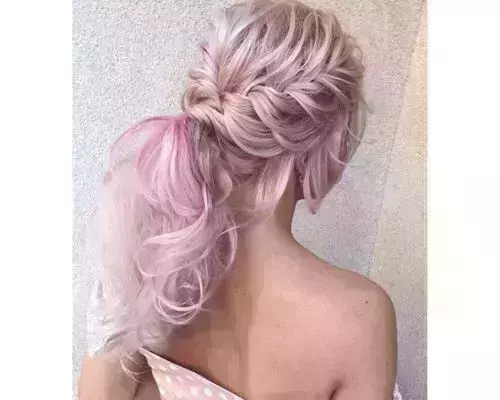 19. Ponytail hairstyle for two-toned hair
This high ponytail will make Barbie jealous. Show off your pink of any colored highlights perfectly with this loose, casual, and absolutely stunning hairdo. It is got strong summer vibes going and is the perfect daytime hairstyle.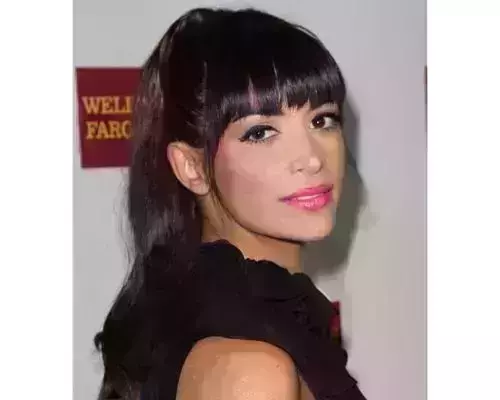 20. High ponytail with blunt bangs
Simple, sophisticated, and stunning. Hannah Simone's high ponytail with bangs is an effortlessly chic hairstyle. The blunt bangs add to the sophistication. This hairstyle is perfect for face shapes with large or wide foreheads.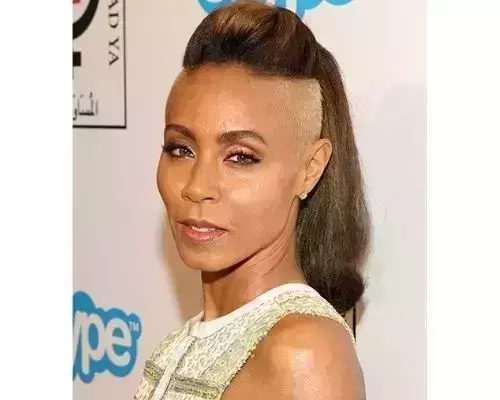 21. Mohawk ponytail haircut
Only Jade Pinkett could carry off this elegant, stylish and stunningly bold mohawk undercut ponytail hairstyle! The puffin front and the easy waves of the ponytail only add more glamour. If you are donning the mohawk hairstyle, do try this high ponytail out.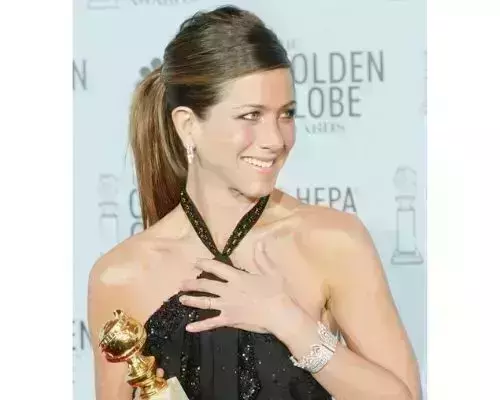 22. Deep side-parted ponytail hairstyle
The Friends star, Jennifer Anniston looked absolutely stunning receiving her award at the Golden Globe Awards with her stylish deep side-parted high ponytail hairstyle. It is one of the best high ponytail hairstyles for black hair and is suitable for most hair lengths.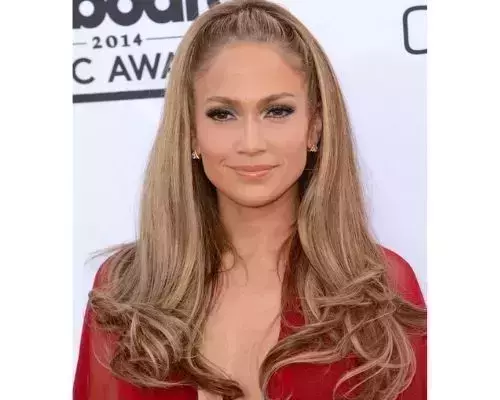 23. High crown ponytail hairstyle
Jennifer Lopez's high ponytail with extensions makes the best high ponytail hairstyle for weddings or special events. It shows off her glorious mane and beautiful face. This hairstyle is best suited for thick medium length hair.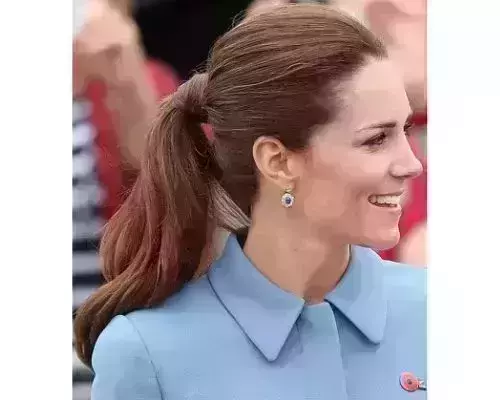 24. Hairstyle of the royals
This is the high ponytail hairstyle of royalty. Kate Middleton looks absolutely stunning in this simple low maintenance hairstyle, which she has been spotted with on many occasions. It is clean and sophisticated, perfect for school, work, and formal events. It is easy and fun, perfect for nights out and mall trips.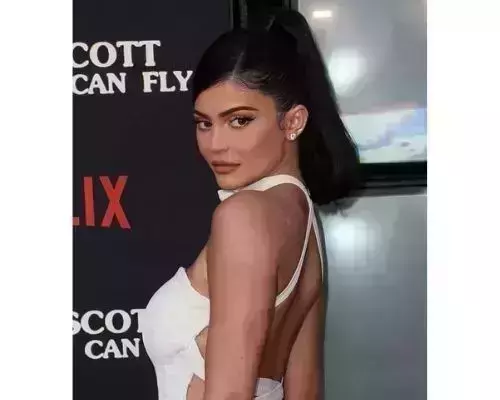 25. High ponytail hairstyle for medium length
Looking for a Kardashian approved high ponytail hairstyle for black hair? Look no more as the gorgeous Kylie Jenner was sporting this fun and a sleek high ponytail with a side parting. Her straight hair finished off the look perfectly.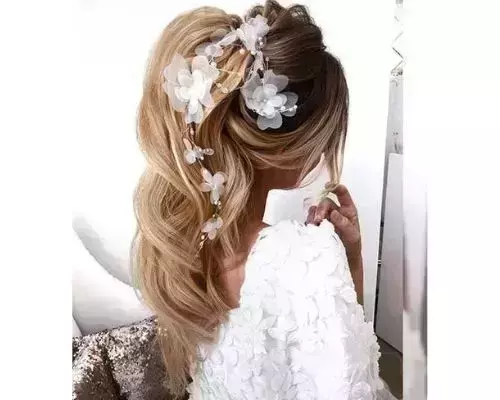 26. High ponytail with loose voluminous curls
This high ponytail with big curls is the perfect hairstyle for all beautiful brides. The loose curls and beautiful hair accessories will highlight your gorgeous mane. This hairstyle is suitable for all face shapes.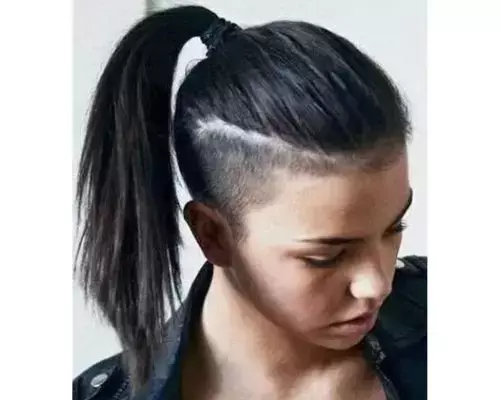 27. Undercut ponytail haircut
Rock this undercut high ponytail hairstyle if adventurous, funky, and edgy, describe your style or look.
28. Unique braided ponytail hairstyle
Looking for a unique ponytail hairstyle, then this is surely a look to sport, as the combination of a high crown lift with side braids tied into a low ponytail is not a common look and is sure to add to your style quotient at any special event.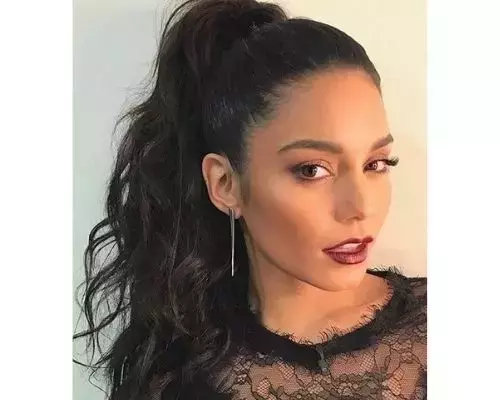 29. Tousled ponytail hairstyle
Vanessa Hudgens sexy hairdo is the perfect look for a high ponytail hairstyle for black hair. The tousled hair adds to the volume and style factor of the hairstyle. It is one of the best hairdos for a high ponytail hairstyle with weaves that add thickness and bounce to the look.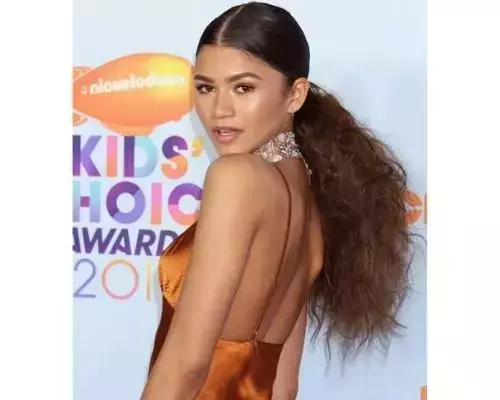 30. Ponytail for frizzy hair
If you have a similar hair texture to Zendaya Coleman, then this hairdo is the perfect look for you, as it is neat and smooth at the crown, which leads to a fun and chic look that shows your naturally beautiful tresses. An ideal look for any formal occasion, date, or party.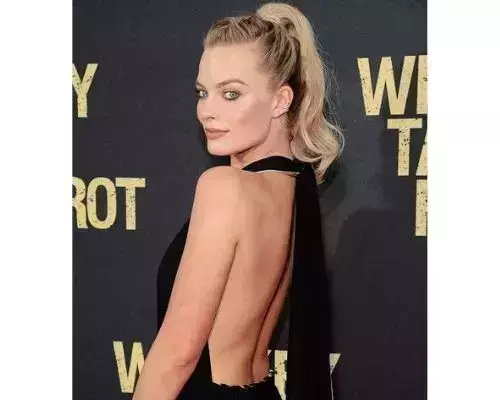 31. High ponytail hairstyle for short hair
Don this center braid high ponytail look with style as you twin with the beautiful Margo Robbie. A hairstyle perfect for short to long length hair.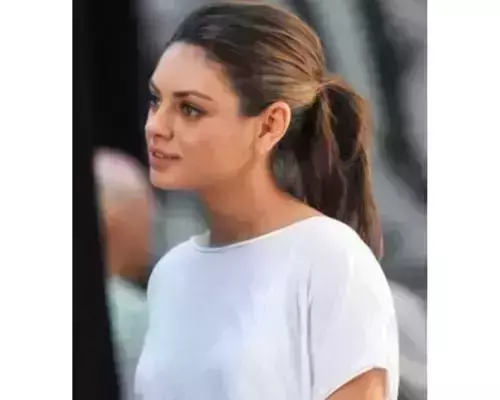 32. Casual pulled back ponytail
Need a more chilled outlook that works well for your busy days, then opt for the stunning Mila Kunis casual yet neat and chic mid-high ponytail hairstyle.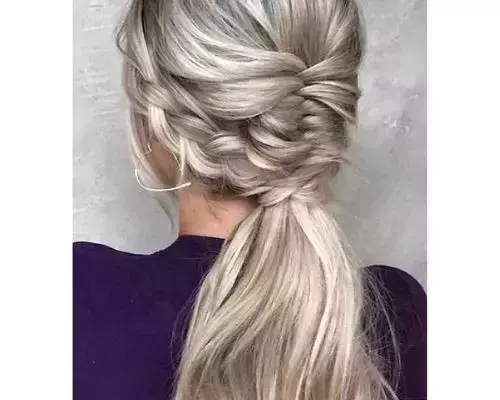 33. Mix braid ponytail hairstyle
A combination hairstyle, created with a simple classic braid and fishtail braid tied together in a ponytail. To amp this hairstyle up, add some delicate hair accessories to the look.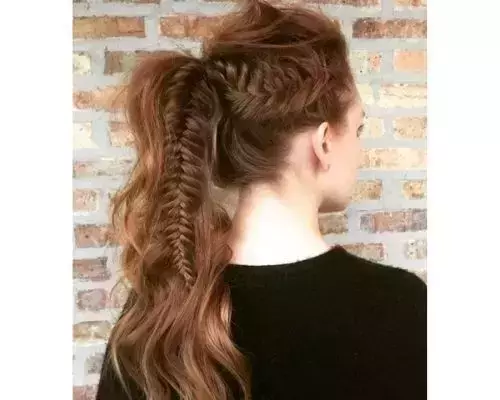 34. Modern fishtail ponytail hairstyle
Here is a modern take on a fishtail ponytail, suitable for short to long length hair.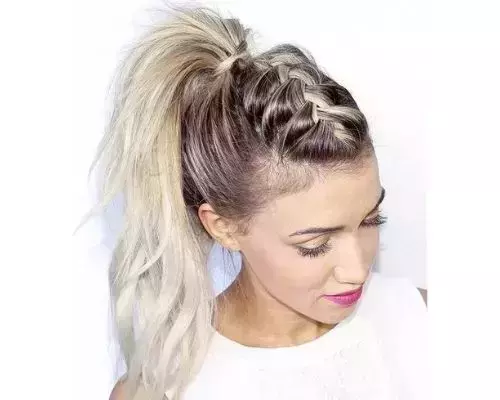 35. High ponytail with a center crown braid
Create this sporty, edgy, and fun look with a center braid tied into a high ponytail hairstyle. It is perfect for medium to long length hair.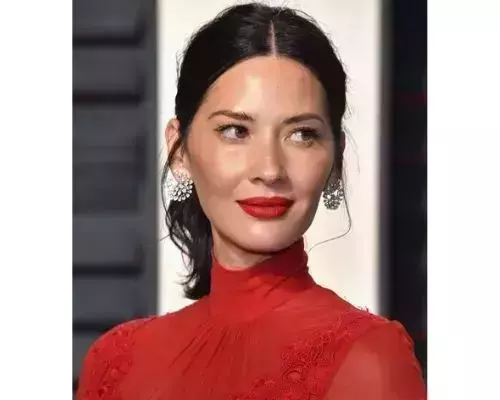 36. Ponytail hairstyles for shoulder length hair
A simple yet elegant look that can easily be created for short length hair; wear this look with a piece of more prominent jewelry that is sure to stand out and be the limelight of your style. Don this look confidently like Olivia Munn for work or personal events.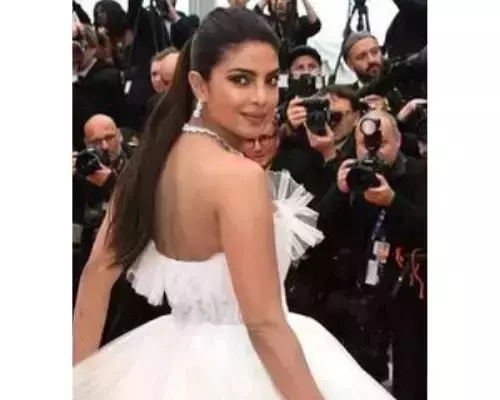 37. High ponytail for long black hair
Style your loud fashion clothing with a simple, sleek high ponytail hairstyle like the one spotted by Priyanka Chopra at Cannes Film Festival.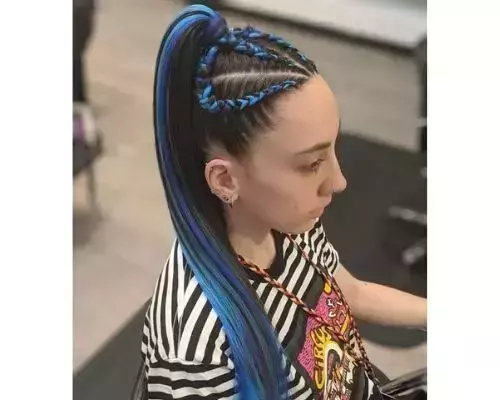 38. High ponytail for extensions or weaves
Add some color to your hair without actually coloring your hair. This quad braid ponytail with colored extensions is the perfect style to add any color to your hair.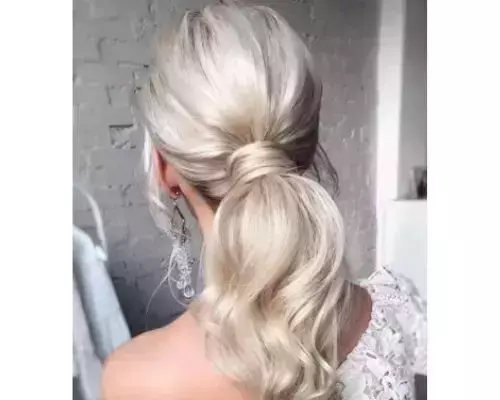 39. Voluminous ponytail hairstyle
This ponytail is easy and quick to create, can be worn for any event, but to make this look even more stylish, add some studded or pearl hair accessories to the hairstyle.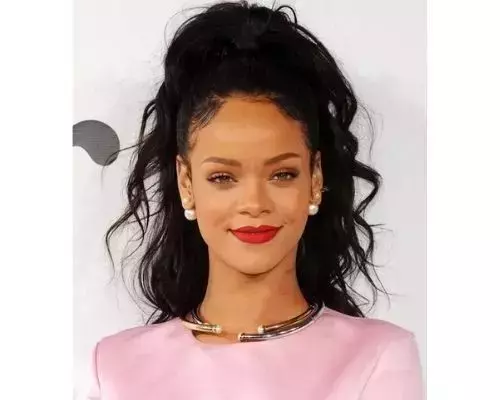 40. High top ponytail hairstyle for black hair
Try Rihanna's perfect high ponytail hairstyle with weaves for black hair, the added hair extensions look natural and add more volume to the hairstyle.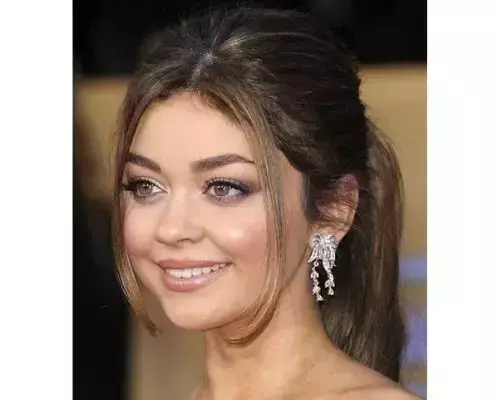 41. Simple and easy ponytail hairstyle
Sarah Hyland's feminine and simple hairdo is easy to create. Wear it for any event as it suits every face type. It is the perfect hairstyle for short length hair.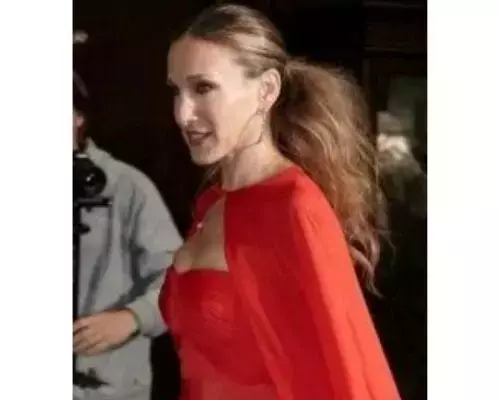 42. Middle-part ponytail
Love fashion and everything about it, then here is a look by Sarah Jessica Parker from the very famous movie, Sex in the city. A hairstyle that is easy to create and does not require that many hair tools, best suited for medium length hair.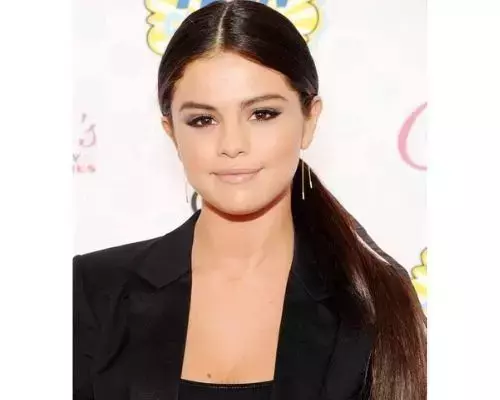 43. Professional ponytail hairstyle
This middle-parted, sleek ponytail hairstyle featured by Selena Gomez is best for straight long length hair. It is ideal for a professional look as it is neat, simple, and easy to create.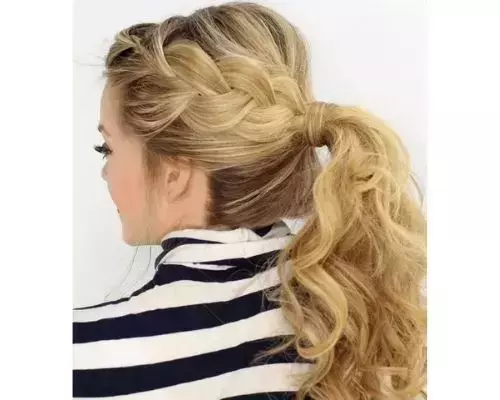 44. Side French braid ponytail hairstyle
Transform your whole look with the chic one-side French braid ponytail. This hairstyle is perfect for medium to long length hair and can be sported at any event.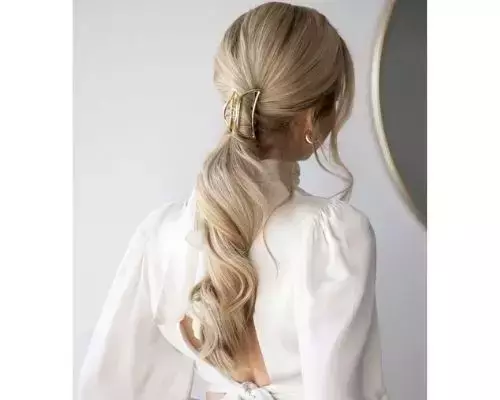 45. Simple and elegant
I have always only used a hair clip to tie my hair into a messy bun, but this hairstyle with loose waves is a perfect way to utilize a hairclip to style this chic and fun look.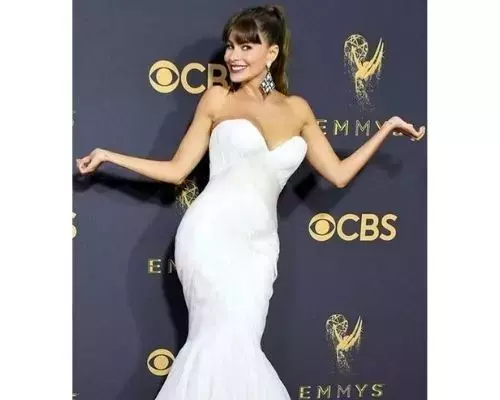 46. Sexy in bangs
Style your hair into a simple high ponytail hairstyle like the sexy, stunning, and gorgeous Sofia Vergara. Combine your look with a fashion statement that will have heads turning your way.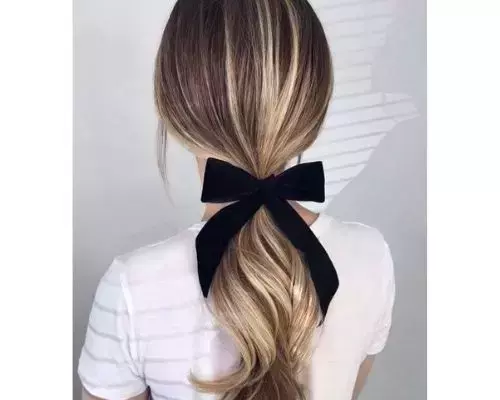 47. Sophisticated style
A simple low ponytail hairstyle accessorized with a bow to give it that feminine touch, a hairdo that is perfect for a simple event or a date.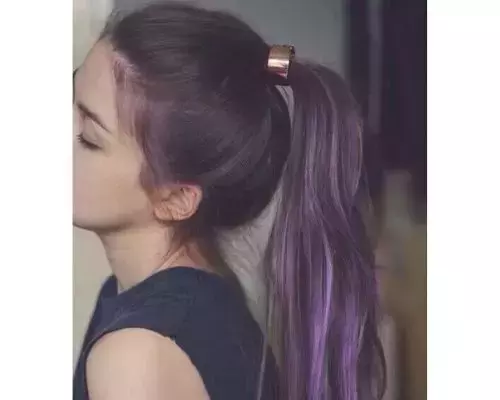 48. Streaks of purple
Not sure how to style your colored hair. Opt for a simple hair accessory to tie your hair into a neat high ponytail hairstyle, style with curls or waves for an added effect.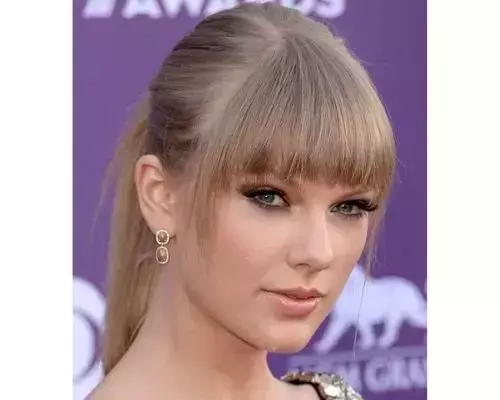 49. Ponytail with bangs for short length hair
Already got bangs, then why not try out this simple yet stylish ponytail look sported by Taylor Swift at the Annual Academy of Country Music Awards.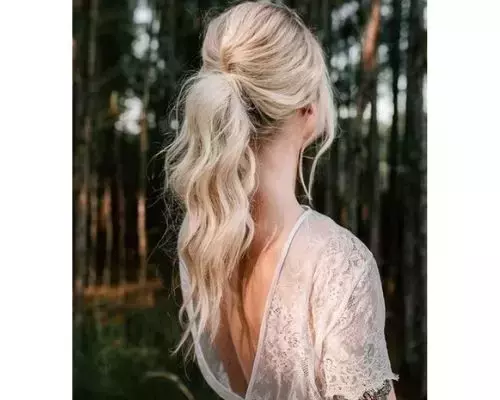 50. Rusty style
This tousled mid-high ponytail hairstyle is well suited for a more chilled, laid back scene and even works well as a wedding hairstyle for a rusty or boho themed wedding.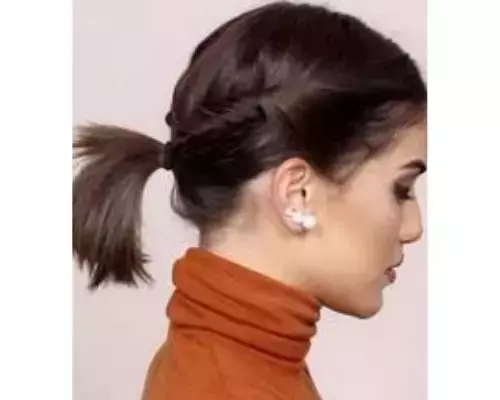 51. Twist and tie
Here is a style that is not only simple to create, but the side twists make it more than a classic ponytail. This hairstyle is perfect for short length hair and is a great way to keep the hair out of your gorgeous face.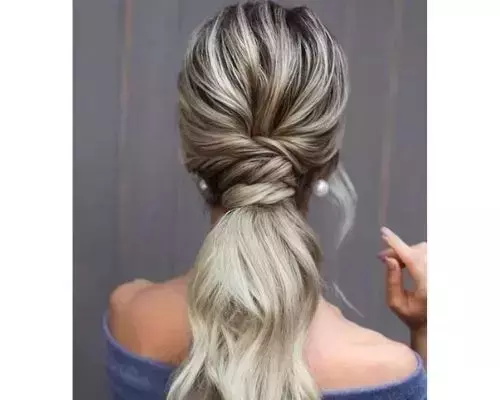 52. Twist and knots
Want to transform your everyday classic ponytail to a little more modern and trendier look then this twist and wrap around low ponytail is the best look to amp your traditional style. This hairstyle is not only perfect for a professional look but is well suited for a date or a brunch.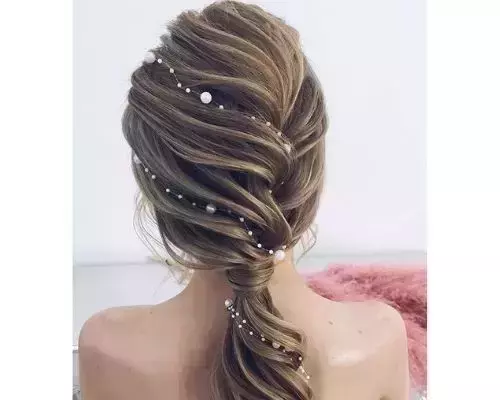 53. Adorned with pearls
The combination of twisted strands and pearls give this hairstyle that delicate and chic look. This look is perfect for hair with highlights as it adds dimension and texture to the hairdo, a perfect look for special events.
We would love to hear from you and see all the looks you have styled and all the celebrities you managed to twin with, using this list of more than 51+ ponytail hairstyles.