61 Spectacular Leg Mehndi Designs - 2023 (with Images)
Shalu Bhati
Updated At 08 Jan 23
Are you looking for some spectacular leg mehndi designs? We have got you covered!
Whether it is the wedding season or the festive season, mehndi is always an integral part of the celebrations and festivities in many cultures. It is not only considered auspicious but is also a beautiful thing to look at. The pretty designs that are painted on hands, legs, and feet have been around here for hundreds of years and passed through generations. Whether it is front hand or back hand mehndi designs, the hand mehndi designs are always the center of attention. So, here we are with 61 spectacular leg mehndi designs to get you inspired and ready for the festivities.
Let's get started!
61 Most Popular Leg Mehndi Designs - With Images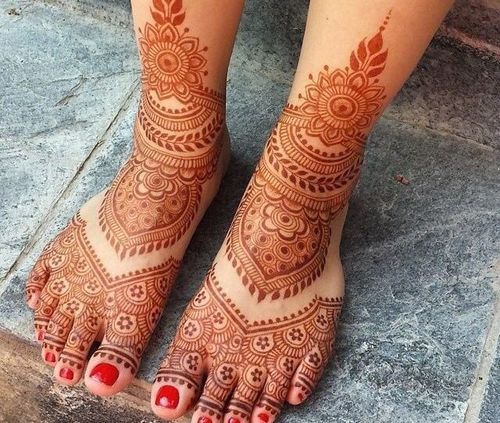 1. Stylish Leg Mehndi Designs
Leg mehndi designs have always been a part of festivities but were not as talked about as hand mehndi designs. However, gone are those days as leg mehndi designs like this one are coming to the forefront.
Check out our guide to find the best arabic mehndi design as we list more than 50 trending designs of this year.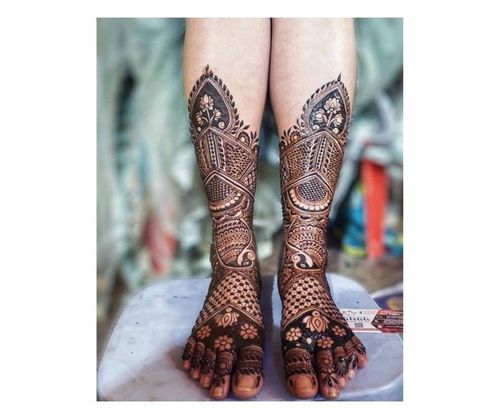 2. Lotus Leg Mehndi Designs
What even is a leg mehndi design if it doesn't incorporate all the classic motifs along with the very modern additions? We spot the peacock paisley and the general floral patterns with the shaded lotus design being the showstopper. This floral mehndi design is perfect for wedding and any other occasion.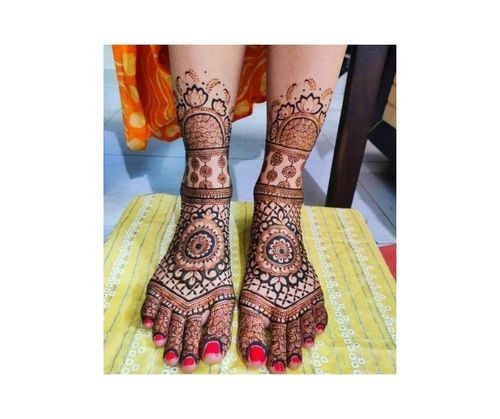 3. Mandala And Lotus Leg Mehndi Designs
Mandala leg mehndi designs are very popular. They are beginner-friendly and have an auspicious presence. This is how you get the best of both worlds—the beauty and blessings of the universe. The floral fill-up around the mandala design here is what really takes the cake though.
Check out our guide to find an easy henna design as we list top 51 top henna designs which are apt for all occasions.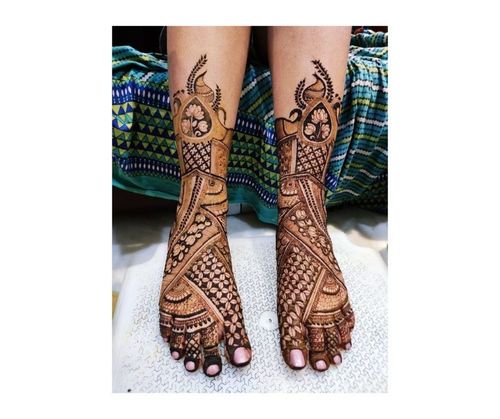 4. New Leg Mehndi Designs
Yes, here is yet another stylish leg mehndi design with lotus. What can we say? This is truly everyone's favorite motif to draw now. But, it's not just the lotuses. It is this whole floral leg mehndi design that is a modern iteration of the classic and traditional designs you usually see.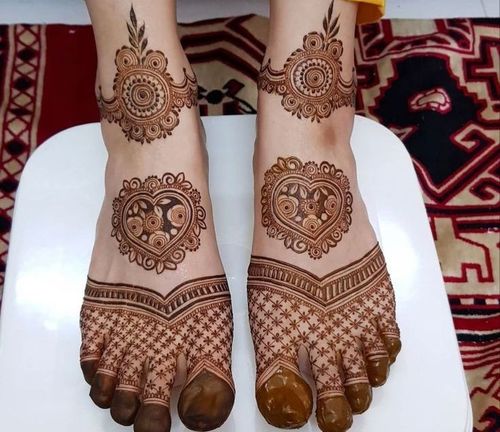 5. Leg Mehndi Designs With Heart
Nothing can speak for your love for mehndi more than this leg mehndi design right here. This design falls between a heavy-loaded one and a minimalistic design. It forms the middle ground between the two with its pretty as a picture aesthetic.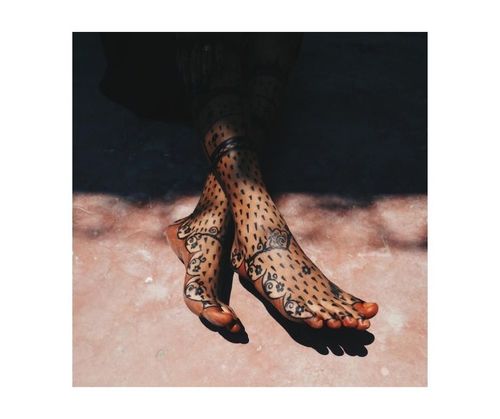 6. Unique Leg Mehndi Designs
Leg mehndi designs are most commonly identified with brides. But that is not the idea anymore. Women have embraced their culture in this modern world and are expressing their individuality through some of the most unique leg mehndi designs. And here we have just the one to show you what exactly are we talking about.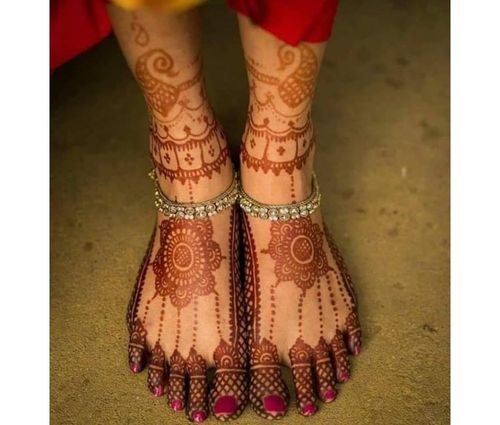 7. Jewelry Inspired Leg Mehndi Designs
It is common to take inspiration from jewelry while coming up with mehndi designs. And by that logic, you will see a lot of jewelry-inspired leg mehndi designs. This one here takes a floral design in the center and uses it as part of an extended anklet design. It is an easy-to-make mehndi design and is most popular amongst brides.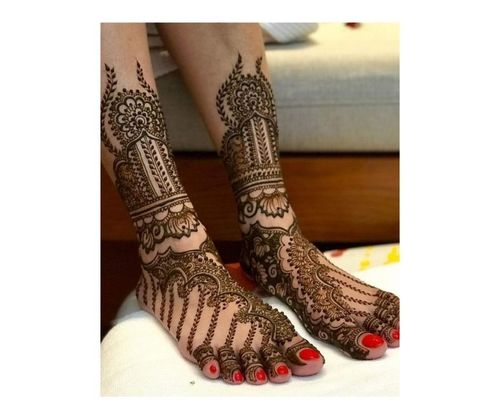 8. Floral Motifs And Leafy Vines
Here is a design that caught our eye because of its uniqueness. It uses the same traditional motifs and patterns including flowers and vines but it is how they have been used with using space as an element to set a contrasting vibe.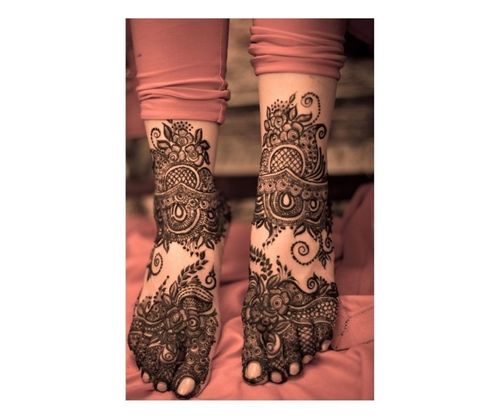 9. One For The Roses
If lotus leg mehndi designs are popular, then the ones with roses are not far behind. Roses have long been a part of leg mehndi designs and they are here to say. They are mostly used with the jaal pattern.
Check our guide to find the best mehndi design for hands as we list more than 25 trending designs of this year.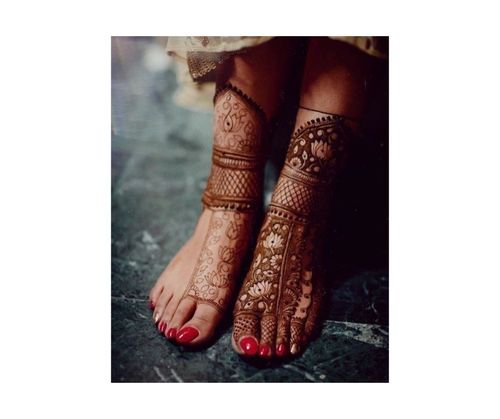 10. Pretty Lotus Based Leg Mehndi Designs
Here is yet another stylish leg mehndi design featuring lotuses. Notice how it is the shading that truly gives this design its aesthetic appeal.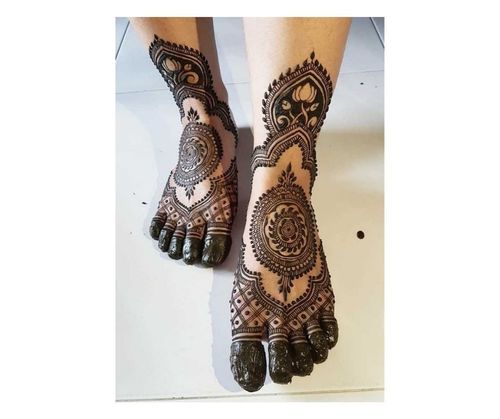 11. Classic Mandala Leg Mehndi Designs
Mandala is a classic leg mehndi design. What is best about this pattern is that it can be adapted into almost any design. This here is just the perfect example of its versatility.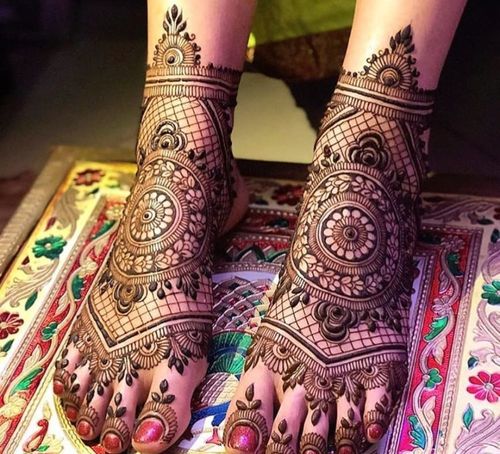 12. Mandala With Jaal Motif
Take an easy mehndi design to the next level by transforming it into a floral mandala. As for the space, you can always fill it with a jaal pattern.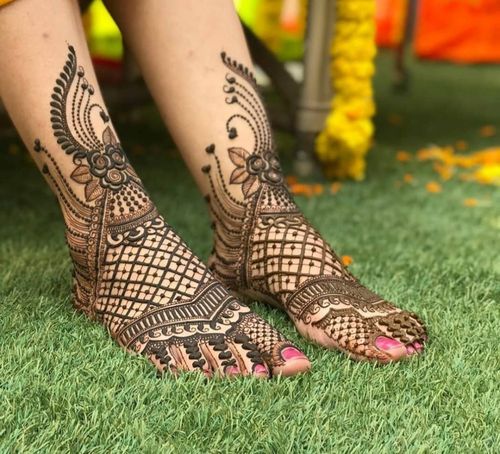 13. Pretty Leg Mehndi Designs
Leg mehndi designs with a jaal pattern have their own charm. And there is not just one type of it. There are many variations to this one pattern and each is as beautiful as the other if not more. Here we have one variation of the jaal pattern. This one is bigger and bolder followed by some classic patterns drawn together to form a triangular shape with a floral crown.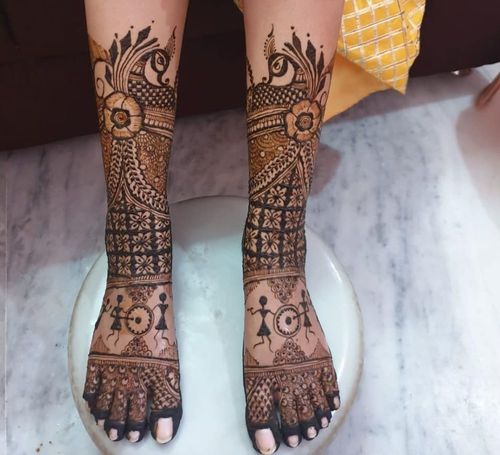 14. Mix N Match Leg Mehndi Designs
Go all out with this leg mehndi design that incorporates almost every mehndi pattern known. It has everything from paisleys and peacocks to a floral mesh. But, what catches one's eyes is the tribal art-inspired design in the middle of it all.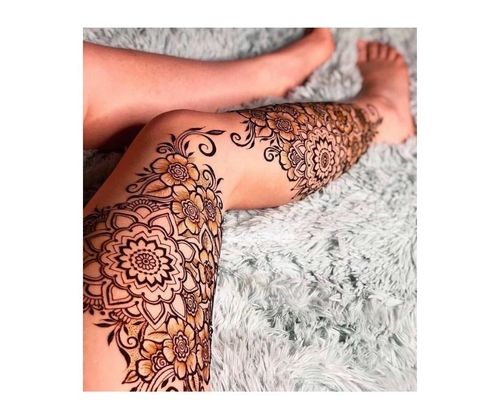 15. Henna Tattoo For Legs
Leg mehndi designs are not just for weddings and festivals. There is a popular trend in the West of henna tattoos and we found for you one such beautiful henna tattoo design for legs. It is a big floral pattern that covers the whole leg as it should.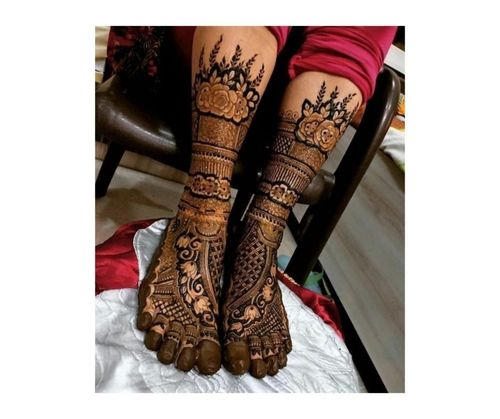 16. Lotus With Roses
So far, you have seen leg mehndi designs with both roses and lotus. We thought it would only be fair to get something with both roses and lotuses in one. And that's why we have this pretty leg mehndi design.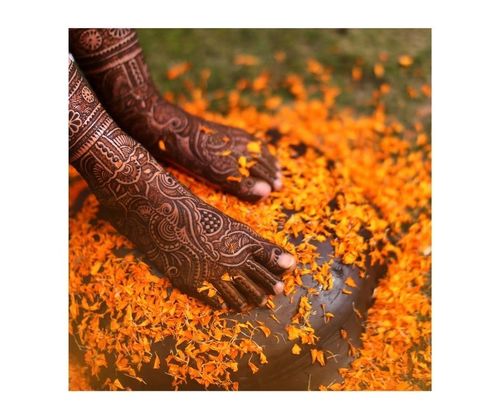 17. Traditional Leg Mehndi Designs
Traditional leg mehndi designs usually fill up the whole space. And the most used motif? Of course, the paisleys. Paisleys go together with everything and form a great base design.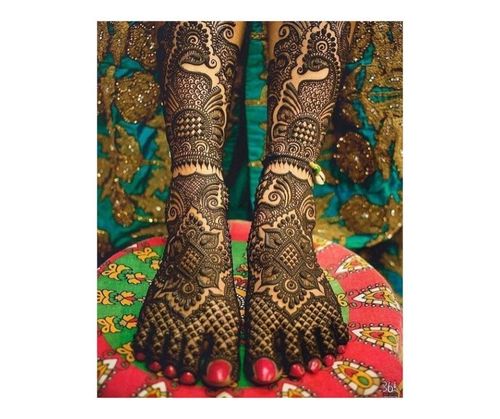 18. Beautiful Bridal Leg Mehndi Designs
Think of peacock and floral motifs and now think about them again but in more of a regal way. That's exactly what this leg mehndi design is about. From the jaal pattern at the toes, the floral masterpiece in the center, and the regal peacocks on the legs, everything screams elegance and royal.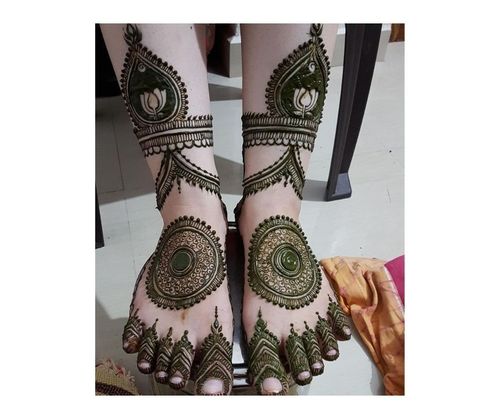 19. Mandala And Lotus Leg Mehndi Designs 2.0
If the busy designs are not your choice of poison and minimalistic designs don't cut it for you either, then we have something for you. This design is just right as it is the perfect middle path of the two.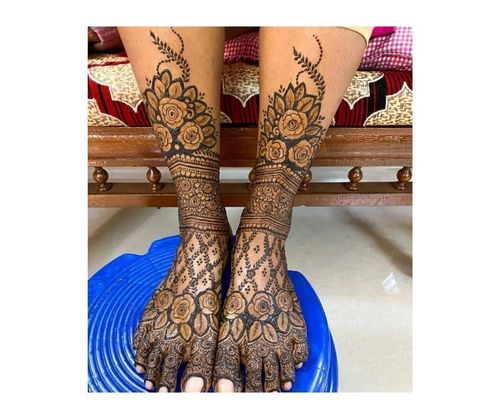 20. Mesmerizing Roses For Leg Mehndi
Want to express your love for roses through your leg mehndi designs? Then this is the one for you. Look how mesmerizing this design is just like a garden of roses.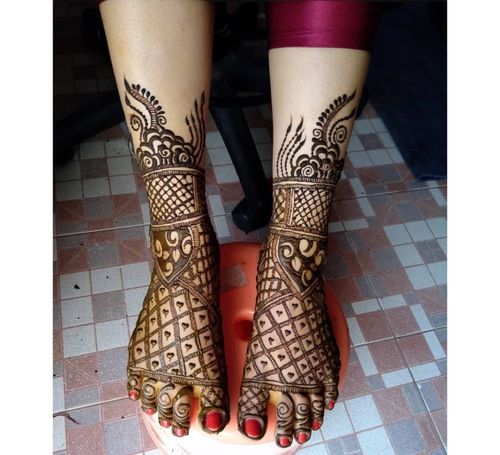 21. The Jaal Twist
Here is another variation of the jaal pattern. There is more than one being used in just this leg mehndi design. And that is exactly what makes this design stand out. The hearts form a cute feature and we are loving it.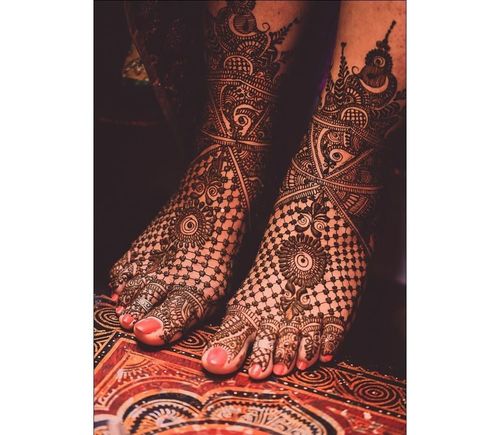 22. Classic Leg Mehndi Designs
This is a classic leg mehndi design fit for festivals as well as weddings. And yes, classic means peacocks and paisleys with a dash of floral here and a bit of leafy vines there.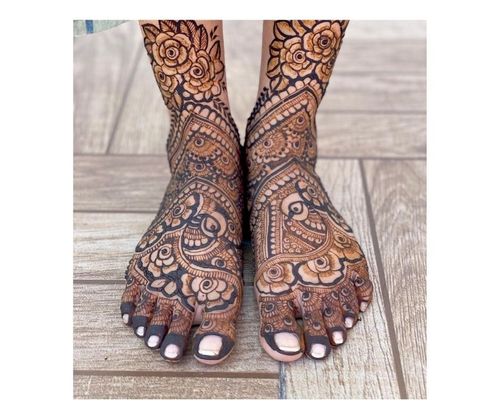 23. Peacock And Roses For The Win
Take two of the prettiest motifs and combine them to create an even prettier leg mehndi design. That's exactly how this design came through. The roses and peacocks work well together to create a gorgeous design.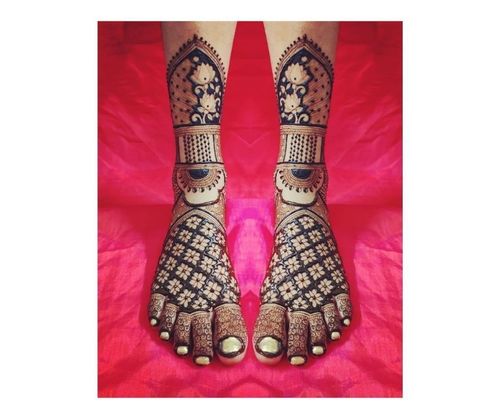 24. Floral Leg Mehndi Designs
This leg mehndi design can work as a bridal mehndi design as well as a design fit for karvachauth. The floral jaal has our hearts and the lotuses on a window frame design add more beauty to the whole thing.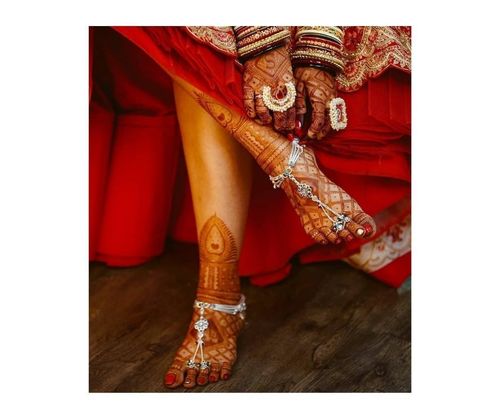 25. Trendy Bridal Leg Mehndi Designs
Here is a bridal leg mehndi design. It is not as fuller and larger than life as bridal mehndi designs usually are. Because this is how modern times have changed the mehndi designs. Going easy as per your preferences and aesthetics on your big day is completely fine.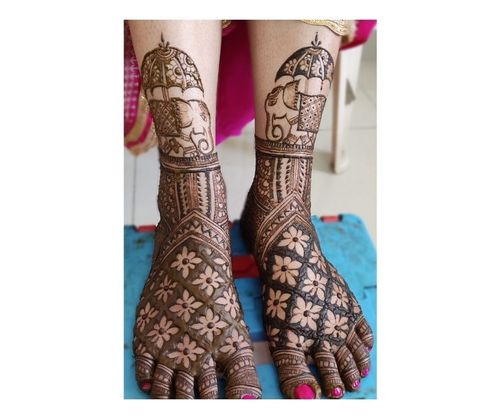 26. Flowers And Elephants
Apart from flowers, elephants usually are one of the most common motifs that are used in all sorts of leg mehndi designs. Here the superstar is undoubtedly the big and bold shaded floral design. But, the elephants are not far behind in terms of being the point of attraction.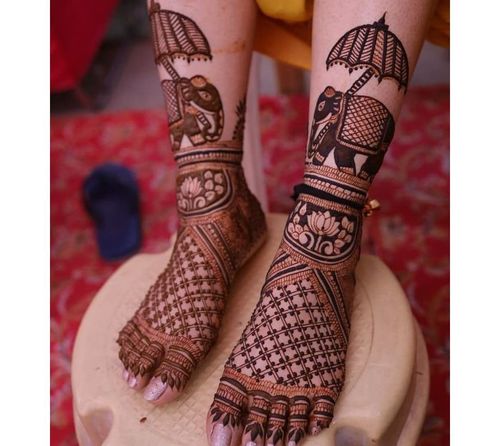 27. Classic Leg Mehndi Designs With Elephant
Did anyone say elephant? Because we heard it and brought some more leg mehndi designs with elephants. This one right here is a detailed work of art. Just look at the pretty jaal pattern, the shaded lotuses, and the elephant design itself.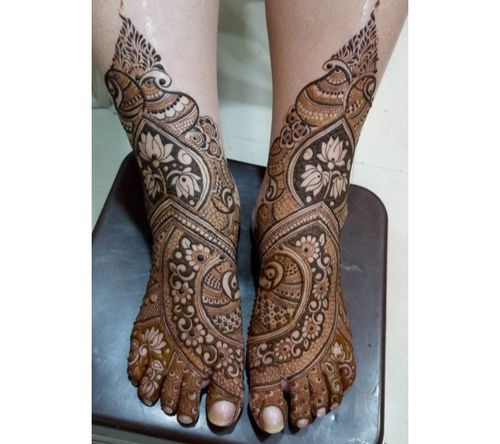 28. Pretty Peacocks
There are a lot of leg mehndi designs out there. You will find several peacock designs but will they stand out as much as this one we have here. It is a very symmetrical design that will grab attention instantly. It is just that beautiful.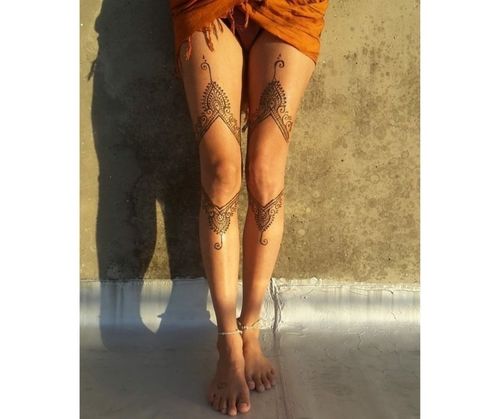 29. Modern Mehndi Designs For Leg
Here is a very modern and minimalistic leg mehndi design for the woman of today. You don't even need an occasion to justify this mehndi design. Recreate it, if you are feeling like it. A design as pretty as this one shouldn't be kept waiting.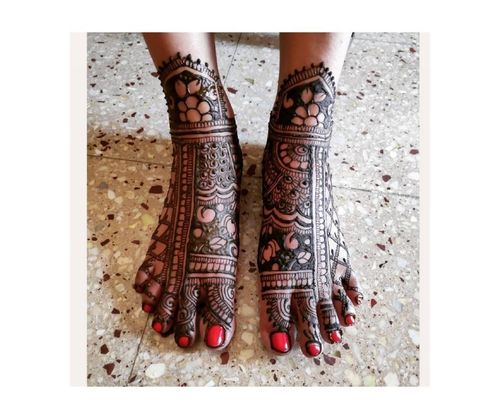 30. More Flowers For Mehndi
There can never be enough floral leg mehndi designs. So here we are again with a wonderful floral leg mehndi. But it is not just the fancy flowers. This mehndi has many elements. The whole design takes different shapes and directions giving it a unique touch.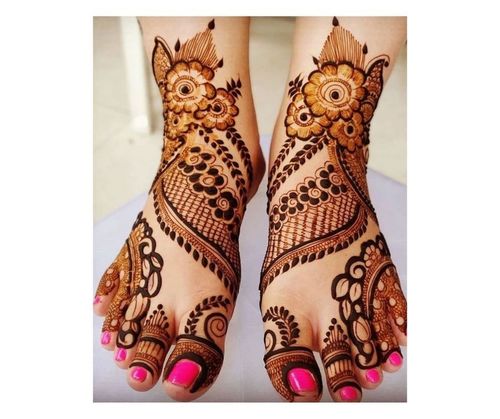 31. New Floral Leg Mehndi Designs
Here the floral motifs are at the center stage. The combination of light, as well as bold and shaded motifs, really brings out the true beauty of this design.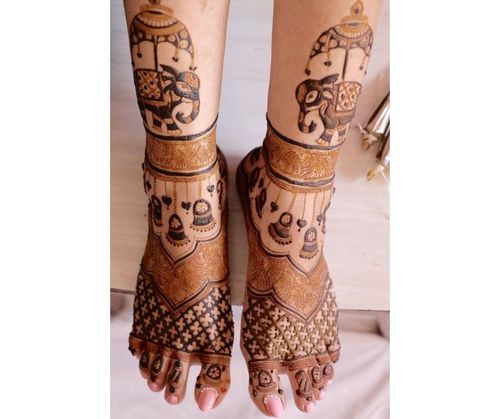 32. Wedding Bells
This is a detailed leg mehndi design that can be perfect for weddings because it has literal wedding bells as its part. It's a pretty design that looks even prettier with the contrasting strokes used to create the design.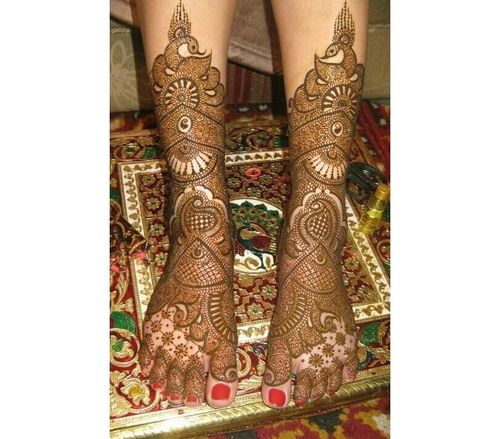 33. Peacocks And Paisleys
This is how traditional leg mehndi designs usually look. It has lots and lots of paisleys because no classic and traditional mehndi design is complete without some good paisley motifs. Also, peacocks. Together, they make for perfect partners.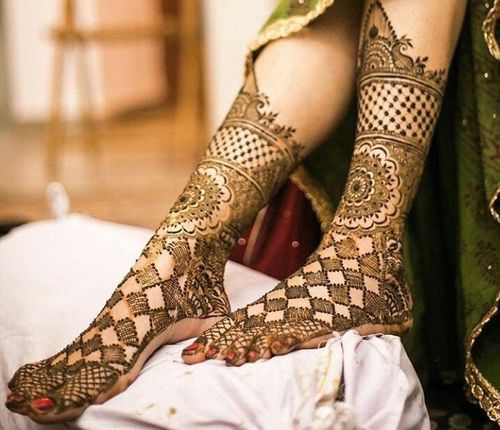 34. All For The Love Of Patterns
If you want something different than the regular paisleys and peacocks and flowers, then this could be the design for you. It still has the paisley motif but the center stage belongs to the jaal motifs.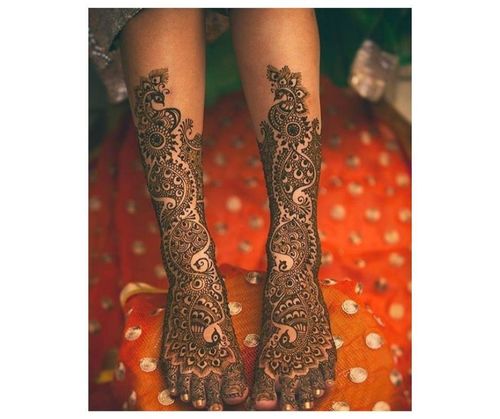 35. Classic Peacock Leg Mehndi Designs
Here is one of the most beautiful leg mehndi designs that you can ever come across. If this doesn't inspire you to go big and bold this festive season, then what really would?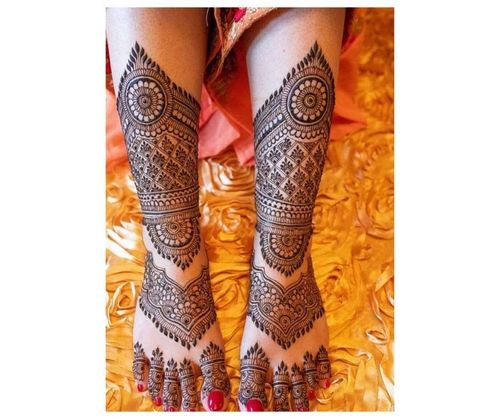 36. Arching All The Way
Do you know what sets our hearts racing? Some beautiful arches! And these beautiful Mughal-era-inspired arches have already found their way into the mehndi scenes. So, here we are a very gorgeous leg mehndi design with, you guessed it, arches!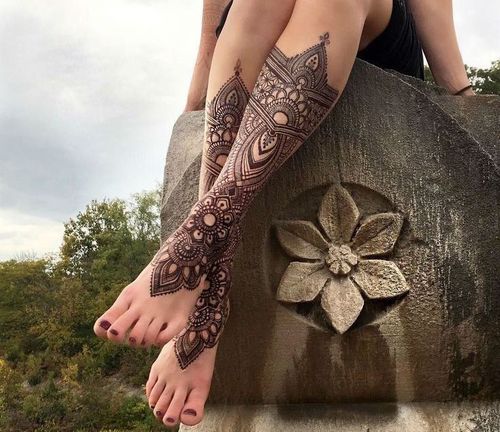 37. Big And Bold Floral Mehndi Design For Legs
Go big or go home. Because that is exactly what this leg mehndi design is all about. It is chic, modern, and definitely gorgeous. You don't even need an excuse to get something like this done as it doesn't have any occasion-specific vibes (or design).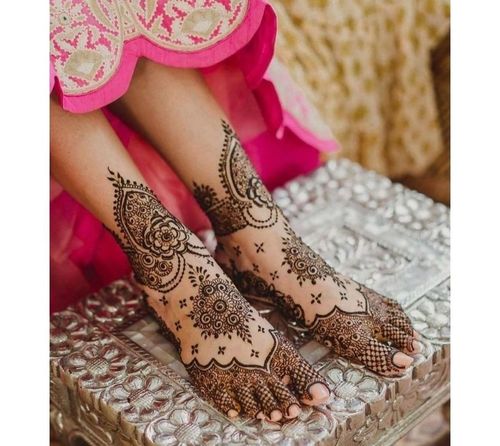 38. Simple Arabic Leg Mehndi Designs
Arabic leg mehndi designs have their own beauty and charm. They are quite popular because of their versatile and universally flattering feature. Moreover, it is the sense of movement through leafy vines and swirls that takes the cake here.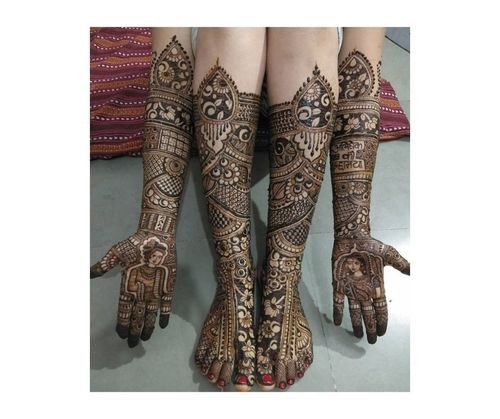 39. A Matching Set
What is better than a spectacular leg mehndi design? A matching set of mehndi designs for both hands and legs! This is the usual way to go when it comes to bridal mehndi and allow us to say that the fans and followers of such a matching set of mehndi designs know what they are doing.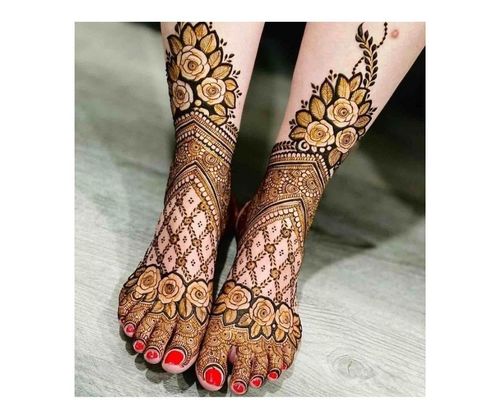 40. Pretty As A Picture
Here is a sweet and simple yet impressive leg mehndi design. It is not too overwhelming and not minimal either. It is just right there in the middle of these two and paints a very pretty picture with the use of delicate jaal and floral motifs in the center.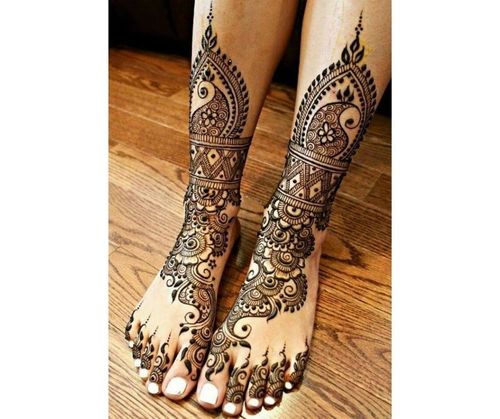 41. Spectacular Leg Mehndi Designs
No mehndi design is truly complete without a paisley motif. And by that logic, this must be paisley heaven. It is a chic, elegant, and truly spectacular leg mehndi design that gives a sense of flow.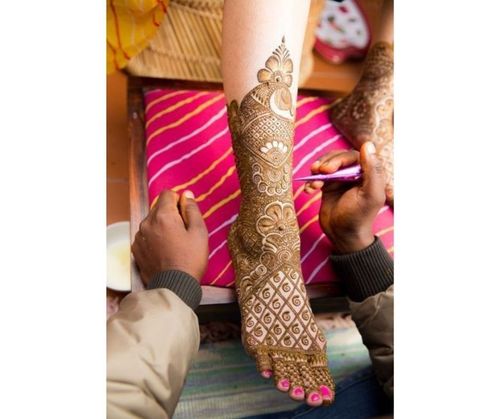 42. Floral Spiralling
Leg mehndi designs with flowers do not form a new concept. It is as old as the whole mehndi tradition. And yet we continue to draw floral mehndi? Why? Because it gives endless opportunities. Here is one such new and interesting leg mehndi design.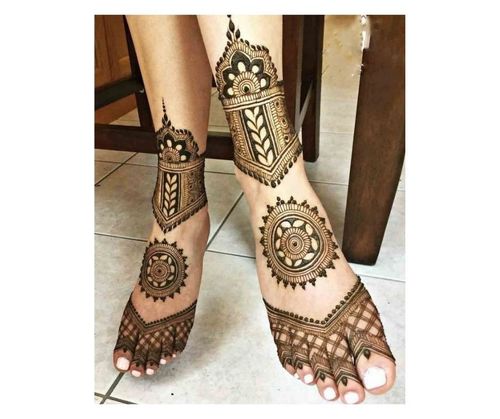 43. More Mandala Mehndi
There can never be enough mandala leg mehndi designs in this world. So, here we go again with a very spectacular leg mehndi design with mandala and some of that good old jaal motif. The anklet-like design adds so much to the elegance and beauty of this whole leg mehndi design.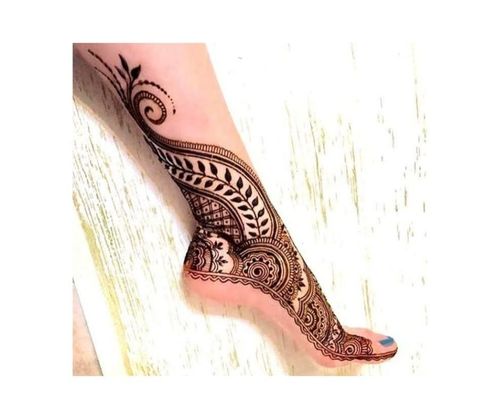 44. Sideways Elegance
Move over the old and usual. Take the side route quite literally when it comes to leg mehndi designs. Such designs have gained immense popularity and are not going anywhere anytime soon. So, join this trendy bandwagon of leg mehndi designs.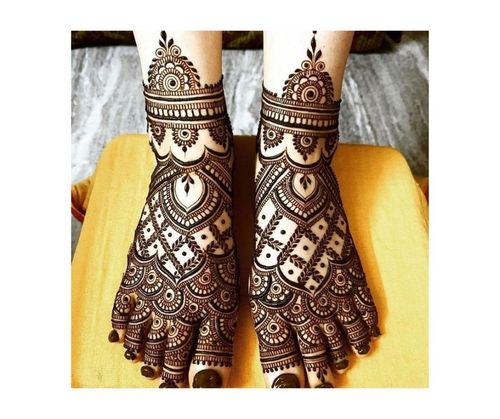 45. Elegant Leg Mehndi Designs
This is a simple and elegant leg mehndi design that leaves a lasting impact with its impeccable beauty.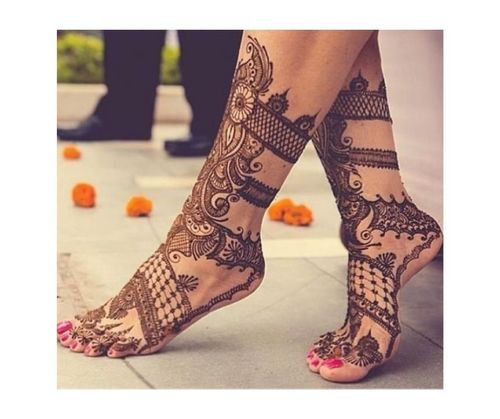 46. Pretty Leg Mehndi Designs
Here is one of the most beautiful leg mehndi designs that we have ever seen. It uses some of the usual patterns and motifs but it is really how they are used that gives this design its unique beauty.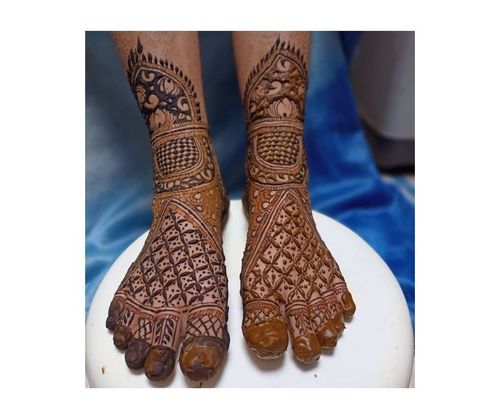 47. Floral Net
The theme of this leg mehndi design is clearly floral. If that was not clear from the crowning lotuses, then it must be clear from the floral jaal on the feet.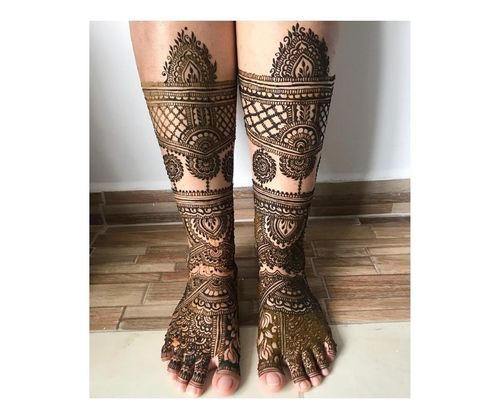 48. Wedding Worthy Designs
Here is one of the trendiest leg mehndi designs fit for a modern bride who wants to keep in touch with the traditions while looking good doing it.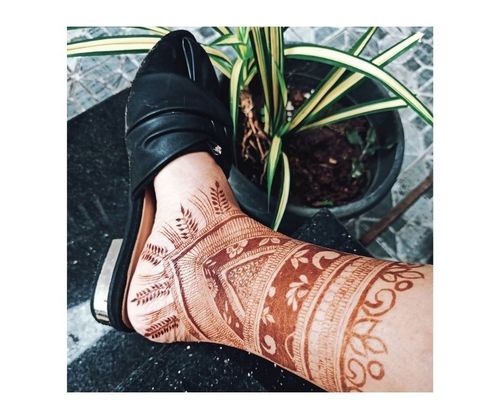 49. Leg Mehndi Designs For Engagement
This is a pretty cute leg mehndi design fit for engagement ceremonies. It is just right for the occasion. It is modern, trendy, and definitely elegant.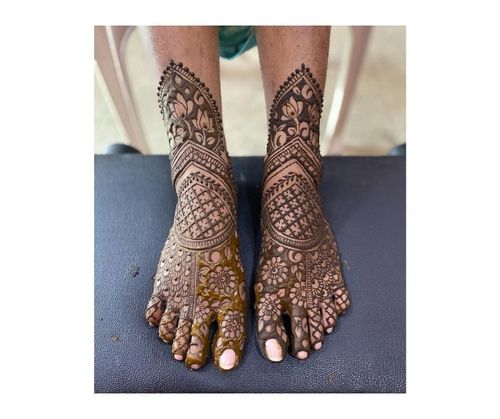 50. Stylish Symphony
Leg mehndi designs that combine a few different motifs are one of a kind. And, here we are with one such design. It even has different panels with different motifs. It is like a collage of all the best patterns. Of course, we are loving it!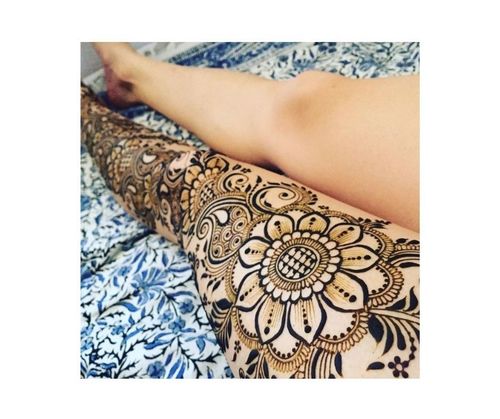 51. Chic Leg Mehndi Designs
It is not every day that you come across a leg mehndi design as exciting as this one. It is based on a tattoo and drawn on just one leg.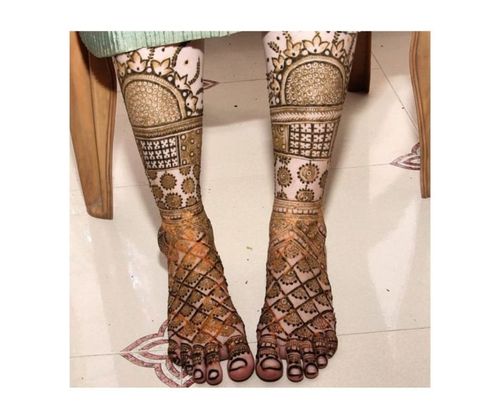 52. Sun-Inspired
We couldn't help but think how much is this leg mehndi design inspired by the sun. This sun-inspired leg mehndi design is quite pretty with its filled-up jaal pattern.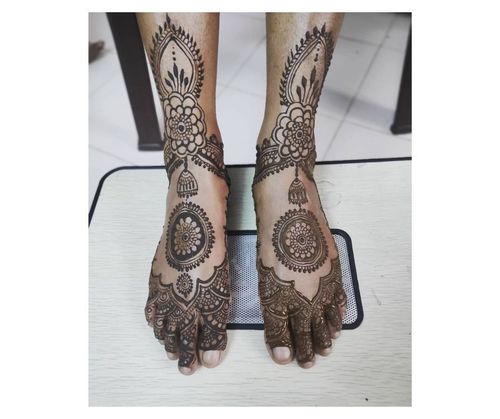 53. Beginner-Friendly Leg Mehndi Designs
Drawing mehndi is just as much fun as flaunting it. So, here we have a beginner-friendly leg mehndi design for you that looks as good as it is easy to make. Ain't that just the best thing ever?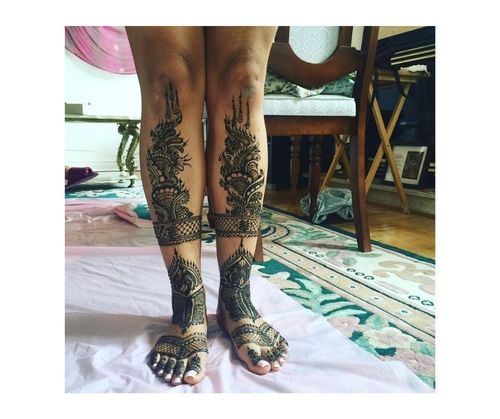 54. Uber Chic Queen
Have you ever seen leg mehndi designs such as this one? No? Well, that is because this just came in like a breath of fresh air. If you are someone who likes to stand out from the crowd, then here you go, queen!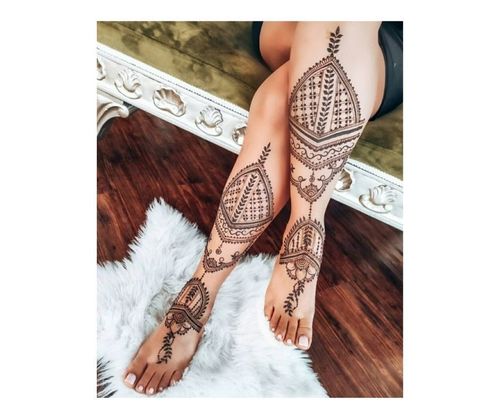 55. Arabic Leg Mehndi Designs
Here is a super gorgeous leg mehndi design for you. It is quite minimalistic as well if that is your poison. So, best of both worlds, right?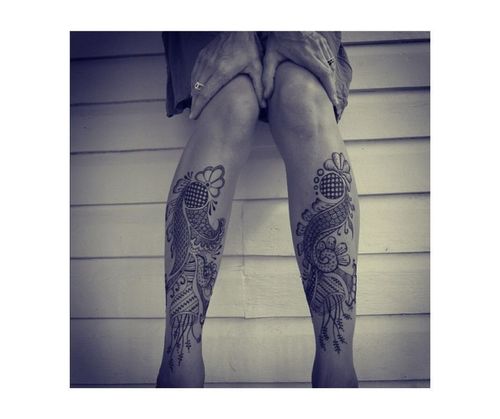 56. Trendy Leg Mehndi Designs
Leg mehndi designs like this one are very much in trend thanks to a new brand of culture-conscious influencers who want to explore their beautiful traditions but with a modern twist.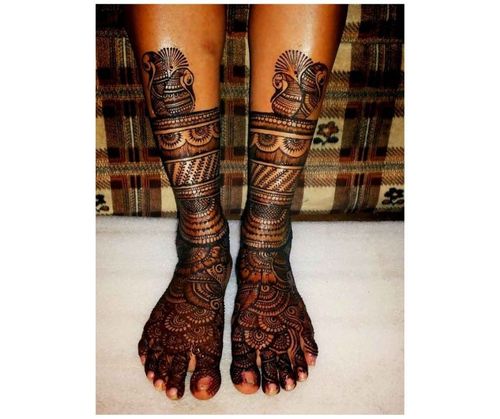 57. It's Flowery Here
If you are someone who likes to go all out with leg mehndi designs, then this is for you. All of the space is filled with cute little round-ish floral motifs. It is only as the design progresses upwards that we see a shift with the use of some leafy vines here and some spiky spirals there. And don't forget the mighty peacocks!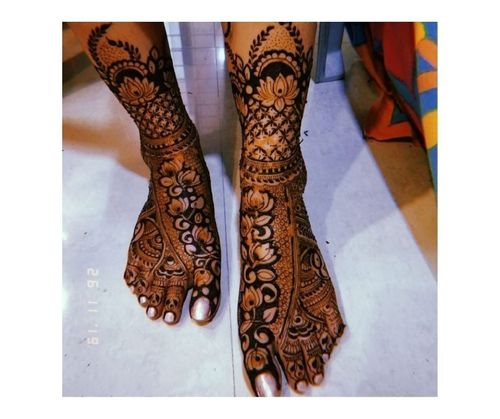 58. Lotus Frenzy
You have seen many lotus leg mehndi designs by now. But, trust us this one is different and you would agree. It is all about the lotuses here and can be seen clearly through the use of the shadings. The rest of the design combines the shading with thinner and lighter strokes which gives this design its uniqueness.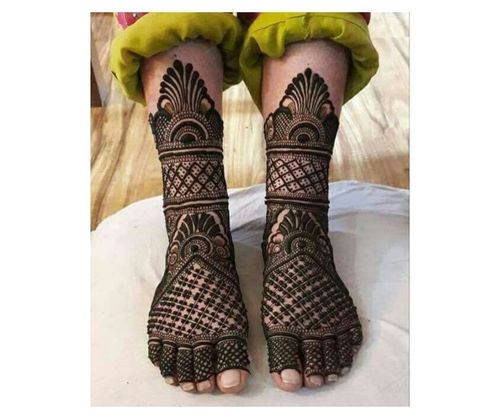 59. Sharp And Spectacular
Leg mehndi designs like this are a vision. This particular design comes with a sort of sharpness. All the motifs used here have symmetry that makes this leg mehndi design even more perfect.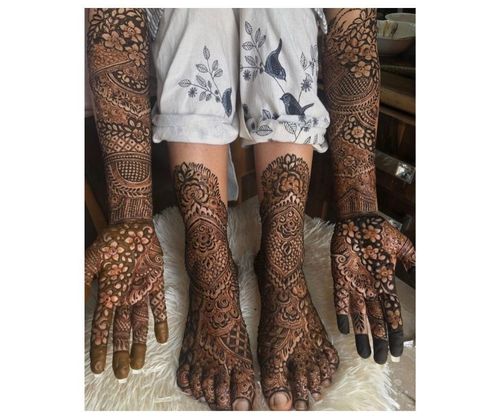 60. Floral Connection
You have already seen how pretty a matching set of mehndi design looks. Now we have something for you that is a design based on the same theme. In this case, it is the florals. That's the beauty of floral mehndi designs. You can let your creativity run wild and make new versions of mehndi designs.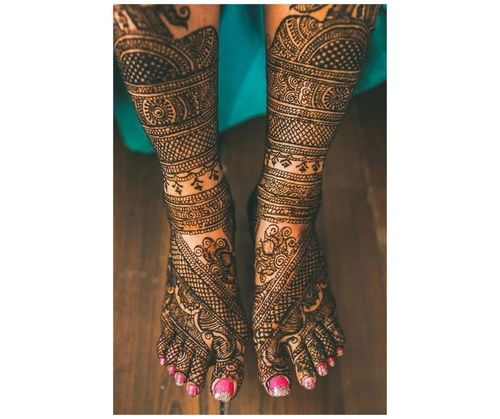 61. Full Leg Mehndi Designs
This is a full-leg mehndi design. And not just any full leg mehndi design. It is a leg mehndi design full of jaal motifs. Drawn in different directions, this motif brings a newness to the whole design.