25 Gorgeous Low Maintenance Hairstyles For Over 70
KRITIKA GUPTA
Updated At 06 Sep 23
Good taste and the desire to appear handsome are not constrained by age. Any age can afford a lovely hairdo and a pleasing haircut. This gallery of hairstyles for women over 70 can give you ideas from the looks of ladies who are growing older gracefully while maintaining their beauty and femininity. It is difficult for old women to maintain their hair and therefore, here we bring a list of low maintenance hairstyles for over 70 years of age women.
25 Best Low Maintenance Hairstyles For Women Over 70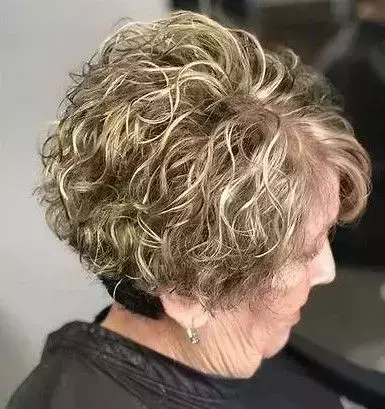 1) Curled Bob
Ask for round layers with detailing on the neckline and fringe, a loosely curled bob to add volume and show off your aging hair's highlights, and ask your stylist to set your hair so you can enjoy your newly styled hair for a few days. While your hairdresser is styling your hair, ask for tips on touching up and maintaining your style at home, such as how to use mousse and hairspray. This is a low maintenance hairstyle for over 70 with fine hair.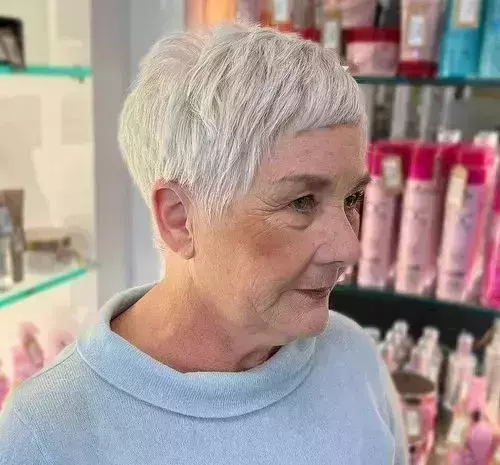 2) Graduated Pixie
Here is yet another low maintenance hairstyles for over 70 with fine hair. Many women over the age of 70 have very short graduated pixie cuts. An excellent short cut with a wash-and-go look is a bold, uncomplicated pixie. A short pixie is the way to go if you're like most older citizens and don't want to be troubled with lengthy styling time. Apply some texture paste, then leave.
Looking for more inspiration for pixie haircuts for over 70, then do check out our guide as we list 50+ stunning options.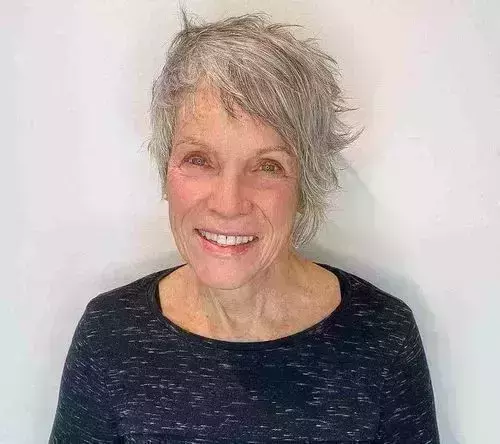 3) Choppy Gray Pixie Bob
If you want a look that can go from dramatic and edgy to sleek and elegant, choose a jagged gray pixie haircut. The texture of the choppy cut will aid in giving your hair an effortless, unkempt appearance. Your hair thins as you age, so a cropped cut can assist create the appearance of more volume and fullness. Try a longer side-swept bang for an asymmetrical look if you want a more edgy appearance.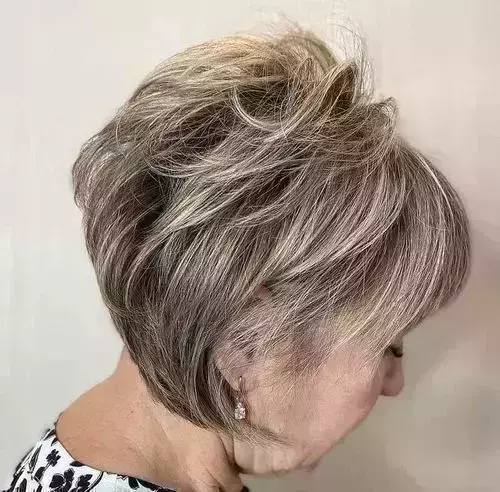 4) Short Layers with Highlights
Due to the fact that they are not harsh (as extremely dark hues can be), blonde highlights on a gentle brown tone look especially lovely on aged skin. Ask your stylist for a piecey cut with highlights through the bangs and top layers (which will give fine hair a ton of volume. One of the best short hairstyles for over 70, this looks elegant and stylish at the same time.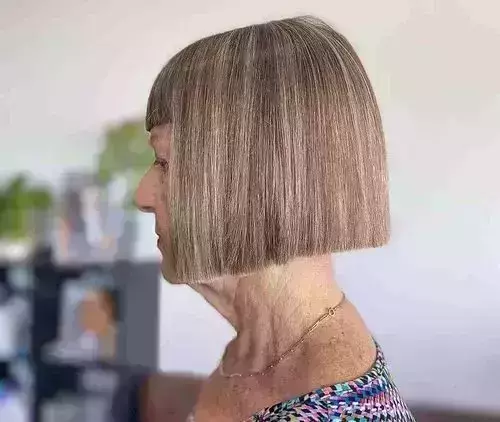 5) Blunt Short Haircut with Bangs
Older women typically choose bangs to cover forehead wrinkles, giving them a chic finish to their look. Highlights, a bob, and a sleek straight finish shown in this picture are classic, go-to styles for women, as it's just super simple for maintenance and styling.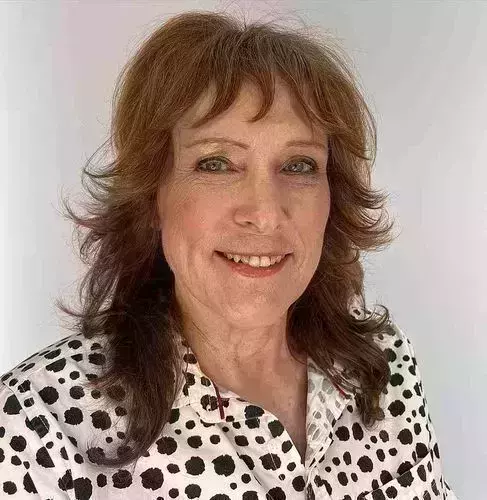 6) Sophisticated Piece-y Bangs
Any hairstyle that has piece-y bangs looks best when worn with medium-length, broken layers. You may achieve the "piece-y" effect and shape your hair by emulsifying pomade or clay in your hands and grabbing small bits of your bangs.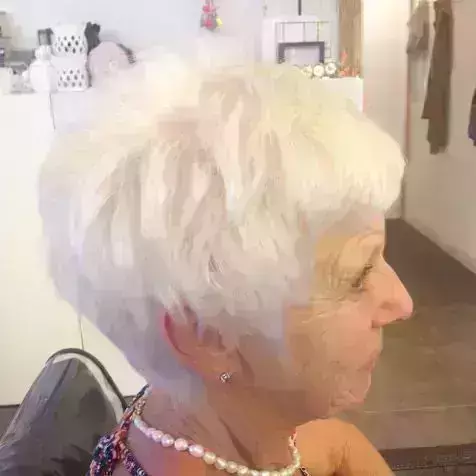 7) Fluffy White Tapered Pixie
The epitome of a classic hairstyle is a snow-white tapered pixie with feathery layers and soft, light bangs. For a date night, it's ideal for showcasing your cheekbones, eyes, and dangly earrings.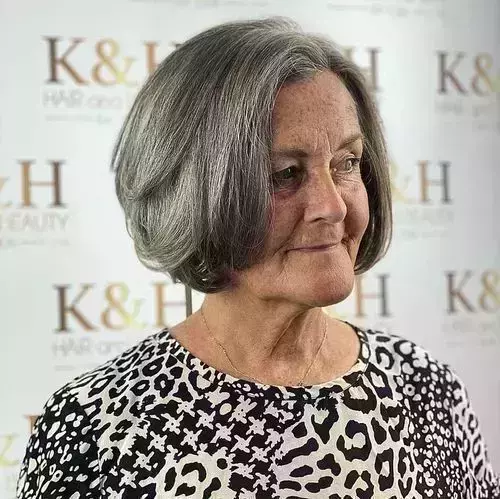 8) Neat Rounded Bob
The last thing a 65-year-old lady wants to do is stress over styling and caring for her hair. Choose a rounded bob with few layers to keep your hair neat and tidy. Even though it drastically cuts down on your maintenance time, the style is still in style. One of the best bob cuts for older women, this hairstyle works for both thin and thick hair.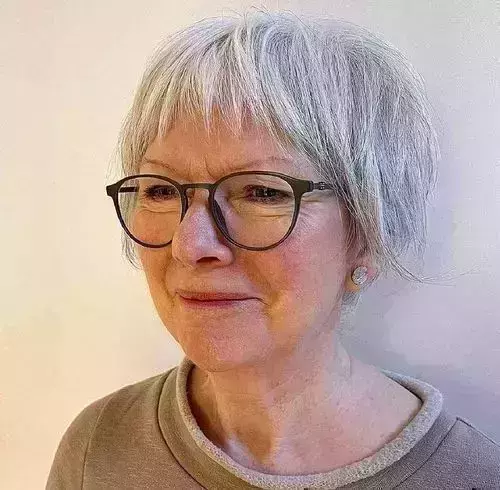 9) Textured Bowl Cut
The best low maintenance hairstyles for over 70 year old woman with glasses are those that still make you feel young at heart. This textured bowl cut is a terrific way to remain flirtatious and playful even as you get older. You can clearly see in this image how adding texture can liven up a simple hairdo.
Looking for more inspiration? Check our guide for hairstyles for over 70 with glasses which includes more than 50 stunning new and trending hairstyles for mature women.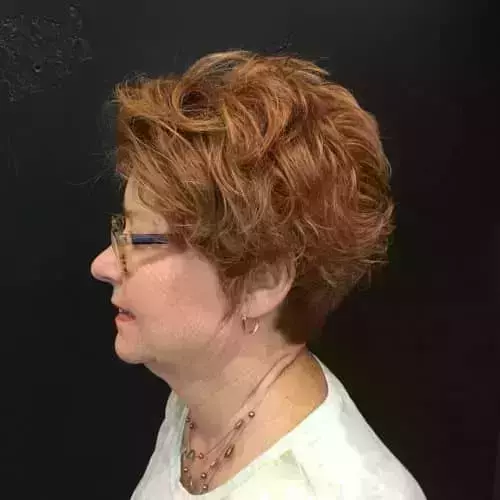 10) Curly Golden Blonde Pixie
Want to modernize the traditional grandma haircut? Obtain a perm! When properly applied, permed hair can provide a silky, wavy texture that will save you time getting ready in the morning and allow you to avoid heating up your fragile strands. It doesn't have to resemble the classic Shirley Temple ringlets.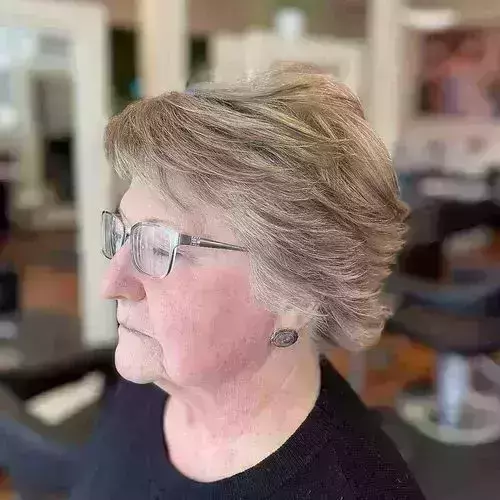 11) Feathered Hair
Sometimes the most effective approach is to simply let nature run its course. For people who are 70 years or older, short haircuts should be low-maintenance rather than require extra work. Ask your stylist for the ideal cut if your hair is naturally curly or "feathery" to bring out your greatest features. It is one of the another low maintenance hairstyles for over 70 year old woman with glasses.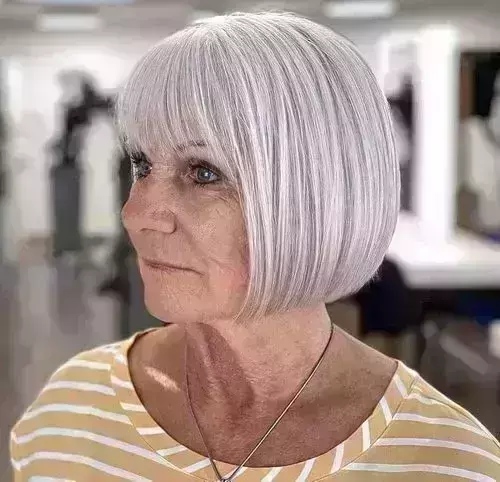 12) Angled Bob with Bangs
For ladies over 70, a contemporary angled bob with bangs is a preferred hairstyle. The greatest hairstyle for ladies with straight, medium-density hair is a short white bob. If you have a rounder face shape, the style is ideal because of the angled length, which lengthens the face.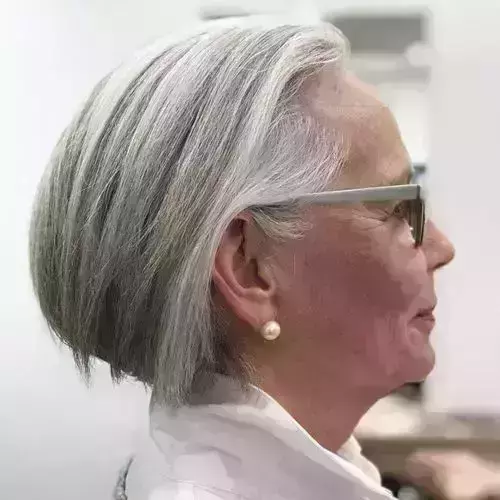 13) Swept Back Grey Hairstyle
Women over 70 tend to wear their hair feathered and tapered as a standard style. Run your fingers through your hair and use some texturizing spray if you don't have a lot of time to get ready in the morning!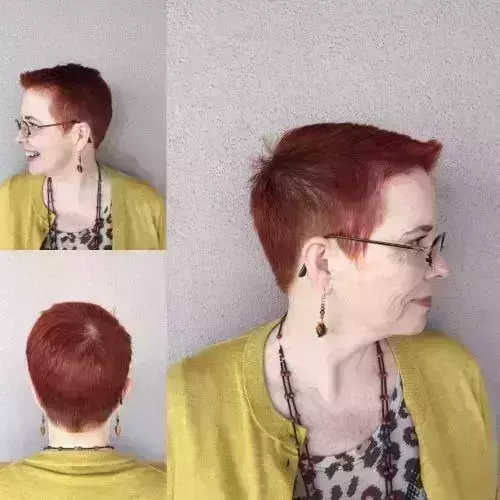 14) Pixie with Soft Spikes
Feel free to experiment with your color job to add some spice to the so-called granny hairstyles! In a delicate pastel pink and an arresting deep burgundy, the same cut will appear quite different. If you have thin here then this low maintenance hairstyles for seniors with thin hair is the best for you.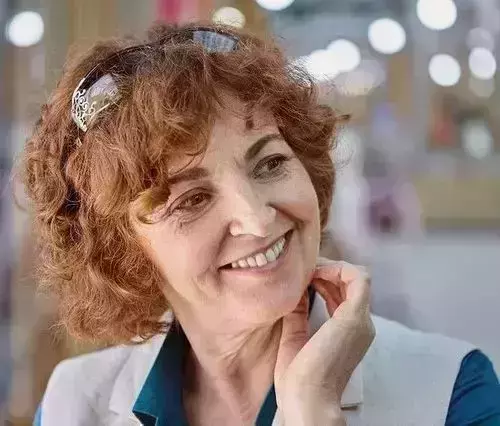 15) Face-framing Natural Curls
This bob is best suited for older people with naturally curly hair. With its gorgeous face-framing curls, this wash-and-wear haircut looks fantastic all the time. To prevent the curls from being unruly, apply a charming hair item.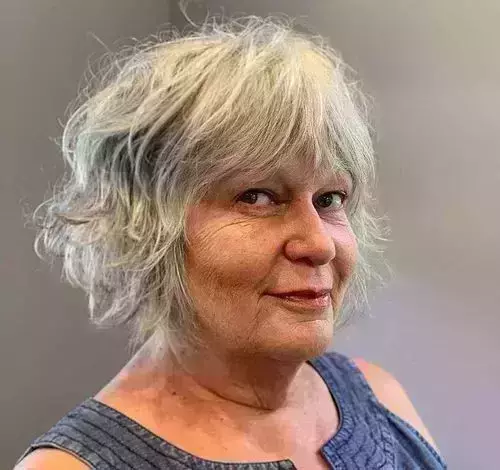 16)  Attractive Wavy Bob
A longer-length, textured bob hairstyle with attitude is here to help. This option will appeal to those who want to keep their curly or wavy hair.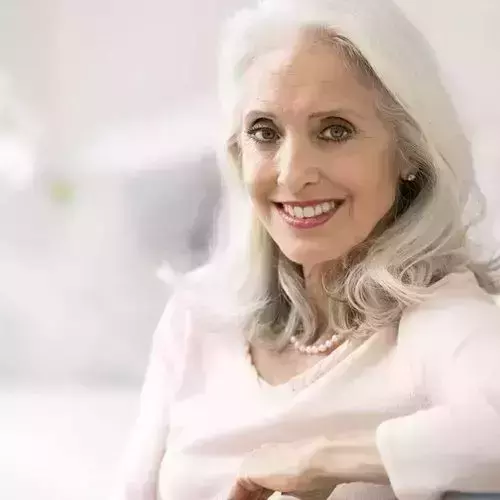 17) Long Gray Locks
This long gray hairdo must be your next no styling haircut inspiration if you demand absolutely no styling work. Simply choosing some curtain bangs will upgrade the appearance. It can be an apt hairstyle when one is looking for a low maintenance hairstyles for over 70 with thin hair.
18) The Quiff
The quiff hairstyle comes to mind when we discuss low maintenance hairstyles for over 70 with glasses.  By embracing this haircut, Hollywood actress Kathy Bates demonstrated how you may look put together and stylish. This hairstyle, which requires gelling and brushing your hair up and to the back, is ideal if you have short hair.to create a pompadour-like hairdo.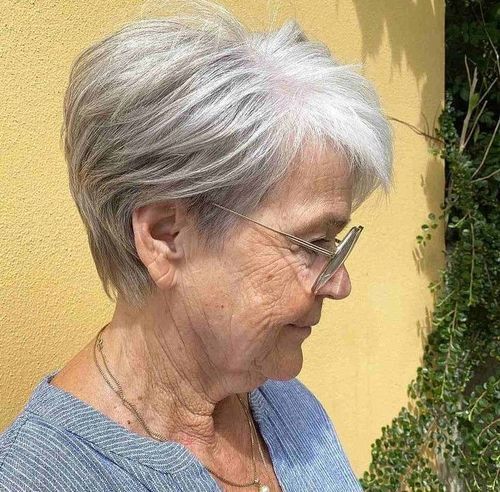 19) Grey Pixie Cut
At any age, wearing very short hair is a risky move, but after the age of 70, it's frequently the most attractive decision. There are a few layers in this adorable pixie cut to give it dimension and definition. The sides and back are also extremely neatly cut, demonstrating how stylish short haircuts can be. It's comfortable to wear and simple to style.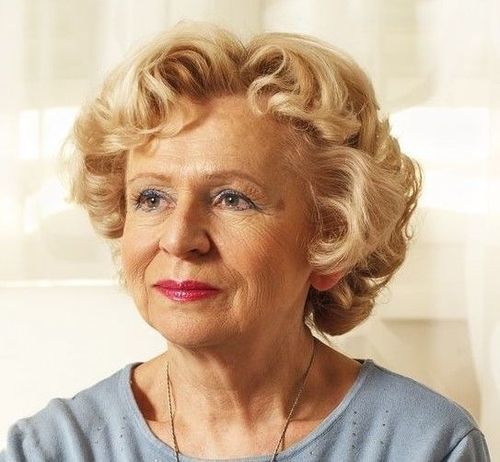 20) Voluminous Wavy Bob
If you do have good, voluminous, and wavy hair, ask your hairstylist to give you this wavy bob. Having nice hair, even in your 70s, is certainly a blessing. Women with different face shapes look beautiful in this style.
21) Long Bob
Long bobs would look excellent on someone with naturally grey hair. If you want to try even more different things, you can even get your hair colored. The long bob can look great if you're seeking for medium length hairstyles for over 60 with glasses. This hairstyle is one of the low-maintenance options for 60-year-old women with glasses who want to seem smart and attractive at the same time.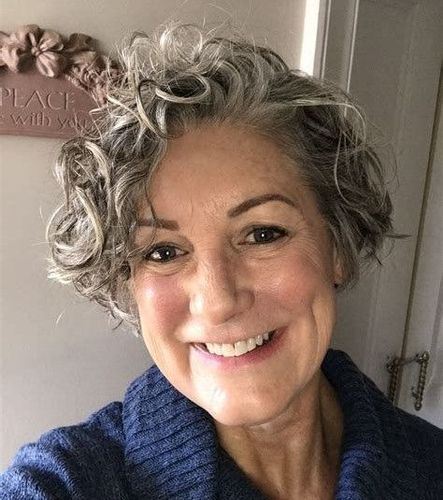 22) Curly Short Style
Curls possess a unique attractiveness. It is never too late to show off your curls. With your short, curly mane, try a somewhat different look this year. Slick back the sides with a little gel, then let the top curls show off their natural beauty. Allow a few ringlets to caress your forehead. One of the most beautiful low maintenance hairstyles for seniors with thin hair.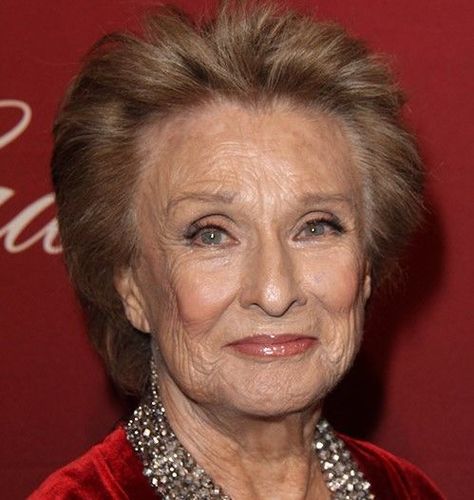 23) Brushed Back
With this extremely classy and elegant hairdo, you can let everyone know that you mean business. Slicked-back hair is the epitome of serious and professional. In order to keep the slicked-back appearance while adding a lot of volume at the top, this layered crop is fashioned. This is the best option for you if your days and nights are spent working.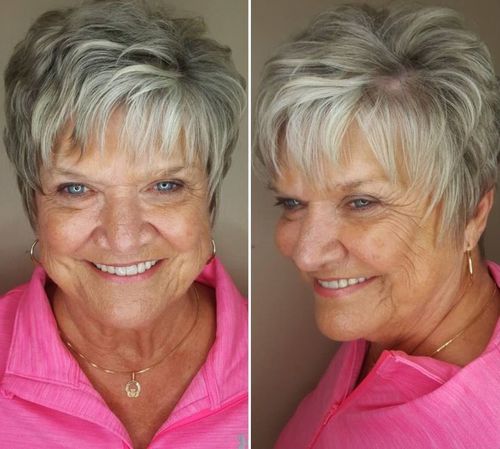 24) Long Sideburns
Show off your salt-and-pepper hair with this textured hairstyle, shorter in the back and with longer pieces framing the face. This is yet another low maintenance hairstyles for over 70 with thin hair.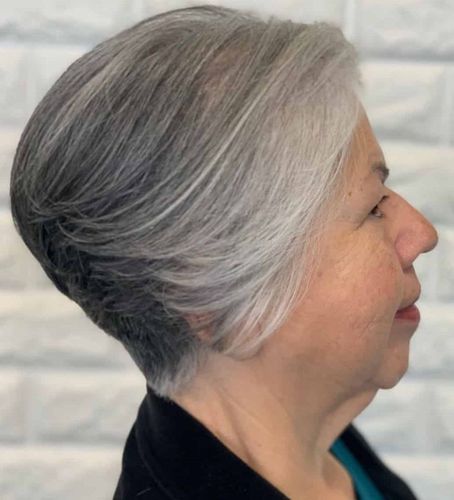 25) Two-Tone Hairstyle
Another variation on the pixie cut, this time with a small side-swept wave added close to the front. All the adorableness of bangs, but pushed aside and away from people wearing glasses!