Rebel Wilson Weight Loss : How She Lost 77 Pounds?
Shalu Bhati
Updated At 28 Aug 23
Does the Rebel Wilson weight loss make you curious? Do you want to know the secrets behind everybody's favorite actress Rebel Wilson's transformation? Then, you have come to the right place. Keep reading!
Rebel Wilson is an Australian actress, singer, comedian, writer as well as a producer. Is there anything this woman cannot do? We don't think so. She might have started merely as comic relief but went to create her own distinctive identity. She can clearly be considered to be one of the greatest comics of this generation.
About one year ago, Rebel made news not for her comedy genius but because of her health. Everyone could see it. Rebel underwent a major weight loss transformation in her journey towards being healthy. And we are here to give you all the details we could find on the Rebel Wilson weight loss transformation. For you, we have Rebel Wilson weight loss photos, Rebel Wilson weight loss diet as well as her fitness schedule. But let us warn you. Her weight loss journey will force you to look at the Pitch Perfect star in a new light. You can also check Jennifer Hudson weight loss story as she also lost a whopping 80 pounds! Additionally, you may also want to check the details of Kendall Jenner weight loss as we cover the supermodel's diet plan and exercise schedule in detail.
Let's get started!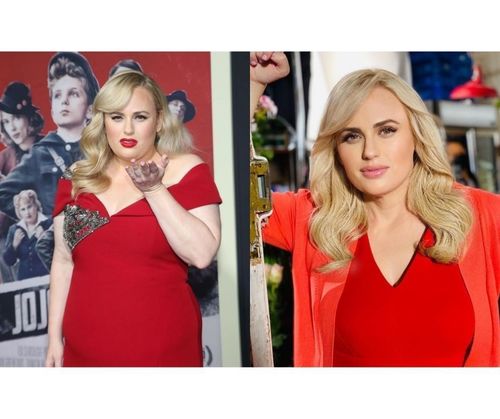 Rebel Wilson Weight Loss Story - How She Lost 77 Pounds?
Rebel Wilson created a buzz with her incredible performances in Bridesmaids and Pitch Perfect. And she has not looked back ever since. One thing that has always bothered her is her love-hate relationship with her weight. It had become a part of her comedic persona. It was her identity and she was not able to get rid of it even if she wanted to.
Rebel has been constantly losing and gaining weight over the years. The first time she wanted to get fit and kick start the Rebel Wilson weight loss journey was in 2011. It was then that she was the face of a weight loss company in Australia, Jenny Craig. She even lost 22 lbs with this company's program but was not allowed to move further by the producers of Pitch Perfect. Her contract was also not in her favor as it stated that she had to remain the same size.
This is just an instance that goes on to show how Rebel has been treated by producers and filmmakers throughout her career. Her talents and abilities were ignored because being fat was enough for them. Amongst one of her many popular characters, there is one character who called herself Fat Amy. Why? So that other people don't say it behind her back. Can it get more unfortunate?
On her weight loss struggles that have lasted for almost 20 years and how her career was impacted due to the same, Wilson said:
I literally feel as if I have to physically transform because it's very difficult for people to imagine me in serious roles for some reason – even though we're in a very imaginative industry.
She further added:
I feel that I physically have to show you that I am different and I am transformed to help transform my career.
But come 2020 and Rebel has had it. She was turning 40 and she wanted to do it as a healthy person. The lockdown allowed her to rest and destress, which further motivated her to adopt a healthy and overall balanced lifestyle.
Check out the amazing Simon Cowell weight loss story as he lost a whopping 60+ pounds in his weight loss journey.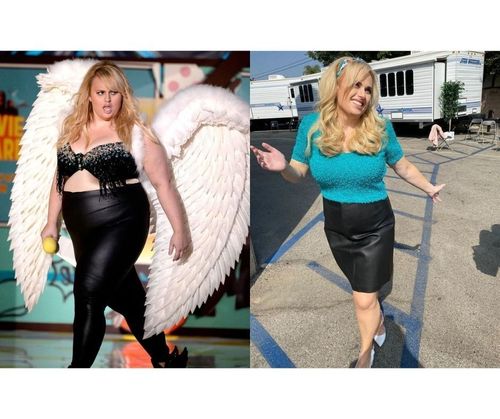 Previously, Rebel has had the Year of Fun and the Year of Love. She decided to make 2020 the Year of Health and so began the Rebel Wilson weight loss journey.
It was going to be the year about health where Rebel would not give as much priority to her work but will focus on herself and her well-being.
Rebel Wilson visited the Mayr Centre in Austria and got her diet and daily routine analyzed by their experts. She followed their recommendations and began seeing the changes in her mental as well as physical health. She shared all her achievements during the Rebel Wilson weight loss journey with her fans on her social media accounts. And the world saw her transform.
While everyone could see the physical transformation, they missed out on the internal transformation that was felt by the Isn't It Romantic star.
Rebel might have shared her progress with everyone, but she hasn't shared her diet or workout details. This was because it could be triggering for some people who are suffering from eating disorders. How thoughtful!
She has also shared her experience after the Rebel Wilson weight loss journey concluded. She said everyone was nicer and they would help her pick groceries or even open doors for her. This was a drastic change.
It's sad how society treats people who don't conform to the established beauty norms. But we are glad that Rebel could finally overcome her 20-years long struggle.
Check out the details of Hilary Duff weight loss to understand how diet has helped her reduce weight and maintai her weight.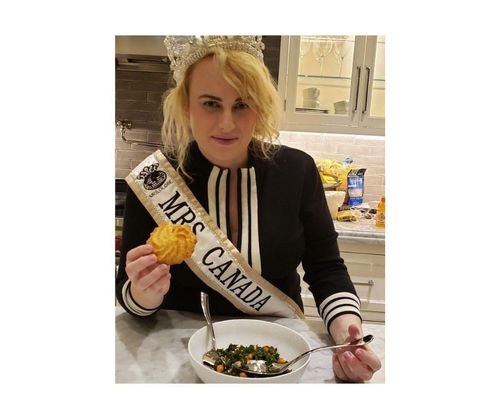 Rebel Wilson Weight Loss Diet
Rebel Wilson follows the Mayr diet that is known to be focused on the impact of food on the digestive system. It includes foods that are good for the gut's health
Rebel has accepted that earlier she was an emotional eater. But to achieve the incredible Rebel Wilson weight loss, she addressed her habit of overeating
She now eats a high protein diet that includes fish, salmon, and chicken breast
Her diet also includes staples with a rich fiber content
She avoids sugar and junk food in her new Rebel Wilson weight loss diet but that doesn't mean that she cannot indulge in a treat here and there. Her secret is to eat in moderation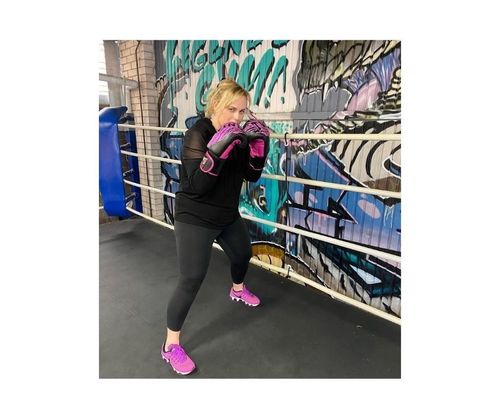 Rebel Wilson Weight Loss Fitness And Exercise Schedule
Following is a glimpse of Rebel Wilson's fitness schedule:
Rebel works out six days a week with her trainer Jono Castano. She keeps one day for rest
Her workout includes flipping tires, sprinting, and bouts with battle ropes among other things
She also does High Intensity Interval Training (HIIT)
Rebel Wilson walks a lot. She also goes on a lot of hikes. She calls it a safe and free method of staying fit. She usually puts on a book or a podcast and goes for long walks in whichever town she is staying in
Another workout gem from Rebel Wilson weight loss workout routine is TRX workout which Wilson loves to do along with boxing
Amidst all the physical activities, Rebel also practices meditation as a way of keeping all her stress managed and away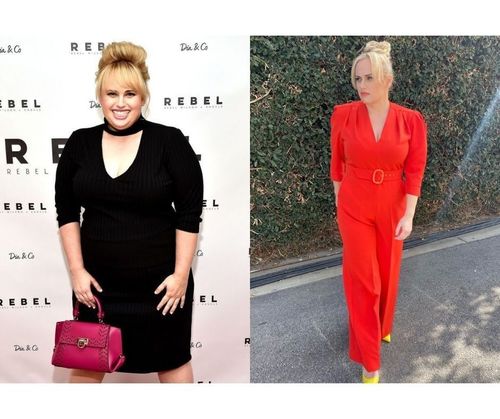 Rebel Wilson Weight Loss Tips
Following are some weight loss tips that worked out for Rebel Wilson:
Changes take time and you must accept that. Don't beat yourself for not being able to achieve everything that you wanted. Take your time to reach there
Restrictive diets don't work in the long run. Your journey towards a healthier you should not feel like a punishment. Take a day off from your routine if that's what you need. Eat a food item that is not a part of your daily diet. You are allowed to indulge. Don't feel otherwise
Before starting your journey, ask yourself the reason you want to do it. The why behind your wish to go through a weight loss journey plays an important role. It helps you see things clearly
Workouts don't have to mean something you do with your trainer or in the gym. Find physical activities that are fun for you, fit within your lifestyle, and work for you. Like Rebel likes to walk, find your ultimate activity
Just sweating it off in the gym won't change you or make you healthier unless healthy changes are made in the diet as well
Be consistent with your routine. According to Rebel, "Even if you have to crawl towards your goals, keep going. It will be worth it." And we agree
And the most important tip of all, love yourself. There are a lot many people out there who can hate you or try to bring you down and that's why you must support and love yourself
Fat Amy is now Fit Amy. Balance is restored in the world. The story has come to a full circle. We wish Rebel Wilson all the best and hope that her story inspired you, our dear readers.
Frequently Asked Questions
Q. What is Rebel Wilson weight and height?
Rebel Wilson is 5 feet 4 inches tall and weighs about 165 lbs.
Q. How many pounds has Rebel Wilson lost?
Rebel Wilson has lost 77 pounds during her weight loss journey.
Q. What is the secret of Rebel Wilson weight loss?
The secret behind Rebel Wilson weight loss is consistency. She took her time but she achieved her goal weight. She aimed to be healthier and she did it
Q. What is Rebel Wilson net worth?
Rebel Wilson's net worth is estimated to be about $22 million.

Q. What does Rebel Wilson eat?
Rebel Wilson eats a diet rich in protein and fiber. She follows the Mayr diet which focuses on foods that are beneficial for the gut
Q. What are the top weight loss tips from Rebel Wilson?
The top weight loss tips from Rebel Wilson are:
Give yourself time
Don't follow a restricted diet and indulge now and then
Be consistent
Find a physical activity other than your workout routine
Q. Who is Rebel Wilson's husband?
Rebel Wilson is not married and broke up with her boyfriend Jacob Busch this year after having made it official just a year before in 2020.
Q. What is Rebel Wilson weight loss total figure?
Rebel Wilson has lost a total of 42 pounds.