Simon Cowell Weight Loss : How He Lost 60 Pounds?
Shalu Bhati
Updated At 06 Oct 23
Are you wondering how Simon Cowell looks fitter than before? Do you want to know the secrets behind the Simon Cowell weight loss? Then, keep reading to know more about the Simon Cowell weight loss journey.
Simon Cowell is a record producer, entertainment manager, and an English TV personality known around the world for being the celebrity judge who gives the most scathing comments on reality shows including X Factor, America's Got Talent, and Britain's Got Talent. He started his journey on the TV with Pop Idol but he and his comments rose to fame with American Idol. But as of today, some people might even say that Simon has changed and has grown mellow ever since the birth of his son. Even Simon agrees.
There is one more thing about Simon Cowell that has changed over the years. He has reportedly lost an impressive 60 pounds. His fans as well his fellow judges are equally surprised and impressed by his transformation. And in this article, we aim to tell you just how exactly the Simon Cowell weight loss happened. We have also covered the Simon Cowell weight loss pictures, his diet and exercise routine along his motivation behind the Simon Cowell weight loss.
Also check out the details of Seth Rogen weight loss as he lost 30+ pounds in 10 weeks through a strict diet and exercise schedule!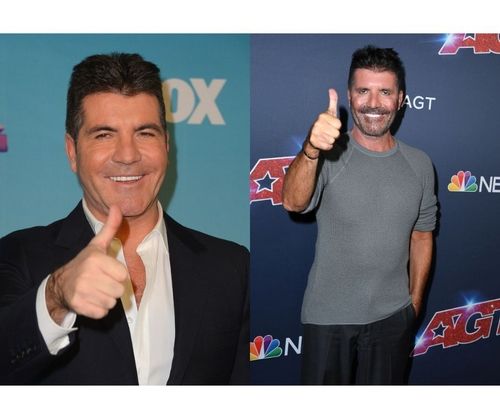 Simon Cowell Weight Loss Story
Simon Cowell did not have a healthy lifestyle. We are not saying this. Cowell has accepted it in many interviews after his weight loss transformation. He had a pretty unhealthy lifestyle. His diet was a mess and included pizza, hamburgers, sausage rolls, and spaghetti. His favorite thing to binge on was jam tarts that were prepared by his personal chefs. He had an equally bad sleeping schedule. He stayed up instead of sleeping at night. Sometimes it would be 8 am and he would still be awake "like a vampire". Then came his wake-up call in the form of an accident.
In October 2017, Simon fell from the stairs of his Malibu home not because he slipped but due to low blood pressure. He was immediately rushed to the hospital. A neck injury was feared but Simon was able to make a full recovery. This accident changed Simon's take on his lifestyle. This was his much-needed wake-up call and this is how the Simon Cowell weight loss journey began.
Simon decided to make changes in his diet. He had been facing an allergy from melons and on being recommended by a friend, Cowell got in touch with an expert. He was told that he had "the worst diet of any patients". Simon changed everything about his diet within 24 hours of hearing this and hasn't looked back. Look at any Simon Cowell weight loss photo and see for yourself.
Also check out the inspiring story of Gemma Collins weight loss as she lost a whopping 40+ pounds!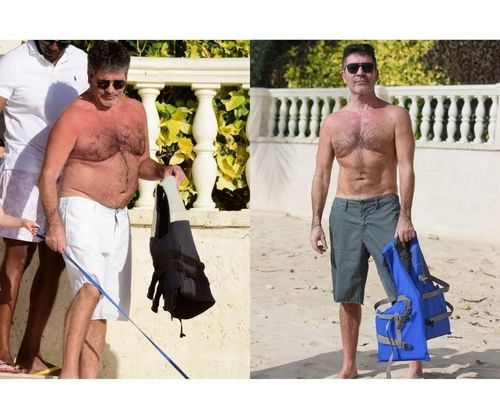 Cowell started witnessing changes in his body within the first month itself. He not only felt better but also looked better. The most impressive thing about the Simon Cowell weight loss transformation is not just the amount of pounds he lost but how he maintained his weight loss during the lockdown. He didn't give in to any pizza temptations brought unto him by his 7 years old son, Eric.
Now thanks to his weight loss, he has more energy and better memory. Simon came out of a frightening and traumatic experience by listening to what his body needed. He was determined to stay healthy even during the lockdown and he did it. He now plans to release a cookbook titled "It's not that difficult" inspired by his 60 lbs weight loss. Well, because, he truly believes that it is not that difficult. He has stated:
Once you get into a pattern I've found it quite enjoyable. It has helped me sleep and I wake up feeling less tired.
His mantra for sticking to the diet, which most people struggle with, is to eat nutritious foods that are also tasty. In 2022, he weighs about 132 lbs or 60 Kgs.
Do check out Hilary Duff weight loss and her amazing transformation which she achieved by a combination of strict diet and exercises.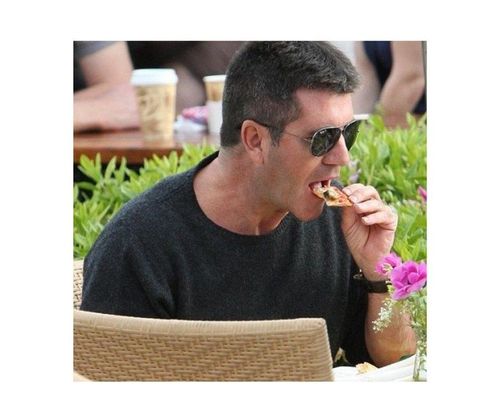 Simon Cowell Weight Loss Diet
The 62-year-old Cowell has spoken about his weight loss and the changes he made to get there on many occasions. He began his journey by switching to a vegan diet. Now, the Simon Cowell weight loss vegan diet is not 100% vegan. But something down the middle. He began with small baby steps when it comes to his diet and it was feasible for the long term. He made the shift to a vegan diet slowly and gradually with small changes like switching yogurt with almond milk yogurt. In the initial days, Simon was still eating fish but later he gave up on that as well.
Simon cut out four major things from his diet: red meat, dairy, sugar, and gluten. He ate lots of fruits but even then he was careful as some fruits have a sugar content as high as in a bottle of coke. He also ate a lot of vegetables and salads. On his diet, Simon has said:
f you are on a diet you have to keep the food sensible, but it's got to be interesting and tasty, then the diet's surprisingly easy.
Simon is, however, back to eating white meat like chicken and turkey. He understands the value of moderation in his diet. Whenever he drinks, he is sensible about the amount and it has helped him stay in shape.
Also check out the inspiring Jessica Simpson weight loss story as she has lost 100+ pounds through monitoring her diet and following a regular exercise schedule.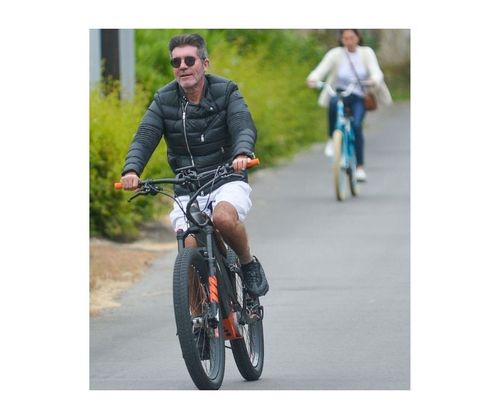 Simon Cowell Weight Loss Exercise And Fitness Routine
Simon had to not only change his dietary habits but also his activity status. So, the Simon Cowell weight loss fitness routine began with 150 pushups each morning and 500 press-ups. He squeezed in a little bit of workout even while shooting.
His fitness routine also includes weight lifting, bike rides, and walks. He ensures that he gets to walk at least 5 to 10 miles daily. He is often seen walking with his family or riding a bike.
2020 proved fatal to Cowell as he had an unfortunate bike riding accident. He broke his neck and smashed his spine. He had to undergo a 6-hour long surgery. It was another frightening experience for him. But, he is now recovering at his home. He had to go through a lot of physical therapy and exercises to get back the movement in his body.
And this is how Simon Cowell has stayed in shape.
Also check out Rebel Wilson weight loss story as we detail out how she lost 42 pounds.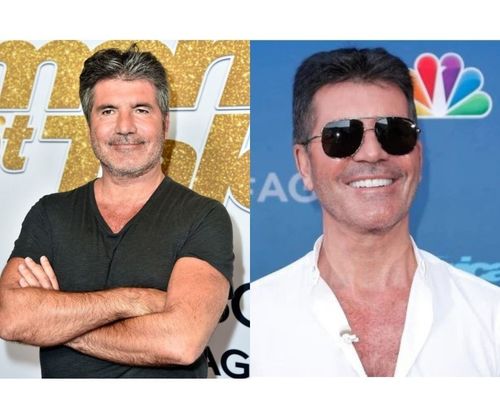 His determination and hard work are admirable. He sailed through the lockdown without giving into his old unhealthy habits. He had come so far and he was not willing to let go of his hard-earned achievements. He has better energy levels and he sleeps well. On staying fit during the lockdown, Simon has said:
Most importantly occupy your mind. You have to stick to a routine. Fortunately, with things like Zoom, you stay in touch with the world, keep motivated, come up with ideas…I never get this time, normally.
The Simon Cowell weight loss journey is truly inspiring. But keep in mind, that everyone is different and what worked for Simon might not work for you. You can take inspiration from his journey but at the end of the day, you have to listen to your body's needs and requirements.
Billie eilish weight loss story is inspiring as well. From battling depression, injury issues to following strict diet and workout routine, she has done many things to achieve her weight loss goals.
Frequently Asked Questions
Q. What is Simon Cowell weight and height?
Simon Cowell height is 5'8" and his weight is around 132 lbs.
Q. How many pounds has Simon Cowell lost?
Simon Cowell has lost about 60 pounds.
Q. What is the secret of Simon Cowell's weight loss?
The secret behind the Simon Cowell weight loss is consistency. He suggests eating nutrition-rich yet tasty food to maintain a healthy diet. And it has made a huge difference to his health and weight loss journey.

Q. What is Simon Cowell net worth?
Simon Cowell's net worth is estimated to be about $600 million.
Q. What does Simon Cowell eat?
Simon Cowell eats a vegan diet though not 100% vegan. He still eats white meat and has made a switch to almond milk. He doesn't eat red meat, wheat, sugar, and dairy. His diet also features lots of fruits and vegetables.
Q. Is there a Simon Cowell weight loss keto diet?
No, Simon Cowell follows a vegan diet and not a ketogenic diet.
Q. What are the top weight loss tips from Simon Cowell?
Following are some of the top weight loss tips from Simon Cowell:
Eat a nutritious diet but also ensure it is tasty
Restrict sugar from the diet. Be mindful when eating fruits as some fruits also have a high sugar content
Keep yourself occupied and not lay thinking just about your diet and weight loss.
Be consistent with your efforts and you will see results
Q. Who is Simon Cowell wife?
Simon Cowell is dating Lauren Silverman since 2013 and the couple also has a son together but they have not tied the knot yet.
Q. Is Simon Cowell a billionaire?
No, Simon Cowell is not a billionaire but his net worth is said to be about $600 million.