Hilary Duff's Weight Loss Secrets And Diet Plan
Vanessa Pereira
Updated At 17 Aug 23
Former Disney star known for her popular role as Lizzie McGuire and in current times as Kelsey Peters in the TV series Younger has most recently made the headlines for her weight loss over the year.
The mother of two has successfully managed to shed extra pounds while simultaneously managing her kids, marriage, career, and business.
One of Hilary Duff's goals was to get back to her pre-pregnancy body before beautiful baby Banks turned one. This television personality clearly achieved her goal with phenomenal measures, hence making it all over the media.
The steps taken by Hilary to lose weight had me instantly intrigued and honestly who would not be.
Also check out the amazing Seth Rogen weight loss story as he lost 30+ pounds in 10 weeks.
Hilary Duff has managed the weight loss without cardio, without cutting wine, and without starving herself.
To me, this seems like a weight loss journey I would like to be a part of or at least try once.
I know Hilary Duff's weight loss journey may seem too good to be true, however, to know more about her weight loss story, read on as we uncover the following questions on everyone's mind.
How much she lost?
How did she lose weight?
What all she did to lose the weight?
Frequently Asked Questions
Also check out the amazing Rebel Wilson weight loss story as she lost a whopping 77 pounds through diet and exercises!
Hilary Duff's Diet
In one of her interviews, Hilary disclosed that she has been working with a diet coach that helps her count her macronutrients.
The macro diet is a recent trend in weight loss and refers to measuring your daily intake of the following macronutrients.
Fat
Protein
Carbohydrates
It is like counting calories; however, it also focuses on where the calories come from and not only aims at eating within the desired calorie goal. In this manner, one does not have to eradicate a whole food group from their diet but needs to focus on eating the right amounts of each macronutrient.
For weight loss purposes, the macronutrient ratio may range between the following, and for better results, please consult a professional as the range may differ based on one's activity level.
Fat - 20% to 30% of calories
Protein - 40% to 50% of calories
Carbohydrates – 10% to 30% of calories
This approach allows her to eat what she likes in moderation and has helped her to adopt a healthier lifestyle.
Hilary disclosed that it is all about making sure she incorporates the right amount of protein, fat, and carbohydrates in her meal plan, which also consists of eating every three hours.
With this new plan, she does not feel deprived in any way, as she did with other diets previously attempted.
The actress occasionally enjoys favorites like pizza, breakfast sandwiches, and a burger. On other days, her favourite snacks include the following, which helps her stay on track with her diet plan.
a big bowl of strawberries
cottage cheese with dark chocolate covered almonds
cheese roll-ups
protein bar
Also check out Simon Cowell weight loss story as he lost a whopping 60 pounds! We reveal all the secrets which are behind his amazing weight loss transformation.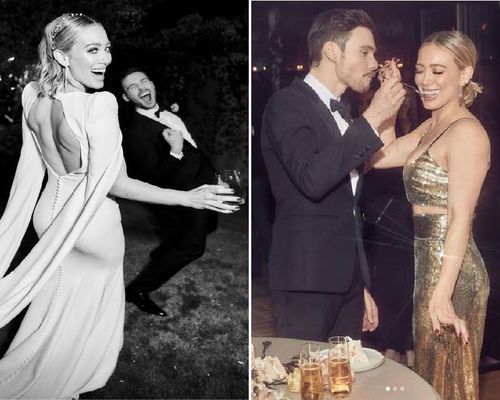 After her delivery, Hilary desired to get back to her pre-pregnancy body before baby Banks turned one.
By the looks of this gorgeous picture, she succeeded with flying colours, and right in time for her wedding with Matthew Koma.
The American actress showed off her fit body on Instagram story thanking her nutrition coach and trainer for helping her to achieve her goal and to get back her physical strength.
Also check out the inspirational Gemma Collins weight loss story wherein she lost more than 40 pounds. We unravel all the secrets behind her amazing transformation.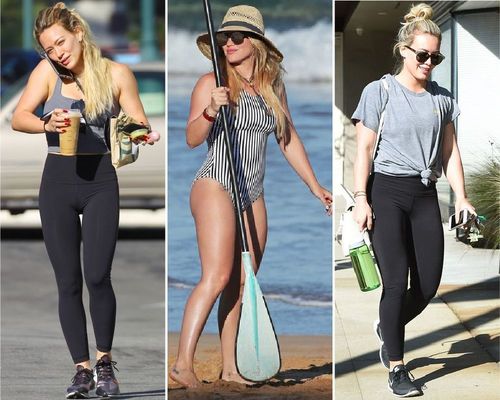 Hilary Duff's Exercise Schedule
Duff workouts four to five times a week, which includes a combination of weight training, Pilates, and group fitness sessions such as danced based classes.
She also prefers swimming, running and tends to walk a lot, all thanks to her two children whom she loves spending time with: in the outdoors.
Ideally, weight training workouts do not burn as many calories as a cardio session. It is more effective than cardio when it comes to building muscle as muscle burns more calories even when at rest.
According to Christopher Wharton, Ph.D., a certified personal trainer, and professor, 10 pounds of muscle would burn 50 calories in a day spent at rest, while 10 pounds of fat would burn 20 calories.
Pilates is effective for toning up, building lean muscle, improving posture, and can help in maintaining a healthy weight. For instance, one 50-minute beginner session can burn approximately 175 calories, whereas an advanced one 50-minute session can burn 254 calories.
If you are like Hilary and enjoy dancing, then a dance-based workout session for weight loss would be an ideal workout to be incorporated into one's regime. As an intense dance session of an hour can burn up to 400 calories.
While the following activities help burn an approximate number of calories as stated below:
Freestyle swimming for an hour can burn 704 calories swimming fast and 493 calories swimming slower.
Studies suggest a person of average weight can burn about 100 calories in a mile of running, whereas a person who weighs more and is a slow runner tends to burn more calories as it requires more energy to cover the same distance. The same logic applies to a walk just the numbers may differ.
Do check out the amazing story of Jessica Simpson weight loss as she lost 100 pounds! We cover in details the amazing transformation details of this American singer, songwriter, actress, and fashion designer.
Frequently Asked Questions
Q. What are Hilary Duff's weight loss secrets?
Hilary Duff's vital focus and element that played a crucial role in her weight loss journey were counting macros. As it ensured she received her calories from the right food groups along with eating every 3 hours.
Q. How much weight did Hilary Duff lose?
Hilary Duff lost more than 10 pounds.
Q. What are the best diet tips as per Hilary Duff?
As per Hilary's diet plan, she could eat what she loved and consume alcohol as well, which allowed her not to feel deprived or starved in any way, and occasionally she would also indulge in a pizza or a burger.
Hence the best diet tip out of her experience would be to create a diet that you would enjoy and can see yourself embracing in the long term rather than feeling the need to cheat more often than required.
Diets that restrict you to consume food you love or forbid you to eat proper meals that require you to chew rather than drink something such as a soup or a smoothie will more like lead you to failure, and are sure to put you off dieting or getting fit.
But like the plan Hilary has been on, you are sure to find a balance between staying healthy and sane while enjoying what you eat, resulting in a happier you.
However, if you do enjoy soups or smoothies, I bet you'll find a way to add it to your diet without actually replacing a whole meal that you would ideally need to keep up with your day feeling energised and satisfied.
Q. What is key to weight loss as per Hilary Duff?
The key to weight loss as per Hilary would be a balanced diet along with a workout regime that one would enjoy and continue to maintain in the long run.
Hilary got the assistance she required by hiring a nutrition coach and personal trainer, due to which she was able to see the desired results.
Hence, if one has tried and failed to accomplish their goal, maybe a professional in the field could assist with the same.