Kendall Jenner Weight Loss Story And Exact Diet Plan
Shalu Bhati
Updated At 25 Jun 23
Want to know how Kendall Jenner looks so fit? Do you want to know the secrets behind the Kendall Jenner weight loss? Keep reading, then as we reveal it all.
Kendall Jenner is a world-famous model and an American TV personality. She is the daughter of Kris Jenner and Caitlyn Jenner (formerly Bruce Jenner). Just like her famous siblings, she has also worked hard in building her name within the fashion industry.
Kendall was named one of the world's highest-paid model by Forbes. She is also Victoria's Secret model. And this feat doesn't come easy. Kendall works hard to maintain her fitness. She was recently in news for looking slimmer than ever in photographs with her family. This has led to many speculations that she lost weight. Did she or did she not is not for us to speculate. But, we can tell you what she eats and what exercise routine she follows to give you a glimpse into the model's fitness journey. Also, check out the details of Khloe Kardashian weight loss story as she lost a whopping 60 pounds!
Let's begin!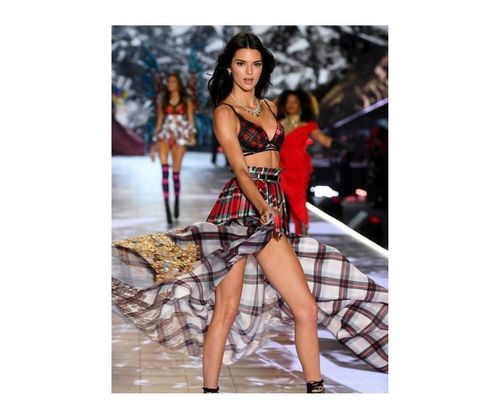 Kendall Jenner Weight Loss: How Did She Lose Weight?
Kendall Jenner is one of the six famous Kardashian-Jenner siblings. And just like her famous and successful family, Kendall has made her name successful in the fashion world. She first came into the spotlight, when she was still a child, with her family's very own reality TV show, Keeping Up With The Kardashians (KUWTK). She has since then made her mark in the fashion industry. From being the face of their campaigns to walking the runway for them, Kendall has been associated with many big named brands including Chanel, Michael Kors, Vera Wang, Marc Jacobs, and Versace among others.
Kendall is known for her modeling prowess as well as gorgeous looks. She has graced the covers of multiple magazines and lets her fans know about the going-ons in her life via social media. Some of her recent pictures shocked fans though. They believe that Kendall Jenner lost weight even when she didn't have to.
Kendall is blessed with good genetics and is a naturally thin person. Whether the Kendall Jenner weight loss happened or not is mere speculation at this point because the model has not yet made a statement on the same. Then, why are we calling it Kendall Jenner weight loss? Because due to her job's requirement, she has to maintain a rigorous fitness schedule. And whatever weight she might gain, she eventually loses thanks to the dietary changes and modified workout routine.
Otherwise open about her life, Kendall hasn't shared much about her diet and fitness schedule in the last few years. But, as stated in interviews before, Kendall has separate routines for general maintenance and the week before Fashion Week. She doesn't believe in fad diets and shortcuts. The Kendall Jenner weight loss approach is simple and functional. She believes in eating nutritional food and sweat it out in the gym through a mix of exercises. Let's find out what she actually does to stay fit.
Also check out Ariana Grande Weight loss story to find out how she lost 25+ Pounds.
Read More: Jennifer Lawrence Diet And Workout Routine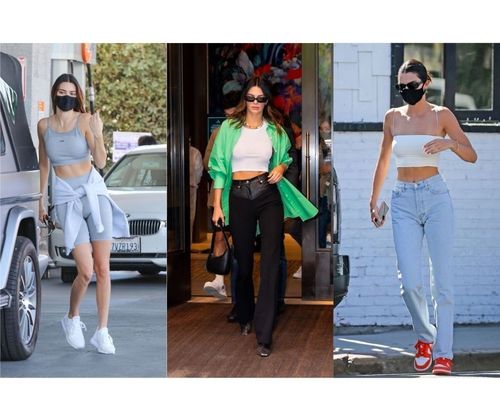 Kendall Jenner Diet And Workout
Kendall is one of the many renowned faces in the modeling world. She follows an overall rigorous routine that varies depending on her calendar. She has a different and specific routine to get herself in shape for the Fashion week as opposed to a more general routine when she is off-duty.
Despite her good genes and naturally good looks, looking like a model is not easy. Kendall has to put in efforts to ensure that she looks her best for her ad campaigns, photoshoots, and modeling gigs. Her job is tougher than any other model as she is a Victoria's Secret Angel. She has to go to a great many lengths for the upkeep. And this involves eating a balanced meal and waking up early in the morning for a long and good hour at the gym. That's the Kendall Jenner weight loss diet and workout for you.
Now, she might be a model and also a VS Angel but she is also human like the rest of us. She lobes to gorge on all sorts of unhealthy foods including but not limited to pizza and fried chicken. She also admittedly has a slightly shaky relationship with cardio. In an interview with Harper's Bazaar, she stated:
I hate cardio. I'd rather just stand there and lift some weights than run in place. But I'll do it!
And that folks, is the Kendall Jenner weight loss secret. She might not be fond of a particular workout or food, but she knows that she needs to do it, and then she just does it.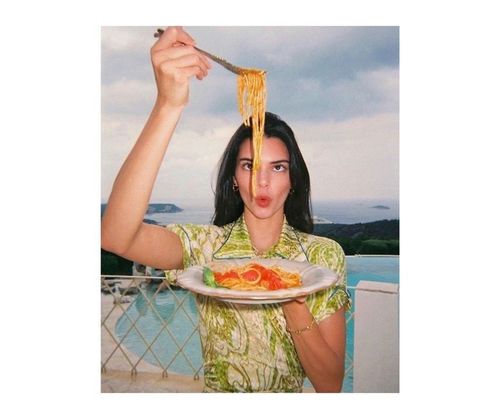 Kendall Jenner Diet
The Kendall Jenner diet is highly nutritional and can be translated into something called a loose Paleo diet. It includes fruits, vegetables, and lean proteins
Kendall suffers from low blood sugar so she has to keep eating throughout the day. She also has to be mindful of what she eats. So, she is usually seen munching on apples and strawberries. She also loves to snack on raw vegetables dipped in hummus
She is a fan of keeping things simple and this is visible throughout the Kendall Jenner diet plan. She cooks when she can and her cooking is limited to eggs. So, most mornings her breakfast is avocado over eggs and toast
Processed and refined foods are not a part of the Kendall Jenner weight loss diet. But that doesn't mean she doesn't indulge here and there. Restrictions don't work in the long term so Kendall likes to indulge with little treats. The key is to eat in moderation. The indulgences that often make her list include the In-N-Out Burger and Pizza from Craig's restaurant in Hollywood
Kendall maintains her hydration levels throughout the day. She drinks the Kusmi detox tea like one pops M&M's. The teas and Kardashians, however, have a controversial relationship. This is because Kendall and her sisters are paid to promote it and the tea is often promoted as a diet suppressant which is not at all healthy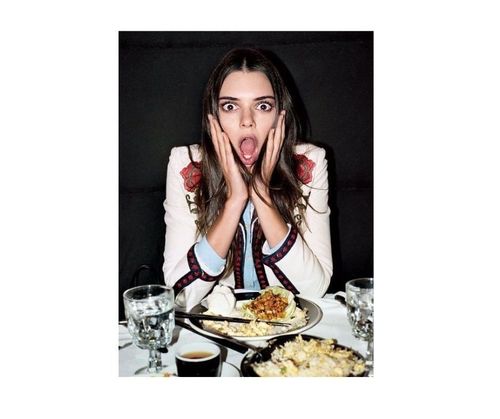 Kendall Jenner Diet Plan
The Kendall Jenner diet plan varies according to her schedule. She is a busy woman and thus, has a flexible diet plan which works as per her needs. Following is what she typically eats in a day:
Morning Drink: Lemongrass detox tea
Breakfast: Bowl of oatmeal and avocado over eggs
Lunch: Lean chicken and brown rice or a salad
Snacks: Carrot sticks with hummus or tortilla chips with guacamole
Dinner: Sushi or vegan spaghetti Bolognese, or fettuccine, peas, and parmesan cheese seasoned with salt and pepper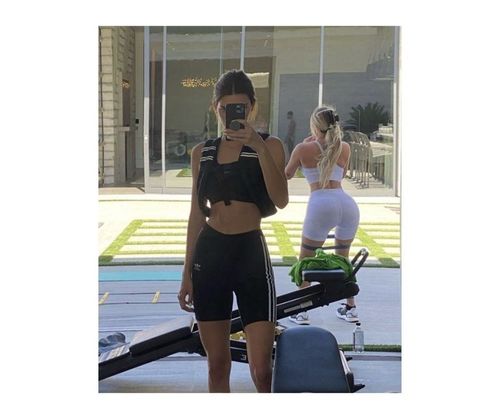 Kendall Jenner Exercise Schedule
The Kardashian family is known to be full of fitness enthusiasts. It is their brand; to look their very best every time they step out. With a family like this and a job like that, Kendall no wonder shows love for fitness. She trains with one of the most popular fitness professionals of Hollywood, Gunnar Peterson.
Kendall works out 5 days a week. She usually wakes up at 6.3 am and is found in the gym by 7 am where she works out for an hour. Her workout depends on her schedule and her requirements.
Strength training and weight lifting are an integral part of the Kendall Jenner weight loss exercise routine. Peterson ensures that when she is lifting weights, it is low enough to enable her to get at least 9 repetitions. Apart from these Kendall's workout routine includes hot yoga, kickboxing, and high-intensity workouts. But, her favorites are ab and butt exercises which means she does a lot of planks and squats.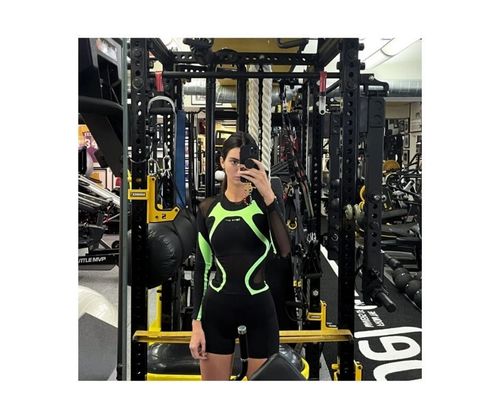 Following is Kendall Jenner's exact workout routine:
Forearm plank: 30 seconds
Hand plank: 30 seconds
Forearm side plank: 15 seconds per side
Side plank elbow to knee crunches: 5 reps per side
Forearm plank with around the world arm and leg raises: 15 seconds
Alternating knee to elbow forearm plank: 10 reps
Bicycle crunches: 30 seconds
Raised toe touches: 30 seconds
Rocking hands plank 15 seconds
Bent knee jack knives: 15 reps
Russian twists: 15 reps
Crunches: 20 reps
Donkey kicks: 15 reps per side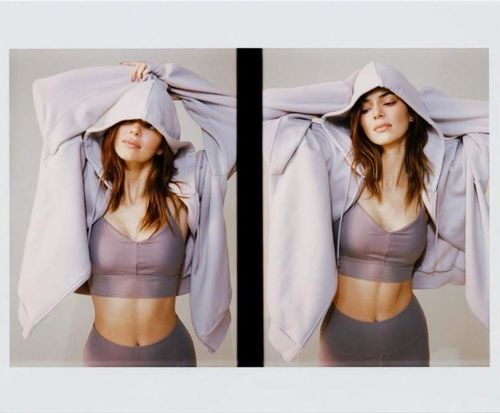 Kendall Jenner Weight Loss Tips
Following are some weight loss tips that worked for Kendall Jenner:
Consistency will help you achieve your goals. So, no matter how you feel, don't give up on your journey
Plan your exercises the night before. This will help you envision your day and prepare you to conquer it
It is tempting to see other people's bodies and comparing them with yours. Bit, that should not be your goal. You must focus on being the best version of yourself and that should be your motivation as well as your goal
All workouts and dietary changes are useless if you are not taking ample rest. Your body needs at least 7bto 8 hours of sleep to function well. And believe it or not, but this is Kendall's secret to her fine looks
The key is to eat in moderation and not in restricting yourself. Treat yourself if you want to but be mindful of how much you are eating.
Frequently Asked Questions
Q. What does Kendall weigh?
Kendall Jenner weighs about 128 lbs.
Q. What does Kendall eat in a day?
Kendall maintains a highly nutritious diet while also having to eat constantly throughout the day as she has low blood sugar. Depending on the day, she typically eats Oatmeal, avocado toast with eggs, lean meat with brown rice, lots of fruits and vegetables, tortilla chips, sushi, Margherita pizza, and Justin's Classic Almond Butter Packs among other things.
Q. What is Kendall Jenner weight and height?
Kendall Jenner weighs 128 lbs and is 5 feet 10 inches tall.
Q. What is Kendall Jenner weight loss workout?
Kendall Jenner likes to train her abs so the Kendall Jenner weight loss workout includes lots of planks and squats. She also includes strength training and weight lifting in her workout.
Related Articles