The Best Sulphate Free Shampoo In India - 2023
Monika Satote
Updated At 17 Feb 23
Everyone wants strong and shiny hair but not at the expense of using a shampoo which can damage the quality!
There are various shampoos available in the market but many of them contain chemicals like sulphates and paraben. Finding a paraben and sulphate free shampoo hence becomes critical. If you are looking for one of the best sulfate free shampoos in India then it is worth giving this wow shampoo a try! Infact this is one of the best shampoo for smoothened hair.
Product Review Of WOW Apple Cider Vinegar Shampoo
We recently reviewed wow apple cider vinegar shampoo and will discuss the pros, cons, brand claims in detail. Ultimately, we will also provide our final recommendation of this WOW shampoo.
Brand Claims
This WOW shampoo contains concentrated and fresh apple cider vinegar. It is free from chemicals like silicones, sulphates and parabens.
Apple cider vinegar boosts the growth of your hair and prevents split ends. It removes dandruff, scratchy and dry scalp due to antibacterial and antifungal properties of Apple Cider Vinegar. It frees the shells that form near hair follicles. This is overall good for hair strengthening.
We checked the ingredients and found it to be free of sulphates and parabens.
Packaging
It comes with an attractive pump packaging; therefore, it is convenient to use. It is also travel friendly as it does not leak and can fit anywhere in your travel bag.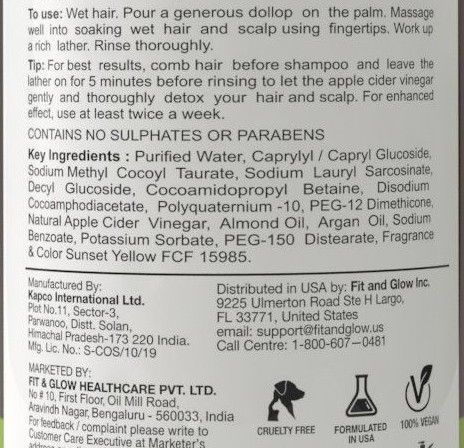 Key Ingredients
This shampoo has natural ingredients such as natural apple cider vinegar (from pure himalayan apple extracts), almond oil and argon oil.
Apple cider vinegar is rich in minerals, vitamins, antioxidants and enzymes. It has antimicrobial property and ability to remove build-ups.
Argan oil is rich in Omega 6, Linoleum and fatty acids whereas sweet almond oil is rich in Vitamin E which is good for your hair. It nurtures your hair and removes dead scalp cells.
All these ingredients together help to keep your hair soft, shiny and moisturised.
This is a sulphate free shampoo which is also free of paraben. Both sulphate and paraben are responsible for making your hair frizzy and stopping your hair growth.
How To Use It?
Its very important to follow the following process of application else one might not get the desired results.
1) Clean your hair with lukewarm water.
2) Pour a generous quantity on your palm and apply it on your wet hair.
3) Massage it gently using your fingertips to get the lather. Wait for 5 minutes to ensure the shampoo gets soaked properly.
4) Rinse it with normal water (around 37°C) to clean it up.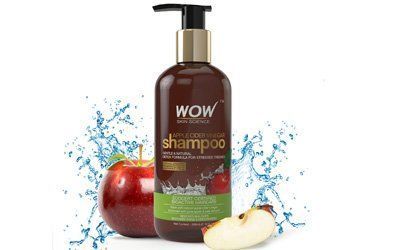 Our Experience Of Using WOW Apple Cider Vinegar Shampoo
If you are looking for an effective shampoo for your dry and damaged hair, this is the perfect shampoo for you.
A sulphate free shampoo which is also free from parabens, this is a perfect shampoo for daily use.
It has a pleasant smell of apple which goes after the wash. If you use it regularly, it helps your hair become silky and shiny, that too without damaging their quality.
You can use this wow shampoo if you are facing hair fall. It also reduces itchiness and dryness by removing dandruff and flakes. It feels so good to use this shampoo because it is neither too thick nor too thin. It spreads evenly on your wet hair. It is good for all hair types and can be used by women as well as men.
A natural detox formula for cleaning your hair, its amazing packaging also makes it travel friendly and leak proof.
If you are looking for a shampoo with minimal chemicals, this WOW shampoo is one of the best options.
Pros:
Paraben and sulphate free shampoo; contains minimal chemicals
Enriched with raw apple cider vinegar, sweet almond oil and argan oil
Travel friendly
Nice Packaging and fragrance
Suitable for both men and women
Suitable for all skin types
Reduces split ends and breakages
Makes your hair smooth and silky
Removes dandruff
Ecocert certified product
Improves blood circulation to hair follicles
Cons:
If you have long hair or if you have oiled your hair, then you might need to use more quantity
One needs to follow the application procedure to get the desired results
One needs comparatively higher amount to get rich lather (as it doesnt have SLS)
Using a homemade hair oil blended with castor oil, coconut oil and neem leafs before applying this WOW shampoo works best for the hair.
It is one of the best sulphate and paraben free shampoo available in India.
Final Recommendation:
WOW apple cider vinegar shampoo is undoubtedly one of the best sulfate free shampoo.
Top 3 reasons why you should go for are:
Free from harmful chemicals like paraben, sulphate, salts and silicones
Enriched with ingredients like raw apple cider vinegar, sweet almond oil and argan oil which naturally nourish your hair and scalp
Amazing packaging and fragrance
It also removes dandruff and helps to keep your scalp clean. This is worth the money without any regret.
A definite buy this WOW shampoo will help you get silky, smooth hair in no time. Let your tresses feel the goodness of these amazing ingredients they deserve so badly!
FAQs On WOW Apple Cider Vinegar Shampoo
Q- Is WOW shampoo sulphate free?
A- Yes, WOW Apple Cider Vinegar Shampoo is sulphate free.
Q- Is WOW shampoo paraben free?
A- Yes, WOW Apple Cider Vinegar Shampoo is paraben free. It is free of sulphates and silicones too.
Q- What is the fragrance of WOW Apple Cider Vinegar Shampoo?
It does not have a strong fragrance and instead has a mild one.
Q- Can WOW shampoo be used by children in 7-10 years age range?
Yes, Since this WOW shampoo does not have sulphates, paraben and silicones, it can be used by children. In case the hair gets dry, one can use a conditioner.
Q- Can this WOW shampoo be used for colored hair?
Yes, this shampoo is free of harmful chemicals and can be used if you have colored hair.