15 Top Skincare And Beauty Tips From Miranda Kerr - 2023
Reena R
Updated At 16 Jan 23
Nature gives you the face you have at twenty; it is up to you to merit the face you have at fifty. - Coco Chanel.
Miranda Kerr, a former Victoria's Secret model who is now the founder of the organic skincare line KORA Organics, believes that maintaining flawless beauty requires a consistent and organic skincare routine.
Skincare is not a practice but a lifestyle. Today's lifestyle has become so hectic that most women assume that skincare is a luxury and are not investing in it. However, there are a myriad of minimalistic and organic skincare approaches that are affordable and easy to keep up with every day. Here are some of the top 15 beauty tips recommended by the popular victoria secret model Miranda Kerr. Find out the products she uses and how she maintains her beautiful skin as we reveal her beauty secrets.
Top Skincare And Beauty Tips From Miranda Kerr Skincare Routine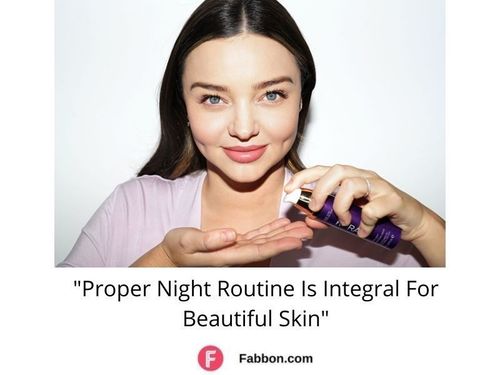 1. A Regular Night Time Routine Is Very Important
Miranda says that a proper and consistent night routine is just as important as a proper and consistent daily routine in preserving the youthfulness of your skin as cells regenerate during our sleep.
Miranda follows a regular night time routine as mentioned:-
1) Instead of merely cleansing skin to remove grime and makeup at the end of the day, the Victoria's Secret Model recommends a double cleanse with Milky Mushroom Cleansing Oil and the Kora Organics' Cream Cleanser.
2) She then applies Noni Night AHA Resurfacing Serum to reduce the pore appearance.
3) Subsequently Miranda massages her face with gua sha to massage the Noni Glow Face Oil and Noni Eye Oil into her skin.
4) Once the products are settled in, she finishes her routine by putting on the Noni Glow Sleeping Mask to lock in the nutrients and give the illusion of a full night's sleep.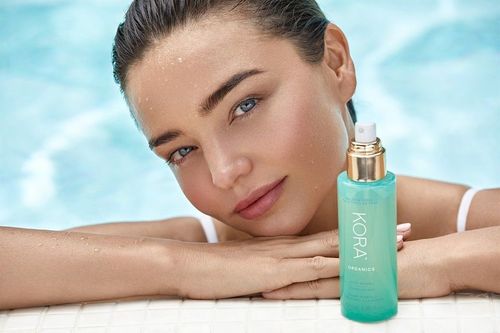 2. Pick The Right Organic Products
Miranda suggests going organic to stay away from chemicals. She feels that while many skincare products are labelled 'Organic,' most of them are far from organic and contain harsh chemicals.
Miranda Kerr says that when it comes to choosing skincare products, it is often best to make sure to double glance at the ingredients list.
Miranda, an advocate for organic skincare, prefers skincare products with certified organic components, such as KORA Organics, because they are more efficacious and best suited for fulfilling results without any side effects.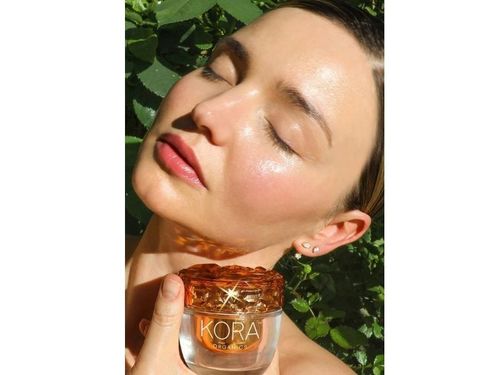 3. A Good Moisturizer Is An Absolute Must
Miranda feels that most of the moisturisers contain harmful ingredients that can clog pores and aggravate skin conditions.
She suggest going for lightweight moisturising creams which are free of harsh chemicals. To pick the right product, she suggests checking the ingredients properly. Miranda Kerr uses the Turmeric Glow Moisturiser, which has a long list of advantages, including high hydration, radiance, and anti-aging. She massages the moisturiser into her skin to achieve the glow.
4. Scrub Off The Dead Skin Cells
Miranda Kerr agrees that for flawless skin, one must follow a consistent day and night routine. In addition to her everyday routine, the supermodel has a pre-morning ritual that includes dry brushing.
Yes! Miranda starts her morning routine by brushing away dead and dried skin cells to improve blood circulation and give her complexion a more youthful look.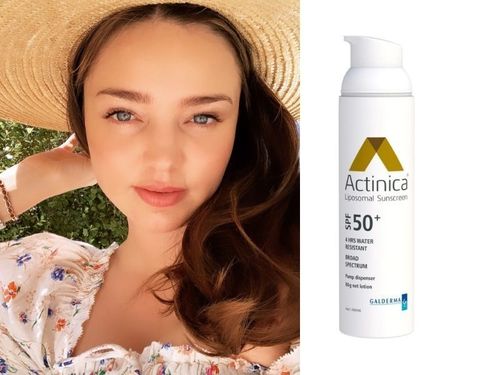 5. Pick A Good Sunscreen To Safeguard Your Skin From Harmful UV Rays
Miranda Kerr prioritises sunscreen in her skincare routine, whether it's summer or winter.

Miranda's favourite sunscreen is Isdin's tinted SPF, which she wears every day, regardless of the weather, since there's no way of escaping the sun.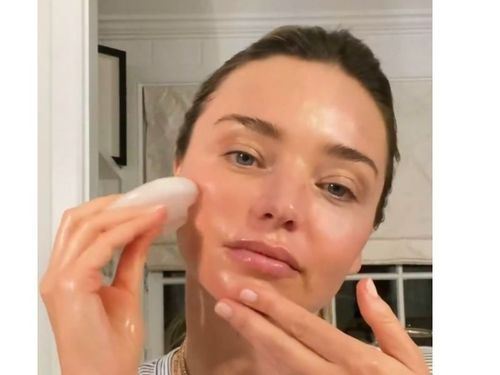 6. Give Yourself a 5-Minute Massage to Keep Wrinkles At Bay
Do you have a hard time coping with morning puffiness on your face? Don't worry; Miranda Kerr skincare expertise has a remedy for that as well.
Miranda Kerr suggests a short massage with the holy grail Gua Sha. Gua Sha is a smooth-edged device used to massage the face and neck to enhance circulation and erase wrinkles, fine lines, and other skin concerns.
Miranda completes her beauty routine by massaging the Turmeric Glow Moisturiser and Noni Glow Face Oil into her skin with a rose quartz gua sha. Gua sha, she believes, is an effective tool for de-puffing the face and removing wrinkles and fine lines, as well as de-puffing the face.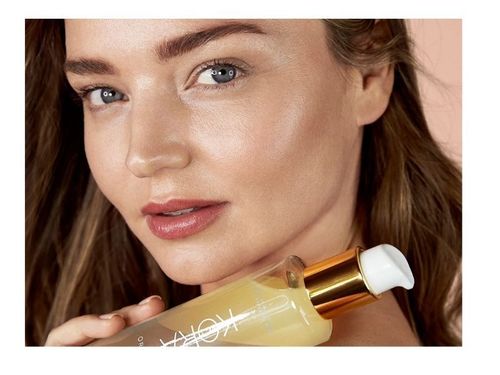 7. Cleansing Is Integral To The Skincare Routine
Miranda Kerr skincare secrets put emphasis on cleansers as well.
To pick the right cleanser, Miranda advises to choose the type of cleanser that accomplishes its job of just removing extra dirt and does not deplete the skin of its natural oils.

Kerr's favourite facial cleanser is the Kora Organics Milky Mushroom Gentle Cleansing Oil which cleanses the face off the dirt and leaves the skin hydrated and smooth.
8. Use Facial Oils To Keep Skin Hydrated and Smooth
Facial oils are oil-based skincare products applied to the skin to provide it with ample hydration and nourishment. Miranda uses a combination of her moisturiser and a few drops of facial oil to give her face a plumper appearance.
She uses it as it reduces fine lines, puffiness, and under-eye wrinkles. Miranda feels that using facial oil consistently has moisturised her skin, especially around the eyes. She loves using Noni glow face oil regularly to nourish her skin and balance the pH level. She also loves using Turmeric glow moisturiser from Kora organics which she thinks is an amazing product and keeps the skin soft.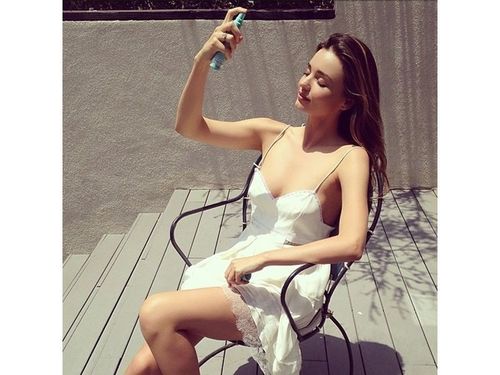 9. Spray Some Face Mist For Extra Hydration and Glow

Miranda Kerr is such a fan of face mist that she claims to use it every time she gets out of the shower. She believes that a face mist is a must-have if you want to boost your hydration and radiance. After a shower, Kerr spritzes rose mist on her face to lock in hydration and prep her skin for other skincare.
10. Use Serums To Smoothen The Skin Texture
Afraid of wrinkles, pigmentation, acne, and uneven skin tone? Miranda Kerr has a solution for that too. She advises including face serums in the skincare routine to smoothen skin texture. Miranda Kerr skincare routine includes applying Noni Bright Vitamin C Serum, which can assist with concerns like hyperpigmentation, wrinkles, and fine lines.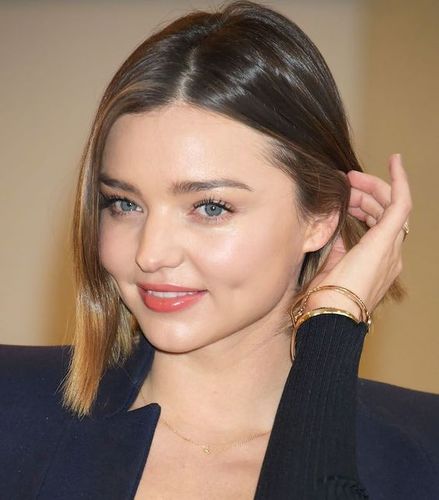 11. Sleep Masks Can Be Beneficial
For long-lasting beauty, sleep is without a doubt a pivotal daily activity. Being a working person while still prioritising beauty is, of course, a challenging feat.
But Miranda says otherwise. Though no cosmetic ingredient can replace the benefits of a good night's sleep, Miranda Kerr skin care recommends one skincare product that can create the illusion of a good night's sleep. Miranda says that wearing a sleep mask or an overnight mask works on improving the tone, texture, and radiance of the skin and erases the evidence of lack of sleep. The Noni Glow Sleeping Mask is a favourite of Miranda Kerr's. The subtle sleep mask seals in moisture and gives you the plump, radiant face you see in the mirror.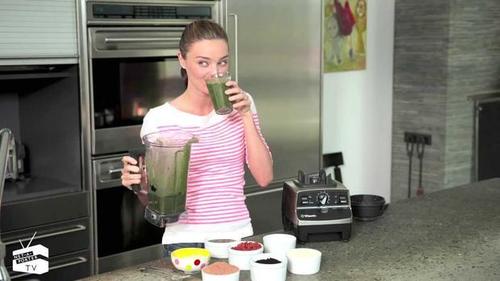 12. Celery Juice Awakens Beauty From Within
'Beauty starts from Inside,' and that's why you should start your day by gulping down a fresh, cold-pressed celery juice, says Kerr.
Every day, Kerr begins her day with 16 ounces of celery juice. Celery juice is one of the best wellness and beauty tips that help maintain the health of the skin and the proper functioning of other vital organs of the body, hence Miranda flushes the toxins from the inside to get the radiant and ethereal beauty on the outside.
13. Organic Food Provides Energy Boost
Miranda Kerr advises that eating an organic and nutritious-rich diet is necessary for youthful skin. Kerr starts her days with a cup of hot lemon water and a smoothie or pancakes for breakfast. Her lunch and dinner menus emphasise unique salads and lean protein like salmon and chicken.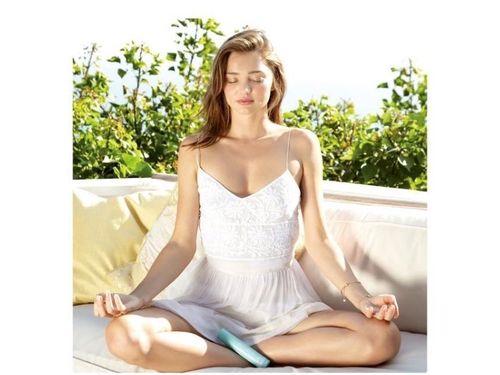 14. Regular Medidation Keeps Mind Calm & Helps Maintain The Glow
Miranda Kerr's daily routine starts at 5.30 a.m. She begins her day with meditation, then proceeds to skincare, and so on.
The model-turned entrepreneur claims that she can relax and keep her thoughts in a peaceful and relaxed state as a result of her meditation practice, which explains her charismatic beauty and personality.
So, at least for 10 minutes, try meditation day and night to unwind your stress.
15. Hold Yourself With Grace and Gratitude
Being a mother, a model, and an entrepreneur is no easy chore. On the other hand, Miranda Kerr manages to keep her striking beauty and charm throughout the day. When pressed, she says with her adorable smile says that daily meditation and positive affirmations help her retain her cheerful demeanour and ethereal beauty.
Skincare may be pretty exhausting and hopeless at first, but when continued for a consistent amount of time, you will start to experience the benefits and thank yourselves for starting it. With the help of the tips shared by a woman who is a Model, Mom, and CEO, we are pretty sure you are ready to live the perfect lifestyle for yourself.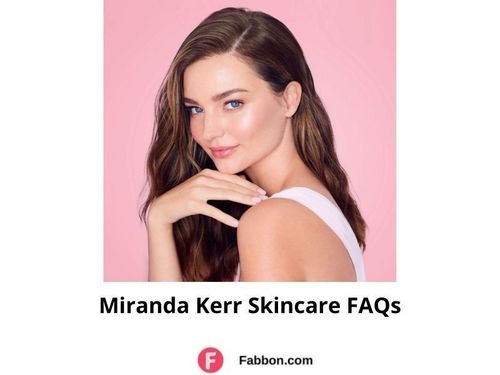 FAQs On Miranda Kerr Skincare Routine

Q- What is Miranda Kerr skincare routine?
Miranda Kerr believes in maintaining a consistent skincare routine, which she begins each day by cleansing, toning, hydrating, and massaging.
Miranda Kerr skincare routine involves an emphasis on moisturising as she feels its integral to maintain trtthe softness of the skin. Her favourite moisturizing cream is KORA Organics Turmeric Glow Moisturizer. She uses Kosas Kosasport LipFuel in Rush to bring out the natural hue and retain moisture for plumper lips.
To brighten the under eye area Miranda uses IT Cosmetics Bye Bye Under Eye Concealer, which provides her with a clean and full coverage. Finally, she uses RMS Beauty "Un" Cover-Up Cream Foundation as a finishing touch to give her face a natural appearance.
Along with a daily morning skincare routine, she follows a regular night routine as well wherein she makes sure to remove makeup completely and apply the right products to nourish her skin from within.
Q- What is Miranda Kerr night routine?
Miranda makes sure to stick to a consistent night routine as mentioned below:-
1) Instead of merely cleansing skin to remove grime and makeup at the end of the day, Miranda double cleanses her face with Milky Mushroom Cleansing Oil and the Kora Organics' Cream Cleanser.
2) Miranda then applies Noni Night AHA Resurfacing Serum to reduce the pore appearance.
3) Subsequently she massages her face with gua sha to massage the Noni Glow Face Oil and Noni Eye Oil into her skin.
4) Once the products are settled in, she finishes her routine by putting on the Noni Glow Sleeping Mask to lock in the nutrients and give the illusion of a full night's sleep.
Q- Which are the favourite makeup products of Miranda Kerr?
Miranda Kerr has a variety of favourites in terms of cosmetics and skincare, and she picks a few that promise lasting beauty.
Moisturiser - Turmeric glow moisturiser from Kora organics
Cleanser - Milky Mushroom Cleansing Oil and the Kora Organics' Cream Cleanser
Concealer - IT Cosmetics Bye Bye Under Eye Concealer
Sunscreen - Isdin's tinted SPF
Face & Eye Oils - Noni Glow Face Oil and Noni Eye Oil
Sleep Mask - Noni Glow Sleeping Mask
Serum - Noni Night AHA Resurfacing Serum
3) How does Miranda Kerr take care of her skin?
Along with consistent skincare, Miranda also takes care of her beauty from inside. She drinks celery juice every day which flushes the toxins away from the body and contributes not only to her beauty but also health. She frequently exfoliates her skin with a dry brush before showering to eliminate dead skin cells and boost circulation.
Q- Does Miranda use retinol?
Retinol is a consistent addition to Miranda Kerr skincare night routine. Kerr uses Noni Glow Face Oil to massage her face before bed to keep fine wrinkles at bay.
Q- What are Miranda Kerr beauty secrets?
Miranda Kerr uses natural skincare to keep her face and body looking natural, youthful, and elegant. She also uses gua sha massage to give her face a more youthful and natural appearance. Miranda Kerr makeup favourites are the ones with natural and toxic-free ingredients.