25 Best Celebrity Perfumes And Fragrances - 2023
Shalu Bhati
Updated At 12 Sep 23
Looking for best celebrity perfumes and fragrances of 2023? Then, look no further.
Elizabeth Taylor started the trend of celebrity perfume in 1988 when she launched her first-ever perfume Passion. She paved the way for celebs including Paris Hilton, Jennifer Aniston, Beyoncé and Taylor Swift among a lot of others to come up with their range of perfumes and fragrances. And they very much have!
There was a time in the mid-2010s when the idea of buying a celebrity perfume drove women to the beauty stores. But now, the idea of a celebrity perfume is not met with the same enthusiasm. Well, unless it is an exceptional fragrance. The name of the celebrity is not enough, the fragrance matters too.
So, this year we decided to bring for you a list of some of the best celebrity perfumes which are more popular than ever because they are that good. From the Paris Hilton perfume and the Kim Kardashian perfume to the Kate Moss perfume and the Beyoncé perfume, we have covered the best of the best. We have also answered some of the frequently asked questions on this topic.
Come on, then. Let's begin!              
21 Best Celebrity Perfumes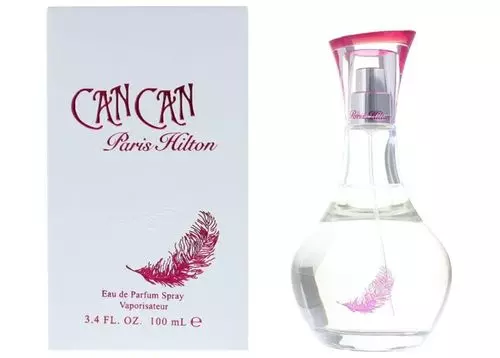 1. Paris Hilton Can Can Eau De Parfum Spray
Love her, hate her but you cannot ignore her. And you can not ignore her range of perfumes. Here is our top pick of the best celebrity perfumes: Paris Hilton Can Can Eau de Parfum Spray. This Paris Hilton perfume was launched in 2004 and manages to be relevant even after all this time. It is a beautifully blended sensual mix of clementine blossom, black currant, nectarine, wild orchid, and orange blossom. Designed by Jean-Claude Delville, this perfume was inspired by the movie Moulin Rouge and the famous song Lady Marmalade.
Buy Here
Do make sure to do original perfume barcode check to ensure that you are buying a a real perfume.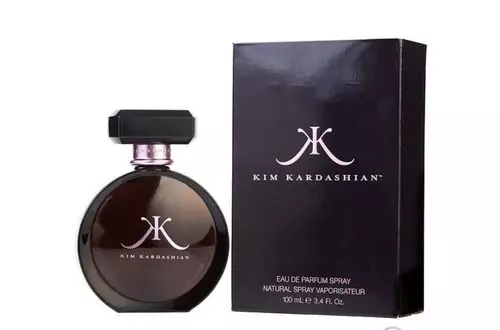 2. Kim Kardashian Eau De Parfum Spray
Next on our list of best celebrity perfumes is the Kim Kardashian Eau de Parfum Spray. If you love woody floral scents, then you will love this Kim Kardashian perfume. It has notes including mandarin orange, honeysuckle, tuberose, gardenia, jasmine along with sandalwood and orchid. This is a celebrity perfume that will provide you with a spectacular scent in a spectacular bottle.
Buy Here
If you are looking for more inspiration for perfumes, do check out our guide on best perfumes at sephora as we cover the top 21 fragrances which are bestsellers this year!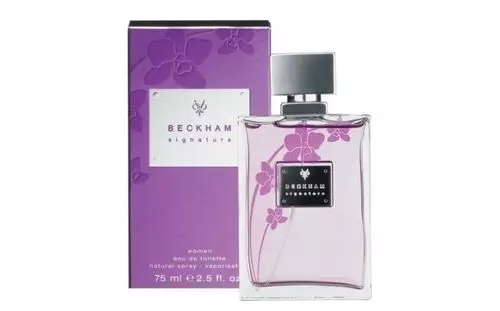 3. Beckham Signature For Women
David Beckham teamed up with wife Victoria to create a line of fragrances for women. This David and Victoria Beckham perfume (often googled as Victoria Bechham perfume!) is a unique fragrance with notes of orchid and anise. It is a celebrity perfume that will surprise you with its good staying power and a beautifully balanced mix of sweet with spicy. Though discontinued, it remains to be a favorite fragrance of many.
Buy Here
Do check out Kate Middleton perfumes list to find out her favourite 5 fragrances.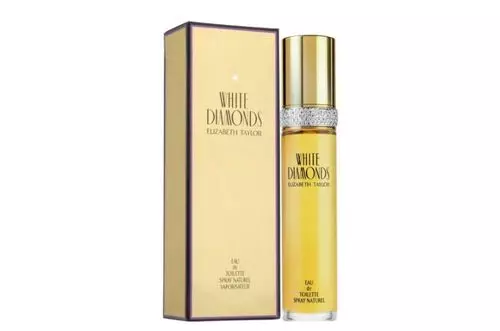 4. Elizabeth Taylor White Diamonds Eau De Toilette Spray Naturel
Next on the list of best celebrity perfumes is a popular and loved Elizabeth Taylor perfume. Taylor had single-handedly revolutionized the world of celebrity fragrances for the decades that were yet to come. The White Diamonds was introduced in 1991 and is a rich, sensual and floral fragrance. A balanced mix of lily, rose, amber, oakmoss, and sandalwood, this perfume is said to be delicate as well as tenacious. And let's not forget its chic and lovely bottle!
Buy Here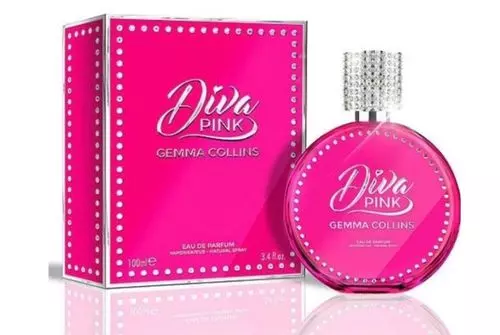 5. Diva Pink By Gemma Collins
This is the newly launched Gemma Collins Perfume, Diva Pink. Its packaging is as bright and lively as Collins herself. It is the debut fragrance of the reality TV star and is described as being sensual, unisex, and 100% cruelty-free with luxury oud and Diva day undertones. With Diva Pink, Gemma hopes to give everyone a diva-like experience.
Buy Here
Also check out our guide on sephora makeup bestsellers as we cover the top 21 bestsellers which have been trending this year.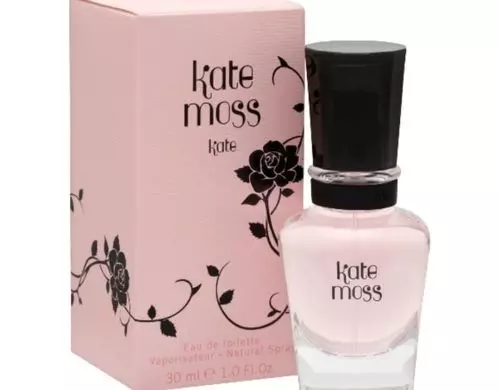 6. Kate By Kate Moss
Kate by Kate Moss is the first-ever perfume to be launched by the famous supermodel. This Kate Moss perfume is said to be inspired by the personality of the model herself. It is a seductive and sophisticated mix of elegance. It is a vibrant fragrance with notes of forget-me-nots, orange blossom, pink pepper, rose, peony and lily. Sandalwood, patchouli, and musk add edginess to this scent.
Buy Here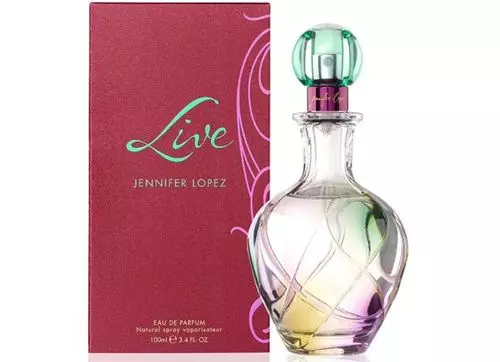 7. Live By Jennifer Lopez Eau De Parfum
This is a fragrance for those who prefer fresh, floral and sweet scents. Created in 2005, this is a popular and bestselling JLo perfume. With notes of red currant, peony, and violet, it will fill you with life and happiness with its scent. This is a celebrity perfume that will not ever disappoint you.
Buy Here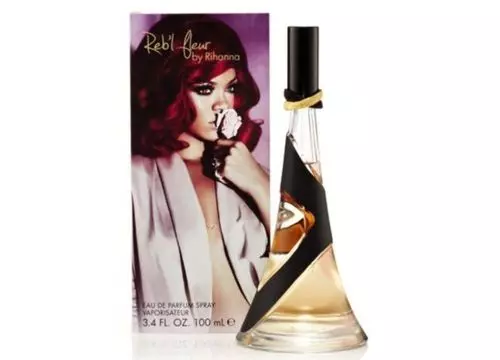 8. Reb'L Fleur By Rihanna Eau De Parfum Spray
Ask anybody within the celebrity circuit and they will tell you that the one celebrity who always smells amazing is Rihanna. So any fragrance from Rihanna's perfume range is enough to make us rejoice. But, the Reb'L Fleur Eau de Parfum spray deserves special treatment. A mix of the spirit of Barbados and New York City, this Rihanna perfume strikes the right chords. Launched in 2011, it comes with notes of berries, plum, peach, tuberose, hibiscus, coconut, and violet. This is one of our favorite amongst the best celebrity perfumes!
Buy Here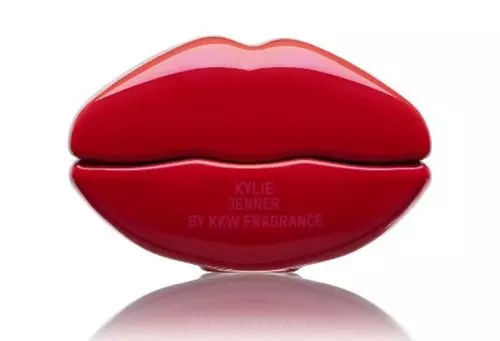 9. KKW Kylie Jenner Red Eau De Parfum
The world went crazy for her lip kits. Now it is time to go crazy for her perfume collection. Kylie joined forces with elder sister Kim to drop on us the new Kylie Jenner perfume collection. All the three perfumes, red, pink and nude, come in cute and bright-colored lip-shaped bottles. The Red Lips fragrance is amongst the best celebrity perfumes. It combines notes of blood orange zest, red lotus blossoms, red gardenia, and exotic ylang.
Buy Here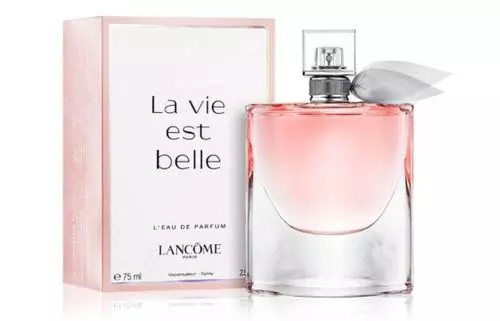 10. Lancôme La Vie Est Belle Eau DE Parfum
Lancôme launched the La Vie Est Belle fragrance in 2012. It is a fragrance that is not just promoted by Julia Roberts but is also dedicated to her. This Julia Roberts perfume is an elegant composition of the iris, orange blossoms, jasmine, black currant, pear, tonka bean, patchouli, and vanilla. This celebrity perfume is a beautiful balance of warm, gourmand, powdery and boasts of a joyful feminity that is only seen in Julia.
Buy Here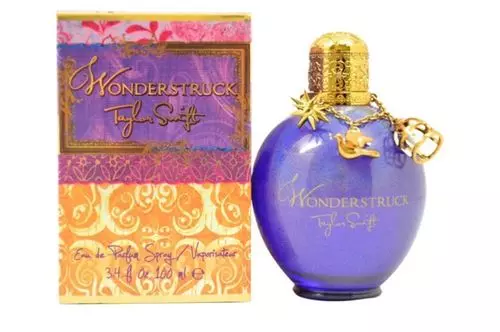 11. Wonderstruck By Taylor Swift
Here's another one of the best celebrity perfumes on our list that is our absolute favorite. Launched in 2011, Taylor Swift launched her first-ever perfume, Wonderstruck during her Speak Now era and it is well represented in the packaging as well. With notes of freesia, tea, raspberry, apple blossom, blackberry, vanilla, hibiscus, and honeysuckle, this Taylor Swift Perfume also boats of a woody base. It is a beautiful and mesmerizing fragrance that will leave an impression on you and those around you.
Buy Here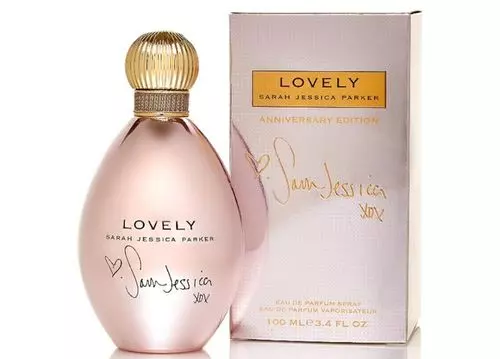 12. Lovely By Sarah Jessica Parker
We were enchanted by Sarah Jessica Parker' Carrie Bradshaw and her glorious wardrobe. Now it is time to get enchanted by the Sarah Jessica Parker Perfume. SJP was interested in perfumes ever since she was a child. So, when it came to developing her own, she came up with Lovely, a classic and glamorous scent inspired by the memories of her mother's perfumes. This celebrity perfume is a well-balanced mix of rosewood, green lavender, nectarine, bergamot, apple martini, white daffodil, and orchid.
Buy Here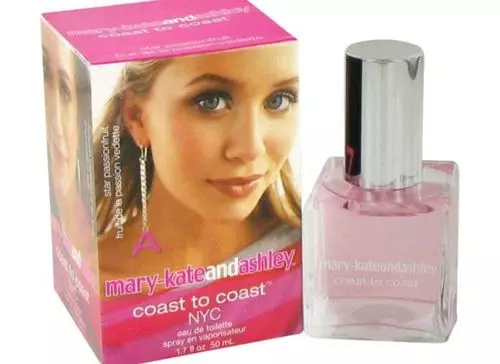 13. Mary Kate And Ashley Coast To Coast NYC Eau De Toilette Spray
Coast to Coast NYC by Mary Kate and Ashley is a luxurious and elegant fragrance that will be easy on your pocket. This Mary Kate and Ashley perfume is light and fresh with notes of mandarin orange, passion fruit, freesia blackberry, and musk. Despite its flowery and fruity fragrance, its scent is well balanced—perfect for spring and summer days.
Buy Here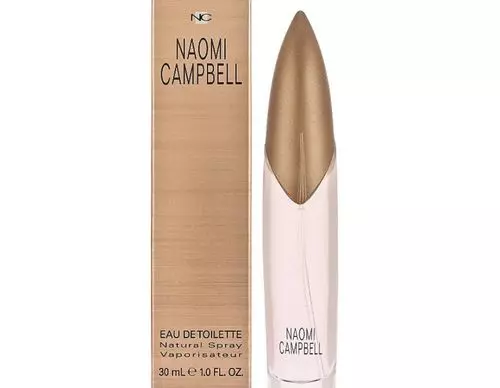 14. Naomi Campbell Eau De Toilette
For a modern and unique fragrance that does not overwhelm, go for the Naomi Campbell perfume. It is a balanced fragrance that is warm and creamy with a sex appeal. This fruity-floral combo will leave you engulfed in a sweet, fresh and exotic scent without being too strong. This celebrity perfume has been one of the best celebrity perfumes for quite some years now and we think it is going to stay that way.
Buy Here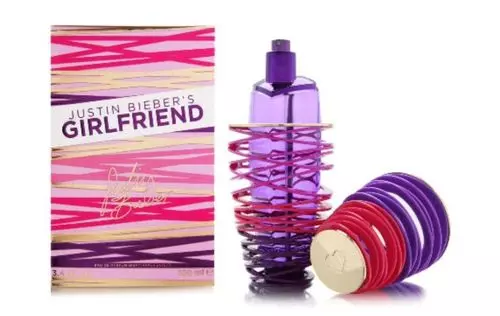 15. Justin Bieber's Girlfriend Eau De Parfum Spray
Want a summer fling? Justin Bieber Girlfriend perfume would be the best fit. A well-rounded mix of citrus and floral scents, this perfume is not overbearing. You will be surprised at its lightness and freshness. The packaging is very attractive and unique which is another plus point of this celebrity perfume.
Buy Here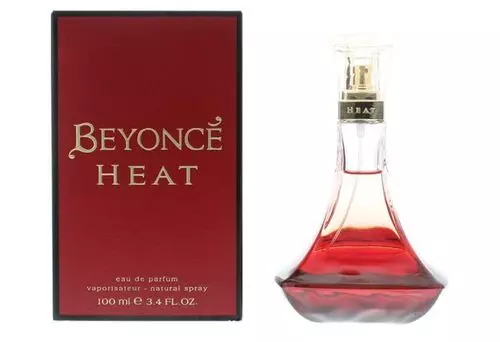 16. Beyoncé Heat Eau De Parfum
This is yet another one of the best celebrity perfumes which is a timeless classic. Heat by Beyoncé is a very pleasant fragrance with notes of red vanilla, orchid, magnolia, neroli, and peach. It is a sensual fragrance that will make you feel sexy, strong and powerful. Get ready to get your senses heightened with Heat by Beyoncé.
Buy Here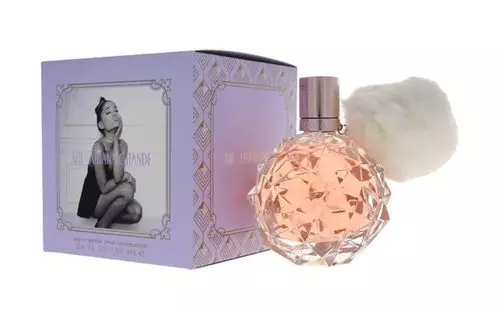 17. Ariana Grande Ari Eau De Parfum Spray
Sweet, fruity and sexy—this is how consumers have described Ari Eau de Parfum Spray by Ariana Grande. It is a luscious fragrance with pear, raspberry, rosebuds, musk, woods and a hint of marshmallow which makes this Ariana Grande Perfume just the right kind of addictive. This celebrity perfume will not only leave you smelling nice but will also sit pretty on your dressing table.
Buy Here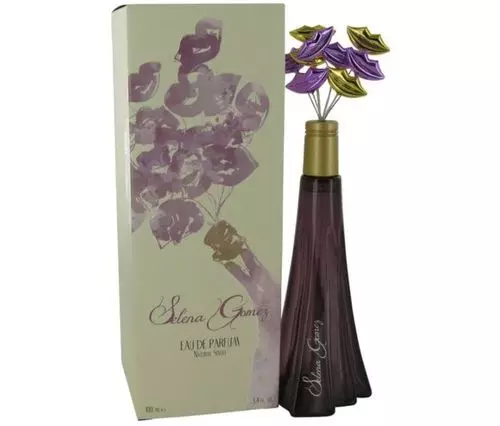 18. Selena Gomez Eau De Parfum Natural Spray
Launched in 2011, the Selena Gomez Perfume is unique in many ways. First, hundreds of thousands of Selena fans took part in its creation. They voted for the basic ingredients that they would like to have in this perfume. They voted and Selena obliged. It has notes of raspberry, freesia, vanilla sweet orange, pineapple peach, amber, chocolate, and coconut. Even the packaging has a unique design that looks elegant and beautiful.
Buy Here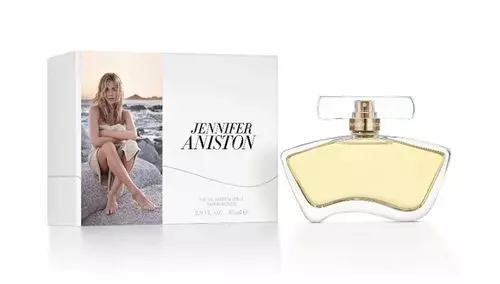 19. Jennifer Aniston Eau De Parfum Spray
Here is another one of the best celebrity perfumes. The Jennifer Aniston perfume smells fresh and beachy to remind you of the good old ocean. It has a revitalizing scent of the sea, fresh soap, and citrus accord. This sweet and musky fragrance also combines jasmine, sandalwood, and amber as its base notes.
Buy Here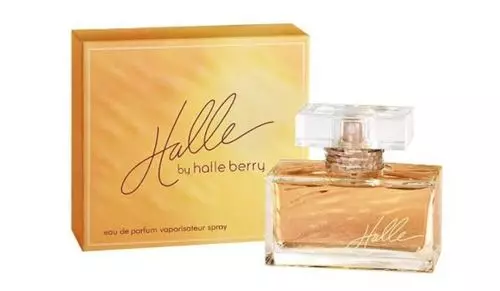 20. Halle Berry Halle Eau De Parfum Spray For Women
This is the first-ever Halle Berry perfume to be created by the famous Oscar-winning actress. This celebrity perfume is a sensual mix of a woody oriental scent with notes of mimosa, pear blossom, bergamot, and fig leaf. It is a lovely warm scent that will forever remind you of coziness and is a perfect fit for fall and winters.
Buy Here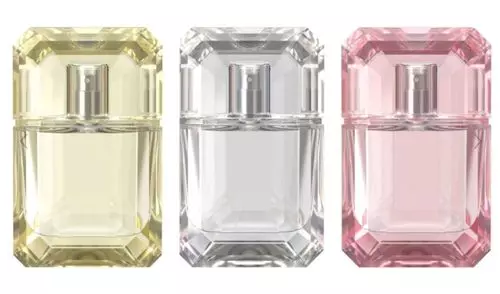 21. KKW Fragrance Diamonds Bundle
Sisters Kim, Khloe, and Kourtney teamed together to come up with this Kardashian perfume—the Diamond Collection. This is a set of three perfumes, one by each sister. Kourtney's perfume is yellow with notes of jasmine, Mongolia, patchouli, and musk that can remind you of daylight. Khloe's perfume is pink, sweet and floral. It is a bouquet in a diamond bottle. The clear perfume is by Kim and one of the many dozens to her name. This Kim Kardashian perfume smells of white florals and is somewhat tropical.
Buy Here
Frequently Asked Questions
Q. What is the most popular Paris Hilton perfume?
Paris Hilton Eau de Parfum Spray is the most popular Paris Hilton perfume. It was the first fragrance launched by Paris Hilton and it continues to be popular among women across the globe even now.
Q. What is the most popular Kim Kardashian perfume?
The KKW Crystal Gardenia by Kim Kardashian West is the most popular Kim Kardashian perfume.
Q. What is the JLo favorite perfume?
Jennifer Lopez loves to wear Glow from her line of fragrances. With notes of neroli, pink grapefruit, rose, sandalwood, and jasmine, this is the JLo favorite perfume which she has described as a skin-scent.
Q. What is Rihanna's favorite perfume?
Rihanna's favorite perfume is Love, Don't Be Shy by Killian.
Q. What perfume does Victoria Beckham wear?
Victoria Beckham doesn't stick to just one perfume and likes to change things. She is known to wear Creed Royal Water and Room Service. She is, however, known for her love of anything from the house of Byredo. She especially loves the Bal D'Afrique and Blanche.
Q. What is Beyoncé favorite perfume?
Beyoncé's favorite perfume is Giorgio Armani's Emporio Armani Diamonds.
Q. What kind of perfume does Ariana Grande wear?
Ariana Grande loves to wear Tom Ford Neroli Portofina Aqua.
Related Articles