25 Stunning Knotless Braids With Beads - 2023
Ankita Ghoshal
Updated At 16 Aug 23
Knotless braids with beads are the new hairstyle trend that has taken the fashion world by storm. As the name suggests, these braids show no bulging of hair from the scalp, unlike your usual box braids.They have flat and smooth roots which make them look so unique and fascinating yet simple at the same time. One of the top hairstyles for black women, the special thing that makes them all the more alluring is when you adorn them with gorgeous beads. Here are 25 knotless braids with beads that you can use for your hairstyling inspiration this year.
25 Best Knotless Braids With Beads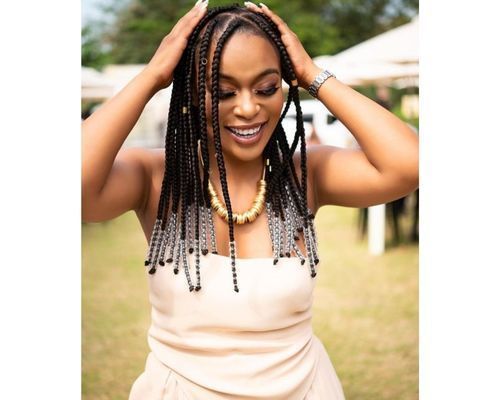 1. Shoulder Length Knotless Box Braids With Beads
Knotless box braids with braids for medium length hair look very classy on most ladies and you can play around with beads, threads, cuffs and hairpins to make your hairstyle look well thought of.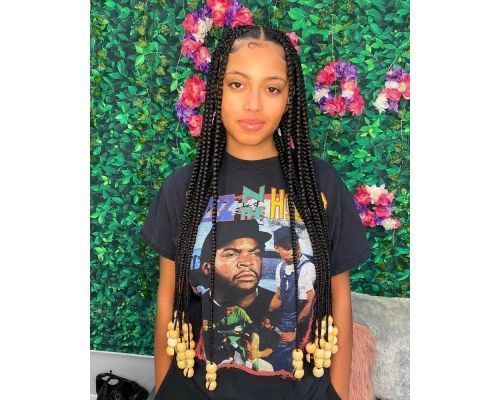 2. Beads On Long Knotless Box Braids
A long and simple knotless box braid is all that you need to create a fairytale-like vibe. One of the top braids hairstyles, what makes it even fancier are beautiful beads that will elaborate your hairstyle like nobody's business.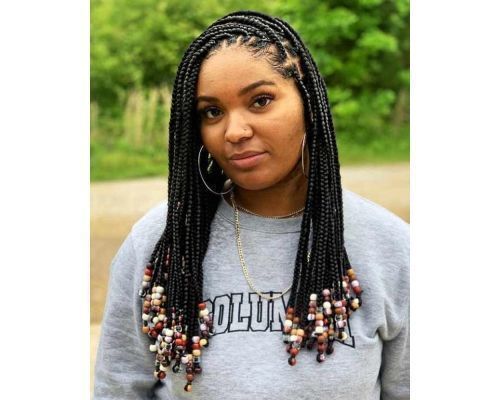 3. Beads On Medium Knotless Braids
Medium knotless braids are easy to maintain and make for an excellent everyday hairstyle. If you want to give it a little more character, use beads at the lengths and you are good to go.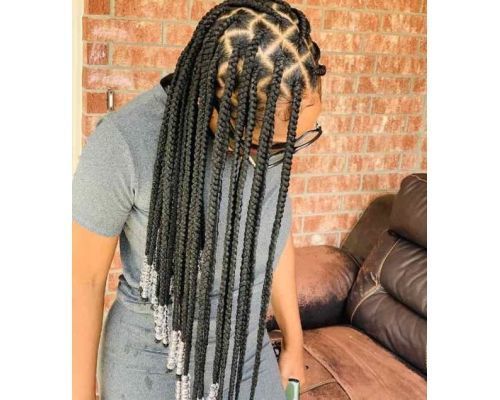 4. Square Patterned Knotless Braids With Beads
This is regarded as one of the easiest knotless braiding hairstyles. It is minimal yet very stylish. It is a fabulous protective hairdo for your natural hair. Don't forget to jazz them up with your favourite beads.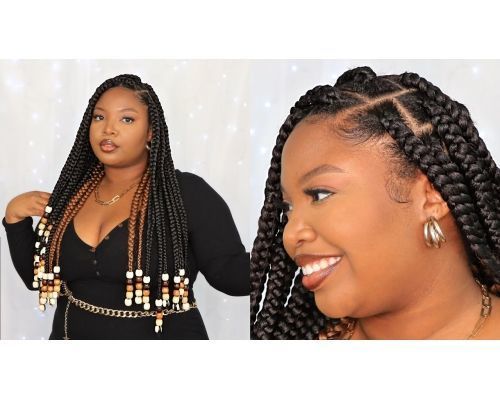 5. Knotless Parted Braids With Beads
Parting can always help you in styling the insides of your knotless braids while keeping things cool. Huge knotless parted braids look all the more amazing when teamed up with colourful beads. One can also go for crochet braids as these have been trending and these look very stylish.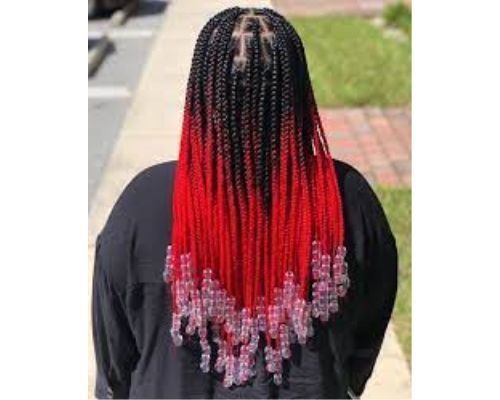 6. Beads On Ombre Knotless Braids
Knotless braids go really well with ombre attachments. In fact, the two are one of the most popular hairstyling duos. Wooden beads and cuffs can uplift this amazing hairdo even more. Try it for yourself and see how fancy it looks.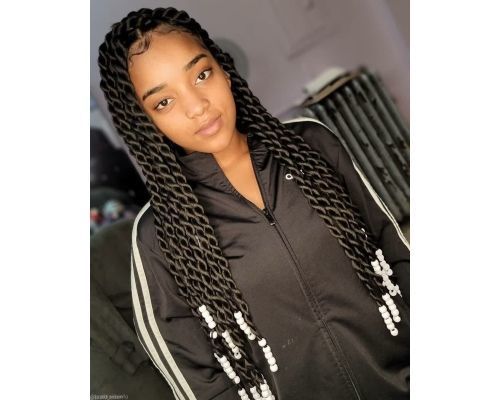 7. Beads On Deep Twisted Knotless Braids
Natural hair remains very secure with deep twists and knotless braids just adding to the overall charm. You can use any colour of beads to make it look all the more amazing.
If you have medium to long hair and are looking for new hairstyles, then do check out our guide on cornrow hairstyles as we list 50+ stunning options which include long cornrow braids, rainbow braids, colorful cornrow braids with beads and many more.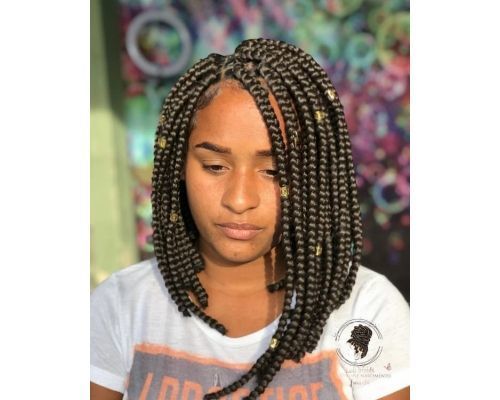 8. Beads On Bob Knotless Braids
Bob knotless braids are a very interesting braiding style which can instantly make you stand out in a crowd. Place beads on the ends of these braids to give your hairstyle even more element.
If you are looking for inspiration for short braided hair, do check out our guide on short braids with beads as we cover 25+ stunning options which are trending this year.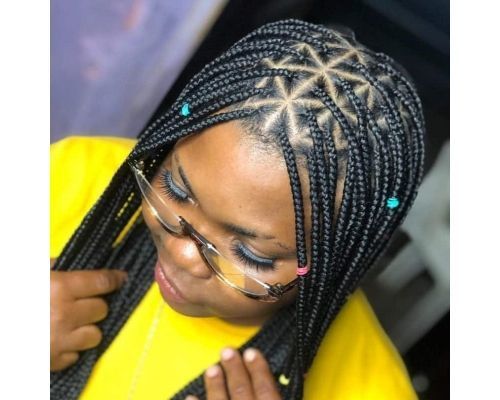 9. Beads On Star Patterned Knotless Braids
If you are bored of flaunting your knotless braids in a conventional way, try a pretty star pattern and decorate it with beads to make a bold statement. You are surely going to fetch a lot of compliments.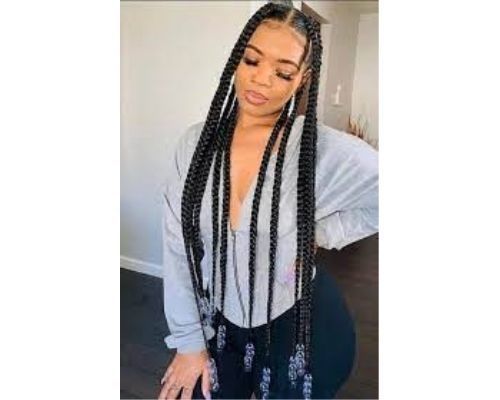 10. Beads on Goddess Knotless Braids
Goddess knotless braids are something you are bound to fall in love with. Throw in some cute hair accessories like cuffs and beads and that is the perfect recipe for a glamorous hairstyle.
One of the top long hairstyles for black women, these long knotless braids look gorgeous and are apt for all occasions.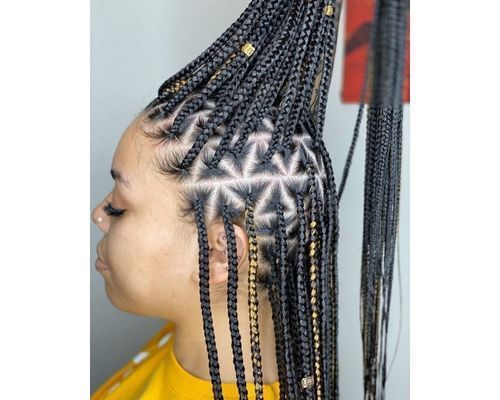 11. Beads On Triangle Knotless Braids
Triangle knotless braids make for a very fun hairstyle and to make it look edgy, place beads on the lengths of your braids. That would not only enhance your overall look but also frame your face beautifully.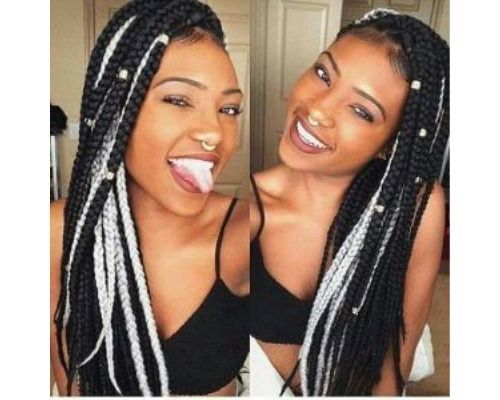 12. Beads on Knotless White Braids
If you are all set to experiment with your hair colour, try white as it is very eye-catchy and unique. At first, go for extensions to test the waters. Style your white mane into short knotless braids with beads to embrace your inner diva.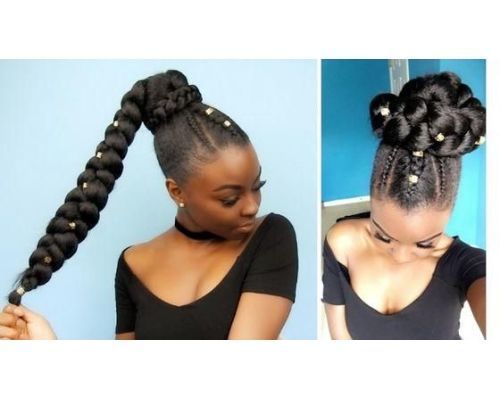 13. Beads on High Bun Ponytails
While jumbo knotless braids with beads are an evergreen hairstyle, you can take things up a notch by holding your braids into a high bun ponytail flashing with gorgeous beads of your choice.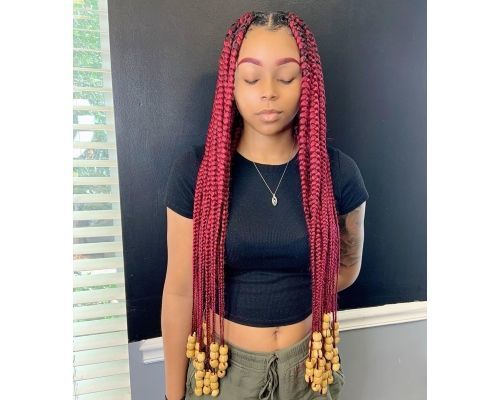 14. Jumbo Knotless Braids with Beads
Jumbo knotless braids will not only save your hairstyling time but will also keep hair off of your face. Moreover, when you bring beads to the picture, you are bound to steal all the limelight.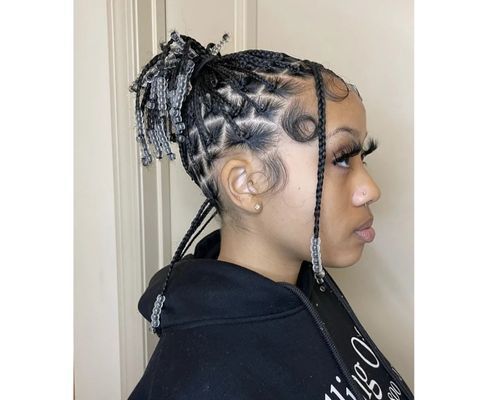 15. Short Knotless Braids With Beads
If you have short hair and are looking for a fresh style of knotless braids with beads, then this is the hairdo to go for. They offer a very pronounced beauty and can add wonders to your appearance. Check out our guide on short braids with beads as cover 25+ stunning options for short braided hairstyles alongwith beads.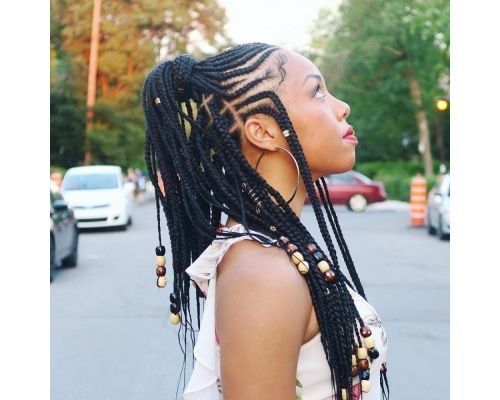 16. Side Parted Micro Knotless Braids With Beads
You will look very gorgeous with tiny knotless braids separated with a neat side parting. A thick row of your beads can accentuate the hairstyle, making it all trendy and cool.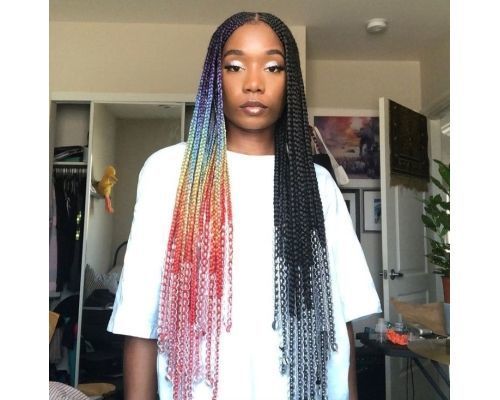 17. Beads on Rainbow Knotless Box Braids
Rainbow-coloured hair is all the rage right now and you can do more to your tresses than just dipping them in multi colours. Throw in some clear beads on your rainbow knotless box braids to make your hair do all the talking.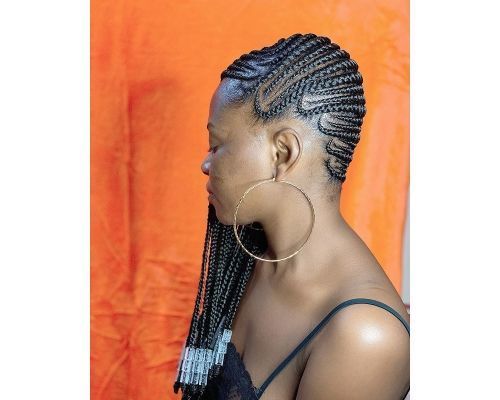 18. Knotless Box Braids With Beads
After making your beautiful short knotless braids with beads, make a deep partition for creating an edge to your hairstyle. You can even style it in a ponytail or double bun if you want.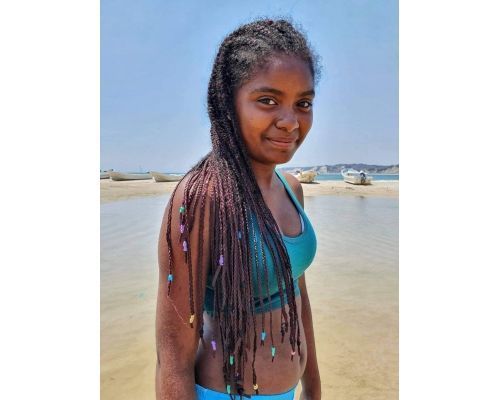 19. Beads on Beach Knotless Braids
On your next beach vacation, style your hair in a nice knotless braid made perfect with beads of varying sizes, colours, and textures. It will go really well with your swimsuits and beach-appropriate outfits.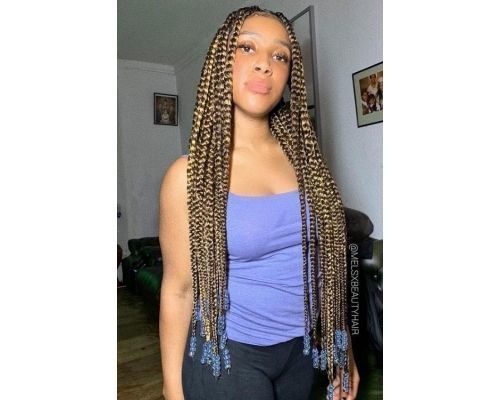 20. Golden Knotless Braids With Beads
For a popping hairstyle, go for a golden shade of hair colouring and couple it up with your beads and threads. Rock it with your mini skirts or plain jeans to make a statement wherever you go.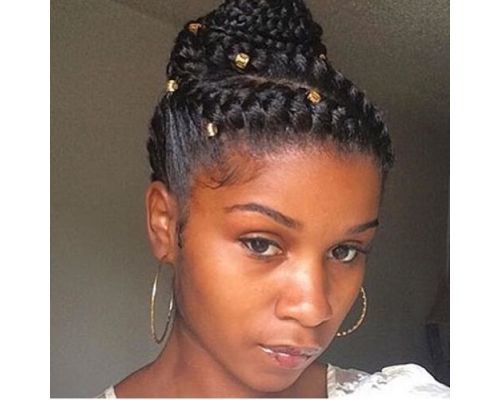 19. Beads On Knotless Box Braids In A Bun
Hollywood celebrities seem to be really into box braids these days and most of them style them further into high buns. You can take even a step further by throwing in some colourful beads and you have a beautiful hairstyle right there!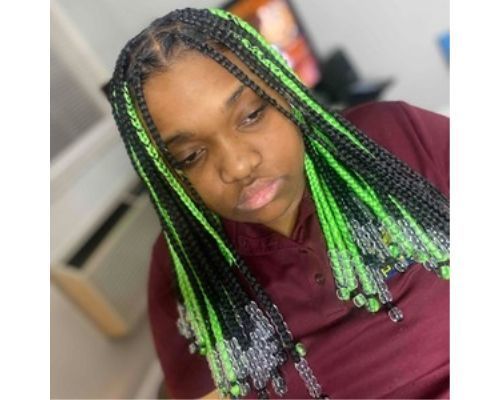 20. Beads On Green Knotless Box Braids
Green knotless braids with beads are going to make you a talk of the town and leave people speechless. If you think you can pull off that bold hair shade well, go for it and don't skip on the stellar beads while you are at it.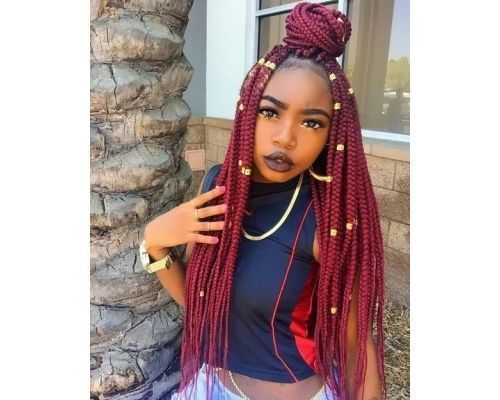 22. Beads On Half Up Half Down Braids
Half-up half-down braiding style is a delightful way of keeping your hair in place. Jazz up your braids with beads and you are all set to slay every occasion and event.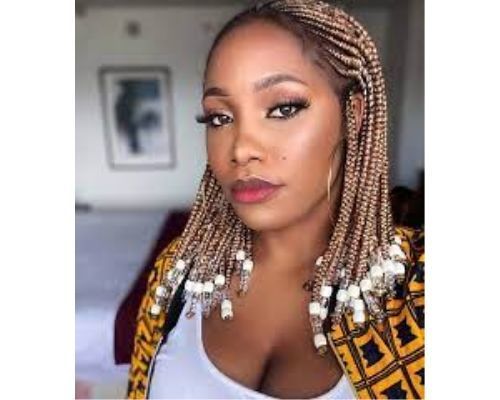 24. Beads on Blonde Knotless Braids
Blonde hair colour is the safest and most popular hair colour to go for. Try knotless braids with beads on your blonde locks to look like a true fashionista.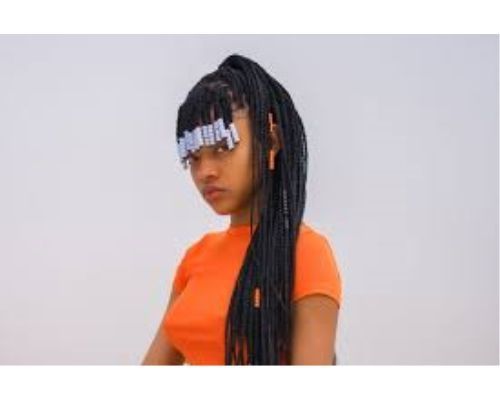 25. Experimental Knotless Box Braids With Beads
You can get all creative when it comes to styling your knotless box braids with beads. You can team up your beads with other hair accessories, extensions, and glitters, to create an ultimate glam hairstyle for your parties.
These were the top 25 knotless braids with beads hairstyles that you can try for your next party, event, meeting, or a simple day out if you are in the mood for a change in your look. Don't restrict yourself and experiment with different styles of braiding, parting, and accessorizing to decide what works best for you and when.