25 Stunning Feather Cuts For Short Hair - 2023
Ana Campbell
Updated At 16 Aug 23
Looking for the best short feathered haircuts which are trending this year?
Short feathered haircuts are one of the most popular categories of haircuts across the globe. Not only are these low maintenance but they also make you look younger. In this article, we will take a look at 25 short feathered haircuts that are bound to give you that gorgeous look. Lets begin!
25 Best Short Feathered Haircuts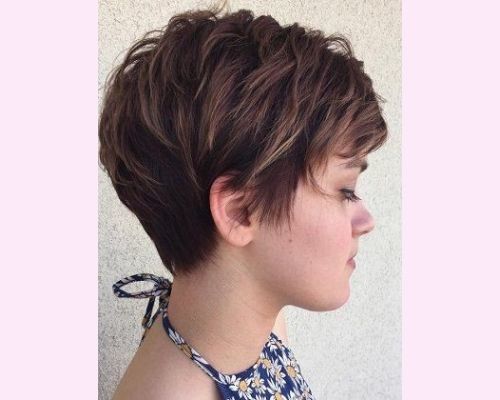 1. Feathered Pixie Cut For Short Hair
A perfect choice for women in their 40s or older, this feather haircut is bound to provide you with that youthful and stylish look. Its easy to manage nature makes the feathered pixie cut one of the most popular short, feathered haircuts for women.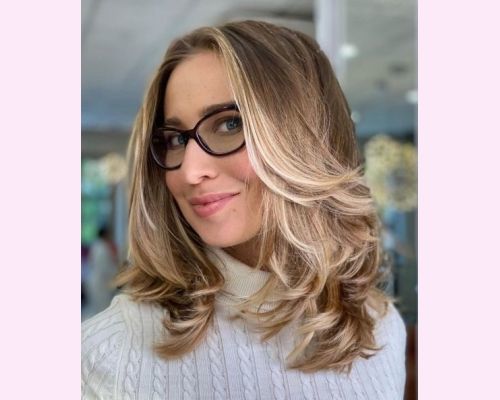 2. Feathered Cut With Bold Layers
For women who wish to achieve that bold, professional, and classy look, this layered haircut is the perfect choice. This haircut suits best for medium length hair. When styled with colored highlights, this easily makes one of the trendiest short, feathered haircuts for women.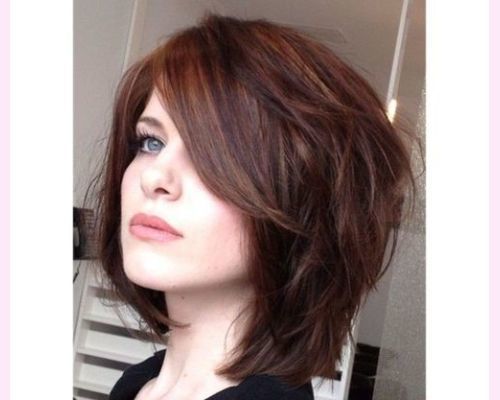 3. Short Feathered Bob Haircut
A short, feathered bob cut gives your hair fullness and volume. People with fine hair can achieve that desired volume with this haircut. This is one of the most popular short feather cut hairstyles as of 2022.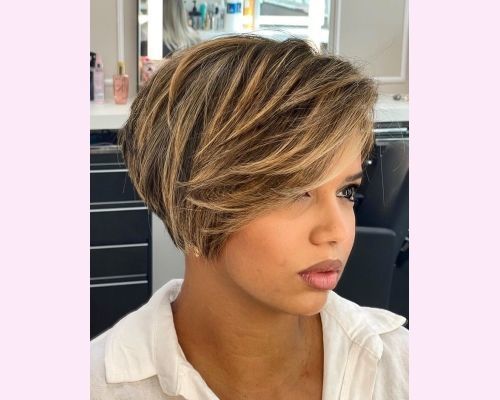 4. Feathered Pixie Bob For Short Hair
Shorter in length but very similar in style to a feathered bob haircut, the feather layers, combined with a pixie cut, are bound to give your hair that wavy, smooth, and fresh look. A feathered pixie bob is also a very preferred short feathered haircut for women.
If you have long hair, do check out our guide to find 50+ stunning haircuts for long hair as we list all the popular options trending this year.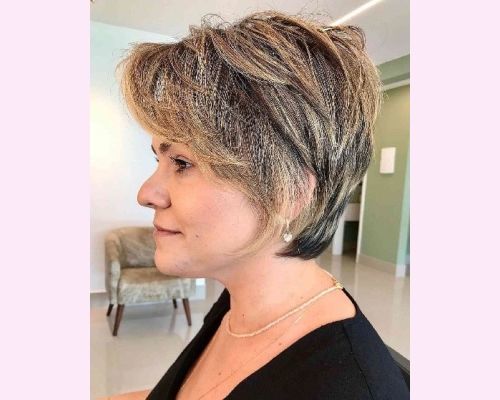 5. Short Feather Cut
A short feather cut is a preferred haircut choice amongst older women, even though it can suit any age. The hair is professionally styled by adding feather-like layers, which provide volume. It can be styled with any hair length and type. This feather haircut for short hair is very well-represented in the popular media.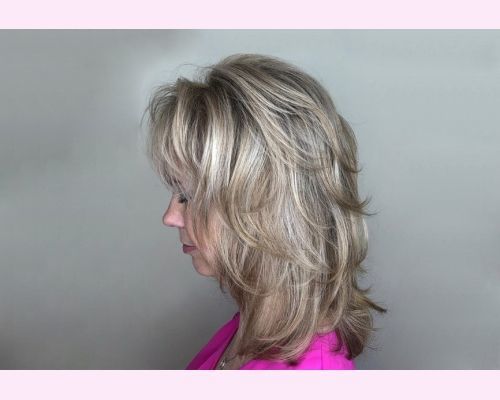 6. Shaggy Feather Cut
A life saver for thin hair, this short, feathered haircut will provide a shaggy yet stylish, and voluminous look to your hair, which is abundantly absent in thin hair. This haircut goes best with short or medium length hair.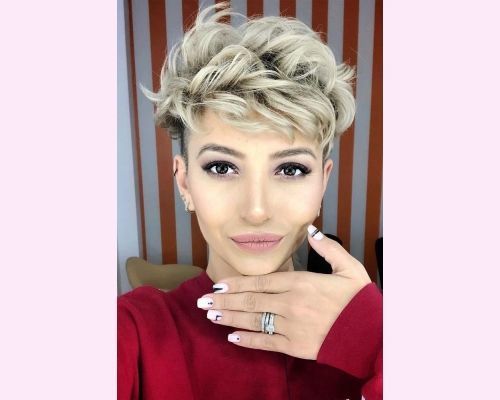 7. Feathered Crop Haircut
Similar in length to a pixie cut, the feather locks of this haircut will give your hair that tousled, chic, look.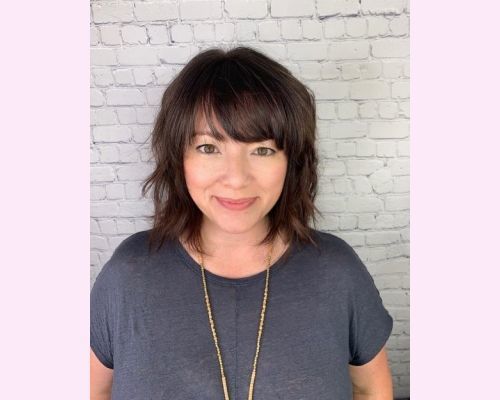 8. Feathered Bob With Bangs
Bangs have the power to make any haircut stylish, and same is the case with a feathered bob. When feathered layers are combined with feather like bangs, you are bound to achieve that desired Hollywood look.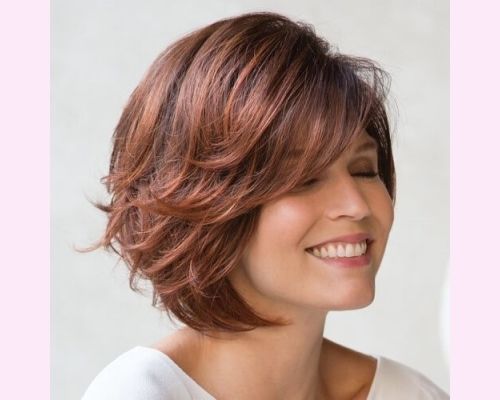 9. Side Swept Bob With Layers
One of the most low-maintenance hairstyles in the market, the side swept feather hair locks, combined with a bob haircut, will give your face that sharp and chiseled look.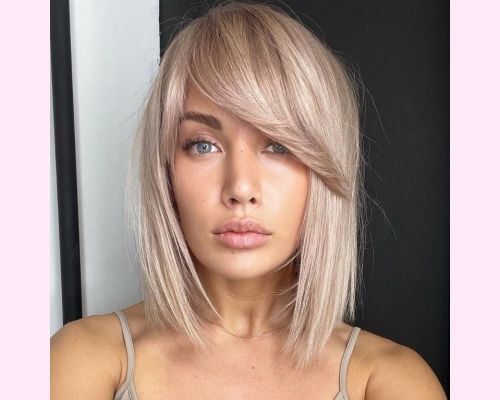 10. Bob With Side Swept Fringe
Popularly styled with trendy colors like platinum blonde, this ear-length bob hair cut with a side swept fringe will give your hair that bounce with every step.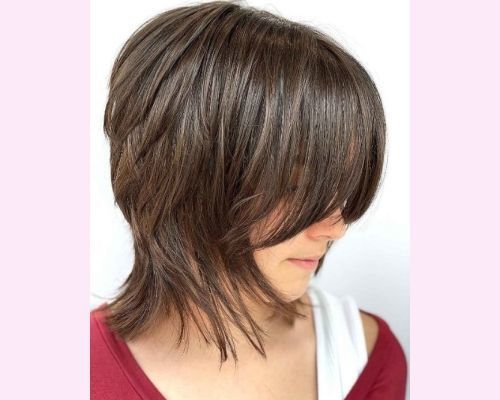 11. Textured Feather Haircut For Short Hair
This haircut is professionally achieved by graduating the nape and adding some feathery layers to the hair. This gives your face a sharp A-line shape. More volume can be added to the hair by blow drying.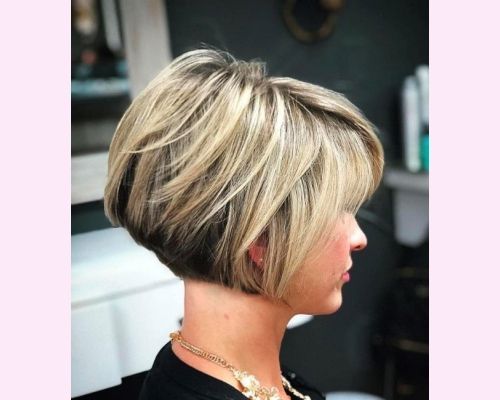 12. Stacked Bob With Layers
A stacked bob is usually shorter in length than a traditional bob, with more hair on the top of the head rather than the neck (or shoulders), which gives it the name stacked bob. This haircut can be taken up a notch by adding some feathery layers which will give you that sharp and sexy look. This short, feathered haircut is best recommended for women with wavy hair.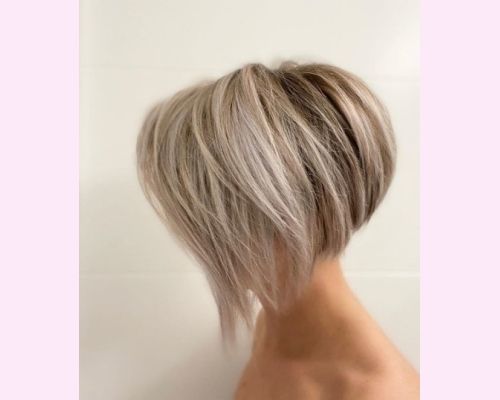 13. Graduated Bob With Layers
A graduated bob is a popular choice of haircut amongst the older women audience because of their common concern for thin hair. When topped off with layers, this haircut will give your hair the elevated and voluminous look that women with fine hair generally lack.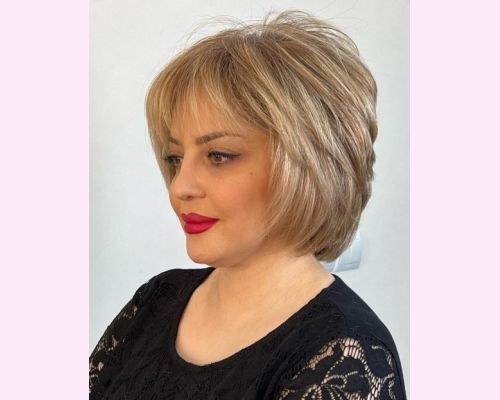 14. Round Feathered Bob With Layers
This haircut gives your hair a circular look that grace your entire face. When added with layers, this haircut enhances soft facial features, which makes it a promising haircut for people with round facial structure.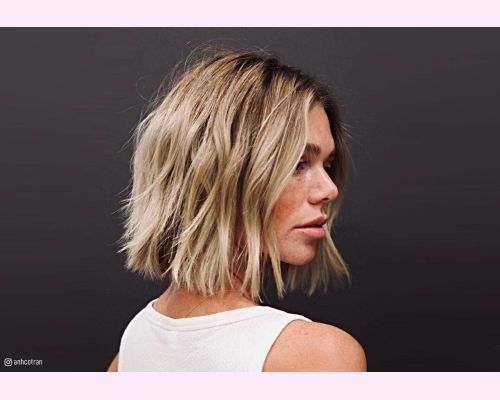 15. Short Bob With Choppy Layers
This short bob is a great haircut choice if you wish to achieve a cutesy change in the way your hair looks. The bob adds a chic look to your face while the professionally cut layers add thickness and volume to the hair, giving you that artsy, cute look. This short feather cut is bound to suit every face shape and skin tone.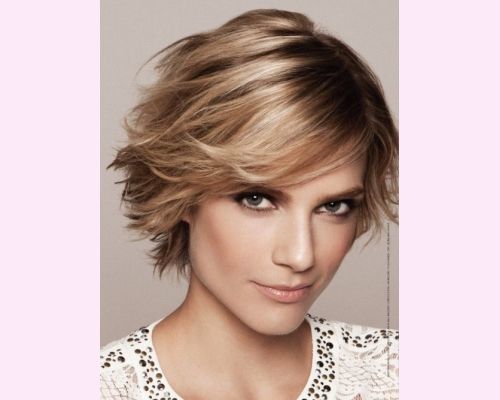 16. Messy Short Feathered Hairstyle
Best recommended for short hair, the messy feathered layers can be styled by either combing forward, blow drying, or combing back. This short, feathered hairstyle will definitely give you a fun and laidback look.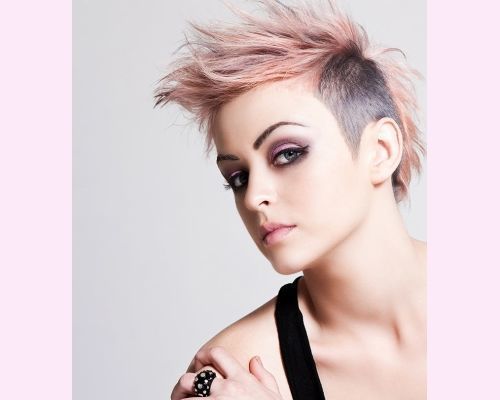 17. Pixie Feather Cut For Short Hair
For people who wish to achieve that thin, feathery look for their hair, this haircut would be an ideal choice. Ear length hair with shaved sides give you that rebellious, punk look that will give your looks that extra edge. This short feather cut is nothing short of daring.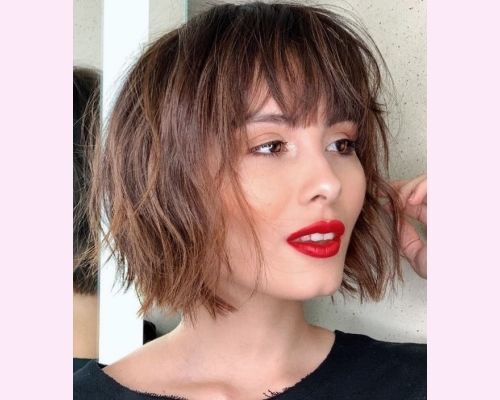 18. Fringes for Short Hair
Fine hair are no strangers to older women. Fringes have been considered one of the hair solutions for thin hair. Thus, a short haircut with feathered fringes is considered the topmost short, feathered haircut, for the older women audience. It not only gives their thin hair a healthy, voluminous look, but also saves them the hassle of styling it on a regular basis.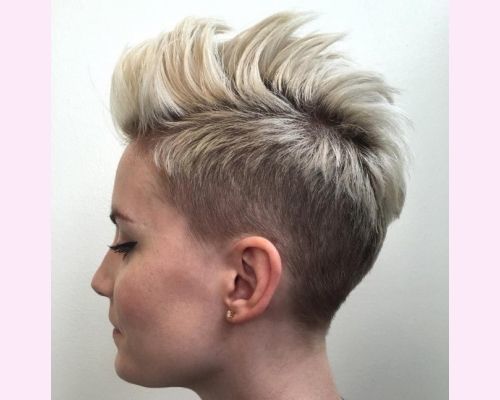 19. Mohawk Style Feather Cut For Short Hair
One of the most famous short, feathered haircuts amongst the younger audience, a mohawk haircut is a short, feathered haircut with an attractive messy mohawk that stands tall. This haircut is of the same length as that of a pixie, which makes it easy to take care of.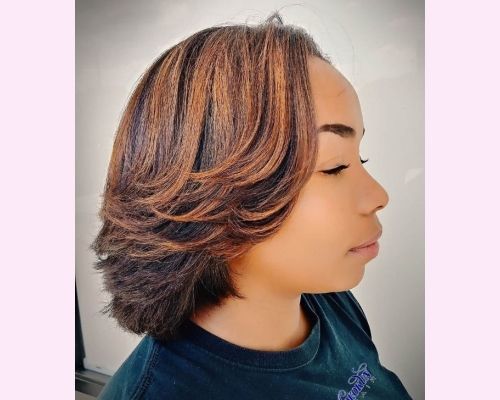 20. Outward Feathered Cut
For people who have rounder and more softer features, this haircut will help you in highlighting your soft features and round face shape by making your hair appear more voluminous. This short, feathered haircut is a safe haven for women with soft features.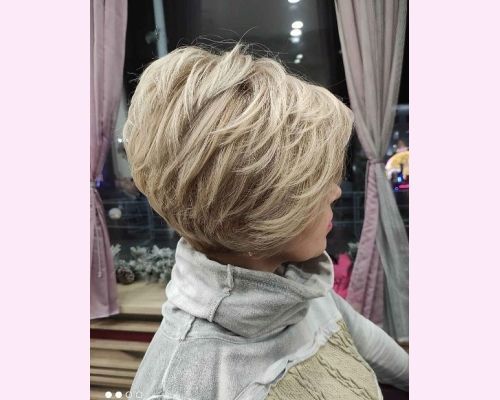 21. Inverted Bob With Feathered Layers
An inverted bob is professionally cut so that more hair is stacked on the back of the head, while the hair that grace the face all around are made to appear scattered and unruly.
The length is same as that of a pixie cut. This is a great choice for women who are looking for an entirely new and creative look and are willing to do some drastic changes to their appearance.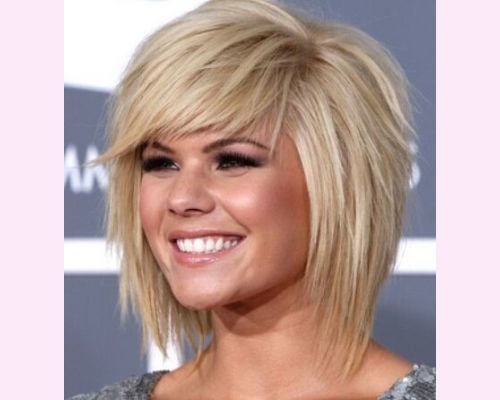 22. Razor Bob Short Feathered Haircut
This haircut will grace your hair with short, feathered, razor-like layers. If you are looking to achieve that sharp, fierce, and badass look but don't wish to have that traditional bob haircut, this haircut is the one for you.
This haircut can be pulled off with any hair color, and the feathered layers with a side parting make this haircut manageable and east to care for.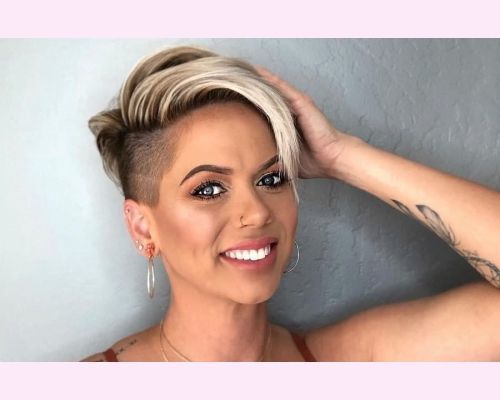 23. Side Shaved Pixie
For women who wish to achieve that clean, airy, and fresh look but are not a big fan of medium or long haircuts, a side shaved pixie is a great recommendation for them. Not only will this cut make your hair look healthier and angled, but it will also give you that modern, cool, punk look. This haircut is best advised for women who have thicker hair naturally.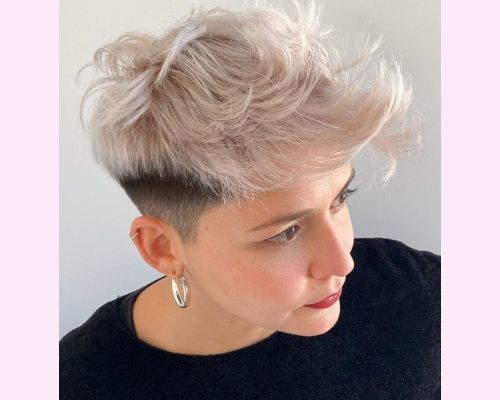 24. Feathered Undercut Pixie
Unlike a traditional pixie cut with bangs falling on your forehead, the feathered bangs are instead pushed upwards, giving your hair that swept, organized look. The feathered undercut pixie haircut also gives your overall face a lightweight appearance and is easily one of the trendiest short, feathered haircuts in the market.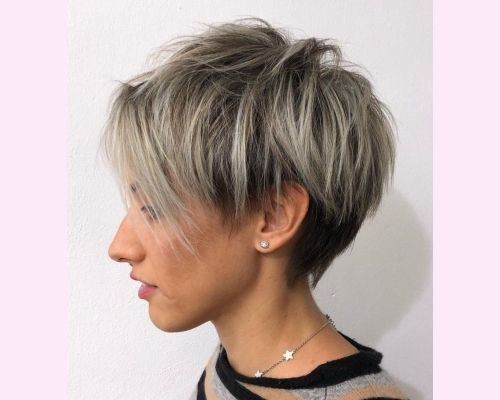 25. Razored Pixie Bob With Irregular Layers
As we have already seen in the article so far, bob and layers go hand in hand. Layers help in adding that look of volume, thickness, and shine to your hair. But, for women who are looking for something more subtle and easy-to-maintain, they can always go for irregular layers.
These layers are another famous type of short, feathered haircut that gives your face the flirty, fun look. This haircut goes best with curly or textured hair locks.
Short, feathered hairstyles are one of the best type of hairstyles in the beauty arena. In this article, we have looked at different types of feather haircut for short hair, and how you can amp up each of them. Individuals can choose either of these short feather cut hairstyles, in accordance with their face shape/preferences.