25 Front Layered Hairstyles For Long Hair - 2023
Riya Lisa
Updated At 09 Aug 23
Hair plays an important role in shaping your face. Hair cuts and styles, especially the front layered ones, can make huge differences in your appearance. When it comes to long hair, layering is a fabulous style to opt for. It adds volume and versatility to your hair. Having a layered haircut allows you to experiment with your style as well.
Here's a curated list of 25 amazing front layered haircuts for long hair. Get ready to transform your tresses!
25 Best Front Layered Hairstyles For Long Hair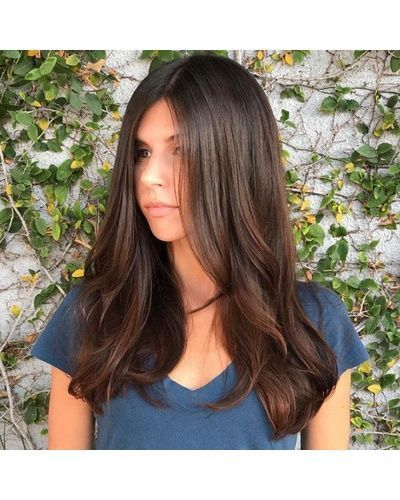 1. Face Framing Layers
To begin with, this is a simple hairstyle but works perfect when you're looking to distinctly frame your face. Add soft layers around your face to highlight your features. This is a great way to add movement to your hair. We suggest, you consider your face shape to decide where to start the layers. One of the best layered haircuts for highlighting the face, you will surely be satisfied after getting this amazing haircut.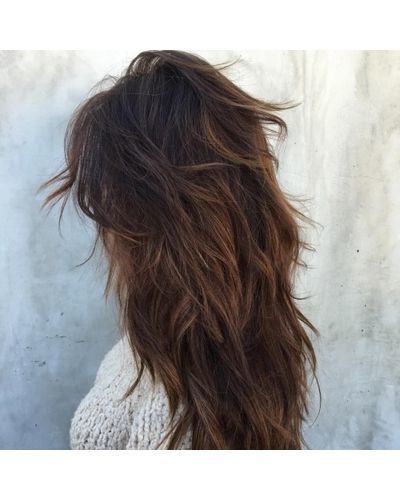 2. Long Tousled Layers
Want to embrace a messy appearance with a simple haircut? These layers are your way to go. This makes your hair look effortlessly fun and cool. The best part? This haircut allows you to try a variety of styles to match your mood! If you are looking for inspiration for long layered haircuts, then this can be an amazing option.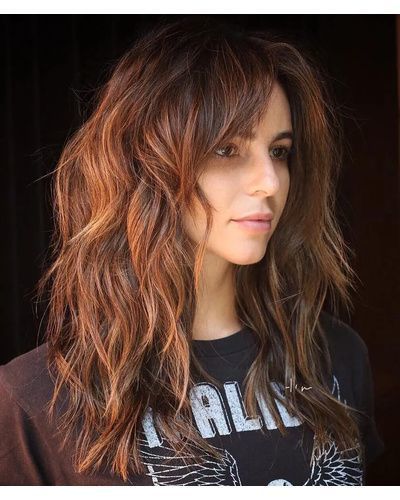 3. Shaggy Layers for Wavy Hair
Be it a messy romantic look or a boho style, shaggy layers suits it all. This is a modern take on the 70s shaggy haircut. It gives a cool and trendy look. This style suits even better if you have wavy or beachy hair. Ace the look effortlessly!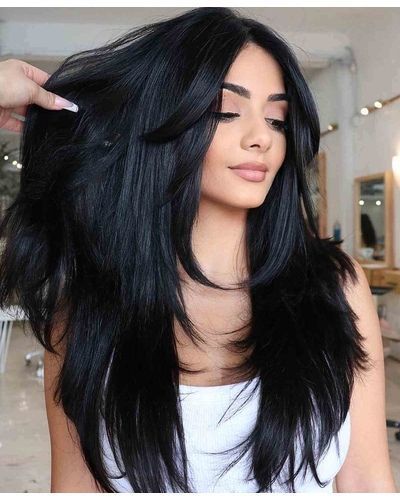 4. Flowy Layers For Straight Hair
Styling your long and straight hair can be a task. To add some movement, you can opt for flowy layers. They are easy to style, and give your hair a dynamic look. These layers start from the jawline, and get longer towards the back.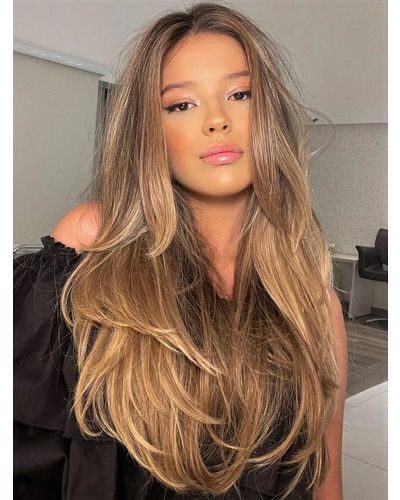 5. Classic V-Cut Hairstyle
This timeless feather cut is known for adding depth and dimension to your hair. This suits any type of hair be it straight or wavy, thick or thin. Not to forget, V-Cut layers are incredibly suitable for long hair!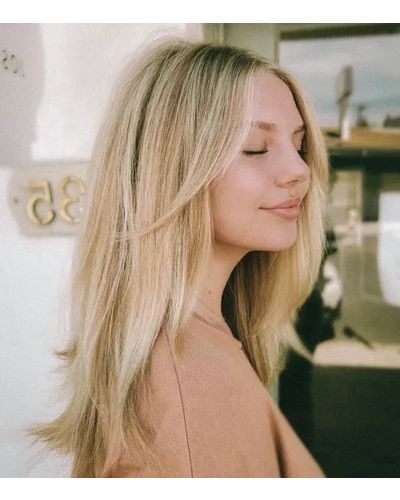 6. Blunt Front Layers
If you are looking for a sleek and polished look, blunt layers are your way to go. These add a distinct structure to your face. This hairstyle suits any occasion. This style is suitable for textured hair and long locks.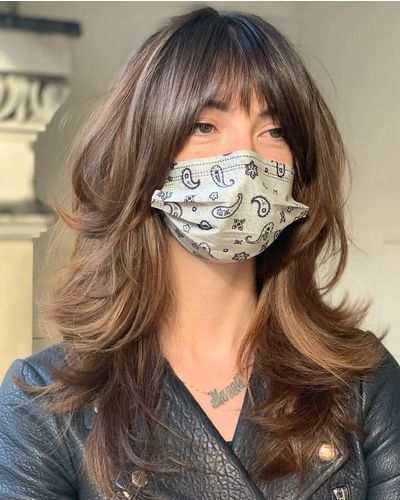 A bit here, a bit there and awesome flipped up layer! Opt for this hairstyle to look like you just returned from a beach walk. Wear that mysterious boho look with confidence. This style suits better on oval shaped faces.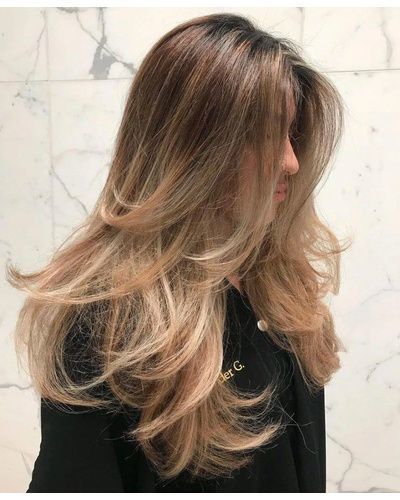 8. Wind Swept Long Layers
Want a wind-swept hairstyle without the bangs? This one's the way to go. Its also a comparatively easier style to carry. All you need is a blow dryer and a round brush!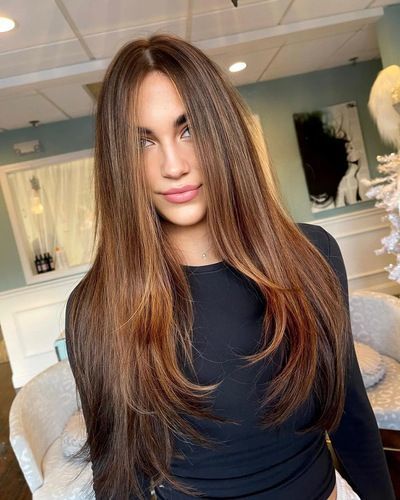 9. Soft Graduated Layers
These can suit you if you wish to make your thick hair look softer. This style creates a seamless flow throughout the lengths. It reduces weight and makes hair look bouncier.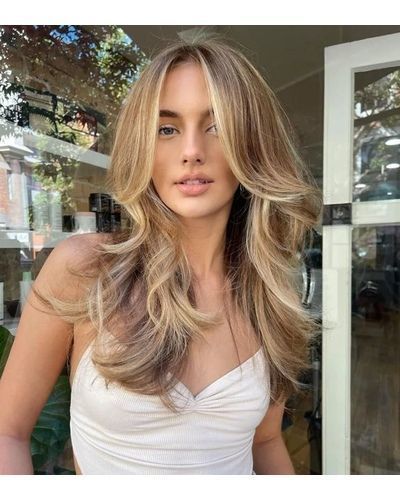 10. Feathered Layers
These are perfect for a romantic and ethereal look. This is perfect to alleviate thick hair. This style will let you transform your look without getting many changes done.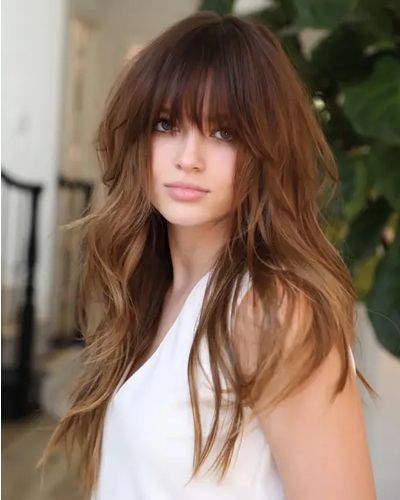 11. Layers and Front Fringes
Layers go great with fringes. This is a low maintenance hairstyle which makes you look fabulous anytime anywhere.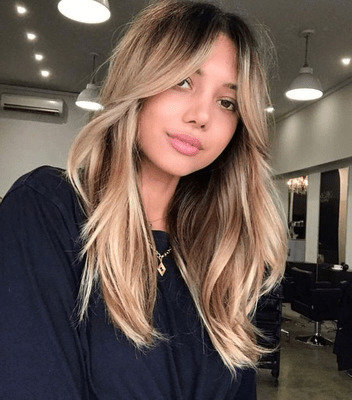 12. Layers and Curtain Bangs
The good old combination that is ever so cherished. This style is bound to flatter anyone out there. Layers and curtain bangs add volume and are easier to handle on longer hair. You can add coloured highlights for this look, or not. You'll rock it anyway!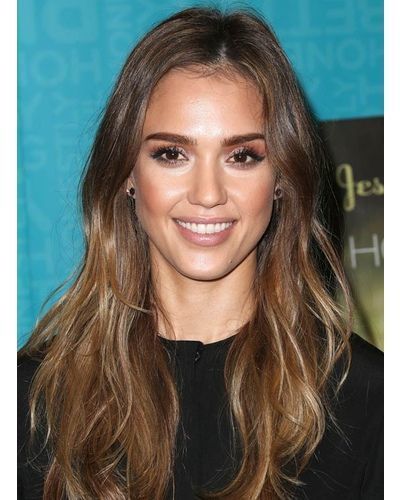 13. Wispy Layers
For a feminine and delicate touch, opt for this style that creates a soft and airy effect. It gives your long hair a graceful and elegant look.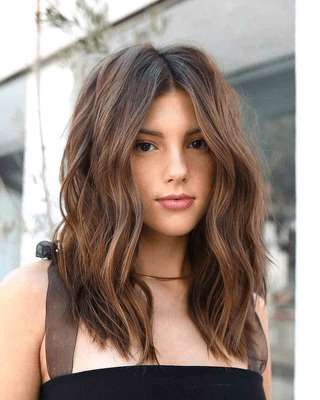 14. Minimal Layers
Choosing layers according to your hair can seem tough sometimes. Going easy on layering can suit all face shapes. Fewer layers give a beautiful look.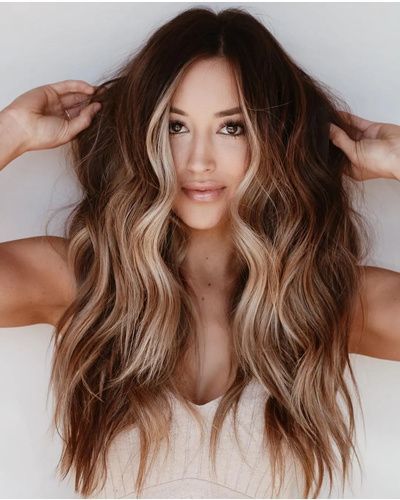 15. Long highlighted layers
If you want to add some bling to your long hair, you can try this style. Add some light highlights to your simple layered hair. This gives you more options to experiment with the style. Go bold and chic!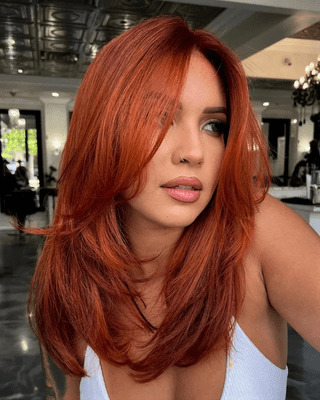 16. Ginger Red Swoopy Layers
This is the perfect hairstyle to make your face look longer. These layers will swoop around your neck downwards. It gives an alluring look. Ginger Red hair colour gives a feminine aura to the style.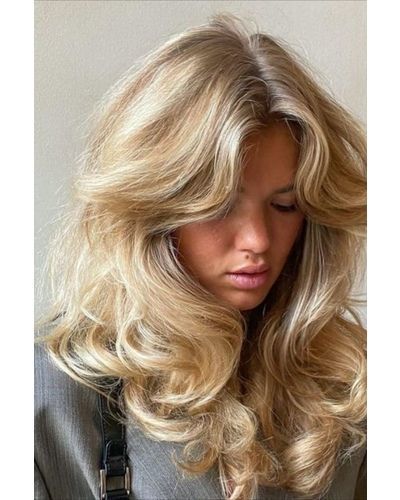 17. Fluffy Layered Blonde
If you're going to experiment, you might as well try this hairstyle. Trying a blonde coloured hair with messy layers teased at the back, gives a soft look to your face and depth to your hair.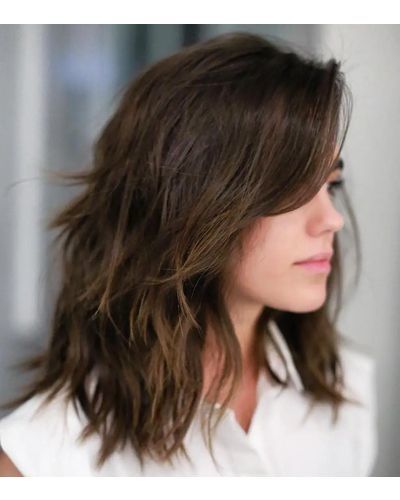 18. Edgy Layers
If you're in the mood to have fun with your hair, these layers can do a good job. Some choppy layers and a messy comb through your hair, and you're ready to go. You can spice the edge up with a two-toned hair colour.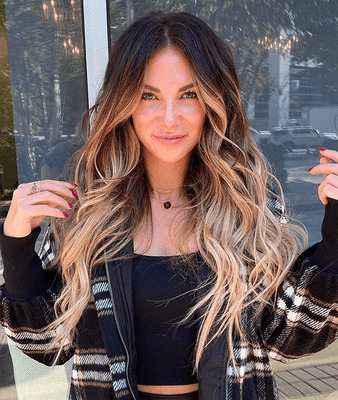 19. Long Layers And Brown Roots
Long layers never fail to give a simple but graceful look. Colouring the roots in darker colours can make a significant change to the entire style.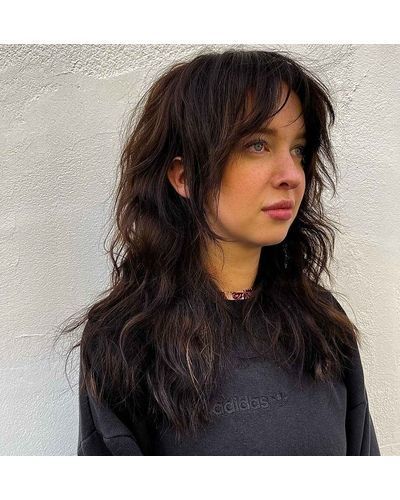 20. Wolf Cut
How can this be complete without mentioning wolf cut hair? There are several ways of styling layered hair, and this is a forever prevalent style. All you need is a wash and go, for this look. Want to look edgy, chic or cool? This two tier shaggy style with feathered ends does the job pretty much. This suits round face shapes and thicker hair.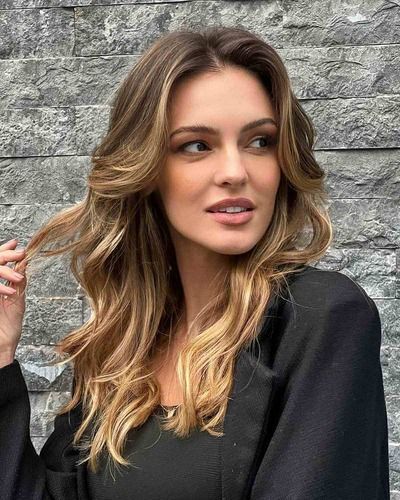 21. Balayage Layers
This looks trendy and easy to style. Accentuates hair and highlights the face. Simple brushed layers create dimension and texture. You can spend your time on the layers to make them look well kept. Either way, it suits all occasions.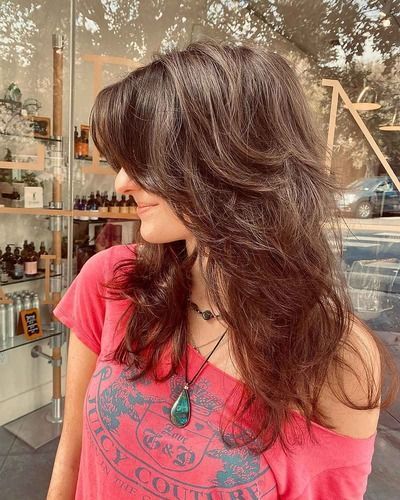 22. Choppy Layers
Worried that your long straight hair looks thin and dull? Well, give it a bounce and texture through choppy layers, without letting go of your length! You can shorter layers in the front to make the look livelier.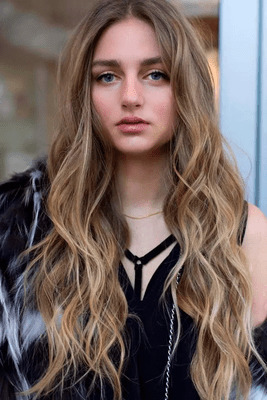 23. Layered Waves
With thick heavy hair, long layered waves with a curtain fringe help lighten up the look. Soft texture enhances layering and adds volume to normally lacking thick hair.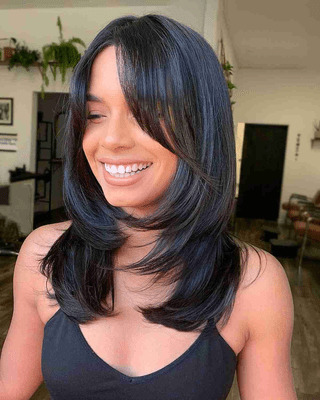 24. Face Framing Layers
Going for simple one-length hair with face-framing layers can make a lot of difference. It works great when it comes to enhancing your features.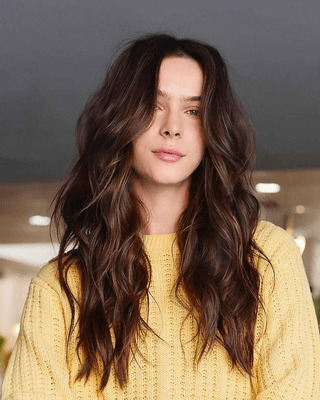 25. Soft Waves and Long Tresses
Keeping your locks long is a good option if you have wavy hair. It adds movement while keeping your hair long. These do not require much maintenance and give a beautiful look effortlessly.

Long hair gives you endless possibilities to experiment and try new styles. Whether you want a romantic vibe or a sleek and edgy, adding layers is a fantastic way to elevate your look. Have fun and embrace your luscious locks !

Read More