25 Iconic Jennifer Aniston's Hairstyles Of All Time
Shalu Bhati
Updated At 29 May 23
Are you looking for some hair inspiration? Then, come look at the best. Relive the best and most iconic Jennifer Aniston hairstyles over the years with us. Maybe you will find your favorite Jennifer Aniston haircut for your next salon visit.
Jennifer Aniston has been a major trendsetter ever since the 90s. She drove the world crazy with the Rachel Green haircut. In fact, everything from her layered hair and beachy waves to short choppy bobs and elegant updos has influenced women all over the globe. And why not? A Jennifer Aniston haircut is perfect. It looks gorgeous and is versatile. The silky smooth finish, perfect highlights, and a flattering cut make for a very alluring choice. No wonder that when you are looking for celebrity hairstyles, Jennifer has influenced hundreds and hundreds of haircuts over the years.
In this article, we have brought for you the 25 most gorgeous Jennifer Aniston hairstyles over the years. Come take a look at the best and most iconic hairstyles Jennifer has flaunted till today. We have covered everything from the Jennifer Aniston bangs to Jennifer Aniston bob hairstyles.
Let's begin!
25 Gorgeous Jennifer Aniston Hairstyles For Inspiration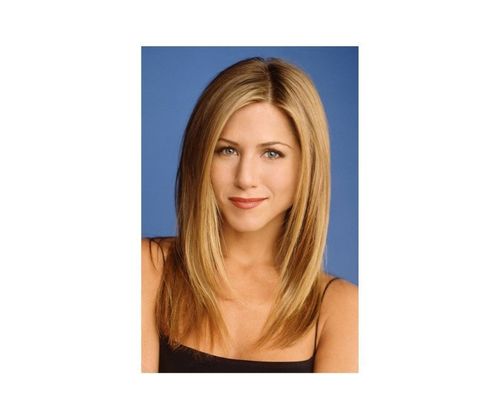 1. The Rachel Green Haircut
This is by far the most popular and iconic Jennifer Aniston haircut. It was during the filming of the 90s sitcom Friends that Jennifer and her hairstyle came out with a short choppy bob with lots of layers. This hairstyle gained immense popularity and was immortalized as "The Rachel" after the actor's character on the show. However, Jennifer has revealed that the world might have gone crazy for it, but she was not a fan of the earlier version of the Rachel Green haircut. However, she liked this grown out version where the choppy layers were longer and straighter. This Jennifer Aniston haircut continues to be a fan favorite. if you are looking for Jennifer Aniston hairstyles in friends for inspiration, then you have got the perfect option.
Check out our guide to find out the best jennifer garner hairstyles which include long waves, straight hair, blonde highlights and many more.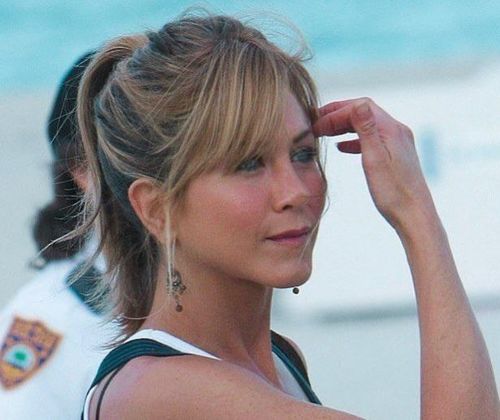 2. Ponytail With Bangs
Jennifer Aniston is like a style chameleon. She likes to change her looks. It could be the demand of her role or personal preference. But no matter what she does to her hair, she looks amazing. Here she looks gorgeous with her layered hair tied in a tousled ponytail with side bangs. This is one of those Jennifer Aniston hairstyles that exude the girl next door charm. If you are looking to find out jennifer aniston with bangs, then you have got one!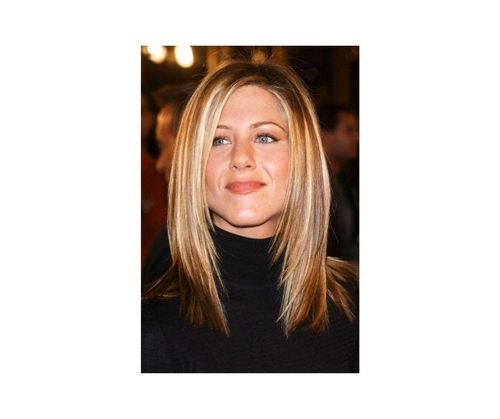 3. Straight And Sleek
This gorgeous Jennifer Aniston haircut comes from the archives of 2001 when the Rachel Green haircut got a much-needed update. Jennifer had grown out her bob into this beautiful long layered hairstyle. The face-framing layers suit Jen well. This Jennifer Aniston new haircut was sleek and came with chunky highlights that were a huge trend back in the 2000s.
Check out our guide to find the best Kristin Cavallari hairstyles which include 31+ stunning haircuts like her signature hairstyle, fishtail braid, bob cut and many more.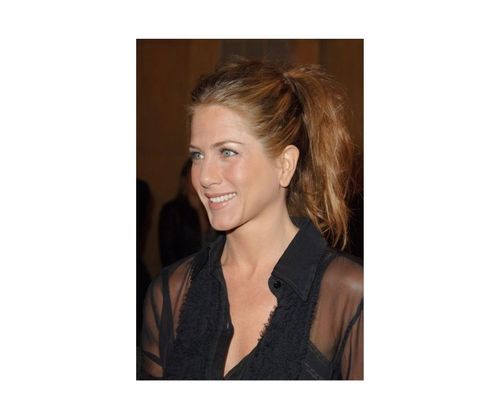 4. Tousled Ponytail
Jennifer Aniston is often seen with open hair. And when she decides to tie them up, she nails those looks as well. Here she was seen in a high ponytail that is tousled yet matte. It keeps all the hair away from her face and is laid back making it a perfect companion to her attire.
If you are looking for hair inspiration do make sure to check out Angelina Jolie Hairstyles as we list her most popular haircuts which include her layered hairstyles, curls, straight hair and many more!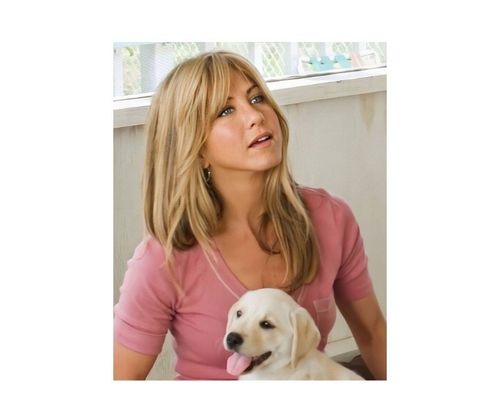 5. Jennifer Aniston Curtain Bangs
Jennifer is always way ahead of the trends. This Jennifer Aniston haircut proves just that. Curtain bangs might have gotten the widespread attention of the world recently but Jennifer was in on this trend many years before. Curtain bangs are a timeless classic French hairstyle. It is a perfect idea for those who want bangs but not in the traditional full front sense.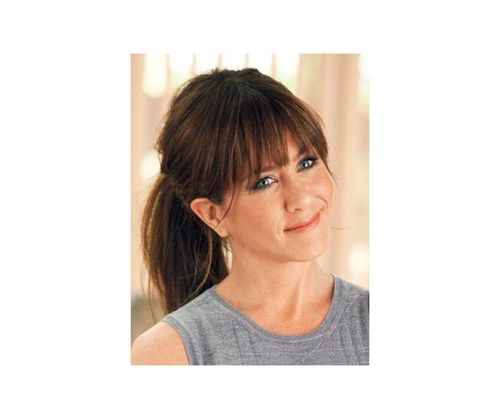 6. Jennifer Aniston Bangs
This Jennifer Aniston haircut is taken out from the 2011 dark comedy, Horrible Bosses. She looks good in everything and she showed this again when she sported a darker hair color along with a new haircut. She tur ned a brunette and had choppy full frontal bangs that merged seamlessly with the rest of her hair. With a ponytail, this Jennifer Aniston bangs hairstyle made even more sense.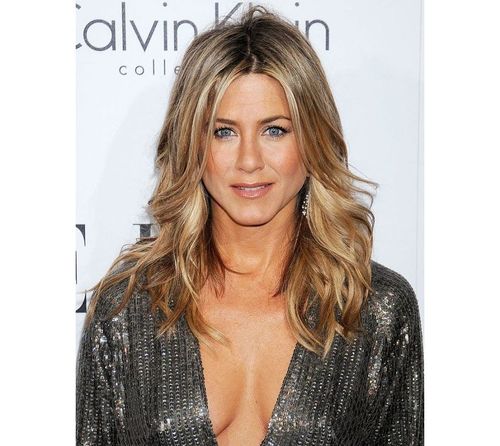 7. Jennifer Aniston Wavy Hair With Layers
Out of all the Jennifer Aniston hairstyles, this wavy avatar deserves a special mention. Here she has a layered wavy haircut. It is a combination of medium and long layers that are added with waves to bring in some style and shape. The highlight helps to add movement to the Jennifer Aniston wavy hair.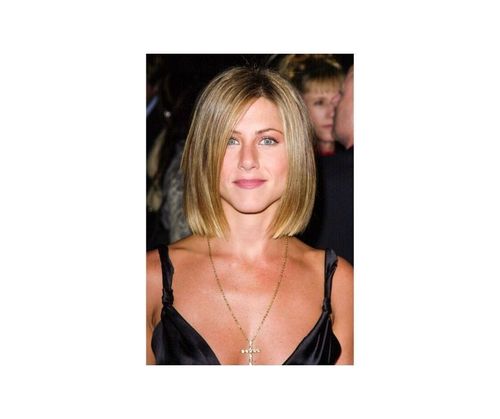 8. Rachel Green Short Hair
During the filming of the hit 90s sitcom, Friends, the famous Rachel Green haircut was not the only popular style Jennifer flaunted. Over the seasons she had many different hairstyles and this particular Jennifer Aniston haircut catches everyone's eye. This is because here we see yet another version of the Rachel Green short hair. This Jennifer Aniston bob haircut is still relevant today. It is short, straight, and sleek. It is a blunt bob beauty that is adored by many even today.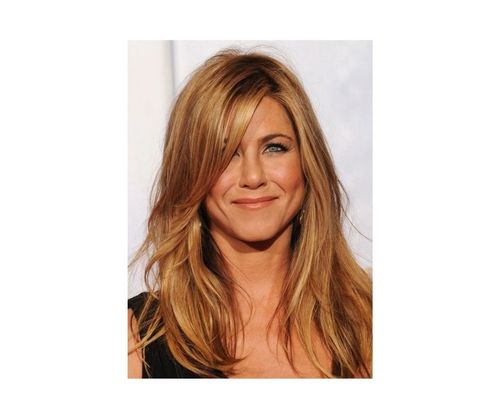 9. Signature Jennifer Aniston Haircut
Here is Jennifer flaunting a hair length that has been recognized as being the signature over the years. She likes to keep a similar hairstyle and that's what she did here. She kept the length and the layers but transitioned from blonde to light brown lowlights. This adds definition and movement to her whole haircut. The tapered ends add to the beauty.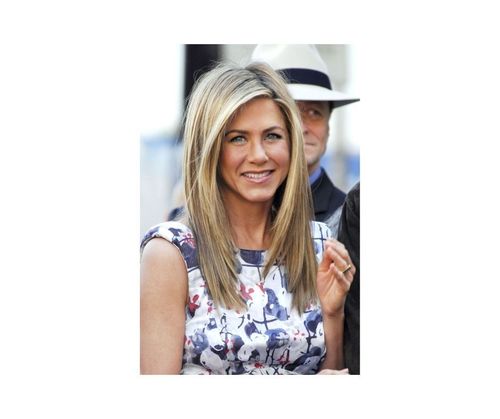 10. Straight And Blonde
This Jennifer Aniston haircut features layers that are worn straight. As we know her to be, Jennifer likes to change things in the hair department. She knows what suits her she sticks to it while also incorporating small changes. For instance, here she might have kept the layers and the straight texture but she changed the color. From warm tones of blonde and brown, she decided to go for cool blonde highlights.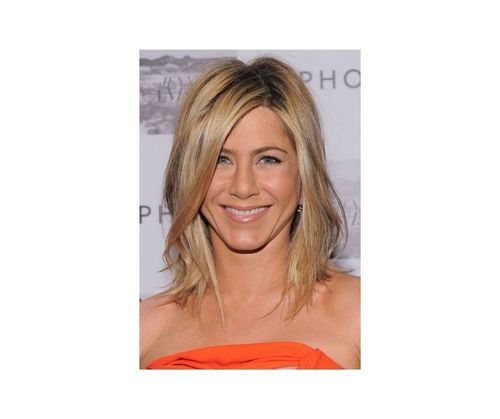 11. Jennifer Aniston With Short Hair
Jennifer Aniston with short hair is not such a rarity even though the actress prefers a particular length of hair. She prefers to lose the length once in a while and the result comes out as a fresh, youthful, and gorgeous Jennifer Aniston haircut. Here she not only gave up the length but also went lighter concerning the color. This is one of the best Jennifer Aniston short hairstyles from 2011.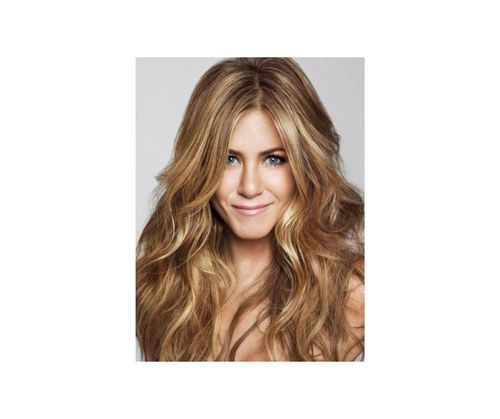 12. Jennifer Aniston Wavy Hair With Texture
This Jennifer Aniston wavy hair style is like a breath of fresh air considering how the actress is often seen in either poker-straight hair or light waves. Here is when she came up with a rendition of beachy waves for a photoshoot.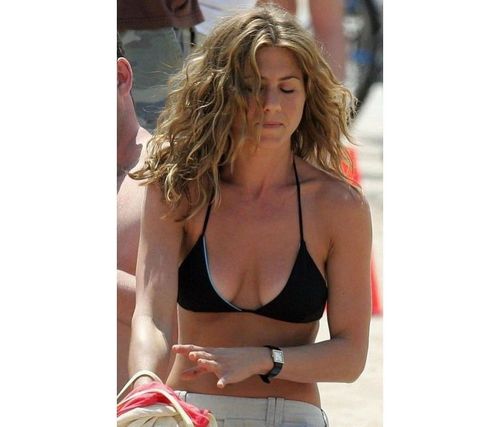 13. Jennifer Aniston Beach Hair
We talked about her beachy waves like texture but here is the original. This is Jennifer Aniston wavy hair in all its beachy glory. It is the natural texture that does it for us.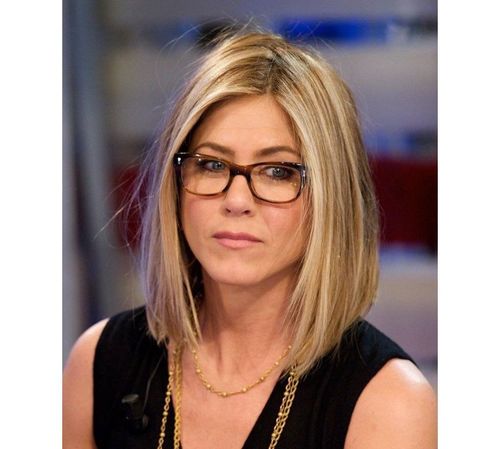 14. Jennifer Aniston Bob Haircut
This is one of the best Jennifer Aniston bob hairstyles. Jennifer looks gorgeous in whatever style she chooses. If that is not a superpower, then what is? This Jennifer Aniston haircut is trendy and stylish. She has gone the blunt bob route before in the early 2000s. This is the modern rendition that suits her face well. This Jennifer Aniston bob cut has man takers all over the world.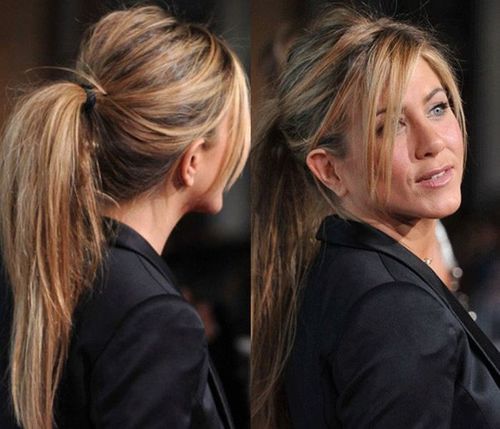 15. Ponytail With Bangs
You can do a ponytail or you can do a Jennifer Aniston ponytail. This is one of her best hairstyles and we are here for it. A tousled ponytail adds so much more drama than a regular one. And Jennifer knows it too. The loosely done hair in the front adds a natural and laidback yet stylish vibe. The symmetrical, straight, and layered bangs complete the look. This is a smooth and polished style that Jennifer loves.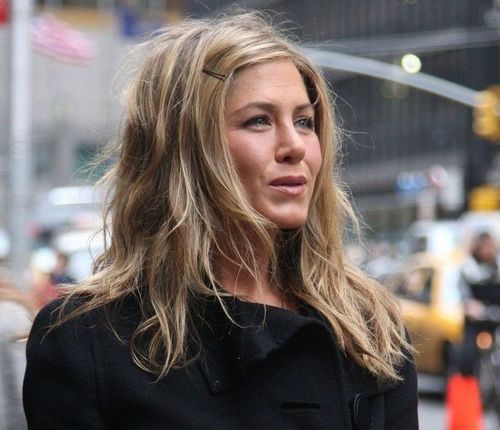 16. Tousled And Textured
Here is a mix of polished and messy texture in a hairstyle. The added texture gives movement to the layered Jennifer Aniston haircut. While the texture is grabbing all the attention, it is the pintuck that balances the look. The messy and tousled texture is still quite balanced and can be achieved easily with a salt spray and air drying.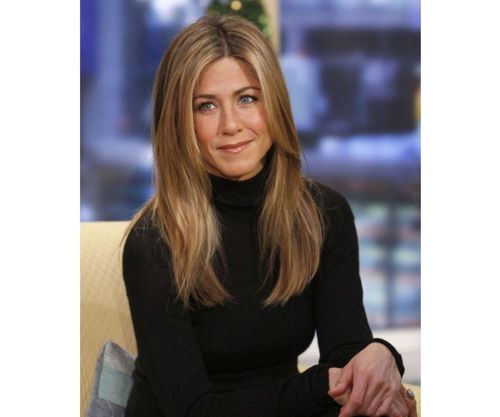 17. The Jennifer Aniston Haircut
Well, yes, this is truly the Jennifer Aniston haircut. We have seen her play around this very same length and cut over the years. She might change the color, get more layers or have fun with the texture or the parting. But, this is it. The original look that she loves and so does everyone else.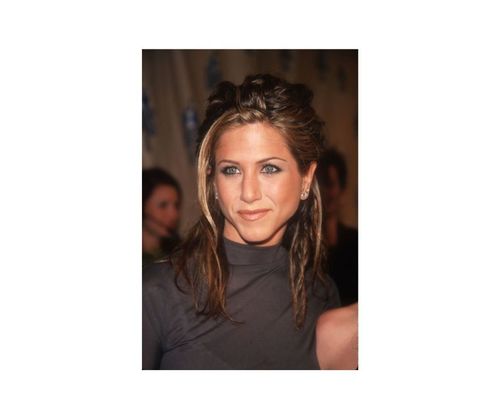 18. Half Up Hairstyle
This is a half up Jennifer Aniston updo. Her smooth and shiny hair is taken from the front and pinned behind. This look is clean yet it isn't. The hair is pinned in no systematic fashion. You can see the strands that were taken one by one and pinned behind. And this rough yet polished look is something that Jennifer flaunted in her Rachel Green 90s era.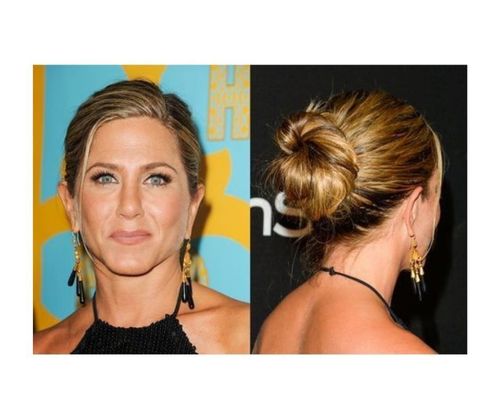 19. Jennifer Aniston Updo
Donut bun is an all-time favorite of many celebrities and a go-to option for red carpet events. This simply done Jennifer Aniston hairstyle grabbed all the attention without being fussy. It showed off her toned shoulders and gave her a chance to give some show time to her earrings.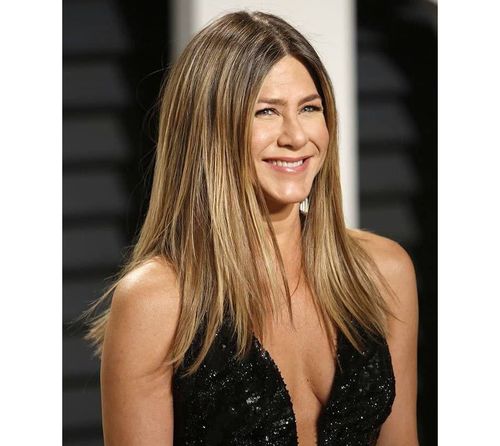 20. Straight, Sleek And Long
Nothing can go wrong with this straight and sleek Jennifer Aniston haircut. It is versatile and Jennifer can carry it amazingly. Did we mention how almost every style suits her? The poker straight hair parted in the middle also shows off her layered cut and seamlessly blending highlights.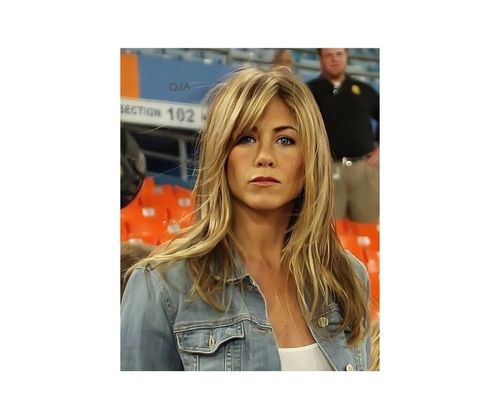 21. Blonde And Wavy
This is one of those Jennifer Aniston hairstyles that were truly something new. Warm blonde with brown highlights add definition whereas the tapered ends bring out the true shape of the Jennifer Aniston haircut. The side bangs also add to the allure.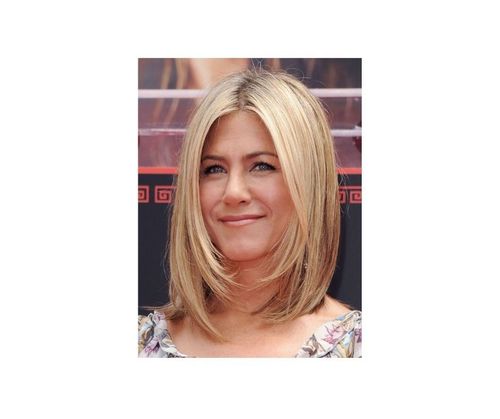 22. Jennifer Aniston Bob Cut
Once again we have Jennifer Aniston with short hair. This Jennifer Aniston haircut comes with face-framing layers that bend inwards, a style often seen with long hair but it also works for a long bob like this. She went lighter in the color category with brown highlights to add definition.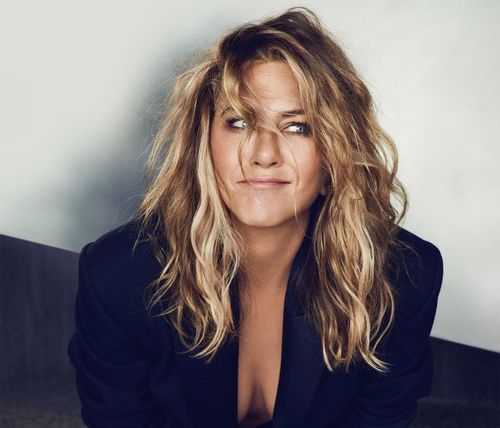 23. Jennifer Aniston Beachy Waves
Again with the beachy waves. This Jennifer Aniston haircut and texture is proof that the actress knows how to play the hair game and win it. She has over the years flaunted many variations of the same texture. Her favorite, it seems, are the beachy waves and we just can't get enough of it. Her layered haircut when mixed with a controlled wavy texture adds more movement to the haircut. Her hair color is perfect as always giving the sun-kissed look.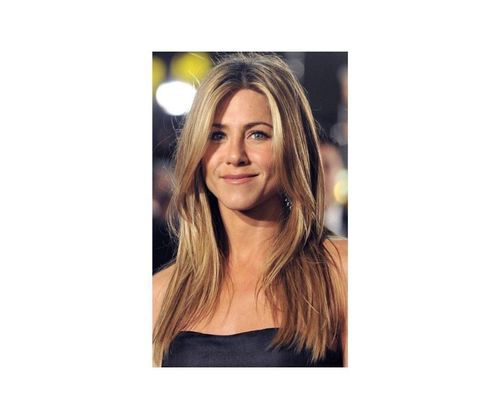 24. The Signature Jennifer Aniston Haircut
Now, this is one of the best haircuts that Jennifer Aniston has had. She knows what works best for her hair texture and the shape of her face and she sticks to it. She has thick hair which she carries with light layers. There are more defined and shorter face-framing layers that draw attention to her beautiful features. Even the color of this hairstyle is oh so perfect. This is similar to the Jennifer Aniston French maid hairstyle that she had while she did a guest appearance on the popular US sitcom, 30 Rock.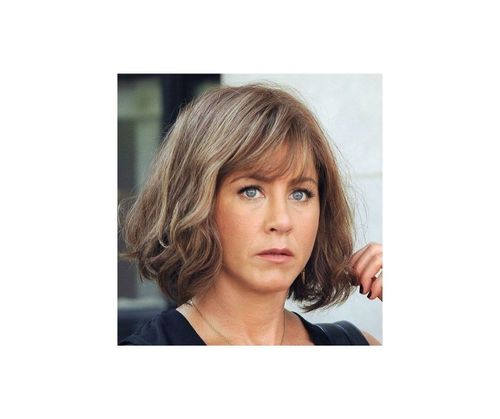 25. Jennifer Aniston Brunette Bob
Every time Jennifer goes short, her fans are left to wonder if she has really taken the plunge or is it a wig. That was the same case here. But as it turns out, this beautiful brunette wavy bob was actually a wig. It was for her movie, Squirrels to the Nuts. She flaunted this beautiful long bob for a while and it was lovely. But let's just say it. We love the signature Jennifer Aniston haircut more than anything else.