25 Stunning Kristen Stewart Hairstyles And Hair Colours
Smriti Ahuja
Updated At 14 Mar 23
Looking out for the best Kristen Stewart hairstyles?
Since she played Bella in the Twilight franchise, Kristen Stewart has been winning viewers hearts—not just for her acting skills but also for her penchant for changing her hair colour. We have seen Stewart's hair in a variety of lengths and hues for more than ten years, as well as the wildly creative ways she has styled each new look with both edge and ease. With instructions on how to recreate them, a celebrity hairstylist and colourist discuss some of her most notable looks below. Let us have a look at 25 stunning Kristen Stewart hairstyles.
25 Best Kristen Stewart Hairstyles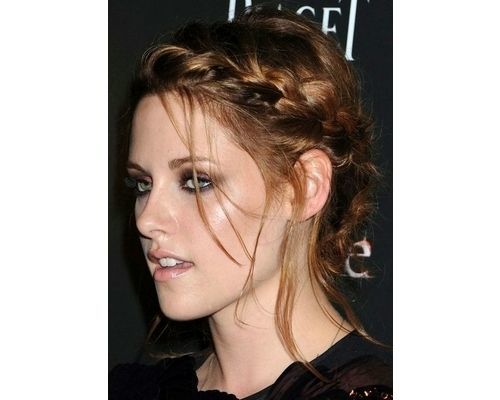 1. Braided Bun Hairstyle
one of the best celebrity hairstyles, Kristen Stewart is seen here with a braided bun that exudes effortless romance.
To achieve the same appearance:
Add a centre section. French braid both sides of your centre part, changing to a standard three-strand braid once you reach the area immediately above the ears, and fasten each braid with a transparent elastic.
Optional: For volume, back-comb the crown area. To hold the braid in place so that it forms a half-up halo, use hairpins or bobby pins. Braid the braided ends and the rest of your hair into a low bun in a haphazard manner. To secure, use a pin or knot. Carefully remove a few strands off the face by rubbing them out with your fingers. In general, the area around the hairline and the front and rear of the ears is excellent.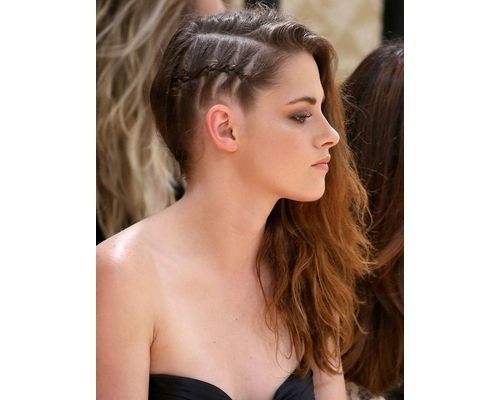 2. Side Parted Braids Hairstyle
A fantastic way to give your hair some casual volume and movement is to overdirect it to one side. We suggest using your tail comb to get those incredibly clean sections and a nice gel like Gorilla Snot to assist hold the braided hair together for a sharp finish when making a couple of similar braids for an edgy twist.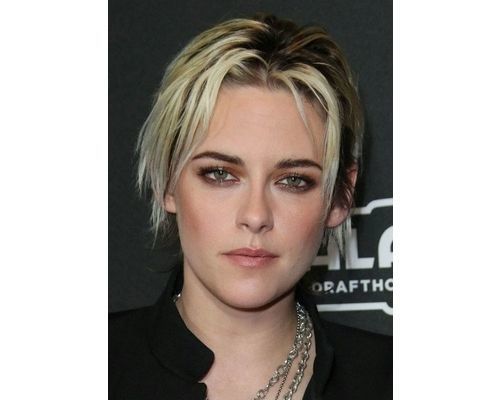 3. Retro Bangs Hairstyle
We adore how Stewart's Met Gala hair made a big impact and how easy it is to recreate this vintage pin-up-inspired bang shape.
Choose a tiny hair donut that matches the colour of your hair, then cut it to the size and shape you want. Using a dryer, round brush, and/or 1.25" curling iron, give your hair some bend in the front and middle of your hairline.
Starting at a 45-degree angle (near your ponytail), gently wrap your hair around the hair shaper and roll it down and forward towards your face like you would a roller. Strong grip hairspray is applied after small matte bobby pins are used to secure from the rear of the roll.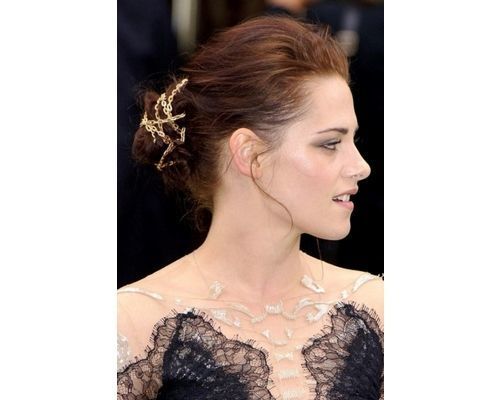 4. Chained Hairstyle
Any traditional chignon or chain may be enhanced to perfection by adding a hair chain barrette or your favourite chain links to a bobby pin. This would give a completely unique and new hairstyle look for standing out amongst the crowd.
Also check out Kim Kardashian hairstyles as she gives us ample inspiration for bangs, buns, straight hair and all the new hairstyles.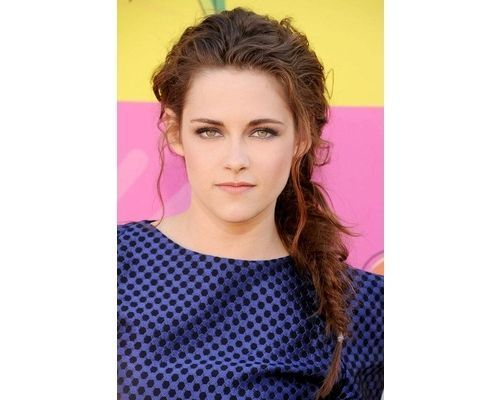 5. French Braided Fauxhawk Hairstyle
Although a French braid could be appropriate for this equestrian collar, Kristen Stewart always manages to spice things up. On and off the track, this French-braided fauxhawk is a favourite Kristen Stewart new haircut.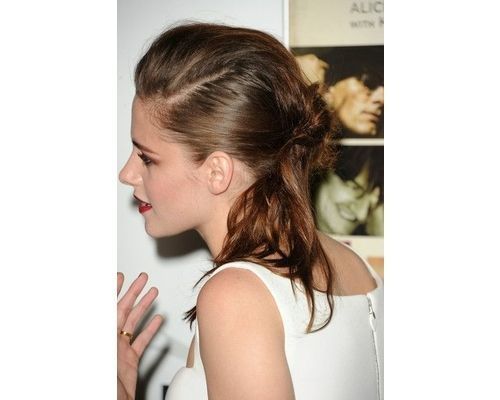 6. Tight Twist Ponytail Hairstyle
A multi-tiered ponytail will have a tight, clean finish with added control and a frizz-free shine if a mild hair oil or styling cream is applied at the roots. This neat and clean look as seen on Kristen Stewart can give a chique new look to your hair.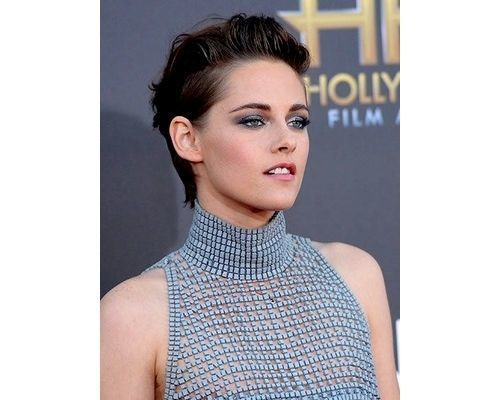 7. Brushed Back Hairstyle
Kristen Stewart looks stunning with her hair styled in a brushed-back style.
For a similar appearance:
Use a lot of mousse to prep damp hair, then blow-dry the mousse into the hair. Using your brush, dry the sides back smoothly close to the ears while adding volume to the top with a round brush. Tease your upper portions to add more volume. Apply flexible hairspray all over. To keep the style in place after smoothing your portions, spray them with a powerful hairspray.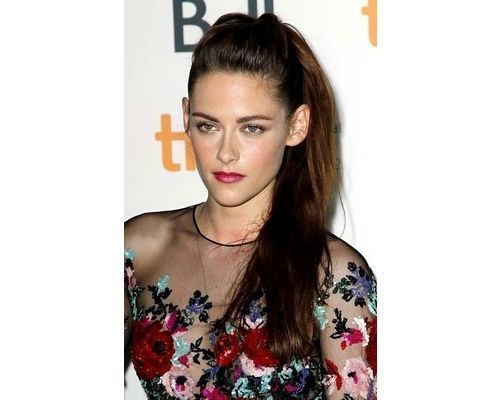 8. Side Ponytail
A great profile hairdo is a side pony. Kristen's mid-height ponytail is given some exquisite twists that let all of the hair to fall to one side, producing a highly contemporary, ultra-chic take on the traditional hairstyle. Similar to Kristen Stewart, one of the most popular Demi Lovato hairstyle has also been her long straight black haircut which she has showcased multiple times.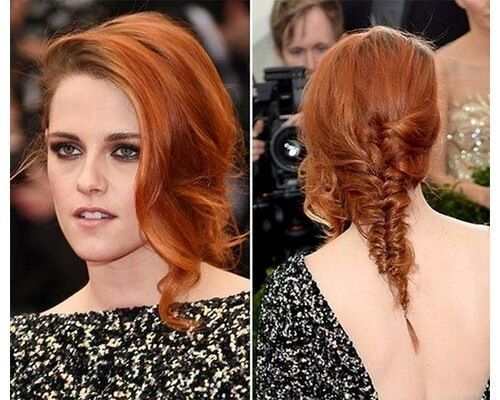 9. Fishtail Hairstyle
For individuals with layered strands that wish to stand out, adding a few wefts of hair extensions can definitely fill out your best fishtails and can help give it a robust form. The secret to creating a fishtail this exquisitely detailed is to gradually pull the braid once it is finished by taking little parts all the way down just like this look on Kristen Stewart.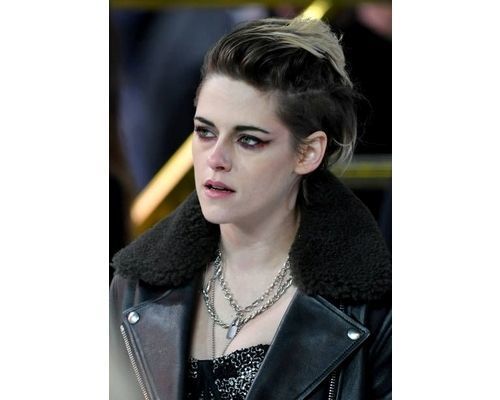 10. Updo Hairstyle
Kristen Stewart has successfully pulled off a simple yet thoughtful updo on even the shortest strands on numerous red carpet occasions. Here's how you may achieve a look similar to that:
The bottom part of your hair should be cornrowed, and it should be braided as close to the scalp as you can. By gently tucking the ends up and in and anchoring them at the nape with crisscrossed pins that go with your outfit, you may place the top half of your groomed strands over those braids.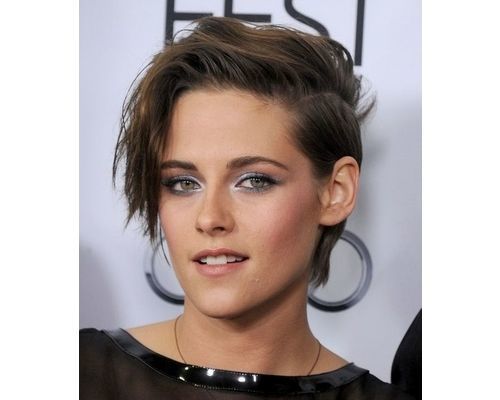 11. Short Bob Hairstyle
Among the many Kristen Stewart short hairstyles, she looks great with a shorter bob. Her cut does not look brutal but rather delicate because of the wispy ends. A similar look can be tried by people with short hair.
If you are looking for more inspiration for short hair, do check out the best Jennifer Lawrence hairstyles as our guide covers 25 of her all time best hairstyles. These stunning haircuts include bangs, short haircuts, wavy and layered haircuts, highlights, inverted bob, messy hair and her most popular short haircuts.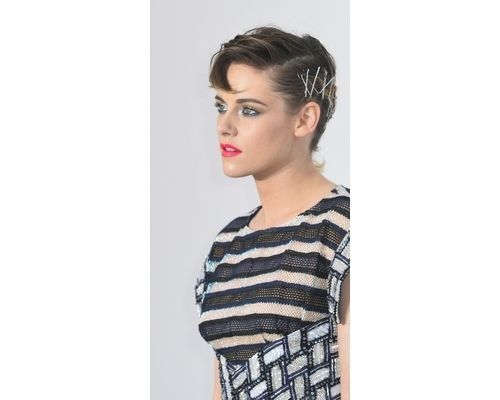 12. Crisscross Hairstyle
The trend of crisscrossing our bobby pins undoubtedly had its moment in the spotlight, and it's safe to say that Stewart wore it at every length in her own distinctive way. This is one of our favourite Kristen Stewart hairstyles.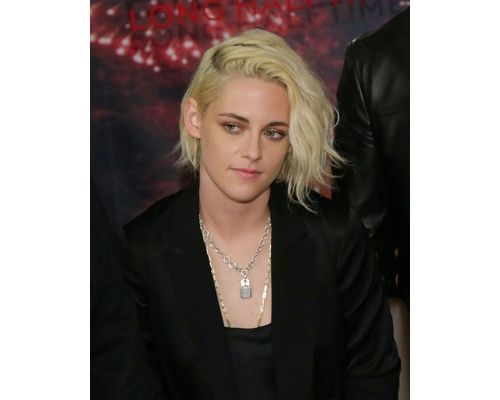 13. Shaggy Pixie Hairstyle
Kristen Stewart has a shaggy pixie hairstyle with platinum blonde tips and a black shadow root in the Charlie's Angels trailer. Although she has been wearing the cut and colour for a while now in real life, seeing it on film has really made people feel inspired with the look. This Kristen Stewart haircut in Charlie's Angels is one that should definitely be tried when aiming for a new look altogether.
If you are looking for more hairstyles for inspiration, do check out our guide as we list the most popular Emma Watson hairstyles of all time. From layered hair, topknots, buns, straight hair to updos, we list all the popular ones.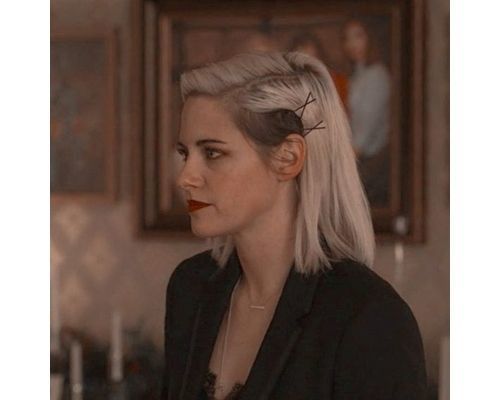 14. Grungy Waves Hairstyle
Looking for a little something unexpected? Try this 90s-inspired Kristen Stewart Happiest Season Hairstyle, which includes dark bobby pins to hold the pulled-up side in place. Starting with little portions of the hair braided over the top of the head (the more braids you do, the tighter the waves will seem), use a flat iron to smooth out each braid to achieve crimpy waves on straight hair. Don't brush them; instead, gently loosen each one, and then use hairspray to hold the waves in place.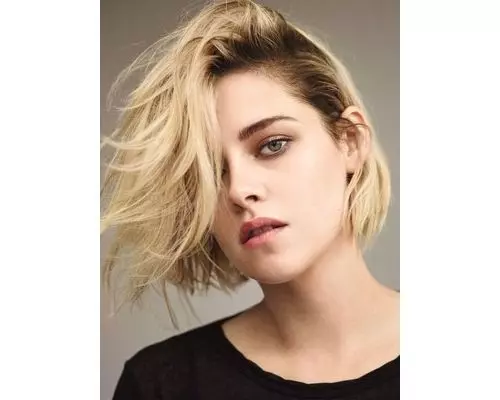 15. Short Hairstyle
Among the many Kristen Stewart short haircuts, she manages awkward hair growth phases with ease. Her bangs' piecey, unfinished appearance here contributes to the rock-and-roll atmosphere she frequently exudes.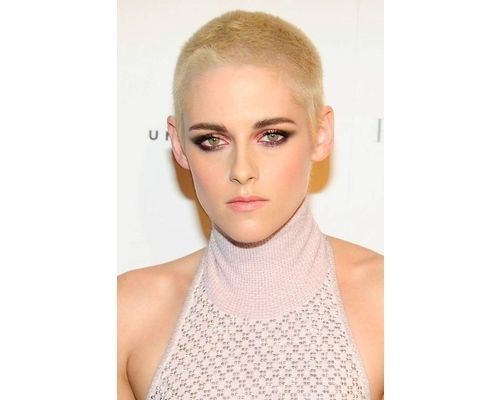 16. Bleached Buzz Hairstyle
There may be some apprehension when it comes to bleaching buzz cuts or any short length that is close to the scalp, but it is safe to bleach buzzed hair as long as the lightener is approved for both on and off scalp use. This Kristen Stewart short haircut can be a bold and daring look to try.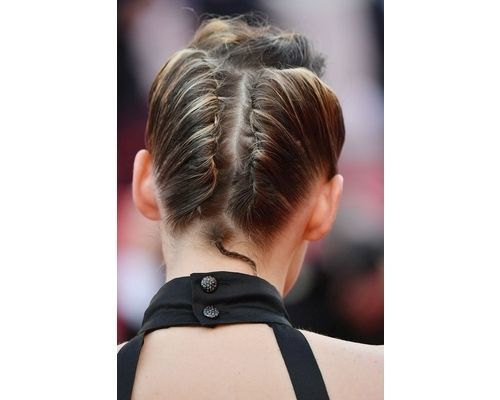 17. Double French Twist Hairstyle
A double French twist gives a traditional look a fun and modern twist.
To achieve this Kristen Stewart hairstyle:
Divide the hair into three portions, noting the top mohawk section and two sides. Tease your hair vertically starting from either side and working your way backward. Use a flexible hairspray to give portions of your hair a bit extra hold. Use a flat brush to smooth your side sections back while folding the hair under and securing with hair pins.
If you are looking for more hairstyles for inspiration, do check out our guide to find out all the popular Farrah Fawcett hairstyles which include her signature feathered haircut, straight hair, highlights and many more.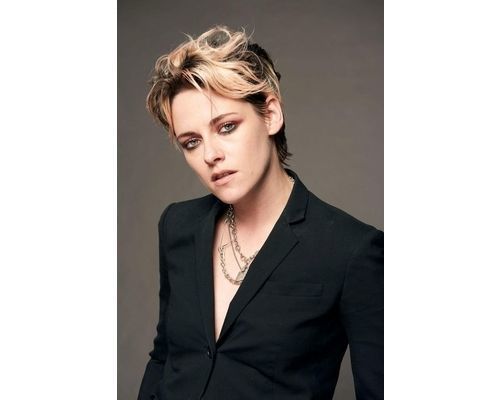 18. Downward Spike Hairstyle
On shorter strands with long layered ends, this unusual downward spike is simple to achieve. Depending on your hair type, using a mixture of oil and/or gel will give you clean sections and a sleek finish just like this Kristen Stewart hairstyle.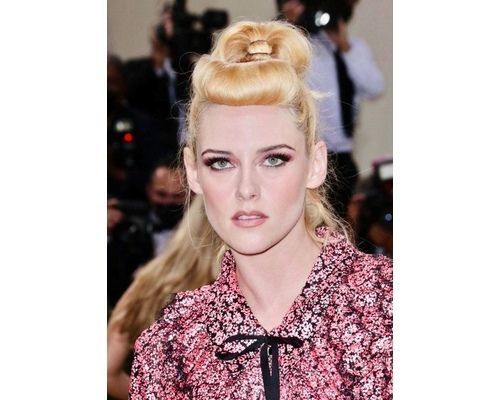 19. Butterscotch Blonde Hairstyle
One of Kristen Stewart's most coveted hair colours to date, this beautiful butterscotch blonde practically makes us want to get this same hairstyle on our next visit to the salon.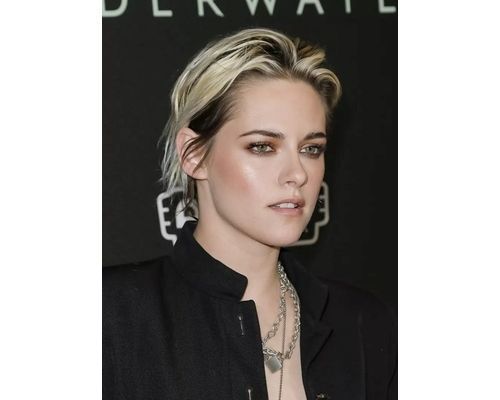 20. Wavy Perimeter Hairstyle
This wavy perimeter is another unique Kristen Stewart hairstyle. If you have a fringe, curl it separately before blending and securing it into the rest of your curled ends with your brush and hairspray.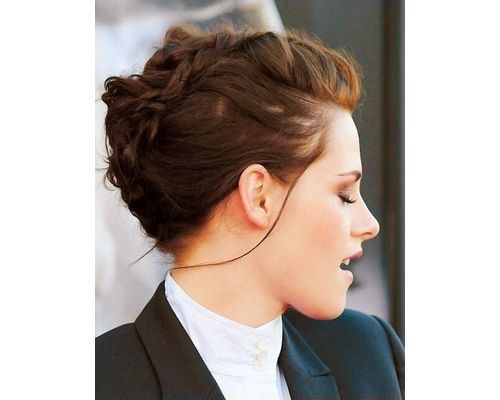 21. Braided Mohawk Hairstyle
Just like this Kristen Stewart hairstyle, part your mohawk portion just above the arch of your brows, following the contour of your head to bring perfect balance and lovely lines to your style. This will give you a braided mohawk that looks comparable. Your braid will spring up from the scalp like a cornrow if you braid your hair under rather than over.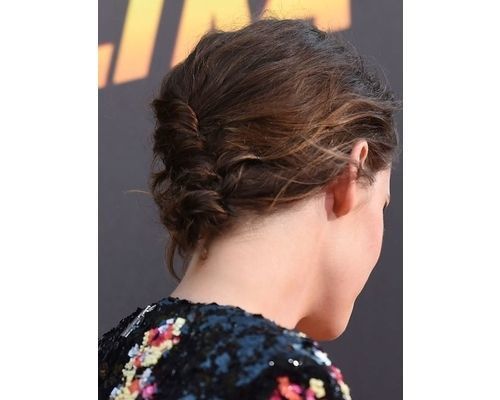 22. Tiny Twists Hairstyle
French twisting just like seen here on Kristen Stewart can be achieved even with people with shorter lengths. For optimal results, pin each part tightly together as you work your way down towards the neck.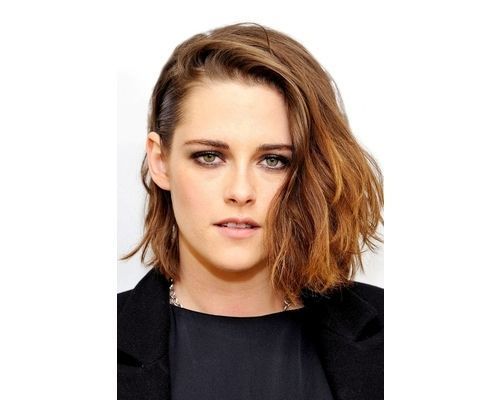 23. Side Waves Hairstyle
If, like this Kristen Stewart hairstyle you enjoy a good side hair flip, be sure to switch up the direction of your waves or curls for a more worn-in appearance. This adds more volume to the hair making them look more bouncy.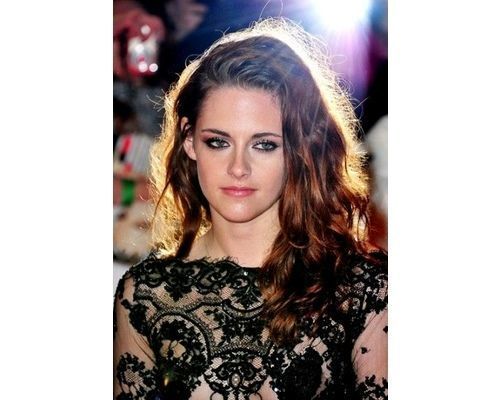 24. Curls Hairstyle
In this Kristen Stewart hairstyle, she wears strands that are curled over and pointed in one direction, even while wearing lengthier lengths. Curls are an all-time favourite hairdo, which anyone can totally rock.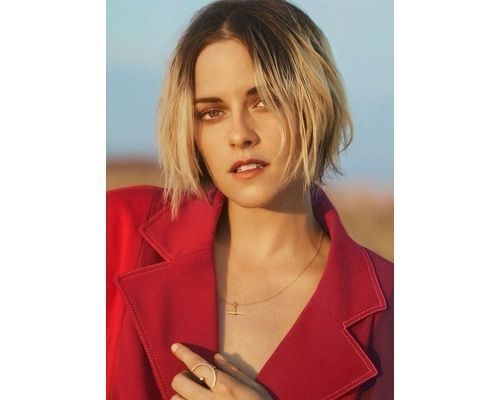 25. New Edgy Haircut
Kristen Stewart's new haircut featured a classic mullet style, the front of her hair featured choppy layers that burst out into tiny spikes, while the neckline of her hair was framed by lengthier strands.