55 Stunning Kim Kardashian Hairstyles And Haircuts
Olivia
Updated At 18 Sep 23
Kim Kardashian is a household name and a bonafide style icon. From her iconic curve-hugging dresses to her statement-making hairstyles, she has consistently captured the attention of the fashion world and beyond. When it comes to her hair, Kim Kardashian has had quite a few memorable looks over the years. From long and sleek to short and edgy, she has proven that she can rock any style with confidence.
In this blog post, we'll be taking a closer look at some of Kim Kardashian's best hairstyles. From her signature sleek ponytail to her bold platinum blonde bob, these are the looks that have helped to cement her status as a fashion and beauty trailblazer. Whether you're a fan of Kim Kardashian or just looking for some new hairstyle inspiration, be sure to keep reading! She indeed gives a lot of inspiration for various celebrity hairstyles. Lets begin!
55 Best Kim Kardashian Hairstyles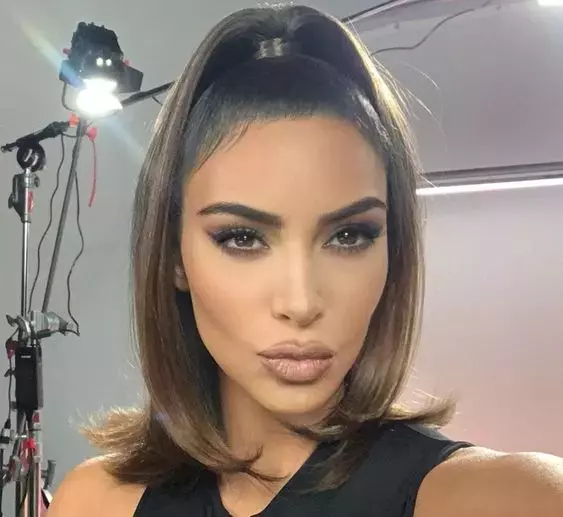 1. Half Up Half Down
First on our list of best Kim Kardashian hairstyles is this half-half-down number. This look involves pulling the top half of the hair back and securing it with bobby pins or a hair tie while leaving the bottom half loose. Kim's hairstylist also wrapped a thin section of her hair over the hair tie and curled the ends of her hair slightly.
Do check out Kendall Jenner hairstyles as these are extremely popular as well. Similar to Kim Kardashian, Kendall Jenner is a true fashionista and has a hige following. We cover all her popular hairstyles like bob cut, straight hair, messy hair, layered haircuts and many more.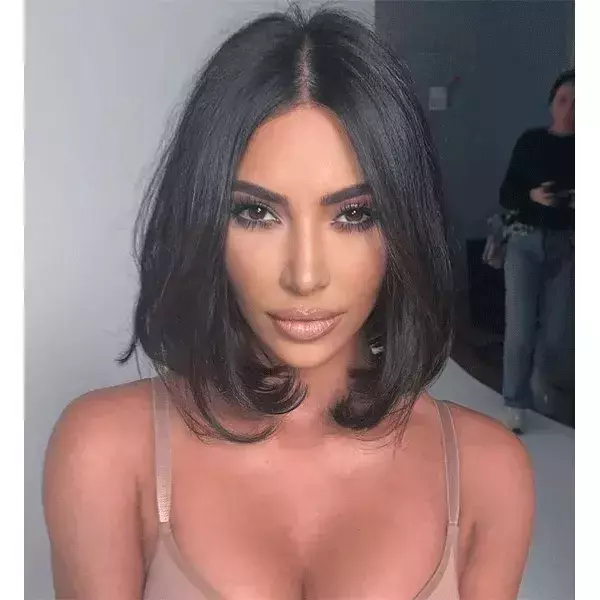 2. Kim Kardashian Bob Cut
One of the most iconic celebrity hairstyles is the Kim Kardashian bob haircut. Kim slightly curled in the ends of her sleek bob to give some volume and flair. The bob is a popular choice for women looking for a low-maintenance haircut that is easy to style and can be worn in various settings.
Similar to Kim Kardashian, do check out the most popular Jennifer Aniston haircut which she used regularly in the popular show -"Friends". This rachel green haircut is still popular and liked by many.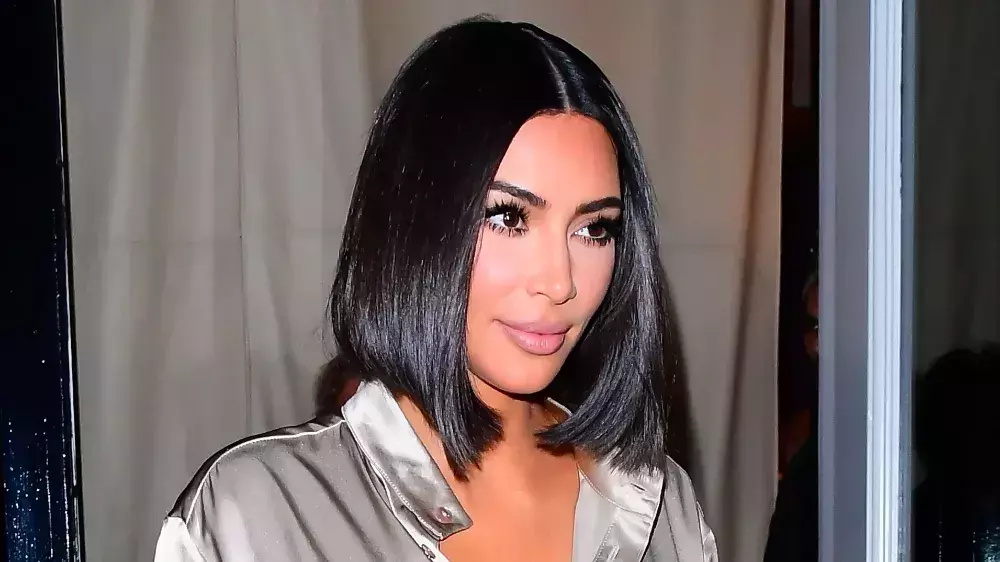 3. Angled Bob
This Kim Kardashian haircut is different from her regular bob.  This Kim Kardashian bob haircut features a sloping, asymmetrical shape. The hair is cut shorter in the back and gradually gets longer towards the front, creating a diagonal line. This gives the bob a dynamic and modern look and can help to add interest and dimension to the hairstyle.
Also check out the most popular Heidi Klum hairstyles which include all the popular ones like waves, straight hairstyles, side swept bangs, long layered hairstyles, highlights and many more.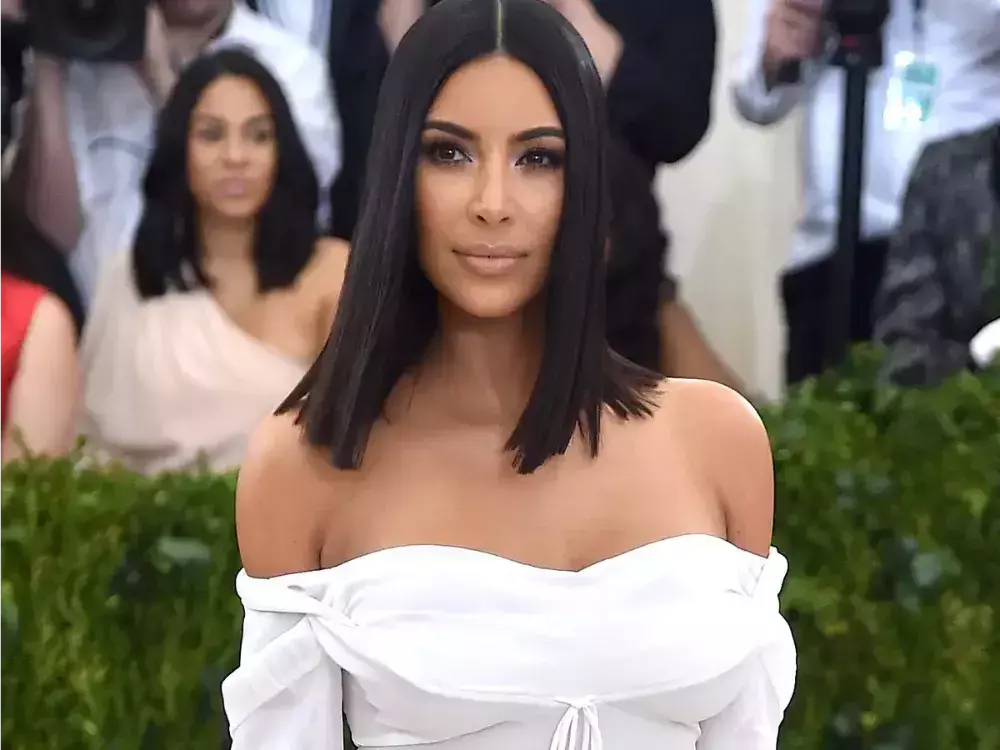 4. Sleek Lob
Next on our list of Kim Kardashian hairstyles is the sleek lob. Also known as a long bob, this type of haircut falls just above the shoulders and features straight, smooth lines. To achieve a sleek look, the hair is typically blow-dried or flat-ironed, and a smoothing serum or hair oil can be used to tame flyaways and add shine.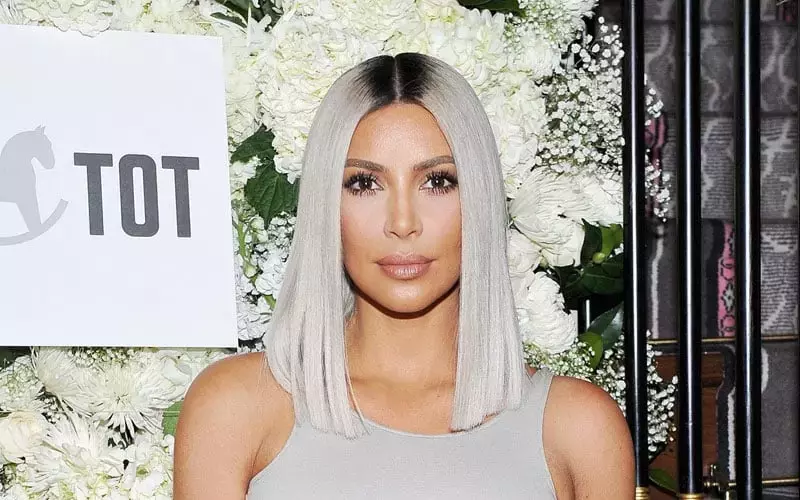 5. Platinum Blonde Lob
To achieve this Kim Kardashian hair colour, the hair needs to be lightened to a very pale blonde shade using bleach and toner. Use a good colour-protecting shampoo to maintain the colour, and nourishing masks as bleach can damage hair.
Check out Kylie Jenner hairstyles as we list her top 25 trending haircuts for the year which include lob, bobs, fringes, layered haircuts, updos, straight hair, curls and many more.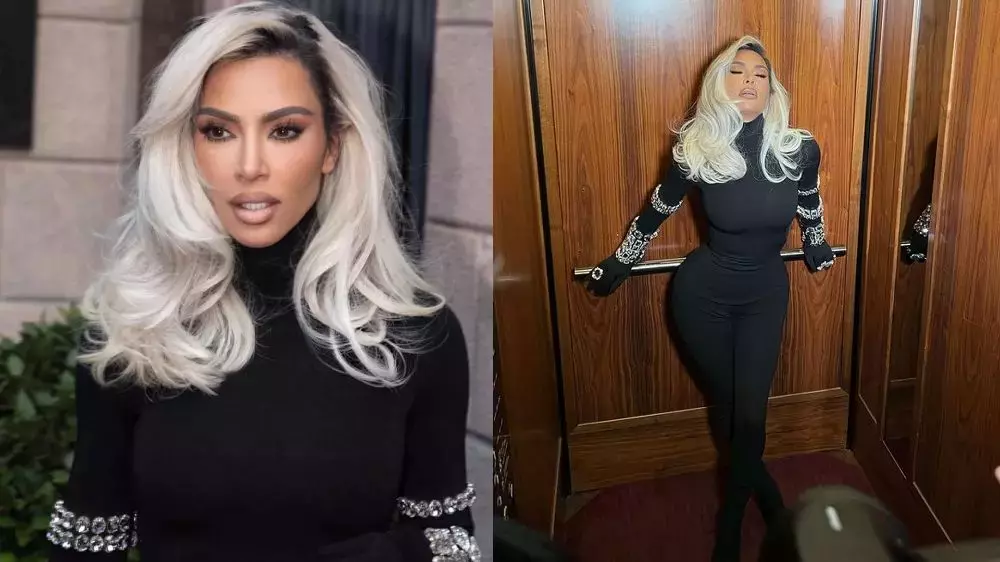 6. Blonde Bombshell
Next on our list of stunning Kim Kardashian hairstyles is this gorgeous blow-dry look. To get this Kim Kardashian hair colour, you will need to bleach your hair heavily. As for the big bouncy curls, that can be achieved through a round brush and a hair dryer. This wavy haircut is similar to jennifer garner haircut which has become one of her signature hairstyles.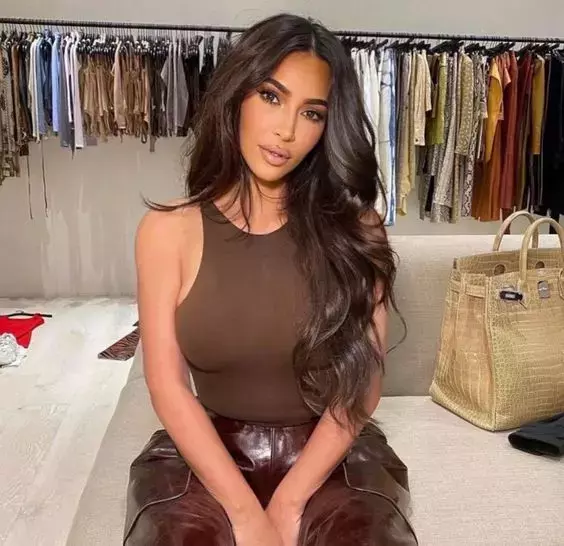 7. Beachy Waves
Most Kim Kardashian hairstyles feature high-shine hair achieved through glossy hair serums and hydrating masks. This beachy look involves creating large, voluminous waves using some heat and a round brush. Be careful not to use too much heat or use a heat-protectant spray to protect your hair from damage.
If you are looking for inspiration for waves and feathered hairstyles, then do make sure to check out Farrah Fawcett haircut as it is one of the most popular ones.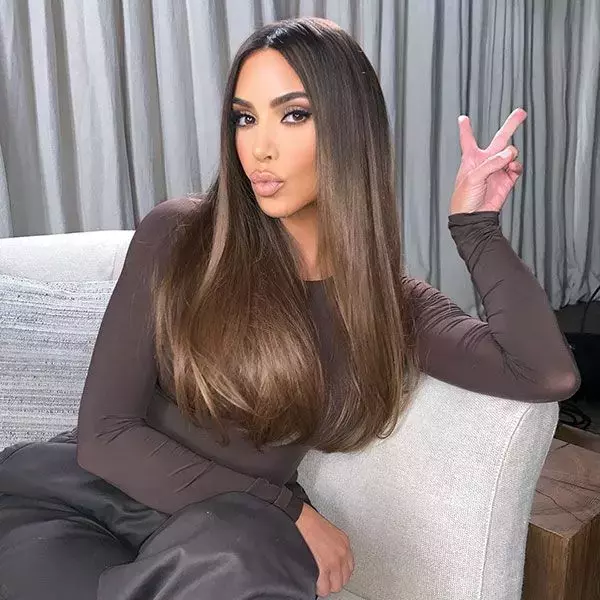 8. Cold Brew Hair
This Kim Kardashian hair colour was popularly nicknamed the "cold brew" hair because it looks like the colour your iced coffee turns when you start pouring some milk in it. Subtle ombré highlights create dimension on the dark, coffee-brown base colour. As for the texture of the hair, it's ultra smooth and silky.
Check out the best Jennifer Lopez hairstyles as we list all her stylish haircuts which include long hairstyles, curly hair, side parted hairstyle and many more.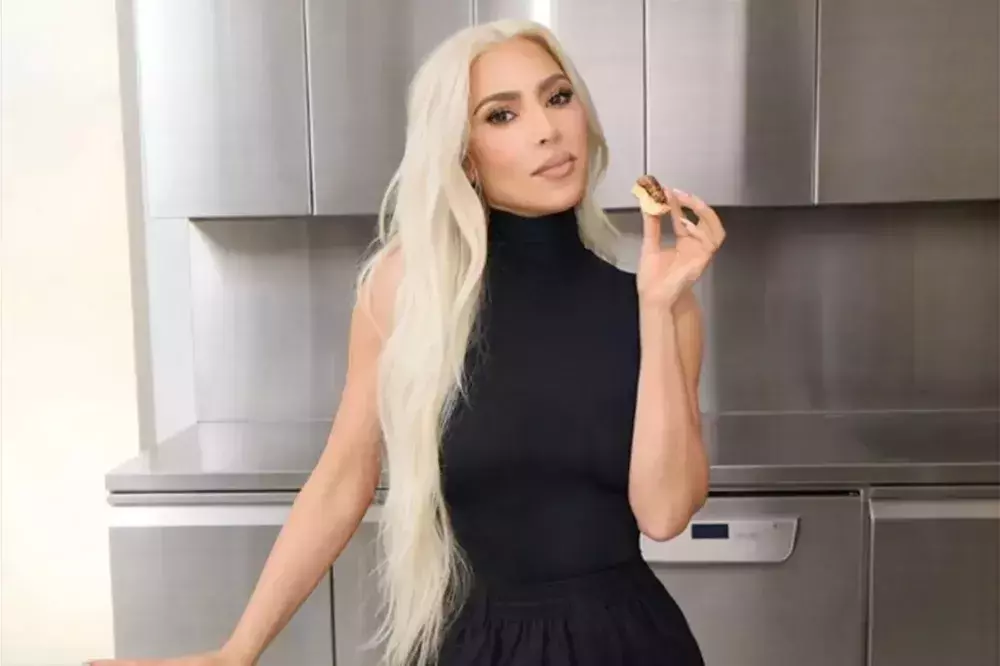 9. Platinum Waves
This Kim Kardashian hair colourer is surely striking- the bleached blonde look has an "ice queen" vibe and makes her features pop out. With a middle part, her loose tresses draping over her shoulders and face-framing layers to complete the look, she surely is a vision to behold.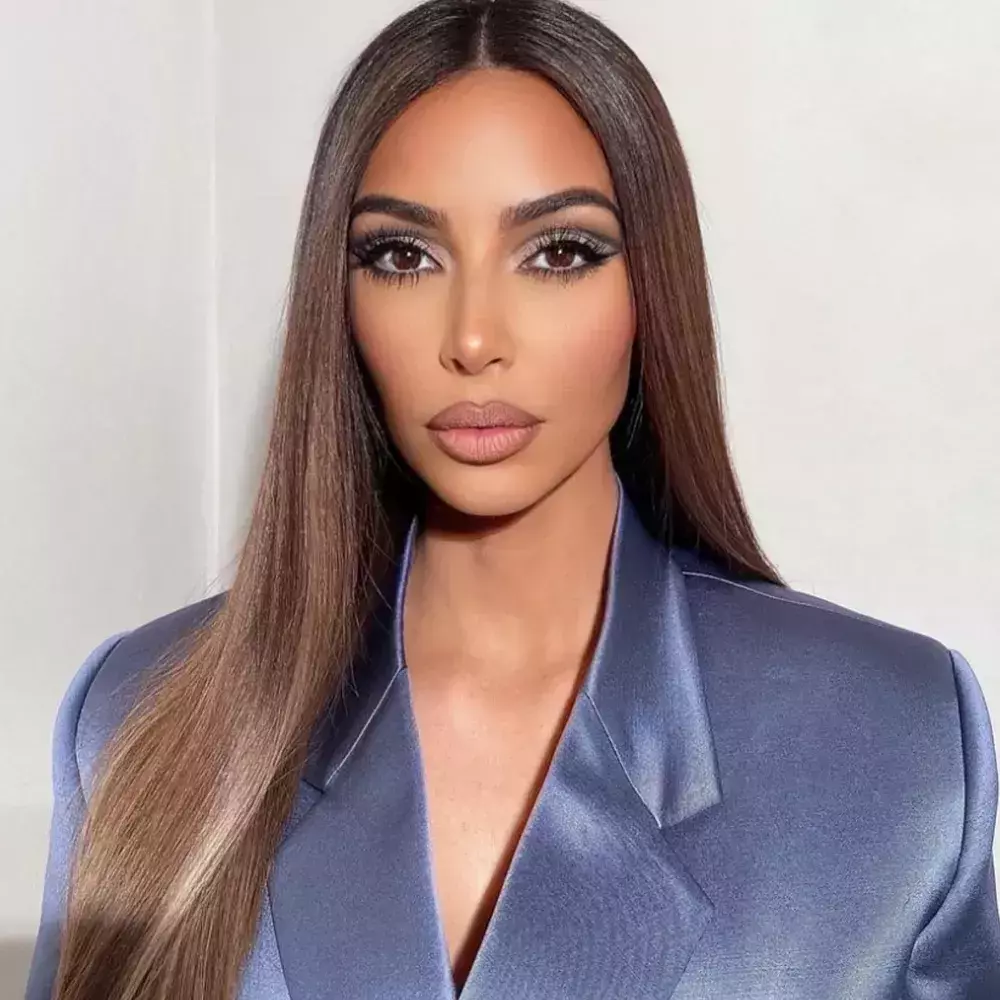 10. Laminated Hair
Hair lamination is the newest trend in the haircare industry, and it is just like its name suggests. In hair lamination, the hair is coated with a thick layer of keratin, gelatin or oils to give it an ultra-smooth and straight look. Kim Kardashian's new hairstyle follows this booming trend of glossy and silky hair.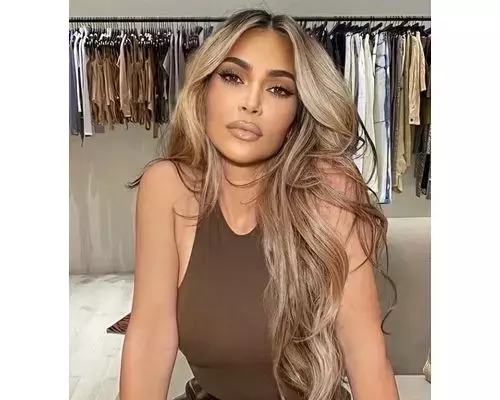 11. Kim Kardashian Blonde Haircut
If you're looking for a unique look, then try out this Kim Kardashian hair colour. Going for her signature hairstyle of a middle part and beachy waves, Kim's stylist upgraded the look through this fabulous dirty blonde hair dye. The colour features a base of dirty honey blonde with ash blonde balayage to give it that natural "highlighted" look.
Check out our guide to find the best Lisa Rinna haircut along with all her popular ones as we list 33 of her all time great hairstyles. From feathered hairstyles to pixie cut to way cuts, we cover them all.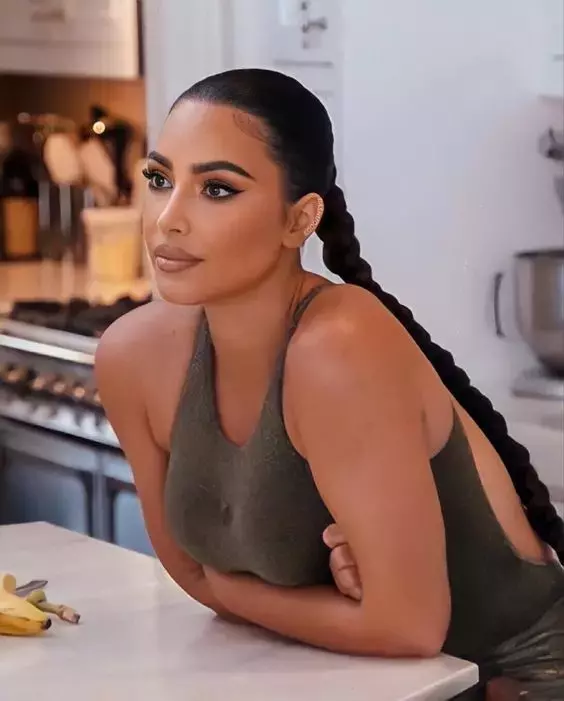 12. Athletic Long Braid
Kim Kardashian's hairstyles range from classy to casual, and one such sporty look is this athletic long braid. In this look, the hair is divided into sections, and the sections are then interwoven together to form a thick and long braid. Kim often likes to add extensions to her hair to increase the length and thickness of her braid.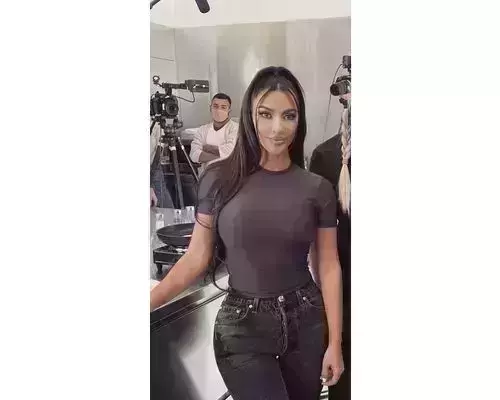 13. Ponytail With Antenna Bangs
Antenna bangs are a popular y2k trend that has recently made a comeback- simply pull out two short strands of your hair and let them frame your face. In this Kim Kardashian new hairstyle, the rest of her tresses are wrapped up in an elegant ponytail that drapes over her shoulders.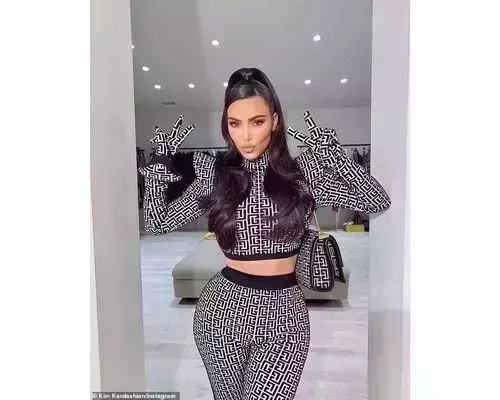 14. Ponytail With Side Swept Bangs
Kim channelled her inner Ariana Grande with this popular ponytail look. Kim Kardashian hairstyles with ponytails are a crowfavouritete for a reason - they're easy to emulate and versatile enough to suit all types of outfits and occasions. Kim's hairstylist swept her side bangs over her forehead with a side part and further used a curler to create large waves on her hair.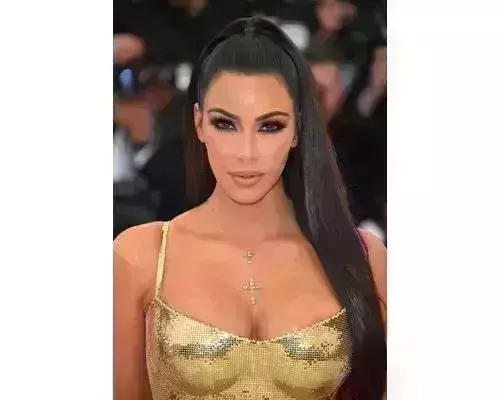 15. Sleek High Ponytail
If you're searching for versatile and easy Kim Kardashian hairstyles, the sleek high ponytail is a must-try. Use a flat iron to straighten your tresses. Lastly, apply a serum to add gloss to your locks.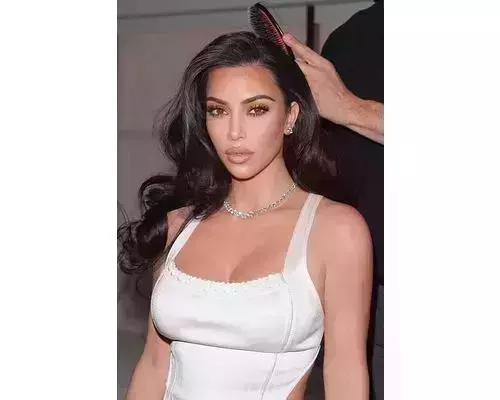 16. Side Swept Glam Waves
There are several classy Kim Kardashian hairstyles to take inspiration from, and this old Hollywood-style glam hairstyle is one of our favourites. Use a big roller or curling iron to create large waves and sweep them elegantly to one side. The hair is side parted, and volume is added to the crown.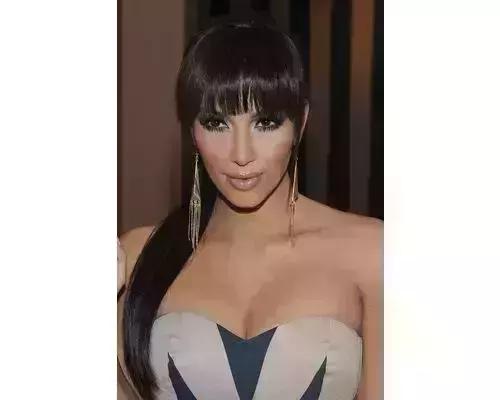 17. Thick Fringe Bangs Ponytail
This Kim Kardashian haircut features a heavy straight-cut fringe to cover her forehead. The rest of her hair is tied in a sleek, high ponytail. Invest in sturdy hair ties and a good hair serum to add to the shine of your ponytail.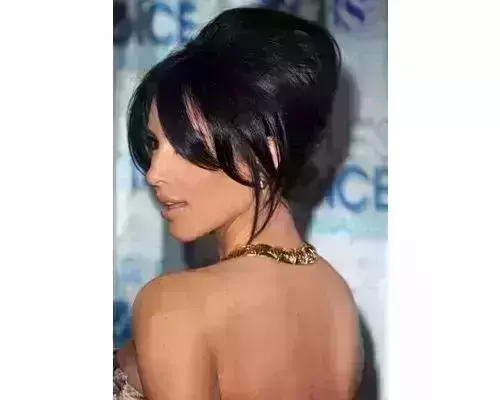 18. Bouffant Bun
Next on our list of Kim Kardashian hairstyles is this vintage-inspired look. This 1960s look involves a "bouffant" or a puff created on the crown of the head. A hair doughnut or sock bun is used to create the bun, and a strong-hold hairspray can be used to maintain the look.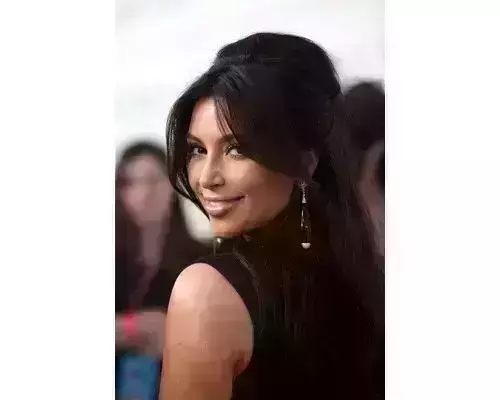 19. Half Up Half Down With Puff
This look makes the ccutsf Kim Kardashian the best hairstyle. The Half Up Half Down hairstyle is a classic look for any occasion, which KimK has upgraded with the introduction of a bouffant to the crown of her head.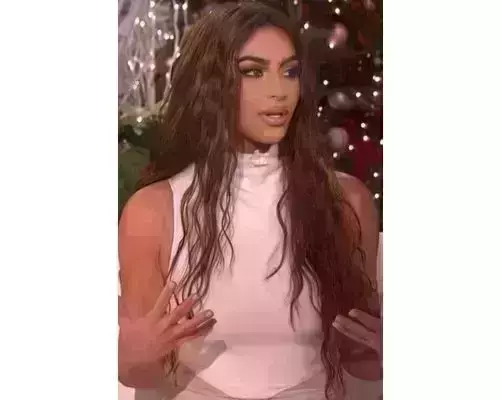 20. Textured Brunette Hair
Moving on with our list of Kim Kardashian hairstyles, the next is this textured look. If you have naturally wavy hair, then try a curl-maintaining routine to enhance your natural curls. But if you have straight hair, don't worry. Braiding your hair overnight or curling it can give a similar effect.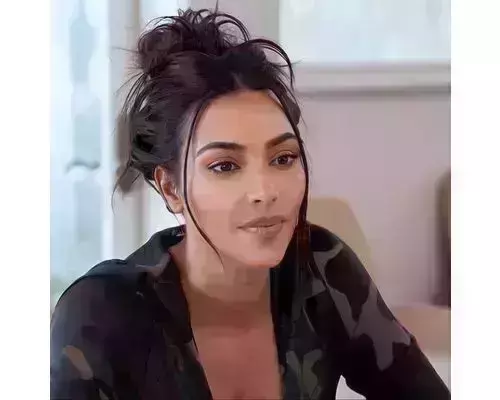 21. Messy Bun
Sometimes we just want a low-effort and simple look to pull off while running errands or having a lazy day. There are several Kim Kardashian hairstyles you can take inspiration from for such situations, and the messy bun is one of them. Simply pin up your hair with pins or a claw clip.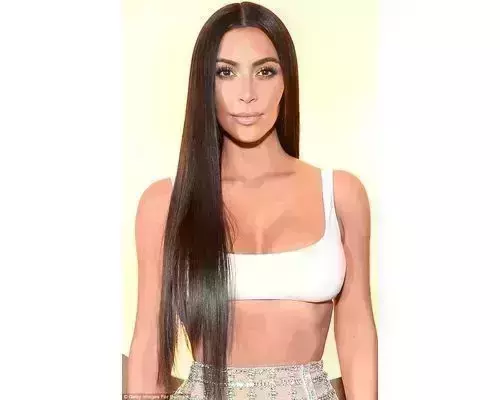 22. Sleek Jet Black Hair
If you ask what Kim Kardashian's best hairstyles are, then a lot of her fans will unanimously agree on the straightened and sleek hair with a middle part, which has become her signature look. Paired with the iconic Kim Kardashian hair colour, which is the jet black shade, she surely stunned everyone on the red carpet.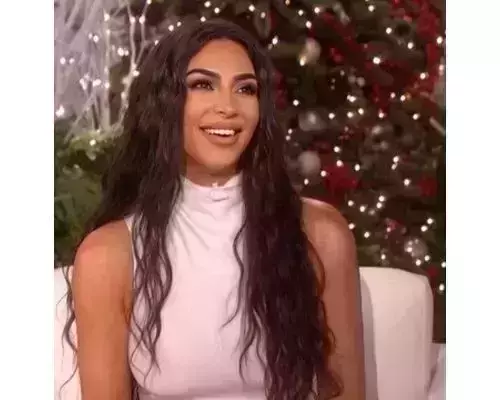 23. Mermaid Waves
Another one of our favourite Kim Kardashian hairstyles is the mermaid wave hairstyle, involving loose, beachy waves that have a flowing, textured appearance. To create mermaid waves, you'll need to start with damp hair that has been towel-dried or air-dried. You can then use a curl-enhancing product to add texture and hold to your waves.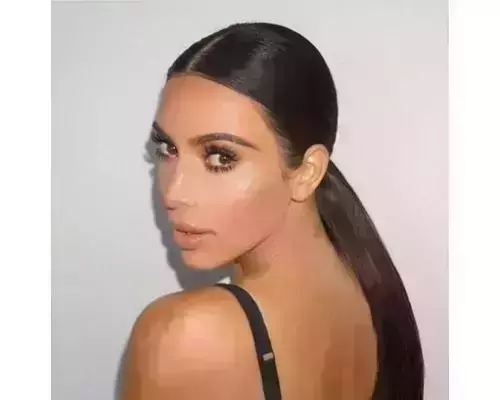 24. Sleek Ponytail
If you are looking for new Kim Kardashian hairstyles to try, the sleek ponytail is an easy one. To create a sleek low ponytail, start by brushing your hair and applying a smoothing product, such as a serum or hair oil, to help control frizz and flyaways. Next, gather your hair into a ponytail at the nape of your neck and use a hair elastic to secure it in place.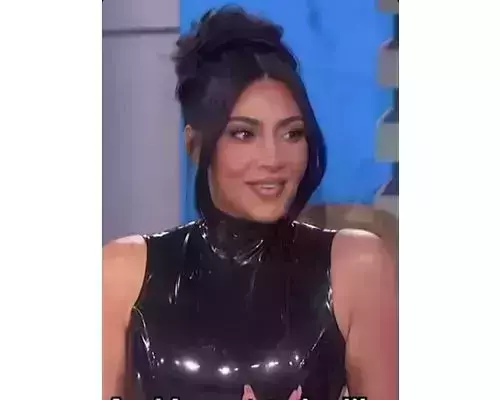 25. Updo With Side Bangs
Several Kim Kardashian hairstyles involve an updo, and this one features side bangs. Face-framing bangs can help to accentuate your features and make your hairline prettier.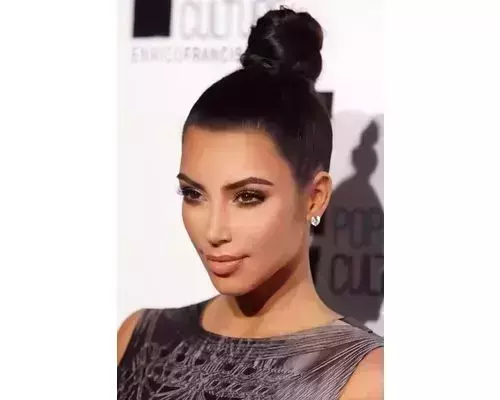 26. Sleek Top Knot
One of our favourite classy Kim Kardashian hairstyles is this stylish sleek top knot. Suitable for casual as well as red-carpet, in this hairstyle, the hair is gathered and secured into a bun at the top of the head. Finally, a brush or comb is used to smooth any flyaways. Lastly, mist your hair with hairspray to set the style.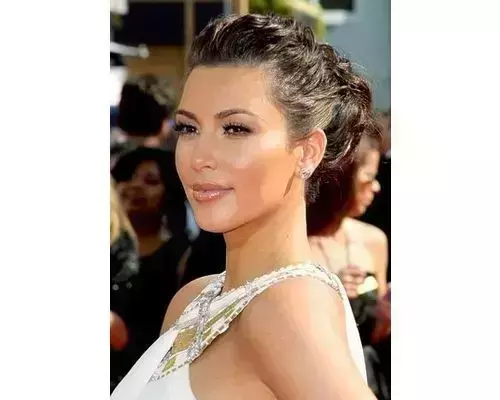 27. Braided Updo
Next on our list of Kim Kardashian hairstyles is this stunning updo, which is a perfect look for a bridal guest. Small sections of the hair are overlapped to create this braid-like appearance on the updo.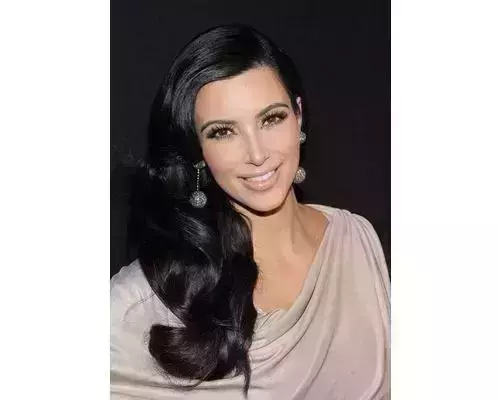 28. Old Hollywood Glam
Old Hollywood hairstyles are classic, glamorous looks that were popular in the 1930s-1950s and popularized by actresses such as Elizabeth Taylor and Marilyn Monroe. To create soft waves like this Kim Kardashian haircut, you can use a curling iron or rollers to create gentle curls. Surprisingly, you can even use a hair straightener to create waves by alternating the direction in which you run the iron through your hair.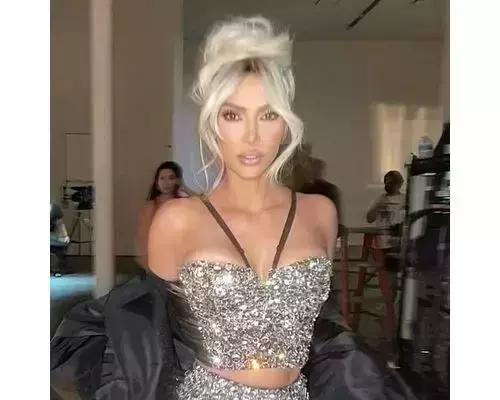 29.  Glam Barbie Updo
This blonde Kim Kardashian hair colourer is very colour to that of Barbie. Hence, there is no surprise that she looked like a perfect doll in this look! Kim messily piled up her hair in a top bun and let her face-framing side bangs hang loose around her visage.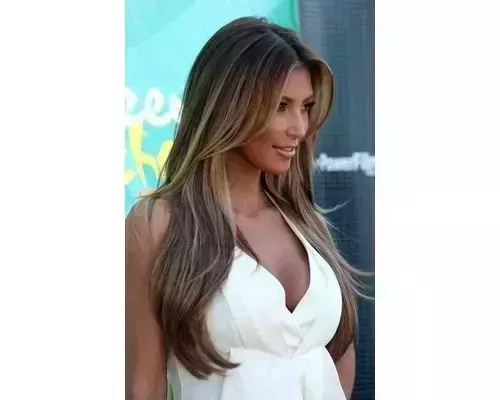 30.  Face Framing Balayage And Layers
This Kim Kardashian hair colour is to die for! By adding golden face-framing balayage highlights to the base of her chocolate brown hair, Kim emulated the beauty of a sun-kissed beach babe. Moreover, the Kim Kardashian haircut with layers added volume and flair to her look.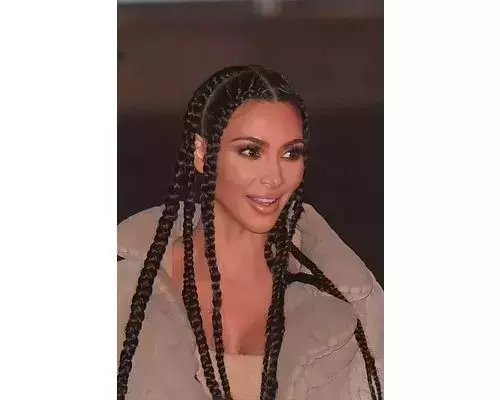 31. Braid Extensions
Moving on with our list of Kim Kardashian hairstyles, we come to this unique look. Kim's hairstylist added long, jet-black coloured extensions to her hair. These extensions were neatly tied into several braids to give a funky look.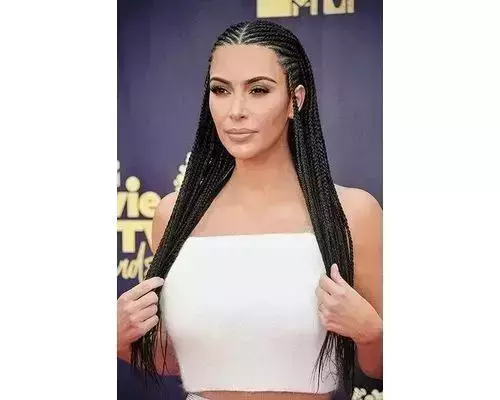 32. Fulani Braids
Fulani braids, also known as cornrow braids or Fulani cornrows, are a traditional African hairstyle that involves creating small, intricate braids close to the scalp. The braids are typically styled in a straight, linear pattern. This Kim Kardashian haircut surely turned several heads!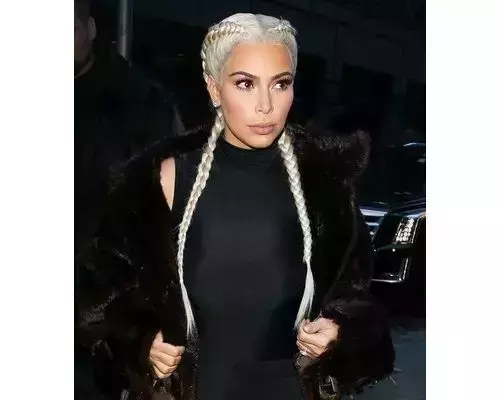 33. Dutch Braids
Kim Kardashian's hairstyles feature a range of braided looks. Dutch braids, also known as reverse French braids or inverted braids, are a type of braid in which the braid appears to be "stacked" on top of the hair rather than woven into it.  Instead of crossing the outer sections of hair over the middle section, they're crossed under, so that the braid appears to be "stacking" on top of the hair rather than weaving into it.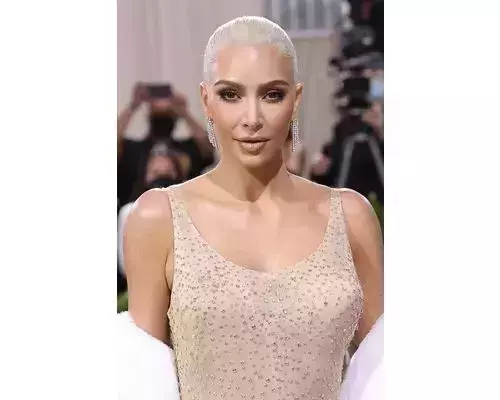 34. Bleached Platinum Bun
Kim caused a lot of commotion at the Met Gala when she slipped into Marilyn Monroe's iconic "Happy Birthday Mr President" dress. This Kim Kardashian colour attemptedpted to channel her inner Marilyn by bleaching her hair a platinum blonde. Instead of going for Marilyn-like curls, however, Kim opted for a neatly tied bun.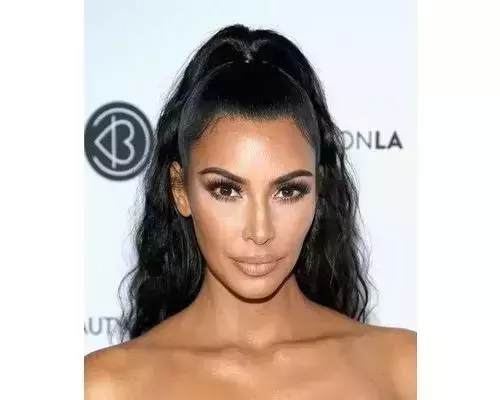 35. Textured Ponytail
Want more inspiration from Kim Kardashian hairstyles? If you have naturally wavy hair, try out this textured ponytail look. All you'll need is a hair tie, and maybe some texturizing hairspray. And if you're a straight-haired gal, try out overnight braids or a curler to create beautiful waves.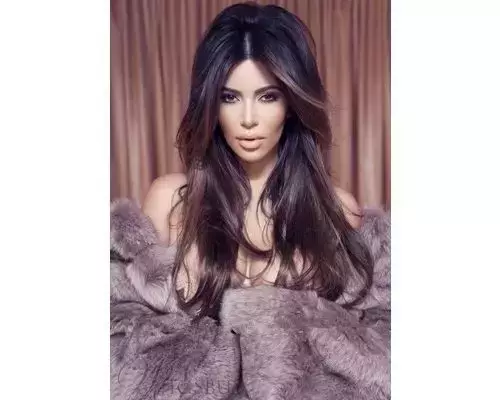 36. Big Voluminous Hair
In search of dramatic Kim Kardashian hairstyles? Give this not-so-ordinary look a try. With a lot of teasing and backcombing done to the crown of the head to fluff it up, the rest of the tresses also have loose waves created in them.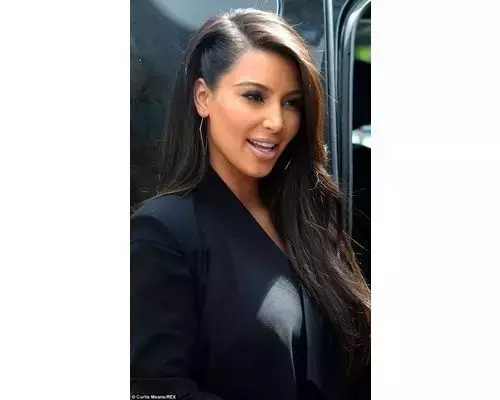 37. Side Parted Hair
Kim Kardashian's hairstyles often feature a classic middle part, but sometimes she likes to switch up with a side part instead. Use a bobby pin to secure a section of your hair, and let the rest of your hair drape over your shoulders.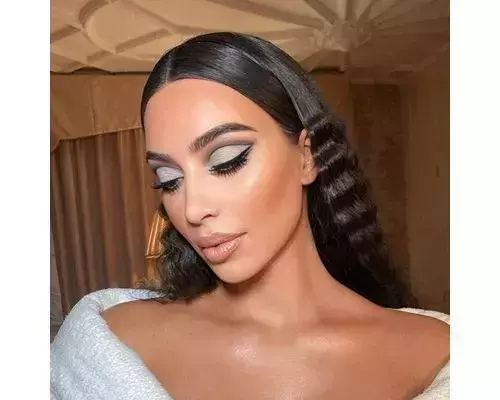 38. Crimped Hair
Another Kim Kardashian new hairstyle to admire. This hairstyle features small, wavy or zig-zag patterns in the hair, created by using a crimping iron or hair crimper. Crimping your hair can add texture and volume to your hair and can be a fun and easy way to change up your look.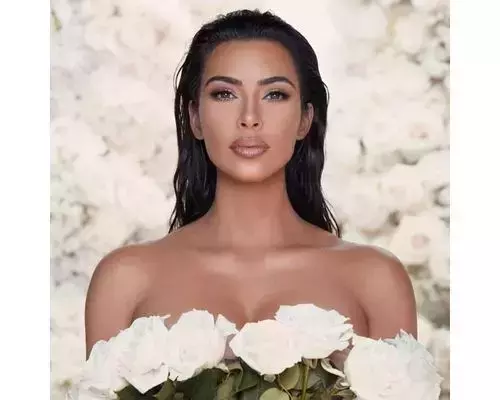 39.  Wet Hair Look
The wet hair look is a hairstyle that involves styling your hair to look as though it is damp or freshly washed, even if it is not. This style can be achieved using a variety of products, such as hair gel, pomade, or styling creams. This is one of the coolest Kim Kardashian hairstyles.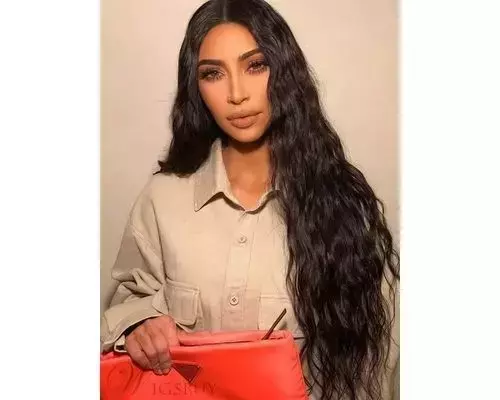 40. Middle Parted Textured Hair
When in doubt, return to the basics. This philosophy is reflected well in these Kim Kardashian hairstyles with a middle part and open hair. Kim created textured waves in her hair which can be achieved by braiding your hair and using hairspray.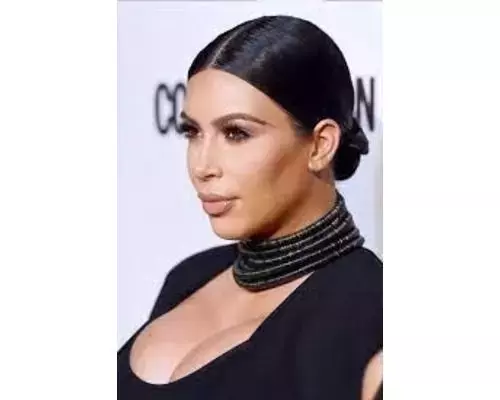 41. Sleek Chignon
A chignon bun is a hairstyle in which the hair is gathered into a bun at the nape of the neck and styled to create a smooth, sleek finish. This elegant and timeless look is surely making our list of Kim Kardashian Kardashian styles, with its neat middle part and high gloss appearance.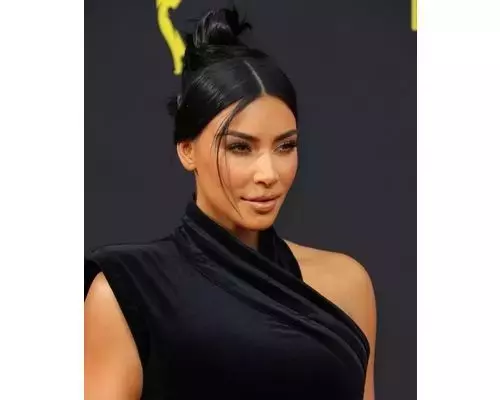 42.  Classy Updo
Next on our list of Kim Kardashian hairstyles is this updo- a perfect hairstyle with timeless grace and elegance. All of her hair is neatly tied up in an updo, except one stray strand of her side bangs to add some character. Gel or mousse can be used to give that "clean" appearance.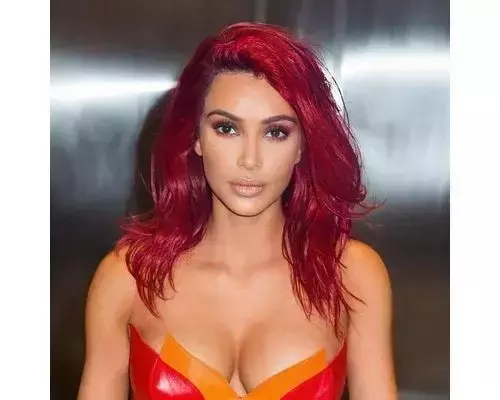 43. Red Locks
This bright fiery red Kim Kardashian hair colour is a stuncolouror sure. If you're considering dyeing your hair red, it's important to keep in mind that red dyes can be more challenging to maintain than other hair colours. Rcoloursr tends to fade faster than other shades, so you may need to touch up your roots more frequently and use colour-specific hair care products to help maintain the vibrancy of your colour. It's also important to keep your hair moisturized to prevent dryness and breakage, as red dyes can be harsh on the hair.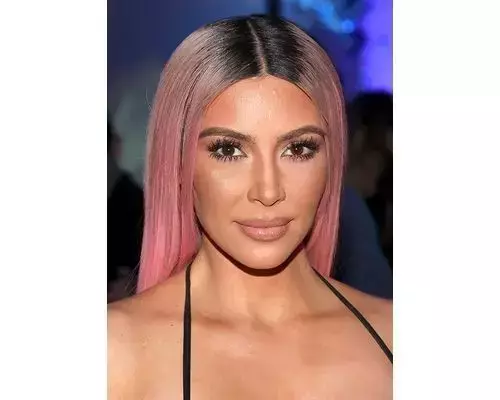 44. Pale Pink Locks
This Kim Kardashian hair colour is not a new dye job - Kim let her neon pink hair fade till it reached a pale pink hue, and it created a new look altogether! Regarding the styling, Kim stuck to her iconic straightened hair with a middle part look.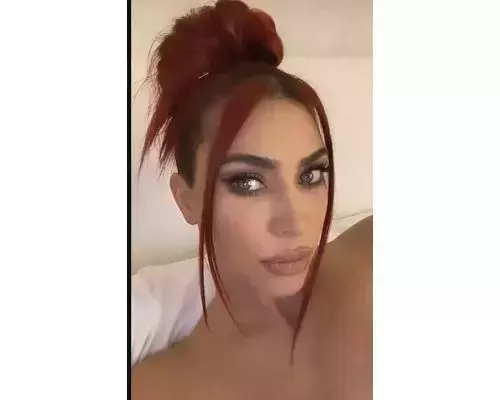 45. Cherry Bun With Antenna Bangs
For this Kim Kardashian haircut, she threw up fiery red locks into a bun while leaving her face-framing antenna bangs hanging loose. The cherry-red Kim Kardashian hair colour is eye-catching indeed and makes even a plain bun look amazing.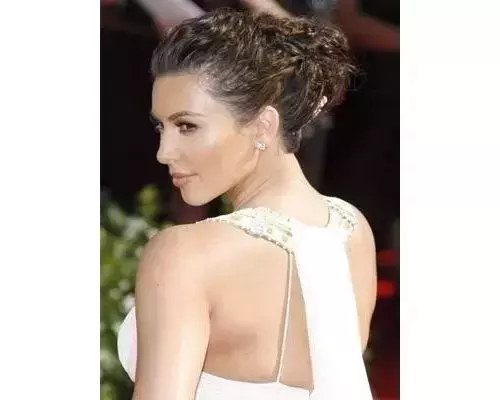 46. Textured Updo
Another classy addition to our list of stunning Kim Kardashian hairstyles is this textured updo. This look is perfect for attending parties, events and weddings as a guest.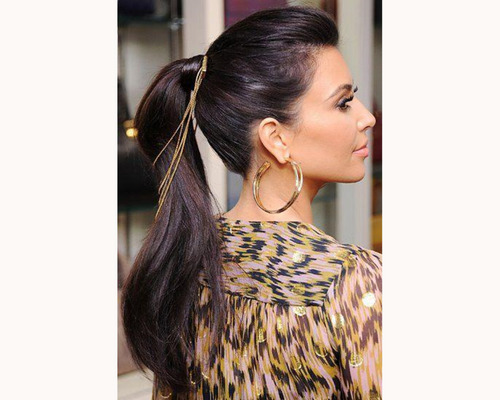 47. Embellished Ponytail
It resonated with our hearts when Marilyn Monroe, in 'Gentlemen prefer blondes',   famously said, "I just love finding new places to wear diamonds". It is always fun to discover new ways and places to wear jewellery, and Kim reinvented the wheel by wearing gold chains on her ponytail. Kim KardashKardashian'syles always bring something new to the table!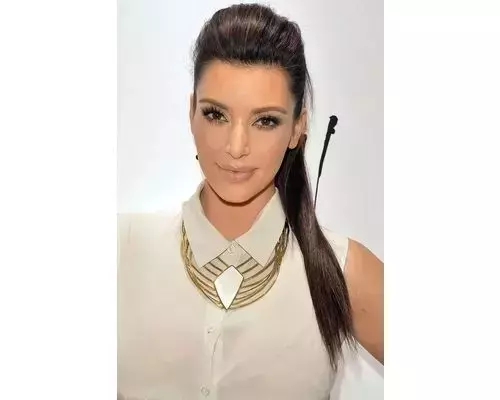 48. Puff Ponytail
Bored of your regular ponytail? Why not sift through some Kim Kardashian hairstyles and learn how to upgrade your hairstyle? This puff ponytail hairstyle features a high-volume puff on the crown.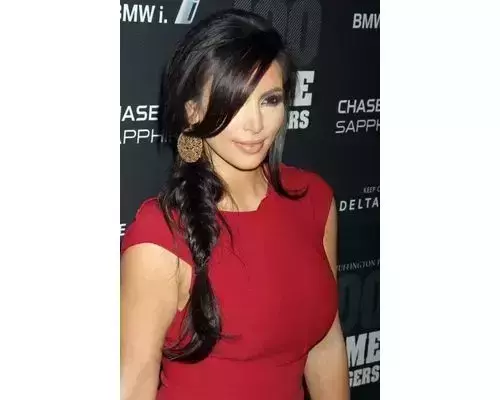 49. Fishtail With Side Bangs
Looking for more braided Kim Kardashian hairstyles? Try this one! A fishtail braid is a type of braid that involves dividing the hair into two sections and interweaving small sections of hair from one side to the other to create a braided pattern. Fishtail braids have a loose, textured appearance and can be a fun and stylish way to change up your look.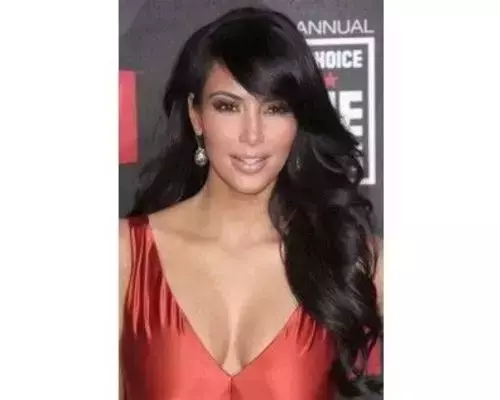 50.  Side Swept Romantic Curls
Trust Kim to bring back old-school romanticism with this soft look. Kim transformed her straight locks into huge, luscious curls, which she swept to one side. Her bangs were also styled in a side-sweeping manner to gracefully cover her forehead.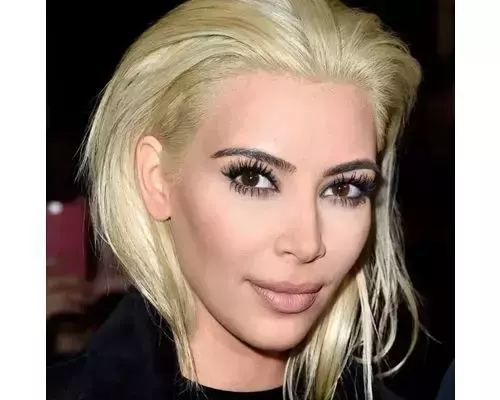 51. Slicked Back Blonde
This Kim Kardashian haircut gave Draco Malfoy a run for his money! Kim pushed back her bleached blonde locks to create this look. The length of her hair was just enough to graze her shoulders.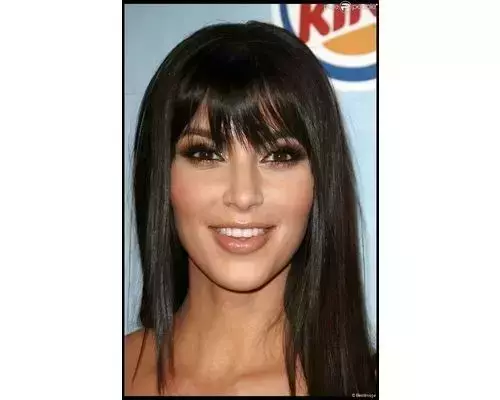 52. Fringe Bangs
Adding another look to our list of stunning Kim Kardashian hairstyles- this straight hair with fringe bangs combination never goes out of fashion. You can even add a cute hairband to pair with this look if you want. Here, she is sporting the signature Kim Kardashian haicolouror of jet black.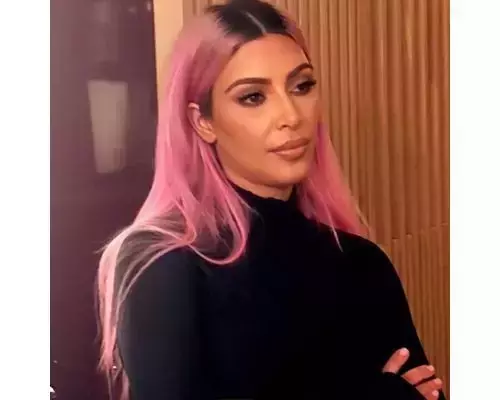 53.  Neon Pink
There are several Kim Kardashian haircolourr looks to admire, but this neon pink one is the most striking one of all. Kim layered on bright neon pink dye over her bleached blonde hair for a unique look.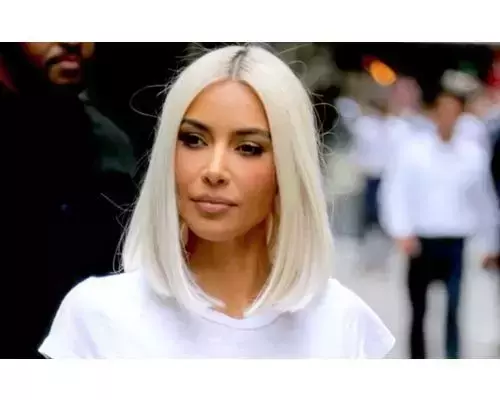 54. Icy Bob
This Kim Kardashian bob haircut is surely a head-turner. The icy platinum blonde Kim Kardashian hair colour is very striking and fashionable. This bob is slightly longer than your regular ear-length bob, and some would argue it's more of a lob.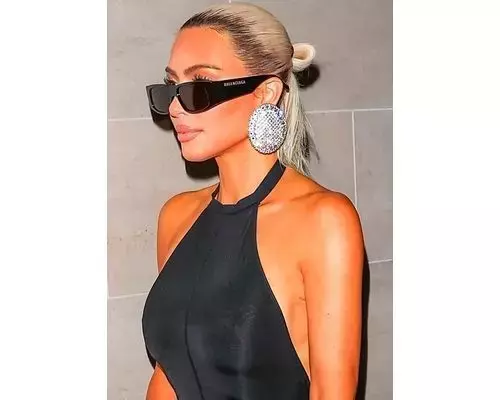 55. Flip Bun
Kim's hairstylist devised this ingenious look, which is probably the easiest updo to pull off. If you want to try out this Kim Kardashian new hairstyle, simply flip your hair to form a bun and leave the ends hanging.