25 Best Medium Length Hairstyles For Women Over 70
Shivangi Chatterjee
Updated At 06 Sep 23
With age, patience to maintain and manage long hair decreases. Not to mention the thinning and greying of hair with age. As a result, most elderly women opt for short to medium hair-length to keep it manageable. But the hairstyles and cuts seem quite limited when it comes to women over the age of 70.
Hairstyles don't have to be boring for the elderly! Women are always on the lookout for new hairstyles but get struck with one or two patent hairdos, either because of their preferred length or because of a lack of knowledge of the hairstylist. Get a good hairstylist and opt for a gutsy style, for life is short to question choices! Here are the 25 best medium length hairstyles for women over 70.
25 Best Medium Length Haircuts For Women Over 70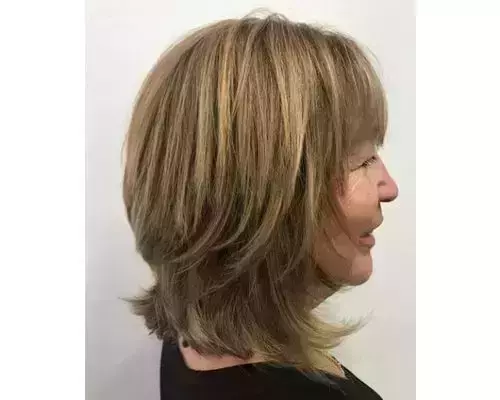 1. Medium Two-tier Haircut
If you are looking for medium-length hairstyles for women of 70, it is all about texture, layers and volume. This medium-length two-tier haircut gives a fuller look, giving the illusion of voluminous hair. Of course, adding some colour can upgrade the hairstyle to a new level.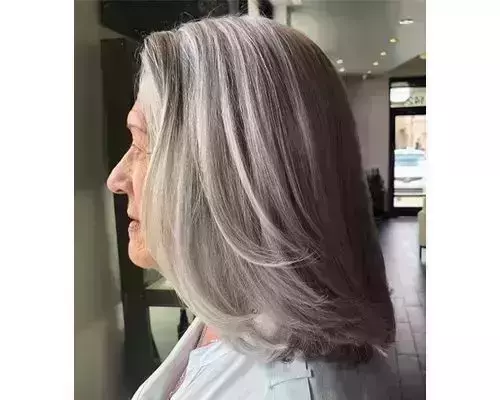 2. Layered Grey Hair
If you are over 70 and your hair is straight, these haircuts for women over 70 would look amazing. The layers add youth to your face while also making your hair manageable. If you have naturally grey hair, this hairstyle would embrace the colour as well as your hair texture.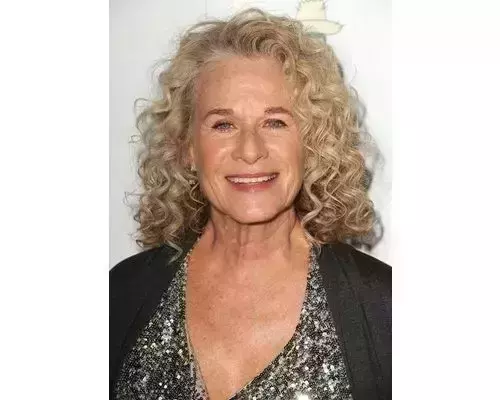 3. Curly Blonde Hairstyle For The Elderly
Curls are a blessing, irrespective of age. If your natural hair colour is blonde or you are planning to go for a blonde hair colour, you may want to give this curly hairstyle a try. Get your curls defined in the ends of your hair. It is romantic and would not skip attention.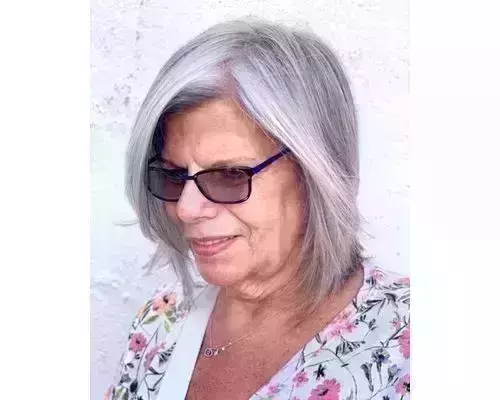 4. Side-parted Layered Bob
Bob hairstyles are widely opted for by women over 70. These medium length hairstyles for over 70s would transform your look, especially if you are dealing with thin hair. The layered haircut would add volume. Add some face-framing highlights to your hair colour and you're good!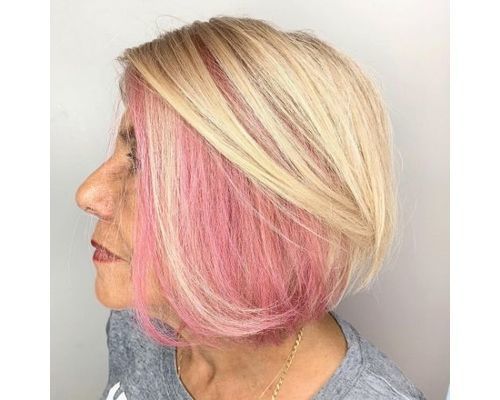 5. Blonde Haircut with Pink Highlights
If you are here to break the taboo that elder women cannot get funky hair colours, these gutsy medium hairstyles for women of 70 are made for you! It would make you look younger, highlighting the colourful personality you carry. You are never too late or too old for pink hair!
Do check out our guide to also find out the best short hairstyles for women over 70 as we include all the popular ones like short bob, lob, graduated bob and many more.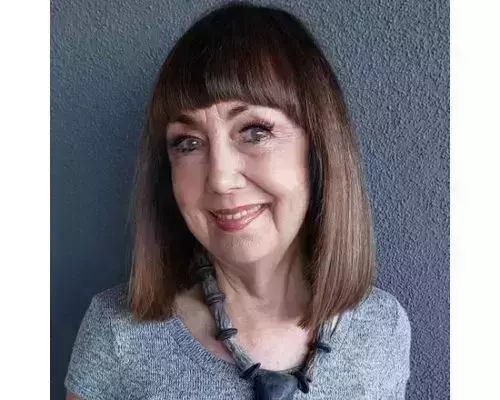 6. Bangs And Classic Lob
Bangs are adorable for any age! Pair the bangs with a classic lob and you have an elegant outlook, ready for any event. If you are confused about the bangs part, you may opt for half-moon bangs. They go really well with a classic lob and you can never go wrong with the pairing.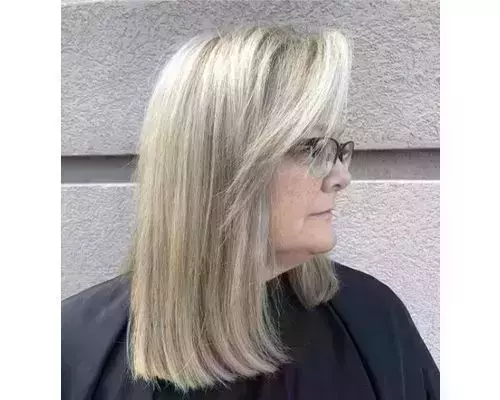 7. Swoopy Bangs and Medium Cut
Who doesn't like the romantic swoopy bangs? These medium length hairstyles for women over 70 look well with glasses on, giving one a nerdy outlook. The long-layered swoopy bangs would take attention away from your fine lines and give a flattering highlight to your facial features. One of the best low maintenance hairstyle for over 70, this looks stunning and elegant.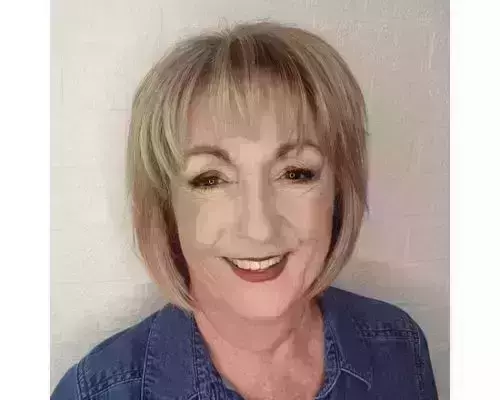 8. Straight Hair And Piece-y Bangs
Straight hair is a blessing for both the owner and the hairstylist. It is because of their ease to be styled. Looking for medium length hairstyles for women over 70s? this straight hairstyle with piece-y bangs would give a soft uplift to your face. Evenly spread the bangs across your forehead!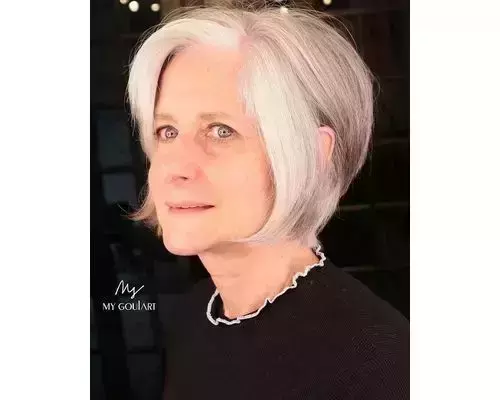 9. A Mob White A-line Haircut
Thinning hair is a problem most women face at some point in their lives. With age, this problem only amplifies. A mob haircut is one of the best medium length hairstyles for ladies over 70. It is pretty and shifts focus from thin hair to your facial structures. Keep your natural hair colour for this hairdo.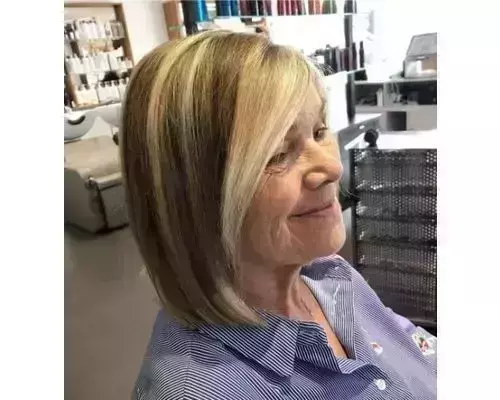 10. Lob With Chunky Highlights
Shoulder-length haircuts are eye-catching, especially for women over 70. It gives a formal, elegant look without demanding regular trim sessions or maintenance. The shoulder-length lob with chunky highlights would give you the look of a rockstar, for you are no less!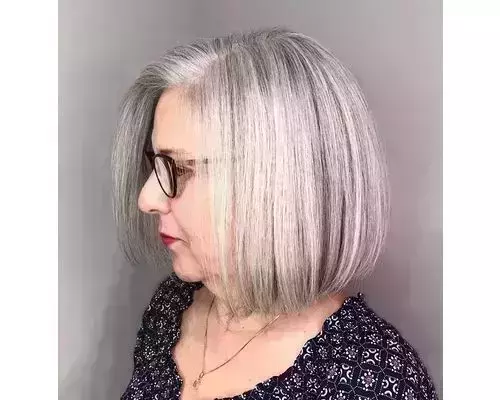 11. Neck Length Bob For Senior Ladies
Neck-length bobs are one of the most manageable medium length hairstyles for women over 70. They are widely loved for how easily attainable they are and also because they are managed easily. It is known for its soft looks and the femininity they deliver.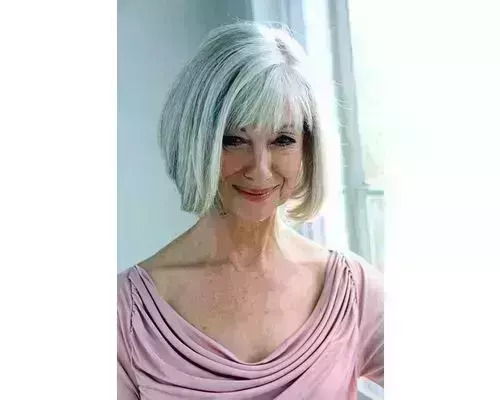 12. Sleek Bob and Full Bangs
A sleek bob is a professional hairstyle, suitable for mature, elder women. Full bangs can help balance out if you have a broad forehead or are facing hair-thinning issues. These are some of the best medium length hairstyles for women over 70, worth giving a try!
If you are looking for inspiration for short hairstyles, do check the 25 most popular pixie cuts for women over 70 as these look stunning.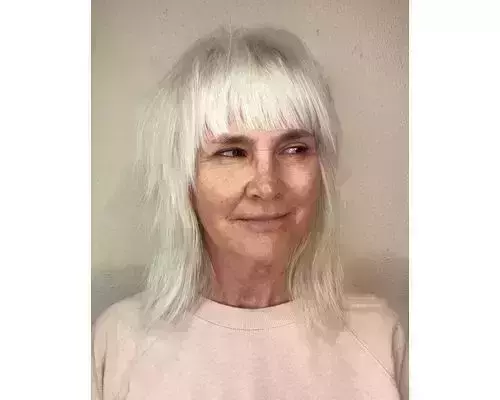 13. Modern Shag of Mid-length
These medium length hairstyles for over 70s can embrace your natural hair texture. If you have straight hair, this hairstyle is even better! Shorter layers throughout the hair would give an illusion of fuller hair. Add bangs to soften fine lines around your face and eyes.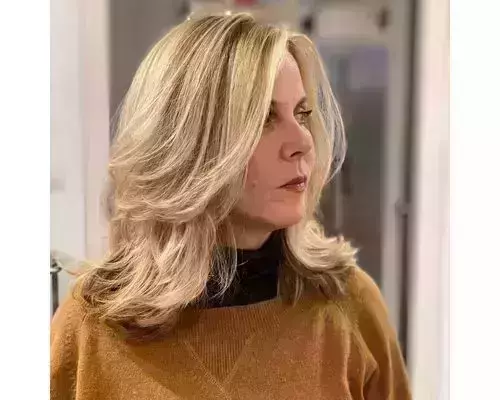 14. Layered Hairstyle For Women Over 70
These medium length hairstyles for women over 70 are the most flattering hairstyle if paired with dimensional hair colours. A bright, bold money piece can be added to make your face appear brighter. Blow-dry it with a round brush to add the much-loved bounce!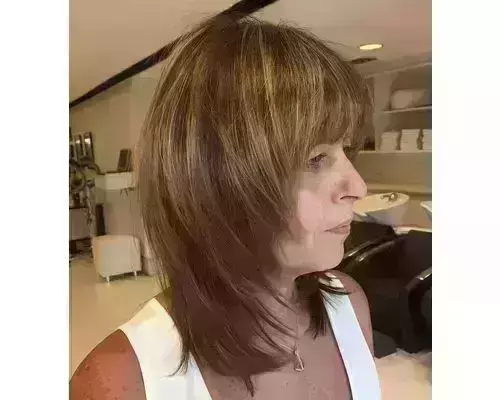 15. Medium Length Face-framing Layers
For a flirty shape to compliment you, these face-framing layers are the best medium length hairstyles for women over 70. The gentle layering will soften your facial features as well as necklines. For added volume, make sure to blow-dry hair with a round brush.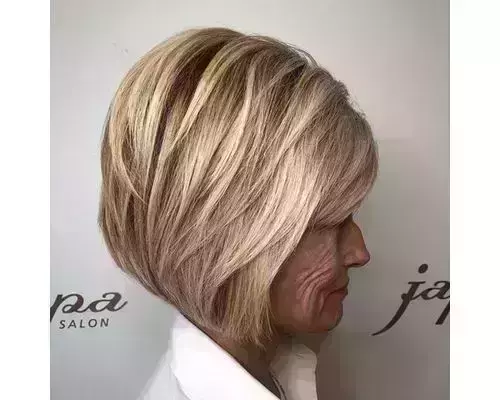 16. Dimensional A-line bob
The dimensional A-line bob is meant to show the dimensions of your blonde locks! These medium length hairstyles for women over 70, you only need to add texture for the depth of the bob. A little side-swept fringe may even add youthful vibes to your outlook.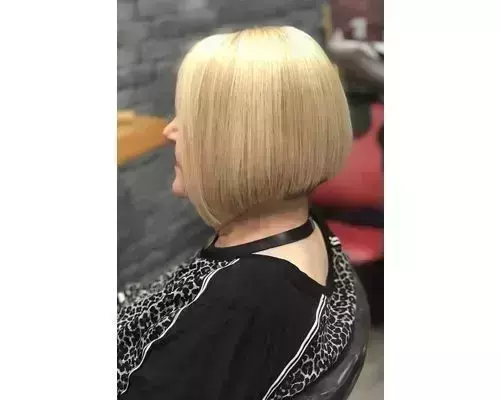 17. Graduated lob with bangs
One of the most classy medium length hairstyles for ladies over 70 is this graduated lob, paired with bangs. This works best for women who have thick hair. It removes the bulk of hair around the face, giving a polished look. You can opt for darker hair colours to enhance the hairstyle.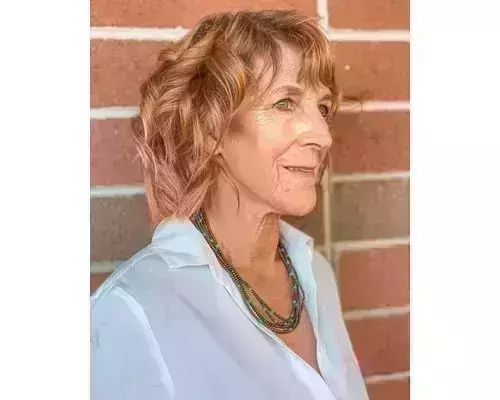 18. Wavy bob for thin hair
If you are someone who has thin hair, this wavy bob may be your saviour! It is another of the medium length hairstyles for women over 70 meant to soften your fine lines. You may want to consider adding full highlights to give the hair a sandy blonde shade.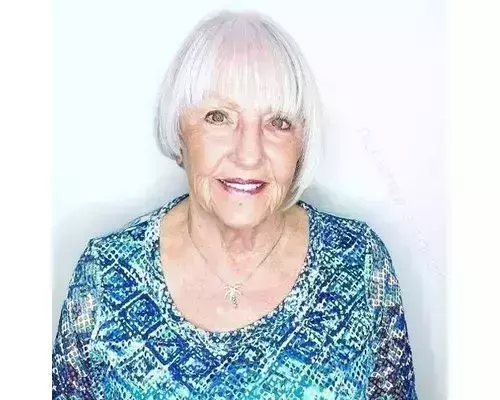 19. Asymmetrical haircut for elder women
Monotonous and the regular cannot be one choice always, and it's absolutely fine! Go for these funky asymmetrical hairstyles meant for elder women. If white is your natural hair colour, this haircut may look even better on you.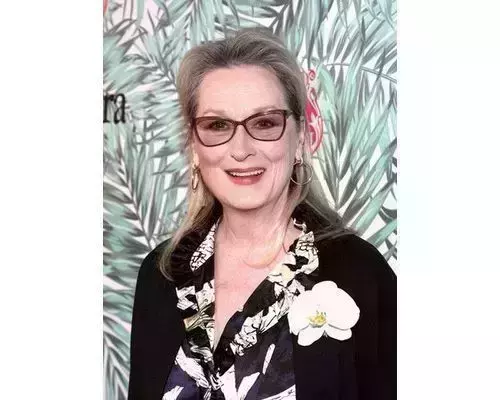 20. Half Up Half Down Hairstyles
Half-up and half-down hairstyles have no age limit. They look gorgeous on teenagers and elderly women alike. These hairstyles are chic, and stylish and add a statement to your outlook. If you have a long or round face, adding some height at the top would make your face appear smaller. One of the best haircuts for older women with thin hair, half up half down hairstyle can be a gamechanger.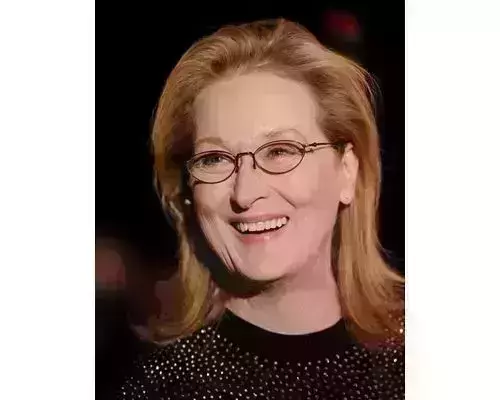 21. Pulled-back Lob
Youngsters now have the trend of pulled-back hairstyles which are then slicked down with gel. But older women know the importance of volume. Therefore these medium length hairstyles for women over 70 should be blow-dried and pulled back for a lifting appearance.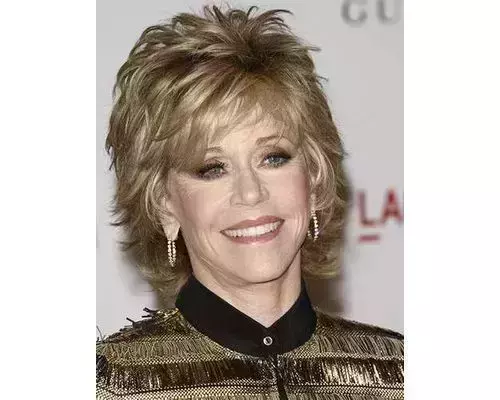 22. The Shag Haircut For Elderly Women
The shag should really be named after Jane Fonda. She carries the hairstyle like a pro, being an inspiration for people of all ages. The shag is one of the most versatile hairstyles of all time, for elderly women. It gives your face a slimming effect and a youthful flair.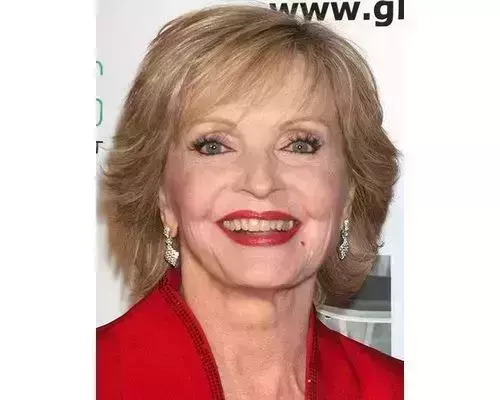 23. Flicked-out Sides for Mid-length hair
Any hairstyle that isn't focusing on your fine lines and wrinkles is an ideal choice. This hairstyle is one of the easiest ways to style your hair. Make sure that only the sides are flicked out which would draw attention to your facial features.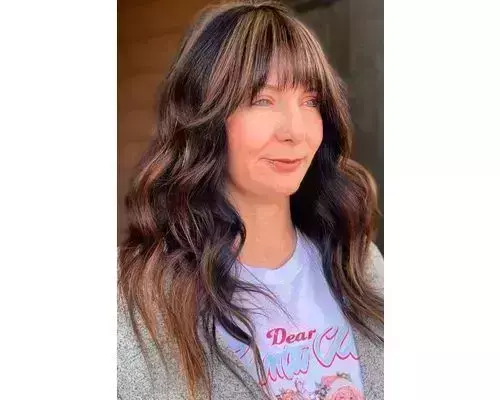 24. Fluffy Hair With Long Bangs
Fluffy hair with long bangs is one of the most youthful and romantic hairstyles for women over 70. They look good on all face shapes. The bangs fall on your face, enhancing your smile. These hairstyles are the best for thin hair, as they add volume and texture.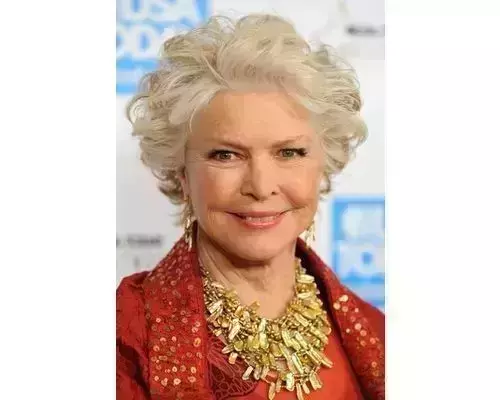 25. Curly hair and mid-length hairstyles
If you are someone blessed with curls, your stress of thin hair is somewhat solved. Curls already add to the hair volume. These curly hairstyles would be beneficial for balancing the face. Use a bit of curl cream to define the curls and you are good!