What Is Reverse Balayage - Detailed Guide
Ankita Ghoshal
Updated At 15 Jul 23
Haircuts and hairstyles are going through major trends these days. While new styles keep coming and going, reverse balayage is here to stay for sure. It is something that people are obsessed with this year and they are going to take a long to get over it. Reverse balayage is one of the easiest methods of getting darker hair, especially for a blonde. It is a low-maintenance, low-commitment hair colouring technique which is undoubtedly a cool hair trend this season.

The best part about a reverse balayage is how you can easily grow it out when you decide to go for other hair colours. If you are wondering what exactly the hype is all about, worry not! Here is a complete guide for you to know all about reverse balayage and its benefits!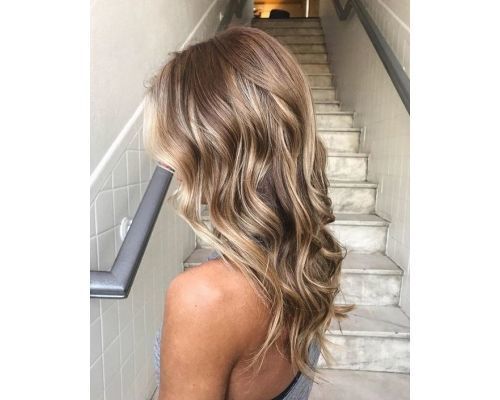 What is Reverse Balayage?
First things first, reverse balayage is exactly what its name implies. It is a process of lightening your hair colour with a sweeping or painting method. This is done by adding darker strands and lowlights on to lighter styles, such as blonde. It is a fantastic way of reintroducing depth to your hair by adding darker tones.
Instead of soft brown hair appearing highlight, the reverse balayage technique makes your highlighted hair look sun-kissed and lived-in with dimension and rich depth. This is acquired as the darker strands blend beautifully with the lighter roots. The moment you see this hair dying method on someone, you are bound to fall in love with it because of how effortlessly one shade blends with the other.
Read More: Ash Brown Balayage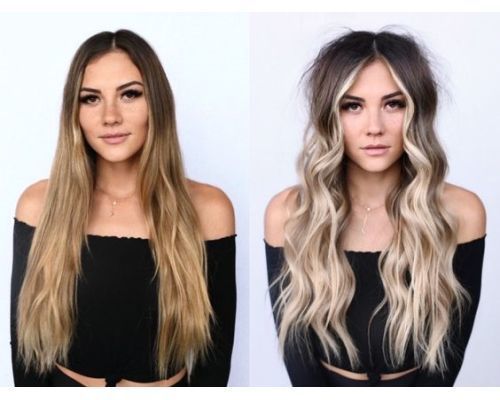 Reverse Balayage Vs Balayage

A lot of people do not know how to differentiate reverse balayage vs balayage. Here, we are breaking it down for you in simpler words. When it comes to balayage, the top layer of your hair is brought under focus. It is lightened up using colours and highlights. It creates a blonde gradient with dark and smudged roots.
Reverse balayage, on the contrary, is just the opposite of balayage. It focuses on what lies underneath, and not the top layers or highlights. It makes the under-layers and lowlights blend with your rest of the hair. It gives off a very natural look as the contrasting colours with shadowy pieces look wonderful. No wonder why everyone, from Hollywood celebs and Instagram influences to college goers and teens are swearing by reverse balayage these days.
Read More: Partial Balayage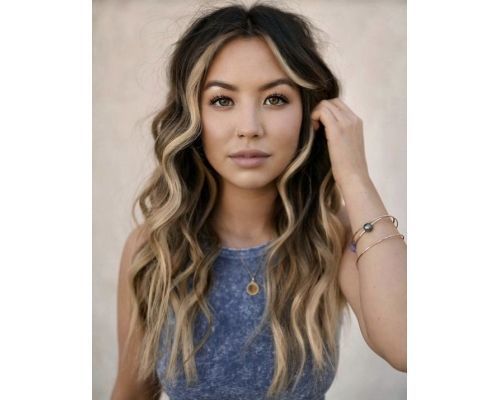 Does reverse balayage require bleaching?
Reverse balayage is actually all about creating dimension and depth all through your hair with the help of lowlights and darker strands. For this procedure, your hairstylist will use permanent hair dyes and there is no need for bleaching in the entire process.
Read More: Air Touch Balayage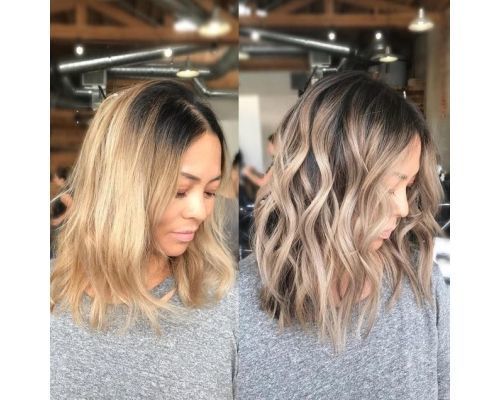 How do you reverse balayage to blend roots?
If you look at a person's reverse balayage before and after hair, you will easily figure out how this simple and quirky hair colouring method is used to blend roots. It requires three formulae- Formula A is the reverse balayage developer, Formula B the lightener and Formula C is the toner.
Here is the step-by-step procedure for your quick and better understanding:
1. First of all, the hair is sectioned into quadrants while working off the natural hair parting.
2. This is followed by taking horizontal sub sections of the hair and weaving each one of them with a conventional weave density.
3. Now, to get the reverse balayage effect, Formula A is applied from the hair roots right till the mid-lengths. Contouring is done while approaching each section.
4. A wide-toothed comb is run through each hair subsection. Then, the hair is rinsed and blow-dried.
5. Now, Formula B is used for alternate painting strand-lights as well as a teased hand-painted balayage.
6. After rinsing, use Formula C for toning and then, rinse again. Now, you can blow-dry your hair and style however you like.
These are the easy-peasy steps that you can follow to get the perfect reverse balayage on your hair. If you are not pro at colouring your own hair or are skeptical of your skills, it is best to take a hairstylist's help. Every penny spent on it will be worth it and you will end up with the most beautiful-look hair for sure.
Read More: Face Framing Balayage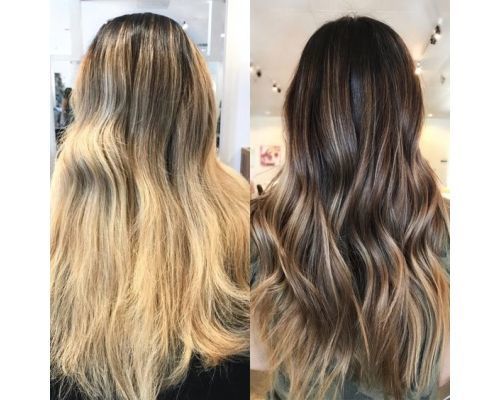 What are reverse balayage benefits?
Reverse balayages come with a lot of advantages. Let us look at some of them in detail:
• It is a very low-commitment, low-maintenance, and low-effort hairstyling method.
• Apart from being low-commitment, it also preserves the natural regrowth of your hair.
• It helps your natural hair to blend with the new colours(s) in a much better and smoother manner.
• Moreover, just like balayage, a reverse balayage also works fine for all types of skin tones, hair textures and hair types.
• Just like the regular balayage methods, even reverse balayage will make your hair look very natural and beautiful with the subtle gradient. This is because it uses a hand-painted technique to apply darker dyes on your hair.
• This hair colouring method is great for people with blonde tresses who have coloured it brown and now, want to grow the colour out without any bleaching.
These are some of the many benefits that you can reap if you decide to get a reverse balayage done on your hair. No matter what the length, colour, or type of your hair is, a reverse balayage is a must-try for everyone.
Read More: Blonde Balayage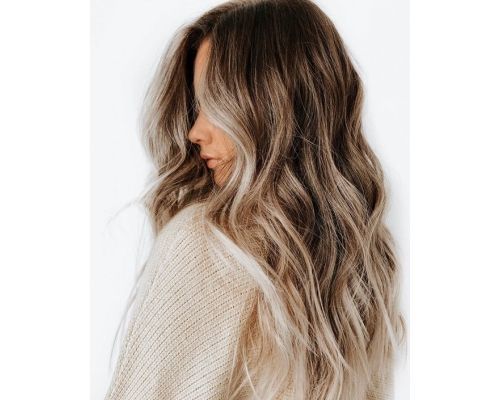 Will reverse balayage suit both short and long hair?
The most amazing part about reverse balayage is how it suits hair of varying lengths and textures. So yes, it is suitable for both long as well as short hair. If you hair is longer than a regular pixie cut, this technique will look awesome on you. Although the shades show better on longer hair, the stark colour contrast look ravishing on short hair too. Even though we are all gaga about regular balayage, the reverse balayage will be a unique and interesting makeover for your hair.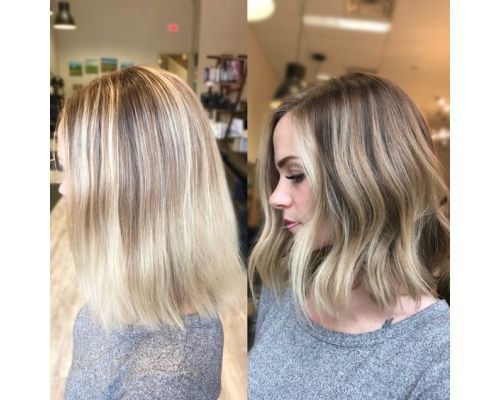 How to take care of hair with reverse balayage?
To make your reverse balayage last longer and look better, you must adopt a healthy haircare routine that works for your colour-treated tresses. You do not want your beautifully reverse-balayaged hair to look dry, damaged or break easily. Here are some easy steps to follow regularly:
• Use haircare products that are specifically designed for coloured hair.
• Do not wash your hair with shampoo more than twice or thrice a week.
• Use a nourishing hair mask or deep conditioner at least once a week.
• Avoid heat and styling tools as much as you can.
• Go for regular trimming to avoid split ends and hair breakage.
Now that you are familiar with what reverse balayage is and how you can make the most of it, look up some interesting hair inspirations to make up your mind on which kind of reverse balayage you want for your lovely locks.
With the ever-changing seasons, it is also time to change your hair style and give it an upgrade. If you are bored of the usual highlights, it is the right time to give reverse balayage a shot. The freehand dying technique will get you hooked to it and all the obsessions around reverse balayage will start making sense to you in no time!