55 Stunning Tapered Haircuts For Men - 2023
Olivia
Updated At 20 Sep 23
Looking for the best tapered haircuts and hairstyles for men? If yes, we have got you covered.
Tapered Haircuts For Men - Ultimate Guide
What Are Tapered Haircuts?
Taper haircuts can be both traditional and modern at the same time. They are adaptable. They outlive the majority of styles with heavy clipping. A taper tapered reduces the length of your hair by around one centimetre from just above the ear to the nape of your neck. A taper tapered is shorter at the bottom than at the top.
The wonderful thing about tapered haircuts is that you can make them as secure or as intense as you like. They are wonderful for taking weight off and making your hair more manageable if you have thick or wavy hair. When you have a round round-shaped they enhance length the and give you some much-needed definition.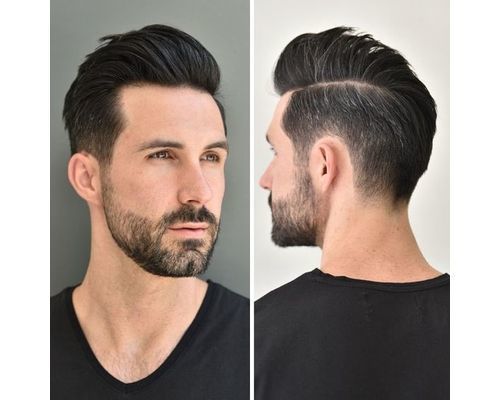 Does A Taper Haircut Suit All Face Types?
Only the "triangular" face form should be avoided. A tapered haircut will accentuate this feature rather than diminish it if your face is noticeably larger at the temples than the chin. It should be set to this setting by default for everyone else. It enables a haircut to pop. The word taper haircut for men actually to a wide variety of men's haircuts because it primarily describes what is happening on the back and sides.
Lets checkout 55 Stunning Tapered Haircuts for Men that one can rock in the year 2023.
55 Stunning Tapered Haircuts For Men (With Photos)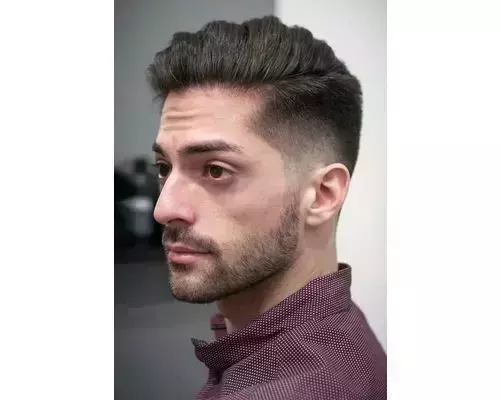 1. Classic Taper Haircut
The classic taper haircut offers a high-performance, low-maintenance, and classic look. You may easily obtain it and change it to fit your personality. It's one of those male fashion trends that is always a good choice. It balances being casual and business-like, and it flatters various facial shapes and hair types. The classic taper haircut is for you if you desire a polished look or if you require a neat haircut for work. One of the top short haircuts for men, the classic taper haircut has been around for years and continues to grow in popularity.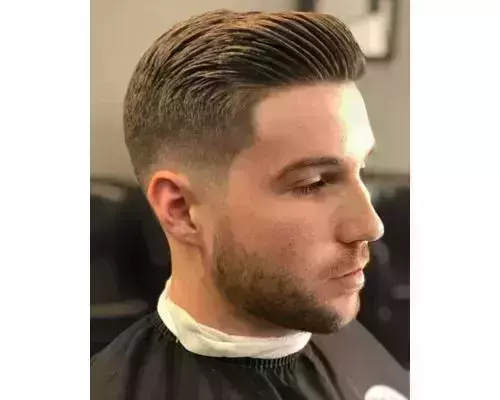 2. Low Taper Haircut
A low taper haircut begins at the top of the ears, bending over along the hairline, and landing it at the hairline. One can wear this hairstyle everywhere because it looks professional. The top should be left longer for a contrasty appearance while the low fade taper concentrates on the back and sides. A low fade haircut would look similar but there are minor differences with respect to how quickly the hairstyle is tapered. Chck out our detaild guide as we list 50+ low fade haircuts.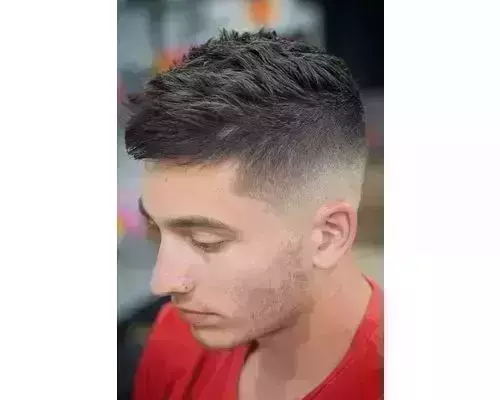 3. Medium Taper Haircut
The medium taper haircut begins at the middle of your sides and back, in contrast to the low taper haircut. It's the ideal pick for men who like to maintain balance in all facets of their lives because it's neither extremely bold nor too basic. A mock hawk or an Afro-tapered that begins in the middle of the head can go with any hairdo you're sporting.
Fohawk fade haircuts which look similar to this tapered haircut can provide another excellent option for look transformation. Check out our guide as we list the 51 best fohawk fade haircuts for men.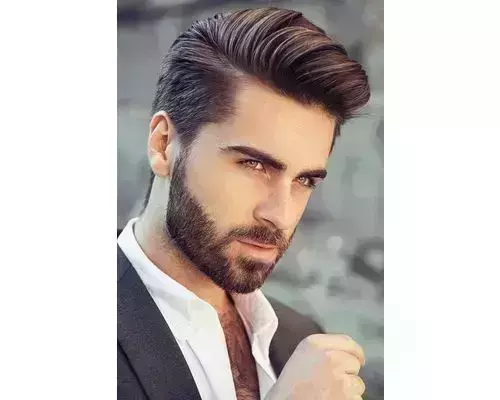 4. Long Taper Haircut
For men with long hair who don't want to shorten it, this is a style that will allow them to maintain the desired hair length. Any desired top length is ok. If you enjoy having long hair, leave it that way, but use the right lotions to shape it. A good pair of sunglasses completes the stylish look of the long taper haircut for young folks. Every man should give the tapered hairstyle a try because it is a timeless trend. There are a lot of variations you can test. This hairstyle is appropriate for all hair types, whether it is long or short. Be both trendy and traditional at the same time.
If you have long curly hair and are looking for inspiration to get a new look, do check out our guide on long curly hairstyles for men as we cover 33 top haircuts which have been trending this year.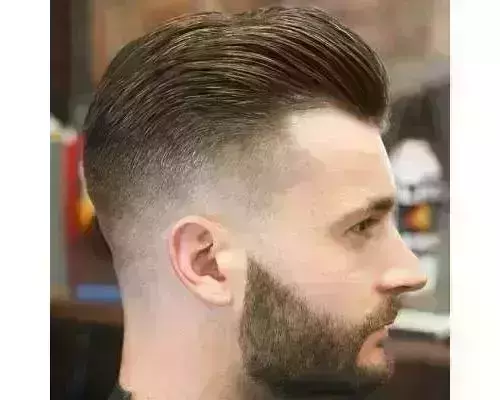 5. Taper Fade Haircut
One of the most identifiable, iconic haircuts in the history of hair is the taper fade haircut. It has endured for so long due to its classic looks, simple design, and adaptable design. Whether you work from home or in an office, it will function well for you because it is suitable for both informal and formal settings. A taper fade haircut shortens the sides and back while leaving the top of the hair long. The hair gradually gets shorter as it descends the head until it is the same length as the skin. With no untidy or ugly edges or uneven patches, this progressive fade appears sharp and tidy. It's a lovely, low-maintenance haircut that requires little styling or care.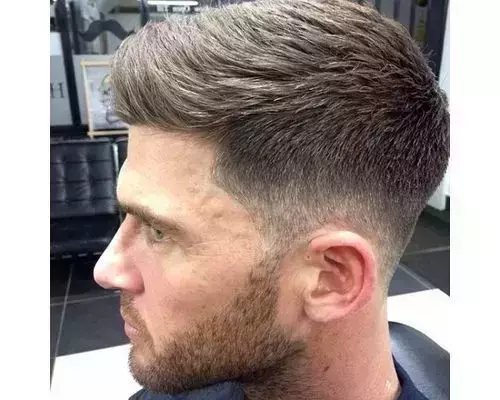 6.  Short Taper Haircut
An amazing form for a tapered cut is produced by starting your taper point down for getting a low taper haircut. The lengthy length lays on top of gradually shorter layers that start just below the neckline, creating an almost-stacked look. This elegant, edgy cut is distinguished by its overall sleek, super-short length. The back and sides progressively get shorter in a neat, smooth taper, while the top is somewhat longer and shaped forward. For more detail and intrigue, a thin line is drawn above the ears across the sides of the head.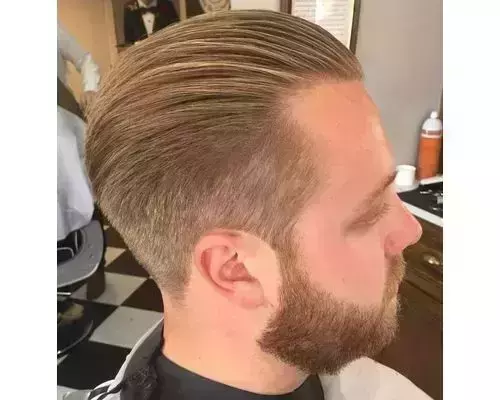 7. Brushed Back Taper Haircut
For a low-maintenance look, the majority of popular men's tapered hairstyles demand short sides. For men who seek a stylish, sophisticated appearance for both their personal and professional lives, the short taper with brushed back brushed-back is a wonderful choice. The ideal balance to accomplish this is provided by the modest taper and textured brush back. This is an ideal look for men with thin hair.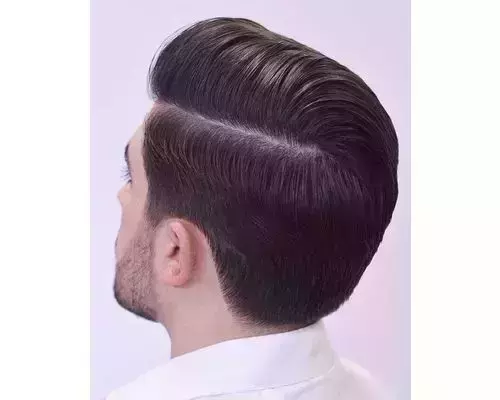 8. Side And Back Tapered Haircut
Short hair on the sides draws attention to the thicker, longer hair on top because of how the tapered sides and back merge in with your neck and sideburns.  blowback hairstyle is a variation on the slick back but with naturally textured hair. Men can apply more wax, clay, or pomade for a matte look.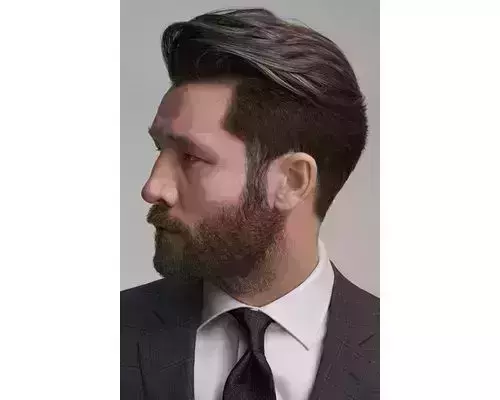 9. Tapered Sideburn Haircut
Men can trim their sideburns like a beard fade. While a full beard is required first, tapered sideburns give your hair a unique but appealing finish by allowing it to meld with your facial hair.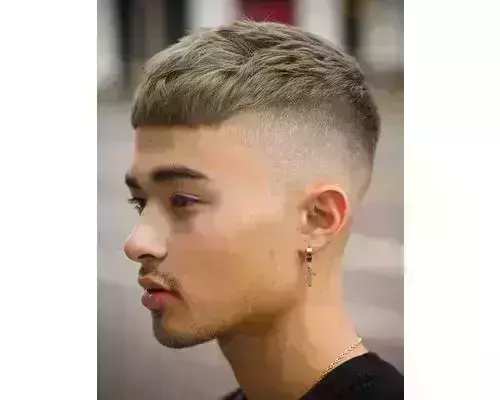 10. Taper Haircut With Crop Top
If you want a very short haircut on top, a short taper fade can be your option. The French crop is a neat, low-maintenance style that doesn't require much styling or product, similar to the crew cut or buzz cut.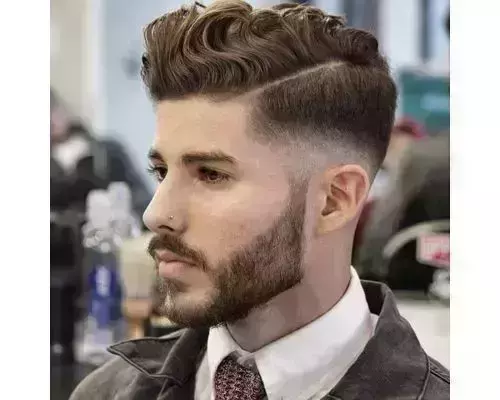 11. Tapered Sides With Long Comb Over
With a variety of different cuts, such as tapered sides, fades, and undercuts, the comb over haircut comb-override. This tapered haircut for men will become your favourite new appearance once you add a beard and a few hairs to your forehead.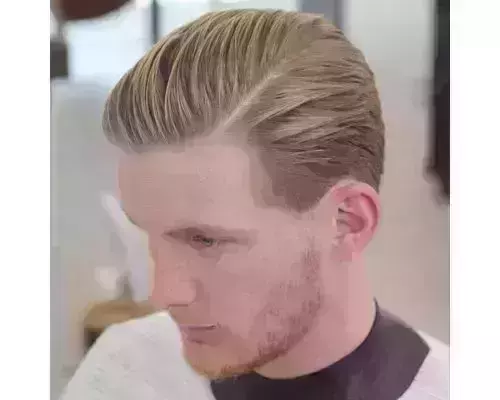 12. Side Parting Tapered Haircut
The classic haircut has been modified with this side part. The side part tapered haircut is a trendy men's haircut even though it has been around for a while.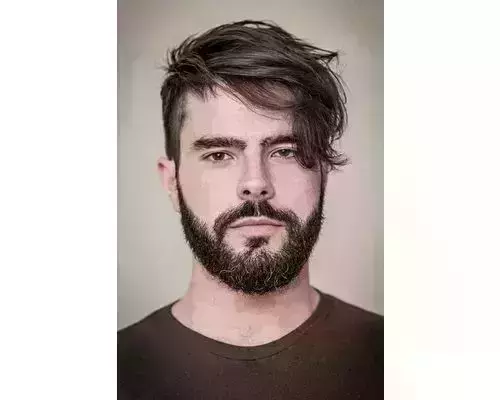 13. Taper Fade With Angular Fringe
Men with thick or curly hair look fantastic with the fringe. A messy fringe on top and a fade on the sides are simple yet stylish hairstyles that any guy can wear if they are having trouble styling their hair.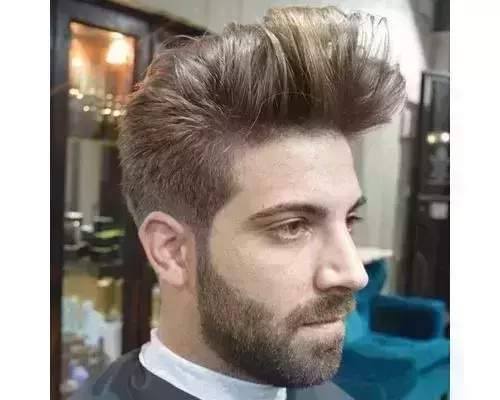 14. Quiff Tapered Haircut
A textured quiff is a stylish hairstyle to try if you have exquisite short to medium-length hair. You can choose a more typical tapered cut, a high skin fade, or an undercut on the sides.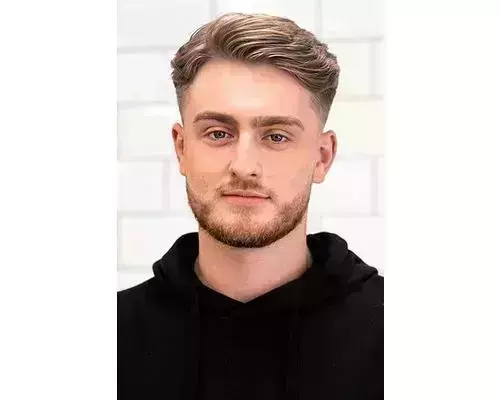 15.  Comb Over Tapered Haircut
For males with thick hair, the contrast of the comb over taper style is ideal. Use a quality pomade and apply it to your hair when it's just a little bit moist to style the look and give it a textured feel.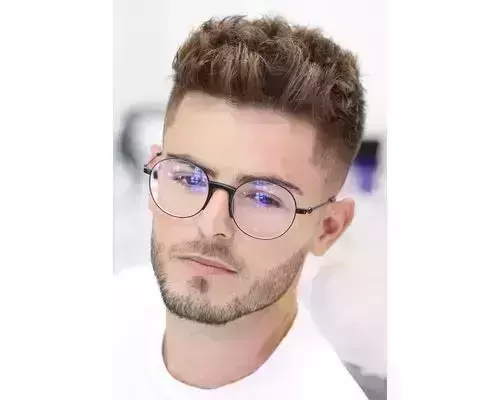 16. Short Tapered Sides
A great tapered hairstyle is short tapered sides with a textured brush-up and goatee that can be easily modified to create a quiff, pompadour, or smooth back.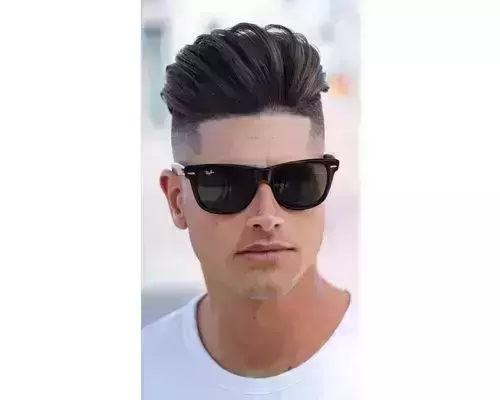 17. Modern Pompadour Tapered Haircut
One of the most popular men's hairstyles in recent years is the modern pompadour. You can easily transform your look by adding this smart hairstyle to your look.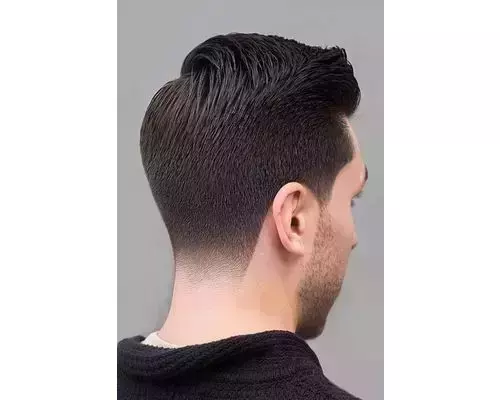 18. Low Neck Taper Fade Haircut
Certainly underrated are low-neck taper fades. Consider narrowing your neckline if you're getting a haircut but don't get a short fade or undercut on the sides.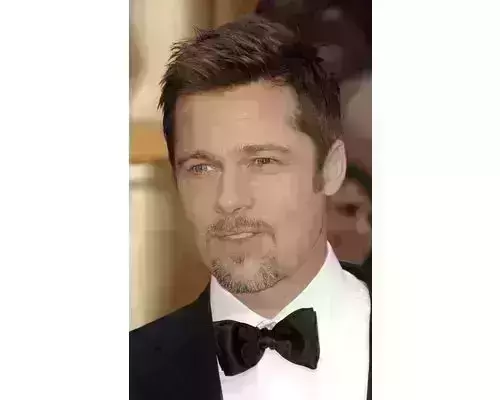 19. Crew Tapered Haircut
Simple, easy to style, and little maintenance describe this untidy crew cut.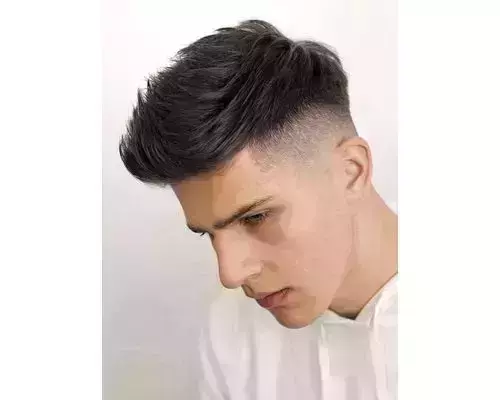 20. Clean Cut Tapered Sides
The clean-cut tapered haircut is a very easy-to-maintain haircut for boys and men alike.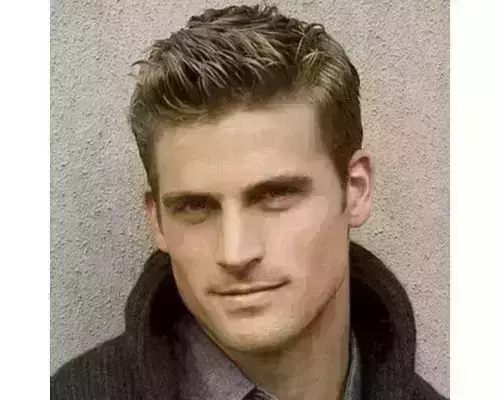 21. Ivy League Tapered Haircut
Another classy-looking gentleman's haircut is the Ivy League. It's a pleasant look that will help you stand out as a gentleman and is frequently worn with a tapered cut and a side-swept fringe or part.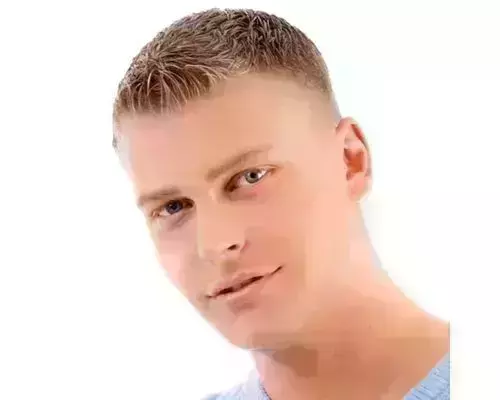 22. Regulation Tapered Haircut
For men who prefer a fuss-free, low-maintenance hairdo, a classic regulation cut is great. It has a short length, is simple to wear, and is distinguished by a side part. The military served as an inspiration for the regulation cut, which is renowned for its dapper appearance. You can combine it with a taper fade to give the haircut a more contemporary edge and allow it to better reflect your preferences.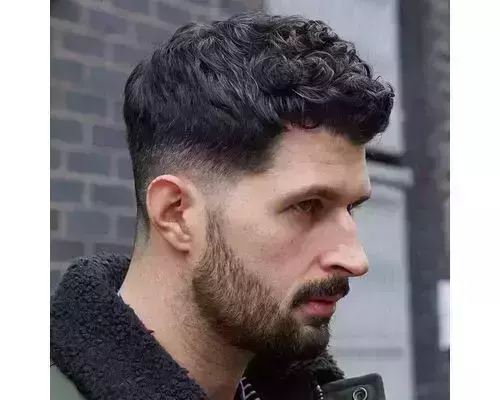 23. Curly Taper Haircut
Give your curls some shape with a curly taper haircut. Short sides and back mean you won't need to spend much effort styling those areas. It not only requires little maintenance, but it also has a polished, business-like appearance. The short sides and curly top portion create a novel visual contrast that keeps the curly taper fade from being dull.
Short curly hairstyles for men have been trending. Do check out our guide as along with taper haircut we list 50+ stunning haircuts which can make you look handsome.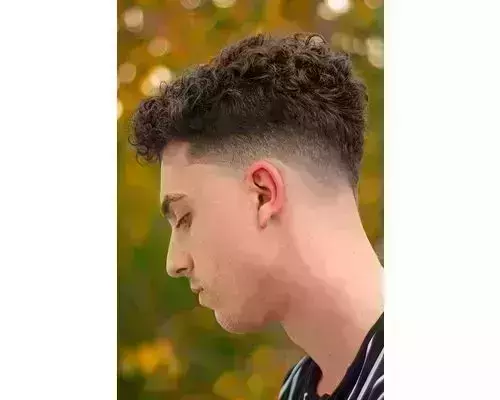 24. Afro Taper Haircut
Men with Afro hair should consider a taper haircut. It helps frame your face and brings out the sharpness of your features while requiring less maintenance than a full Afro. The Afro taper fade is a style that may be worn in a variety of ways, from formal and polished to loose and unstructured.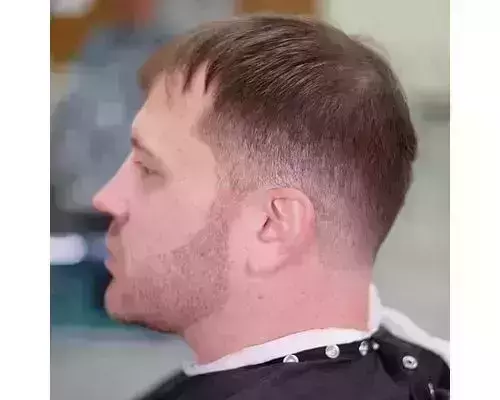 25. Bald Taper Haircut
A skin fade commonly referred to as a bald fade, is always in style. Men from all over the world return to the cut year after year because it is so fashionable and sophisticated. Your barber will carefully integrate your hair into the shaved portion to get the perfect bald fade, resulting in a stunning contrast. Leave the top of your hair length and style it with waves or curls for a novel spin on the cut.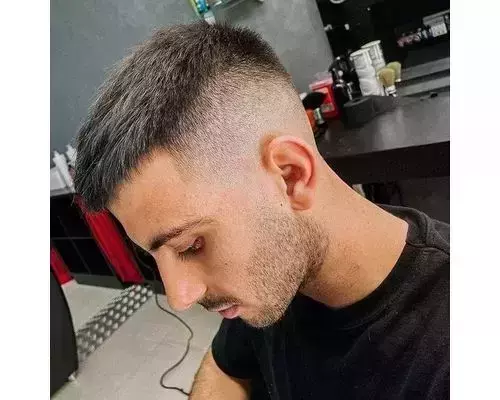 26. Caesar Taper Haircut
The Caesar is one of the oldest and most popular hairstyles for guys with short hair. It entails moving the hair forward to create a hairline-covering, short, blunt fringe. This taper haircut is the ideal choice for men with naturally straight or wavy hair.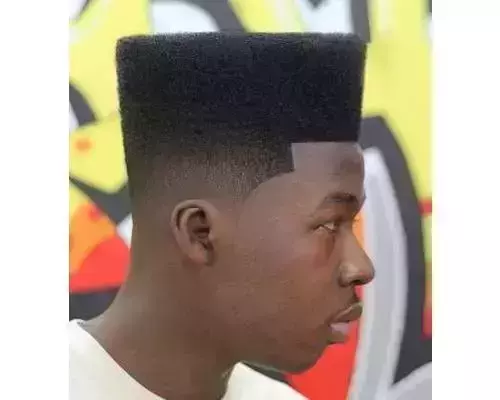 27. Flat Top Taper Haircut
The flat top involves trimming the hair to make the top look level and smooth. The flat top cut, which gained popularity in the 1950s and 1980s, is typically paired with a short back and sides. It also looks fantastic with a taper fade, which transforms it from vintage to contemporary.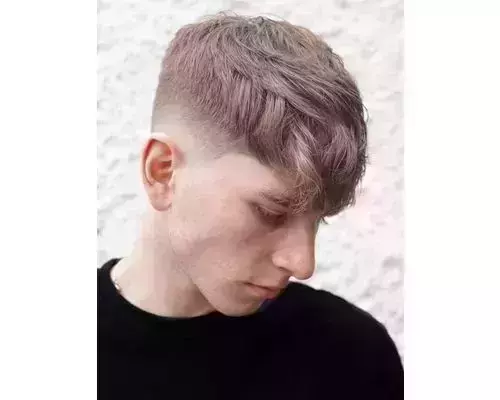 28. Fringe Taper Haircut
An excellent choice for men who wish to stand out is a fringe taper haircut. The unusual mix combines the ease of styling short hair with the sophisticated, creative aesthetic of a fringe to give you the best of both worlds.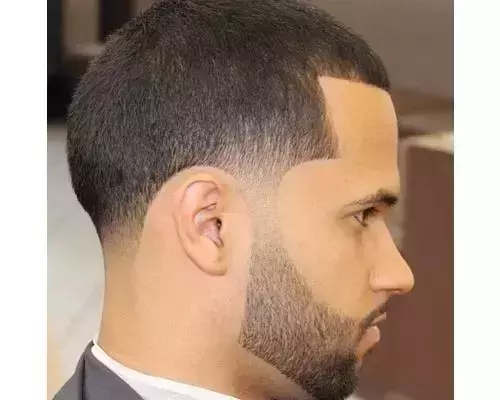 29. Mexican Taper Haircut
The Mexican Caesar cut is an unquestionably trendy and edgy hairdo. It features short hair that is trimmed on top and a similar head shape to the Caesar, giving it a similar appearance. By choosing a subtler fade, like the taper, which gradually shortens the length of hair on the back and sides, you can customise this modern cut to fit your preferences.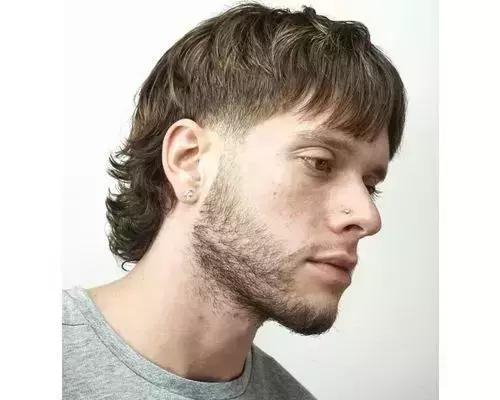 30. Mullet Taper Haircut
The length in the back and the short top and sides make up the popular mullet style. The mullet will make you look younger and goes well with most facial shapes. A taper fade, which gradually shortens on the sides, can give your hair structure and dimension.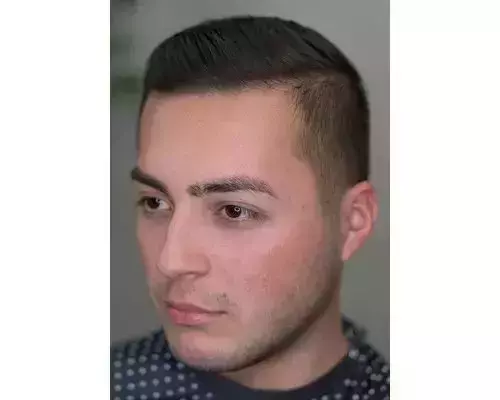 31. Mini Pompadour Taper Haircut
The small or mini pompadour is a less formal, more relaxed take on the traditional pompadour that yet exudes confidence and style. A taper fade looks great with a small pompadour. It is modernised and given a softly edgy tone by the fade.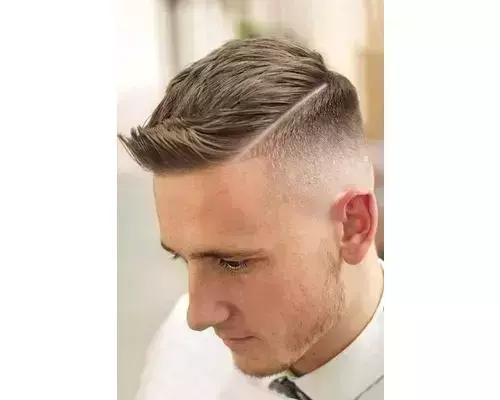 32. Undercut Taper Haircut
Any hairstyle, whether buzz cut, faded, or entirely shaved, that contrasts a longer top portion with a short back and sides is referred to as an undercut. The undercut looks more relaxed than other variations, like a skin fadefadesen worn with a taper fade.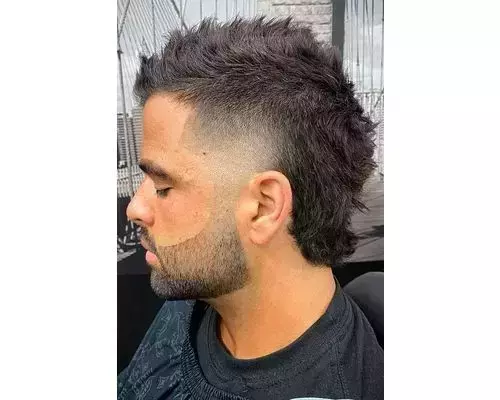 33. Mohawk Taper Haircut
A mohawk is a classic fashionable look that will always make you the focus of attention. The mohawk is made more wearable and informal by adding a high taper fade rather than a skin fade or straight shave but retaining its edgy, punk look.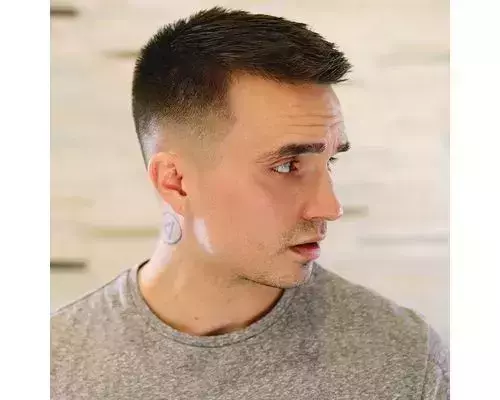 34. Skin Taper Haircut
Skin fades mix edgy swagger with sophistication and style. Options for skin fading are numerous and include high and low variations. The skin taper haircut for men is ideal if this is your first time experimenting.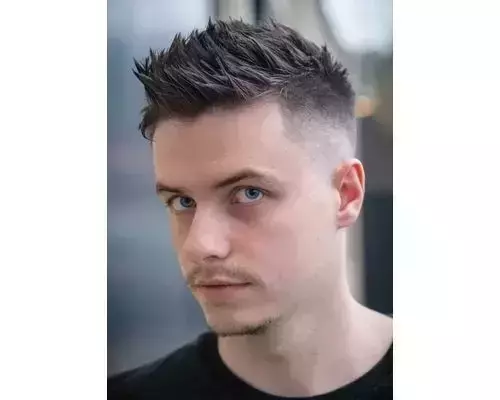 35. Spiky Taper Haircut
Spiky hair has personality and edge and is a preferred style among sportsmen and celebrities. Spiky taper hair, one of the momanliestaircuts, may be styled to balance your face and accentuate your characteristics.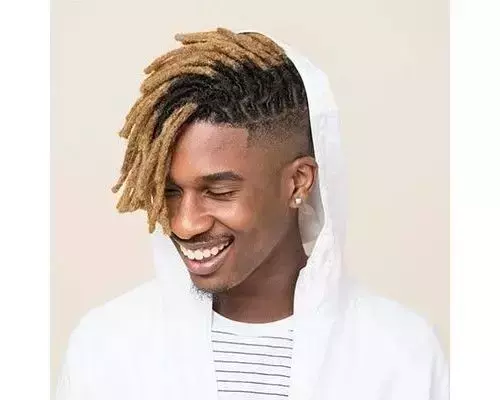 36. Tapered Haircut With Dreads
For males with Afro-textured hair, dreadlocks are versatile haircuts taper fade and short locs are one possibility. The taper fade haircut offers the look more structure and leads the eye up while being more subdued than a high fade.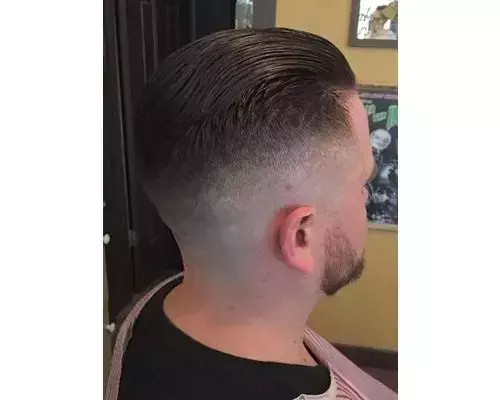 37. Wet Taper Hairstyle
Consider a wet hairstyle, which uses water and gel to give the appearance of being slislickor a high-shine appearance, and finish it off with gobs of hairspray.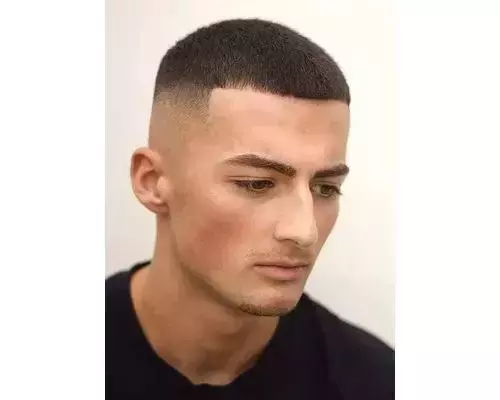 38. Buzz Taper Haircut
A popular hairstyle for males is the buzz cut. Most facial shapes and all hair kinds and textures will look good with it. The cut is generally the same length throughout the head, making it the perfect option for guys who want to spend less time grooming and like a simple hairstyle.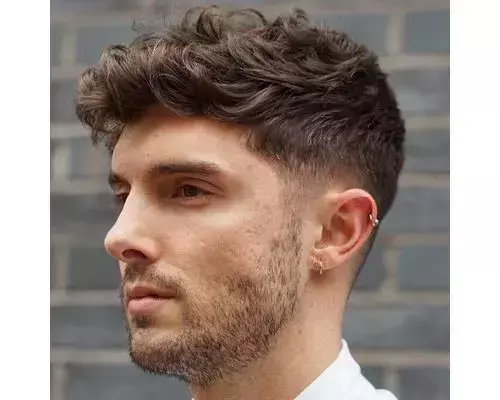 39. Wavy Tapered Haircut
Your hair gets a structure with a tapered haircut, which gives it a tidy, polished appearance. It will provide a stunning contrast with the texture on top of the head when worn with wavy hair.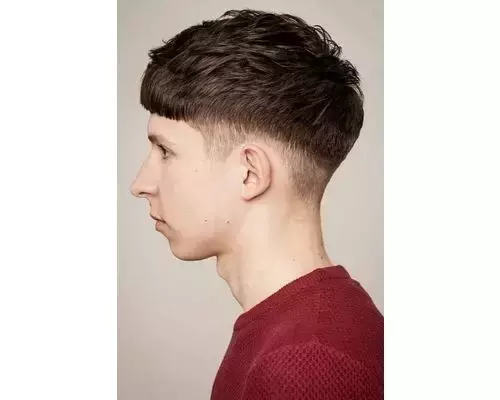 40. Bowl Cut Taper Haircut
In recent years, the bowl cut has received a contemporary update that has transformed it from a mushroom-like style into a look that is contemporary and effortlessly chic. The hairstyle is usually the same length around the head and has a short, straight fringe.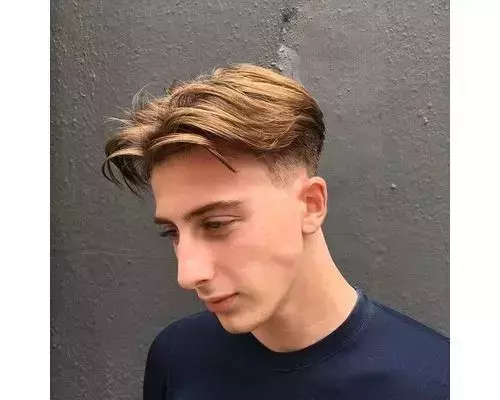 41. Curtain Bangs Taper Haircut
Right now, curtain bangs are the trendy hairstyle. With the hair trimmed shorter at the top and longer toward the bottom, the bangs have a middle parting. It works well with most hairstyles and, for a distinctive look, you can combine it with a taper haircut that gradually reduces the hair on the back and sides.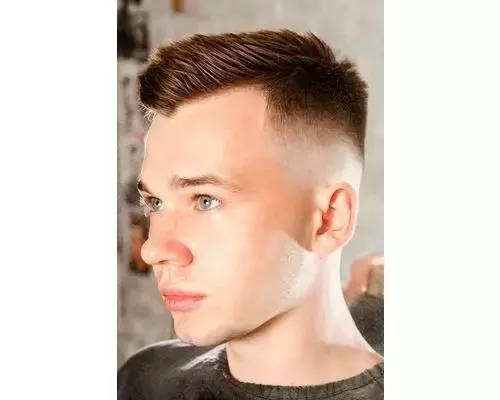 42. Straight Hair Taper Haircut
Your selected cut will seem sleek and stylish and offer the hair structure if you combine straight hair with a taper. Additionally, it will stand out from the top of the head's hair.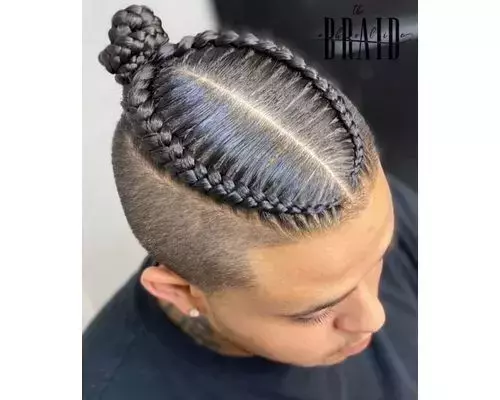 43. Cornrow Taper Haircut
To the texture on the top of the head and add structure to the back and sides, men who enjoy braids can pair cornrows with a taper fade. The underhand braiding technique is used to braid cornrows near the scalp.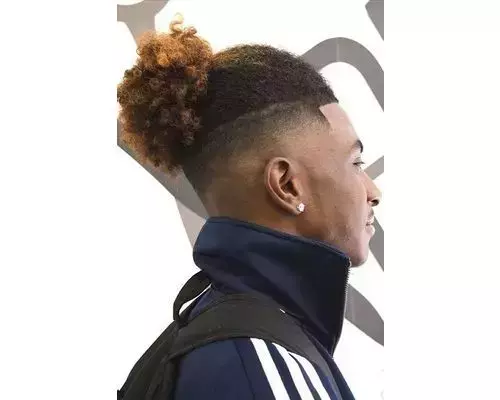 44. Ponytail Taper Haircut
Depending on your hair length and level of expertise, the ponytail hairstyle can be basic or intricate. Whatever you decide, it is a great appearance for men who want to keep their hair off their necks and can be both effortlessly cool and practical.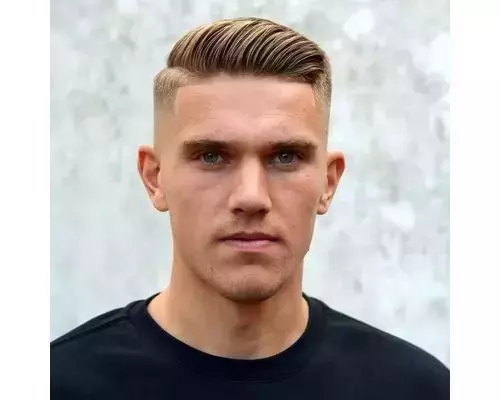 45. Classy Taper Fade Haircut
This haircut will aid you in achieving the ideal appearance if you choose a classic and exquisite style but want it to look more contemporary. Your desired effect will determine the type of haircut you get. Get a basic side part in the above tapering region for greater definition.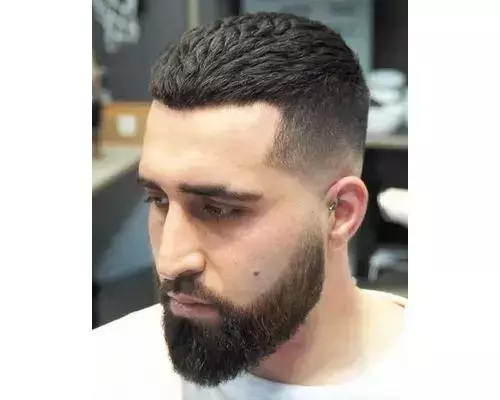 46. Clean Neckline Taper Haircut
A subdued taper fade on the sides could give your appearance a fashionable and smart touch. However, choose lengthy hair on top to give your hairdo a noticeable edge.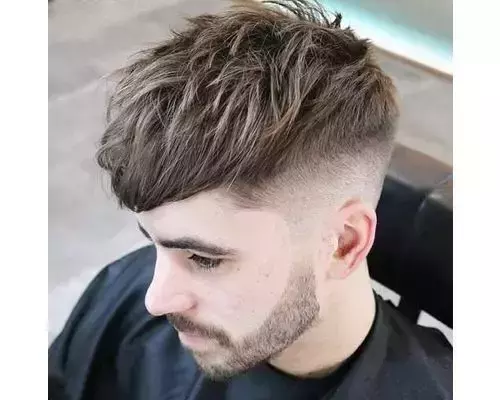 47. Choppy Short Taper Haircut
Cuts with choppy sides and tapered fades will offer them a polish, edge, and refinement. They can also decide whether they want long, flowing hair or short, choppy hair. There are a tonne of alternatives with taper fades.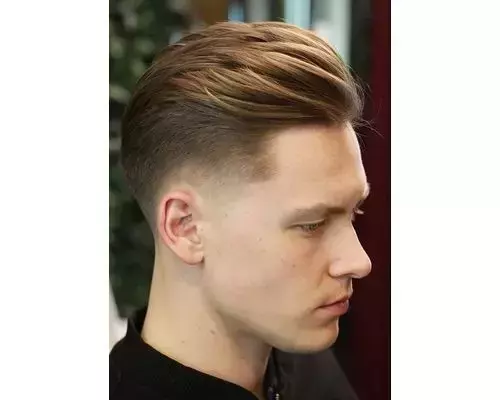 48. Flowy Swept Taper Haircut
Include flowy strands on top to give your hairdo a light and carefree appearance. Sweep back the top hair and get the sides faded to the skin if you want to produce strong contrast with this style.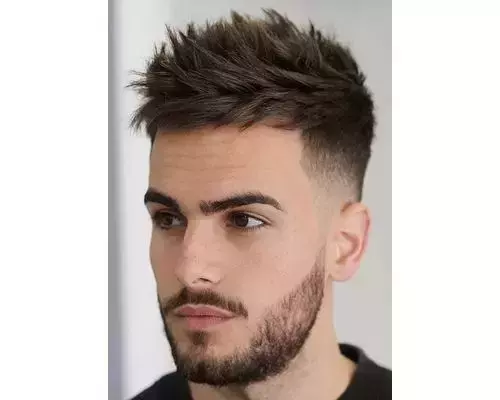 49. Textured Short Top Taper Haircut
Any length of hair looks good with a taper-to-fade haircut. Therefore, to add more definition to your shorter haircuts, pair them with a high high-taper cut. The top hair can also be texture chopped for the same reason.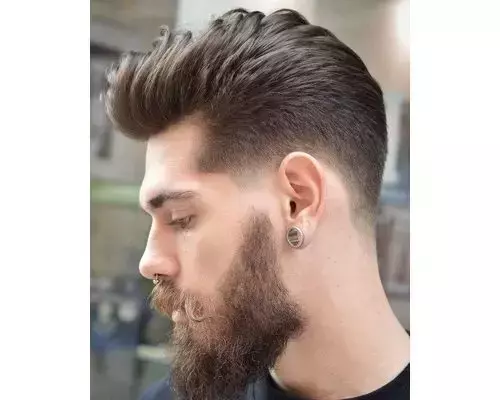 50. Blowout Tapered Haircut
A medium blowout haircut with tapered sides is the way to go when you need to appear your finest. It fits practically every setting, from semi-formal to professional, and is elegant and tidy.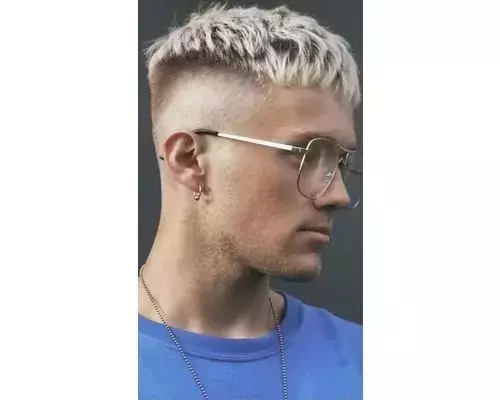 51. Bleached Taper Haircut
You may even make hair designs or bleaches with taper fades. It works particularly well for a thick taper fade in men's haircuts.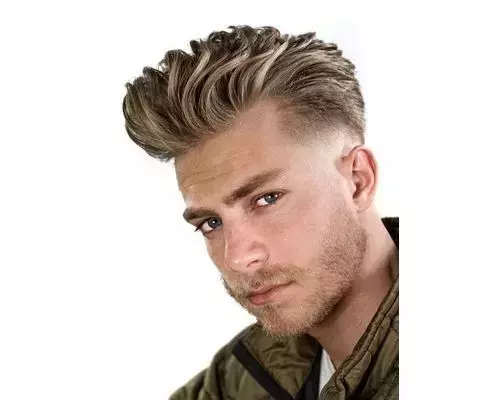 52. Hand Brushed Tousled Blonde Tapered Haircut
Run your fingers through the top hair to create a tousled look if casual and easy hairstyles appeal to you. Get the tops of your locks bleached while leaving the roots dark for added boldness and contrast.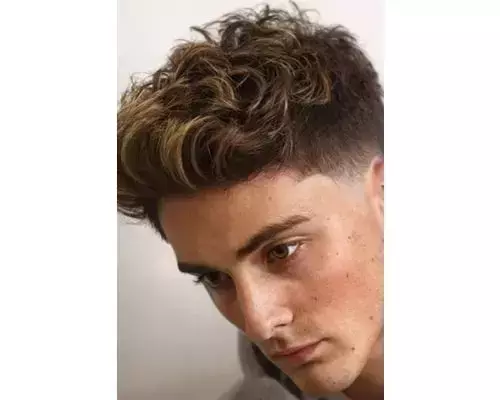 53. Curly Taper Haircut With Volume
Men with naturally curly hair should always look for ways to benefit from them. As a result, you can add a taper fade of any length and degree of drama to your curly hairstyle while also adding a lot of volume to the top.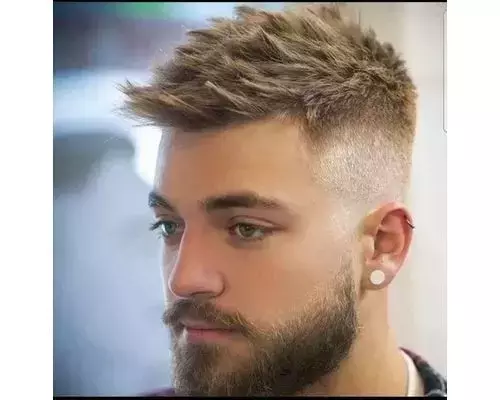 54. Layered Push Back Taper Haircut
This neat and structured short haircut feels great. Despite the hair being a little longer than a military hairstyle, the neatness gives the same impression of great value.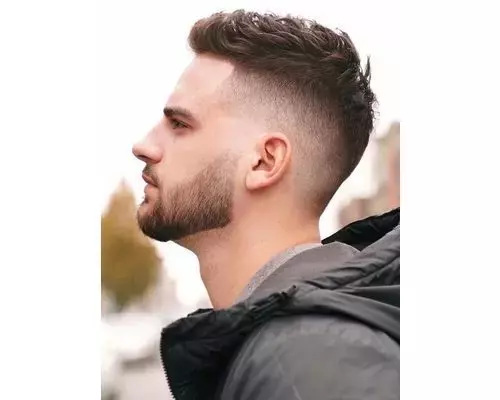 55. Casual Brush Taper Haircut
This masculine cut employs some gentle brushing to create a small ridge along the centre, often known as a faux hawk or brush-up. This is an uncomplicated appearance that would be difficult to fault, especially when paired with a short side taper.
These were 55 of the best Tapered Haircuts for Men. Try the ones you like in 2023.