35 Alexandra Daddario Hot Pictures And Looks - 2023
Hanisha Sharma
Updated At 18 Oct 23
Alexandra Daddario is an American actress who has taken Hollywood by storm since she first debuted in 2002. She is known for her captivating beauty, alluring blue eyes, and versatile talent. Alexandra Daddario is an amazing actress known for her lead roles in blockbusters like Baywatch, The White Lotus, Can I Tell You A Secret?, Percy Jackson series and Mayfair Witches.
So, if you're looking for some sexy yet classy looks, let Alexandra Daddario inspire you. Take a look at top 35 Alexandra Daddario's hottest looks and pictures.
35 Alexandra Daddario Hottest Pictures And Looks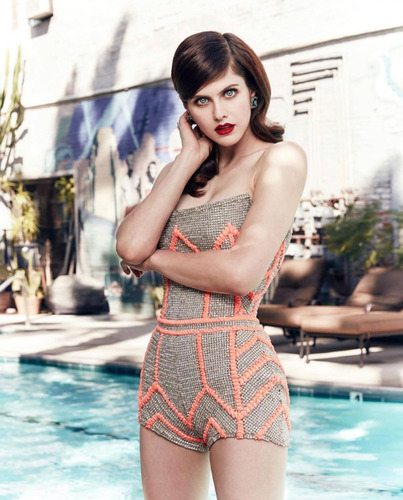 1. Hot in Orange
One of the hottest female celebs, Alexandra looks hot in this photo captured close to the swimming pool. Though the design looks a bit vintage, but it suits her perfectly.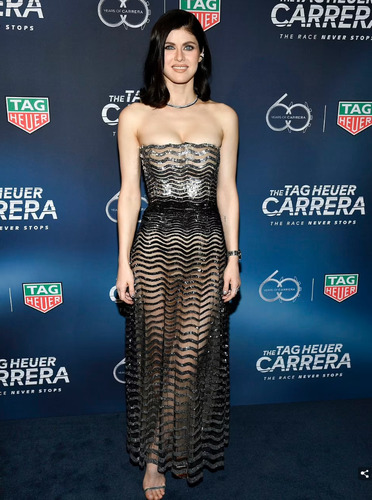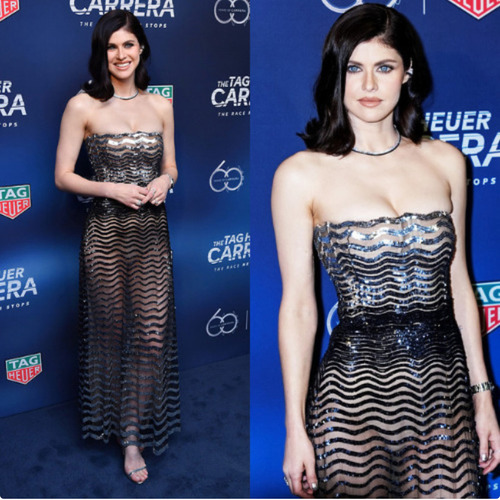 2. Turning Heads In Sheer dress
Being a style icon, Alexandra Daddario is no stranger to the sheer trend. At the TAG Heuer 5th Avenue Flagship Opening, she embarked on the sheer trend with this gorgeous silver sequin chevron-pattern dress from Oscar de la Renta. The actress paired the dress with Melissa Kaye jewellery and a TAG Heuer watch.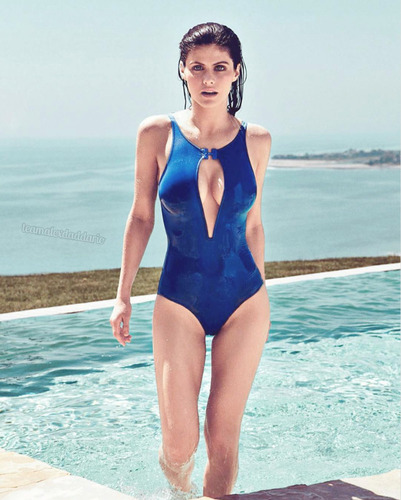 3. Alexandra In Swimwear
One of Alexandra Daddario's hottest pictures has been her swimwear pictures. She gained a lot of popularity when she was a part of Baywatch series. This stunning one piece suit looks gorgeous on her as she looks hot and sexy.
Also check out Ana De Armas hot looks as she is another natural beauty who looks absolutely stunning in all her looks.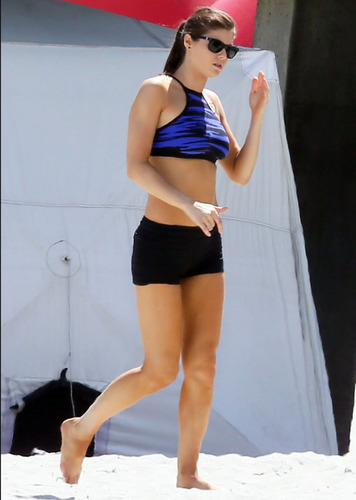 4. Alexandro Daddario In Bikini
Clicked on the 'Baywatch' set in Georgia, this is one of the hotest pictures of Alexandro Daddario. She is seen wearing a blue bikini alongwith black shorts in this viral picture. One of the prettiest women, her popularity continues to rise consistently.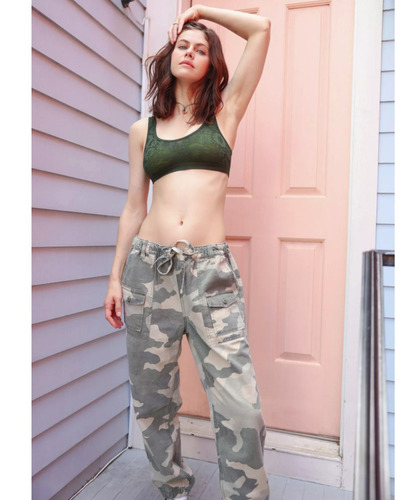 5. Stylish Jogging Attire
Alexandra Daddario has been a fashion inspiration for not only high-end events but also simple things like jogging. She looked alluring in this casual yet super stylish outfit as she stepped out on a summer day.
Also check out our guide to find out the most beautiful hollywood actresses. From Jennifer Aniston, Angelina Jolie to Megan Fox, the list covers all the popular names.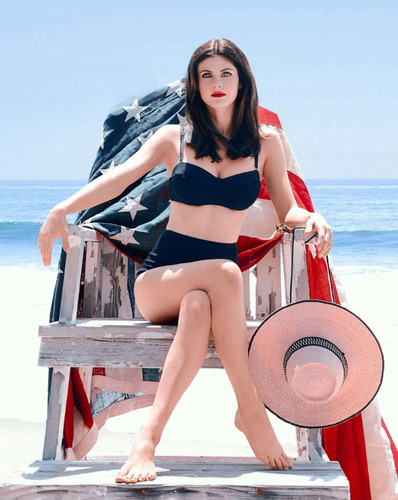 6. Hot In Bikini
Alexandra Daddario is certainly one of the hottest women in the world. She looks gorgeous in this black bikini and her abs, legs are just perfect. We can just adore her natural beauty!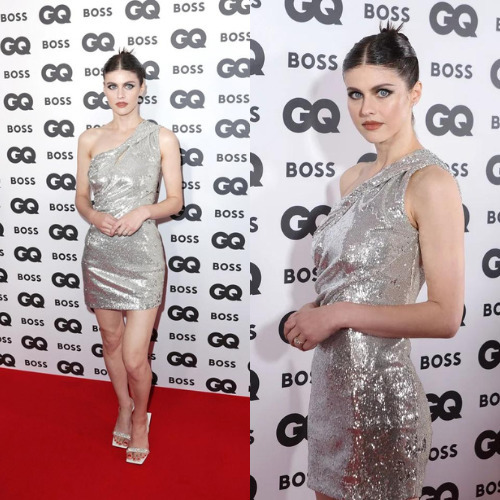 7. Sequin Dress 
The whole world was left awestruck when Alexandra Daddario stepped on the red carpet of the GQ Men of the Year Awards on November 16, 2022, in a one-shoulder sequin mini dress. She paired the dazzling dress with shiny heels. Her smokey eye makeup made her striking blue eyes pop up even more.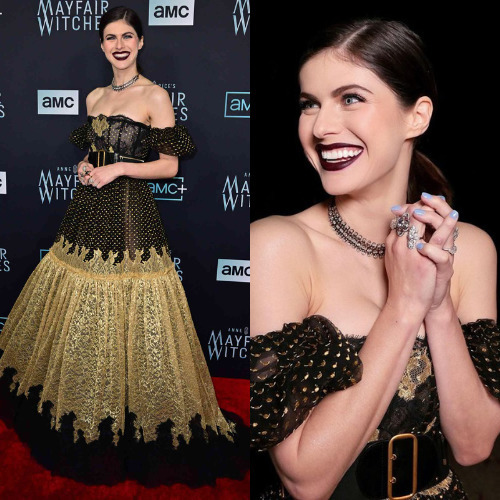 8. Goth Glam At The 'Mayfair Witches' Premiere
It was the premiere of 'Mayfair Witches' when Alexandra Daddario decided to cast some real magic on the red carpet when she showed up in an off-shoulder Dior gown. The sheer black and gold lace gown had everyone in a captivating grip. Alexandra wore a chunky rhinestone choker necklace along with a belt on the waist to enhance the beauty of the look. It is safe to say that the leading lady of Mayfair Witches' presented some goth glam at the premiere.
She has already made her mark and is amongst the top beautiful hollywood actresses.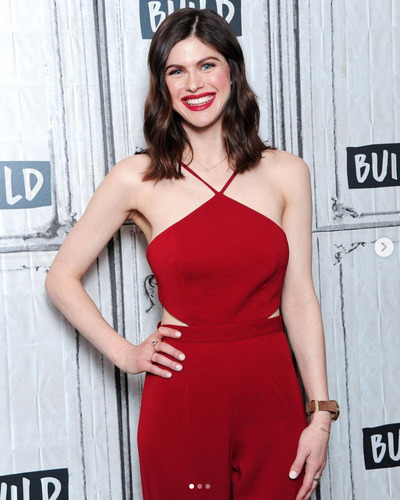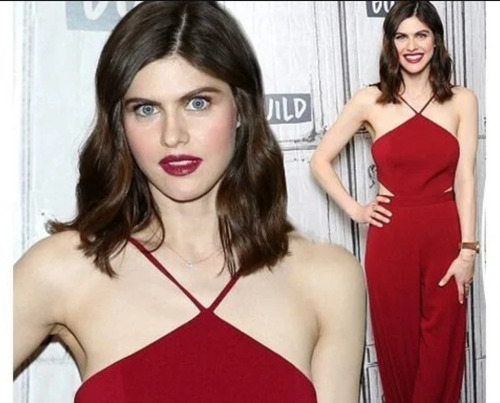 9. Alexandra Daddario Sexy Jumpsuit
Alexandra Daddario once again raised the temperature by wearing a scarlet halter neckline jumpsuit with cut-outs on the waist as she arrived at Build Series, New York. The beautiful actress turned up the drama by wearing red bold lipstick and red high heels. She also wore gold rings to accesorise the look.
Read More: Prettiest Female Kpop Idols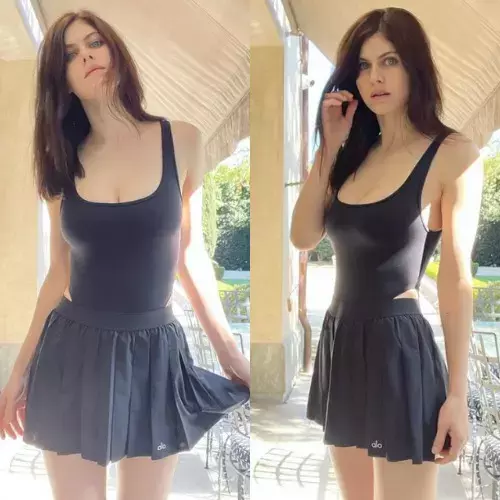 10. Casual Look
In a brand collaboration with Alo, Alexandra Daddario sported a tennis dress from the brand. Her look, which was extremely bold and classy, was appreciated by the audience. She styled the black tennis dress casually, as seen in her pictures posted on Instagram.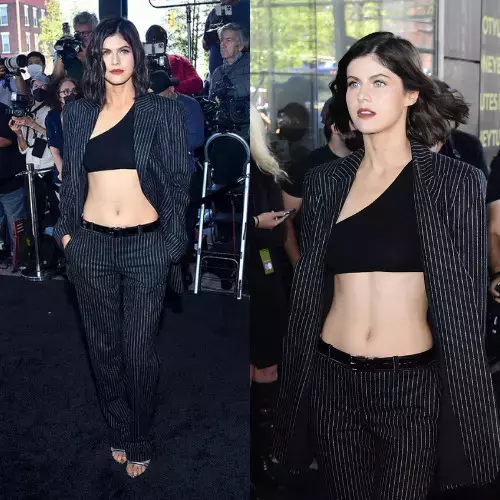 11. Hot In Blazer
Fashionistas all around the world were wonderstruck when Alexandra Daddario arrived at the Michel Kors fashion show in a chic blazer outfit. The actress wore a pinstriped suit and a one-strap bra top that showed off her chiselled and toned core.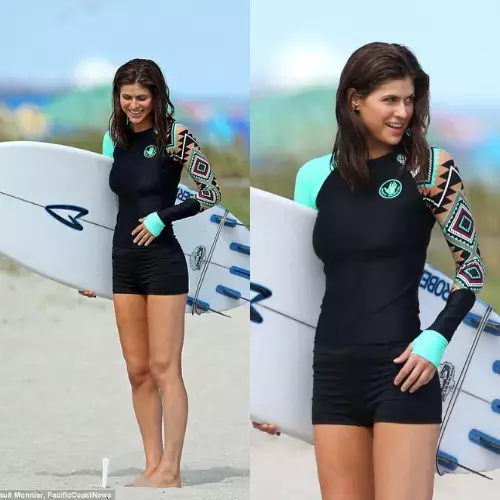 12. Stylish Surfer Outfit
As many of us know, Baywatch was a multi-star blockbuster in which Alexandra Daddaio played Summer Quinn and served us some of the best beach and surfing looks. One of them was when she wore Body Gloves Women's Maka Sleek Rashguard, which perfectly fitted her curves.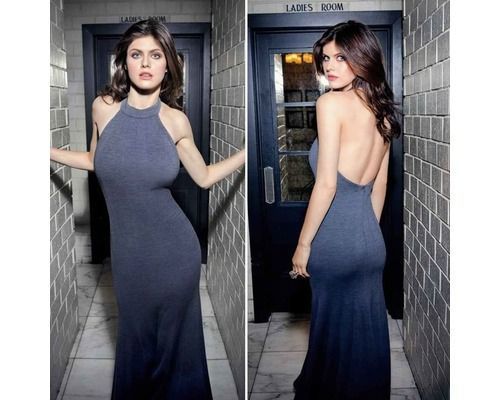 13. Hot Backless Gown
Alexandra Daddario has always been active on social media, posting her new looks, and one of them was enough to send her fans into a frenzy. In this post, Alexandra wore a backless gray gown that gave her a sexy and modern edge and yet a classy look. The dress perfectly highlighted her slim figure.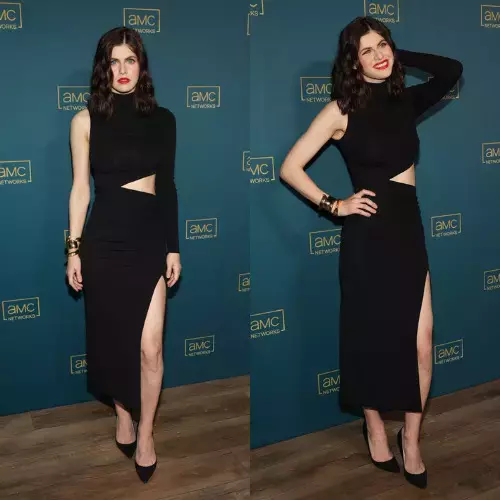 14. Elegant Black Dress
The world has been no stranger to the beauty of Alexandra Daddario, but she proved it again when she arrived at the AMC Upfronts in New York wearing a unique one-sleeve gown that had a cutout from the midriff and a slit on the left leg from the Michel Kors collection. Alexandra Daddario completed the look with black pumps and gold bracelets.
Also check our guide to find the list of beautiful french women as we cover 30+ prettiest frech women. The list includes Lea Seydoux, Alizee Lyonnet and many more.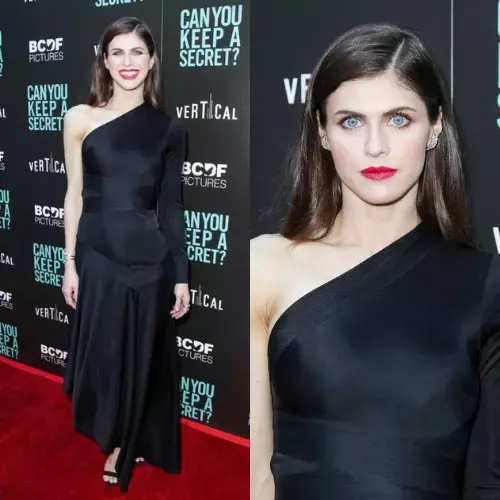 15. Hot Look In Alexis Dress
At the premiere of her movie, 'Can You Keep A Secret?' Alexandra Daddario wore a one-shoulder black dress by Alexis that perfectly accentuated her lean and curvy body. She decided to complete the look by pairing the dress with a pair of black heels and silver jewellery.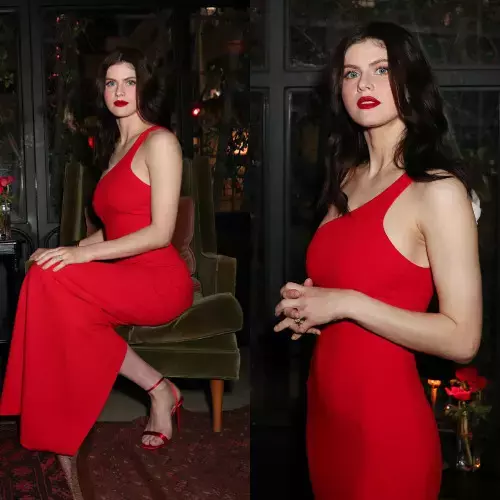 16. Bold Red Gown
Alexandra Daddario was certainly a vision of elegance as she attended The SAG Awards Ambassador Dinner in a scarlet gown with an asymitrical neckline to accentuate her collarbone and toned arms. She matched the gorgeous gown with red satin heels and gold jewellery.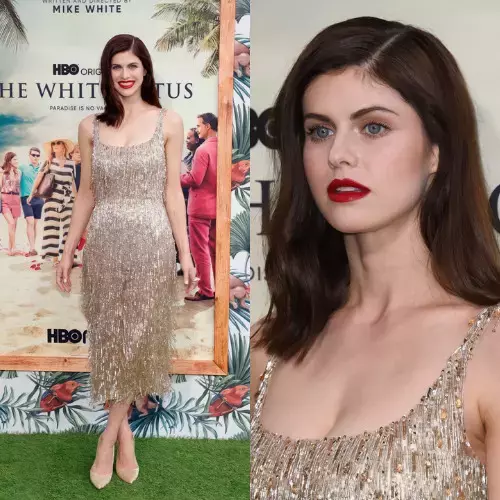 17. Gold Dress
As always, Alexandra Daddario bedazzled the red carpet by arriving in a gold flapper-inspired dress with fringes. She completed the bold look by sporting a red lipstick and completing the outfit with champagne-coloured pumps and chunky rings on one hand.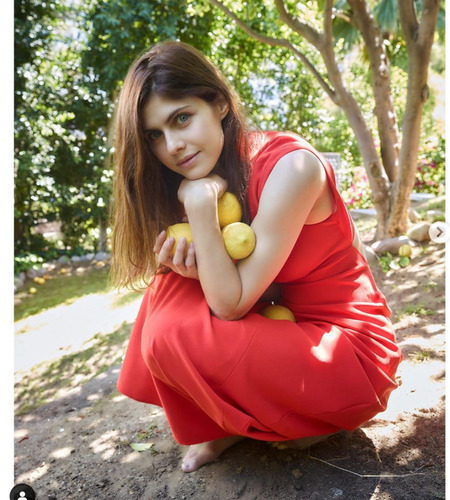 18. Hot In Red Dress
Alexandra Daddrio looks hot in this red dress where she is seen picking lemons from a garden. This casual pic with family shows her natural and real beauty. We juts adore her!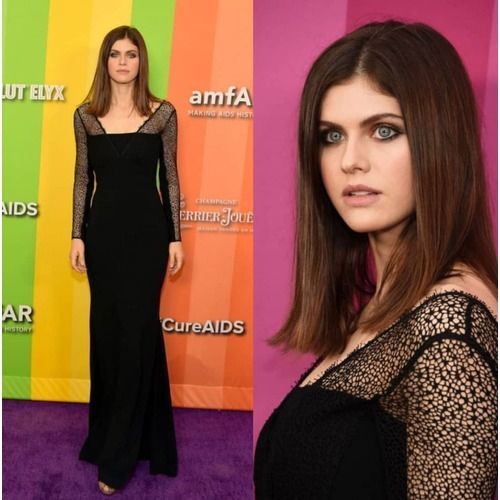 19. Black is never out of style
It has been proven time and again that no one rocks the colour black like Alexandra Daddario, and she proved it again by wearing a black gown with mesh sleeves at the 2019 amfAR Gala. She complemented the look with smokey black eye makeup and sheer lipgloss. The actress accessorised herself with a thin gold chain and a pair of heels.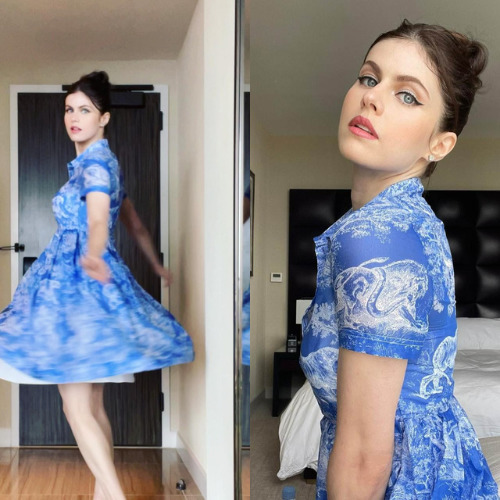 20. The good ol' Sundress
Alexandra Daddario once again raised the temperature when she posted pictures of herself wearing a gorgeous blue sundress by Dior. It is a fitted dress that perfectly highlights her lean and slim figure with Chinese motifs.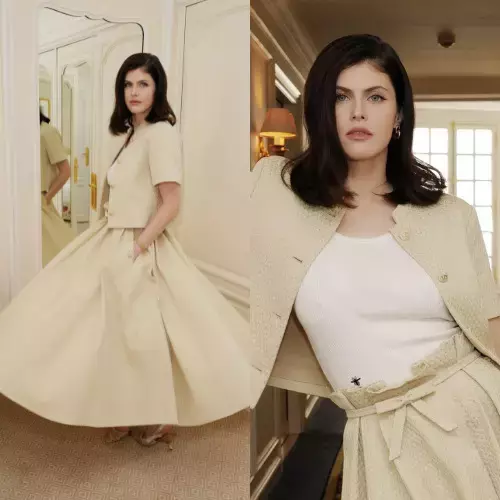 21. Debut At Dior Haute Couture
Alexandra Daddario is the global ambassador for the luxury fashion house Dior. To make her front row debut, Alexandra opted for a two-piece ensemble, a cream bouclé jacket, and a matching A-line maxi skirt. She styles the pair with a simple white vest underneath. To accessorise herself, the actress chose a gold bracelet, gold hoop earrings, and a pair of cream heels.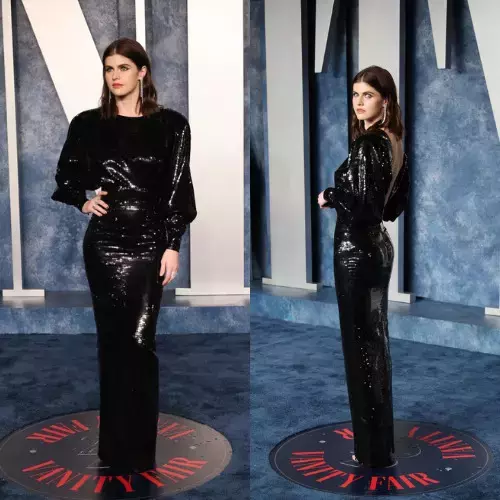 22. Designer Black Gown
Alexandra Daddario looked like a vision of elegance when she arrived at the 2023 Vanity Fair Oscars Party wearing an Alexandre Vauthier Couture dress. She paired the elegant gown with long silver earrings and Jimmy Choo heels.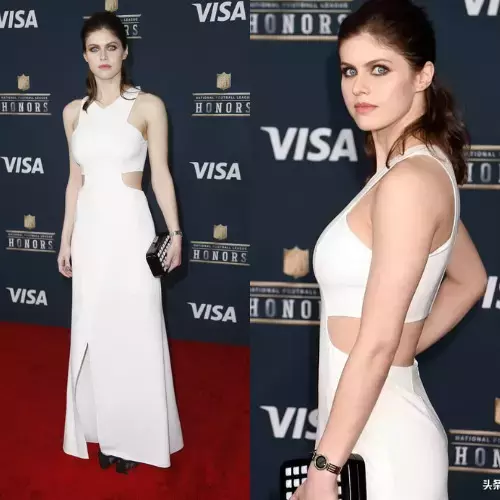 23. Beautiful in White
Alexandra Daddario looked enchanting in the white gown with alluring side cut-outs and a leg slit as she graced the 6th Annual NFL Honors with her presence in Houston. She accessorised the look with a silver watch and clutch. The gown was the perfect choice to show off her toned shoulders and arms.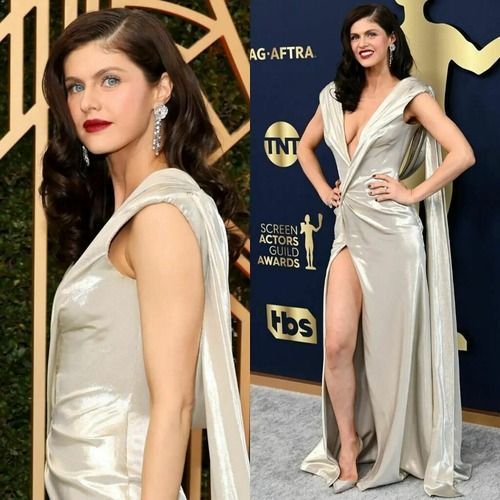 24. Turning Heads In Versace Gown
Alexandra Daddario channelled her inner Greek goddess when she chose to wear a custom-made Versace gown with a deep neckline. The gown also had a fitted bodice and a thigh-high slit. The actress decided to complete the look with De Beers drop earrings and shiny silver pumps.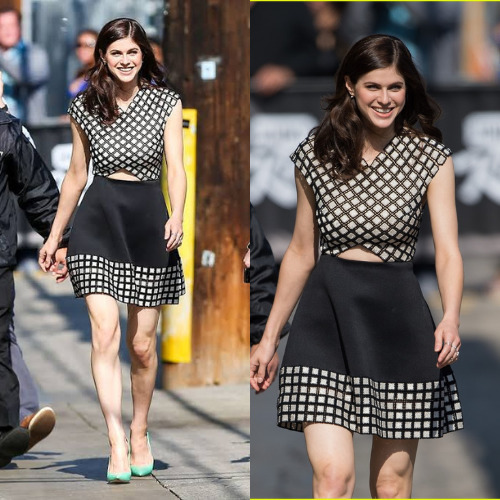 25. Casual and Elegant Look
Apart from her red carpet looks, Alexandra Daddario is also famous for her casual and classy street style. Here, the actress is sporting a casual dress as she hangs out in the city. She has paired the dress with bright-coloured heels.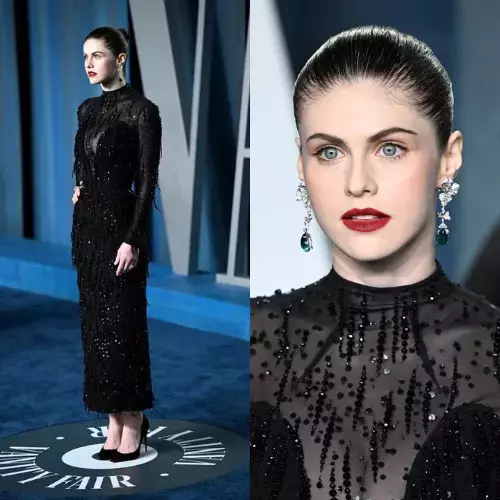 26. Vanity Fair Oscar Party
It is no secret that Alexandra Daddario looks drop-dead gorgeous whenever she decides to wear black, and she did it again at the 2022 Vanity Fair Oscar Party. The actress shone in black Carolina Herrera. The gown makes her figure look absolutely stunning. She pairs it with silver earrings and a pair of black heels.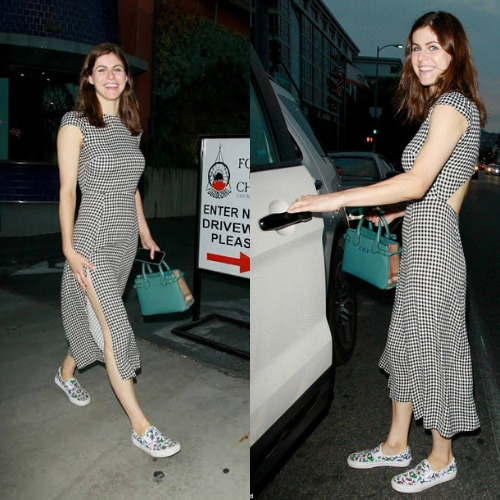 27. Casual Look
Alexandra Daddario stepped out to have dinner with friends and wore a black and white checked cut-out dress with a slit. She paired the dress with colourful sneakers and a teal purse.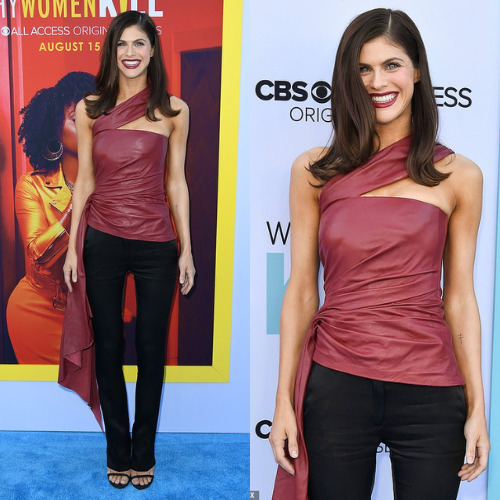 To promote her series, Alexandra Daddario wore a killer red leather top that fitted her slim body perfectly with one strap across one shoulder. She paired the top with black slacks and wore them with 6-inch black heels.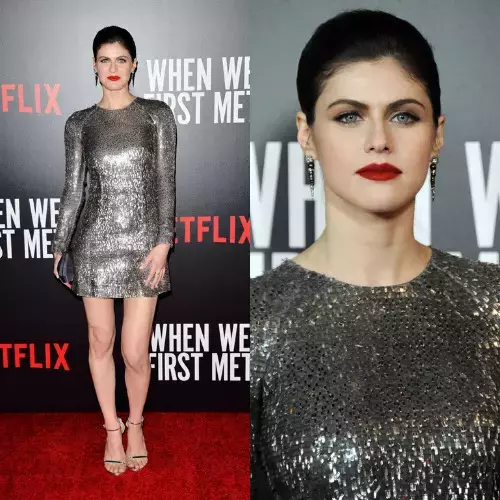 29. Dazzling Dress
Alexandra Daddario once again made heads turn when she sparkled like a diamond at the screening of 'When We First Met.' She wore a dazzling long-sleeve silver dress with matching heels. The actress turned the drama up by sporting bold red lips.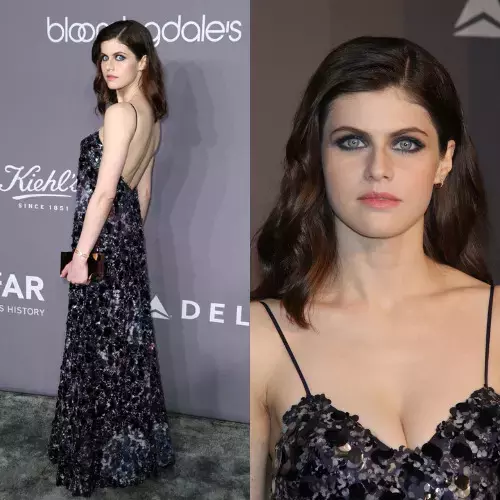 30. Hot amfAR Gala Look
Alexandra Daddario looked absolutely bejewelled in the mirrored dress by Salvatore Ferragamo at the amfAR Gala in New York. She completed the look with deep red lips and a burgundy clutch. She also wore black heels with the dress.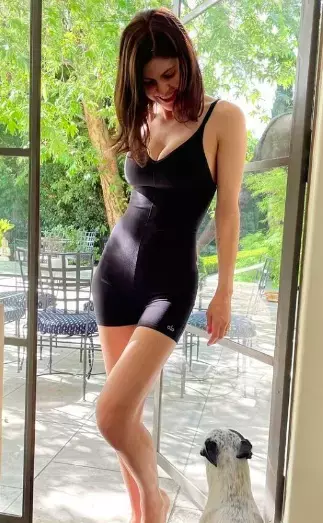 31. Alexandra Daddario In Bikini
Alexandra Daddario sizzled in a dark blue bikini as she enjoyed a day of relaxation, chilling out with her loyal dog. Her hot photo perfectly captured the essence of a sunny day spent in the company of a furry friend.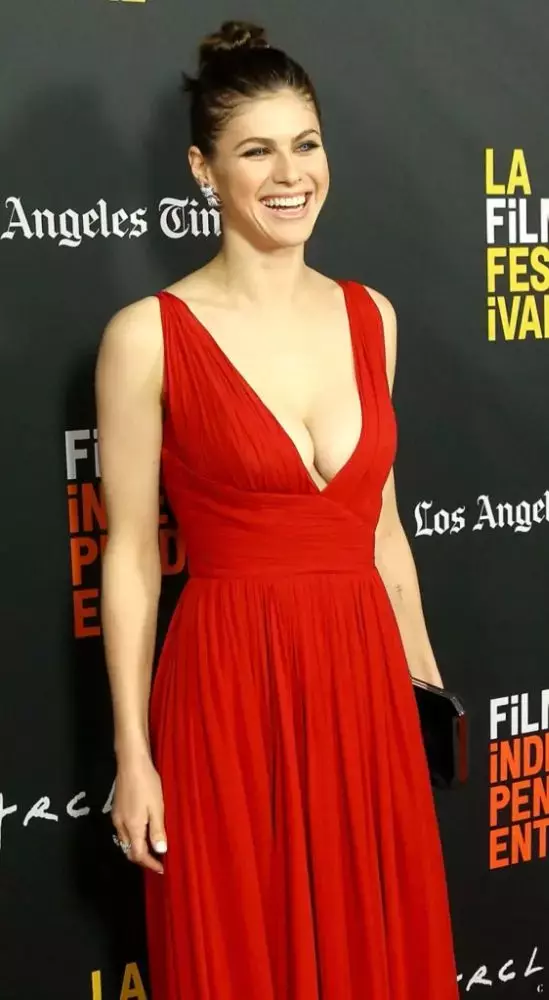 32. Hot In Red
In a sizzling red look, Alexandra Daddario graced the LA film festival with her hot photo, captivating the event with her stunning and alluring presence.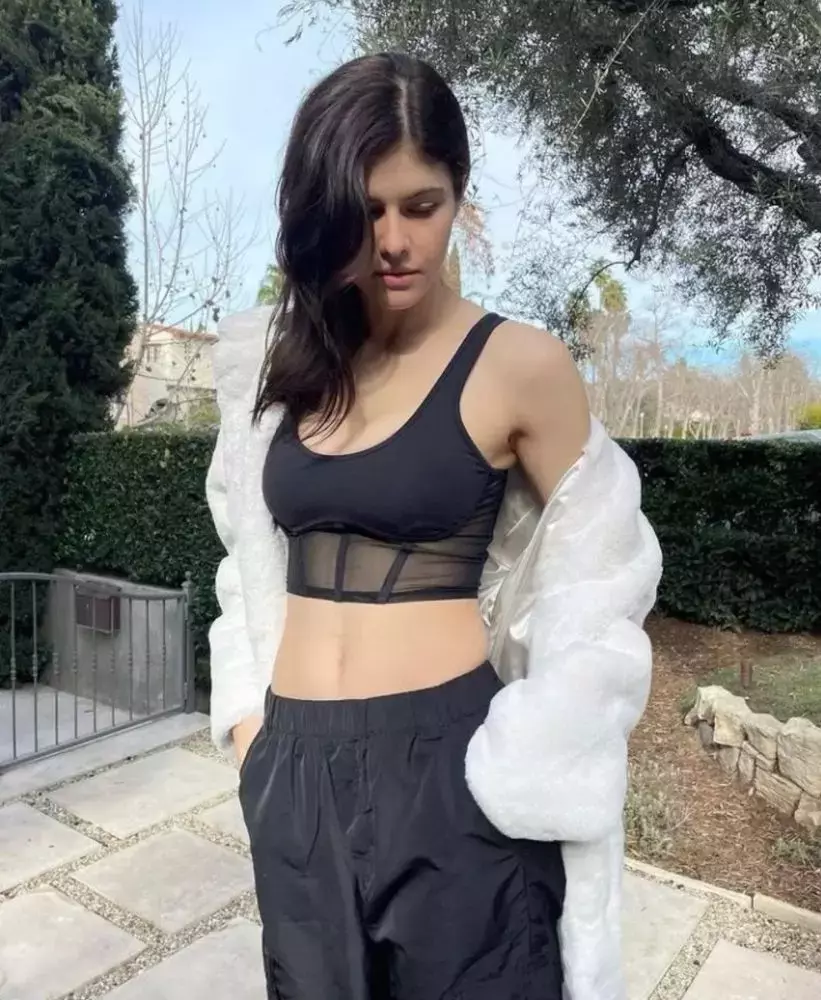 33. Hot In Black
In a scintillating black top and matching pants, Alexandra Daddario showcased her hot photo, highlighting her impeccably toned and flat stomach..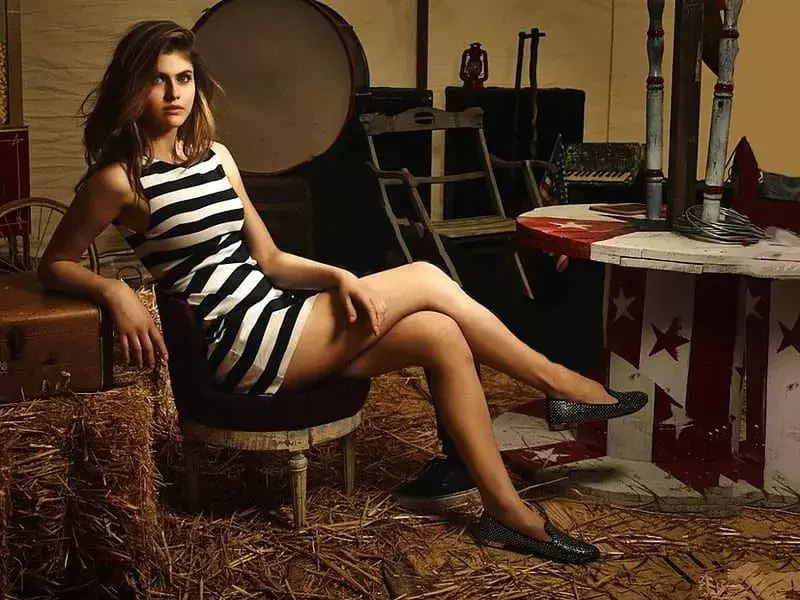 34. Hot Avatar 
In a captivating black and white striped dress, Alexandra Daddario's hot photo exuded elegance and style.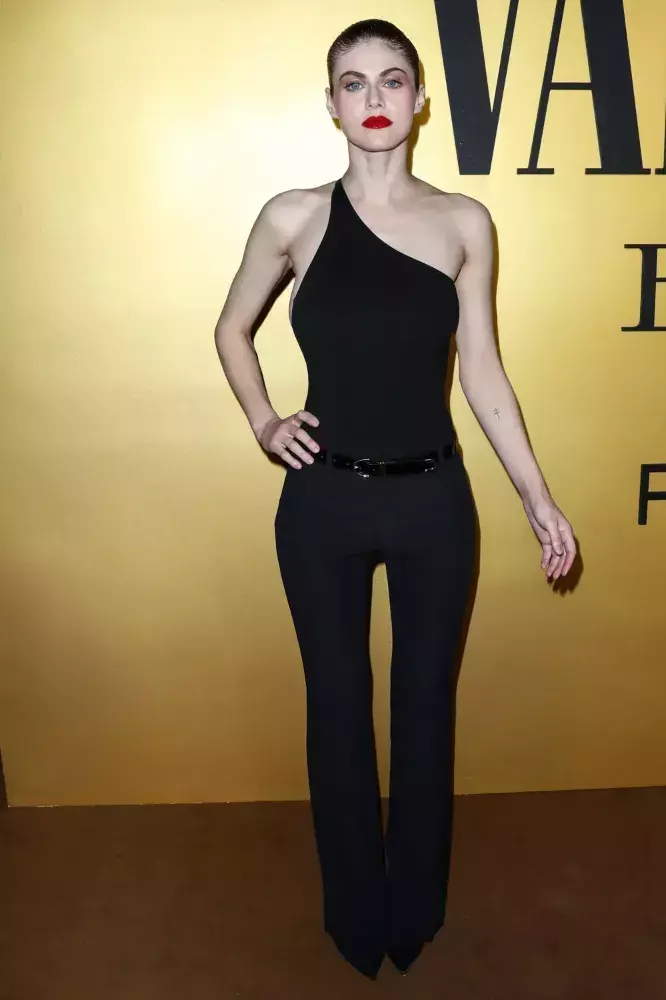 35. Black Dress
In a red-hot fashion statement, Alexandra Daddario paired a sultry black dress with vibrant red lipstick, showcasing sophistication in designer wear.
To delivering excellent performances in the movies to serving breath-taking looks, you can always count on Alexandra Daddario to be at the top. A versatile actress with a never-ending spree of fashionable looks, she is a forced to be reckoned with.