Amazing Beauty And Fitness Secrets Of Bollywood Diva Rekha
Sweta Mookerjee
Updated At 09 Dec 22
Are you looking for the Bollywood Diva Rekha beauty secrets? Want to know Rekha beauty tips which makes her skin glow even at this age?
Rekha's beauty and charm is unmatched, and she has aged so gracefully. Even at this age, she has healthier skin and a better lifestyle than most of us do and for the same, Rekha skin care has played a crucial part.
Also, what's great is that she relies on the simplest and most natural things to attain this. Yes, you will soon know Rekha beuuty secrets which includes the details of her skin care regime, beauty tips she follows, rekha's diet and her fitness secrets. Rekha beauty tips are immensely popular as they are doable for everyone.
We specifically cover the following:-
Rekha Skin Care - 5 Tips She Always Follows
Rekha Makeup Secrets
Rekha Hair - How She Takes Care Of Her Hair
Rekha Diet And Fitness
FAQs On Rekha Beauty Secrets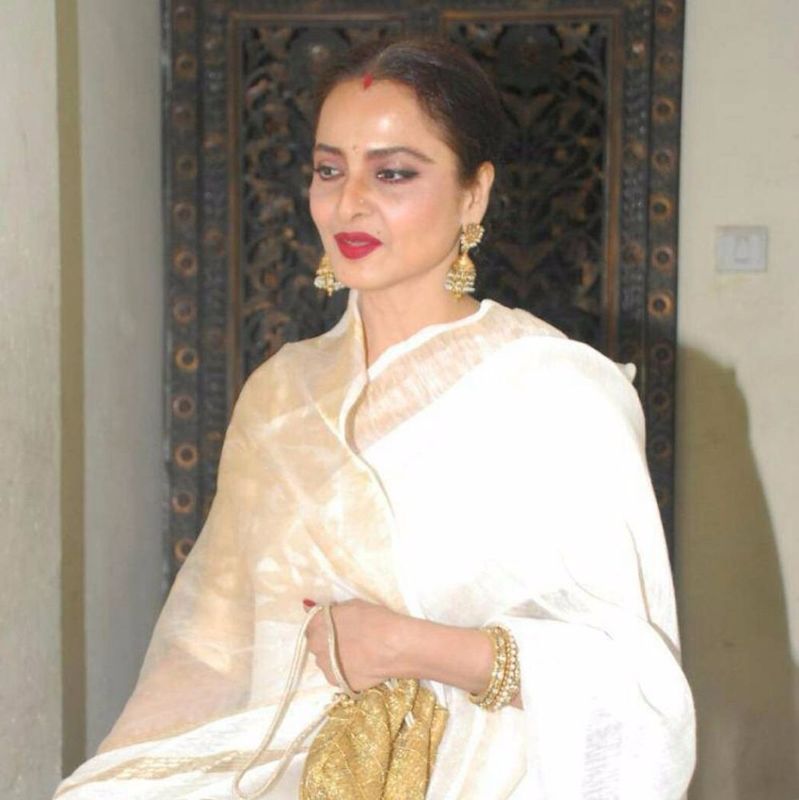 Rekha Skin Care - 5 Tips She Always Follows
Born in Oct, 1954, Rekha's age is 64 years. It goes without saying that Rekha has amazing skin; even at this age her skin radiates and this just goes to show that ageing doesn't mean your skin has to suffer.
Rekha beauty tips are especially popular as she focuses heavily on natural beauty and skin care tips.
She doesn't do anything extra ordinary and abides by the following tips.
She drinks 10-12 glasses of water a day, which hydrates and detoxifies her body.
She also follows a strict CTM (Cleansing, Toning and Moisturizing) routine.
She makes sure to remove makeup everyday before going to bed.
A lover of Aromatherapy and Ayurvedic treatments, she loves holding spa sessions at home.
She uses essential oils that condition her skin and regulate oil production.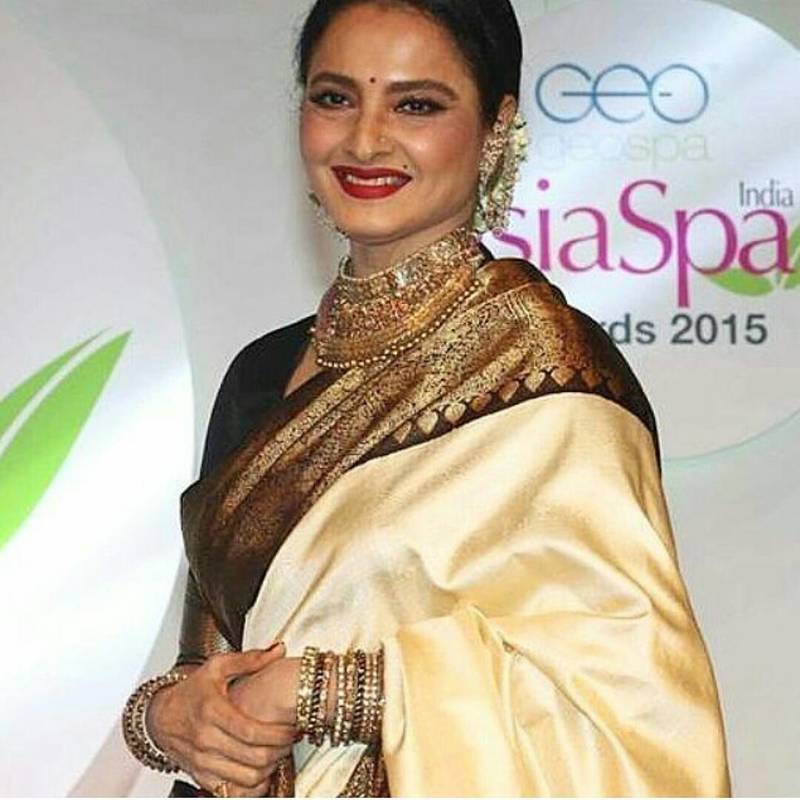 Rekha Makeup Secrets
Not many of us know this, but while all the leading actress of her time were using talc-based dry makeup, Rekha introduced us to oil-based makeup.
She loves makeup and is even known to do her own makeup in her movies, how can we forget the gorgeous eye makeup and bold lips she donned.
Her eye makeup consists of heavy eyeliner and eye shadow, and a slight touch of mascara to lift her eyes.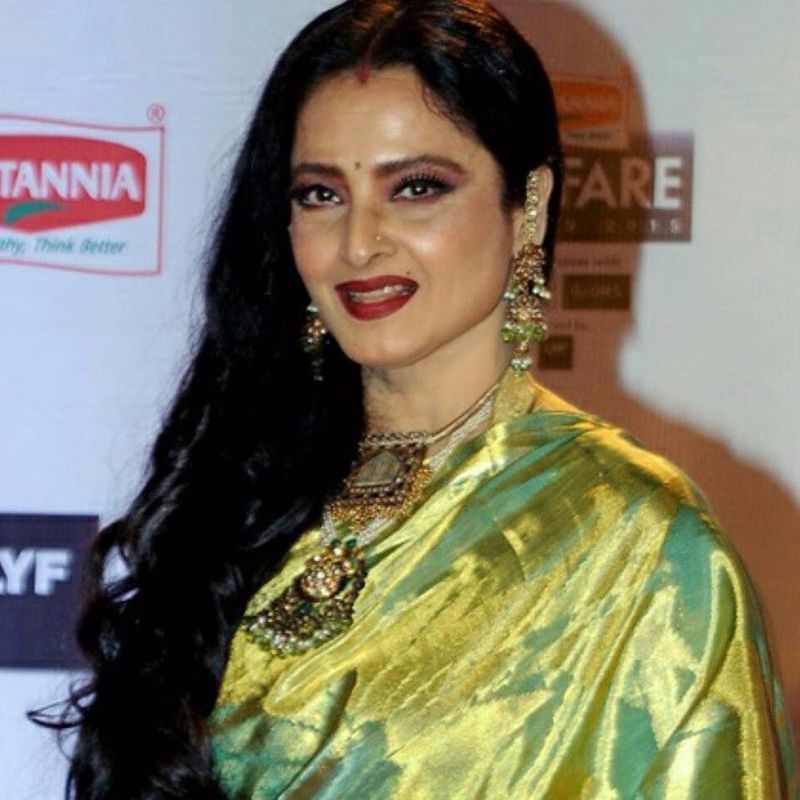 Rekha Hair - It's All Natural
As a child, Rekha never used shampoo and relied on shikakai powder instead. She has always relied on DIY home packs made from natural ingredients.
Her love for natural products is still strong; she believes in the virtues of nature and uses amla, fenugreek seeds and coconut oil to maintain her beautiful and healthy hair.
A weekly hair pack of honey, curd and egg white gives her mane that shine.
Not just that, she also avoids using heat styling on her hair, never combs her wet hair and instead let's them air dry.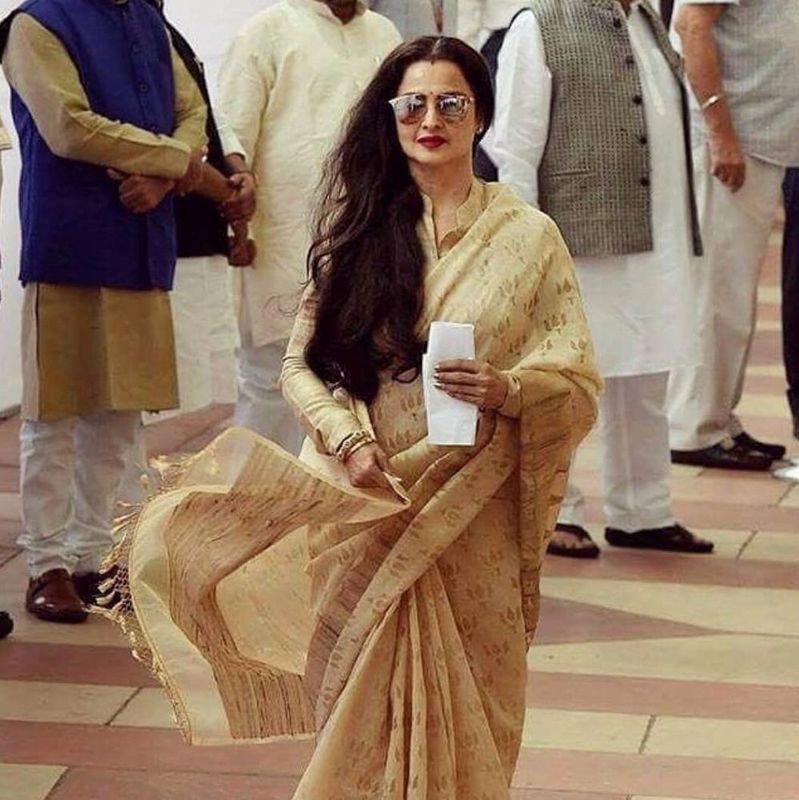 Rekha Fitness Regimen
We love her fitness mantra because it is all about healthy living.
For starters, she always goes to bed early and is an early riser as well; in fact she also avoids late night events.
Her proper sleep is one of the main reasons behind her energy. She believes in living a disciplined life that is stress free and happy.
She has been practicing yoga for years now and it has become a part of her lifestyle.
Other than that she exercises regularly for about 10 to 15 minutes. But she finds ways to keep herself active throughout the day.
She loves to clean, so she engages herself in household chores. Lucky for her, even her hobbies; dancing and gardening are such that they keep her fit and on her toes.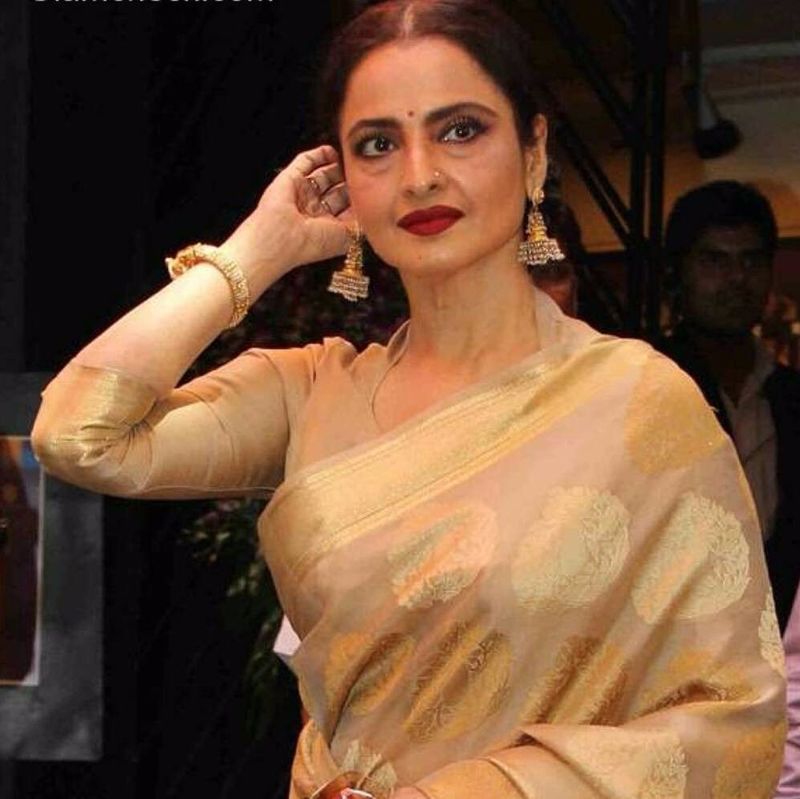 Rekha's Diet
Her diet includes healthy vegetarian food and plenty of liquids, and he avoids unhealthy, junk, fried and overcooked food like it's the plague. She prefers to have chapatis instead of rice.
Her favourites include pomegranate and blueberries, nuts like pistachio and walnuts, and veggies like broccoli, asparagus and avocado.
Her meals are balanced and nutritional, they include a bowl of vegetables, curd, hot chapattis and salad. Additionally, she always includes fruits in her diet.
She also makes sure to consume her dinner before 7.30pm.
FAQs On Rekha Beauty Secrets
Q- What are the secrets behind Rekha's hair?
She has always relied on DIY home packs made out of natural ingredients. She has always avoided shampoos and even at this age she continunes to do the same. In addition to avoiding chemical rich products, she has also stayed away from using hair products like straightners and curlers. One of her favourite packs has been the one prepared from egg white, yoghurt and honey.
Q- Which is Rekha favourite hair oil?
She has been using coconut oil since a long time. She massages coconut oil a few times every week as this helps to provide nutrition to the hair.
Q- What are the secrets behind Rekha makeup?
Rekha does most of her makeup by her own. To get a bold look, she makes it a point to use her eyeliner and eyeshadow. Additionally, she user mascara to give shape to her eyebrows.
Q- What are the secrets behind Rekha's glowing skin?
Rekha always ensures she sticks to the CTM (Clanse, Tone & Moisturise) routine as a daily level. Even when she is travelling, she tries to follow the same. Ayurvedic and herbal skin treatments are other reasons which make her skin glow. Alongwith aromatherapy and ayurvedic spa treatments, she uses a mix of essential oils on her skin to condition it. Keeping the skin hydrated by drinking 10-12 glasses of water daily is another important reason for her glowing skin.
Now that you know the amazing beauty and fitness secrets of bollywood diva Rekha, its time you incorporate them in your lifestyle and live healthy.
Related Articles