51 Simple And Easy Arabic Bridal Mehndi Designs
Olivia
Updated At 15 Sep 23
Weddings are celebrations. Mehndi is considered an important part of any wedding celebrations in many countries. Mehndi is not only applied during wedding functions but also on other occasions.  When we talk about weddings, the first thing which comes to mind is the bride and groom. Mehndi application during a wedding on the bride's hand is considered auspicious and hence it plays a vital role. Arabic mehndi design is prominent and loved around the globe. This wedding season Arabic bridal mehndi designs are trending and we bring you the perfect designs for your bridal kit. These designs can also be used by the bridesmaids. Let's check out the 51 Stunning Arabic Bridal Mehndi Designs.
51 Best Arabic Bridal Mehndi Designs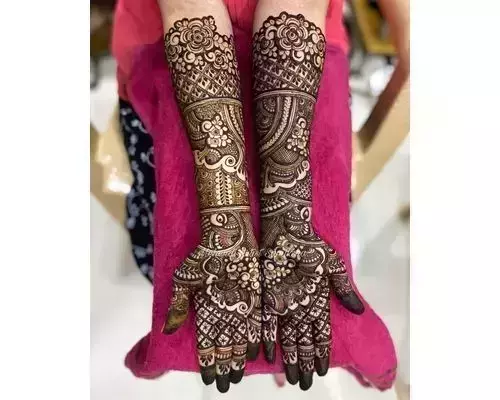 1. Floral Arabic Full Hand Bridal Mehndi Designs
The floral Arabic mehndi design is the bride's choice. This design is divided into three patterns with elements like paisleys, flowers, leaves and jaal patterns. This is considered a traditional design with Arabic touch and filling the spaces with crossing blocks curves. This is a must-try recommended design for the season!
If you are looking for a simple and easy mehndi design do check out our guide as we cover 151 trending designs this year.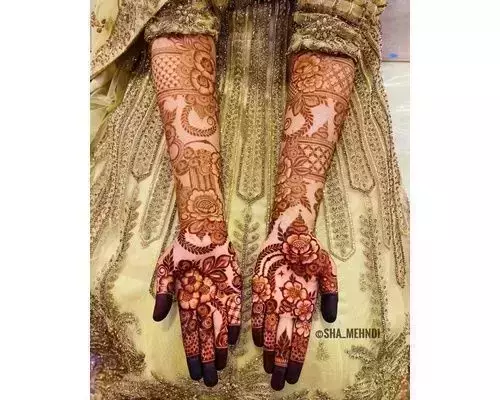 2. Twist Spacing Arabic Mehndi Design
Creating a combination of modern and traditional looks. This design has some unique twist floral patterns with connecting leaves and block patterns. The perfect spaces in this design make it a stunning choice for every bride. This is the perfect bridal Arabic mehndi design for full hands.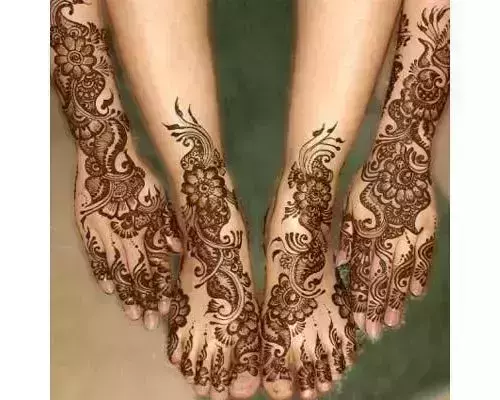 3. Matching Hands And Feet 
This is a contemporary Arabic bridal mehndi design which is matching to the hands and feet. One can go for this design if you want to have a similar Arabic design on the hands and feet. This is a traditional flowing Arabic design which is simple. The strokes and curves at the end complete the look.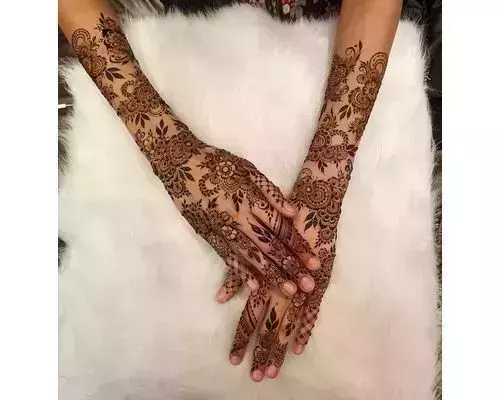 4. Arabic Bridal Mehndi For Back Full Hand 
For a traditional Arabic mehndi to look fuller, it's very essential to fill the spaces and draw the elements with proper spacing and pattern. This design is beautiful for brides and bridesmaids to be applied for backhand.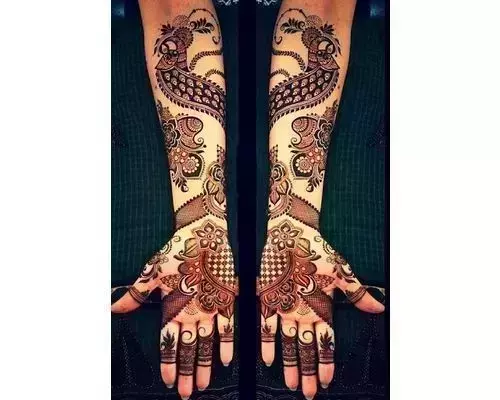 5. The Peacock Arabic Mehndi Design 
A much more appealing arm-to-palm Arabic design is a great choice for brides. This elaborated design features peacocks on both hands at the neds and looks wonderful with the flowers. The broad bracelet look at the wrist creates magic!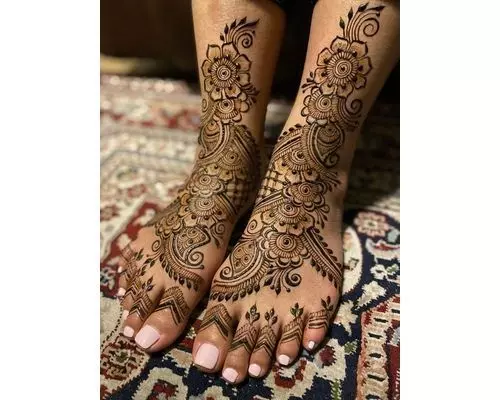 6. Arabic Bridal Simple Design For Legs
The flowers, leaves and dots are the main motifs used frequently in this Arabic mehndi design. This is a simple and quick design which appears to be neat. The leg fingers design completes the look.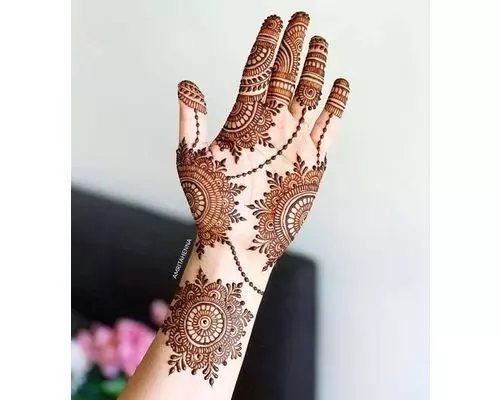 7. Modern Arabic Bridal Design
Nowadays, some brides and bridesmaids like to have such modern and simple designs, which are quick and fascinating. The modern touch of the lines connecting the floral and circular designs is elegant and our hearts go for this.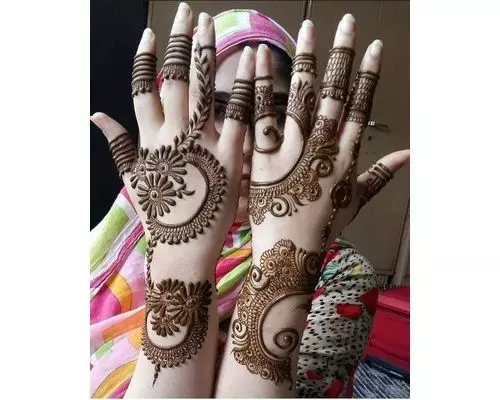 8. Creative Back Hand Design 
This is a creative and innovative Arabic mehndi design with decorative half circles. The simple finger design and the touch of floral and circular elements are distinct and attention-grabbing.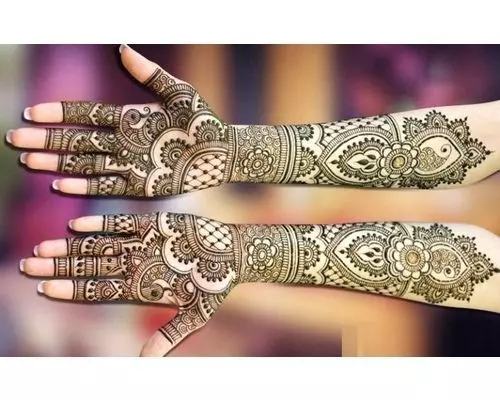 9.  Classic Bridal Arabic Mehndi Design
This design is gulf influenced and looks more innovative. It may look neat and beautiful, but such designs need proper alignment. This design is divided into 4 parts and patterns. The peacock on the plam, the flower motifs, the leaves and the structure is nothing less than a work of art! From brides to bridesmaids, everyone can find this design appealing for a special day.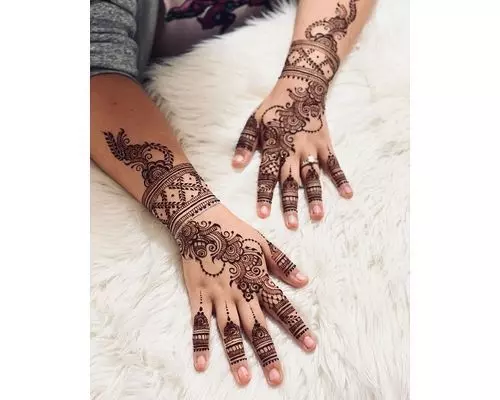 10. Contemporary Arabic Mehndi Design For Bride
A simply stunning design which is elegant and classy. This contemporary Arabic mehndi design is soothing. The design incorporates a beautiful wrist design followed by flower motifs. We recommend this design which perfectly suits the backhand.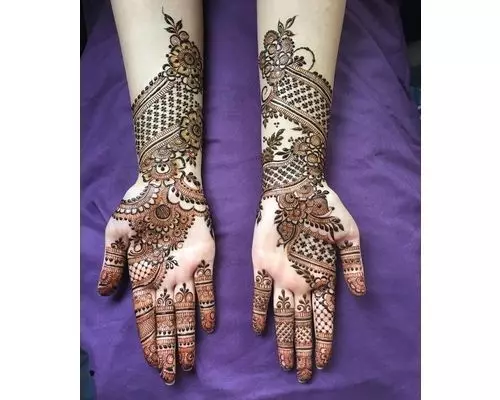 11. Net Pattern Arabic Mehndi Design
The net pattern and the floral motifs are the main ingredients of this Arabic bridal design. This appealing Arabic design can be used for a wedding occasion by the bride. The net pattern in this mehndi design creates a fabulous choice for today's bride for a perfect stylish mehndi. This mehndi will go with both traditional and western attire.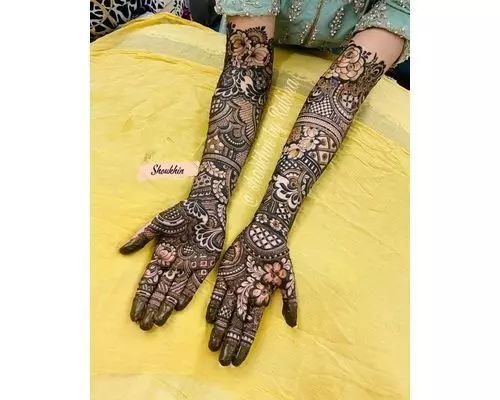 12. Elbow-Sized Traditional Mehndi
This captivating mehndi design with perfect alignment and shading is beautiful. The magic of floral patterns and the bold outlines take away our hearts. We love how the different elements are arranged beautifully for a captivating effect. The variations of elements used in this design are soothing and perfectly made for the bride.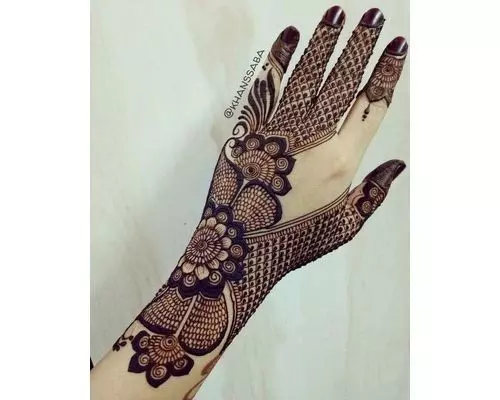 13. Bold And Shaded Mehndi Design
Bold and Beautiful! This Arabic mehndi design is a good-looking backhand design made for a bride who loves fashion. This stylish bold shaded outlined look and the minute detailed work on the fingers are prepossessing.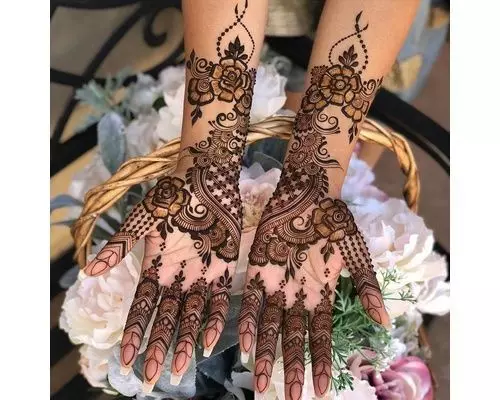 14. Rosy Arabic Mehndi Design
Who doesn't loves a rose? Rose is a symbol of love and gratitude. This Arabic mehndi design with prominent roses styling with curve patterns dots lines and leaves is an art. Perfect design for the bride, this season!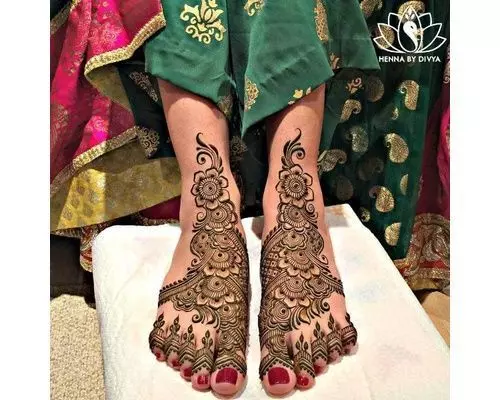 15. Classic Arabic Mehndi Design For Legs
Apart from flowers and leaves, there is something appealingly flawless about this Arabic mehndi design which is suitable for the legs. This design goes well with the bride. While the design is featured with traditional motifs, the fingers are combined with a jaal pattern.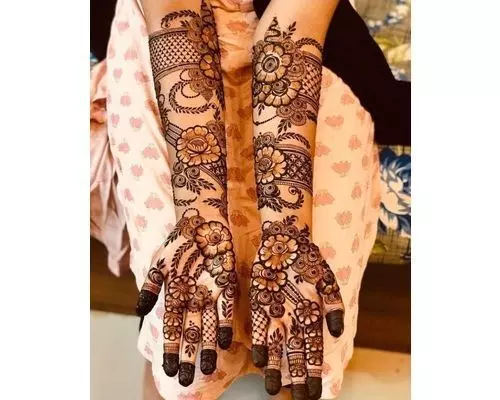 16. Bracelet Arabic Design For Full Hand Mehndi
The Arabic mehndi design for the bride who loves to also have a traditional touch will love this design. For an Arabic mehndi design to look fuller and complete, it's important to have accurate spaces. This design looks like curvy bracelets styled to the elbow. The pattern of leaves connecting the flower-filled design is the charm of this design.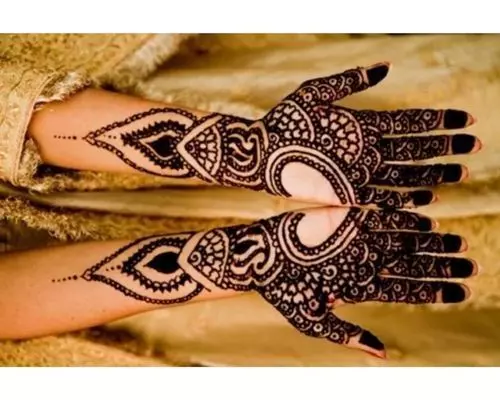 17. Heart-Shaped Arabic Design For Bride
Looks like an effortless design, this heart-shaped Arabic design is perfect for a bride. The half hearts on both hands combine in a big heart when touched together. Heart design has a special siginifnace in mehndi design and also suits the wedding season. This design can be bookmarked for the next occasion.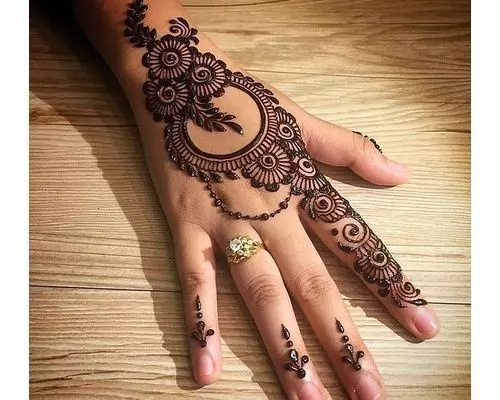 18. Simple And Modern Arabic Design
This modern version of Arabic mehndi design is simple and classy. A bride who is looking for a minimal design at her wedding can surely have this design which is a class apart. Not only the bride, but this design is simple and quick which is for all hands.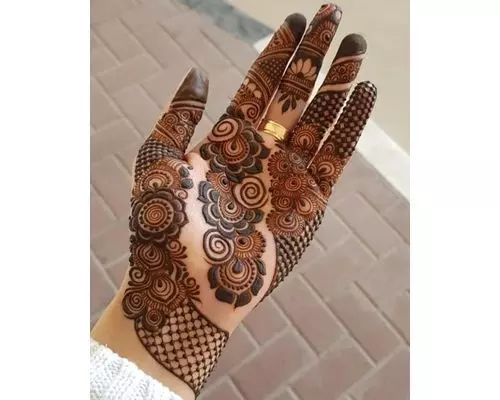 19. Palm Arabic Design
If you're looking for a quick and easy Arabic design for your wedding, this design makes a match. The vertical block design covering the entire palm with compact space makes it a style statement.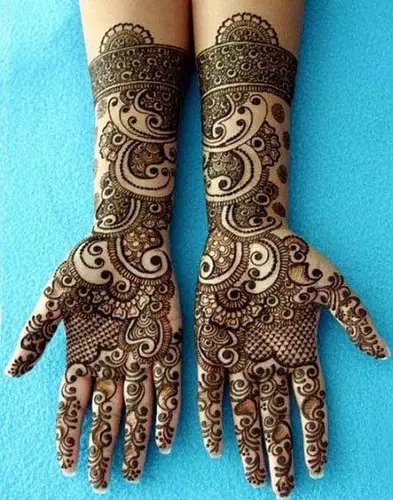 20. Vintage Arabic Design 
The charm of bold strokes and the defining curves is flattering. The elements used in these Arabic mehndi designs for the bride in their style are making the hands look full. The exquisite work is bringing it together.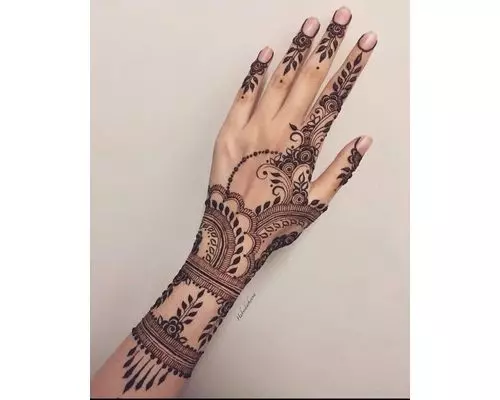 21. Arabic Jewellery Pattern For The Bride
A simple and subtle mehndi design to go with it! The finger pattern connecting the wrist to the index finger with a small curve makes it look like jewellery. This type of mehndi design is trending all over.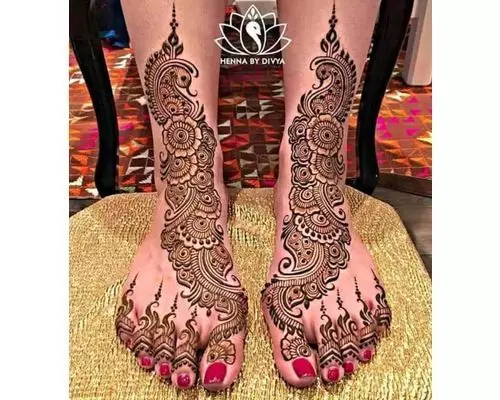 22. Peacock Styled Arabic Design For Legs
One of the most prominent elements which are used in mehndi design, peacocks are also used in Arabic design. This mesmerising design has a peacock crown and the floral pattern embedded till the thumb finger makes it look like a beautiful peacock dancing.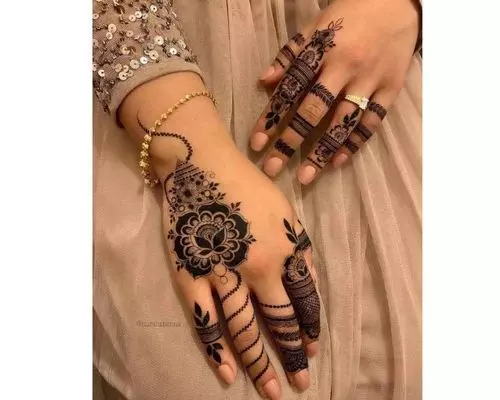 23. Minimalistic Abstract Mehndi Design
One of the most beautiful Arabic designs, this is an art of minimalistic pattern with a modern touch. These designs can be made in a variety of styles and patterns. A bride at her engagement or wedding can have this design who loves minimalism.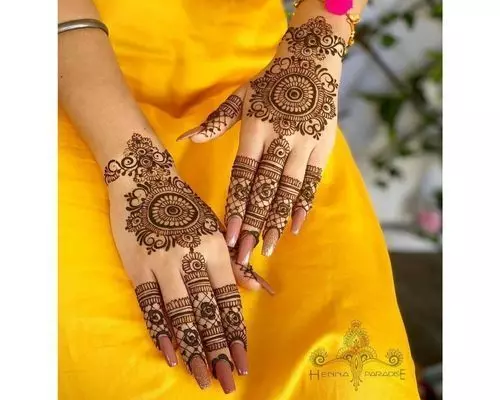 24. Arabic Design With Mandala Art 
Mandala art combing with Arabic designs is going viral. This design can be made on the front and back hands. This pattern is a palm-sized short design curated for an easy-to-go mehndi style and quick.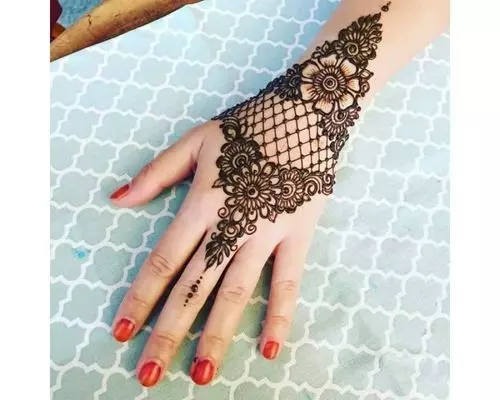 25. Lace Pattern Arabic Design 
The design which looks like lace on the backhand, with a rose motif is the centrepiece of this design. A variety of lace pattern designs can be made as a piece of jewellery too.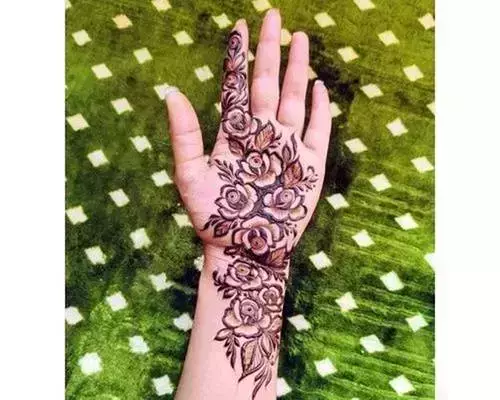 26. Simple Arabic Bridal Mehndi Design
The beauty of this simple Arabic bridal mehndi design is the floral effect. The floral pattern enhances the design, and the way the flowers are cherished is amazing. A simple and subtle mehndi design a bride can try. The florals are nicely shaded with broad outlines and pretty leaves.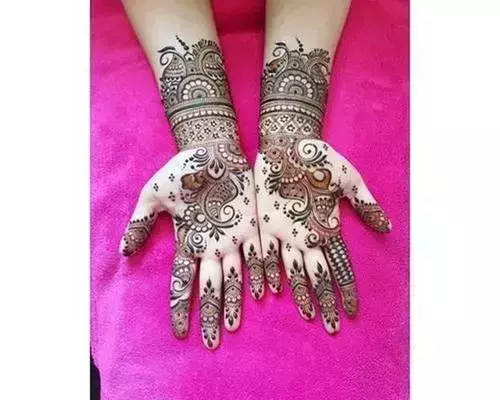 27. Paisley Arabic Bridal Mehndi Design
Paisley, has been a prominent element of the mehndi designs. It is one of the traditional elements used for mehndi designs, which will suit your traditional event. This pattern has been beautifully created with floral, leaves and paisley motifs. The wrist design is detailed and gorgeous, well suited for a bride.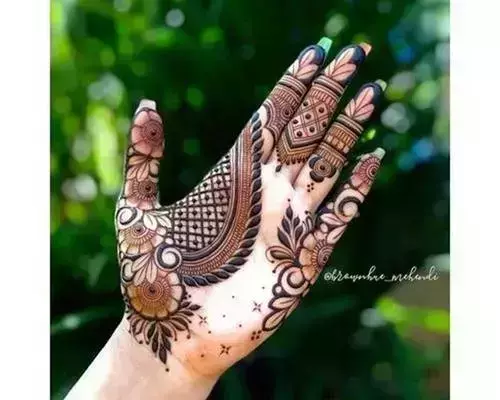 28. Front Hand Arabic Bridal Mehndi 
If you're looking for a short, palm-sized bridal mehndi design, then this trendy Arabic mehndi can be your choice.  The florals and the leaf motifs are super stylish and create magic. It's a simple and easy Arabic bridal mehndi, which will become your favourite.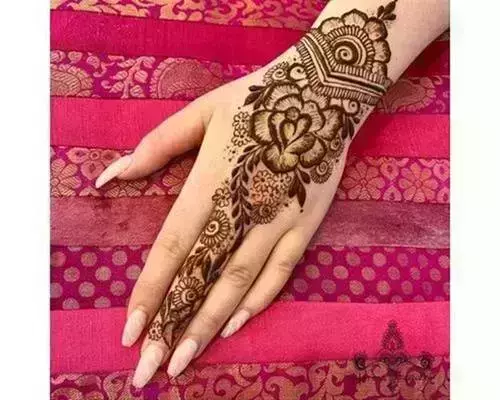 29. Back Hand Arabic Bridal Mehndi Design
The shaded floral design on the backhand is the centre is the main charm of this Arabic bridal mehndi. The design starting from the wrist to the fingers in a straight pattern is mesmerizing. The simple small flowers around the design are cute. Try this backhand Arabic bridal mehndi design and you will love it!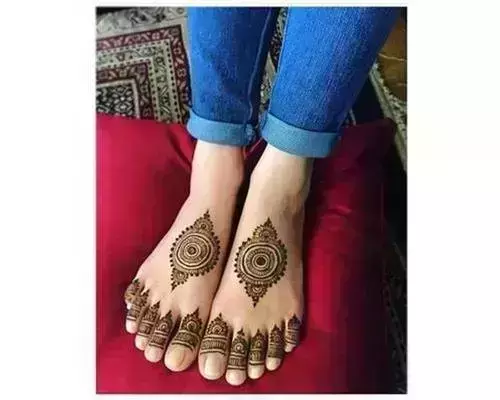 30. Simple Arabic Bridal Mehndi For Legs
The highlight of this mehndi art is the bold intricate design at the centre which is a simple foot mehndi design, which looks contemporary. The brides who are looking for simple foot designs can bookmark this stylish Arabic bridal Mehndi design.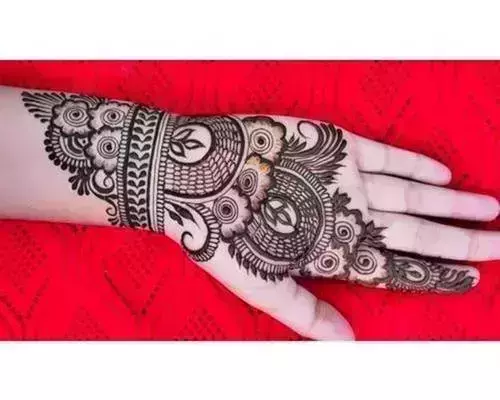 31. Gorgeous And Simple Bridal Arabic Mehndi
This gorgeous mehndi design can be used on either side of your hands. The stunning bridal mehndi design is nicely complimented with mehndi elements used in this design, which are florals, circular patterns, leaves and meshwork. It's a simple bridal Arabic mehndi which will go with any of your occasions.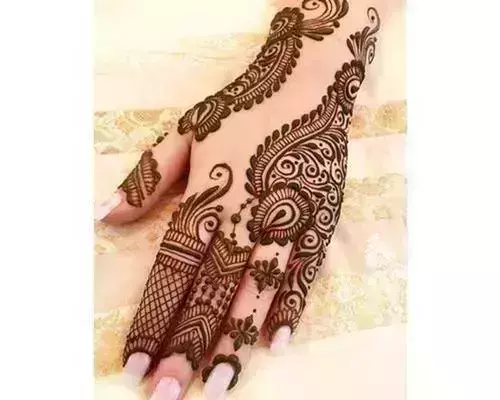 32. Bold Stroke Arabic Bridal Mehndi Design
What a wonderful mehndi piece is this Arabic bridal mehndi design specially designed for the backhand with beautiful motifs and bold strokes. The entire design is stylish and is divided into two parts which are very common in an Arabic mehndi design. The meshwork on the fingers and swirl turns, make it a perfect and loved mehndi design.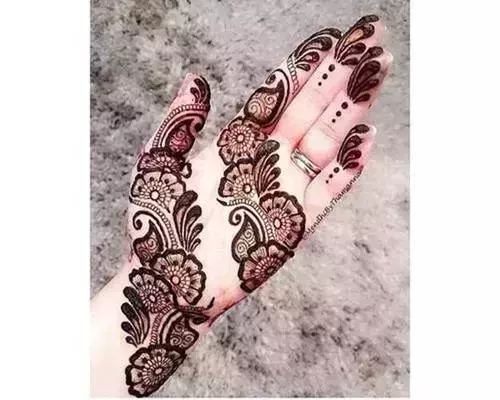 33. Layered Arabic Bridal Design
Arabic Mehndi designs are well known for their perfect spaces created patterns. This Arabic design can also be a bridal design with multiple layers created with spaces. The florals are creating a soothing effect on this entire Arabic bridal design.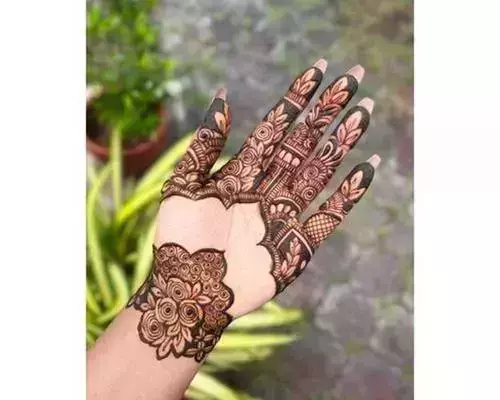 34. Floral Shaded Arabic Mehndi Design
The intricate design on the fingers and wrist looks fabulous. The block shading created on the fingers and the wrist with a perfect space on the palm is creating a wonderful Arabic bridal mehndi design.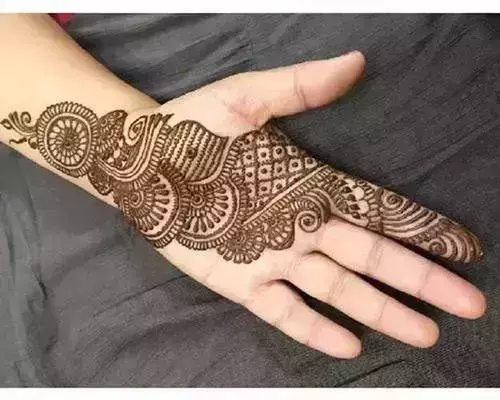 35. Easy Classic Arabic Bridal Mehndi Design
This Arabic design is an easy and simple Arabic design, which is a classic design with a variation of mehndi elements. If a bride is looking for a simple and classic Arabic mehndi design which is easy and quick then this design can be tried for your special event.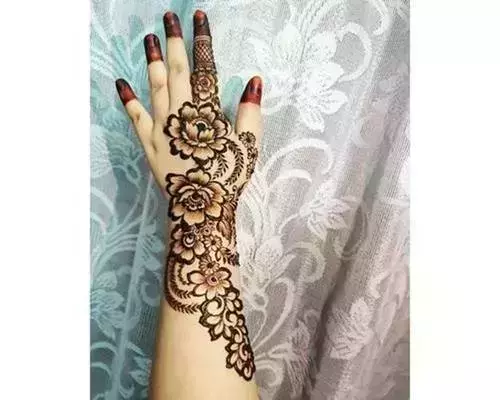 36. Floral Arabic Bridal Full-Hand Design
Such a gorgeous Arabic mehndi design, it looks! The flowers are having perfect inline shading and a bold outer border. The leaves are beautifully joining the florals. This full-hand Arabic mehndi is made for the bride or the bridesmaid and will look beautiful in the traditional attire for the big day.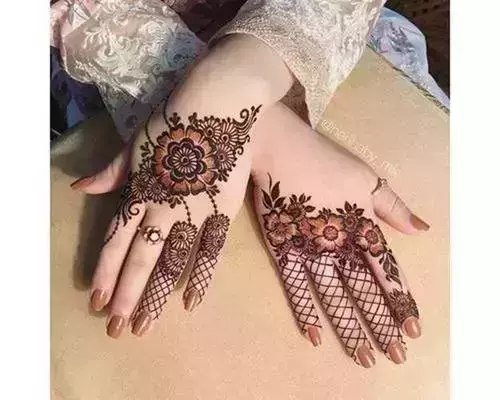 37. Mesh Arabic Bridal Mehndi  
The enchanting florals and leaves combine with such a neat pattern forming a beautiful Arabic bridal design for the backhand. The meshwork on the fingers nicely complements the entire design.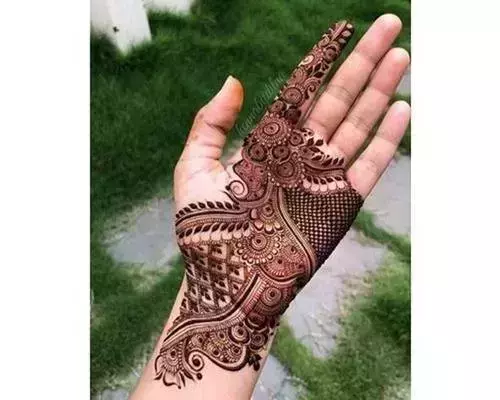 38. Splendid Arabic Bridal Mehndi Design
The pattern followed by this Arabic Bridal mehndi is different. It has beautiful small flowers, where the vibes and checkered pattern appear gracefully and the design is moving towards the single index finger. This Arabic bridal mehndi for the front hand can be replicated at the backhand too.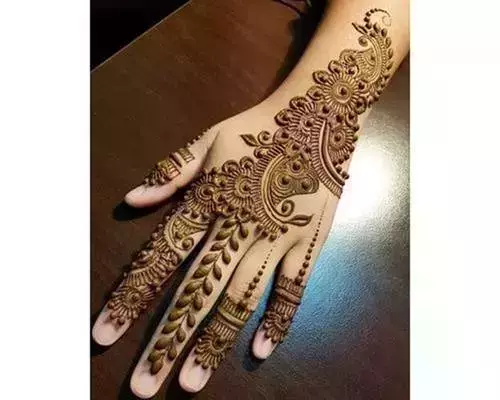 39. Motifs Arabic Bridal Mehndi Design 
If your looking for getting flower motifs done in your bridal Arabic mehndi on the backhand, then this mehndi design is a great option for your special occasion. This is hand filled mehndi design and one of the trending mehndi designs of the season.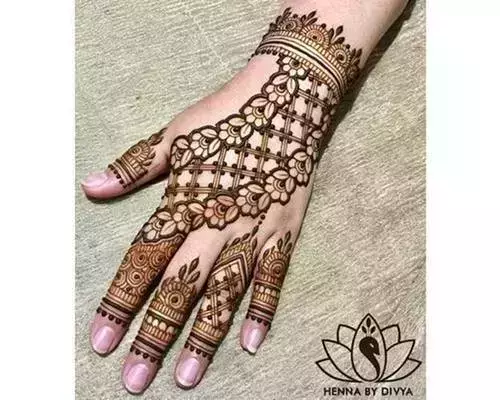 40. Floral Net Arabic Mehndi Design
The floral and net design made on the hands makes it look like a perfect Heena design for the brides. The beautifully shaded flowers and the wrist detailed design will give an impressive look to the bride's hands.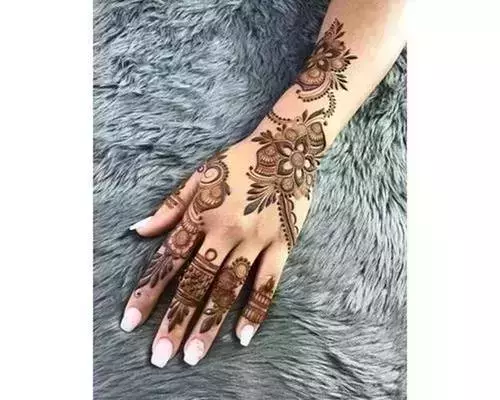 41. Stylish Arabic Mehndi Design 
This stylish and delicate design is a combination of modern and traditional Arabic mehndi design. This Arabic Mehndi design is styled in such a way that it will suit any of your casual or traditional outfits. The bold flowers of this mehndi design are attractive.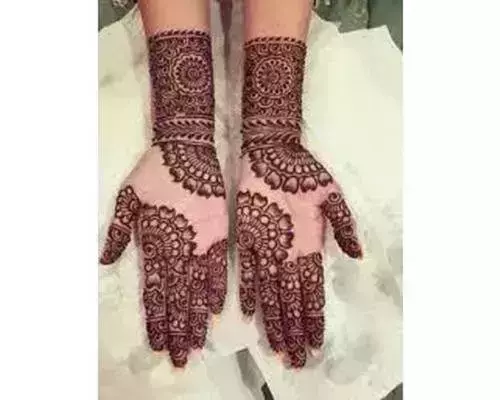 42. Traditional Arabic Bridal Mehndi Design
Some brides, love to have filled mehndi designs. One such Arabic Bridal mehndi is this traditional design, which is full-hand and also keeps the Arabic touch of spacing in mind. The entire design is a work of florals and beautiful outlines. A must-try design, we recommend.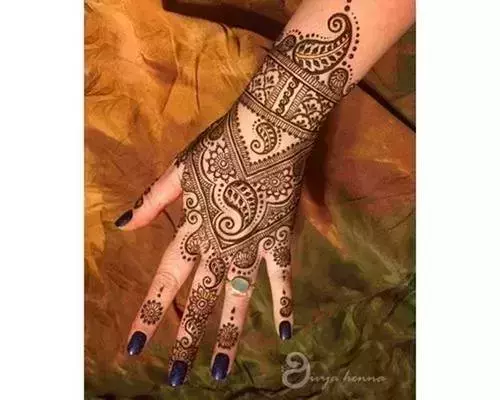 43. Keri Pattern Arabic Bridal Design
This mehndi design is a simple and easy art of work, which is a combination of flowers and Keri elements. Both elements go well with each other and create a different pattern, making it a unique Arabic bridal mehndi design.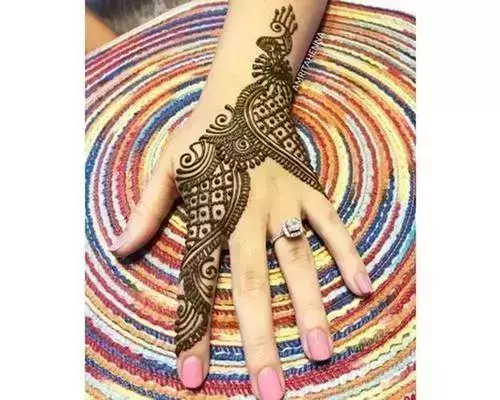 44. Minimalist Arabic Mehndi Design
When it comes to minimal Arabic mehndi design, then this pattern is worth a try! A very easy and simple Arabic mehndi design which is specially made for the ones who believe in minimalism.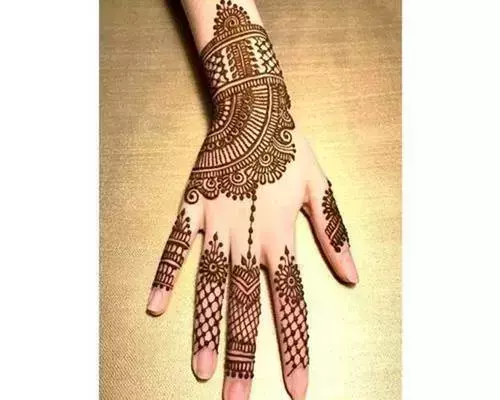 45. Jewellery Arabic Bridal Mehndi Design 
A bride will love making this design for her engagement or wedding, as this Arabic bridal mehndi design with such amazing work on the fingers, make it look like a piece of jewellery worn on the hands. The bracelet pattern made on the wrist with leaves motifs and crisscross is also a great choice.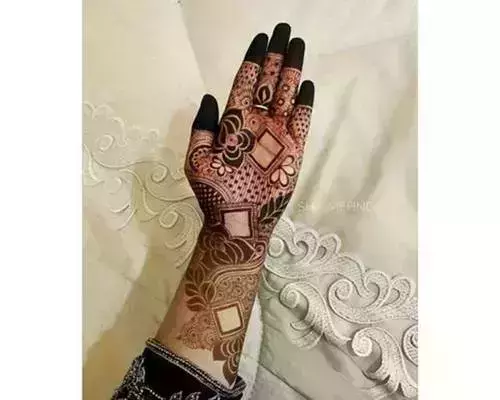 46. Full Hand Arabic Bridal Mehndi
This Arabic bridal mehndi is an extremely elaborate design and suitable for wedding occasions. There are multiple elements used in this mehndi design, which is unique in its style and is a full-hand Arabic bridal mehndi design.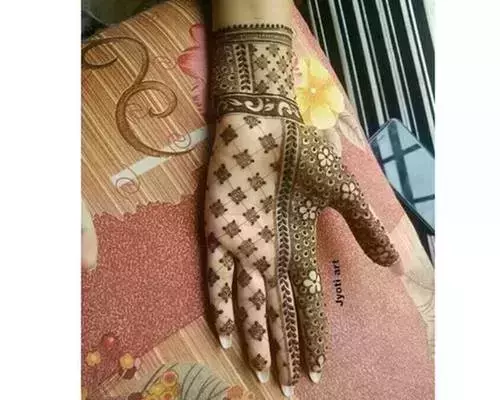 47. Jaali Arabic Mehndi Design
This Jaali pattern is divided into two parts, these trail designs are easy and quick to draw. The leaves pattern in a straight line is simple and stylish too. This trending Arabic mehndi loos are so modish.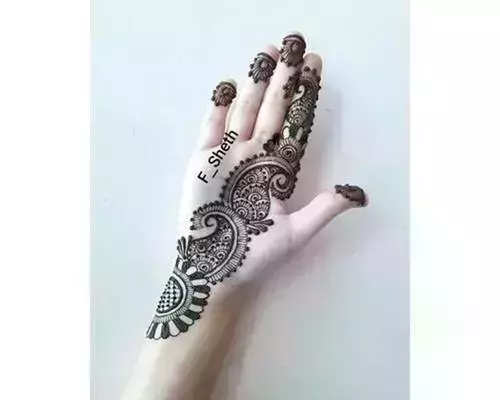 48.  Short And Simple Arabic Mehndi Design
This Arabic Heena design is a quick and easy mehndi design, which you would like. The paisleys and nicely filled with simple designs and the semi-alternative shaded flower around the wrist is trendy.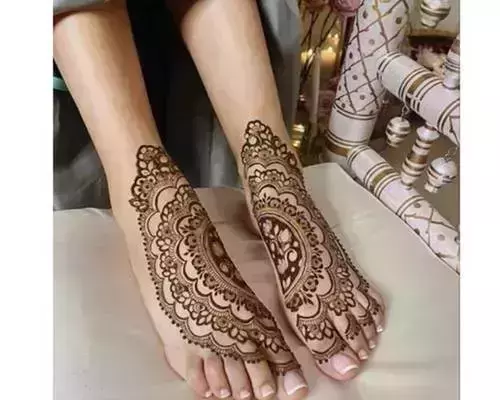 49. Semi Circular Arabic Mehndi For Feet
How about complimenting your feet with a graceful Arabic mehndi design? Not only have beautiful full-hand mehndi for hands but also coordinate such amazing Arabic designs for your feet. This Arabic design is so fresh and eye soothing.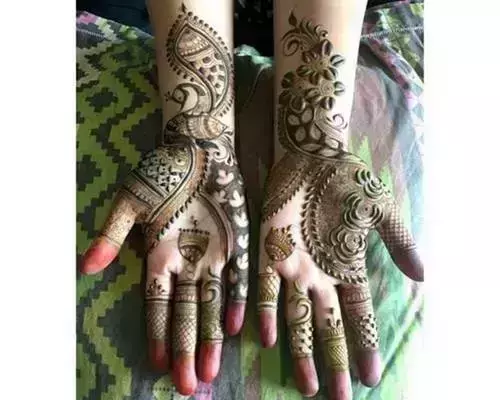 50. Wedding Bells Arabic Mehndi
This Arabic mehndi design is unique and gorgeous. Both hands have similar yet different mehndi designs. Both designs have a wedding bell, which is the attraction of this Arabic bridal mehndi design. One hand has a beautiful peacock on the wrist, while the other has a bold floral and leafy pattern.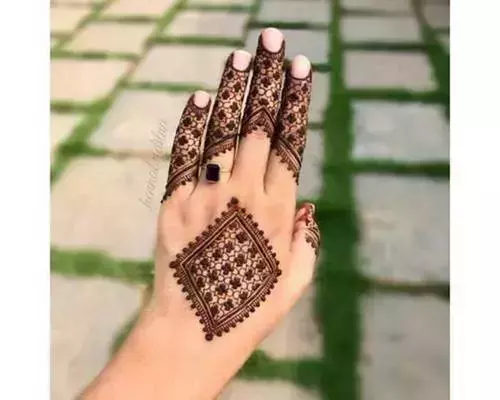 51. Easy Diamond Arabic Mehndi Design
Such easy and modish Arabic mehndi designs have become a trend.  The diamond design on the backhand is filled with motifs and block lines. The fingers are also having similar fillings. This design will go on alltypese of events and attires.