Ariana Grande Plastic Surgery - All Details Revealed!
Olivia
Updated At 04 Jan 23
Want to know all the details about Ariana Grande Plastic surgeries?
When it comes to beauty, nobody can match her perfect features. Ariana started her career at a very young age and people have seen her change throughout the years. Some very prominent changes in her face lead to the question of what all surgeries Ariana Grande got done. Lets check it out in detail by also looking at Ariana Grande before and after photos.
Ariana Grande Plastic Surgery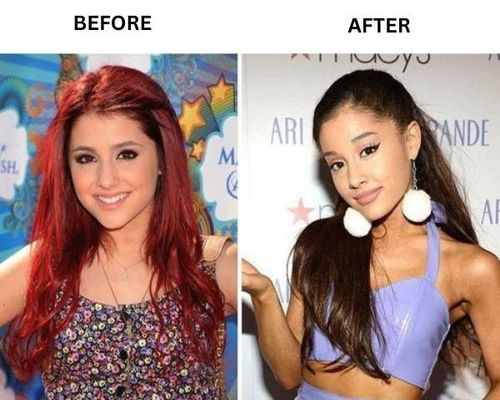 Ariana Grande Plastic Surgery- All The Surgeries She Underwent
Ariana Grande is one of the most popular singers in the world today. She has achieved massive success with her music, acting career, and as a fashion designer. Her career highlights include two Grammy Awards, multiple number-one albums, and sold-out tours all over the world. She has a genuine love for performing arts – which can be seen in her passionate performances on stage and on screen.
Ariana Grande is one of the most popular celebrities in the world, and her fans love to see her beauty transformation over the years. From a little girl to a confident young woman who can rock any look she wants, Ariana has come a long way. Over the years, Ariana has undergone quite a transformation - from a pre-teen pop star to a grown woman with her style and identity.
Also check out all the details about Christina Aquilera plastic surgery who has seem to have undergone a major transformation over the years. Many people believe her face and body change is due to multiple plastic surgeries.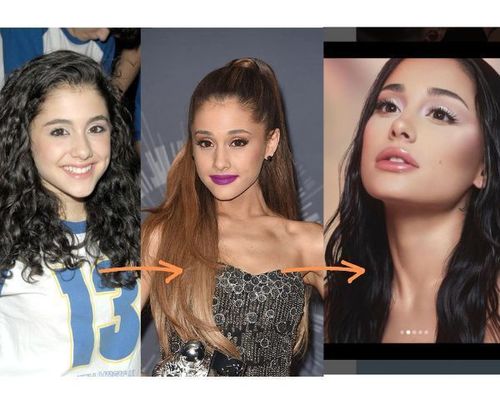 The audience has seen Ariana from a very young age when she appeared as a child star on nickelodeon television shows. People have loved her acting and music skills and have always adored her. She has been an inspiration for many and a lot of people follow her closely. Since she has always been the centre of attention due to her hit career and her beauty, people could not help but notice her transformation throughout the years. People have noticed quite a few changes in her appearance which did not make sense if regarded as changes due to puberty and ageing. Many people speculate that Ariana Grande has gone under the knife and had plastic surgeries. Ariana Grande's plastic surgery is one of the most questioned topics about her.
Ariana Grande has never opened up about her cosmetic surgeries other than just responding to some trolls and tweets once or twice. Exactly what all surgeries she has had is a mystery which is known only to herself and her doctors. Anyways, people, some social media pages and a few plastic surgery experts have speculated about Ariana Grande's surgery and had pointed out a few surgeries that she might have undergone.
Also find out everything about kylie jenner plastic surgery as she has also undergone multiple plastic surgery procedures like nose job, eyebrow lift, lip fillers, breast augmentation and many more!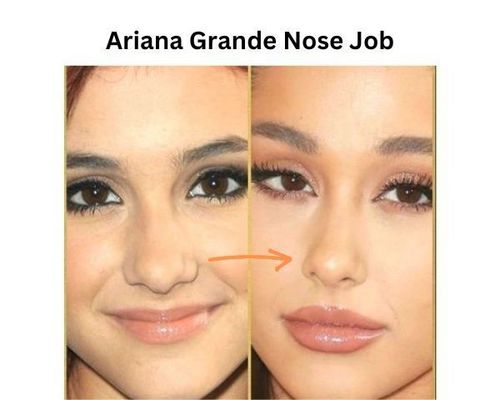 Ariana Grande Nose Job
Ariana Grande is one of the biggest pop stars in the world, and she's not afraid to show off her beautiful face. But what about her nose? Is it real or has she had plastic surgery rumours about Ariana's nose have been swirling for years, with many people claiming that she has had a rhinoplasty (nose job). However, there is no evidence to support these claims.
All we know for sure is that Ariana Grande has always been very proud of her nose - and she hasn't hidden it nor tried to cover it up. In December 2019, some fans of her noticed and finally decided to tweet their thoughts. Fans noticed a change in Ariana Grande's nose and a debate surfaced on the internet about Ariana Grande's nose job. Certain fans appreciated the supposed Ariana Grande plastic surgery and her decision while others were just curious with no opinion as such.
Due to the debate, Ariana had to finally take off to Twitter and tweet-
"hayyy this is my birth nose what tf did I log onto today lemme have a cute nose damn." - Ariana Grande, Twitter.
Grande, however, rubbished the rumours of her getting a nose job but the significant changes in the shape and width of her nose still make her fans think about Ariana Grande's nose job surgery.
If you check celebrity plastic surgery procedures, then nose job is quite common.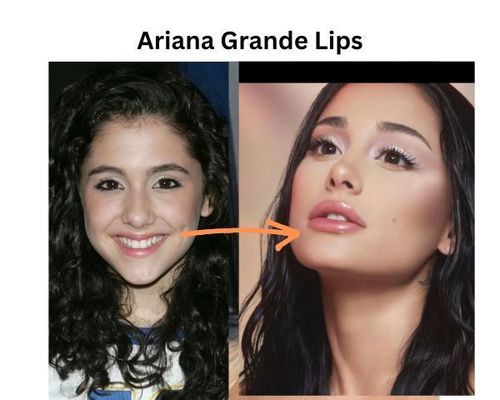 Ariana Grande Lip Surgery
In recent years, fans have also noticed a significant change in Ariana's lips. Her lips appear fuller and plumper now than they were before. Many people believe that Ariana Grande had lip filler injections which gave these stunning results. Ariana Grande looks perfect with or without the lip filler injections; however, she had not made any statements or comments about her lip filler surgery.
Unfortunately, her natural lip colour doesn't always match well with all types of makeup, which can lead to uneven skin tones and unflattering results. That's where lip filler surgery comes into play. Lip filler surgery is a safe procedure that helps celebrities like Ariana achieve more consistent skin tones across different makeup looks. By injecting dermal fillers directly into the fatty tissues beneath your lips, you can create an illusion of fuller lips even if you have thin or patchy skin. Ariana Grande's lip fillers were quite successful and did not appear overdone as well.
Similar to Ariana Grande, Courteney Cox plastic surgery has been quite popular as she has also undergone a major transformation over the years. She has also accepted to have undergone a few of these procedures.
Ariana Grande Brow Lift
Ariana Grande's brow lift surgery has sparked a lot of discussions online. Social media was full of rumours and speculation about Ariana Grande's brow lift, but little information is available about what happened. So, what exactly did Ariana Grande have done? The surgery was most likely a brow lift - which is an operation to raise the eyebrows by moving them up or forward. This type of surgery can be effective for people who have moderate to severe frown lines between their eyes or shallow forehead wrinkles. She might have gotten her eyebrows lifted via an endoscopic eyebrow lift procedure.
The eyebrow lift appears to be a variation on dermal fillers (such as Restylane or Juvederm), in which small amounts of filler are injected into specific areas beneath your eyebrows to raise them higher and closer to your eye sockets. This can help you look more defined and aged, without having any visible lines or wrinkles around your eyes. Brow Lift surgery helps in making one look younger and more awake. It May improve attractiveness overall, by giving you sharper features and improved facial symmetry.
Also check out our guide to find out all the details about Kim kardashian plastic surgery. Similar to Ariana, she has also undergone multiple plastic surgeries.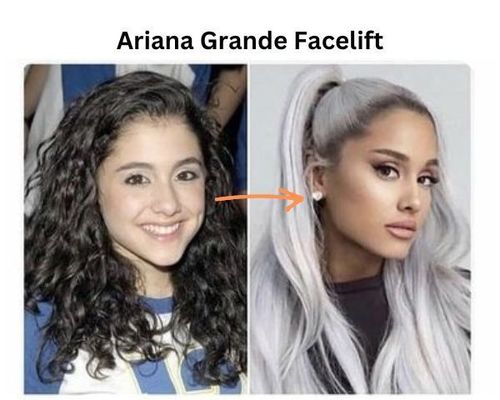 Ariana Grande Facelift Surgery
Over the years, Ariana Grande has no doubt changed a lot. People have noticed that her face was much fuller and rounder earlier and are doubting Ariana Grande's face surgery as well. Well, If she did have face surgery or a facelift, the procedure can be considered successful, and she looks better than ever!
Ariana Grande reportedly had a minor rhinoplasty (nose job) to fix some crooked bones in her nose, and she also got Botox and filler injected into her cheeks to give them a proper shape. Her jawline has been appearing more shaped and edgy after her facelift procedure. The results were pretty impressive - Ariana looked younger, more rested, and overall happier.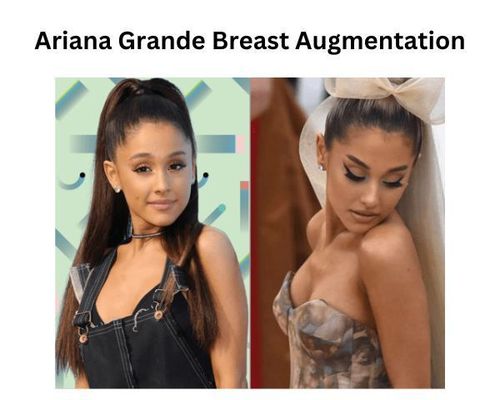 Ariana Grande Breast Augmentation
Some people also believe that Ariana Grande might have undergone breast augmentation surgery. Some people are defending her choice, while others are expressing their concerns and disapproval. From a medical standpoint, there is nothing wrong with having breast implant replacement surgery. It can be very beneficial if done correctly.
However, Grande's supposed boob job must have been conducted using the latest procedures appeared by a top doctor who uses only high-quality materials in their surgeries. This gives users peace of mind knowing their breasts will not suffer from any long-term health consequences as a result of this surgery.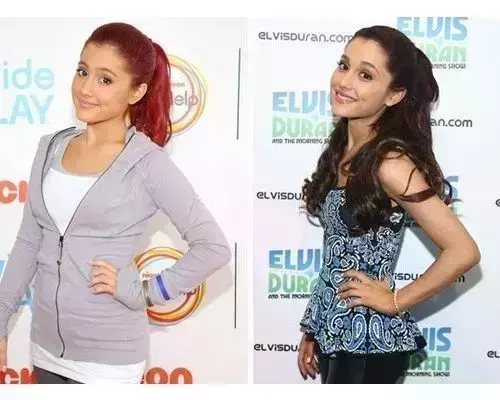 Ariana Grande is one of the biggest pop stars in the world, and her fans are crazy about her. So it may not come as a surprise if she ever revealed her plastic surgeries. Ariana Grande's plastic surgery may or may not have affected her and if you're wondering whether or not these cosmetic enhancements had any impact on Ariana's career, unfortunately, that answer is still unknown. However, judging by her latest album Positions which has broken records worldwide sales-wise when it was released, it seems likely that she's enjoying some positive cosmetic outcomes from her past surgery investments!