Kim Kardashian Plastic Surgery Secrets - 2023
Ankita Ghoshal
Updated At 16 Aug 23
Ever since Keeping Up with the Kardashians went on air, Kim Kardashian has become the heartthrob of millions across the globe. She has perfected her image of that ultimate beauty icon of America and is very candid about how much her appearance matters to her. Even though she refuses the rumours of going under the knife multiple times, here are some Kim Kardashian plastic surgery secrets that you can easily notice on the 'before' and 'after' pictures of the KKW Beauty founder.
Kim Kardashian Plastic Surgery - All The Surgeries She Underwent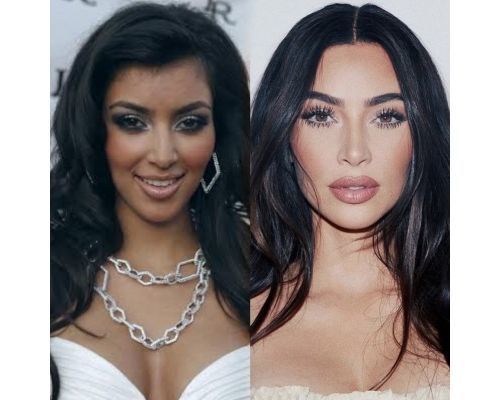 Kim Kardashian Age And Net Worth
Born on October 21, 1980, Kim Kardashian is 42 years old. As of 2023, her net worth is $1.7 Billion.
If you look at pictures of Kim Kardashian before surgery and after, you will clearly see how her face and physique have changed over the years. Some of the plastic surgeries and treatments that she is rumoured to have got undergone are breast jobs, nose job, laser treatment, bum upliftment, botox, and belly-button tightening. Let's dive deeper into Kim Kardashian plastic surgery secrets and study them in detail here. If you check out Kardashians plastic surgery secrets, she is one of the most searched sisters.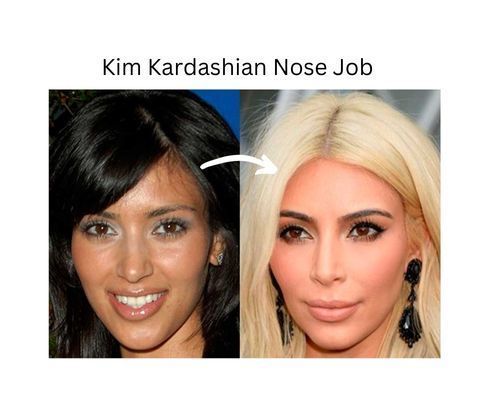 Kim Kardashian Nose Job
Kim Kardashian claims that her ever-changing shape of nose is because of expert contouring by Mario, her makeup artist. However, a lot of people speculate that there is more to it than just makeup. To understand Kim Kardashian nose job, you may look at her old photos where her nose looks slimmer and more feminine at the tip of her nose and the bridge area. It is probably surgical rhinoplasty. There is no doubt in the fact that Kardashian plastic surgeon has done a great job in ensuring the outcome looks very natural and goes well with her other facial features. Kim Kardashian before surgery and after surgery photos clearly showcase the transformation and it does't look natural.
Do check out our guide on celebrity plastic surgery to find out all the details about the plastic surgeries of 30+ celebs.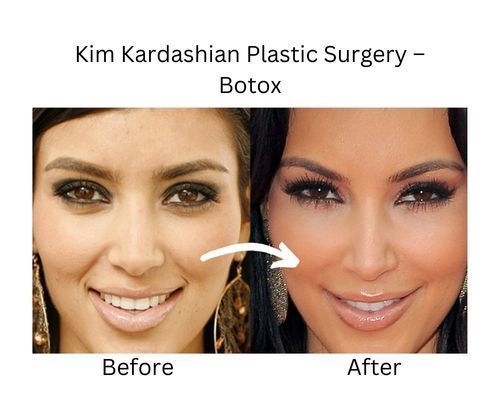 Kim Kardashian Plastic Surgery – Botox
In an interview, Kim Kardashian revealed that she has tried Botox before and claimed it to be the only cosmetic treatment she has ever done. As per plastic surgeons, Kim Kardashian has used Botox, the anti-wrinkle injections on her forehead for helping lift her brows. They have also aided in open up her eyes and making them look larger.
Check out our guide to find out all the details of Kylie jenner plastic surgery as we cover her complete transformation along with all the FAQs on her plastic surgeries. We list out all the likely surgeries she underwent which include nose job, chin enhancement, nasolabial fillers, lip fillers and many more.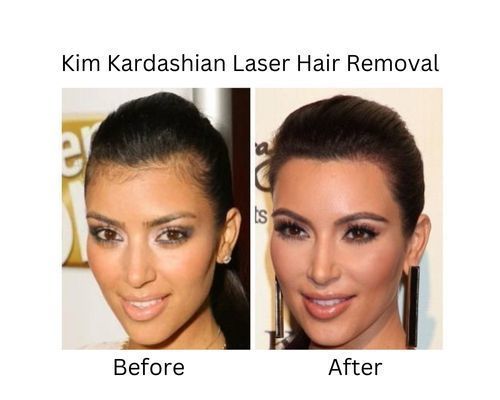 Laser Hair Removal
Kim Kardashian had admitted that she got her baby hairs lasered off from her forehead years ago. They used to give her pimple breakouts and the laser treatment helped in dealing with that. She also got her "hairy neck" lasered, the star mentioned.
Also check out the secrets of kendall jenner plastic surgery as we cover all the surgeries she underwent which has tranformed her face and body completely. From nose job, cheek fillers to lip injections, she has undergone multiple treatments.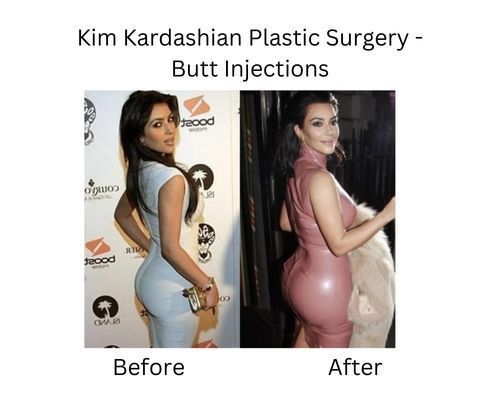 Kim Kardashian Plastic Surgery – Butt Injections
On a livestream on Instagram, Kim Kardashian said that she has got butt injections but just as a treatment for her psoriasis. She got a cortisone shot in her butt that led to a huge indent on her butt. This indent sparked rumours of her getting butt implants.
Many surgeons are of the opinion that Kim K has undergone a fat transfer surgical process on her buttocks. That region looks dramatically bigger than what her butt used to be in previous images. Possbily, she got her fat removed form the stomach and waist and got it injected on her hip area and buttocks to attain those very famous "Kardashian curves". She has even admitted putting injections into her buttocks. In fact, in her divorce papers, Kim revealed that her ex-husband Damon Thomas forced her into undergoing various procedures, including liposuction.
Also check out the details of Christina Aguilera plastic surgery as we uncover all the details of the various procedures she has undergone to transform her fafce and body completely. She is amongst a few top celebs who has seen a significant transformation over the years.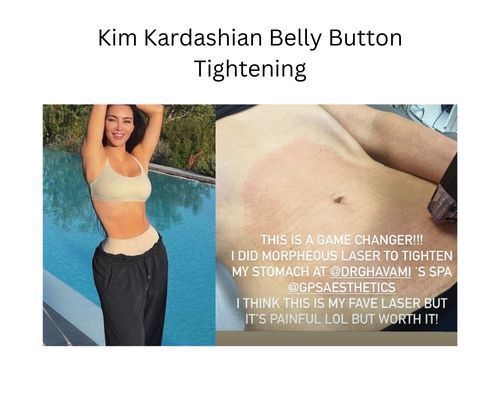 Kim Kardashian Plastic Surgery – Belly Button Tightening
After Kim Kardashian gave birth to two of her oldest kids (North and Saint), she went for the belly button tightening procedure to make it get back to its normal appearance. She even shared it on the Instagram story how the procedure and the results were "life-changing" for her.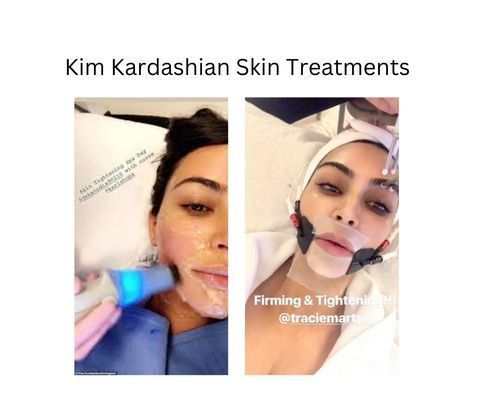 Kim Kardashian Skin Treatments
Kim Kardashian claims that laser treatments give her skin an all-over radiance and it has also helped her in dealing with other skin conditions. She has also gone for the removal of her stretch marks caused due to pregnancy and breastfeeding. The Coolbeam lasers helped her in getting rid of skin imperfections, stretch marks, and scars. She called the Morpheus laser treatment "game-changing" as it tightened her abdomen and stomach. She said, "It's painful LOL but worth it!" on her Instagram story.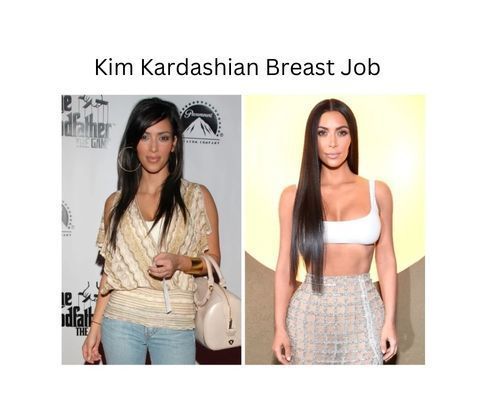 Kim Kardashian Breast Job
Kim Kardashian's ever-changing appearances always come to the public's notice. If you look at her past photos, you will find her breasts to be shapely and full, complementing Kim K's signature curves. In recent months, however, her breast size has changed drastically. As per fans' speculations, she may have undergone a breast reduction treatment or got small breast implants. Some also suspect that she got her breasts implants completely removed. But we also know how regular she is with her gym workouts. So, if it's really a cosmetic surgery or just her losing weight is debatable.
Apart from all the treatment and surgeries, she is also rumoured to have undergone a minimum of two breast jobs for perking up her assets. If reports are to be believed, she spent more than $100,000 in 2015 for revamping her physique after she gave birth to Saint West. Surgery specialists claim that even after giving birth and breastfeeding her kids, Kim has very shapely and voluminous breasts; indicating that she probably went for a breast enlargement treatment.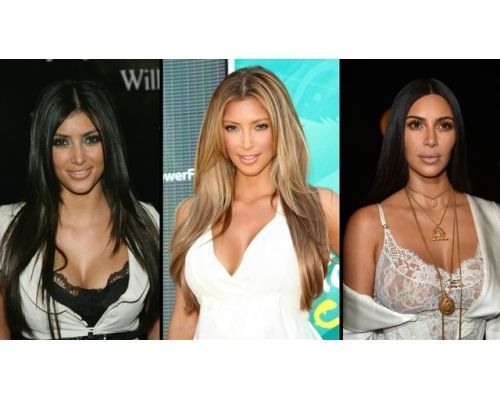 Kim Kardashian Transformation Over Last 10 Years
From getting the audience hooked through Keeping Up With The Kardashians to giving us major fashion goals, Kim Kardashian has always been a part of headlines. Be it her face or physique, she has undergone a lot of painless and painful surgeries, treatments and procedures just to look a certain way. We can gossip about it all we want but she has got all the looks, money and fame in the world. So, who is the real winner here, eh?
Check out Renee Zellweger plastic surgery secrets as she is also rumored to have undergone multiple surgeries to transform her face and body.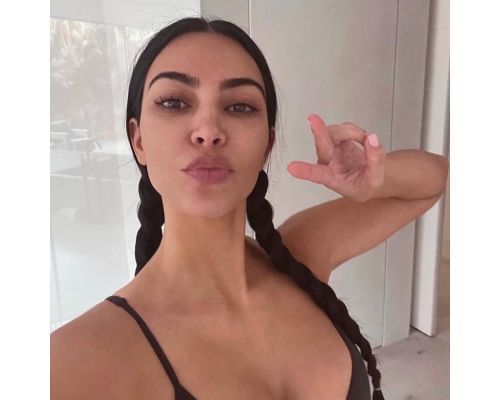 The Verdict
It goes without saying that Kim Kardashian's plastic surgery secrets will never fail at sparking conversations and debates. However, it is also worth mentioning that her shapely body and stunning beauty looks flawless even after her pregnancy. Weather it is all natural and genetic or the miracles of technology, it is her choice and her body and shouldn't subject her to any ridicule.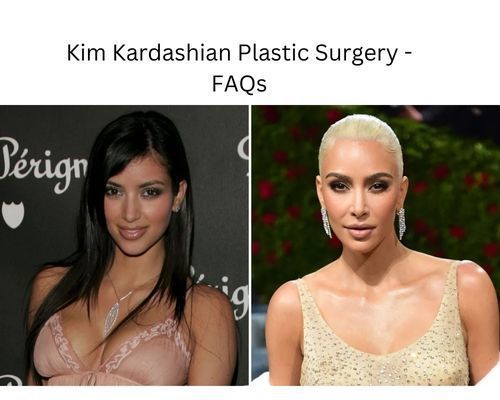 FAQs On Kim Kardashian Plastic Surgery
Q. Has Kim Kardashian had any bum lifts?
While a lot of people say that she has had butt enlargement or lifting procedures done, it may also be possible that Kim Kardashian's shapely butt is the result of excessive squatting and intensive workouts.
Q. Did Kim Kardashian get any non-surgical procedure done?
Possibly, Kim Kardashian has undergone various non-surgical procedures for subtly changing her features. It includes getting non-surgical lip fillers, and anti-wrinkle injections like Botox.
Q. Who is Kim Kardashian's plastic surgeon?
As per US Weekly's report, Dr. Jason Diamond is Kim Kardashian plastic surgeon know keeps her body in shape and makes her look youthful at all times.
Q. How many surgical procedures has Kim Kardashian got done?
While there is no source to verify the credibility of Kim Kardashian plastic surgery secrets, some of the most speculated ones are a nose job, breast implants, and butt enhancement.
Q. Did Kim Kardashian get a laser treatment?
Yes, Kim Kardashian had admitted getting multiple laser treatments of different kinds. Apart from hair removal, her laser treatments have helped in reducing scars, stretch marks and acne as well as tightened her skin.
Related Articles