31 Spectacular Blue Eyeshadow Looks For 2023
Shalu Bhati
Updated At 14 Sep 23
There is one thing that we can never get enough of—blue eyeshadow looks! it is one of the prettiest colors to ever exist on the eyeshadow palette, comes in a variety of shades, and is trending this year like that's its second nature. So, we thought of showing you some of the most spectacular eyeshadow looks. here we have everything from blue eyeshadow looks for brown skin to blue eyeshadow looks for beginners.
Let's get started!
31 Best Blue Eyeshadow Looks - With Pictures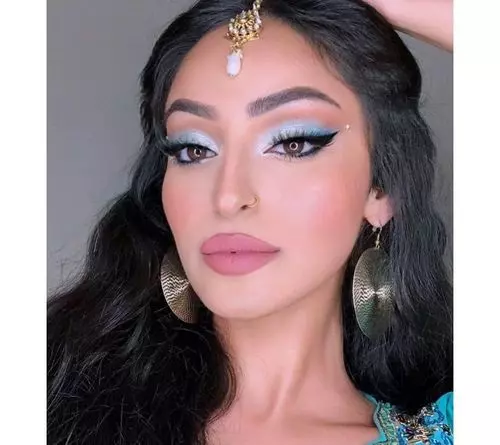 1. Blue Eyeshadow Looks For Brown Skin
Talk of blue eyeshadow looks on brown skin and our first thought belongs to Princess Jasmine. Blame it on our desi hearts. And since the heart wants what it wants, here we have a spectacular blue eyeshadow look for brown skin complete with a winged liner and finished with a rhinestone—a modern iteration of Princess Jasmine's makeup look. One of the best colorful eyeshadow looks this can be used during parties and on special occasions.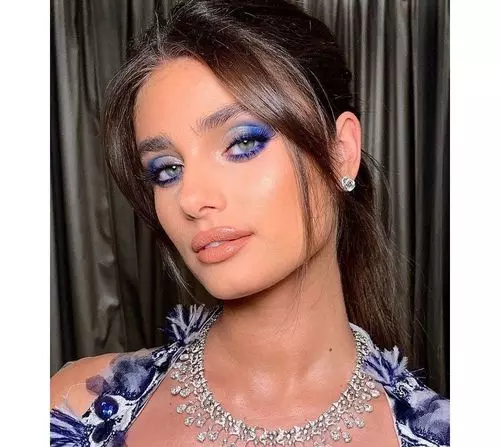 2. Glam Blue Eyeshadow Looks
Take your beauty look to the next level with blue eyeshadow and blue mascara without looking over the top. Sounds impossible, right? But, it isn't. And we have just the look to prove it.
Check out everything about eyebrow slit as we cover its history, best designs along with FAQs in detail.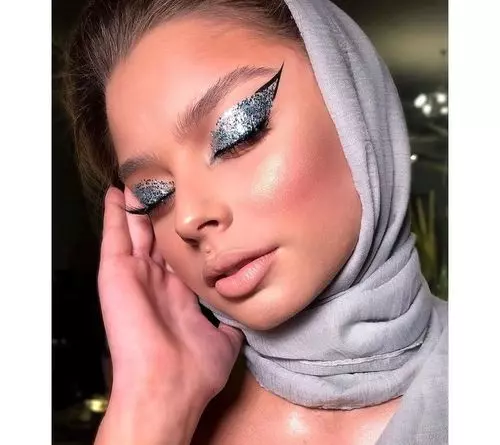 3. Sparkly Blue Eyeshadow Looks
Add some sparkle to take a simple blue eyeshadow look and make it instantly glam. 'Tis the season to have all the fun with your eye makeup so go ahead and go out with the most blingy looks of all.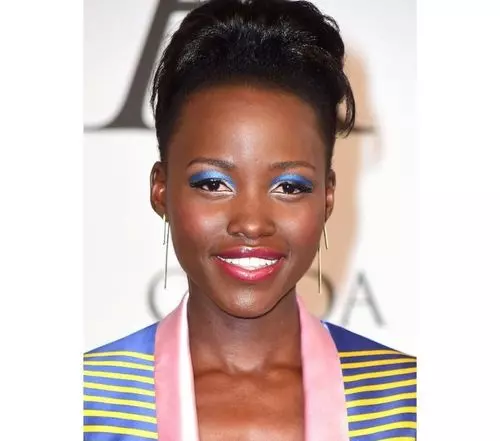 4. Sparkly And Simple Blue Eyeshadow Looks
Lupita Nyong'o gives major makeup and beauty goals every time she steps on the red carpet. And here she is again with one of the most spectacular blue eyeshadow looks on dark skin. It is a simple yet stylish look that you can easily recreate with the help of some dusty purple, white, and shimmery blue eyeshadow. 
Check out our guide to find the 31 best pink eyeshadow looks which have been trending this year.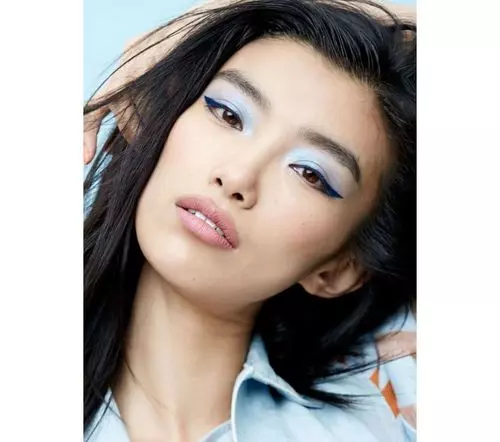 5. Subtle Blue Eyeshadow Looks
Here is a subtle and beginner-friendly eyeshadow look that you can easily recreate as long as you know how to blend and draw a liner. Come on, this is the bare minimum. And just because this is a subtle and simple look, it doesn't mean it loses any of its impact. It is just super easy along with being super gorgeous.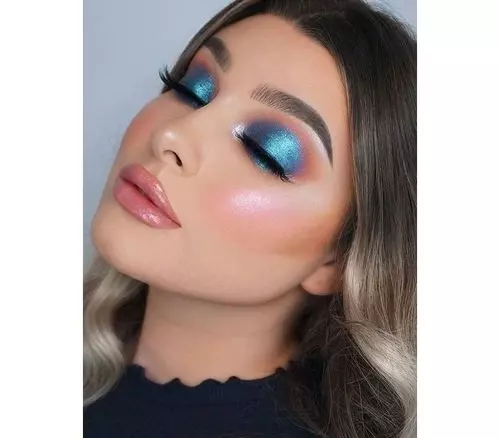 6. Gorgeous Blue Eyeshadow Looks For Beginners
Create a contrasting look with a warm nude base and go for a shimmery blue eyeshadow on top.
Check out out guide to find the best purple eyeshadow looks for this year. From celebrity eyemakeup to retro purple eyes, we have covered all the stunning looks.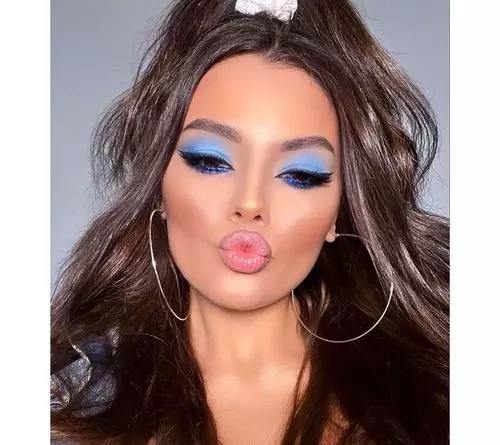 7. Dual-Toned Blue Eyeshadow Looks
Dual-toned eyeshadow looks are very popular at the moment. You can choose two different colors or from the same family. And when it comes to blue, there is no dearth of shades to choose from. So, here we are with a dual-toned eyeshadow look in blue coupled with a foxy liner.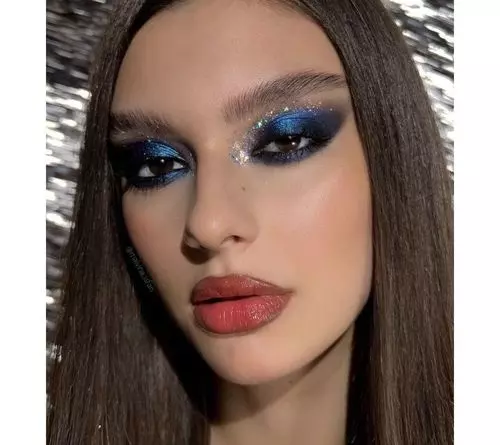 8. Navy Blue Eyeshadow Looks
Want easy glam for the date night? Go for shimmery navy blue eyeshadow looks. You can never go wrong with this shade. If you want to take it a step further, you can also add some silver glitter shadow on the top crease.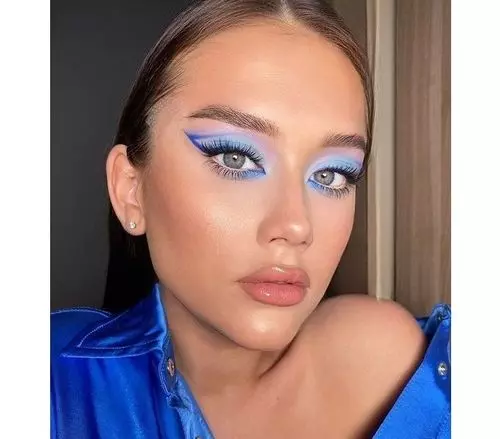 9. The One With The Winged Liner
This is not one of your regular royal blue eyeshadow looks. It doesn't use the royal blue shade as much as you would expect. But hey, it still creates a unique impact.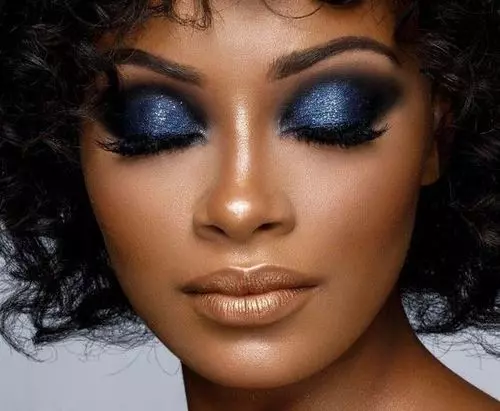 10. Of Midnight Blues
Okay, we are obsessed with navy blue eyeshadow looks for the night. And guess what, it looks amazing on brown skin. This is the shade of the night sky so go on and grab your black and blue eyeshadow palette to recreate this look.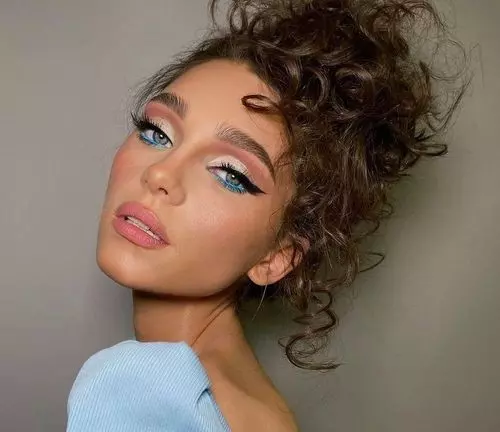 11. Subtle Blues
This is one of the best blue eyeshadow looks for beginners. It also happens to be the new and very chic way of wearing blue eyeshadow.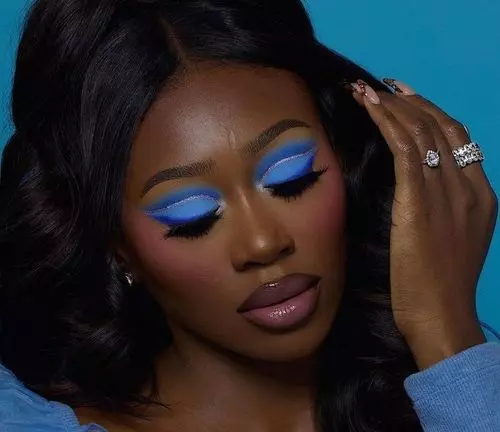 12. Dramatic Blue Eyeshadow Looks On Dark Skin
Blue eyeshadow looks on dark skin have a charm of their own and we happened to find this dramatic look that might remind you of the ocean. The contrast of a light blue shade with royal blue looks phenomenal. The silver-lined crease adds definition.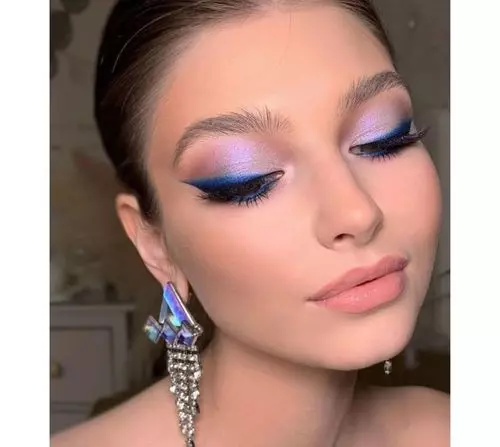 13. Soft Blue Eyeshadow Looks
This is one of the most gorgeous subtle blue eyeshadow looks that use a very soft shimmery pastel shade of blue as a base while using navy blue eyeshadow to create a wing. It will only accentuate and add more glam to the usual winged liner look. This is perfect for daytime events.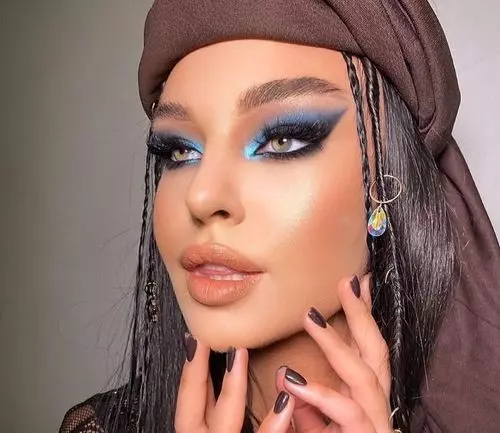 14. Blue Magic
Now, this is a look full of magic and mystique. Of course, we found it irresistible and so will you. It is one of the most spectacular smoky blue eyeshadow looks undoubtedly.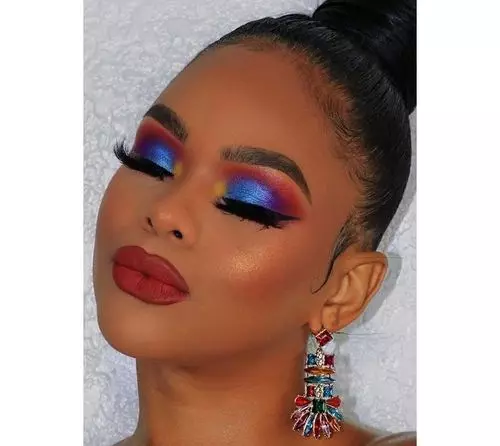 15. Royal Blue Eyeshadow Looks For Brown Skin
Here is a royal blue eyeshadow look that looks truly royal with this particular color palette mix. Royal blue paired with tropically bright colors including pink, purple, and a dash of yellow.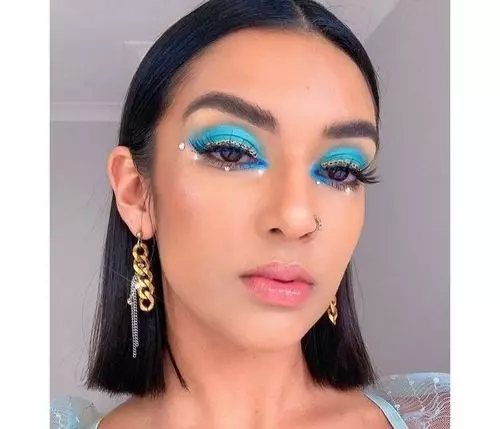 16. Blue Eyeshadow Looks With Rhinestones
You can go pretty as well as grunge with blue eyeshadow looks. Here we have a cool blue look with rhinestones but what takes this look to the full grunge level is the dainty chain accessory right above the lash line.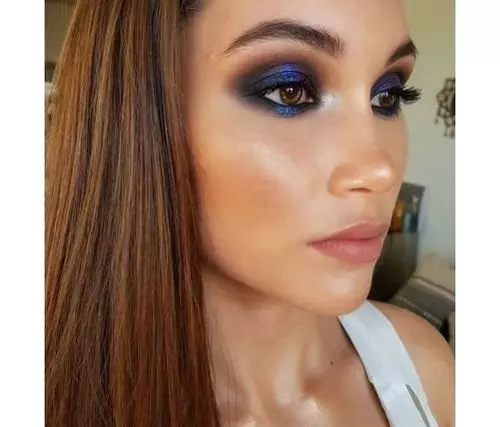 17. Smoky Royal Blue
This is one of the most gorgeous royal blue eyeshadow looks. This look creates a smoky iridescent effect that is full of mystique and glam. It works great as a nighttime look.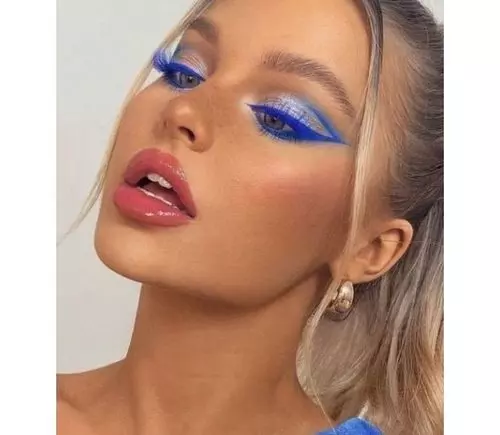 18. Graphic And Dramatic
If subtle is not your love language when it comes to eye makeup, then we have just the look for you. Dramatic blue eyeshadow looks are a delight. And we found one. This gorgeous royal blue look follows the shape of a graphic winger liner but uses an eyeshadow instead. The base could be shimmery white or a shimmery pastel blue. Take things to the next level with a matching blue mascara.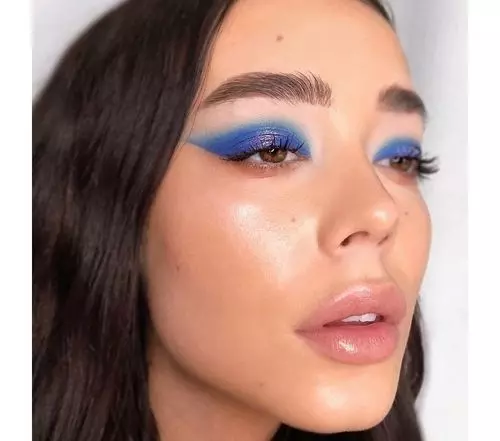 19. Wings In Royal Blue
Here is one of the gorgeous royal blue eyeshadow looks that you must try. It is simple but chic. It is also something that an eye makeup novice would be able to do.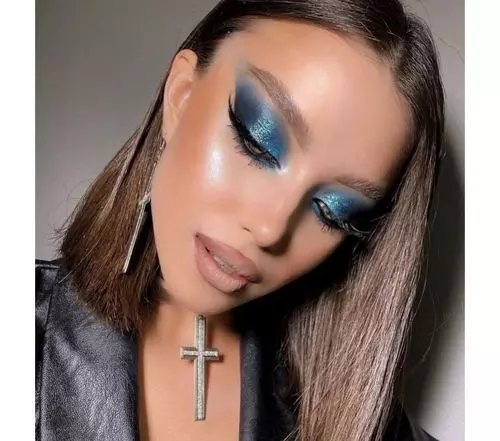 20. Smoky Blue Eyeshadow Looks
We will never be tired of smoky blue eyeshadow looks. And this one won our blue-obsessed hearts. This look is a gorgeous combo of shimmery and matte eyeshadows. The two contrasting textures create a fantastic smoky effect that is worth obsessing over.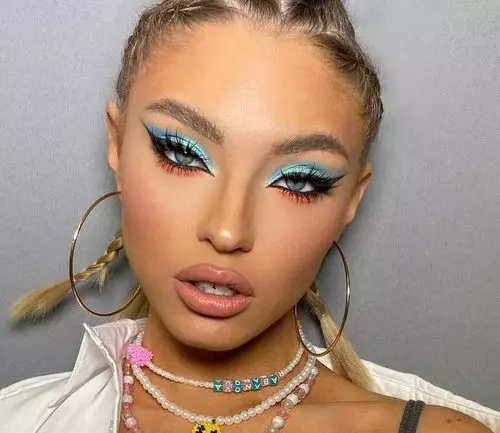 21. Light Blue Eyeshadow Looks With Bold Liner
Once again we have a blue eyeshadow look for those who like to do things bold and dramatic. The bold liner is accentuated with the use of light blue eyeshadow on the eyelids while a muted orange works its magic on the lower lash line.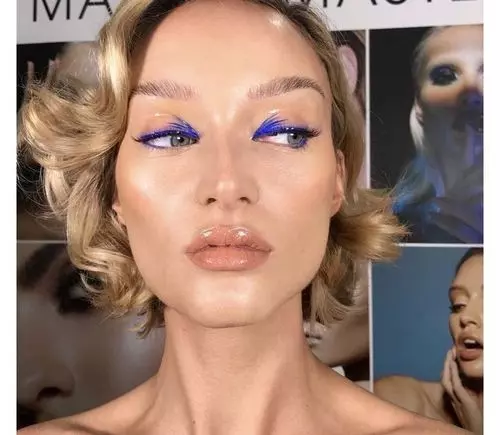 22. Gorgeous Blue Eyeshadow Looks
Blue eyeshadow looks with creamy nudes? Yes, that's totally a look that you should go for. Here we have a very chic inspiration for you.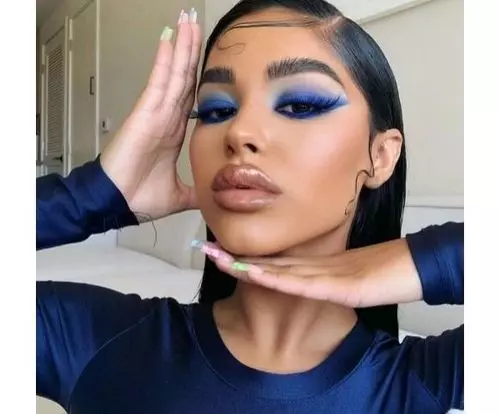 23. Navy Blue Eyeshadow Looks For Brown Skin
Leave your liner alone and just go in with a navy blue eyeshadow to recreate this gorgeous eyeshadow look for brown skin.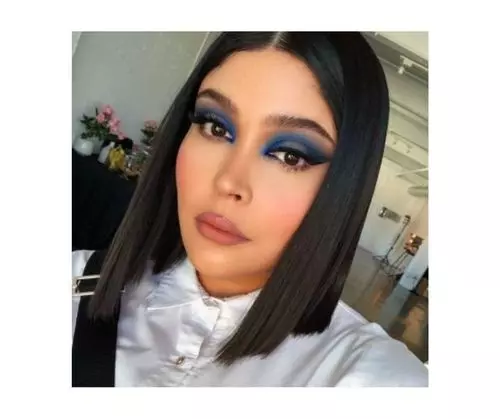 24. Latest Blue Eyeshadow Looks
Still want to do something different? Go for this blue eyeshadow look then which also includes charcoal grey eyeshadow and a bold winged liner.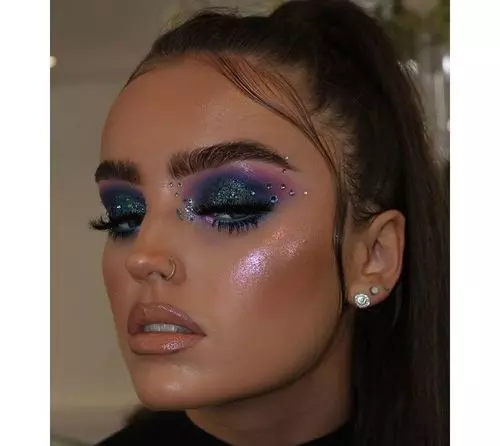 25. Glammed Up
Blue eyeshadow looks work great for nighttime looks. And we found just the one super glam look for you. Go all out with this dual-toned eyeshadow look. The glitter gives an iridescent look while the rhinestones up the glam quotient.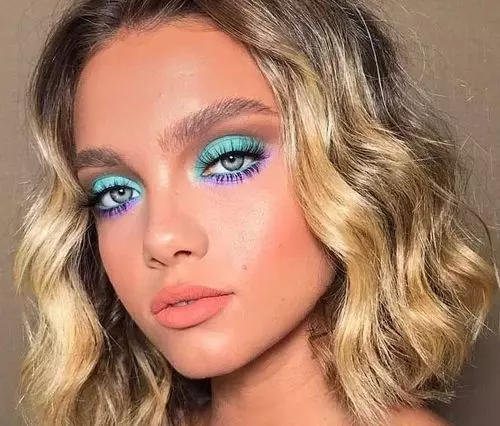 26. Aqua Blue Eyeshadow Looks
There are many shades of blue to choose from. And here we are with a nice and cool aqua look for you. It works for all eye colors but the romance of matching your beautiful blue eyes with a beautiful blue shade is always tempting.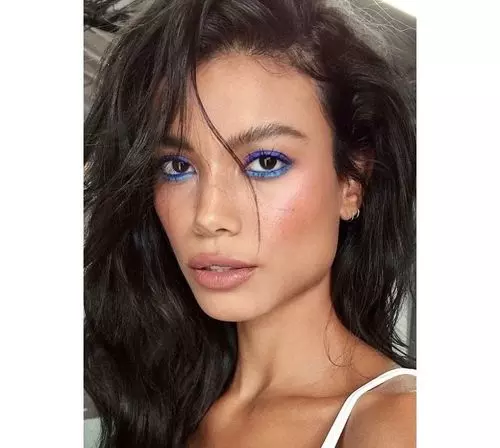 27. Purple And Blue Eyeshadow Looks For Beginners
Who says makeup newbies cannot have fun? If you are still trying to find your way around eye makeup, worry not. We found an easy peasy blue eyeshadow look for you that is quite spectacular and trendy. All you need to know is the basic skill of blending. So, purple goes on top and a lighter shade of blue goes on the bottom. And blend!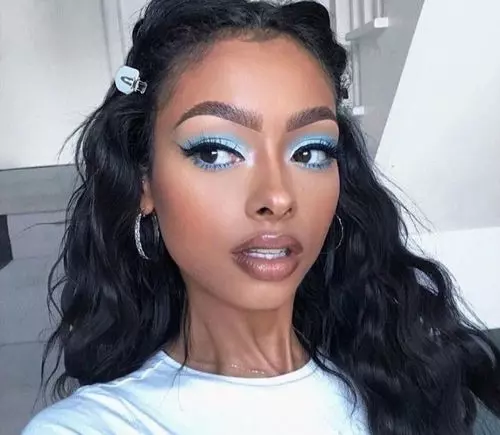 28. Sky Blue Eyeshadow Looks On Dark Skin
The lighter the blue, the more gorgeous it looks on dark skin. And we happened to find this pretty as a picture sky blue eyeshadow look. You can either finish it with your choice of liner style or just let the eyeshadow stand on its own.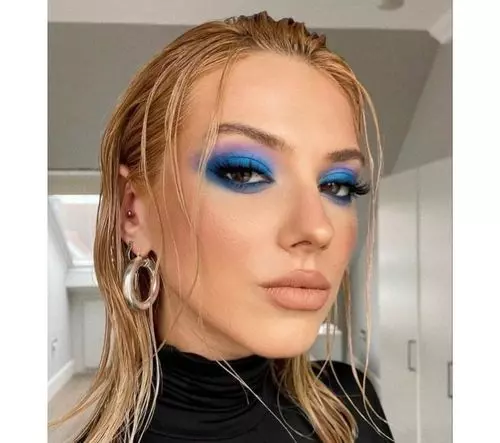 29. Royally Blue
Blue is a color that makes a statement on its own. You don't even have to do anything. Just let this beautiful color do its magic. This is one of the most trending royal blue eyeshadow looks.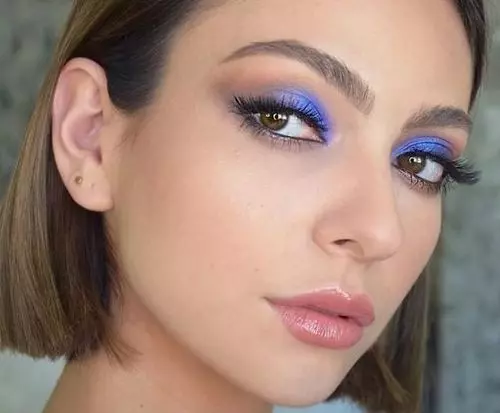 30. Blue For Every Mood
This is yet another one of the simple blue eyeshadow looks that also happens to be beginner-friendly. It is also a great choice for those who are looking for something overtly dramatic but a simple yet fun everyday thing.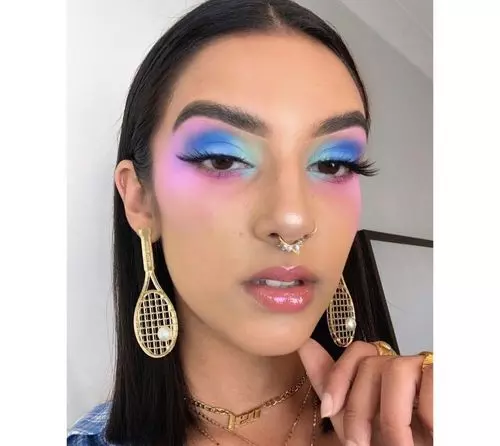 31. Of Blues And Pinks
Nothing says spectacular more than a multi-colored blue eyeshadow look. And we happened to find the most spectacular one ever. While pastel and cobalt blue dance on the upper eyelids, a whole lot of pink under the lower lash line and around adds the finishing touch.