Top 25 Stunning Pink Eyeshadow Looks - 2023
Pooja Angurasu
Updated At 14 Sep 23
Even though there are many colours in our day-to-day life but pink is considered the most popular colour among eyeshadow looks  because it makes you look younger and prettier and increases your beauty.
25 Best Pink Eyeshadow Looks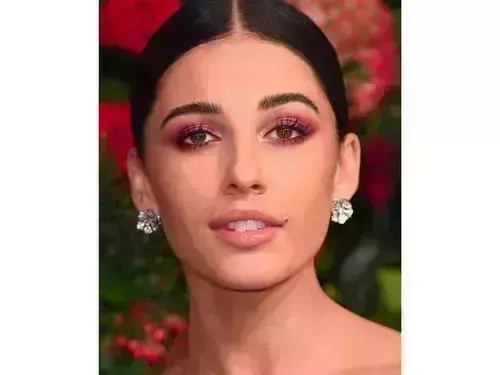 1. Pink And Brown Eyeshadow Look
Have a birthday party or some evening time events? Here is the fantastic combo of pink and brown. This pink eyeshadow look will become a jewel in your eye. Even one can make a wing with it or make it smokey. If one wishes, one could add rhinestones to it.
Check out our guide to find the best colorful eyeshadow looks which includes amazing smokey eyes, natural eyeshadow looks and many more.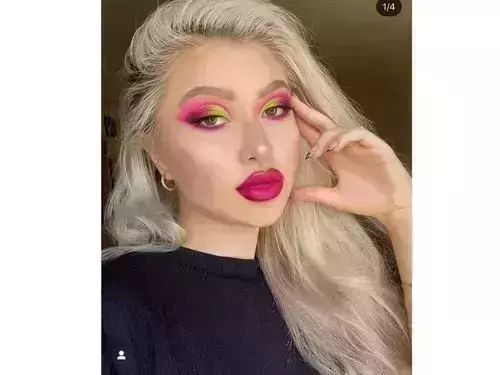 2. Green And Pink Smokey
Does pink eyeshadow look with green creamy nudes will workout? Yes, that's a look that you should go for. This will be a chic inspiration for the eyes. This pink eyeshadow look gives a positive and vibrant look to the eyes. Just party hard with this pleasant green and pink smokey eyeshadow look. Finish this look with a pink lower lash line.
If you are interested in checking out the latest blue eyeshadow looks then do check our guide as we list all the 30+ popular blue looks trending this year.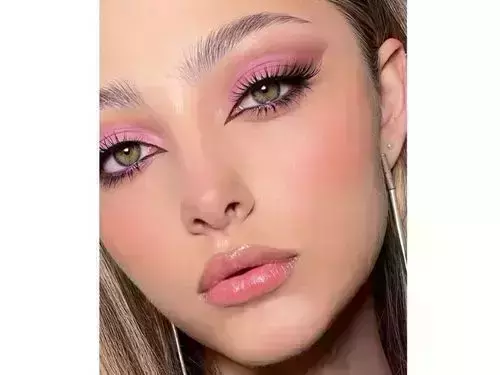 3. Subtle Pink
It is easy for beginners to get this pink eyeshadow look. It also happens to be the new and very chic way of wearing pink eyeshadow. It is a simple stylish look that one can recreate with pink eyeshadow and eyeliner. One can never go wrong with this shade. It is super easy along with being super gorgeous. Never fail to try this simple one for any occasion.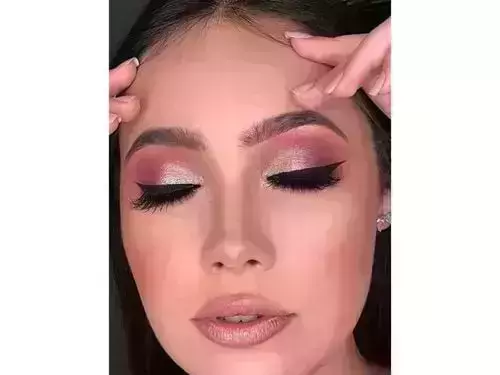 4. Rose Gold Look
Going for any special occasion, give it a try. This pink eyeshadow look will be suitable for all skin tones. This soft pink eyeshadow with bold eyeliner will give a fantastic feature for the eyes. One of the best eyeshadow looks to use for all occasions.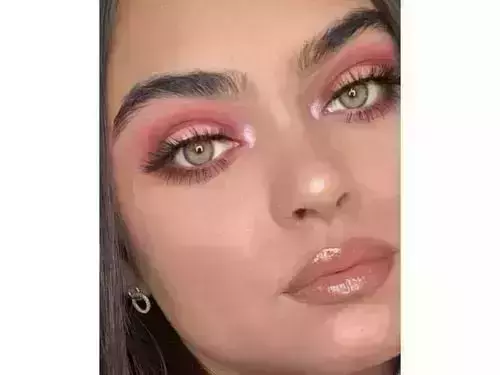 5. Shiny Baby Pink
Were you bored of bold mascara and eyeliner? Just have a baby pink liner and spread the shiny pink around the eyes. This contrasting pink eyeshadow look will never fail to amaze!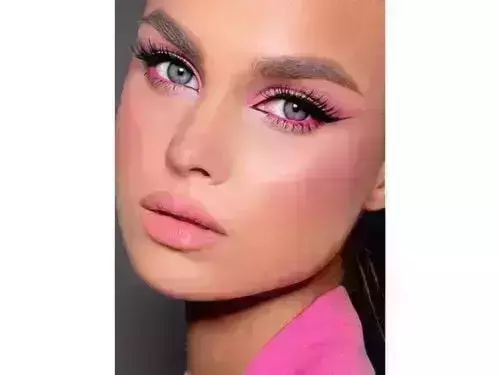 6. Barbie Pink Eyeshadow Look
One of the best pink eyeshadow looks this one with pink eyeliner will give a barbie girl look. Never forget this style to wear for a party. Be the barbie girl and make your barbie world. It will be fantastic.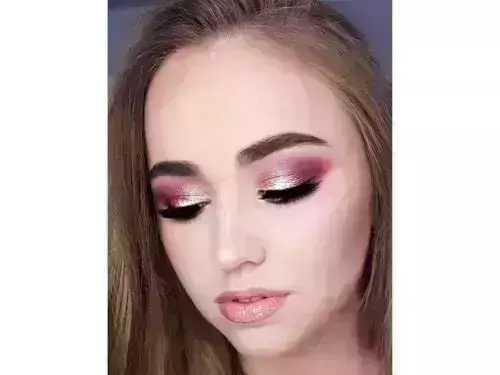 7. Golden Pink Smokey
This pink eyeshadow look will never get out of fashion and the smokey look will enhance your beauty level. This look can be used for parties or in an award function. This smokey fashion will spread like smoke. No one can hate this look.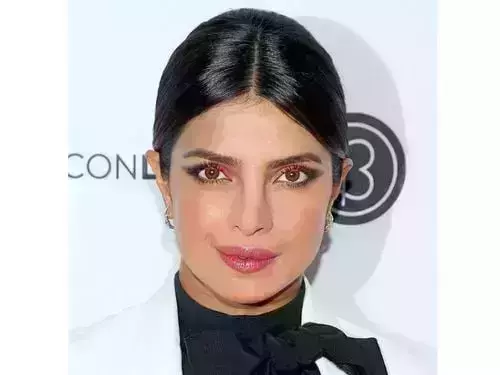 8. Neon Pink Eyeshadow Look
These gorgeous colours will give a different professional look. Instead of a bold liner, use black and pink eyeshadow. It is an untold truth that black matches all colours. Don't wait to get this dazzling look.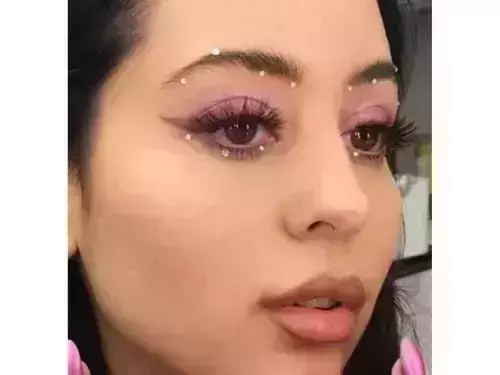 9. Pink Look With Rhinestone
Tired of eyeshadows, give rhinestones to get shiny and lively eyes. Even beginners can try this look without any hesitation. It needs regular eyeshadows but rhinestones will give an epic look.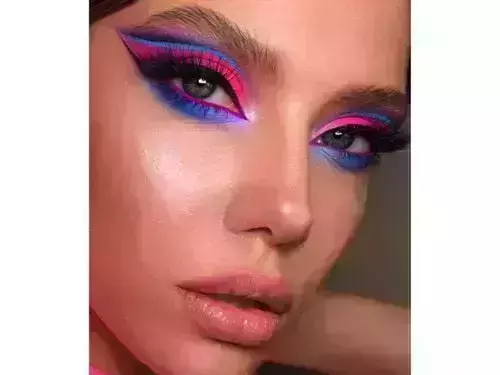 10. Pink And Blue Eyeshadow
This eyeshadow look will give fashionable look to the eyes. It seems to be pink and blue but it is not true, it has winged pink with a light blue outline and violet eyeliner gives an attractive look and this look gets complete with ink blue in the lower lash line.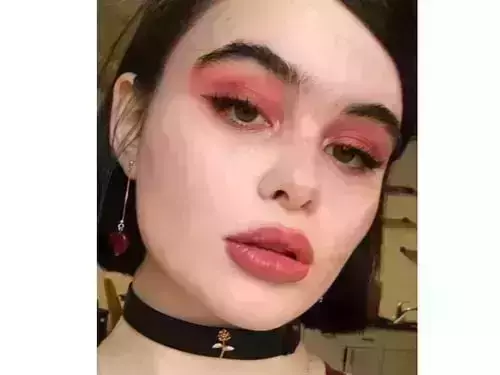 11. Rosy Pink 
This pink eyeshadow look is so simple and simply stylish. It is not a difficult task. Instead of regular wings, the out smudges make the look classy. This look will be best for daytime events.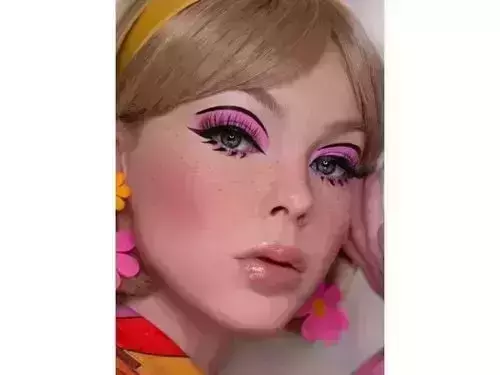 Looking for a pink baby doll eyeshadow look? Hey! here it is. But don't forget to draw the black arc and irregular lines in the lower lashes. This will make you look 10x times younger. Teenage girls must try. It will take the fashion sense to its peak.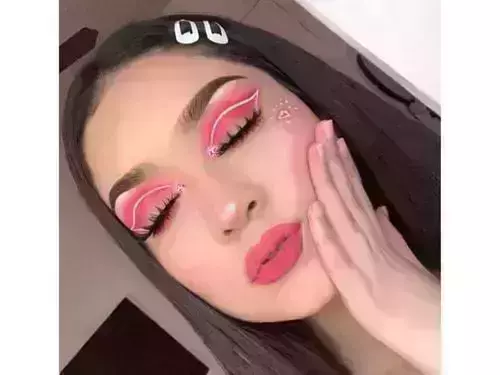 13. White And Pink Eyeshadow
Hey girl! want to become an angel then go with this look by putting white wings in the pink eyeshadow. Let the eyes fly with white wings in others' hearts. This white adds meaning to the eyeshadow and gives a creamy and charming look. This white angel will start its life journey in your eyes.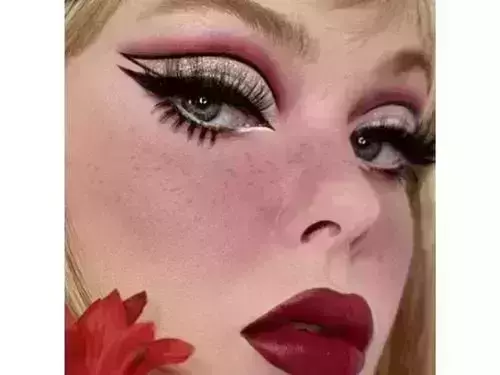 14. White Glitter And Reddish Pink
The black-winged border between the pink shade and white glitter will give a fruity look. The white eyeliner will give a spectacular eye! Those glitters will add more attraction to your eyes. This will be the chic inspiration for the dolly look.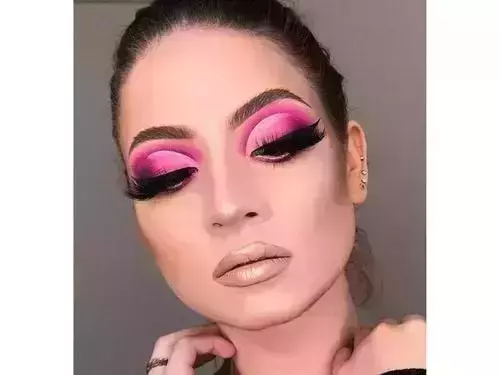 15. Dual toned pink
This pink eyeshadow look with contrasting colours from the same family will give a dazzling look. The biggest eyes are the cutest ones. This shadow will make your eyes look large. Make your eyes fly with this pink eyeshadow look.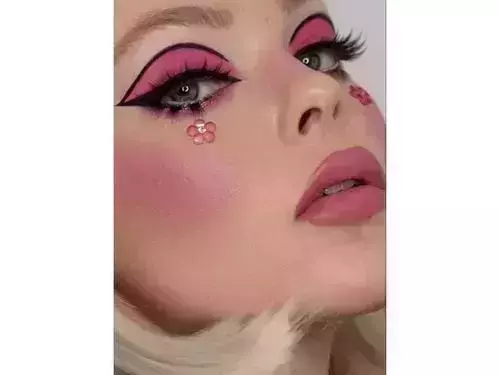 16. Flourish Pink
Performing a concert? Try this style. This pink eyeshadow look with a bold liner around it will attract the audience. A flower rhinestone below your eyes gives awesome pretty eyes and it increases the style and attractiveness scale.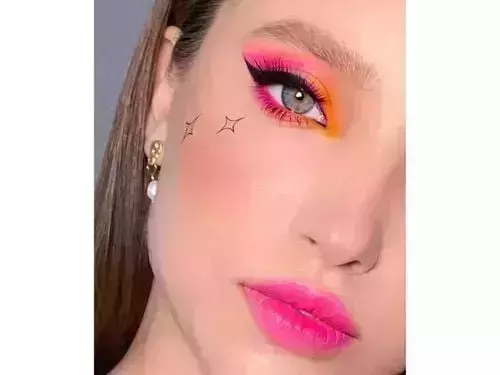 17. Pink And Yellow For Beginners
It is a beginner-friendly style. It might look subtle but it will never lose its impact on the eyes. It will be suitable for daytime events. This pink eyeshadow look will be suitable for all costumes. That foxy liner will take your look to the next level.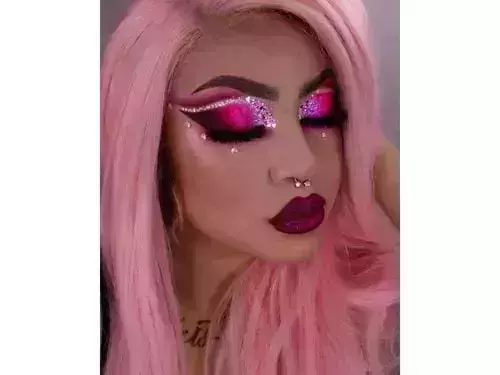 18. Smokey Glammed Pink
Want easy glam for the date night then go for shimmery pink eyeshadow looks. You can never go wrong with this shade. If you want to take it a step further, you can also add a silver glitter line in the middle. The glitter gives an iridescent look while the rhinestones up the glam quotient.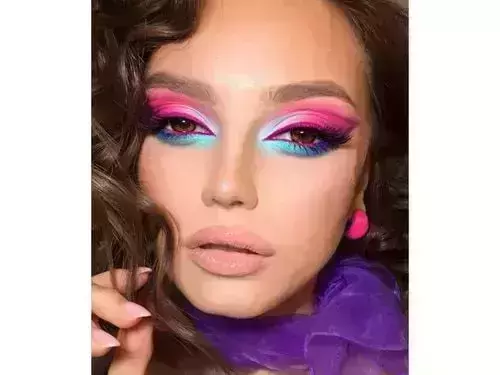 19. Of Blue and Pink
The pink wings with pink eyeliner and blue colour in the lower lashes make one look like an aquatic queen. This will be suitable for nighttime events. This pink eyeshadow look will be suitable for brown skin and also brown eyes.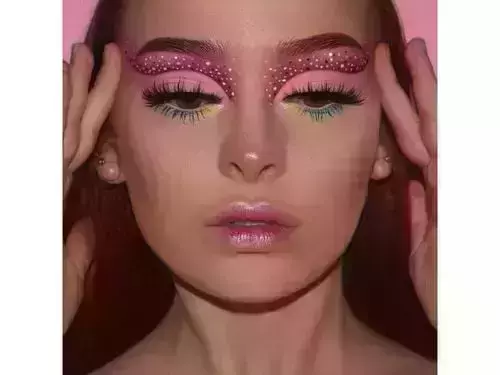 20. The Crown Pink
Nothing says spectacular more than a multi-coloured blue eyeshadow look. And we happened to find the most spectacular one ever. While dark pink spots at the top and light pink dance on the upper eyelids, a whole blue and yellow under the lower lash line adds the finishing touch.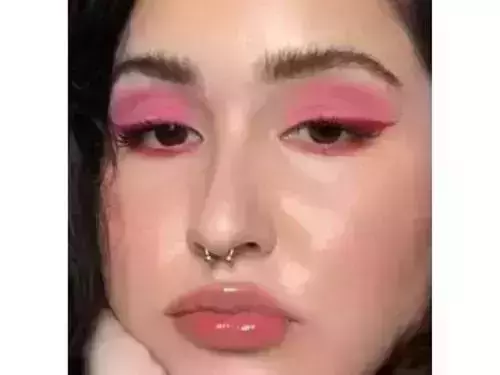 21. Pink Eyeshadow With Red Eyeliner
Bored of black eyeliner, make your eyes trendy with red eyeliner and pink eyeshadow. Even beginners can get this trendy look it's not a big deal. It might look very simple, but it still creates a unique impact.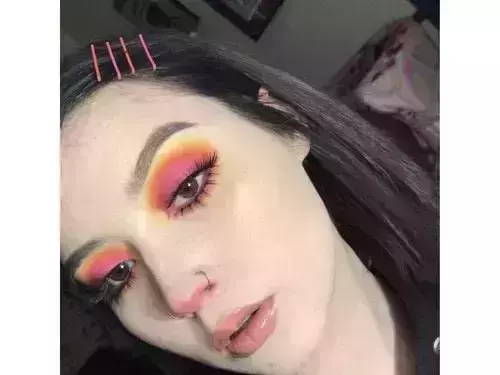 22. Sunny Pink
Bored of monotonous fashion? This pink eyeshadow look with a yellow shade at the top of the crease will make you feel like a rose riser. This yellow shade adds definition to this pink eyeshadow look. It will add more glam to your beauty. This sunny pink is best for daytime events. Even if it is cold outside, make it feel warm with the sunny pink look.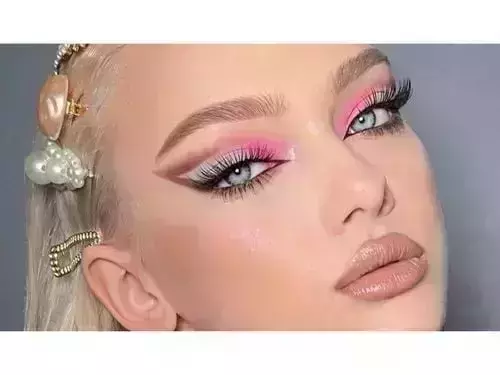 23. Soft Pink Touch
This is one of the most gorgeous pink eyeshadow looks that use a very soft shimmery pastel shade of pink with white as a base while using brown eyeshadow to create a wing. It will only accentuate and add more glam to the usual winged liner look. This is perfect for daytime events. This eyeshadow look will a tremendous for people with blue eyes which makes you feel high like a blue sky.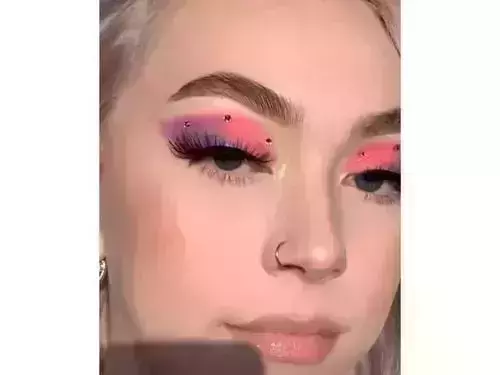 24. Contrasting Violet And Pink
Here is one of the pink eyeshadow looks that looks truly royal with this particular colour palette mix. Pink colour paired with a tropically bright colour like violet with rhinestone will give an elegant style. These rhinestones will give rich look to your fashionable eyeshadow. This eyeshadow look will give a princess look to the eyes.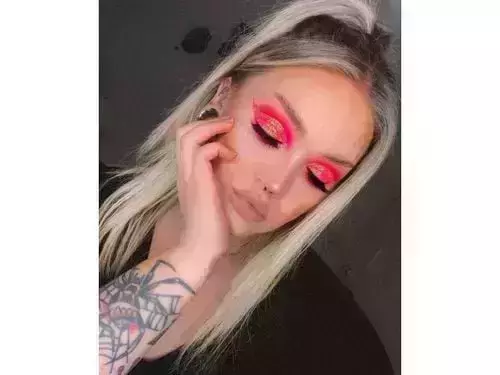 25. Wings In Golden Yellowish Pink
The golden wings with pink creases at the top will give a top-notch perfect look. It is also a great choice for those who are looking for something overly dramatic. This pink provides fire to the eyes which makes your eyes bright like a ray of sunshine. This pink eyeshadow look suits the pink or golden colour dress.