35 Most Popular Eyeshadow Looks You Must Try - 2023
Shalu Bhati
Updated At 01 Jun 23
The world is still recovering from the mayhem of Covid-19 which means the use of face masks is still prescribed as a precaution against the spread of the virus. But that must not dampen the spirit of your makeup-loving heart. So what if more than half your face has to be in hiding? All the focus has now shifted to your eyes and that is exactly what you should make as your playing field. You can never go wrong with some classic or even colorful eyeshadow looks. As for inspiration, we have some of the most popular eyeshadow looks that you must try ranging from nudes and glittery shades to smokey eyes.
Let's get started!
35 Best Eyeshadow Looks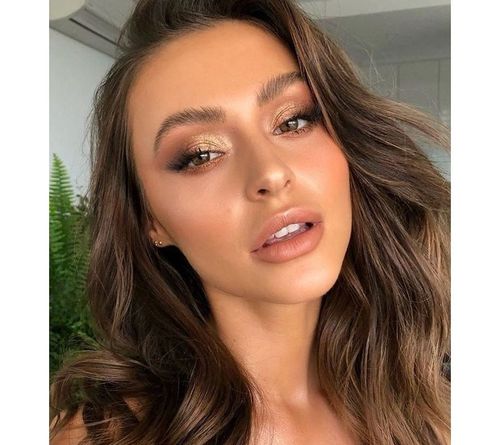 1. A Pearly Blend of Beige
A subtle beautiful blend of eyeshadow looks is very popular this year especially those using a neutral palette. So, here we have a beautiful blend of beige that shimmers with a pearly radiance. It is a great way to bring attention to your eyes as neutral tones like this one do a great job of catching the light. One of the best colorful eyeshadow looks, this one is apt for any occasion.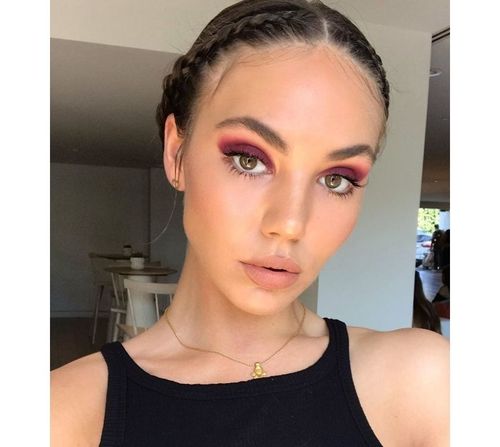 2. Plum Goddess
Fulfill all your colorful dreams with colorful eyeshadow looks like this one. One of the favorites this season is the use of shades of plum. The plum smokey eye undoubtedly looks gorgeous and chic.
Check out our guide to find the best pink eyeshadow looks which include all the subtle smokey eyes, natural pink eyeshadow looks, barbie pink eyes makeup and many more.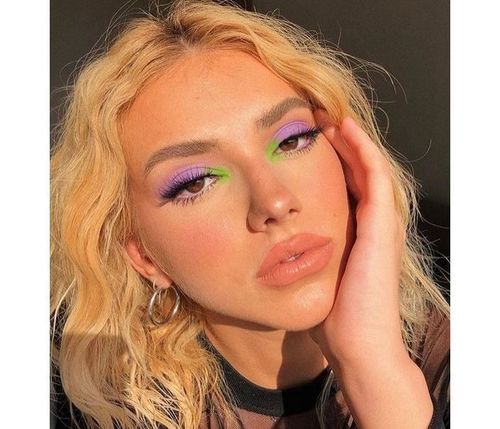 3. Colour Popping
With bright colored eyeshadow looks taking the lead this year, it has been a usual sight to see the mixing of two colors that you wouldn't have otherwise thought of using together. Here is a great example. With purple on the lids and a pop of green on the inner corners, it makes for a great summer look. If you are confused between the shades and want your look to stand out, a purple eyeshadow look is a very good option.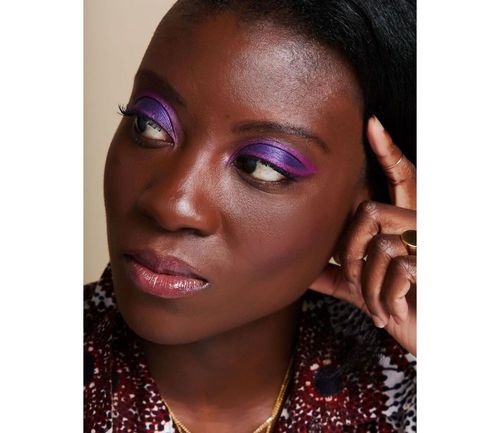 4. Purple Eyeshadow Looks
Purple eyeshadow looks have been at the front and center when it comes to the latest and the most popular eyeshadow trends. But none has been as gorgeous as this one. We have got the best for you here. Look at this head-turning eyeshadow look that uses not one but two different shades of the color purple.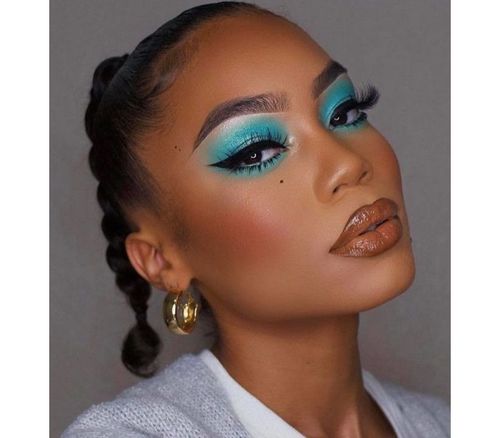 5. Blue Eyeshadow Looks For Brown Skin
Brown-skinned women can pull off almost any color of eyeshadow. But, there is just something about blue eyeshadow looks for brown skin that makes them look extra fabulous. A case in point is this look right here. This beautiful aqua blue is a great reminder of the beautiful beaches.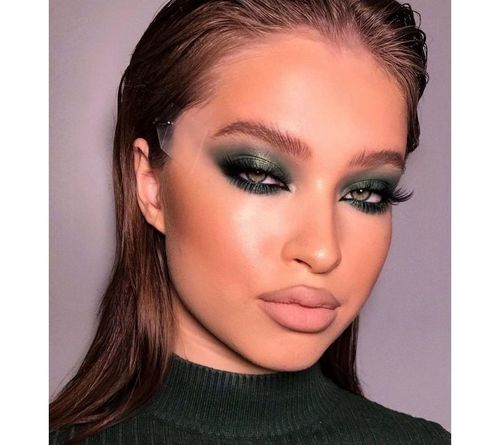 6. Olive Green Smokey Eye
If your heart is set on some darker eyeshadow looks, then we have something for you as well. Here is a gorgeous olive green smokey eyeshadow look. This shade of green has gained recognition this year and rightly so.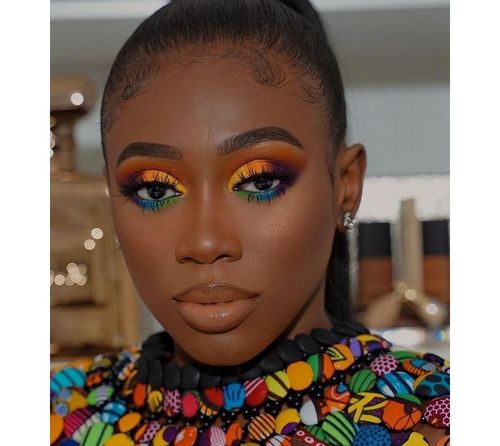 7. Multi-Coloured Madness
This year is all about colorful eyeshadow looks. So, don't be surprised to see a bunch of colors mixed together. Here is one such multi-colored eyeshadow look that has some very bright colors just like the glorious feathers of a tropical bird.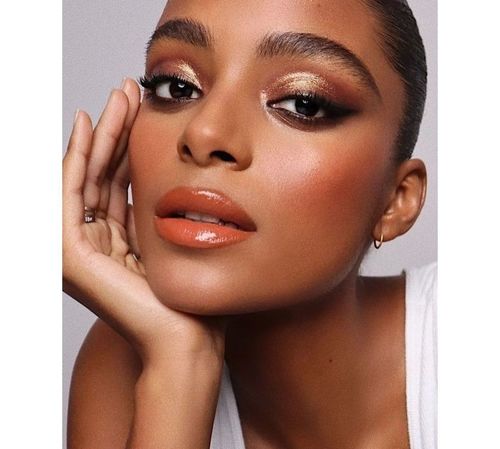 8. Gold Eyeshadow Looks
If you are a fan of the shine and the shimmer, then treat your eyelids with some gold. Gold eyeshadow looks are beginner-friendly and look extremely gorgeous. They suit all skin tones but look especially good on darker skin tones. So, go put on one gold on 'em eyelids and look like a goddess.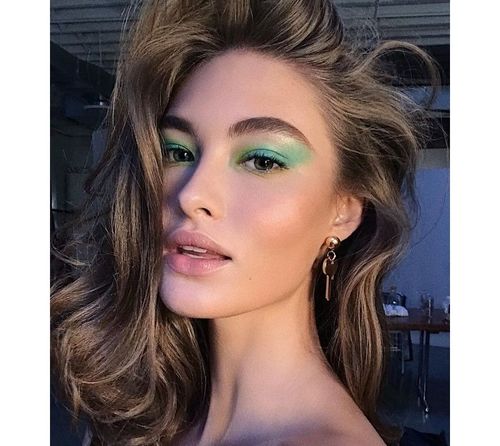 9. Mint Green
Amongst all the shades of green that have gained popularity, one shade happens to be that of mint green. So, we have here a beautiful mint green eyeshadow look that comes with shades of blue and a very pastel finish.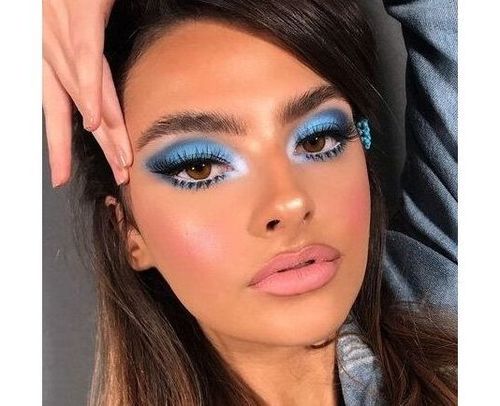 10. Simple Blue Eyeshadow Looks
This is simply one of the most beautiful eyeshadow looks we laid our eyes on. This light blue smokey eye is paired with a very defined winged liner that adds a proper finish and definition to the whole look.
One of the best blue eyeshadow looks, opt for smokey eyes to stand out from the crowd.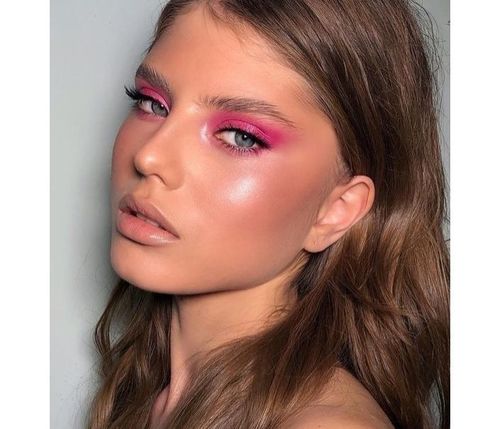 11. Pink Like A Flamingo
This one is a simple eyeshadow look. It only uses one color throughout. It is, however, the shade of flamingo pink that draws us towards it.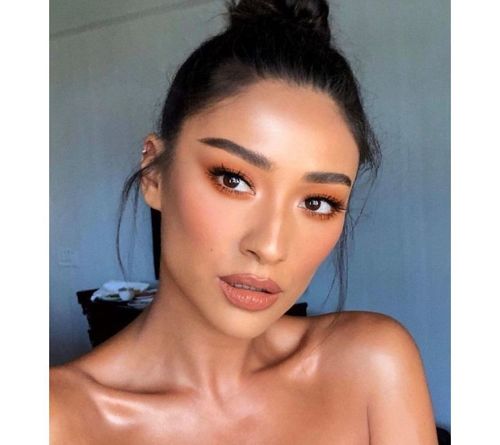 12. Minimalistic Copper
Even if bright colored eyeshadow looks are popular this season, it doesn't mean you have to give up on minimal or neutral looks. These are classic looks and never go out of style. Take inspiration from Shay Mitchell here who is flaunting a copper-toned minimal eyeshadow look.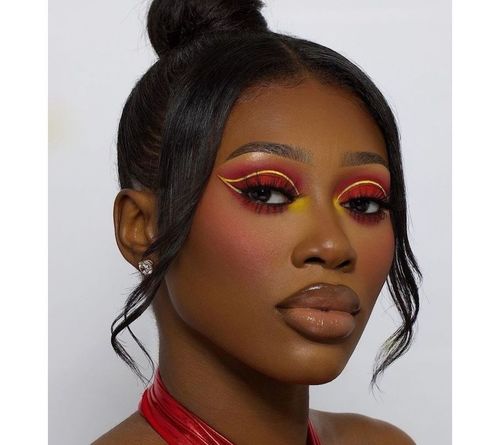 13. Bright Eyed
Red and yellow are pretty bright colors. So, why not bring them together to create a look as fabulous as this one? This eyeshadow looks works especially best on dark skin.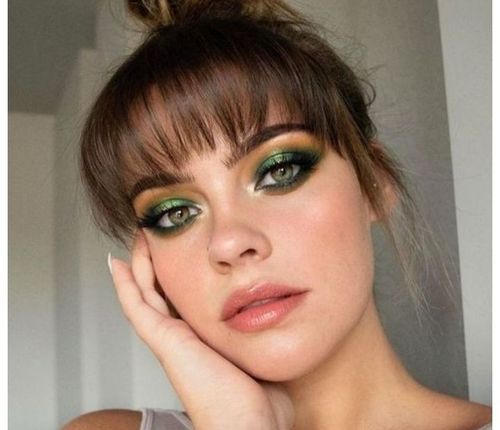 14. Shimmery Emerald Eyeshadow Looks
Emerald green is the color of the season. It has taken over so many Instagram feeds owing to its sheer brilliance. This emerald green smokey eye has a shimmer finish and works perfectly for a night look.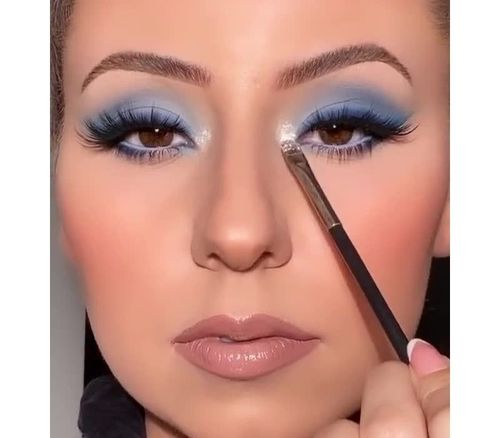 15. Subtle Blue Eyeshadow Looks
Nothing says subtle more than shades of a lighter blue. This is one of the most popular and gorgeous eyeshadow looks that lets you paint the color of the clear sky over your lids. The light glitter in the inner corners brings the whole loo together to create an overall light, subtle, yet glam look.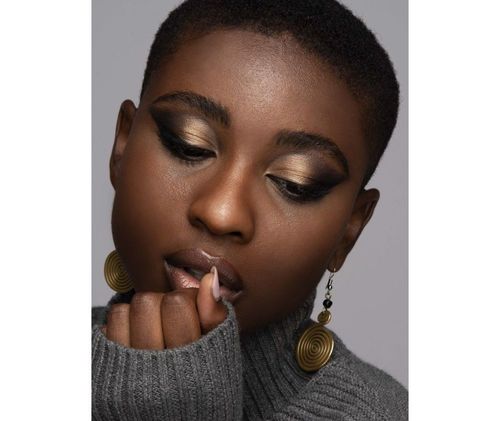 16. Metallic Gold Eyeshadow Looks
When it comes to eyeshadow looks for dark skin, you must never give up on the classics. A metallic gold eyeshadow can do wonders and make you look like the goddess that you are. So, here you go with this brilliant metallic gold look finished with a winged liner for more definition. Go, be a goddess!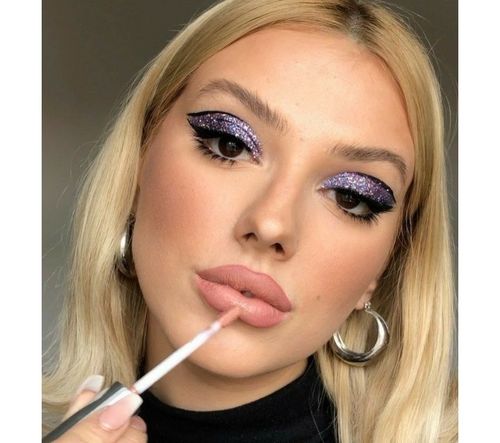 17. Glittery Purple
Are you a big fan of glitter? Then, your year has finally come. Take out your glitter stash and go wild. Because, amongst all the popular eyeshadow looks, glitter has found its place. Here we have a beautiful beginner-friendly look with a purple-ish glitter-based eyeshadow. There is graphic liner to add some definition.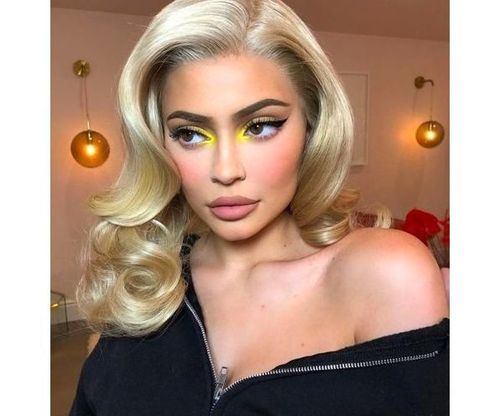 18. Summery Yellow
Love her, hate her, but you cannot ignore her. That's the thing with Kylie Jenner. She surely is quite an influencer when it comes to makeup looks. And she has turned out to be a fan of this new eyeshadow look where a pop of color goes on the corner of your eyes. That's it. Just the corners. And you are ready to be out and about.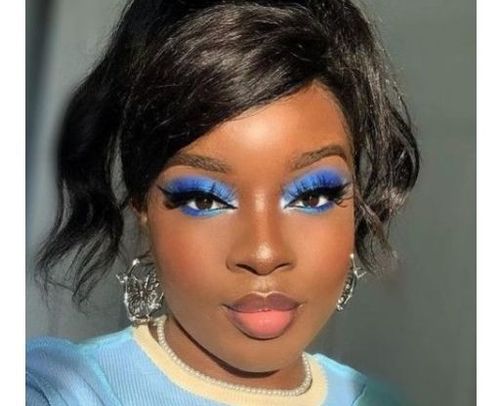 19. Blue Eyeshadow Looks On Dark Skin
Blue is a magical color that looks especially good on dark skin. So, here is a blue eyeshadow look that is trendy, gorgeous, and easy to recreate.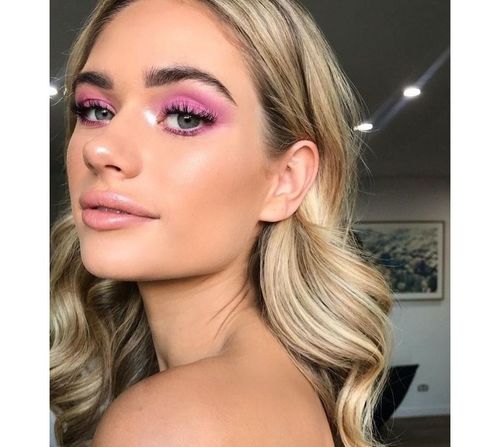 20. Pink Eyeshadow Looks
Other than green, purple, and blue, pink eyeshadow looks have gained massive popularity too. They work for all skin tones.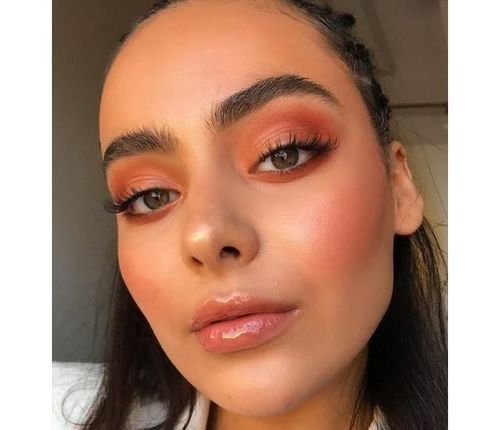 21. Rusty Lids
There is something unusually beautiful about a rusty red eyeshadow look. You can easily work this shade as an everyday morning look. Or even use it for special occasions if you love being minimalistic with makeup.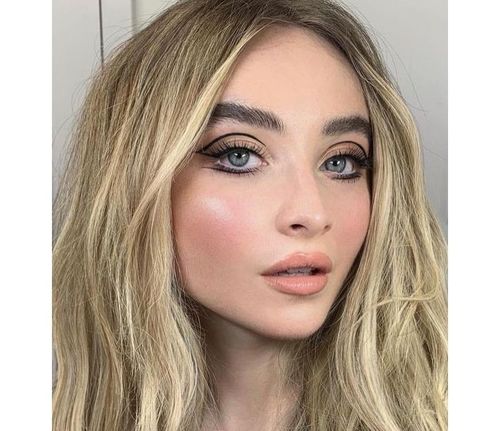 22. Neutral With Graphic Liner
Here we have another one of the most popular eyeshadow looks. Neutrals are the choice of the season and we found this beautiful peachy nude shade with a creamy finish. The graphic eyeliner usually follows such eyeshadow looks to make it more defined.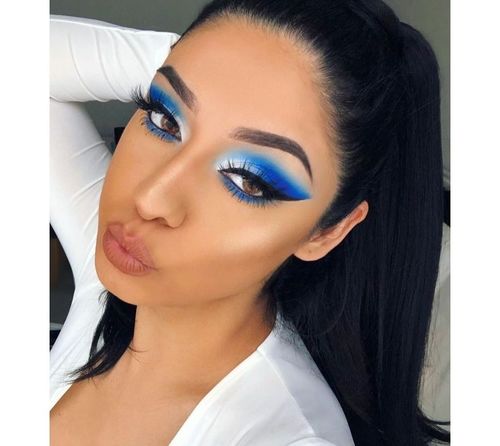 23. Royal Blue Eyeshadow Looks
Are you a fan of the color blue? Then here you go with this royal blue eyeshadow look that would ensure you stand out in the crowd.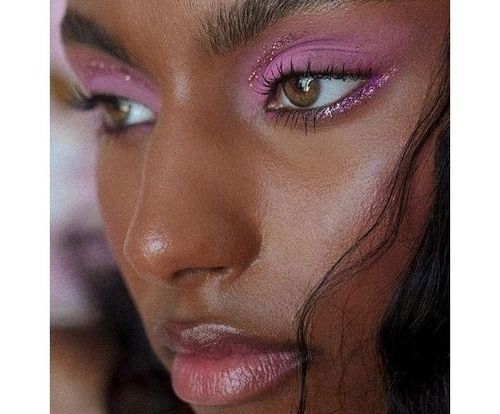 24. Glittery And Pink
Pink is nice. Pink is good. But, pink eyeshadow looks on dark skin are just something else. Add a matching shade of glitter and you can get the best of both worlds. If you are just testing out the waters with glitter, then this look would be the perfect thing to recreate.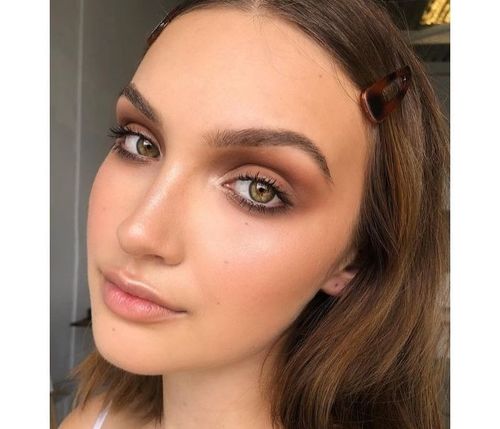 25. Subtle Brown smokey Eyeshadow Looks
Trends may come and trends may go but classics stay on forever. So, here is one such wonderful classic eyeshadow look in the shade of brown. The matte smokey eye looks chic and quite spectacular.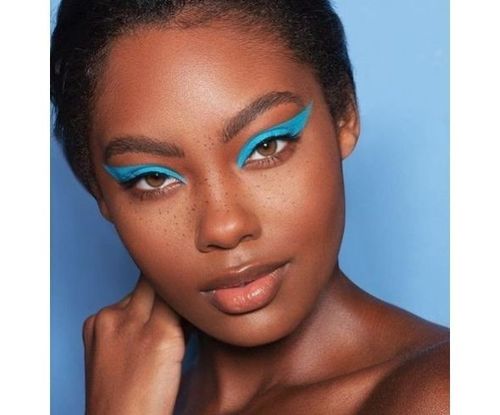 26. Bright And Blue
Move over sky blue and royal blue. Go vibrant with an electric blue shade of eyeshadow. Play around and create the shape of a big and bold winged liner. You won't regret it!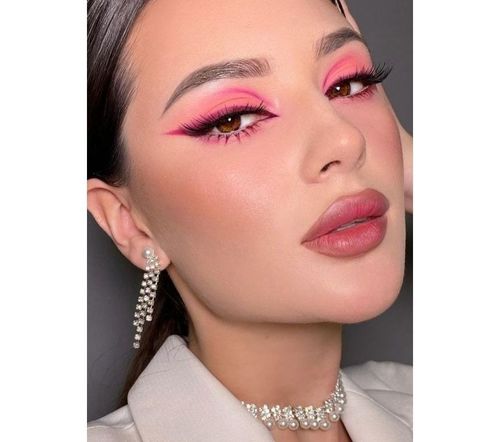 27. Colourblocked
Apart from bright colored eyeshadow looks, colour-blocked shades are the way to go. Such eyeshadow looks are as pretty as a picture. Take this one for instance. The orange shade on the lids is complemented with a pink eyeshadow that is used in place of a liner.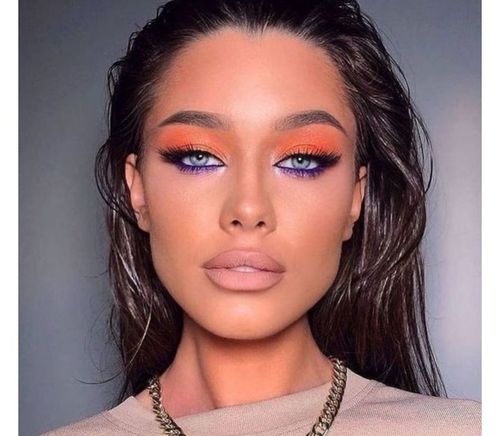 28. Mix N Match
Play around a little more. Let your creativity flow and you will have one of the most popular eyeshadow looks. Who would have thought that purple and orange can go so well together? But, hey, they clearly do!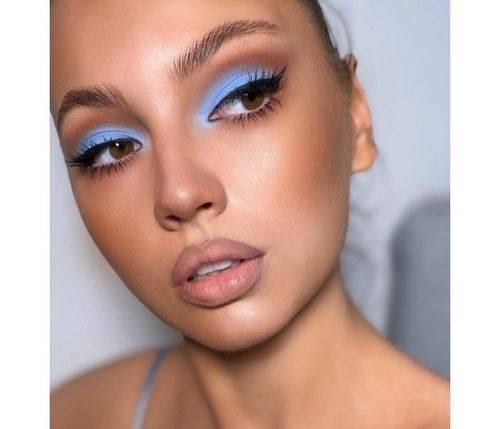 29. Blue Eyeshadow Looks For Beginners
Here is a new and blue eyeshadow look that is not only subtle, chic but also easy to do. Don't forget your liner for that extra bit of definition.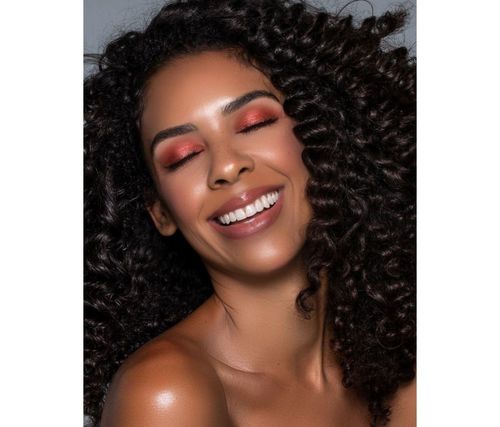 30. Rose Gold Eyeshadow Looks
There was a time when rose gold had taken over everything from watches to jewelry to wine. Now is the time when rose gold has entered the makeup scene. If reds and pinks don't fit your bill, then a pretty rose gold shade definitely would.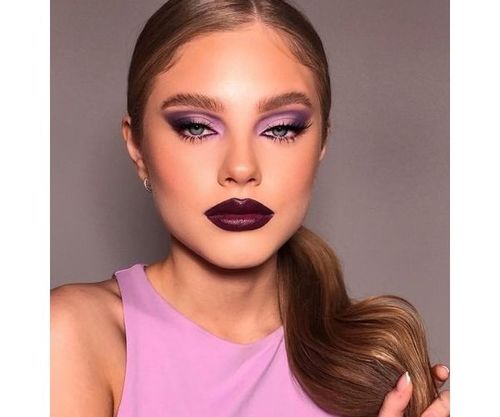 31. Pretty In Lavender
Nothing can beat a lavender smokey eye. There is no doubt why this is one of the most popular eyeshadow looks. Just look how gorgeous it is!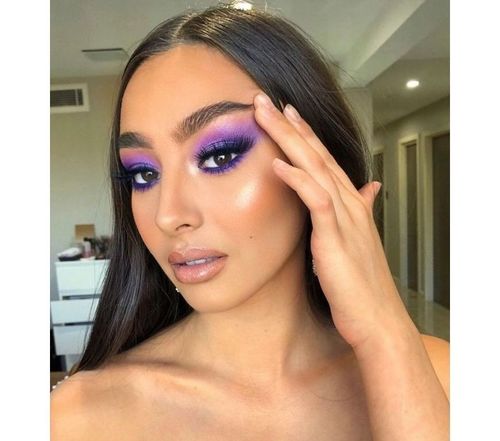 32. More Purple
We cannot get enough of the purple eyeshadow looks. So, here we are once again with a fabulous purple eyeshadow look.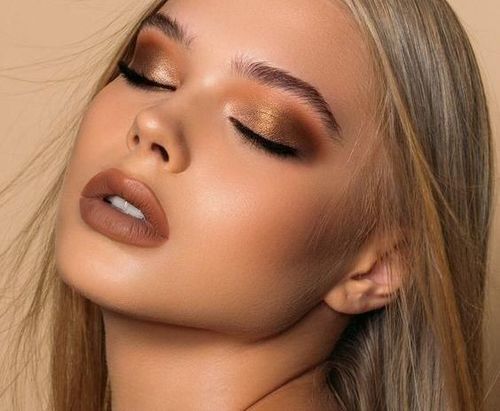 33. Bronze Eyeshadow Looks
Gold and glittery eyeshadow looks are very popular right now. And here we have something that is not your regular shade of gold. It is a golden bronze shade with a shimmery finish. It is the ultimate look for those who want to make a bold statement without being over the top.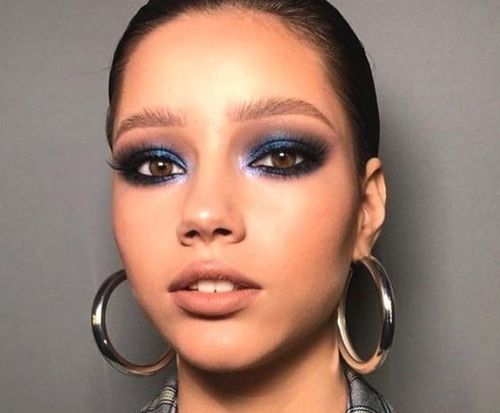 34. Navy Blue Eyeshadow Looks
In the case of blue eyeshadow looks, the one shade that has caught everyone's attention is navy blue. It works great as a smokey eye to create that midnight sky over your eyelids.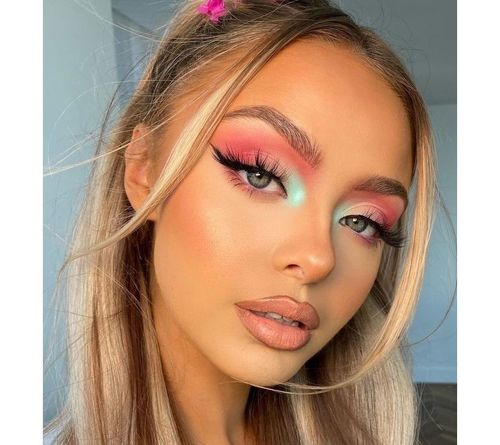 35. Pastel Finish
If shimmery and glitter-based eyeshadow looks don't get you moving, then try something in pastel. This is one of the most beautiful and popular eyeshadow looks that we found. It looks so soft and nice and pretty. The pastel shades with a matte finish paint a very ethereal picture. So, go for it!