31 Stunning Colorful Eyeshadow Looks - 2023 (with Pictures)
Shalu Bhati
Updated At 01 Jun 23
This year has given us many things in terms of makeup looks. And one of the best things to come out of it is the gorgeous eyeshadow looks that will leave you wanting to try 'em all. These are the perfect pick-me-ups for those who have been bored of their usual eyeliner and eyeshadow looks. After all, how long can you really go on with the same old smoky eye routine? So, here we are to inspire you with the 31 most colorful eyeshadow looks to take things to a new level.
Let's get started!
31 Best Colorful Eyeshadow Looks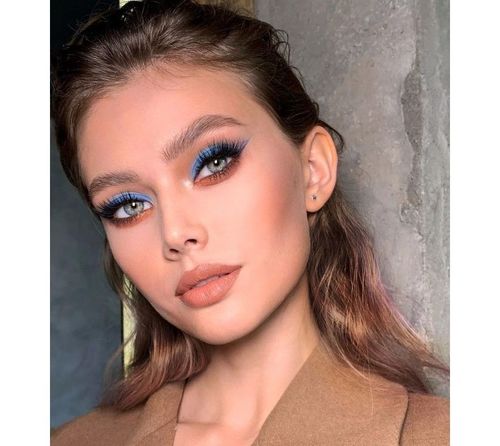 1. Dose Of The Blues
There are many eyeshadow looks that you can choose from but can they be as brilliantly gorgeous as this one right here? We think not. Why? Because this is a work of art, a beautiful combination of warm and cool tones. The soft shade of light blue on upper lids followed by a peach-based nude under the lower lash line creates a perfectly balanced look.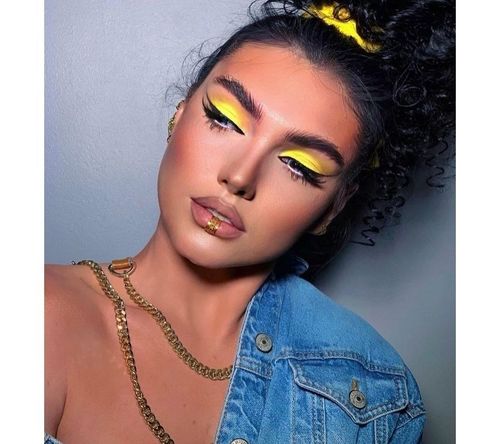 2. Yellow Fever
Yellow is a popular contender in this year's most popular colorful eyeshadow looks. If you truly want to make it pop out, you can begin with a base of white eyeshadow and top it with your choice of yellow eyeshadow.
Check out our guide to find the best pink eyeshadow looks which include all the popular smokey eyes including the barbie pink eyeshadow look.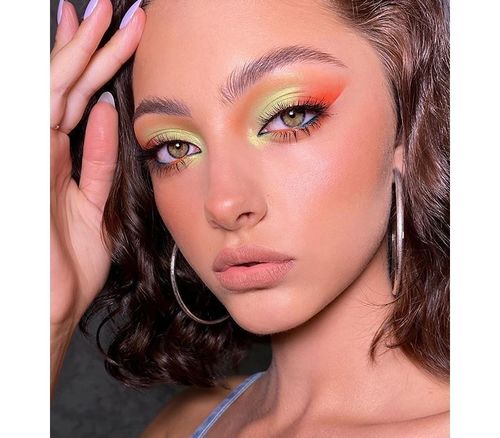 3. Multicolored Eyeshadow Looks
This year we have seen some really good colorful eyeshadow looks of which this multi-color piece of beauty happens to be a top favorite. The coming together of a shin mint green and orange hue creates an immensely gorgeous iridescent look that stands out.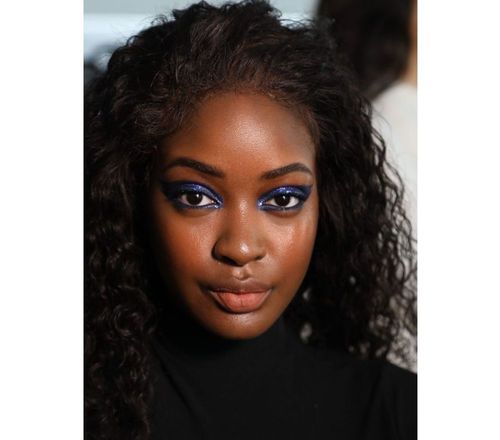 4. Glittery Blue And Winged
Yes, winged eyeliner has been everyone's favorite way of doing their eye makeup. It is an iconic look. But, here we have something even more iconic—a navy blue eyeshadow look turned into double wings. And of course, don't forget the silver glitter lining the eyes.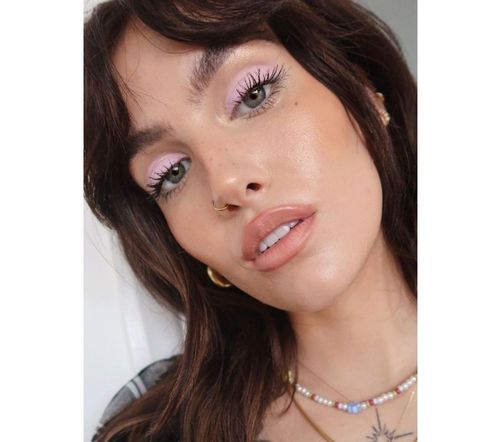 5. Pastel Pink Eyeshadow Looks
Colorful eyeshadow looks don't have to be loud and bright. They can also be subtle and sweet to have a different but gorgeous outcome. Pastels are a great choice for spring. And we especially loved this one shade of the pastel pink eyeshadow look.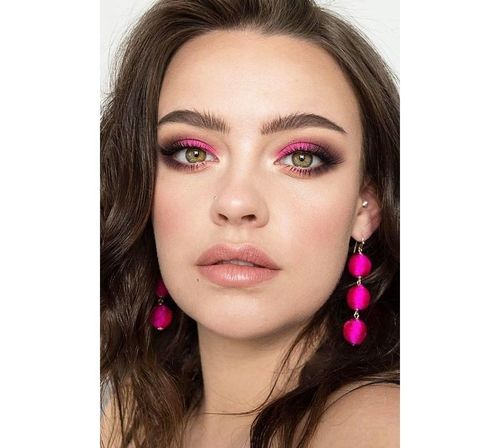 6. Rose Pink Eyeshadow Looks
If a subtle pastel shade is not your cup of tea then, you can opt for something like this. It is a shade as pink as the choicest of roses. Add a very little bit of black eyeshadow to create a sexy contrast that will make the pink shine even more.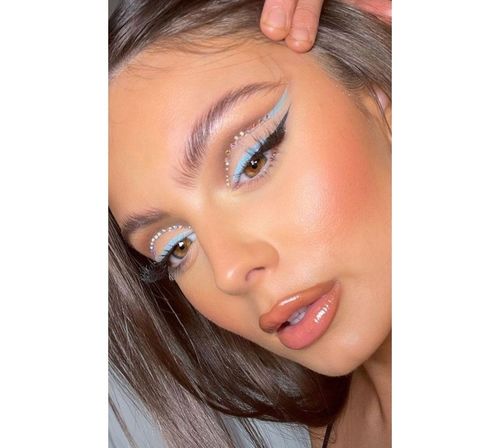 7. Euphoria-Inspired Colourful Eyeshadow Looks
Euphoria, the American TV show starring Zendaya and Hunter Schafer came out a few years back but its impact on makeup trends continues even today in 2023. This show has given us a variety of the most colorful eyeshadow looks ever! We found one such look complete with those fancy rhinestones.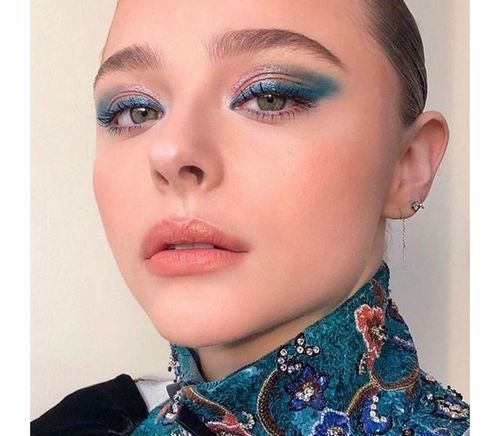 8. Gorgeous Blue Eyeshadow Look
Get some inspiration from the talented and gorgeous Florence Pugh. She knows how to create as well as carry magical colorful eyeshadow looks. This one here is straight out of a fantasy novel, a true work of art. It is the best of both worlds with a grunge and glam vibe.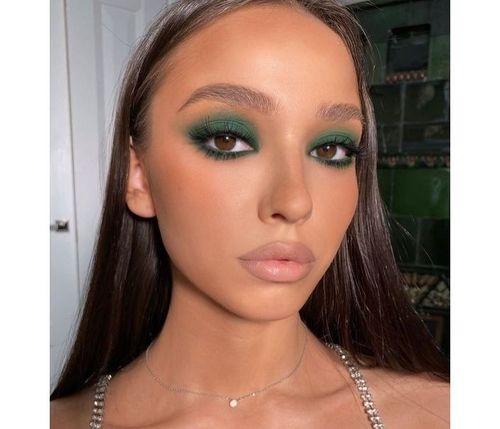 9. A Matte Emerald Shade
Everything is matte—matte moisturizers, matte foundation, matte lipsticks, of course, someone was gonna stand and say hey, let's do matte eyeshadows. Now, it might not look as dramatic and glamourous as shimmery and creamy eyeshadows but oh boy! it can make a statement. That's exactly what this matte emerald eyeshadow look portrays.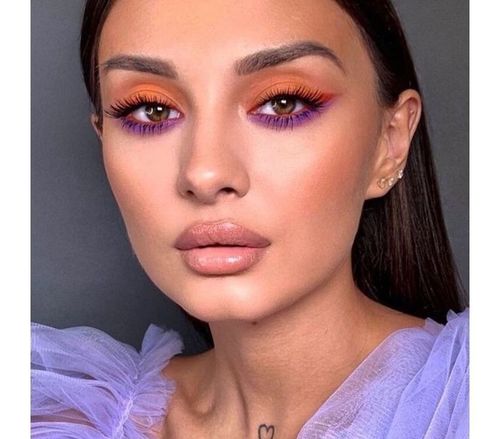 10. Dual Toned Colourful Eyeshadow Looks
This is the year of colorful eyeshadow looks and you will find the constant use of more than one color. This one right here is a dual toned eyeshadow look with shades of orange and purple. The warmth of orange and the coolness of purple create a contrast that somehow gels well and creates a work of art. Go for this purple eyeshadow look which also has ample shade of orange to make your look standout.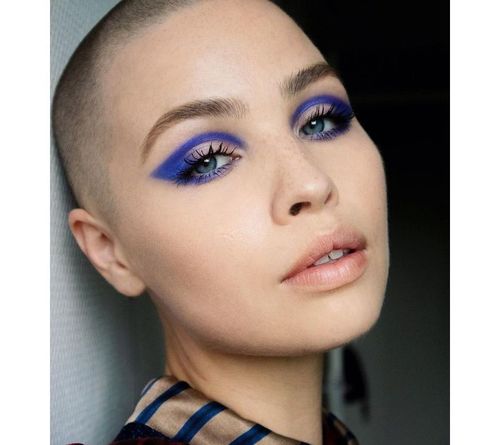 11. Popular Blue Eyeshadow Looks
How does one even go past this cobalt blue eyeshadow look? Well, the answer is you don't.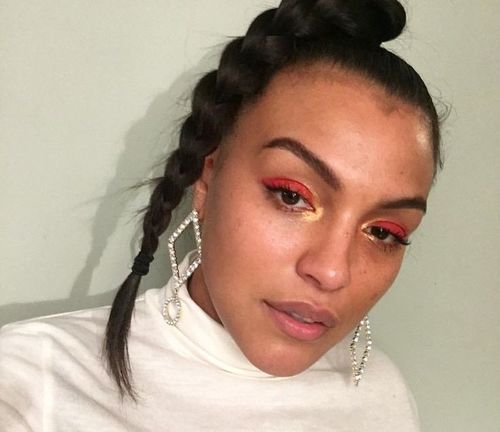 12. Red And Gold For The Win
You can never go wrong with red. Thrown in some shiny glittering gold and things get even better.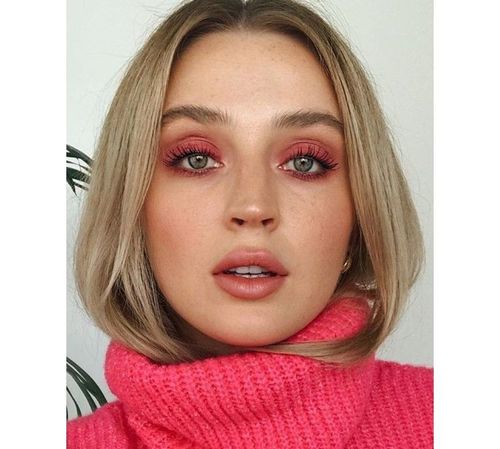 13. Candyfloss Pink
Can it get any cuter than this? Here is a pretty pink eyeshadow look in the shade of candyfloss pink. It is one of the prettiest pink hues you can ever find to create a one of its kind statement. You don't even need to do much with it. Just create a simple eyeshadow look and the color will do all the talking.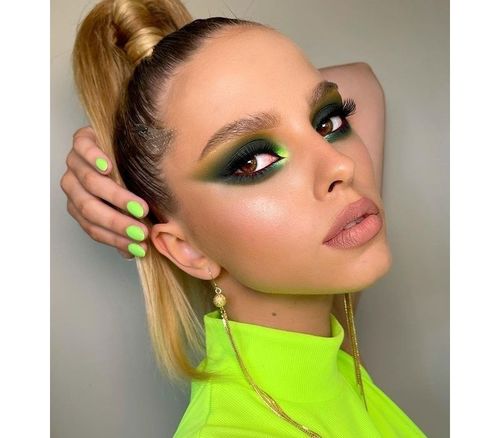 14. A Touch Of Neon
Neon-based colorful eyeshadow looks have gained massive popularity this year. You can either go all out with your love for neon colors or throw them together with a mix of other colors. We found the perfect mix of green eyeshadow look for you with a hint of neon green.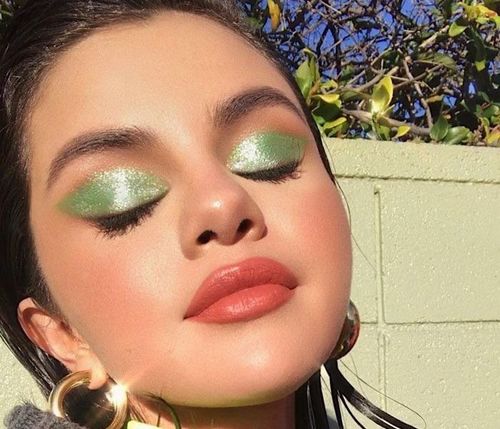 15. Sparkly Mint Green
Take it from the queen of colorful eyeshadow looks herself. Green is the color of the season. So, go crazy and show it some love. From mint to emerald and from matte to shiny, there are many options available. Or you can simply follow the footsteps of Selena Gomez and opt for a glittery green shade.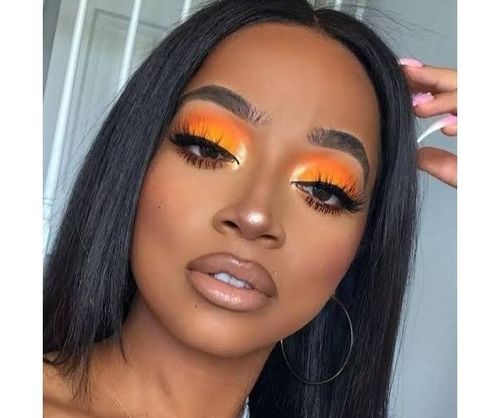 16. Sunset Yellow
Have you ever seen a sunset and not immediately loved it? Yes, we neither. It is always a feeling of deep inexplicable attraction and amazement. We felt at least a portion of the same feelings with this eyeshadow look. The gorgeous yellow blended with a subtle orange only to be finished with a hint of golden at the inner corner of the eyes—how do you not love it?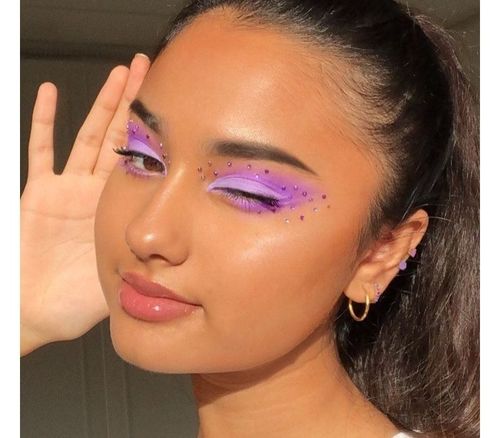 17. Lilac With The Rhinestones
Colorful eyeshadow looks often go hand in hand with rhinestones and here we have one such cute eyeshadow look in lilac.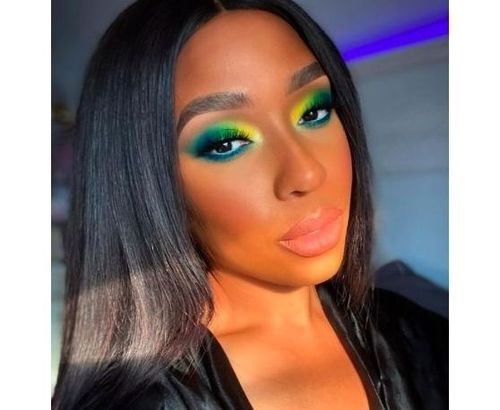 18. Peacock Hued Eyeshadow Look
For colorful eyeshadow looks, take inspiration from one of the most colorful birds you know. Mix in some greens and blues together to create a wonderful peacock-hued eyeshadow look.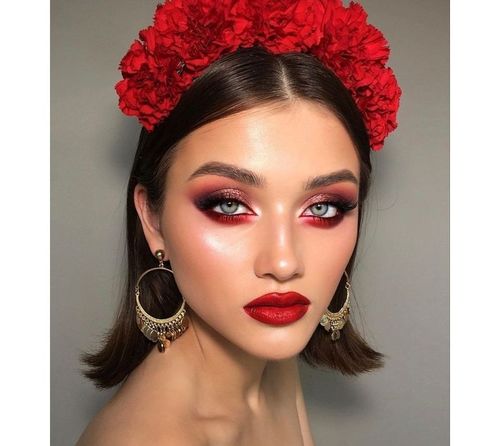 19. Burning Red
Okay, you can thank us later because we found the perfect look to celebrate T. Swift's version of Red. This is truly the reddest of the red look making it the best choice of eye makeup as you scream the lyrics to the ten minutes' version of All Too Well.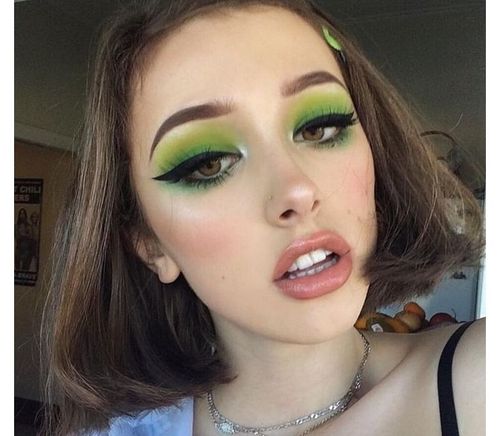 20. Green Eyeshadow Look
This is the green of the gamma radiations and the color used by some of the most iconic characters of all time. Think She-Hulk, Shego, Poison Ivy, or even Lady Loki. Do you need more convincing or are you already convinced to try out this gorgeous green?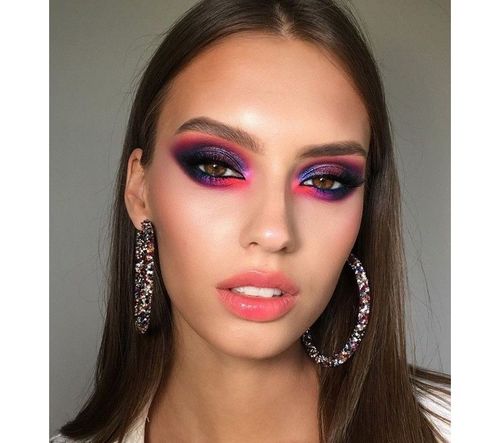 21. Bold And Colourful Eyeshadow Looks
This is one of the most colorful eyeshadow looks that we found and fell in love with. This particular choice of colors sits so well together that it makes our hearts flutter.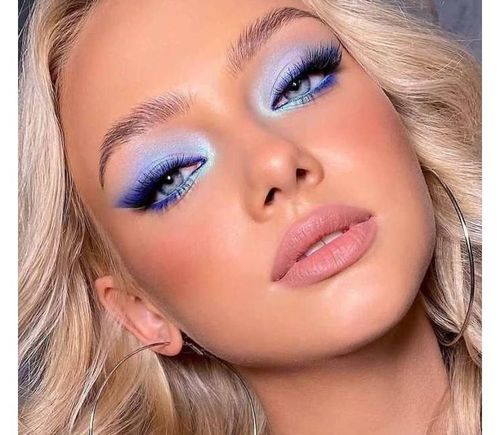 22. Power Of Blue
Colorful eyeshadow looks just feel incomplete with a nice and cool blue eyeshadow look. Channel the ice queen with this look and keep the rest of the makeup subtle to let your eyes do the talking.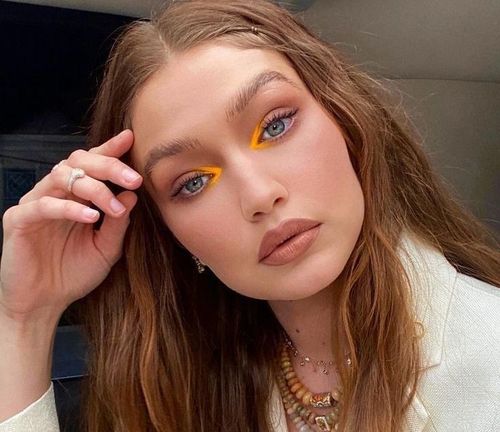 23. Summer Ready
Be summer-ready like Gigi Hadid with a nice and summery shade of yellow. This is one of the most popular eyeshadow looks of the year where the eyeshadow preferably of a bright and popping color is used only at the inner corner of the eyes.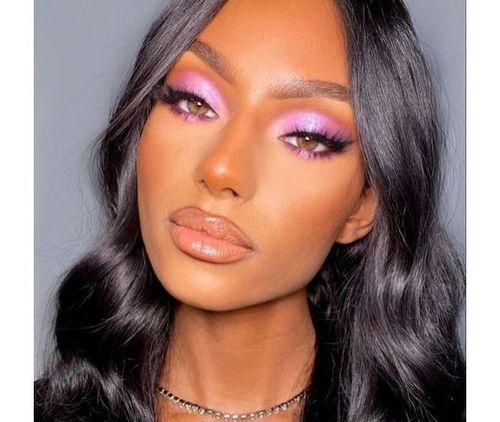 24. Periwinkle Eyeshadow Looks
Apart from green, it is purple that has won many hearts this year when it comes to colorful eyeshadow looks. And here we have one of the prettiest shades of purple ever—periwinkle. Complete the look with your liner or not, it is totally your wish.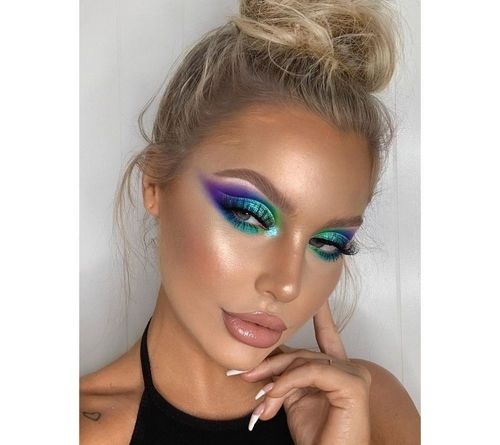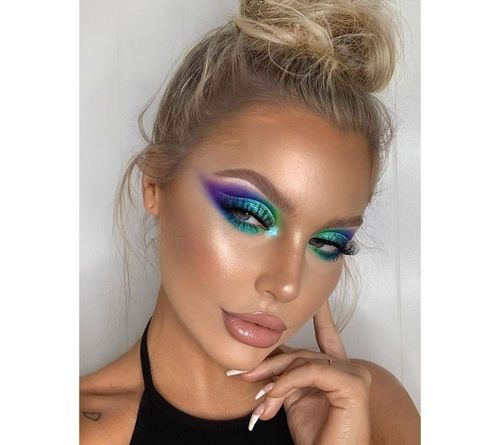 25. Multi-Coloured Glam Eyeshadow Look
Do you want to go all with your colorful eyeshadow looks? we found the perfect style for you. This multi-colored eyeshadow look has everything—bright colors, iridescent finish, bold look, and dramatic liner.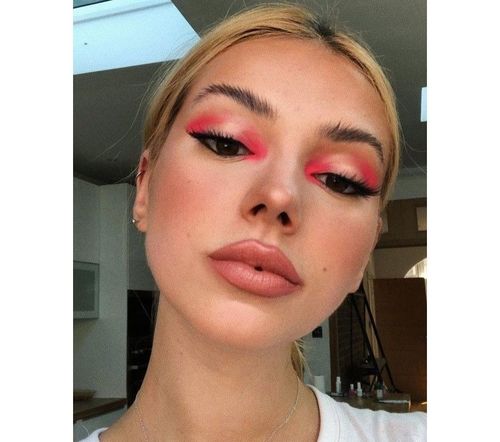 26. Packed With Pink
You have seen quite some colorful eyeshadow looks by now. But, none as pretty as this pink bonanza. Being dual-toned while using two different colors is one thing and using the same color but in different shades is a whole other thing. This one right here is a pretty pink eyeshadow look that uses two shades of pink, a very light pastel pink and darker and brighter flamingo pink.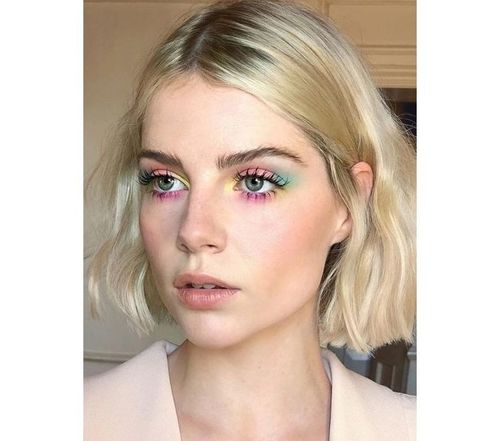 27. Soft multi-colored Eyeshadow Looks
We are done with introducing you to colorful eyeshadow looks that must be called works of art. So, here we are again with a multi-colored eyeshadow look that screams spring with its soft hues. You can choose any combination of colors to create your unique colorful eyeshadow looks.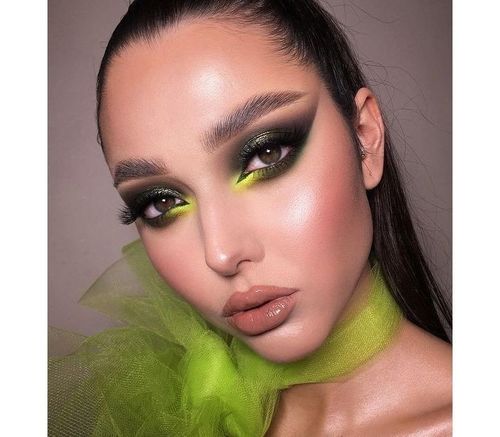 28. Smoky Eye With Neon Green
Smoky eyes are a classic look to try. You can never truly escape it. But, you can surely do it with a modern and glamorous twist. This particular smoky eye look made to our list of colorful eyeshadow looks of the year solely because of those neon green inner corners. It is enough as a dose of color.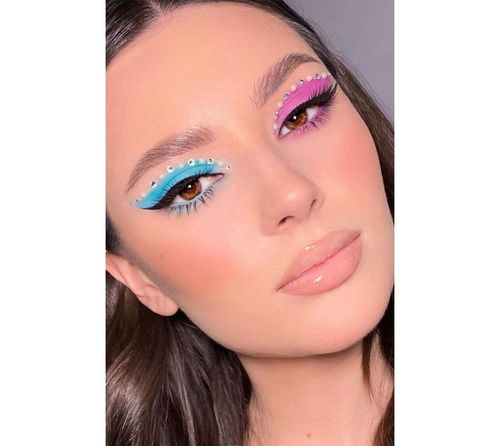 29. Twist In Euphoria
Here is an iteration of the iconic Euphoria-inspired eyeshadow looks. the different color on different lids is the talking point here but then the rhinestones and the pearls add more of an appeal.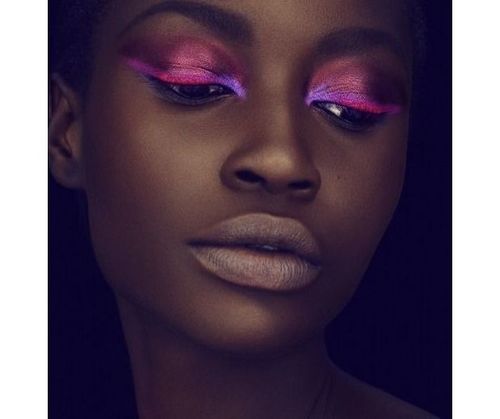 30. Colour-Blocked Glam
This trend of colorful eyeshadow looks gives you all the liberty to use your creativity and express your individuality. Here we have is an amazingly gorgeous iridescent color-blocked look. The pink and purple eyeshadows are enough dramatic on their own but the drama quotient rises even further when we are talking about them in terms of colorful eyeshadow looks for dark skin.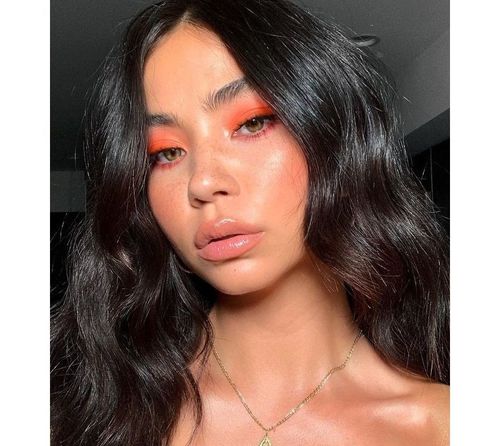 31. Peachy-Orange Vibes
This is a peach-orange shade that is not only bright but also full of warmth. It is perfect for summer as it will remind you of the beach even if you didn't get to spend your day there.