55 Stunning Chain Henna Designs - 2023 (With Images)
Pooja Angurasu
Updated At 15 Jul 23
Chain Mehendi designs are something that gives us so much joy. We love the smell and the designs look divine! The intricate designs adorn our hands and make us feel good. They are a staple for every wedding or celebration. Chain Henna designs give a celebratory vibe to our hands and get them festival ready. They add beauty to our hands. Let's see some of the stunning chain mehndi designs.
55 Best Chain Henna Designs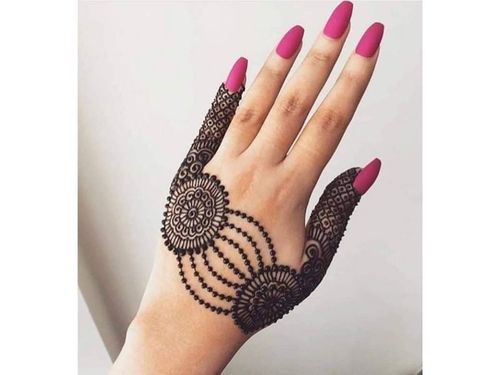 1. Chain Design With Mandala
This chain henna design with mandala never gets outdated. Mandala designs have always been trendsetters. This mehndi design can go really well with the front hand. One can extend the design based on their time and level of interest.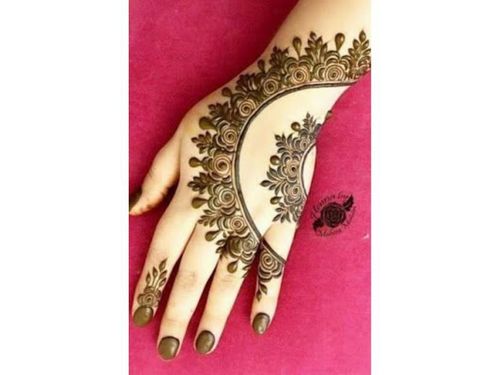 2. Curved Chain With Floral Pattern
This chain henna design for the backhand hand looks stunning. If one has a big hand, one can go with this design. The floral patterns might take some time to draw, but it is adorable. Just celebrate occasions with this amazing design.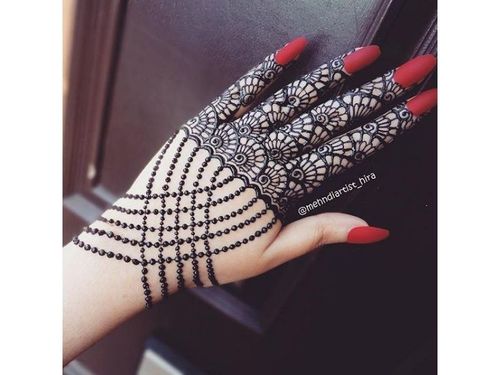 3. Half Floral and Half Chain
This chain henna design might look complicated but it is one of the easiest chain mehndi designs for the backhand. Add some vibrant colours to the nail to give gorgeous look to this excellent design. Beginners can try this design.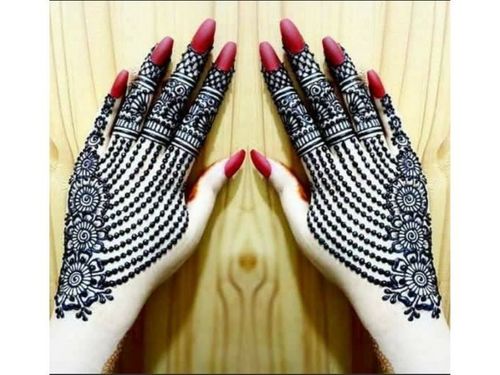 4. Floral and Dotted Chain
This is one of the most eye-filling and hand-filling chain mehndi designs for the backhand. Even brides can opt for this design for their wedding. This grand design can be done for any grand occasion. Never forget to decorate the nails.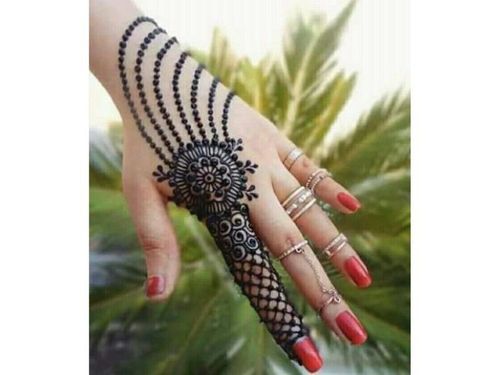 5. Chain With Netted Pattern
This chain mehndi design is specially made with flowery chakras with net patterns on the finger and it is finished with dotted chains. This chain henna design follows the pathway of Arabic mehndi design. One of the simple and chic chain henna designs.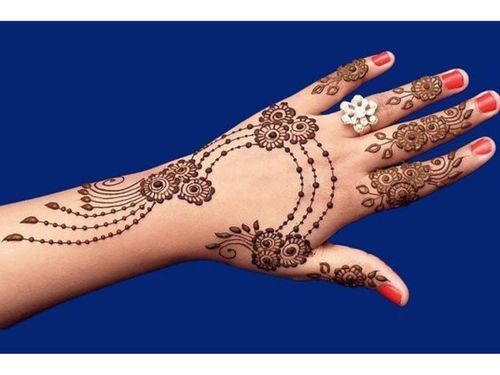 6. Garland Chain Henna Design
The detailing in this particular chain mehndi design is easy and looks so elegant! This chain mehndi design is suitable for any occasion and will look great for age groups. Such an amazing garland chain henna design!
Check out our guide to find all the 12 mehndi design types along with details for each one of them. We also cover the top FAQs which will answer all your queries on the mendi designs.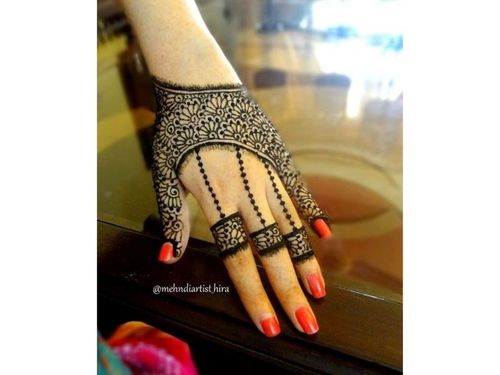 7. Hanging Cylindrical Box
This beautiful chain mehndi design is simple and the gorgeous cylindrical box is very easy to draw. It requires very little skill and will give a beauty parlour effect! Perfect for any occasion and the best part is one can do it by yourself!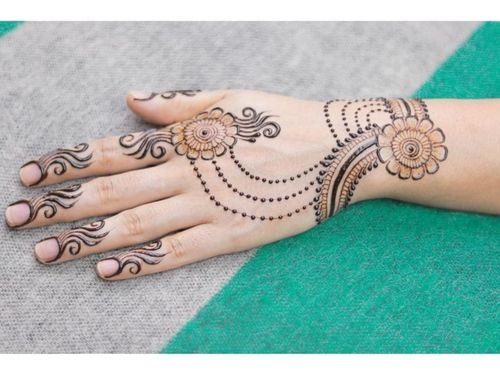 8. Simple Chain Henna Design
If one is attending a small function or a simple family get-together, then this simple chain henna design look would be the ideal pick. This chain Mehendi design is so simple and it is very unique in its way.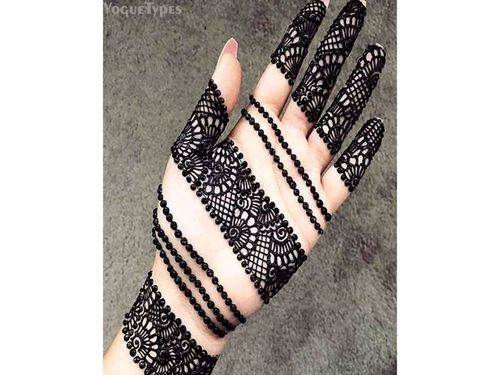 9. Chain Mehendi Design For Front Hand
This chain mehndi design for the front hand looks flawless. Make sure that the pattern is drawn in an inclined manner to get a chain look. Celebrate the occasion with this beautiful and charming chain henna design.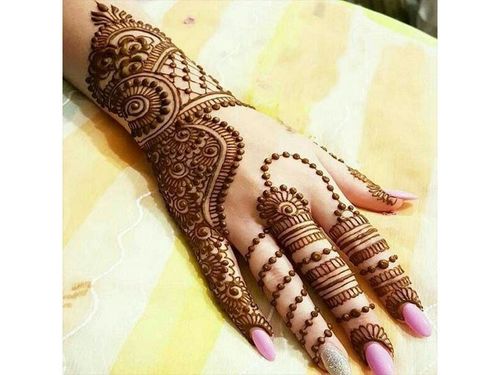 10. Chain With Rings
A great example of a sophisticated yet simplistic mehndi form of art pattern, this particular chain Mehendi design is cleverly designed with a few interjoined semi-flower motifs, dots, rings and net patterns. It gives a vibe of being very difficult but it is really easy in reality.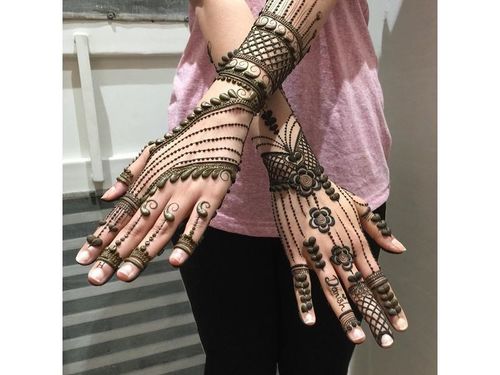 11. Chain Henna Design For Brides
This chain henna design is specially made for brides who seek modern and simple mehndi designs for their weddings. This can be tried for its simplicity and blending ability with traditional and western attire.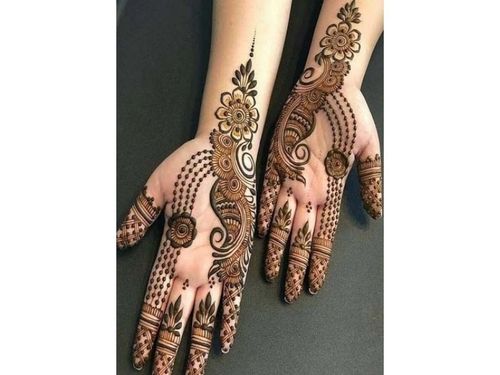 12. Chain Henna Design With Florals
This super floral chain mehndi design is fair to create and quite appealing. A centrepiece lower is further accentuated delicately. We should be patient to recreate this chain Mehendi design for the front hand.
13. Chains Connecting Floral Bridge
This chain henna design has two floral bridges which are connected by the dotted chains. This chain Mehendi design is so easy to recreate and beginners can try this design without any hesitation.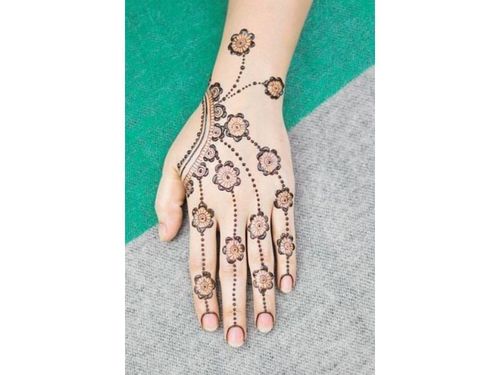 14. Easy Chain Henna Design
This chain henna design is so easy to draw and it is beginner-friendly. Just draw random lines on the hand and add some flower motifs to it. This chain Mehendi design can go well with teenagers.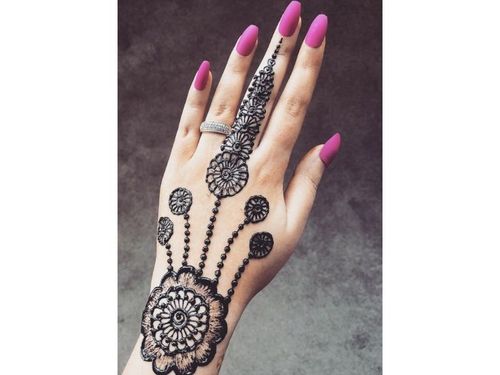 15. Flowery Chains
This marvellous chain henna design can be recreated for small or big events. This chain Mehendi design looks traditional and chic. People from different age groups can try this chain Mehendi design.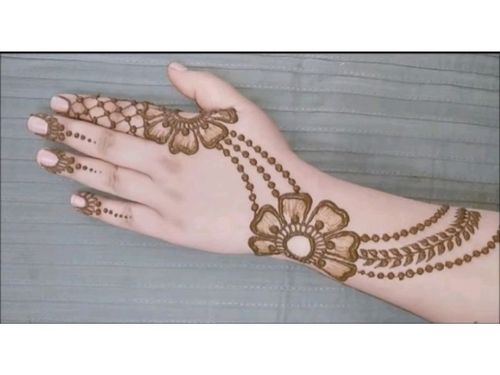 16. Arabic Chain Henna Design
This chain henna design is drawn in an Arabic design pattern. This chain Mehendi design is decorated with leaves, flowers dotted chains and nets. This design will do some magic to make them look beautiful.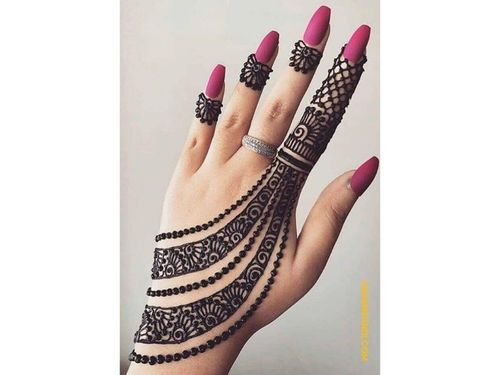 17. Voluminous Chain Henna Design
This broad and voluminous chain henna design has become a trendsetter. Those dotted lines of floral patterns join together and give a necklace look. Don't forget to wear this chain on special occasions.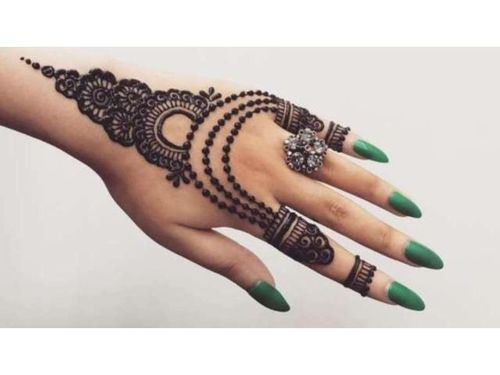 18. Chain Mehendi Design With Dollars
This chain henna design is hanging on hands with big floral dollars. This chain mehndi design requires a U-shaped dotted chain and can be done by anyone even if one hasn't tried the henna application before.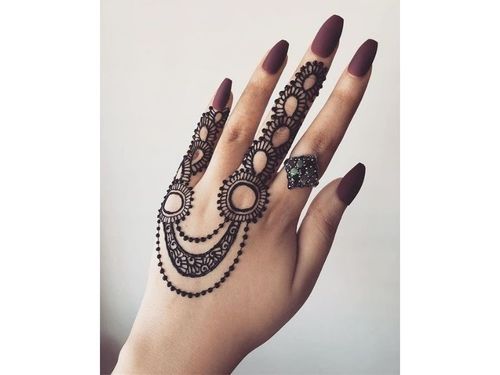 19. Chain Mehndi Design With Mirrors
This chain henna design hardly takes minutes to be applied and is super easy so anyone including yourself can etch it up in a jiffy and not mention the whole contemporary vibe they bring in.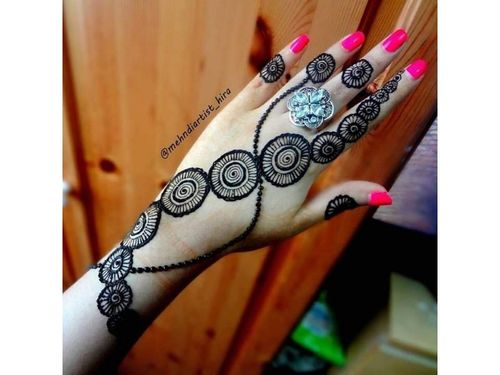 20. Circular Chains
One can see two chain designs in this picture one is a dotted chain and another one is wheels arranged in a chain structure. This chain Mehendi design is unique and this design has a modern outlook.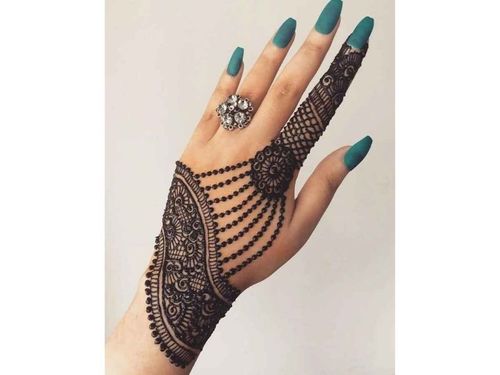 21. Chains With Floral Carpets
In this chain henna design, the floral carpet is arranged across the backhand giving a dense look. The floral carpet is connected by a set of chains. One can pick this pattern for family functions and social gatherings.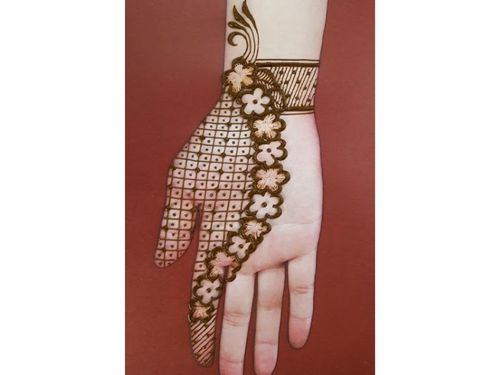 22. Flowered Chain With Jaali Patterns
This is a striking chain henna design which uses the trending jaali element. Thick florals are arranged in a chain and the jaali-type net is etched with dots inside while the other part is left empty. The wrist part has leaves and a mesh band.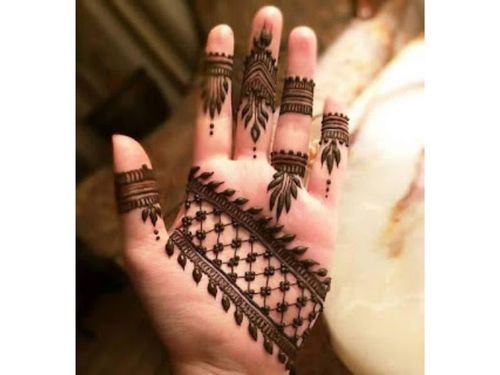 23. Chain With Diagonal Mesh
This chain Mehendi design looks very intricate but since it's mostly an array of lines used to bring an overall chic look it can be applied even by starters. The fingers here have distinct linear strokes followed by leaf clusters.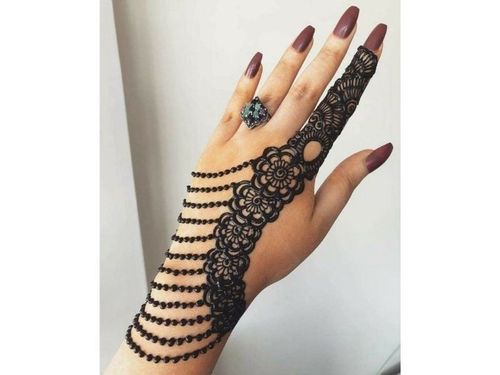 24. Floral Vine
A floral vine running from the wrist to the index finger attached with dotted strings gives an ornament-like appeal. Though it's minimal but very eye-catching! This chain henna design is further paired with a delicate haathphool.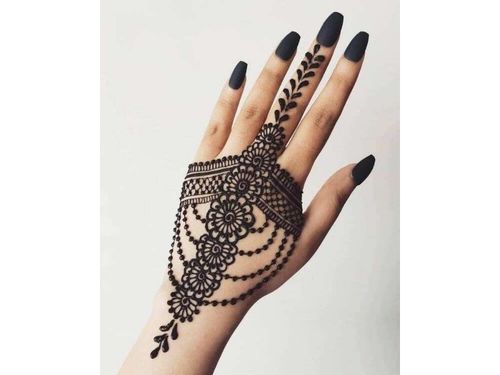 25. Step Chain Henna Design
This chain henna design has a mesh structure below the fingers and further, it is decorated with a chain step-by-step connecting the florals. This gorgeous chain mehndi will be suitable for weddings.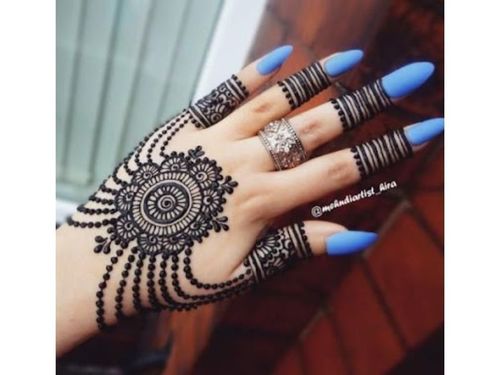 26. Mandala With Floret And Chains
The mandala is drawn like a regular round motif but the dotted chain-like details around it are what sets this whole design apart. The chains culminate into a thick finger band on the little finger and thumb finger which gives an ornamental look adding to the grace.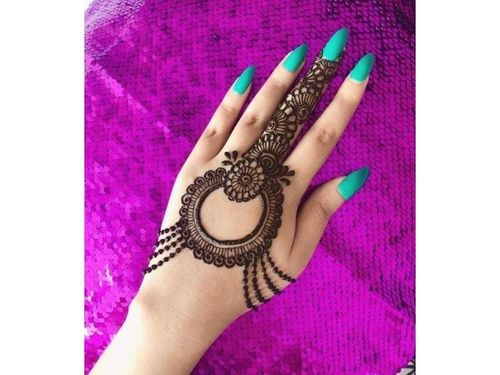 27. Chain Henna Design With garland
This henna pattern is a combination of florals, garland and leaves which makes for an adorable chain mehndi design. The real highlight here is the side chains added which will appeal to teens and will also give a glam look.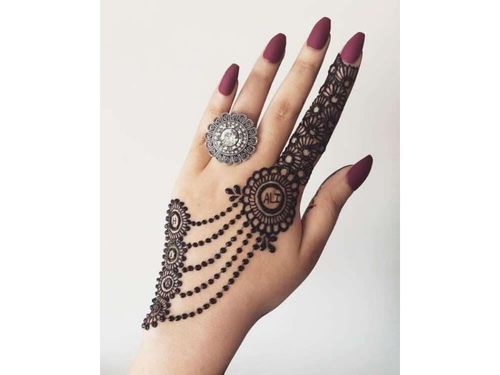 28. Modern Chain Mehendi Design
Want a simple yet elegant chain Mehendi design which is also very easy to apply then this pattern is best for anyone. In this design, multiple small flowers are arranged with some leaf bits and with dotted. Traditional outfits will look amazing with this pattern.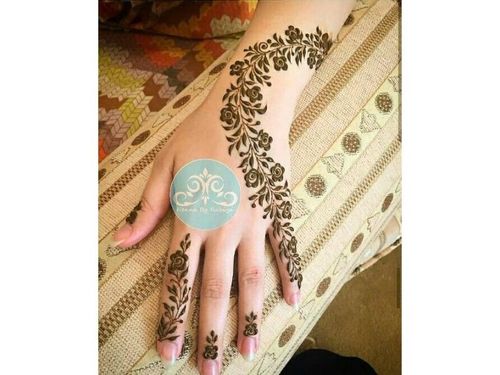 29. Modern Rose Chain Henna Design
For modern women who want to add a contemporary touch to henna art rose chain Mehendi designs like these are an ideal fit. Multiple roses are drawn on the backhands held together by tiny leaves and thick branches giving a very unique vintage appeal.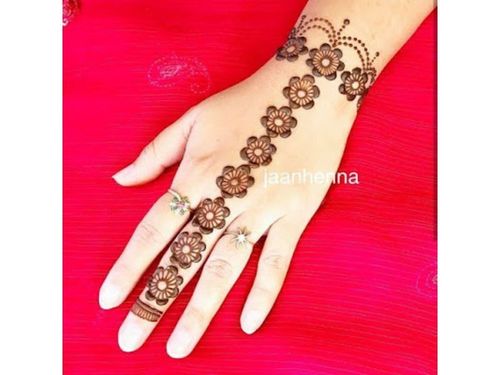 30. The Blossom
Those who like it simple and sweet can try a floral hand harness-inspired chain Mehendi design like the one above. This is a great mehndi design to sport at a friend's wedding or a close relative's mehndi ceremony!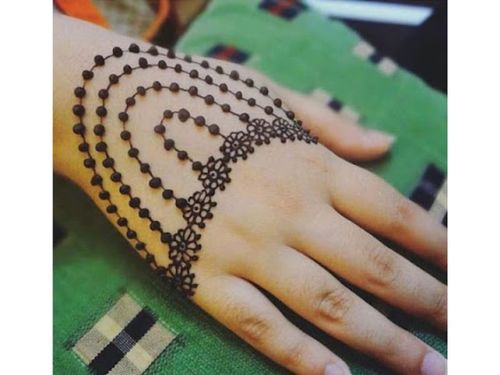 31. Fashionable Chains
This chain mehndi design can be done by anyone on any occasion and will look stunning on young women. Great for college parties, festivals and special occasions! This one is a fresh mehndi design that has a modernistic appeal to it.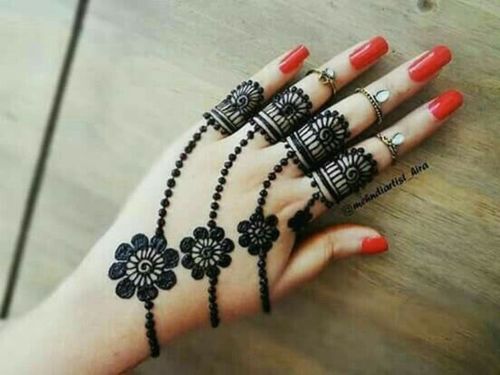 32. Chains With Ring Motifs
Ring-like motifs are connected with dotted chains and pass through cute flowers in the right-hand direction. This lovely chain henna design is sure to enhance the beauty of the hands.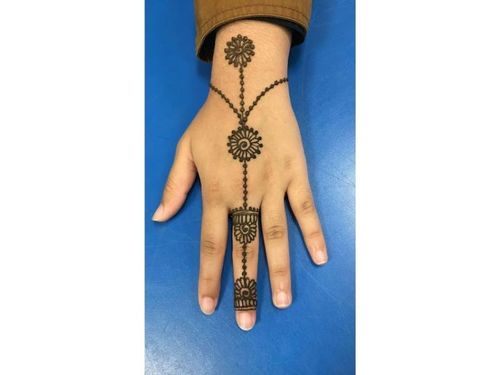 33. Haathpool Chain Henna Design
Very creative and apt for occasions when one does not want to go overboard on the hands with all the jewellery. It looks graceful and is a perfect pick for those favouring a traditional outlook.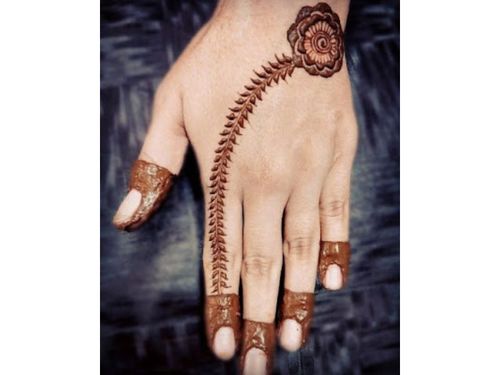 34. Single Leafy Chain Henna Design
Want a design that can be drawn in five minutes and yet looks super chic? This is the one! A single floral motif with a curved leaf bel bending towards the forefinger, this chain mehndi design looks gorgeous.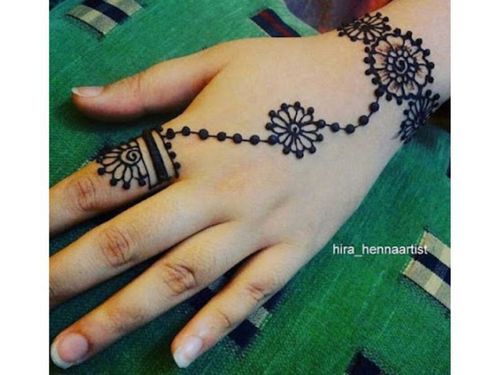 35. Bracelet With Blossoms
A very beautiful and delicate floral bracelet is drawn at the wrist of the back of the hands and joined to the finger with a chain life-dotted motif to form a hathphool. This is a great way to beautify the hands.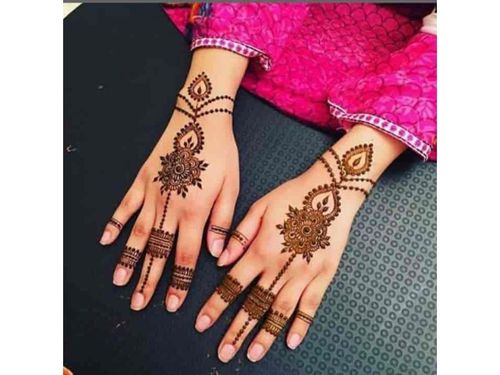 36. Chain Mehendi Design With Cuffs
This one is a different design from the usual mehndi styles we are accustomed to seeing. Inspired by chain henna design, this design is predominantly simple, yet it is unique. Perfect for a modern woman, who likes to mix trendy with floral patterns.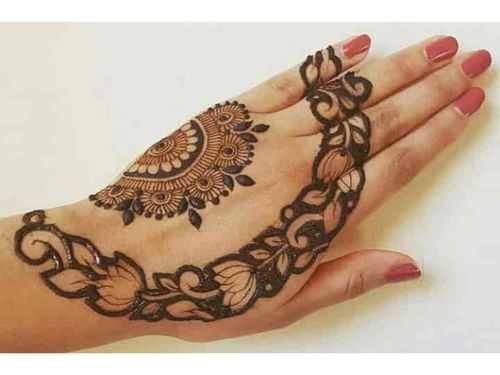 37. Lotus Creepers
This chain mehndi design with the curvy small floral vine-like pattern on the back of the hands is not only alluring but can be drawn by any mehndi learning beginner. Lovely and feminine!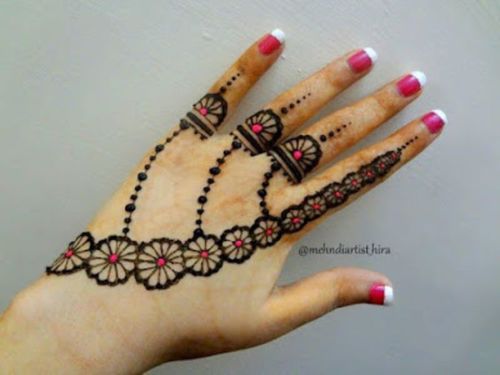 38. Colourful Chain Mehendi Design
Use a long staying liquid lipstick that matches the outfit and get creative when it comes to colouring the mehndi pattern. This colouring trick is sure to take the chain Mehendi design application to another level.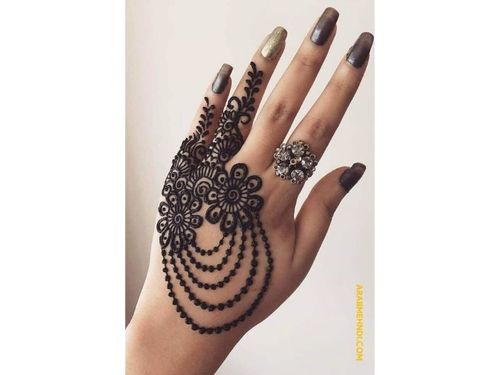 39. U Shaped Chain Henna Design
If one wants a simpler chain mehndi design one can always choose an alphabet pattern like the one above. Get the initials of your name or any other loved one engraved in a beautiful pattern on the hand to give a lovely look.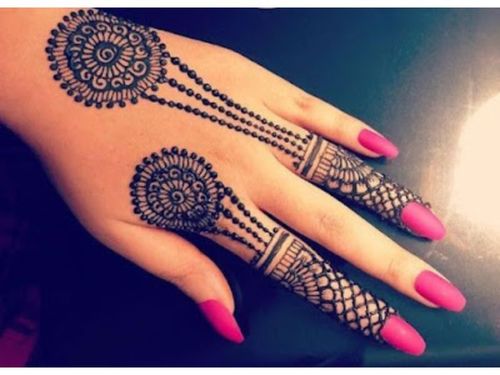 40. Hanging Haathpool
A great reason to include two hanging pattern patterns in the henna is that it looks very pretty when drawn as chain mehndi designs on hands, giving a completely new look to mehndi-applied hands!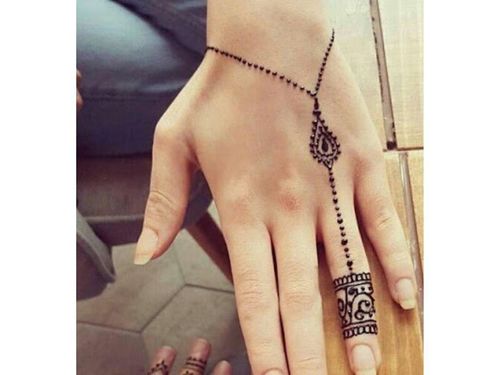 41. Easy Chain Mehendi Design
This is the most basic chain mehndi design one can draw. This chain henna design has a modern outlook and it is suitable for western outfits. People from different age groups can try this easy design.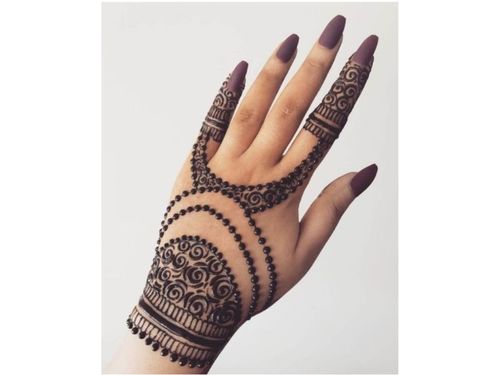 42. The Arc Design
This chain Mehendi design is unique and gorgeous with rose fillings and beaded chains. This design is very modern and it looks fantastic on any hands for any kind of occasion.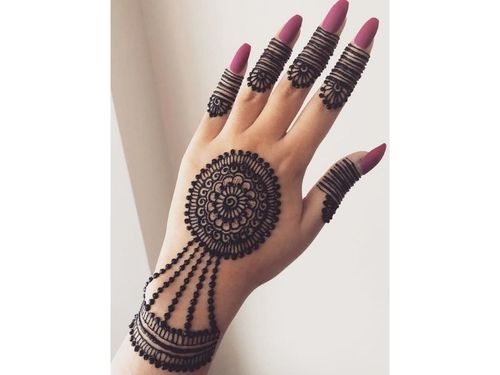 43. The Hanging Bracelet
This one is another pretty chain mehndi design wherein we get an illusion of a hanging bracelet with chains all over. The delicate crafting of mehndi on half of the fingers presents an impressive pattern.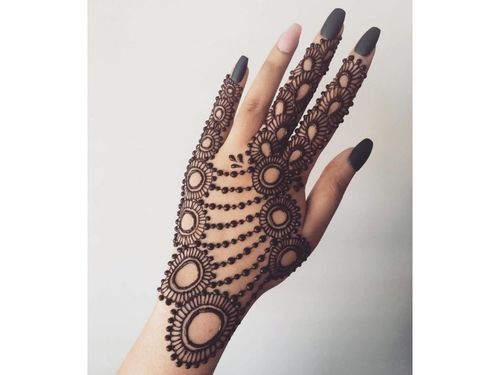 44. The Mirror Effect
The mirror-inspired chain Mehendi design is a stunner and connected with chains is another spectacular pattern. It is not over the top and its beauty reflects all the shine and glam.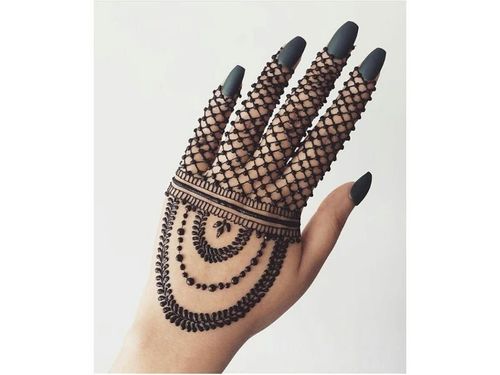 45. Netted Chain Henna Design
The net feels all over the fingers is a crazily beautiful chain mehndi design. The chains hanging below the fingers are another excellent chain henna design that looks like a jewellery mehndi pattern.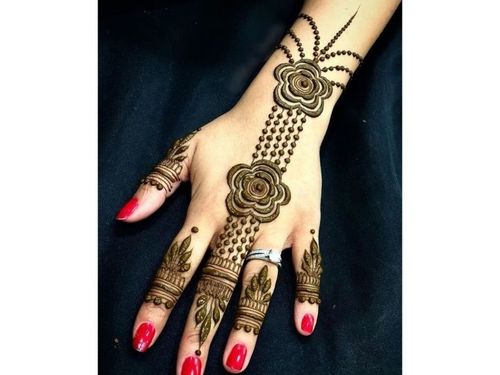 46. Charming Chains
It is another charmer with flowers in the middle with distinct dotted chains connecting those beautiful flowers. It is quite a simple chain Mehendi design, but it is solely a jewellery-inspired look.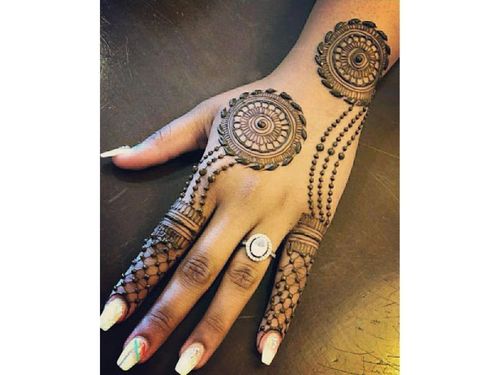 47. The Falling Circles
Chains are an elegant way of designing a jewellery-inspired mehndi pattern that will look classy and rich. These loosely hanging circles resemble luxurious rings hanging alongside each other.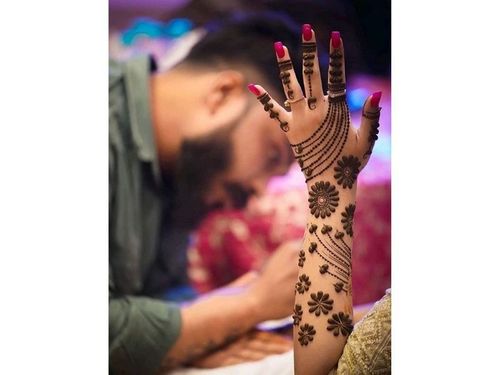 48. The Elaborate Chains
We again come to the beauty of the chains. This design is full of distinct chain henna designs; one extending from the index finger and the other on the arms with a heartful of beauty and love.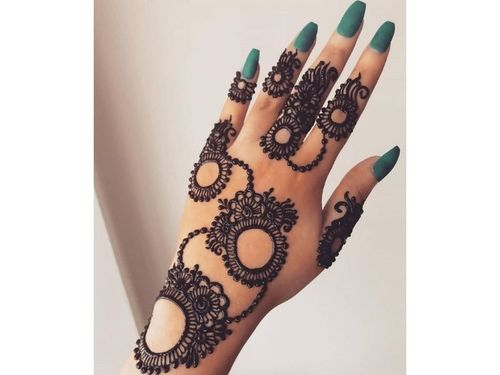 49. The Connecting Mirrors
Networks are the lifelines of any artwork. Connection improves the overall look of the design and the same has happened with this chain mehndi design wherein one mirror is connected with the other mirror.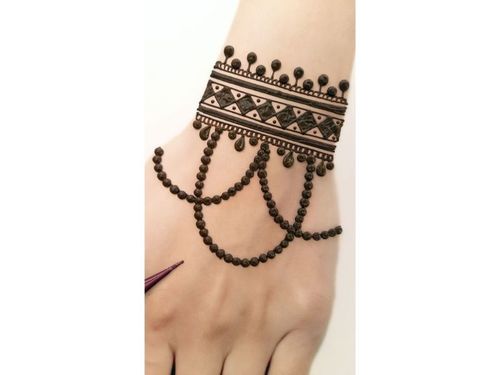 50. The Chained Bracelet
It is a perfect and ultimate chain mehndi design that would look superb with western outfits. One can plan to play with this design by going for extra fun with henna or leave it just like that with gold rings on the fingers.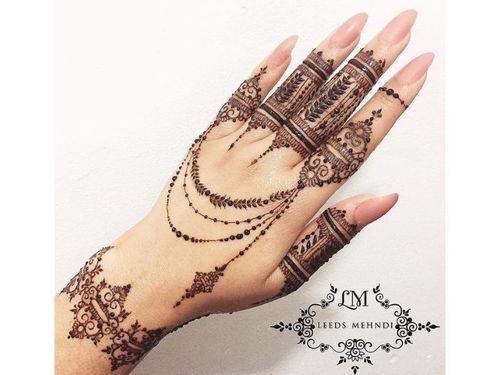 51. The Detailed Chains
The intricate detailing of this design with the chain-like effects is a big charmer. This chain henna design looks remarkably glamorous and soft. It has both traditional and modern outlooks.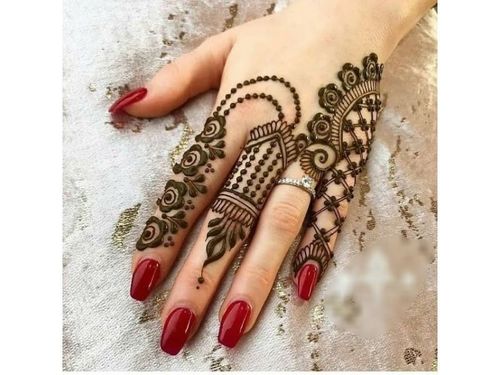 52. The Double Chain Effect
It is another minimalist chain mehndi design that would suit engagements or any ceremonies. Pair it with a western gown or a traditional Anarkali and bangles to amplify the overall look.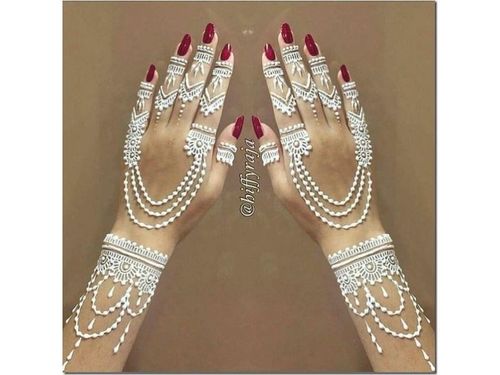 53. Unique Chain Henna Design
The design looks quite alluring to the eye as the chains are giving an illusion of real accessories. It is a perfect design for those who are obsessed with chain mehndi designs.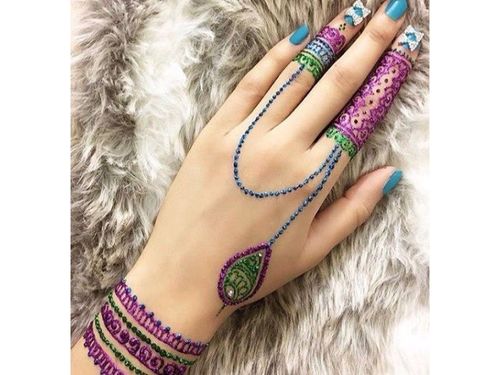 54. The Peacock Effect
Another great alternative to the white colour is new and different mehndi designs. It would look good more with western outfits as compared to eastern ones. One of the prettiest chain henna designs.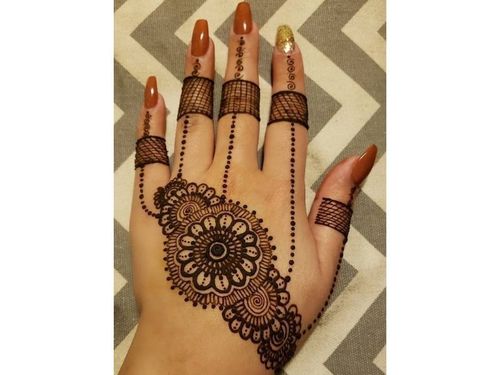 55. Chains With Pearl And Mesh
Just love how this elegant chain mehndi design looks like a modish accessory. The pearl and mesh detailing on the fingers look great with the multiple floral festoons. A flawless chain henna design!