35 Inspiring E-girl Makeup Looks To Copy In 2023
Alka Sharma
Updated At 18 Sep 23
Looking for new and latest makeup trends which have been buzzing all over social media? Then you might find E-girl makeup very interesting.
Egirl makeup looks nowadays have become a favorite among makeup artists and social media influencers to make a bold and unique fashion statement.
  
What is an E-girl Makeup?
E-girl makeup, originated on social media platforms like TikTok and Instagram, is all about playful, bold eyeliner designs, fake freckles, and lots of blush. E-girl makeup is not limited to any specific age group, and individuals of various ages may embrace this style.
This style's popularity is driven by its creativity and the freedom it offers for self-expression. E-girl makeup is ever-evolving, with new trends and variations emerging as E-girl trend continues to evolve on social media.
Some key elements that define egirl makeup easy makeup are Graphic Eyeliner, Colorful Eyeshadow, Blush and Highlighter, Colored Hair, and Accessories.
Transform your look and unleash your inner creativity, with these 35 Inspiring E-Girl Makeup Looks or egirl makeup ideas that will leave you in awe.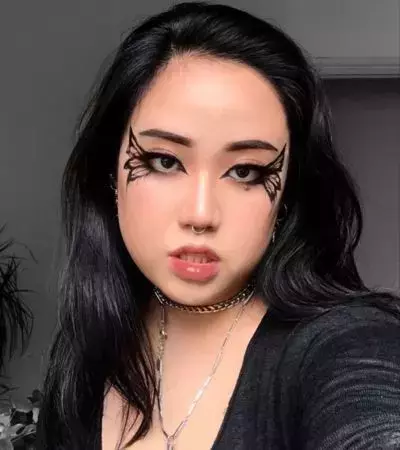 1. Bold Graphic Liner
This particular egirl makeup trend has gained popularity for its ability to make bold and edgy. Begin with a clean and well-moisturized face to create a smooth canvas for your makeup. Get creative with your eyeliner by adding unique shapes, lines, or designs around your eyes. Choose eyeshadow shades that complement the bold eyeliner design. If you want to enhance the drama, you can apply false eyelashes to make your eyes pop even more and add some e-girl makeup blush. One can also go for siren eyes to get bold eyes which can put focus on your eye makeup.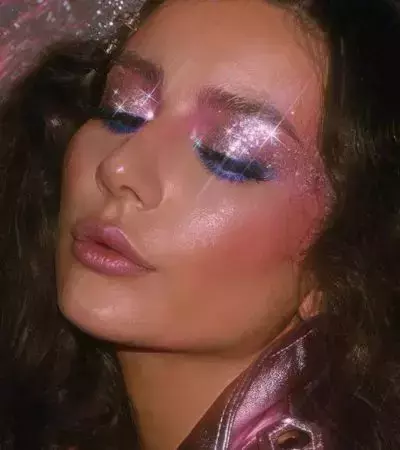 2. Glitter Galore
This is one of the most dazzling and enchanting egirl makeup looks that revolves around the use of glitter to create a sparkling effect. Even out your skin tone by applying your preferred foundation and concealer. Choose eyeshadow shades that complement your glitter. Apply a glitter primer or adhesive specifically designed for glitter makeup and choose any glitter depending on the level of sparkle you desire.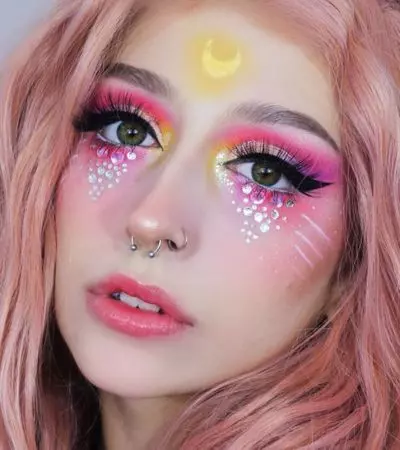 3. Dreamy Pastels
This is a charming look that incorporates soft pastel shades to create a dreamlike appearance. Begin with your cleaning, toning, and moisturizing routine. Choose pastel eyeshadow shades like baby blue, lavender, mint, or soft pink and apply them to your eyelids, blending them seamlessly to create a soft effect. You can also go for volume eyelash extensions to make sure your lashes get ample volume.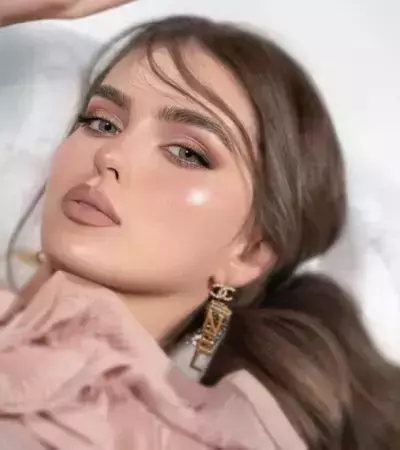 4. Soft and Sweet
Soft and Sweet emphasizes rosy cheeks, soft eyeshadows, and a hint of innocence. Apply an eyeshadow primer to your eyelids to help the eyeshadow colors pop and stay vibrant. Choose soft and subtle eyeshadow shades like pale pinks, light browns, or soft mauves. Draw a thin line of black or brown eyeliner close to the lash line. Keep it subtle and avoid creating a dramatic wing.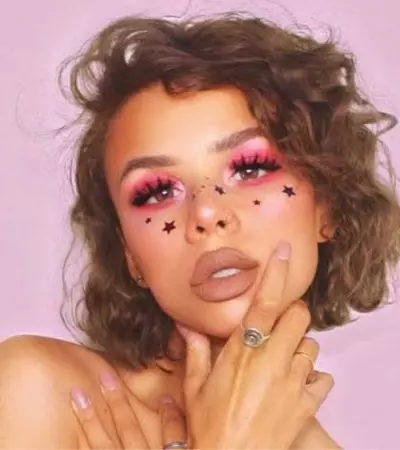 5. Starry-Eyed
The "Starry-Eyed" E-girl makeup look is a style that adds a touch of magic to your appearance, and involves star-shaped accents to create an otherworldly effect around the eyes. Go for a pink eyeshadow and apply small star-shaped face gems or stickers around your eyes, on your lower lash line, on your temples, or above your eyebrows to create a celestial effect.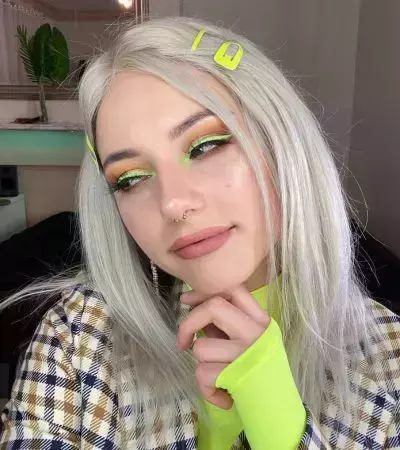 6. Neon Pop
This makeup look is a bold and electrifying style that includes neon colors to create a striking and eye-catching appearance. Choose neon eyeshadow shades such as bright pinks, electric blues, vivid greens, or neon yellows. Create a dramatic winged eyeliner using black or a matching neon eyeliner pencil.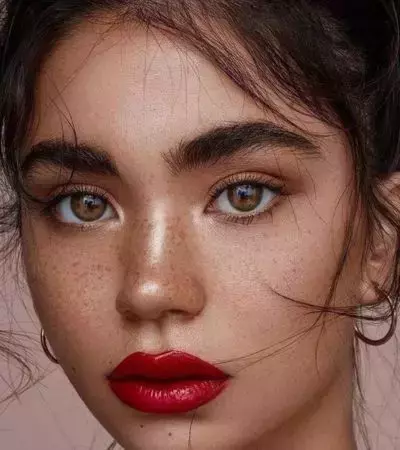 7. Faux Freckles
Faux Freckles is a charming and youthful style that involves creating the appearance of freckles on your face. Dip a small thin brush into a brown eyeshadow that matches your skin tone to create faux freckles on your face. Lightly tap the brush on the areas where freckles naturally occur. Vary the size and spacing of the freckles for a realistic effect.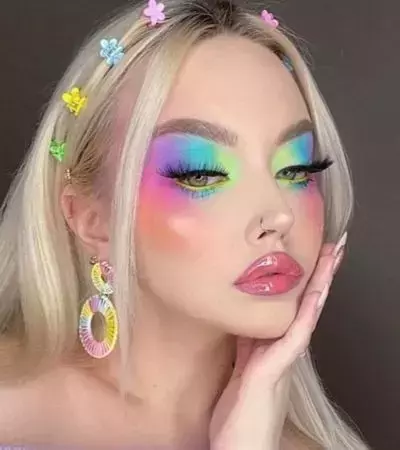 8. Kawaii Cutie
Kawaii Cutie is an adorable makeup-look egirl that draws inspiration from Japanese kawaii culture. This look can be achieved with soft, pastel colors, colorful eyeshadow, heart-shaped accents, and a doll-like appearance.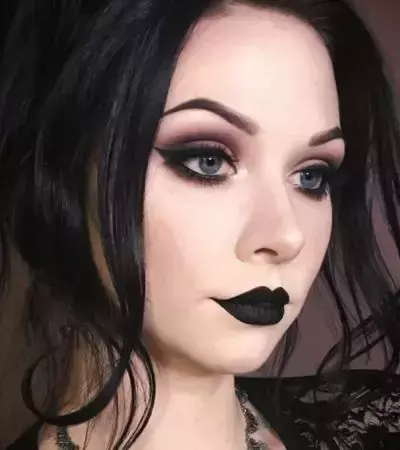 9. Monochrome Magic
This trend involves using a single color or shades of the same color to create a cohesive and harmonious makeup look. Soft pinks, mauves, blues, or even grays, apply these eyeshadows to your eyelids, blending them seamlessly to create a monochromatic eye look.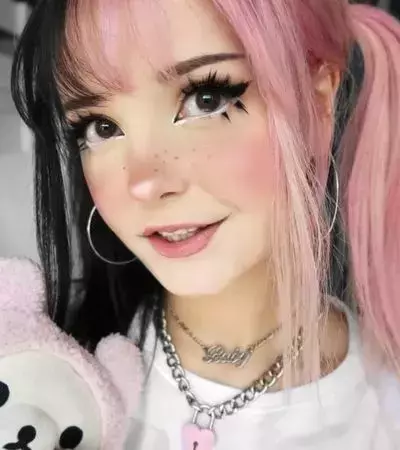 10. Punk Princess
Punk Princess is an edgy style that combines elements of punk and glam to create a unique and striking appearance. Create a bold and sharp winged eyeliner using a black or dark eyeliner pencil or gel liner. The winged eyeliner adds a fierce and confident touch to the look.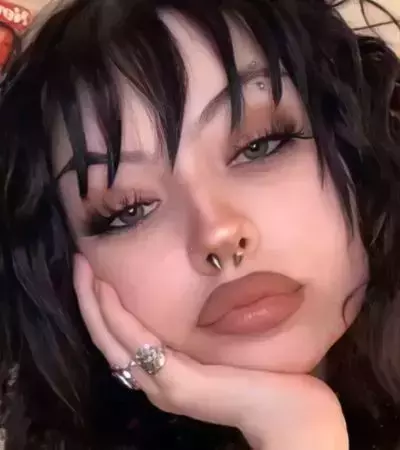 11. Grunge Glam
The Grunge Glam E-girl makeup looks are a bold style that fuses elements of grunge fashion with a touch of glamor. Create a smoky eye look with dark eyeshadow shades such as deep brown, or charcoals, and to complement the grunge, choose a dark and bold lip color such as deep red, burgundy, or black.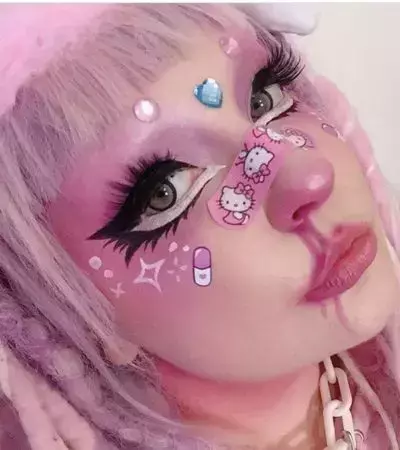 12. Cosmic Vibes
The Cosmic Vibes egirl makeup look allows you to channel the magic and mystery of the cosmos. Choose eyeshadow shades such as deep blues, purples, and shimmery silvers, and apply small star-shaped face gems, stickers, or glitter.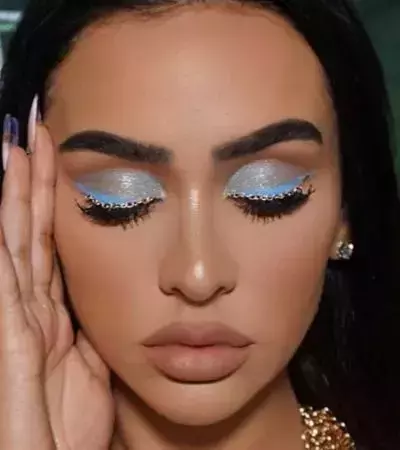 13. Euphoria-Inspired
This look allows you to unleash your inner artist and create a bold and imaginative appearance. This look encourages you to experiment with Graphic Eyeliner and dramatic false lashes to make your eyes stand out even more.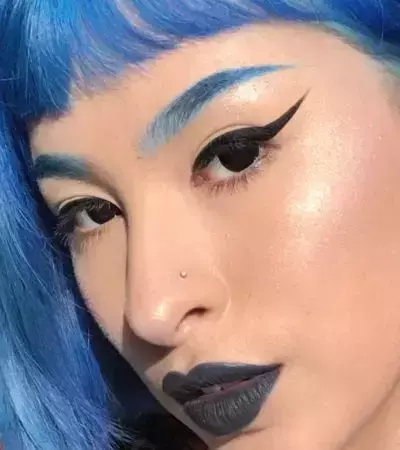 14. Cyberpunk Chic
90's style draws inspiration from the cyberpunk subculture, known for its combination of high-tech aesthetics and urban grunge. This style encourages you to experiment with metallic eyeshadows, graphic eyeliners, and neon accents.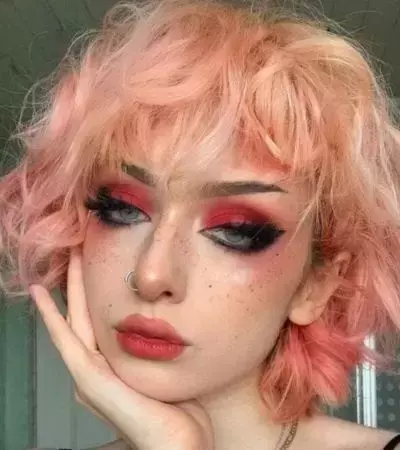 15. Edgy E-Girl
Known for their edgy and alternative fashion choices, this makeup look encourages you to play with bold eyebrows, smoky eyes, e-girl makeup eyeliner, and dark lip colors to create an edgy and confident look.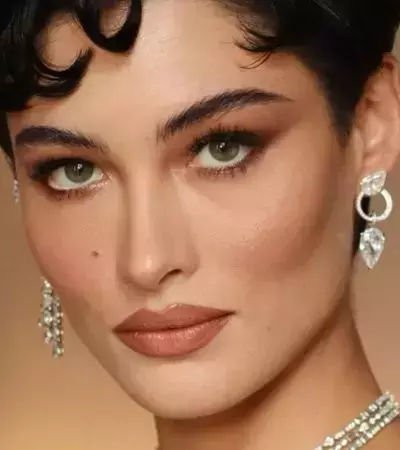 16. 90s Revival
This E-girl makeup look pays homage to the iconic makeup styles of the 1990s and allows you to embrace the nostalgia of the 90s. Thin, well-groomed eyebrows were a 90's trend, this look is sure to capture the essence of the decade's iconic style.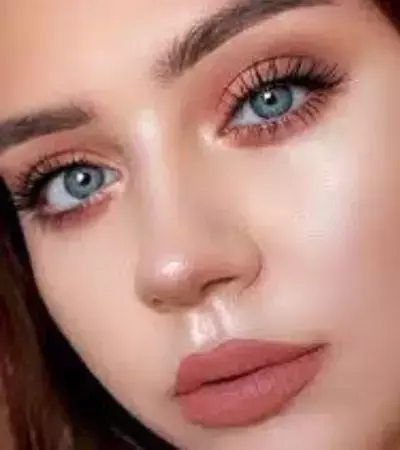 17. Ethereal Glow
Ethereal Glow E-girl makeup look combines soft, dreamy colors creating a beautiful and ethereal appearance. It's perfect for those looking to add a touch of magic to their makeup routine.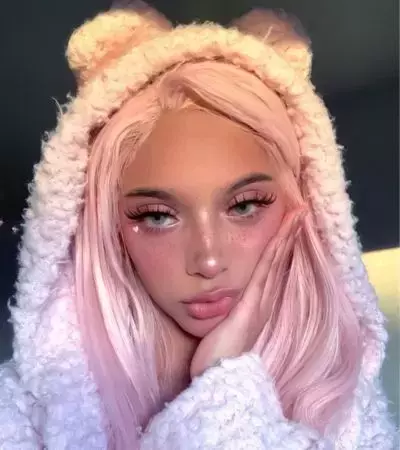 18. Doll-Like Beauty
The Doll-Like Beauty E-girl makeup look is all about embracing a sweet and youthful aesthetic with features like big, wide-open eyes, flushed cheeks, and a delicate pout. Soft pastel eyeshadow shades like baby pink, lavender or pale blue plays an important role.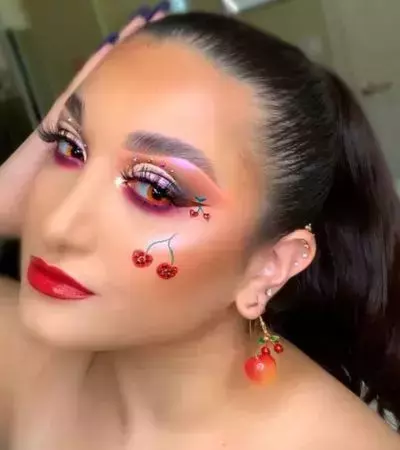 19. Cherry Bomb
Cherry Bomb is a bold and playful style that combines vibrant red and cherry tones with the signature E-girl aesthetic. Begin by applying a matte neutral eyeshadow shade as a base. Apply a vibrant cherry red eyeshadow to your eyelids, focusing on the crease and outer corners.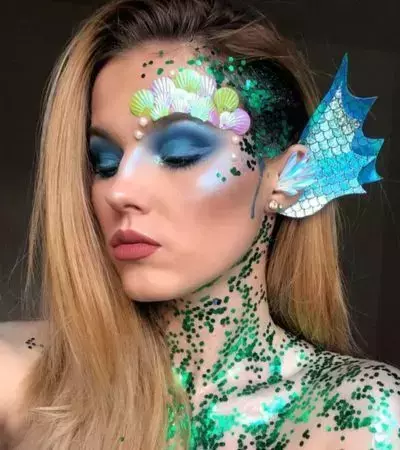 20. Mermaid Magic
Mermaid Magic is all about embracing shimmering and aquatic-inspired colors to create a mesmerizing appearance. To add a touch of mermaid sparkle, you can apply cosmetic glitter or shimmer in shades of blue, green, or purple around your eyes or on your cheeks.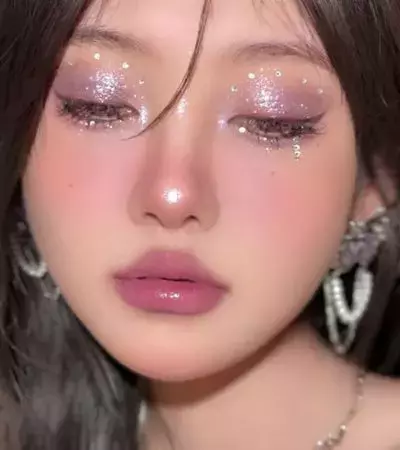 21. Angelic Aura
Angelic Aura is a versatile style that works well for everyday wear or special occasions, allowing you to showcase your inner angelic beauty. Soft, pastel eyeshadow shades such as pale pink, lavender, or champagne go well in this look.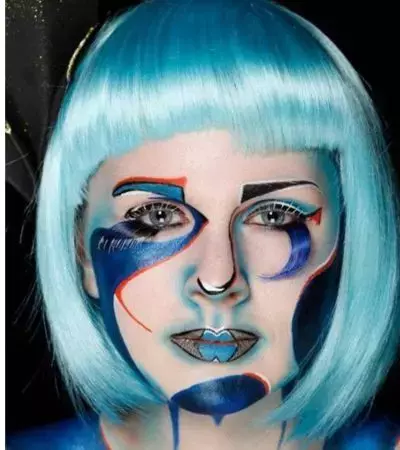 22. Artistic Expression
Artistic Expression is a unique and creative style that allows you to showcase your artistic side through your makeup. There are no limits to what you can create, so have fun experimenting with colors, shapes, and designs to make a bold and artistic statement with your makeup.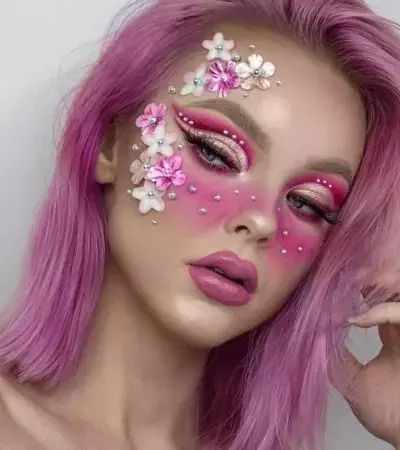 23. Floral Fantasy
The Floral Fantasy E-girl makeup looks are all about embracing the beauty of nature that incorporates floral and botanical motifs into your makeup. Customize the floral details and colors to suit your style and preferences.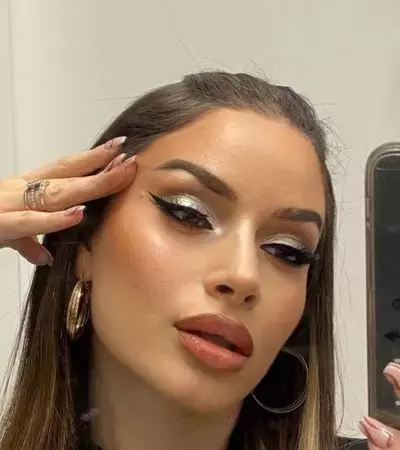 24. Inner Corner Sparkle
The Inner Corner Sparkle E-girl makeup look is a subtle yet captivating style that focuses on adding a touch of shimmer and sparkle to the inner corners of the eyes. This look enhances your eye makeup and adds glamour to your overall appearance.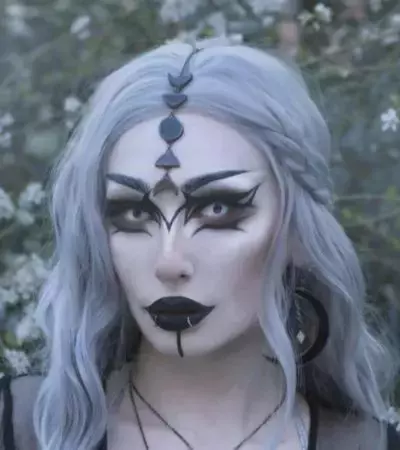 25. Mystical Vixen
This look often features deep, mysterious colors, bold eyeshadow, and creative details that exude an alluring and magical vibe. It's a bold and captivating style that's perfect for special occasions or when you want to make a dramatic and enigmatic statement with your makeup.
 
26. Punk Rock Attitude
This egirl makeup look is all about bold colors, graphic lines, and a fearless attitude. It's perfect for music festivals, concerts, or anytime you want to express your punk rock persona.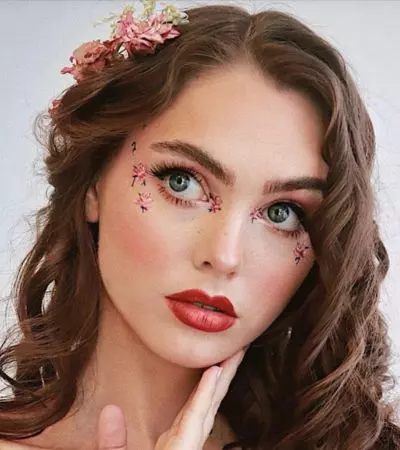 27. Vintage Glam
Vintage Glam combines the timeless elegance of vintage Hollywood glamour with the modern and creative elements of the E-girl style. It's perfect for special occasions such as retro-themed events.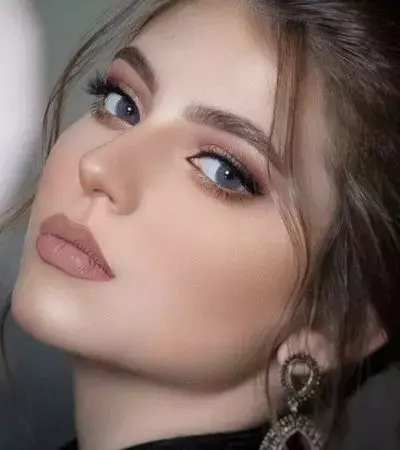 28. E-Girl Elegance
The E-Girl Elegance makeup look strikes a balance between the trendy and the refined. It's perfect for various occasions such as formal events or dates. This look is perfect for those who want to embrace the E-girl aesthetic while maintaining an elegant and polished appearance.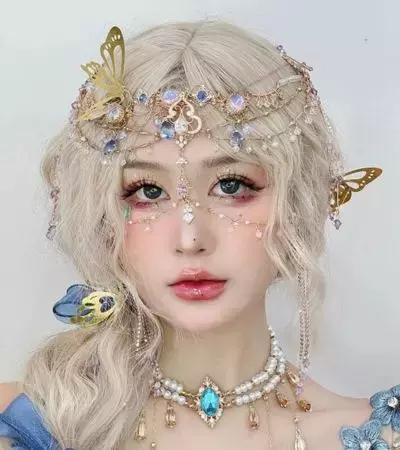 29. Fairy Tale Princess
This look allows you to channel your inner princess while adding a touch of uniqueness and flair. Achieve this look with soft and pastel eyeshadow shades reminiscent of fairy tales, such as pale pinks, soft lavenders, or baby blues.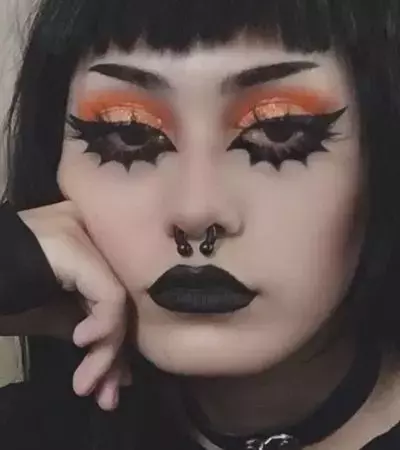 30. Soft Goth
This look is characterized by a balance between dark and soft elements, creating a unique and soft e-girl makeup appearance. To achieve this look, go for dark and smoky eyeshadow shades such as deep purples, blacks, or dark grays.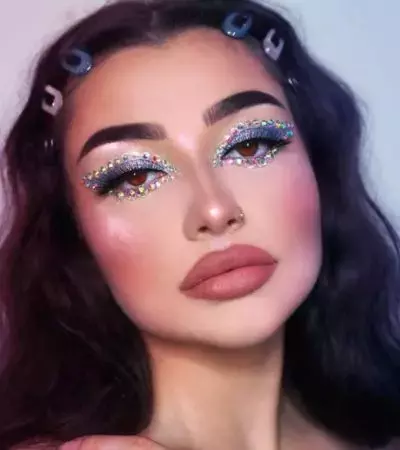 31. Retro Rave
The Retro Rave E-girl makeup look combines the vibrant and energetic vibe of retro rave culture with the edgy and creative elements of E-girl style. Choose bright neon or purple eyeshadow shades such as electric blue, hot pink, or fluorescent green.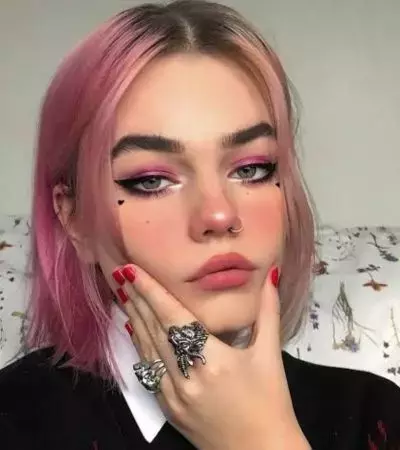 32. Daytime Delight
Daytime Delight is a fresh and charming take on the E-girl style, perfect for daytime outings and casual occasions. This look combines soft pastel shades with creative accents to create an effortlessly stylish appearance.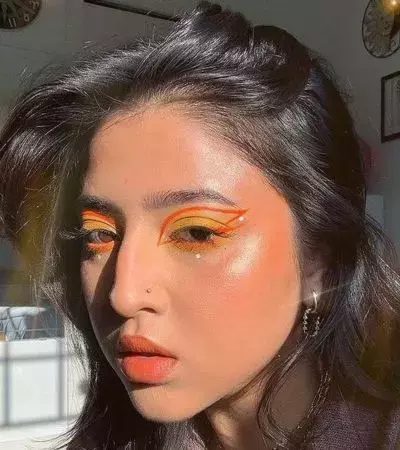 33. Sunset Dreams
Sunset Dreams E-girl Makeup looks ideal for parties, festivals, or any time you want to make a statement with your makeup. Customize the colors and accents to match your style and let your makeup reflect the mesmerizing allure of a sunset. Choose a lipstick to achieve beautiful e-girl makeup lips.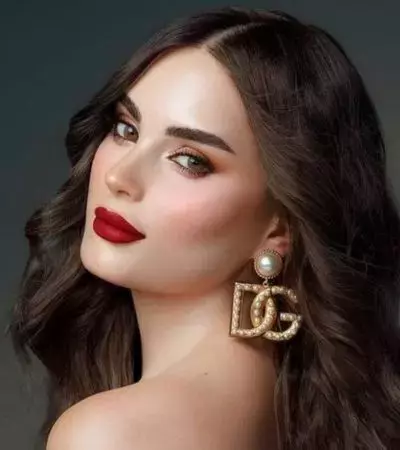 34. Edgy Elegance
This look combines bold and edgy elements with a touch of elegance and class. It's perfect for those who want to make a statement with their makeup while maintaining a sense of sophistication. It's perfect for evening events, special occasions, or any time you want to make a strong and confident statement with your makeup.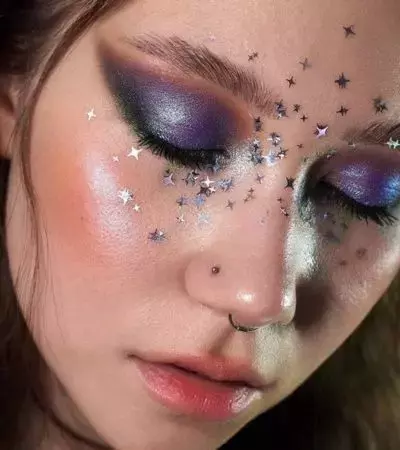 35. Shimmering Stars
The Shimmering Stars E-girl makeup look is a dreamy and celestial style that combines the beauty of the night sky with the creative elements of E-girl makeup. It's ideal for special occasions, evening events, or anytime you want to feel like a star. Customize the lip color and face details to match your style and shine bright like the shimmering stars in the sky.
  
Conclusion:
Egirl makeup looks are all about embracing your inner creativity, expressing your unique style, and having fun. So, grab your makeup brushes, experiment with your color pallets, and make a statement with these 35 cool E-girl makeup looks that are your ultimate source of inspiration