What Is Eyebrow Threading? Complete Guide - 2023
Shalu Bhati
Updated At 03 Aug 23
Who doesn't want good looking, shapely brows? The answer is everyone.
What is your go-to method for eyebrow grooming? Before you rush to say waxing, tweezing or epilating, stop and ask yourself, is it really the best method to shape your beautiful brows? What about eyebrow threading?
Don't worry. We are here to clear all your confusions with our detailed guide to eyebrow threading. From the process to precautions, we will tell you everything there is to know about this method. Recently, eyebrow slit has also been becoming very popular as well.
Your Detailed Guide To Eyebrow Threading
In this article, we have specifically covered the following:
- What Is Eyebrow Threading?
- Process: How Is Eyebrow Threading Done?
- Eyebrow Threading Pros And Cons
- Precautions To Take
- 10 Things To Expect During Brow Threading
- Most Popular FAQs
What Is Eyebrow Threading?
Eyebrow threading is a facial hair removal method. Similar to waxing it originated in parts of Asia and the Middle East.
This method has been used by women to shape their eyebrows for many centuries. It was only in recent times that it caught the attention of western countries as well. It is a cheap, effective and trustworthy method to get the brows of your dreams. Do note that it is different from eyelash extensions.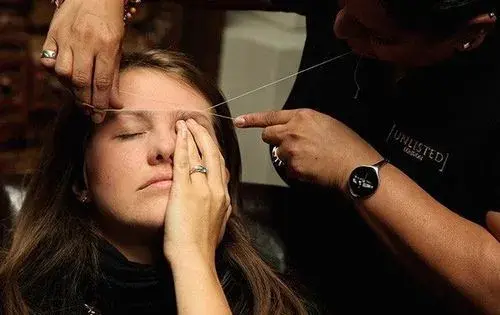 Process: How Is Eyebrow Threading Done?
Brow threading is a simple process and is completed in the following steps:
Step 1. Astringent is used to cleanse your brows and surrounding area followed by the application of powder. This ensures that your skin is free of any dirt, dust or oil.
Step 2. The technician takes either cotton or a polyester thread and puts one end between her teeth and twists the other end to form a loop.
Step 3. This loop is twisted using swift motions to capture unwanted hair which are then plucked from the follicles.
Step 4. Rosewater is used to wipe out the skin as a final cleansing act. A soothing gel is applied to calm down the skin.
If you are wondering how to get thick eyebrows then do check out our guide on the same as we list all the top home remedies which would help you to get thicker eyebrows.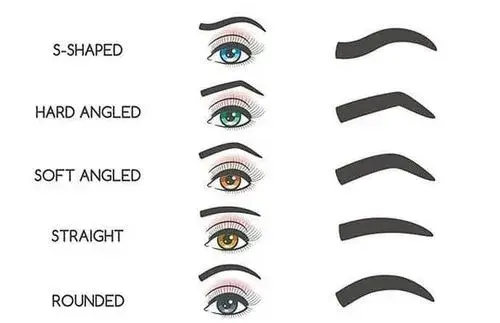 Usually before threading, the salon stylist will ask you to select the expected look. The shape of the brows depends upon the shape of your face but you can always mention your preference. The various shapes for eyebrow threading shapes are straight, round, hard angled, soft angled, and S-shaped.
Eyebrow Threading Pros And Cons
Wondering if you should go for brow threading or not? Then read on about eyebrow threading pros and cons to make a better decision.
Pros
Precise
Completely natural
Not messy at all
Relatively less pain
Suitable for sensitive skin
Inexpensive
Hair growth reduces overtime
Cons
Requires skill
Use of improper thread can lead to irritation
Can hurt if skin not taut
Eyebrow Threading Precautions
Get your brows done by a skilled and experienced expert only. Do not try to do it yourself
Exfoliate before your brow threading session. It will get rid of dirt and dead skin cells as well as ingrown hair, if any
Make sure you have clean hands when you go for your appointment as you would be asked to hold your eyelids
Avoid makeup especially eye makeup
Apply a soothing gel after the procedure
Wait for a few hours after your brow threading session before going back to your regular skincare and beauty routine
Do not touch your brows
Avoid swimming pools, hot shower, steam and sauna for the next 24 hours
If you are going to try extensions, do make sure that you are aware of eyelash extensions side effects. We list the pros, cons and the side effects in detail.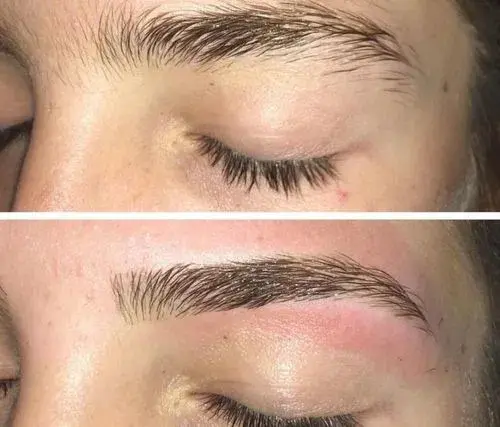 10 Things You Must Know When Undergoing Eyebrow Threading
1. Discuss With The Stylist The Final Look
Before the procedure have a good discussion with your technician about how you want your eyebrows to look. Finalize the brow shape you will get before going ahead with eyebrow threading.
2. Avoid Makeup While Going For Eyebrow Threading
Do not wear eye makeup to your brow threading appointment. Yes, not even kajal or a thin liner.
3. You Might Be Asked To Pulll Your Eyelids
Eyebrow threading works well on taut skin which is why you will be asked to put your fingers above and below your eyebrows and pull those eyelids. If you are not able to do it, the salon will provide you with extra help.
4. Its Painful But Bearable
Yes, brow threading hurts. And it hurts the most the first time. But it is not as painful as other hair removal methods. The pain from brow threading is bearable. So that's a relief, ladies.
5. Uncontrollable Reactions Can Happen
You might or might not feel pain depending upon the sensitivity of your skin. But there are some other involuntary reactions like crying and sneezing which can occur as well.
6. One Can Get Temporary Redness
You just got your brow hair yanked out within a small span of time. You are going to face some redness which will be temporary in nature. It will subside within an hour at most.
7. You Might Need Aloe Vera After Brow Threading
Yes, you will experience pain and redness after your brow threading session. And aloe vera gel will come to your rescue in these tough and temporary times. It acts as a cooling agent and soothes your skin to bring down the redness. Aloe gel is also effective in calming down the pain.
Check out the best eyebrow slits for women which include all the popular designs trending this year.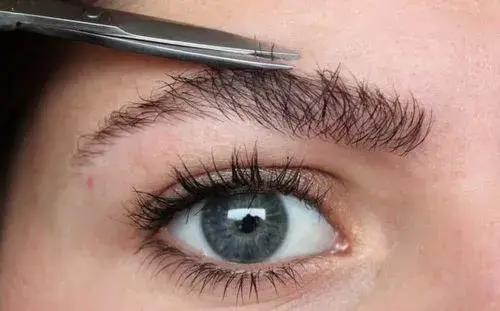 8. Brow Trimming Can Be Done To Give Final Shape
Yes, brow trimming is a thing which exists apart from brow threading. It is done in order to give a final shape to unruly, bushy or sparse brow hair. Brow trimming is like putting finishing touches to your art project to make it even better.
9. Know The Eyebrow Threading Cost Beforehand
The cost of eyebrow threading depends on a variety of factors including the salon you visit, its location, and the technician's skills among other things. But, on average, it would cost you anywhere between $15 and $30.
10. Eyebrow Threading Takes Hardly 10 Minutes
Eyebrow threading won't take much of your time. You would be surprised to know that in just about 5 to 8 minutes, you can say hello to beautifully shaped brows.
Eyebrow Threading Vs Waxing
Both brow threading and waxing are methods of facial hair removal which brings us to the most asked question: Is threading better than waxing?
Let's find out!
Threading is a precise method for hair removal and works effectively especially around the eyebrows as it targets individual hair quite easily whereas waxing is not so precise and cannot target a single strand.
Threading can remove even the short and fine hair while waxing requires a certain length of hair to actually work.
Waxing can get messy with the hot wax and strips while threading will not.
Some people have skin which is sensitive and waxing can aggravate their problems. On the other hand, there are no such threats to the sensitive skin from threading.
Threading takes less time and is inexpensive when compared to waxing.
Frequently Asked Questions On Eyebrow Threading
Q. Does threading hurt?
Yes, like any other hair removal method, threading hurts too. But it hurts relatively less as compared to waxing.
Q. What are eyebrow threading shapes?
Eyebrow threading shapes vary from S-shaped, angled to round. The common ones are straight, round and soft angled.
Q. What are the best places to get eyebrow threading done?
With the need for getting perfect brows, the beauty industry has witnessed the growth of many brow bars and salons which specialize in brow grooming. To find the best place, you must do your research. Ask your friends. Read reviews online. Check out the qualification and experience of the groomer. If possible, talk to their regular clients to get an idea about their services.
Q. What is Superdrug eyebrow threading?
Superdrug is a beauty and health retailer based in the UK. Its beauty studios provide a variety of beauty services including eyebrow threading and tinting.
Q. How long does threading last?
The effects of threading can last till two or three weeks depending on the speed of hair regrowth.
Q. Is threading better than waxing?
Yes, threading is better than waxing when it comes to facial hair removal and especially for shaping eyebrows. There are numerouds benefits of threading over waxing like:
Threading is a precise method for hair removal as compared to waxing.
Threading can remove even the short and fine hair while waxing requires a certain length of hair to actually work.
Waxing can get messy with the hot wax and strips while threading will not.
Waxing may not suit women with very sensitive skin. On the other hand, there are no such threats to the sensitive skin from threading.
Q. What is male eyebrow threading?
Grooming eyebrows is not just meant for women. Men, too, are jumping on the eyebrow threading wagon to give a proper shape to their brows that looks clean and polished.
Q. How to make eyebrows at home without thread?
If you don't want to use a thread, you can always opt for tweezing, epilating or waxing. If you have the skills, you can also shape your eyebrows using makeup.