Eyelash Extensions For Beginners - Full Guide
Riya Lisa Ghosh
Updated At 23 Aug 23
Eyes are one of the most alluring features of the human body. Today's technology allows almost every individual to enhance their natural beauty, at a considerably low amount of effort. Long voluminous lashes can make your eyes pop and almost instantly elevate your look. If you are a beginner wondering where to start with your eyelash extensions or even an experienced person trying to experiment with different extension styles, this complete guide is carefully curated to answer all your queries. This guide will walk you through all the steps from the process to aftercare, to help you achieve the beautiful lashes you're dreaming of.
To begin with, let's understand what exactly eyelash extensions are.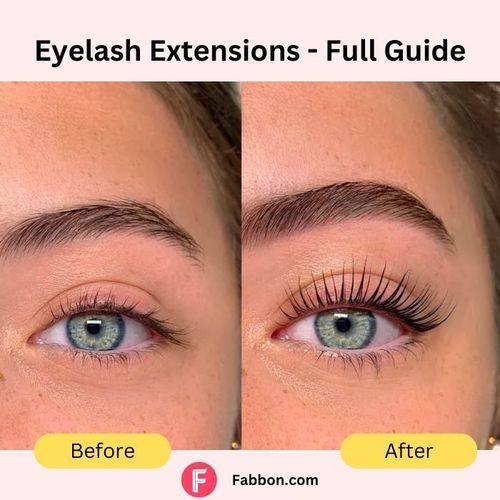 What Are Eyelash Extensions?
Eyelash extensions are synthetic or natural fibers that are attached on top of your natural lashes to make them appear longer and fuller. Each fiber or fine strand is attached to natural lashes with a strong glue.

These lashes can last up to several months, unlike the 24 hour usage lashes. However, the time period it lasts can be decided basis the chosen lashes as well.
Eyelash extensions look like enhanced natural lashes and are lighter on the eyes. If this is your first time going for eyelash extensions, it is necessary to go through all the details before choosing a style so as not to trigger any allergic reactions.

Read More: Volume Eyelash Extensions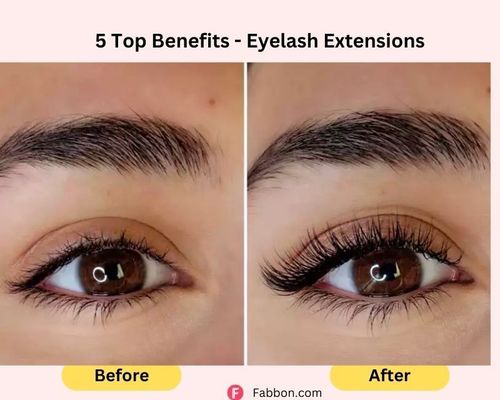 5 Top Benefits Of Eyelash Extensions

Eyelash extensions have become a popular beauty trend, and its important for you to know the benefits before investing in it. Not only do they enhance your experience, they offer plenty of benefits. If you're considering getting eyelash extensions, here are some of the benefits you can look forward to:
1. Instantly Enchanting Eyes: Whether you choose a natural or dramatic style, the added length and volume make your eyes appear bigger, brighter, and more captivating.
2. Time-Saving Beauty Routine: The extensions are already perfectly curled and lush, so you can skip this step in your makeup routine and still look fabulous.
3. Customizable Looks: Eyelash extensions come in various lengths, thicknesses, and styles. Whether you prefer a natural or more dramatic appearance, eyelash extensions have you covered.
4. Long-Lasting Results: Unlike traditional false lashes that need frequent replacement, eyelash extensions can last several weeks with proper care..
5. Minimal Damage to Natural Lashes: When applied correctly and cared for appropriately, eyelash extensions do not cause significant damage to your natural lashes. Skilled technicians isolate each lash, ensuring that the extensions do not disrupt the growth cycle or cause breakage.
If you are looking to find out how to get thick eyebrows naturally, then going for home remedies is the best option. Check out out guide as we cover the best 15 DIY home remedies for the same.
How To Chose The Right Lash Extensions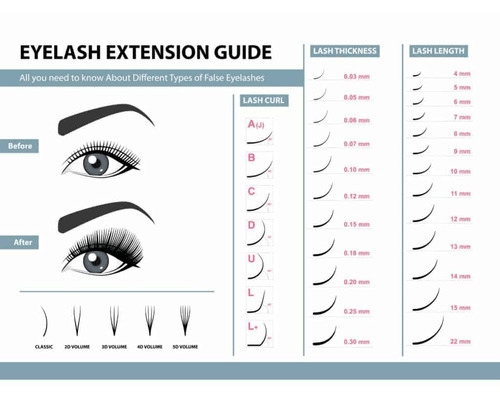 Eyelash extensions are available in several lengths, curls, volumes, and even materials. It is important to go through all the factors and choose which suits you best. One of the most important factors, however, to consider is your eye shape and the lash style that suits it. Make sure to talk about the different materials with your technician, before choosing one.

A) Eyelash Extensions : Length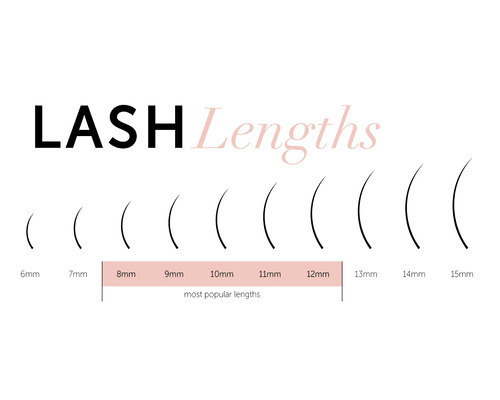 Choosing the wrong extension lengths could ruin your natural lashes. So, it's important to carefully choose a suitable length to avoid your lashes from feeling uncomfortable. If the lashes are too long, they may prevent the natural lashes from growing newer follicles.

Typically, the eyelash extensions should be not more than 3mm-5mm longer than the natural lashes.

It's more comfortable if the diameter of the extensions is close to the diameter of your natural lashes. In case you're looking for a dramatic look, go for extensions with thinner diameter.
Do check out our detailed eyebrow slit guide to find out how this technique can really put the focus on your eyes. It has become extremely popular in a short span of time.

B) Eyelash Extensions : Volume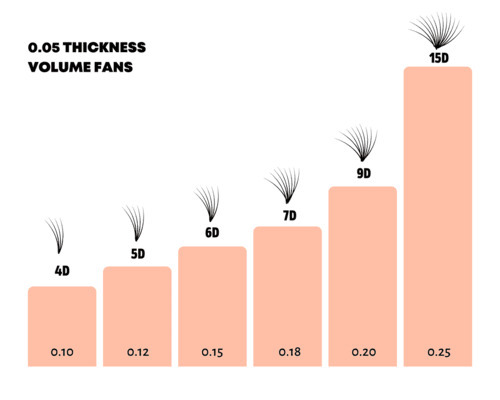 You can get volume in your lashes by adding more strands in a single lash. To make the extensions lighter and less uncomfortable, the diameter decreases with increasing volume. Extensions with more volume give a darker and softer look.

Usually the volume of the lashes are labelle with the number of strands plus the letter D. So the volume usually ranges from: 1D to 20D. The stronger your lashes are, the more volume you can opt for. Usually volume depends on the health and length of your natural lashes and your eye shape.

2D-4D volumes give a lighter and more natural looking Volume style. 4D to 8D are used to create a more voluminous and dramatic look. Hybrid and Volume fans are generally anywhere from 3D to 8D. Mega Volumes vary and can be 10D to 20D depending on the stylist and salon.
Read More: What Are Brow Fillers?

C) Eyelash Extensions : Curl Type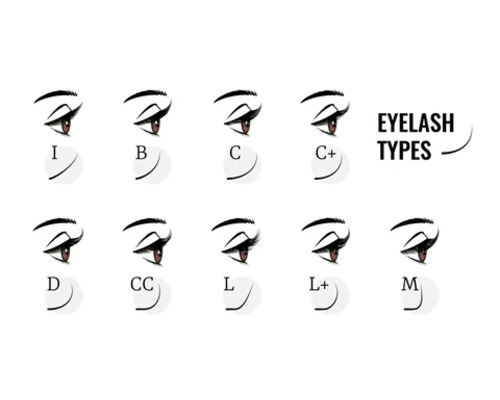 1. The B-Curl - This is the most natural looking curl. It mostly suits if you wish to uplift your straight lashes.
2. The C-Curl - This type fits almost all eye shapes. This is suitable for you if you are looking to add volume to your thin lashes.
3. The D-Curl - This gives you a dramatic look. This is suitable if you have naturally curly lashes.
4. The L-Curl - This has a flat base before and upward lift. It's perfect for single eyelids, hooded eyes and lashes that naturally point downwards.
4 Types of Eyelash Extensions
When you have considered all factors for picking the eyelash extensions, you can pick from different types of eyelash extensions.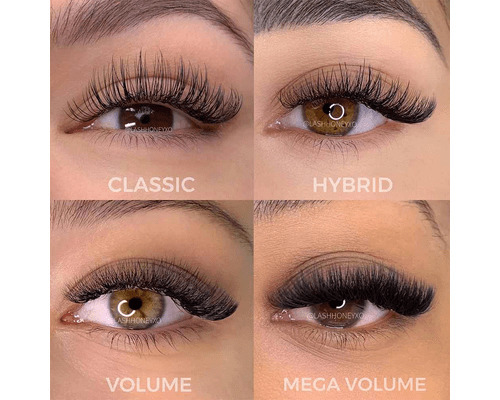 1) Classic or Signature Eyelash Extensions - This is a lash technique where the lash technician glues a single lash extension to each natural eyelash.
2) Volume Lashes - Volume lashes is a technique where the technician glues multiple lash extensions to each natural lash. It creates a much more voluminous look that's still fluttery and soft.
3) Hybrid Lashes - This is a technique that mixes classic and volume lashes, for a different type of staggered style. Hybird lash extensions can offer the perfect blend of volume and classic lashes.
4) Mega Volume Lashes - Here the technician glues many more lash extensions to the natural lashes to provide dense looking eyelashes.
Read More: What Is Eyebrow Threading

Eyelash Extensions : Styles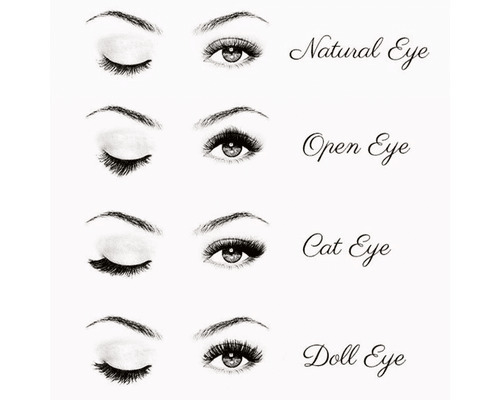 Eyelash extension styles come in various types, which differ in length and overall shape. This is necessary to consider since it creates a hue impact on shaping your overall look.

Cat Eye Extensions - Just like that famous eyeliner style, the extensions start out shortest near the inner corners and gradually longer towards the outer corners. Although this may not be the most popular style, it definitely creates an angled and dramatic look.

Doll Style Lash Extensions - As adorable as the name suggests, this style gives an open eyed look that's neither too dramatic nor too subtle. The lashes are usually the longest right at the centre of the lash line, above the iris. They're shortest at the inner corner and about medium at the outer corner.

Open Eye Extensions - The lashes are longest at the centre of the lash line in this style. Having those longer lashes at the centre lifts the eye, for a more round and open look.

Squirrel Style - It is a unique variation on cat eye lash extension styles. They create the illusion of very upturned eyes. This lifts the eyes and opens them up, creating a brighter look.
Natural Eyelash - This style mimics your eyelashes and adds to the natural length and pattern. This is meant to provide a subtle and light enhancement.
Staggered Eyelash Extensions - You may see this style in many social media posts. This trendy style gives your lashes a spiky look alternating between longer and shorter extensions.
Wispy Eyelash Extensions - This is a variation of the staggered eyelashes, with fewer extension volumes. This creates a soft feathered look.

7 Things To Consider Before Picking Eyelash Extensions

There is no standard extension that fits everyone. It is important for you to know your eyes so it's easier for you to choose your extension type. Here are a few things to consider about your eyes-
1. The size of your eyes
2. Orientation of your eyes
3. Allergies or sensitivities
4. Your tolerance for upkeep
5. The color of your eye
6. Your eye shape
7. Your natural lashes - Their length, curl, volume, and color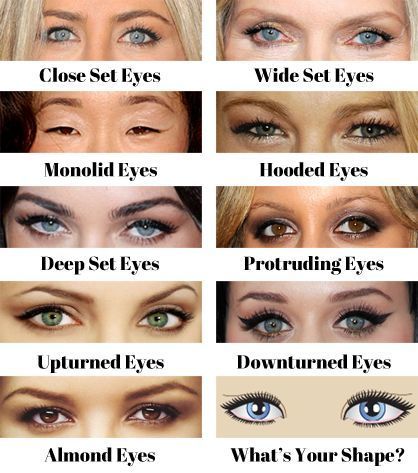 Understanding Your Eye Shape
Your eye shape can have a huge impact on how extensions look on you. Listed below are the different kinds of eye shapes for you to understand better -
1) Almond Eyes - Any extension style can suit this eye shape. Cat eye style may enhance an almond eye shape. If you want a rounded shape or a softer look for your eyes, you can opt for the doll eye style.
2) Wide Set Eyes - In this shape, the eyes are a little apart from each other. Lash extensions can help create the illusion that your eyes are closer together. It's important to focus on styles where there is some length or volume near the inner corners.
3) Close Set Eyes - If you have little space between your eyes, that means your eye shape is likely to be Close Set. Extensions that extend your eyes on the outer corners to provide balance. This includes cat-eye and squirrel eyelash extension styles.
4) Down Turned Eyes - This eye shape usually looks best with squirrel or cat eye style extensions. These lash styles pull the eyes up at the outer edges where they start to droop.
5) Small Eyes - Softer, wispy lashes suit best for small eyes. Avoid too long or thick extensions. Shorter length at the inner corners look prettier and open up your eye.
6) Hooded Eyes - In case of hooded eyes, shorter and lighter lashes near the inner corner suit better, Hooded creases can be hidden with the squirrel or open eye lash style. In case of a more dramatic look, go for the wispy or staggered techniques.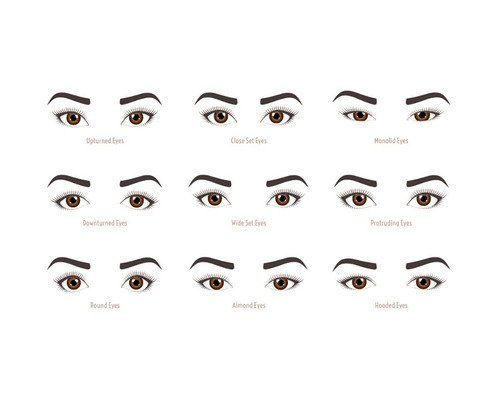 7) Deep Set Eyes - Those with a deep-set eye shape should focus on fluttery lash styles that won't shadow the eyes. Staggered, wispy, and natural lashes often look best. You may also want to try L or D curl lashes. They have a more dramatic curve that can stick out more nicely from the deep-set lash line.
8) Protruding Eyes - With a protruding eye shape, the most important thing is to choose the right curl style. The best curl types for this eye shape would be C,D and L- curled lashes as they flatter your eyes. Its best to avoid thick classic lashes.
10) Upturned Eyes - Cat eye and squirrel extensions will emphasise your eye shape. To tone down your eyes, you can try open eyelashes.
11) Round Eyes - Round eyes are large and impressive. Eyelash extension styles like doll and open eye will emphasise your natural eye shape.

4 Step Eyelash Extensions Application Process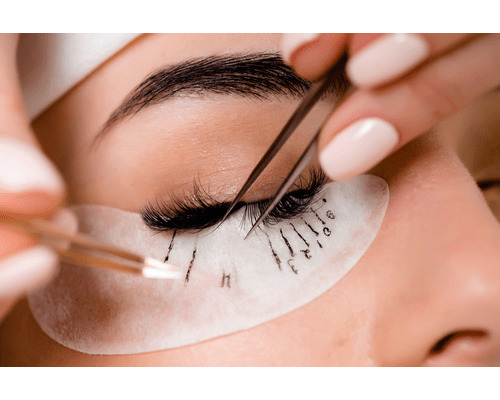 Before the application, ensure you visit a reputable and experienced lash technician. The process generally takes 1.5 to 2 hours, during which you will be lying down with your eyes closed. Here's a brief overview of what to expect during the application:
Consultation: Your technician will discuss the desired style, length, and thickness with you to ensure they achieve the look you want while maintaining the health of your natural lashes.

Preparation: Your lower lashes will be covered to avoid any accidental sticking. The technician will clean your lashes to remove any residue or oils that could interfere with the adhesive.

Isolation: Using specialised tweezers, the technician will isolate one natural lash and attach an extension to it.

Applying the Extensions: The technician will dip the extension in adhesive and carefully bond it to the isolated natural lash. This process is repeated for each lash until the desired look is achieved.

Eyelash Extensions Cost
The cost will vary greatly based on the -
1. Location of your lash artist
2. The artists' experience level
3. The style of eyelash extensions

Typically volume lashes cost more if the artist spends more time on them. Usually, a classic lash set costs around $80 to $150, while a full set of volume lash extension costs around $120 to $400.
For your refill sessions, it may cost approximately half of your full session.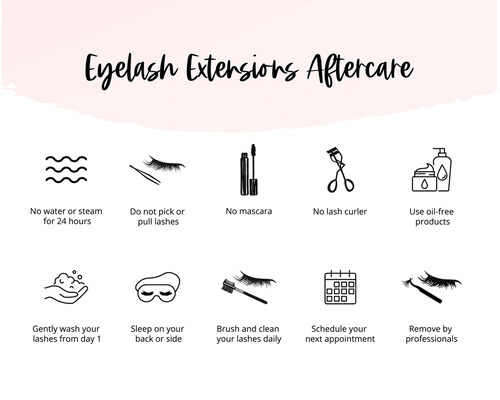 Eyelash Extensions Aftercare
It is important to take care of your lash extensions so that you can keep your eyes safe and get the best out of your lashes.
1. Do not get your lashes wet for 24 hours. It may take 24 to 48 hours for the lash glue to cure and fix itself.
2. Do not apply any aftercare product for 24 hours
3. Avoid strong wind blowing to your lashes, or any drastic change in climate.
4. Resist brushing or touching the lashes
5. After this initial 24 hours period, your aftercare routine is much easier.

How To Maintain Lash extensions
Follow the 4 steps to maintain your lashes.
1. Cleaning: Clean your eyelashes one to two times every day with a compatible cleanser. Its best to avoid water pressure directly to the eyes.
2. Brushing: Combing your dry lashes will avoid debris and clumps. The best way is to gently brush them daily.
3. Refill: Its best to go for a refill every two to three weeks for better maintenance and to avoid going for a full session again.
4. Avoid heat and oil: To do the best after care, you need to avoid oil based products, including eye makeup and direct heat on your lashes.

Lash Extensions - Before, After And Refill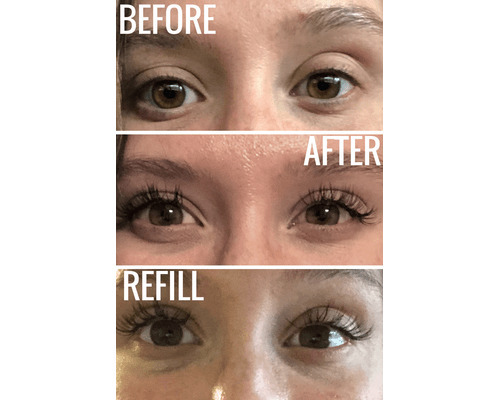 Removing Eyelash Extensions
Do not attempt to remove eyelash extensions yourself, as this could damage your natural lashes. Instead, seek the help of a professional technician who will safely remove the extensions without harming your real lashes.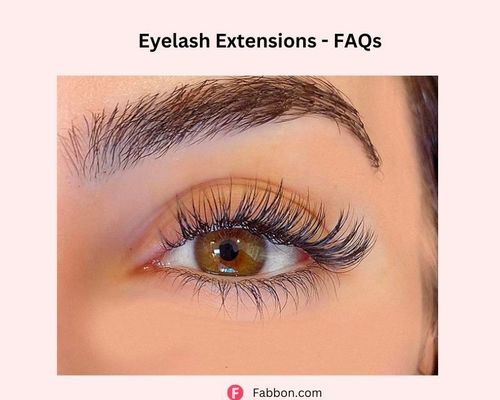 FAQs on Eyelash Extensions
Q. Do eyelash extensions damage natural lashes or your eyes?
Extensions won't damage your natural lashes if you consult your technician and get the extensions which are the most suitable for you.
Q. Do eyelash extensions hurt?
The application process is usually relaxing. It doesn't come in contact with your skin, so it should not hurt when applied correctly.
Q. Are eyelash extensions only for special occasions?
While lash extensions are a great choice for special occasions, they are also perfect for daily wear. Unlike strip lashes, lash extensions last for weeks.
Q. Can you wear eyelash extensions over long periods of time?
Yes, you can wear lash extensions for two to six weeks without any hassle. You will need to get refills after that, if you wish to continue, or get it safely removed by a professional.
Q. Can I wear mascara with lash extensions?
Generally, the answer is no. Mascara can clump extensions and the beautiful lash fans and it can make your lash set very messy. Although, you can use mascara which is suitable for extensions.
Q. Are eyelash extensions permanent?
You can usually go for two to six weeks without needing a refill.
Q. Does crying make your eyelashes longer?
Crying doesn't actually make your eyelashes longer. Its a myth and does not have any proof yet.