Kourtney Kardashian Plastic Surgery Secrets - Revealed!
Ankita Ghoshal
Updated At 08 Nov 23
Kourtney Kardashian is a media socialite, the owner of an interesting lifestyle website, and a reality-show superstar. Just like her younger sister Kim, Khloe and Kendall, Kourtney too is always on the headlines. At 43, Kourtney's glamorous face and toned physique always make her look phenomenal, no matter what she wears.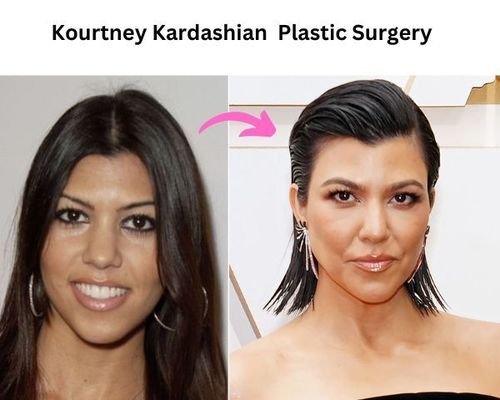 It is no secret to anyone that the Kardashian sisters are known for their plastic surgeries and cosmetic enhancements. From botox to nose jobs and fillers to breast implants, the sisters are ultimate fans of different treatments and surgeries to enhance their bodies. Let's delve deeper into all the surgeries that Kourtney Kardashian has reportedly undergone and all that that has helped in making her look so good all the time.  Also check out Kim Kardashian plastic surgery details, as similar to Kourtney she has undergone multiple procedures as well.
Kourtney Kardashian Plastic Surgery
Kourtney Kardashian Age And Net Worth
Kourtney Kardashian is 43 years old and her net worth is $65 million.
Kourtney Kardashian Plastic Surgery - All The Surgeries She Underwent
As beauty trends come and go every year, Kourtney Kardashian wanted to always be in sync with what is hot and what is not. She not only exercises quiet a lot and regularly, she eats very healthy and clean as well.
Also, it is pretty evident from her changing appearances that she undergoes plastic surgeries and body treatments too. Her plump booty and thin waist has been the "dream body" of a lot of people across the globe. From breast implants to rhinoplasty, the celebrity is reported to have undergone quite a lot of plastic surgeries. Let's look at them in detail. Similar to Kourtney, Kylie jenner plastic surgery details have been very interesting as well.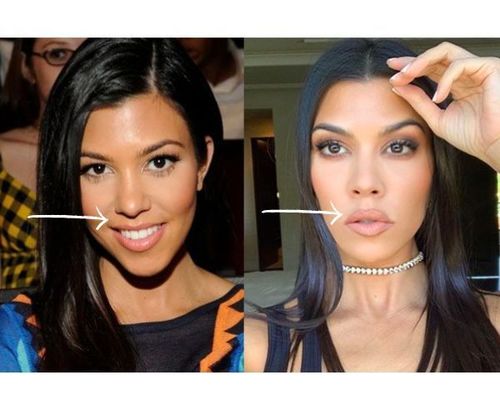 Lip Fillers
If you look at all the Kardashian-Jenner family members, you will notice fuller, plumper lips. You can easily observe the drastic alterations on their lips, if you compare their teenage pics with the recent ones. When Kourtney was young, she had a visibly fleshy lower lip.  In the recent years, however, her upper lip has also started looking fleshy. This is because of lip fillers for sure. The fillers have substances such as hyaluronic acid which can add more structure, shape and volume to the lips. If you check celebrity plastic surgery procedures, then lip fillers is quite common.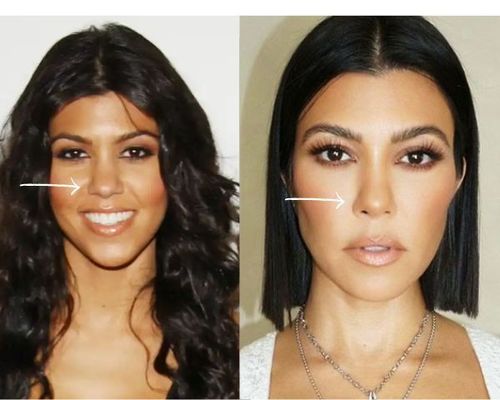 Kourtney Kardashian Plastic Surgery – Rhinoplasty
One of the most known celebrity nose jobs is t hat of Kourtney's. She had a wider nose in her younger days but now the shape has changed a lot. It is because of a nose job, also known as rhinoplasty. You can go for this procedure for both functional as well as cosmetic reasons. When it comes to the cosmetic aspects, it is the nose's aesthetic appearance that is worked on. It changes the shape, wideness and height of the nose for people who do not like its original appearance.
Read More: Cardi B Plastic Surgery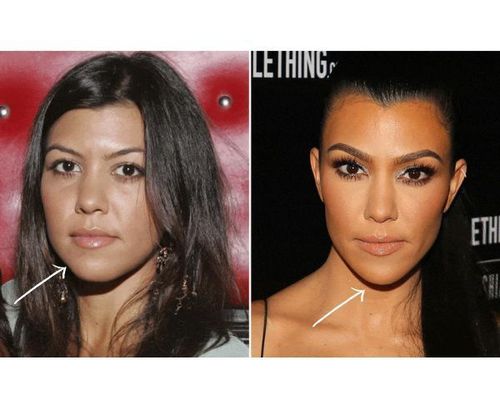 Chin Botox
If you look at different celebrity face lifts pictures, you will see how Kourtney's chin has changed over the years. It is said that she has used Botox for filling both the sides of the chin. Fans also claim that she had used Botox injections for making her face look youthful at all times. However, the celeb has remained tight-lipped about this treatment. The Kardashian sisters usually credit working out, eating healthy, skincare and beauty treatments as the secret behind their flawless and youthful looks.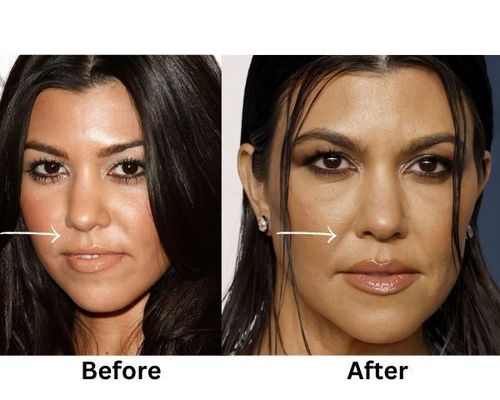 Nasolabial Fillers
When people start ageing, the lines around their mouths and nose become a lot more noticeable. For keeping these older lines at bay, Kourtney is believed to have used nasolabial fillers. They give her mouth region more volume and a refreshed look to her overall face.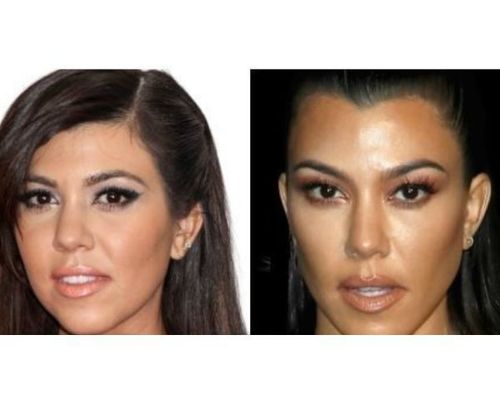 Kourtney Kardashian Plastic Surgery – Eyelid Surgery
If you watch the initial episodes of Keeping Up With The Kadashians, you will see that Kourtney had droopy eyelids. However, now they look very lifted somehow. Well, the reason behind it is an apparent eye surgery. It is a procedure that removes excess skin present on one's upper eyelids. Since the surgery is usually performed for different cosmetic reasons, so it is also a pretty effective way of improving eyesight.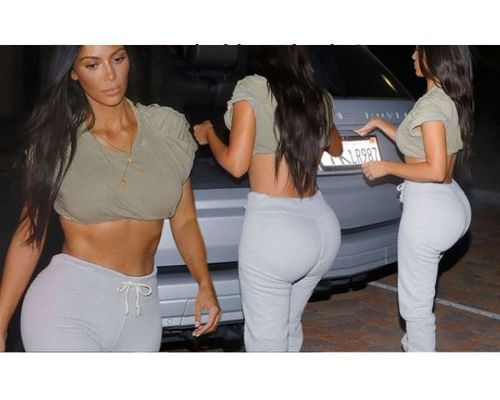 Kourtney Kardashian Plastic Surgery –Butt Lift
When critics and fans talk about Kourtney Kardashian surgeries, they also suggest that she has undergone Brazilian Butt Lift, a procedure which her sisters Khloe and Kim are also accused of getting. In 2021, Kourtney came up with a cheeky reply to all the rumours regarding surgeries on her derriere. She wrote, "No better compliment than a 'too good to be real' kind of compliment. Butt shot and Brazilian butt lift? Um, thanks". In fact, she has often called the rumours about her plastic surgeries as compliments. Butt lifts are considered as the signature of Kardashian family. It is a procedure which enhances the shape and curve of the buttocks.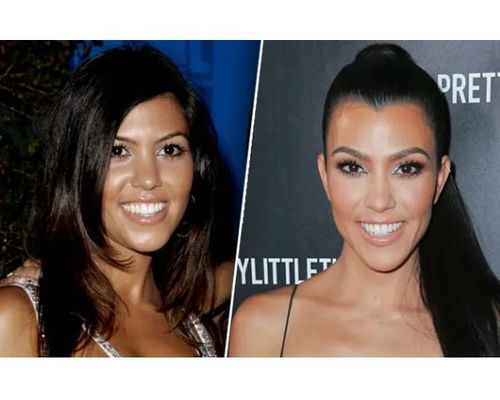 Jawline Fillers
During the recent years, Kourtney's jawline and chin have become a lot more defined.  It is because of jawline fillers, as believed by the critics and fans alike. Jawline fillers make the jawline a lot more sculptured as they add volume to that region. The significant contour on the jawline area stand poles apart to the pictures of Kourtney Kardashian before plastic surgery.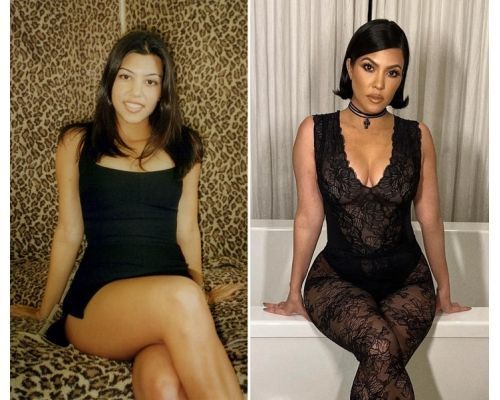 Kourtney Kardashian Plastic Surgery – Breast Implants
The mother-of-three has always been open about her breast job but she continues to insist that it is the only work she has done on her body. She credits her ageless beauty to good eating habits and healthy lifestyle. In 2020, she stated, ""I have had breast implants, but it's so funny because it's not a secret, I could care less".
Pictures of the celeb at 20 show her breasts looking slightly smaller but Kourtney still tries to keep her breast implants natural. In 2011, she confessed, "I had my boobs done, but if I could go back, I wouldn't have done it. I was so cute before. I realized that I was made to look a certain way and I'm considering removing them."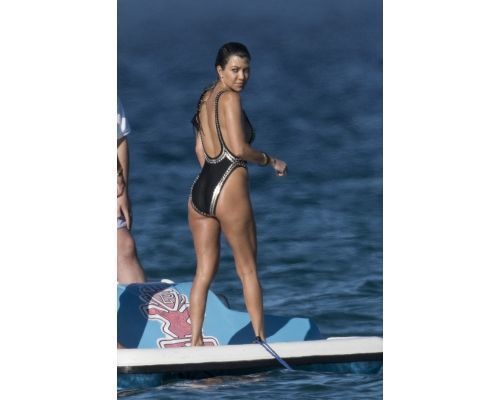 Kourtney Kardashian Liposuction
The Kardashian-Jenner sisters are known for their liposuction treatments. Their curvy hips and slim waists are all attributed to liposuction by people across the world. Kourtney's body type is a good example of this. Liposuction is a procedure that gets rid of the fats that you cannot shed by exercising.  Cannula is the tool inserted in the skin while a strong vacuum 'sucks' out the unwanted fats.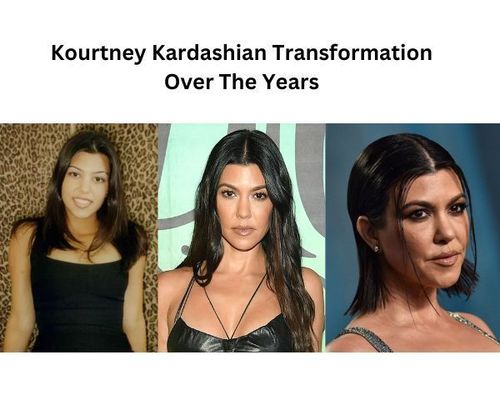 Kourtney Kardashian Transformation Over Last 10 Years
Celebrity nose jobs and other plastic surgeries are always a talk of the glam world. It goes without saying that Kourtney as well as her sisters are all believed to be the queen of plastic surgeries. From nose, chin and breasts to butt and waist, Kourtney has reportedly gone under the knife and used injections multiple times to look a certain way. If you look at the 'before' and 'after' Kourtney Kardashian plastic surgery pictures, you will see her massive transformation over the last ten years. She has spent a lot of time and money to look youthful and slim as she continues to age gracefully.
The Verdict
It is one's personal choice and decisions to opt for different ways in looking a certain way. While that doesn't give us the license to make mean remarks on their appearance, it should also not enable us to set unrealistic beauty standards for ourselves either. Celebrity nose jobs, celebrity face lifts, or any treatment that the celebs undergo; that should not be the benchmark of how you should look like when you age.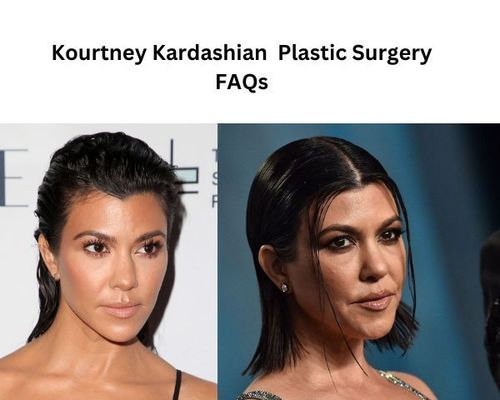 FAQs On Kourtney Kardashian Plastic Surgery
Q. Why does Kourtney Kardashian's chin looks so different now?
Kourtney Kardashian is reported to have used botox fillers on her chin to give it more shape and volume. Her jawline fillers have also made the lower part of her face look more contoured and defined.
Q. Did Kourtney Kardashian get any non-surgical procedure done?
Possibly, Kourtney Kardashian has undergone several non-surgical procedures to alter the way she looks. It majorly includes Botox fillers.
Q. How old is Kourtney Kardashian?
Kourtney Kardashian's age is 44 years.
    
Q. Has Kourtney Kardashian gone for liposuction?
Yes, Kourtney Kardashian had opted for liposuction to make her waist look slimmer.
Q. Did Kourtney Kardashian get a laser treatment?
As of now, there is no credible sources that state that Kourtney Kardashian has undergone any laser treatment.
Related Articles