51 Stunning Mehndi Designs For Kids - 2023
Pooja Angurasu
Updated At 27 Aug 23
Women of all ages, be it elderlies, middle-aged ones or even kids, everyone loves to adorn their hands with pretty and intricate mehndi designs. However, when it comes to kids, the mehndi application process is not at all easy. Kids are too clingy and messy! They do not have enough patience to sit through long hours of the mehndi application process. This is why it is always best to keep their mehndi design as minimal and classy as possible.
51 Best Mehndi Designs For Kids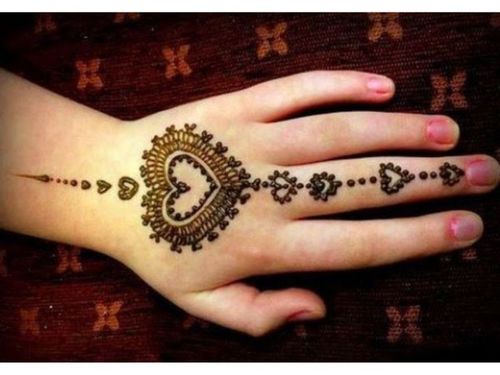 1. A Drool Worthy Hearty Trail
A pretty backhand mehndi design for one's munchkin is composed of a voluminous heart shaped pattern in the middle and some more tiny hearts with dotted details.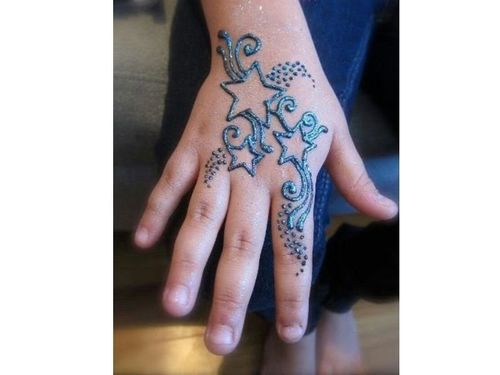 2. All About Glitz & Glam!
Why go basic when our kid can go the shimmer way with his or her mehndi design? Take some inspiration from this glittery back hand mehndi design and get his or her hands laden with it. Those star motifs are so fancy!
If you are looking for new arab designs do check out our guide to find the best arabic mehndi designs as we list all the popular ones.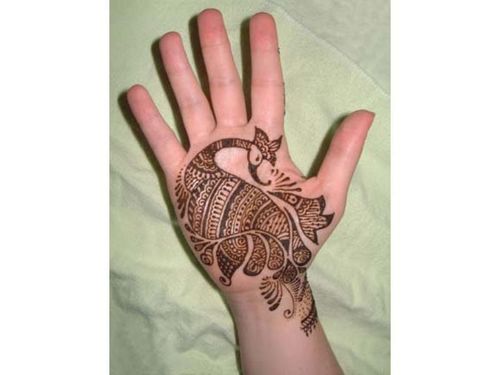 3. A Huge Peacock Motif
Comprising curvy lines, pearl-like drops, and dotted strokes, this elaborate peacock mehndi design looks too pretty and stylish. It looks like a complex design but is very easy to make. Just adjoin a few paisleys, fill them with beautiful strokes and the gorgeous design is ready.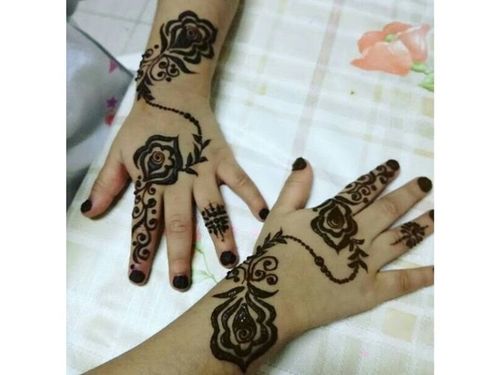 4. Modern Trail
Yet another trail mehndi design for kids that has sharp and edgy rose motifs, swirl patterns, and dotted lines.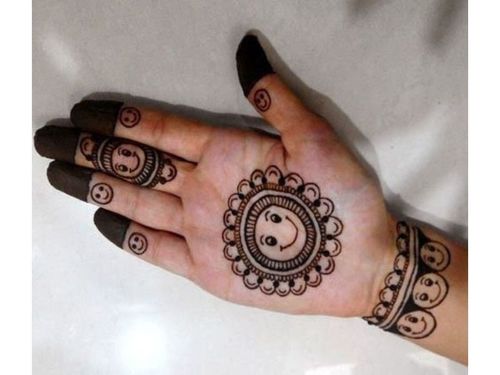 5. A Gorgeous Smiley Chakra
Ever seen a front hand mehndi design as cute as this smiley chakra patterned one? Well, we haven't either. It's indeed one creative mehndi design for kids. And those henna smileys look more like tattoos accompanied with concentric circles, scallops and dotted lines.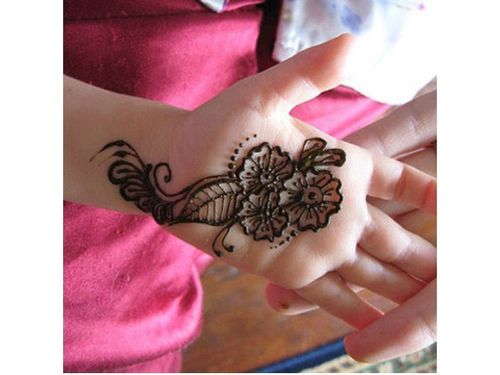 6. A Diagonal Floral Trail
We can't stop obsessing over this super chic floral trail mehndi design for kids. It looks so neat with all that spacing. If o ftne wishes one can even get it extended to one munchkin's index finger to make it look like a perfect trail.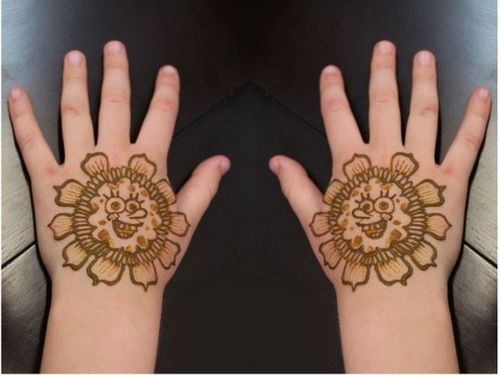 7. That Flower With A SpongeBob Face!
A hint of cuteness is all one need is to add one's kid's mehndi design to make it stand out from the rest. This is why we've got one of these pretty floral mehndi designs that have a SpongeBob caricature in them. Isn't it too cute?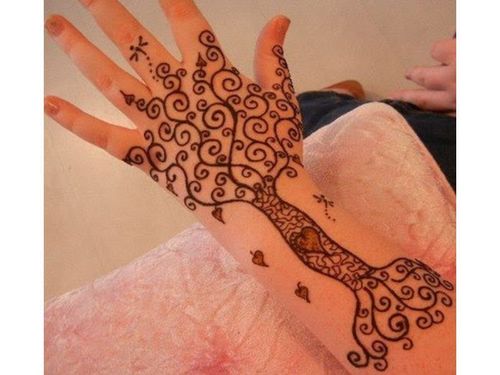 8. Something Unique!
If one is bored of those same mandalas and paisley mehndi designs for kids, one has been gotta see this unique back-mehndi design that is every bit unique. It's a breathtaking tree-like pattern made with edgy swirls that look like branches of a tree.
9. Haathphool Patterned Design
While attending a wedding, if one doesn't want to clad little ones' hands with those troublesome heavy jewels or bangles, then one can probably get their hands adorned with a stunning haathphool mehndi design for a baby like this. Those huge flowers, dotted chain details, and the web-like pattern look too attractive.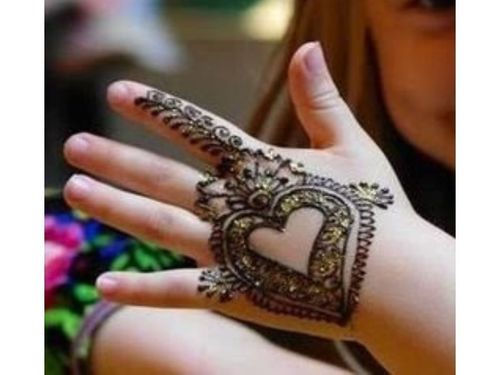 10. A Basic Heart Design
Kids have a thing for hearts. So why not get their hands etched with this super cutesy mehndi design with a prominent heart motif in the middle and some edgy strokes outlining it?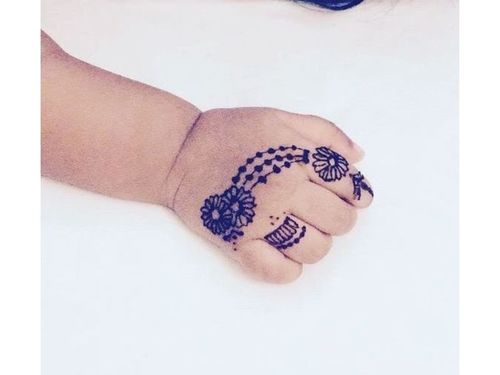 11. Florals With Dangling Chains
This minimalistic yet beautiful mehndi design with flowers is the best one for the kids. It looks super cute on those baby hands and we're sure one will love it as much as we do.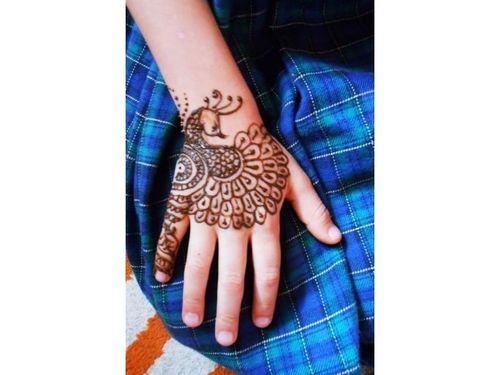 12. A Half-Spread Backhand Design
A contemporary peacock Mehendi design gorgeously done with multiple semi-circle detailing, dotted lines and a diagonally spread leafy feathered pattern. It's an ideal mehndi design for kids.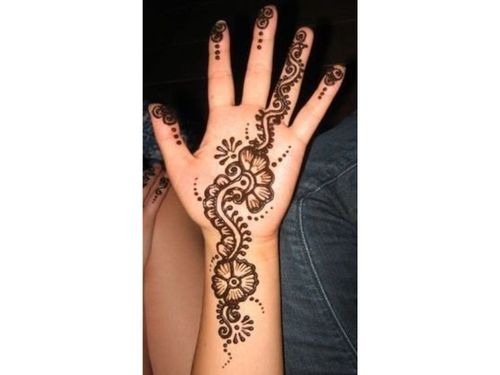 13. Swirly Trails Wins
Another simple and fancy mehndi design for kids that one can pick without any second thoughts is this creeper Arabic trail design detailed with shaded florals, elegant dots and edgy swirls. It's extremely beautiful and one can never go wrong with it.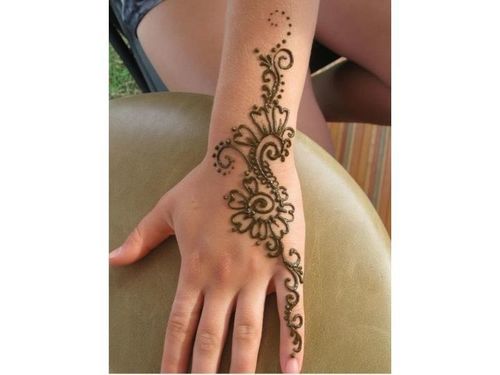 14. Easy Peasy Trail Mehndi Design
This Arabic mehndi trail is different from those regular diagonal patterned trail mehndi designs. It is super easy to make and can be done in no time. All one gotta do is make a swirling trail connecting from the baby finger to the back of the hand and add a few floral and dotted lines to give it a finished look. However, keep in mind that you don't go overboard with too many elements as it may kill the essence of this mehndi design for kids.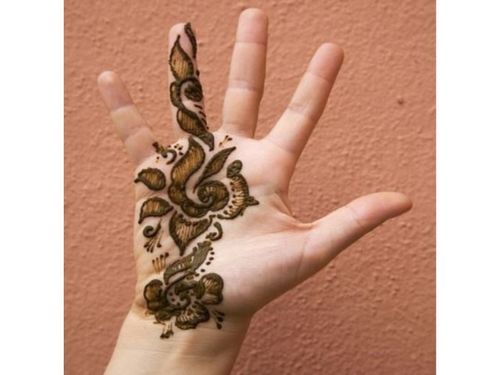 15. Bold And Beautiful
Kids are just as sweet and innocent as those blooming flowers in your garden. Hence, to match the baby girl's innocence, there's nothing better than this mini floral trail. This mehndi design for kids starts from the tip of the index finger and extends to the palm. It features a huge floral motif with bold strokes at the centre of the hand.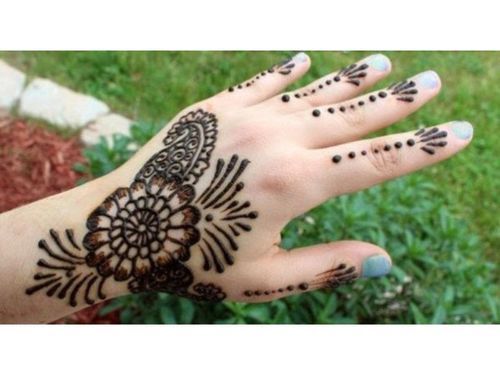 16. Delightful Paisleys And Flowers
Turn your baby girl's little hands into a perfect canvas and decorate it with one such beautiful mehndi design. It features a double-layered floral motif at the back of the hand with paisleys extending out of it from either of the sides. We love how it is further highlighted with those simple dotted lines on the fingers.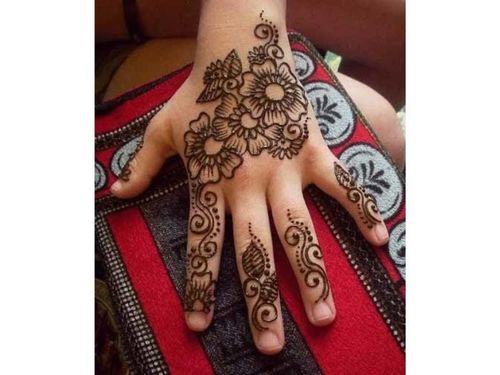 17. A Pretty Back Mehendi Design
While hunting for some latest mehndi designs for baby girls, we got our hands on this exceptionally feminine floral trail that is worth a thousand likes. It is neat and has got intricate detailing on it. While the tips of the fingers are adorned with spiral-like patterns, the centre of the hand has got three adjoining flowers extending to the tip of the index finger. Isn't it too pretty?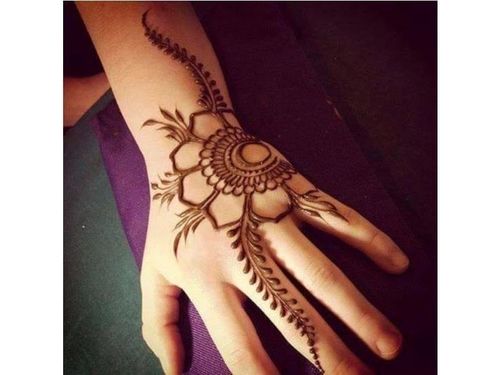 18. Neat Design With Leafy & Flowery Motifs
Flowers can never be overdone when it comes to mehndi designs for kids. And knowing the fact that kids love flowers more than anything else, one has to have them in their mehndi design for baby also. This is why we've got yet another floral mehndi design to paint your little ones' hands with. This design features a flaunt-worthy flower motif enhanced with leafy detailing at the back of the hand.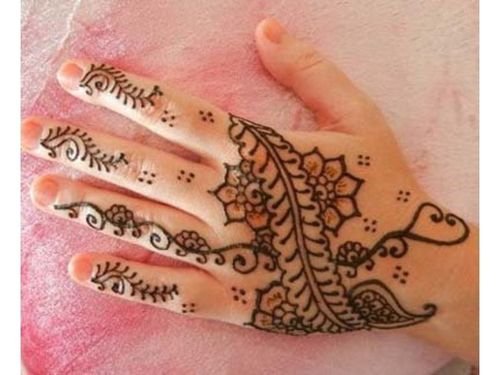 19. The One With Thinner Strokes
Adorn those small hands with a minimal pattern like this. It features a diagonal arrow-like trail, edgy flower motifs, paisleys and some coil-like patterns on the tips of the fingers. What further adds more grace to this design are the thin strokes coupled with the dotted pattern here and there.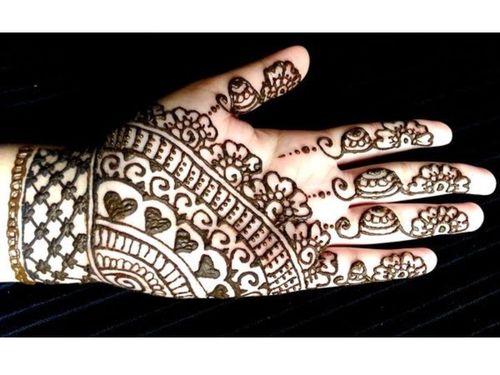 20. A Full Coverage Design
Full coverage mehndi designs always make for a great option. But when it comes to kids, you've gotta be sure whether they are patient enough to sit through the mehndi application process or not. In case, your baby girl is, you can try this breathtaking design on her palms. The design features hearts, swirls, flowers and all things pretty. It also has a checkered band at the wrist that looks so elegant.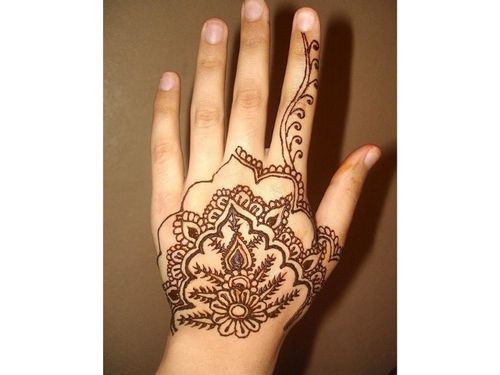 21. A Lacy Glove-Like Pattern
This edgy mehndi design looks like a lacy glove hand accessory. It features a sharp floral motif amid a fancy scalloped leaf-like pattern and other prominent detailings, combining all together to make for a beautiful mehndi design for kids.
22. A Captivating Trail Extending From The Middle Finger
Such a different and quirky mehndi design for kids with a multiple-paisleys trail extending from the tip of the middle finger and semi-circular motifs! The interest spaces and peacock patterned band on the wrist enhance this design's beauty quotient.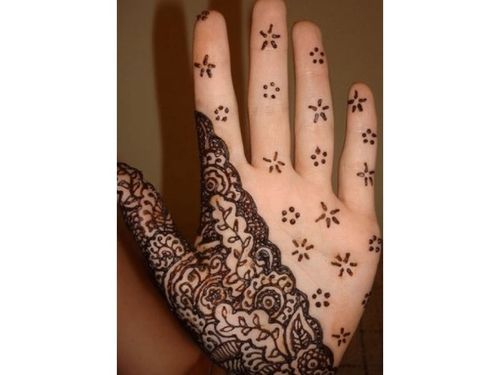 23. Half And Half
This half & half mehndi design for kids with one side of the hand fully covered with bold strokes and leafy patterns, while the other one minimally done with dotted flowers is so damn gorgeous. It looks like a complicated mehndi design but is super easy to do.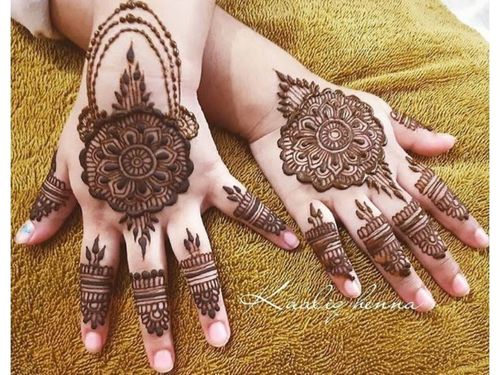 24. Trendy Chakras
This mehndi design for kids features a stunning floral chakra motif with edgy pearl-like patterns at the centre of the back of the hand. While the fingers are done with prettily coiled ring-like detailings.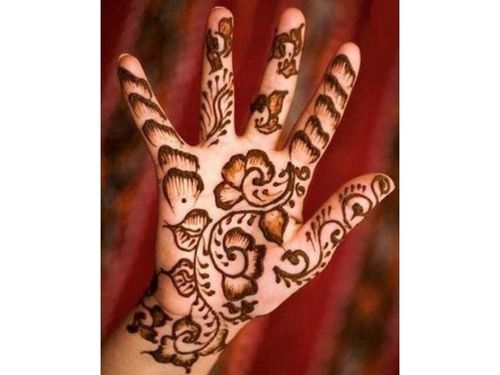 25. A Visually Appealing Design
Elaborate and attractive, kids will love this mehndi design. It has relatively fuller coverage than those regular trail patterns. And the best part is that it doesn't look too cluttered and has enough empty spaces.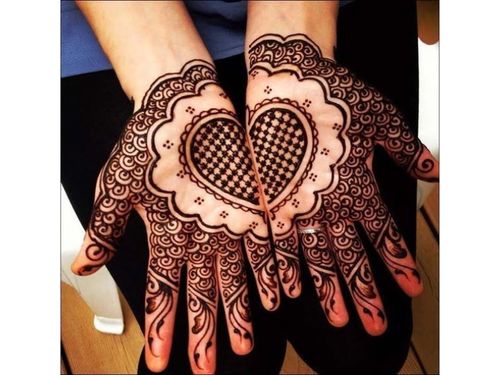 26. A Dazzling Full Coverage Design
Composed with the evergreen traditional mehndi motifs like swirls, scallops, checkers, hearts and some dots, this full-coverage mehndi design is simply alluring and a perfect pick for the kids.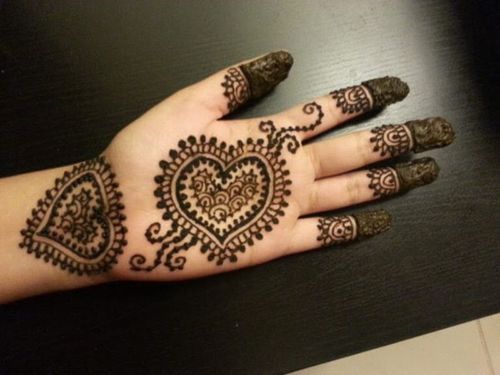 27. A Hearty Affair
We just can't stop obsessing over this artsy mehndi design that features a breathtaking heart motif in the middle of the palm and another one at the wrist. Also, we love how smartly the tips of the fingers are filled with henna accompanied by some edgy patterns below it.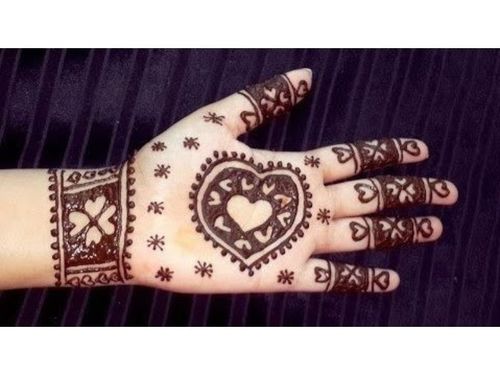 28. A Gripping Design
Hearty patterns, empty spaces and the simplicity of this design are what make this design look so appealing! Those stars and tiny hearts will steal our hearts.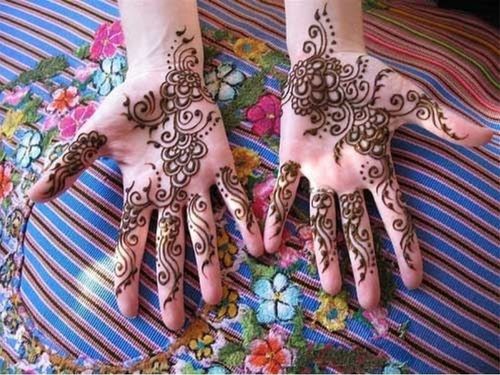 29. A Flaunt Worthy Pattern
If one's darling daughter is too fond of mehndi and is patient enough to get her hands laden with a detailed design, ditch everything and try this mehndi design with neat and fine strokes. It has got everything right from florals, traditional brand ls, and pearl-like drops to scallops and other lacey patterns.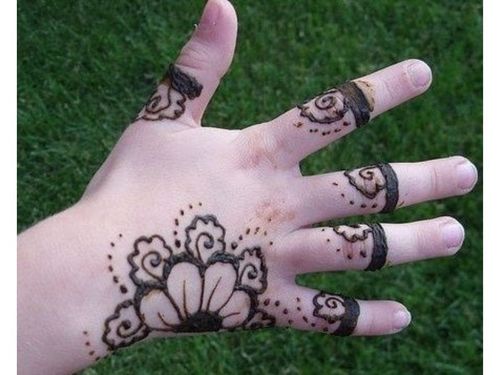 30. A Beautiful Backhand Design
Such a remarkable back hand mehndi design festooned with a gorgeous half-floral motif and some intricate details on the fingers. This mehndi design for kids never consumes much time.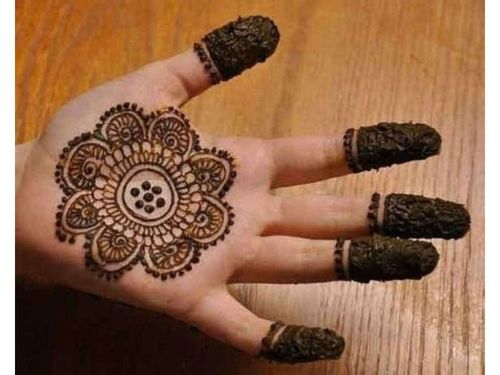 31. A Neat Floral Mandala
A floral mandala designed with intricacy and accompanied by some simplistic patterns for the fingertips. This is one of the cutest mehndi designs for kids.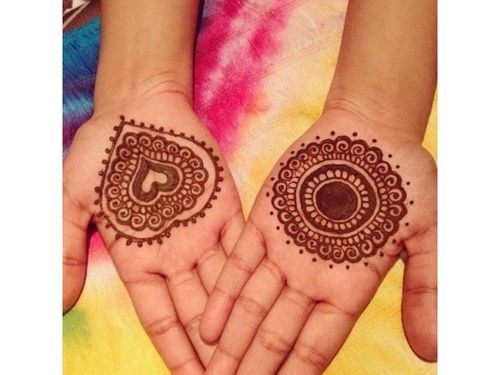 32. Quintessential Hearts And Chakras
Chakras and hearts always make for a perfect mehndi design, not just for adults but kids too. This mehndi design for kids never goes wrong. It is a pretty and simple mehndi design for kids.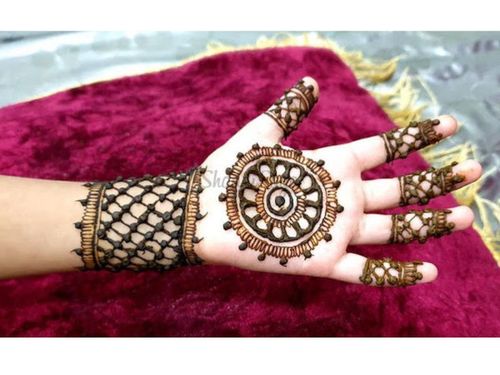 33. Mandala Design Is An Excellent Choice For The Kids
Mandalas are intricately detailed circular motifs. Geometrical design attracts children, thus these have long been a popular choice among them.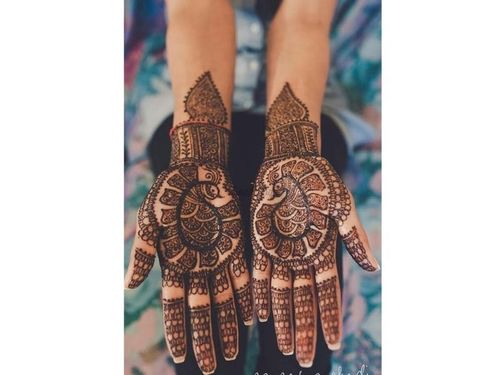 34. An Intricate Peacock Design For Your Kid
A design with a single big peacock motif will always look elegant and lovely. Curvy lines, dots, and paisleys combine in this design. This may appear to be tricky, but quite easy. Join a couple of paisleys together and fill them with dots and lines, and your pattern is complete.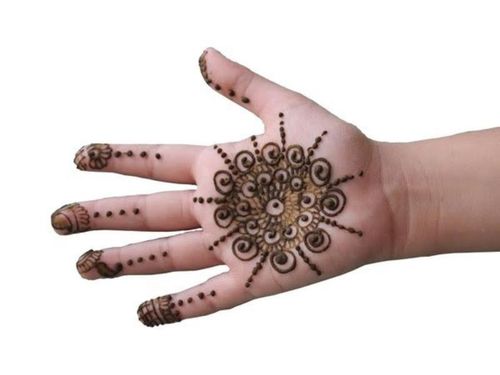 35. An Unmissable Design
Simple, elegant and attractive are words that best describe this minimal mehndi design. Swirls, concentric circles, curvy lines, and dots were all incorporated into this design to make it look so appealing.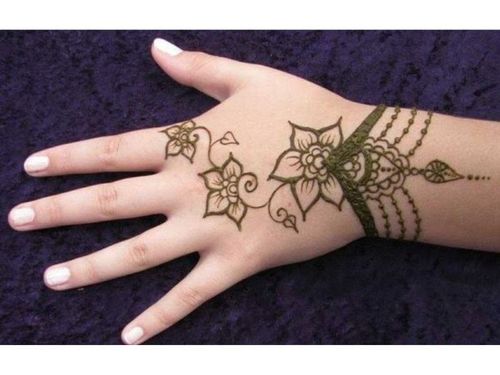 36. Another Swirling Hathphool Pattern
One of the most beautiful mehndi designs for kids is this elegant hathphool. It features a beautiful inverted V-shaped wristband. However, the highlight of the design is the delightful floral trail pattern adjoining it.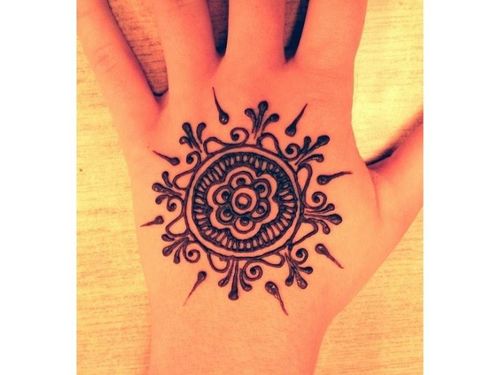 37. Super Elegant
Mandalas and chakras have always been the go-to option for pretty backhand mehndi designs for kids. And this minimal one with intriguing details is sure to grab some special attention.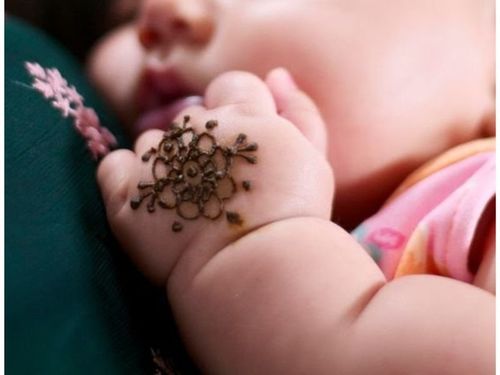 38. A Basic Flower Like Pattern
For those small baby hands, a minimalistic floral mehndi design for babies detailed with dots and some droplets can do the trick. And this edgy back mehndi design is just that! Also, we all know how infants have this habit of fidgeting their hands, so it is always better to opt for minimal mehndi patterns over elaborated ones.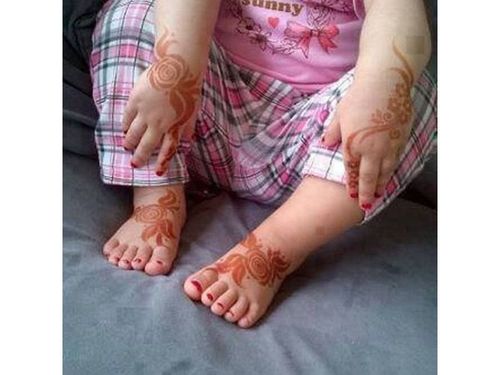 39. Flowers And Leaves-The Perfect Combo!
Looking for some beautiful kids' mehndi designs for a marriage party? Try this striking mehndi design with Arabic rose motifs with leafy extensions and some swirling patterns. It can make for a perfect choice for both hands and feet.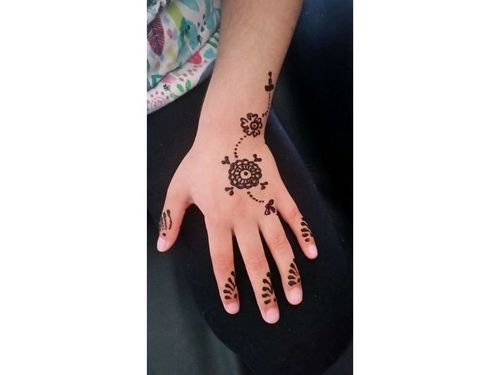 40. Go The Half Trail Way
This minimalistic and easy mehndi design for kids with identical pearl-like droppings on all fingers and a sleek trailing pattern at the centre of the back of the hand is worth gushing over.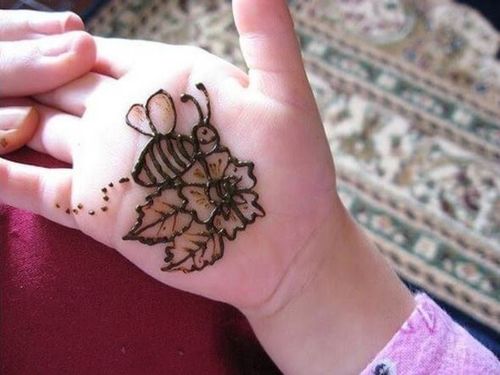 41. Cute Mehndi Design
This adorable bee and floral motif mehndi design is not only pretty but also very quick to draw on one's baby girl's hands. Its simplicity and elegance are sure to tug at one's munchkin's heart.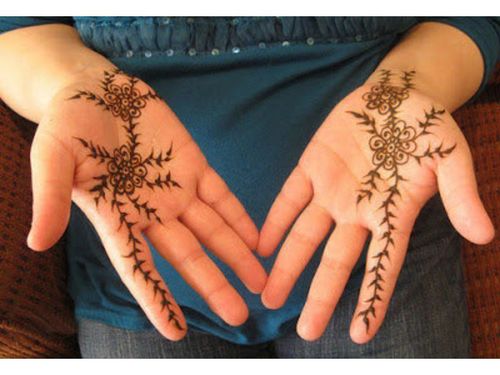 42. Edgy And Sharp
There's something special about simple and sleek trails. They can give that perfect edge to those baby hands. Especially when it is as pretty as this one with sharp floral and creeper details, one just can't let go of it.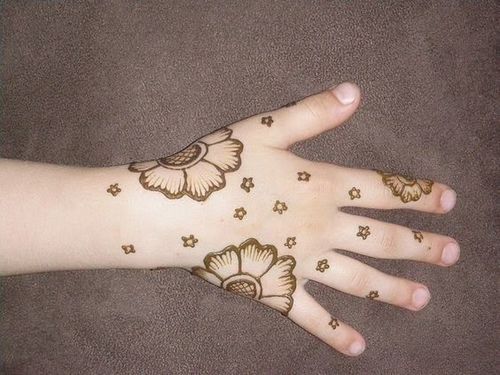 43. Beautiful Flowers And Twinkling Stars
A delightful back hand mehndi design for kids with winsome florals and scattered stars. It is simple and doable. It is just easy and adorable.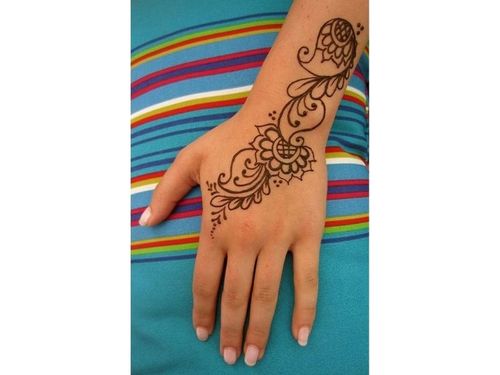 44. An Effortless Trail Pattern
This bewitching trail mehndi design is surely gonna be your kid's favourite pick. Those sharp strokes and empty spaces make it appear every bit pretty.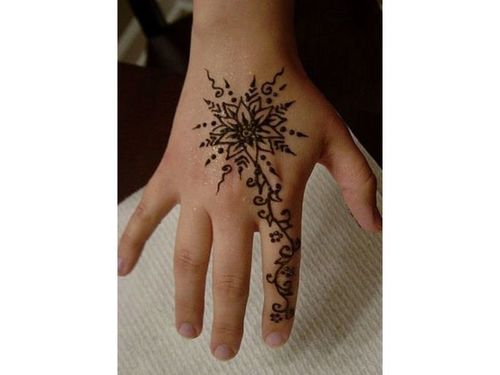 45. A Simple Single Line Backhand Design For Kids
Looking for a unique mehndi design for your kid that can be done within a few minutes? How about this dainty one extending from the index finger to adjoin a catchy double-layered motif at the centre of the hand?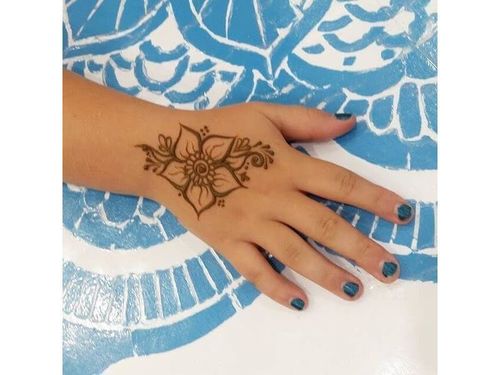 46. Flowers Never Go Out Of Fashion
When one can't decide on anything else, get one kid's hands etched with a stupendous floral pattern like this. It is easy to make and doesn't require too much creativity on one's part. But when one is at it, make it a point that when is in no hurry and go step by step.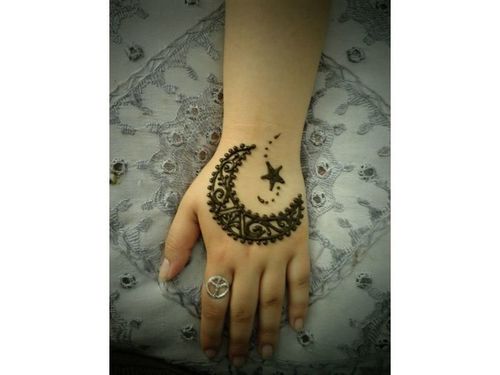 47. For The Love Of Half-Moons And Stars!
Kids can never get bored of cutesy stuff. This is why we've got this beautiful mehndi design for baby girls. It features an elaborate half-moon pattern done with dots and some curvy lines. Also, not forget the adorable star motif that is enhancing this easy mehndi design even more.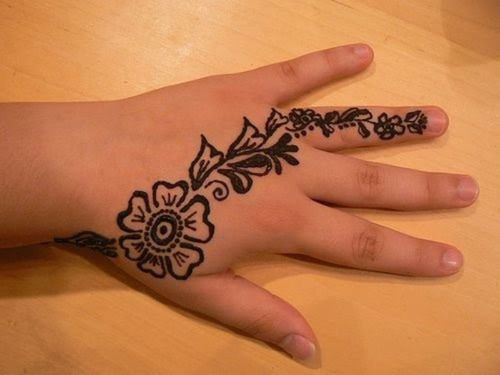 48. Enchanting Arabic Florals
Bels with flowers are the best kind of mehndi design for kids. They aren't too extensive yet so eye-pleasing.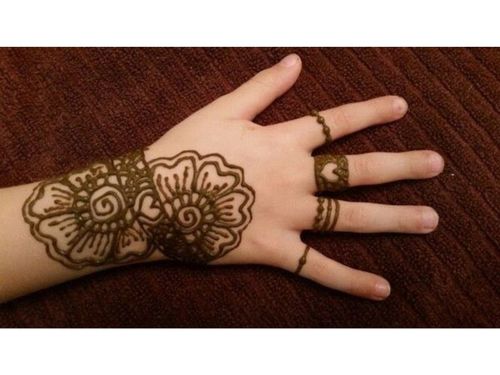 49. Fresh And Classy
This backhand mehndi design that features a dual flower motif bracelet and edgy ring-like patterns on the fingers is a breath of fresh air. Show it to kids and get set to go with it!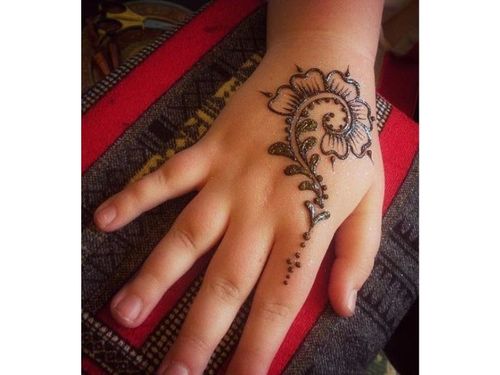 50. A Magical Half Heart Pattern
Here's yet another latest mehndi design for kids. It features an offbeat half heart pattern with stunning petal-like motifs, all topped with a hint of sparkle.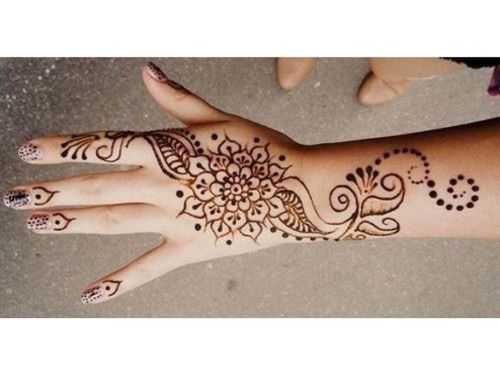 51. Packed With Prettiness
This simple backhand mehndi design is so gorgeously made. We love how the multi-layered flower in the middle is enhanced with elegant paisleys on either of the sides, making it look like a full fledged trail design.
Related Articles