21 Best Rajasthani Mehndi Designs For Hand And Feet - 2023
Shrimanti Das
Updated At 31 Oct 23
Rajasthani mehndi designs are an exquisite form of body art originating in the culturally rich state of Rajasthan, India. These designs are a testament to the artistic and creative heritage of the region, reflecting the vibrant and abundant Rajasthani culture. Rajasthani mehndi designs blend tradition, symbolism, and artistic expression, making them a captivating and integral part of Rajasthani culture and celebrations. Scroll down to find a few beautiful Rajasthani Mehndi designs for hands and feet. We include both artisitic and simple mehndi designs.
21 Best Rajasthani Mehndi Designs For Hands And Feet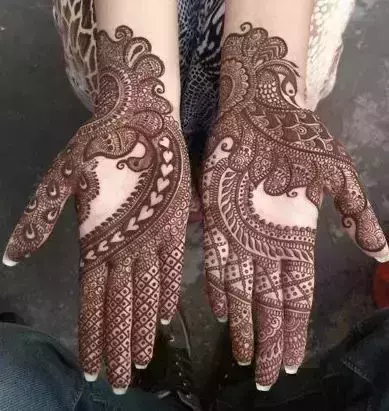 1. Peacock Hand
This type of hands mehndi design is very popular in Rajasthan. Peacock symbolizes grace and beauty and is used to adorn the wearer's hands on any auspicious occasion. The peacock's feathers, with their intricate detailing and motifs, make for a stunning and eye-catching design.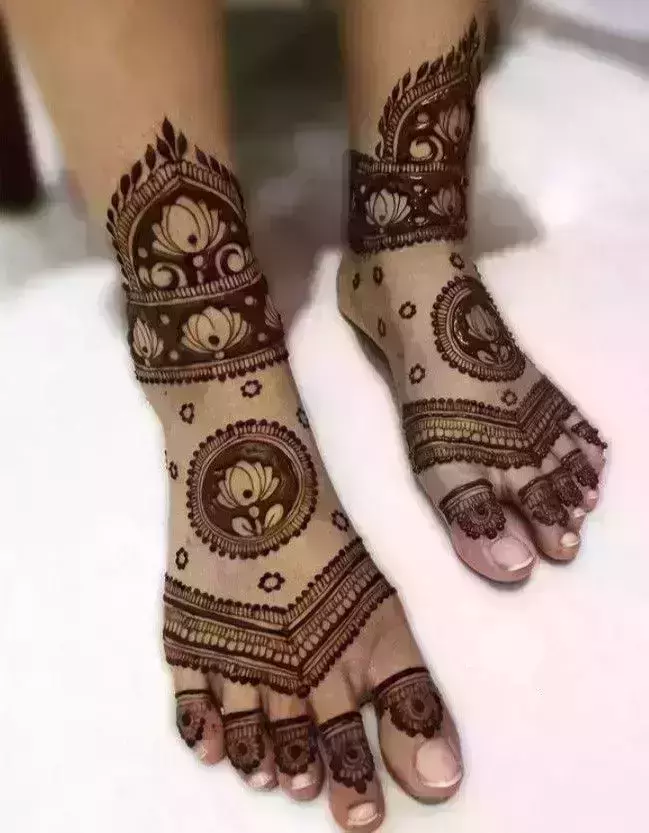 2. Lotus Feet
Lotus feet mehndi designs feature lotus motifs with simple and elegant designs. Lotus represents purity and the intricate detailing gracefully adorns the feet. Lotus feet easy henna designs are a popular choice for any cultural occasion because of the deep spiritual significance of lotus.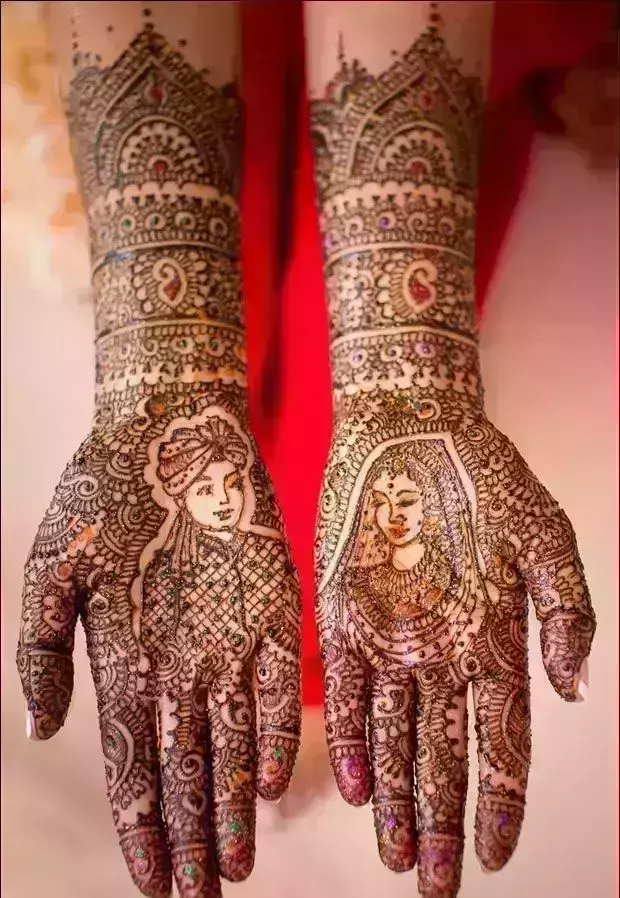 3. Bridal Rajasthani Mehndi Design
In this bridal mehndi design, the focal point is a meticulous portrait of the bride and groom, though they frequently have elaborate patterns, floral themes, and other distinctive Rajasthani mehndi designs features. The exquisite weaving of these bespoke pictures within the mehndi represents the union of two souls. This creative portrayal of the couple gives the bride's mehndi a special and heartfelt touch, turning it into a treasured ingredient of their wedding festivities.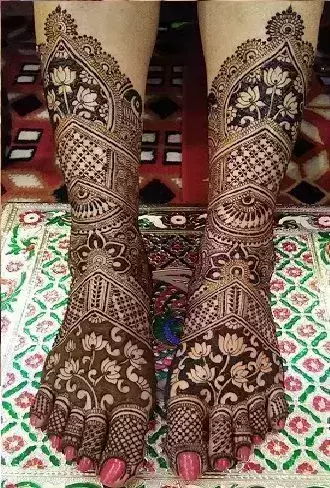 4. Bridal feet mehndi 
Brides find bridal lotus mehndi feet patterns to be an intriguing option. In these designs, the lotus flower—a symbol of purity and beauty—takes centre stage. The bride's feet have exquisite lotus designs put to them with meticulous craftsmanship. In addition to adding to the bride's overall appearance, these patterns have profound cultural and spiritual meaning. As the bride enters the new chapter of her life with dignity and attractiveness, they create a sense of beauty.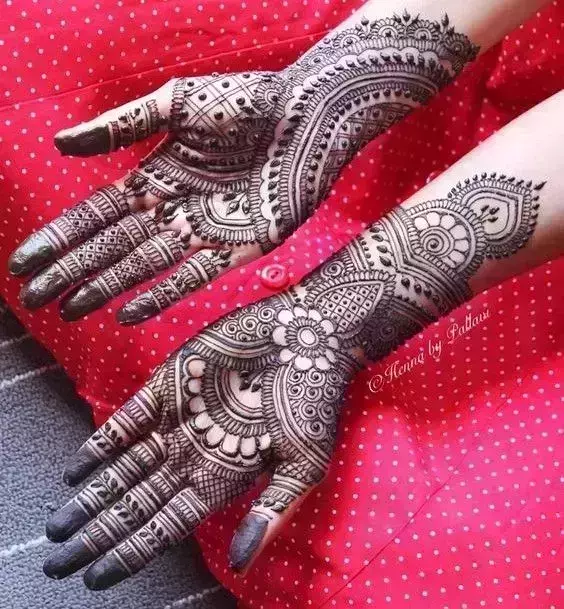 5. Marwari Mehndi Designs
This is a unique easy mehndi design for bridesmaids. The Marwari mehndi designs on both hands are a little different. These designs are marked by their detailed elegance and are commonly seen during weddings and festive celebrations. Marwari hand mehndi designs serve as a cultural representation of the region's opulent and historic traditions, adding a touch of grandeur to special occasions.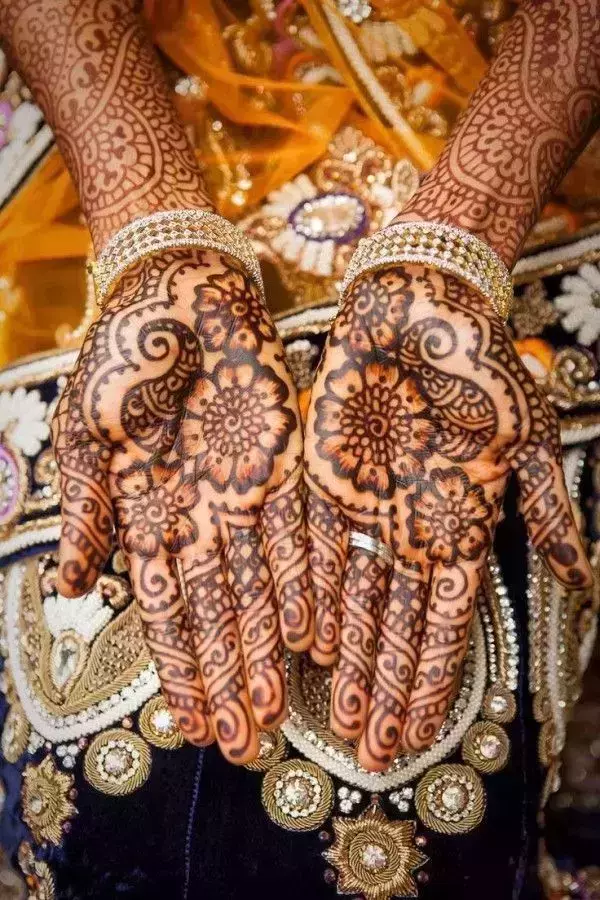 6. Simple Floral Design
This is a quick and easy marwari mehndi design new that can be done by yourself for any occasion. Simple Rajasthani mehndi designs are an exquisite combination of jaals and flowers combined with a great deal of detail to create a lovely hands mehndi.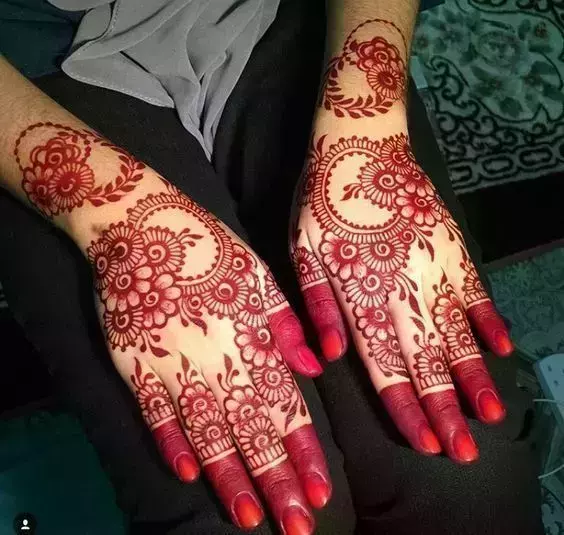 7. Red Art
This Red Art Rajasthani Mehndi designs back hand is a simple floral mehndi design. The repetitive filling of flowers in this mehndi design along with the circle is one of the beautiful and easy henna designs. The complementary red colour makes it extra appealing to the eyes.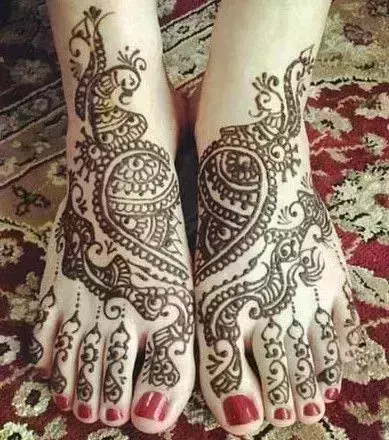 8. Peacock Feet
For those looking for elaborate and meaningful body art, peacock mehndi feet designs are a tempting option. These marwari mehndi design new patterns highlight the peacock, a symbol of elegance and beauty, with its feathers intricately represented to accentuate the attractiveness of the foot. These mehndi designs offer a touch of elegance and tradition and are frequently chosen for bridal celebrations. Because of the peacock's deep symbolic meaning, art featuring it is a popular option for special occasions and cultural celebrations.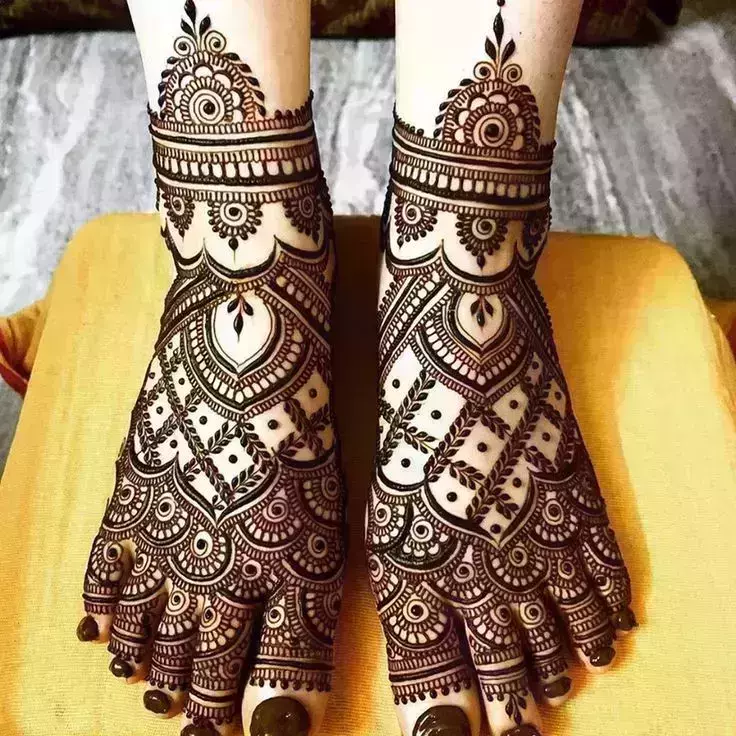 9. Classic Mehndi 
This simple Rajasthani Mehndi design comprising intricate leafy chequered boxes adjoined elements and innovative patterns left us stunned! It also has beautifully included sheesh mahal in the design which will adorn the bride's feet so well.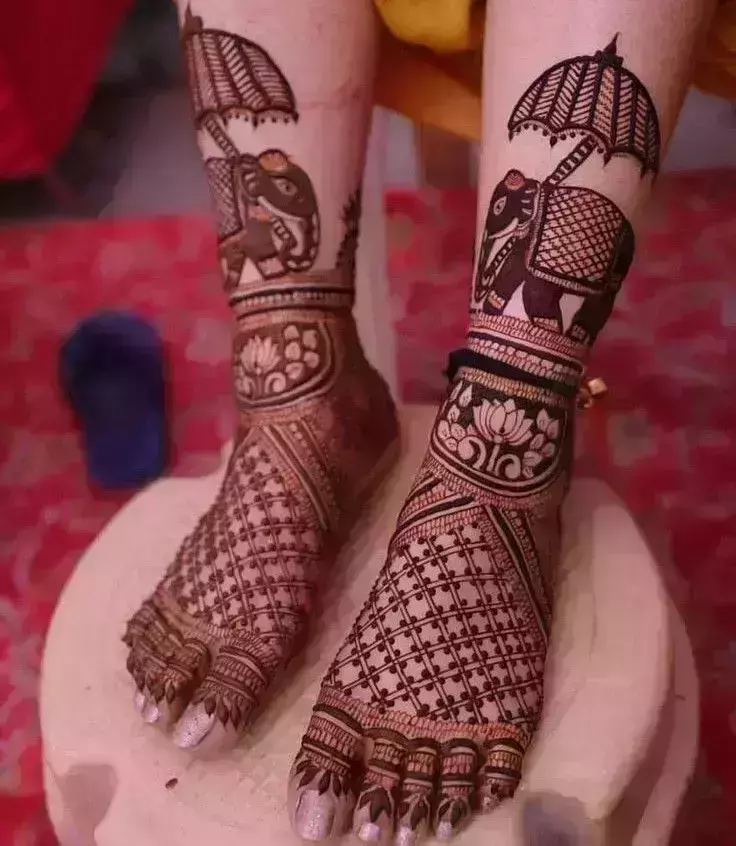 10. Elephant Design
Deeply symbolic bridal elephant mehndi foot designs are a beloved option. These designs feature a lot of elephants, which are powerful, wise, and prosperous symbols. The bride's feet have intricately carved elephants that are exquisitely sculpted, signifying a strong foundation for the couple's future adventure. These patterns bestow blessings of stability and good fortune upon the wedding ceremony in addition to lending a touch of traditional and cultural importance.
Looking for mehndi decoration ideas? Do check out our guide as we cover 55 stunning ideas which have been trending this year.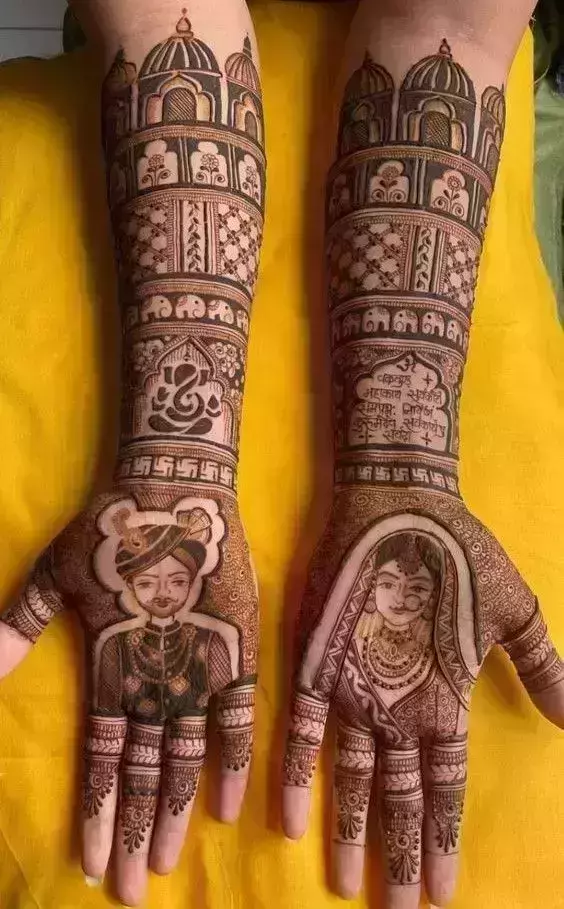 11. Auspicious Bridal Design
Wedding Rajasthani mehndi designs that feature the bride and groom's photographs can be incredibly captivating. Heartfelt promises, seesh mahal and elaborate depictions of the couple are frequently included in these designs. The pictures give the mehndi a personal touch and symbolise the couple's love and dedication, while the temple stands for blessings and spirituality. These designs are an essential component of the wedding celebration because they are not only elaborate but also infused with the couple's aspirations and the divine.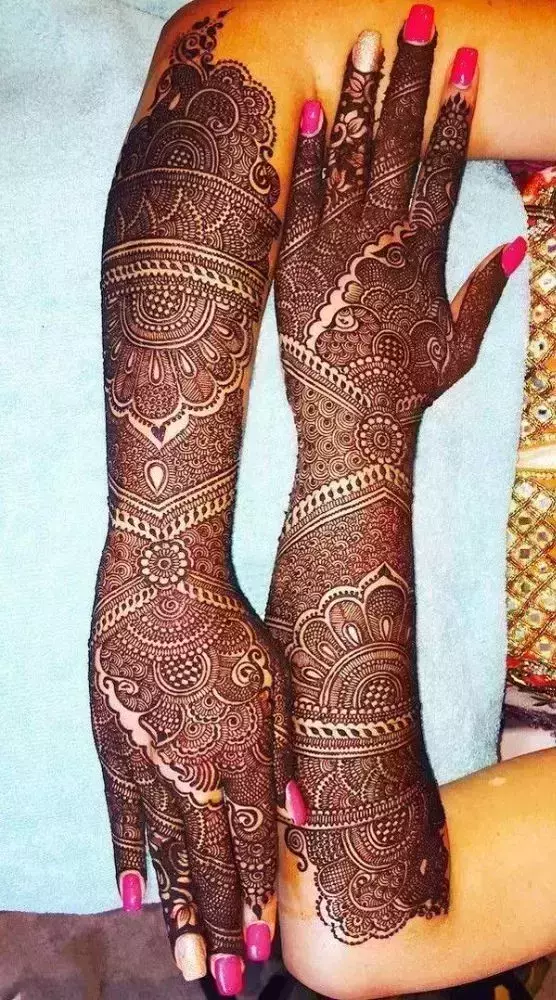 12. Elaborate Hand Design
The most lavish and intricate royal mehndi designs come from Rajasthan. Intricate patterns adorn the bride's hands and feet, frequently with the groom's name or initials tucked somewhere in the pattern. Applying this mehndi can be a sociable and time-consuming affair, with the bride being surrounded by female friends and relatives. This is an elaborative half-hand complicated design especially worn by brides having a traditional wedding.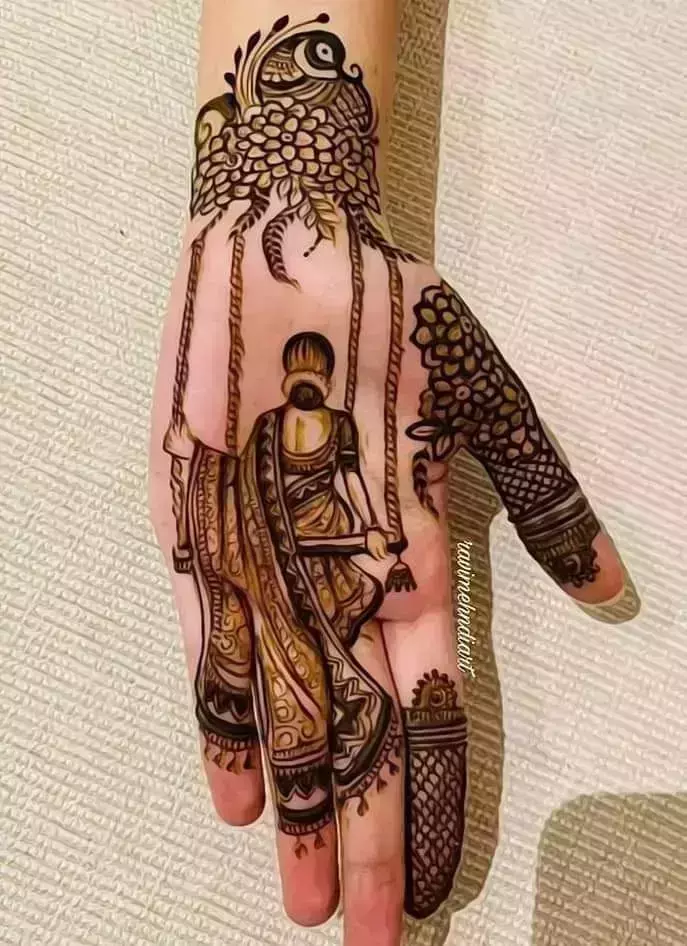 13. Lady Henna Design
A lovely work of art is a hand mehndi design that shows a woman swinging on a balcony alongside a peacock. The tranquil image of a woman swinging idly in the middle of nature, with a stately peacock nearby, is captured in the intricate artwork. This pattern captures the beauty, natural blending, and allure of country living. For those who love mehndi art, it's a gripping option because it honours the beauty of peacocks, the grace of women, and the harmony of Indian culture.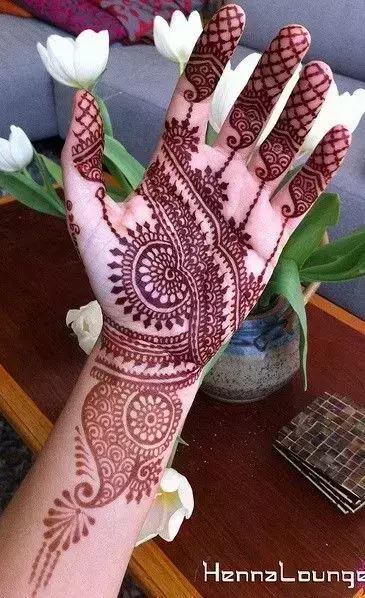 14. Beautiful Palm Design
Simple Rajasthani Mehndi designs embellished with trendy Mehndi details like dangling pinjaras and intricately sculpted fingertips. The middle's prominent areas contribute even more to this design's modern feel.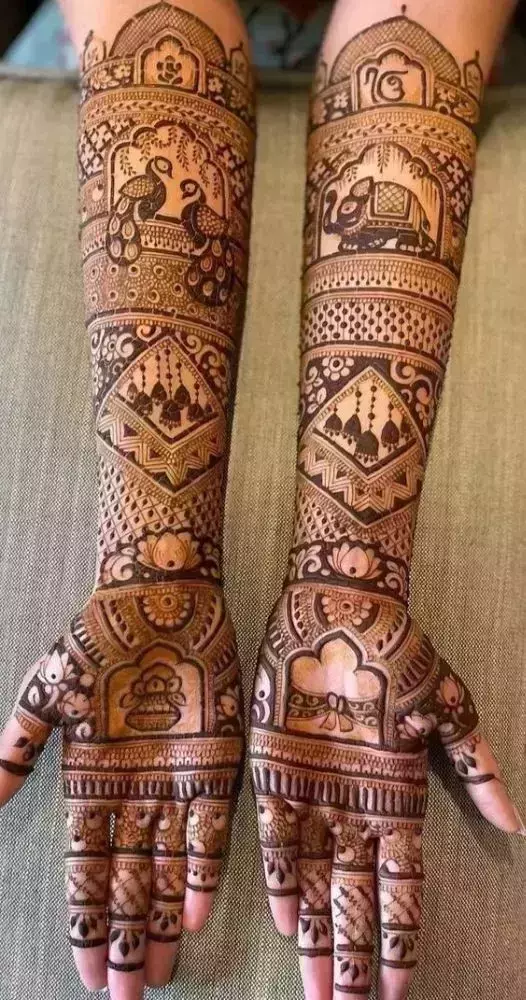 15. Bridal Marwari Mehndi Design
Bridal Marwari mehndi design, which comes from the Marwar area of Rajasthan, combine creativity and tradition. These elaborate designs frequently combine geometric shapes, traditional materials, and cultural themes to create a captivating composition on the bride's hands. Marwari mehndi patterns are a popular choice for wedding ceremonies and festive celebrations because they are a symbol of the rich cultural heritage of the area and because they give a touch of grandeur and tradition to the bride's overall look.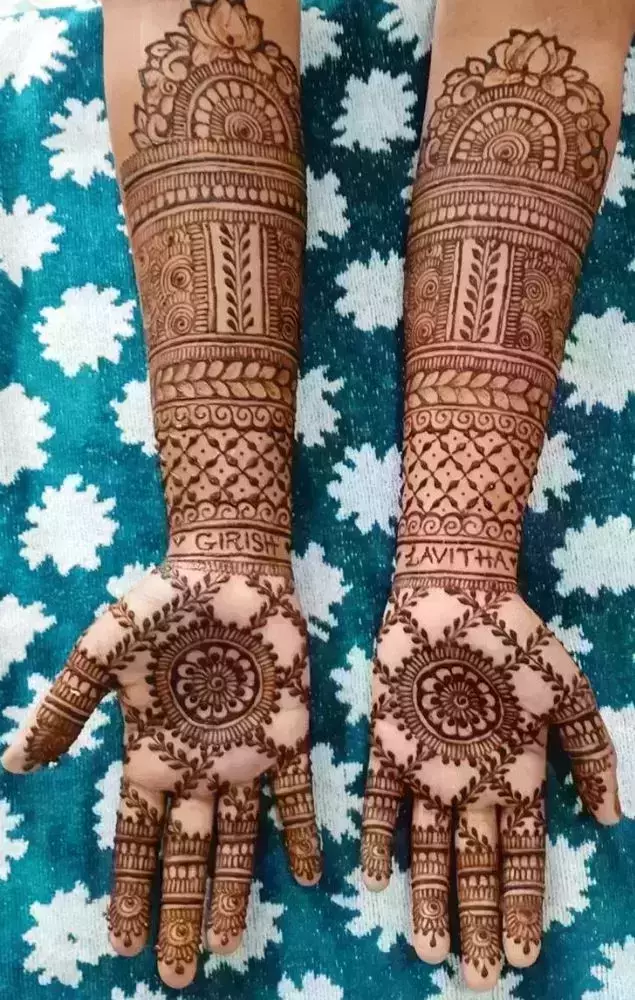 16. Bridal Jaali Design
A leafy jaali pattern enhanced with a flower in the middle and the names of the bride and groom with intricate motifs outside is easy to make and looks super cute at the same time.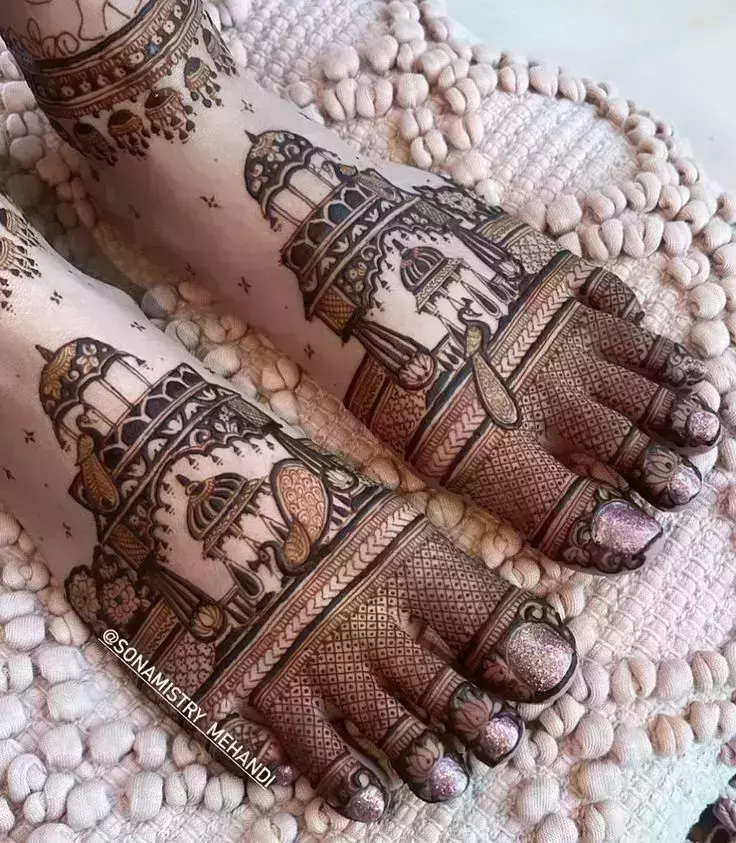 17. Mahal Design
Old and imposing buildings serve as inspiration for the designs of Mahal Mehndi Foot. They frequently have elaborate arches, elaborate patterns, and other elaborate features that evoke the grandeur of royal palaces, like the famous "mahals" in India. For brides who wish to add a sense of grandeur, tradition, and timeless beauty to their feet on their wedding day, these designs are renowned for their regal and artistic appeal.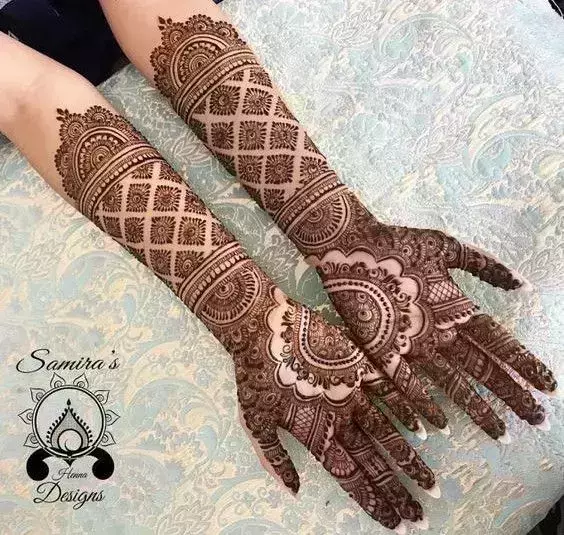 18. Geometric Designs
The geometric hand Rajasthani mehndi designs are a remarkable combination of artistic expression and symmetry. These patterns and shapes, which include diamonds and squares that are painstakingly embellished on both hands, are frequently seen in these designs. They produce an alluring visual harmony. Modern brides and mehndi fans choose geometric mehndi because it has an attractive and contemporary appearance. These designs elegantly combine heritage with modern aesthetics, adding a touch of class with their balance and precision.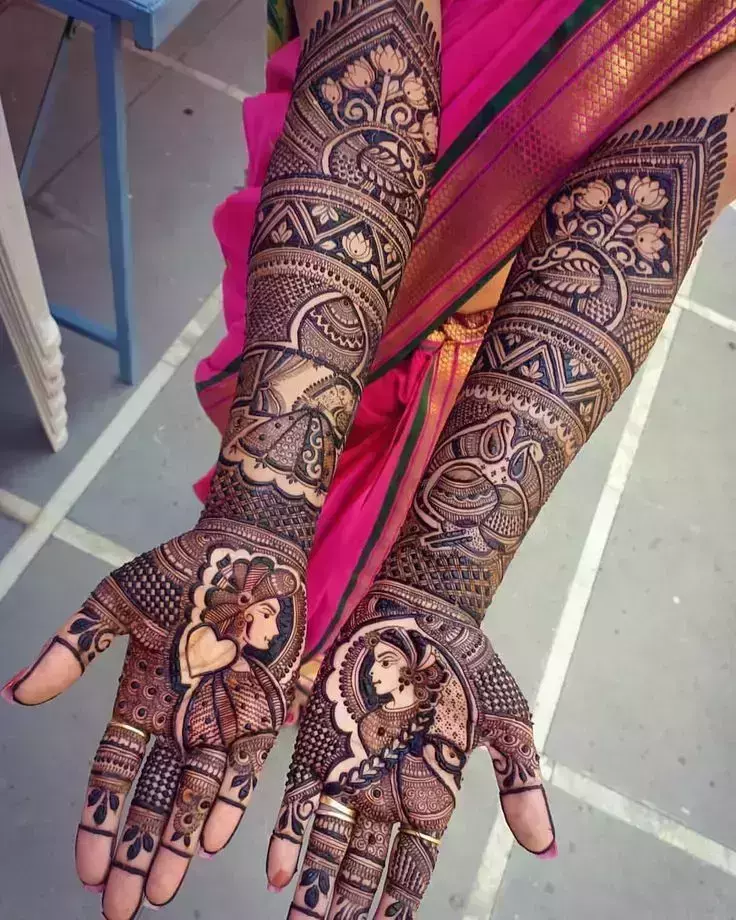 19. Beautiful Portraits
Bridal portrait Rajasthani Mehndi designs are an amazing expression of passion and creativity. These complex patterns feature scenes from the wedding and frequently include pictures of the bride and groom. From the initial meeting of the couple until the ceremonial ceremonies, these designs capture the spirit of the wedding experience. An incredibly emotive and treasured component of the bridal mehndi, they serve as a visual narrative of love, devotion, and treasured experiences with a deeply personal touch.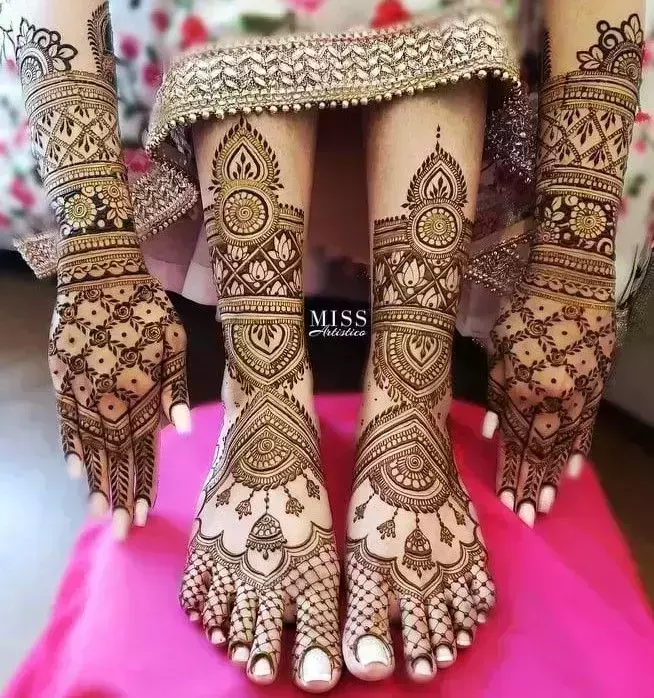 20. Complete Design For Hands and Feet
An exquisite and comprehensive mehndi design for the hands and feet is a work of complex skill. These patterns usually feature a symphony of themes, ranging from elegant paisleys and florals to majestic peacocks and geometric patterns. The hands display fine workmanship, while the feet have rich and exquisite decorations. These patterns provide a complete mehndi experience that celebrates beauty and tradition, which makes them a popular option for brides and celebratory events looking for a visually arresting and harmonious look.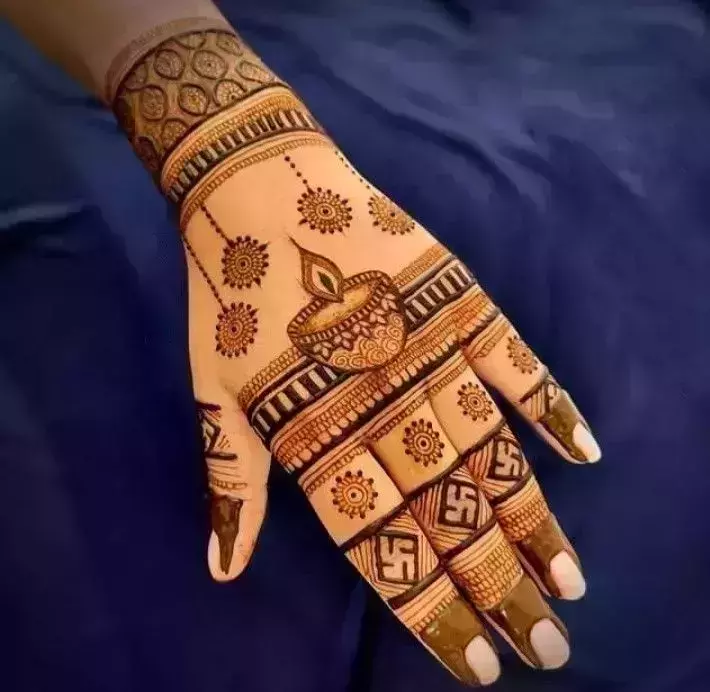 21. Diya Design
A gorgeous combination of art and tradition can be seen in a gorgeous diya Rajasthani Mehndi designs back hand. These patterns frequently include elaborately carved oil lamps or diyas, which stand for positivity, light, and hope. The elegance of the design is further enhanced by surrounding features such as geometric patterns, vines, and floral themes. Diya and finger mehndi designs on the back of the hand are a popular choice for a variety of festive festivities and special occasions since they not only radiate a sense of cultural significance but also produce a mesmerising and beautiful visual impact.