25 Simple And Easy Sand Rangoli Designs - 2023 (With Images)
Olivia
Updated At 07 Jan 23
Sand Rangoli is a form of art, which originates from India. In this art, patterns are created on the floor, tabletop or any smooth surface using powdered colourful materials. The art can also be made of different colours and play a vital role in any festive occasion.
Let's check out 25 colourful and stunning Sand Rangoli Designs.
25 Simple And Easy Sand Rangoli Designs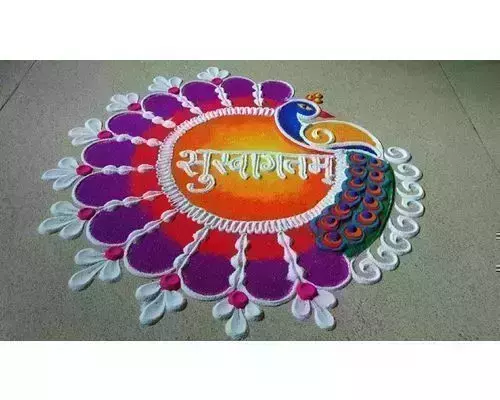 1. Welcome Sand Rangoli
Such a wonderful piece of art is this sand rangoli! This welcome sand rangoli is created using bright colours and the effect is vibrant. The centrepiece of this design has the word written "Suswagatam" in the Marathi language, which means Welcome. These rangoli designs are created outside the entrance to welcome guests or at your house during the homecoming event.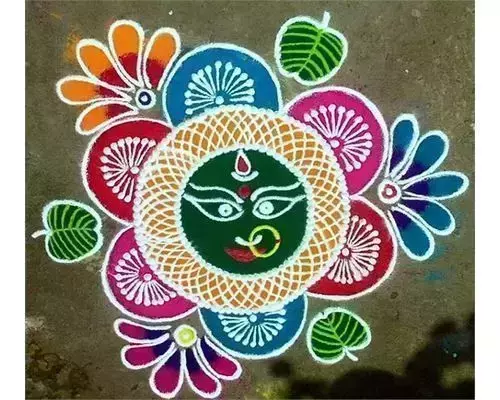 2. Navratri Sand Rangoli Design
You can create this Navratri sand rangoli during the auspicious festive time of Navratri to receive the blessings of the goddess Durga. This rangoli design is simple and easy to make. The centre of this rangoli design has a beautiful goddess's eyes, nose and mouth inside the circle. The outer design is created with petals and shaded colours.
You may also check out our guide on kolam rangoli designs to find 50+ stunning designs for kolam which are trending this yeear.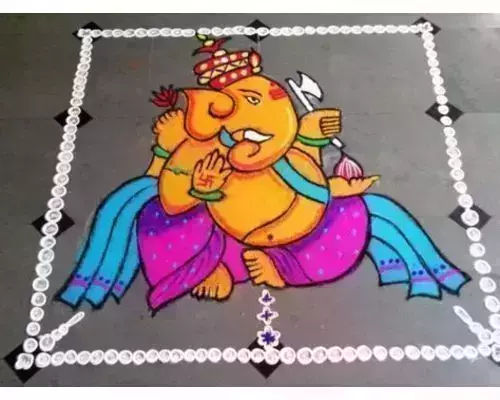 3. Ganesha Rangoli Design
The beautiful Ganesha rangoli design looks artistic. Firstly, try making the Ganesha outline in the middle and sketch the entire design in black. Later fill in the relevant colours and outlined a square box with white small circles. This sand rangoli design can be created during any puja or Ganesh Chaturthi at your home.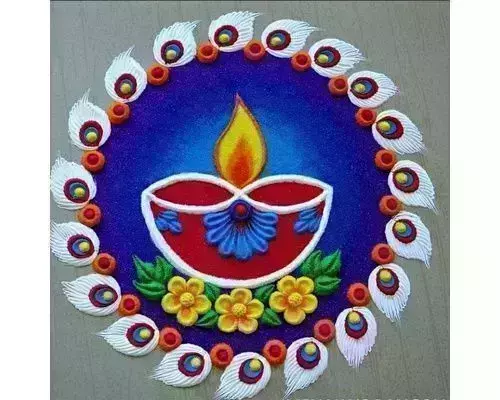 4. Diwali Colourful Rangoli
Diwali is an Indian festival of lights and so is the importance of diyas in Diwali. You can try this Beautiful Diya rangoli, which has a perfect colour shade. One can try making this sand rangoli at their home to bright light and positivity during festive times. The outer circle of this design has a perfect finish of white peacock feathers.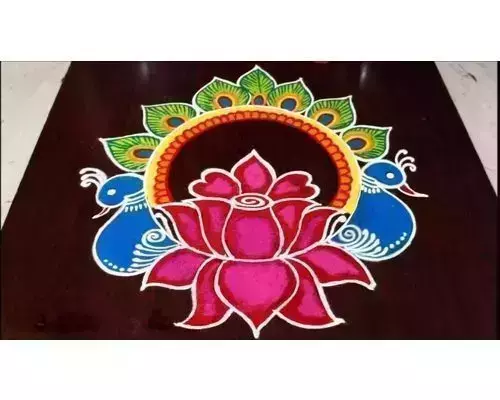 5. Simple Lotus Rangoli Design
If you're looking for a simple lotus rangoli design to draw during festivals or any casual event, then you can bookmark this rangoli design. This impressive Louts sand rangoli design is created with dual shading of red and pink colour. Both sides of this design have peacocks and the above side has beautiful green feathers.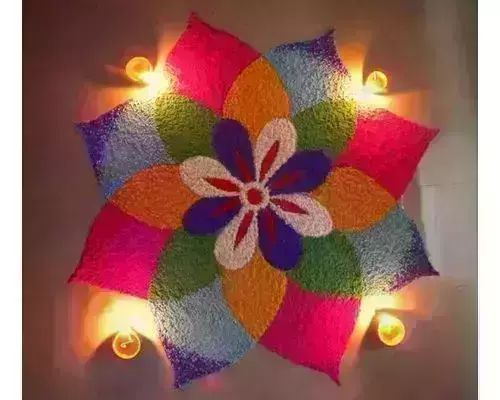 6. Colourful Sand Rangoli
Beginners with Rangoli can easily create this unparalleled rangoli design. This rangoli design is made of geometric patterns and contrasting bright colours and diyas are placed at the outline of this rangoli design. This is a simple rangoli design and the colours make this rangoli graceful.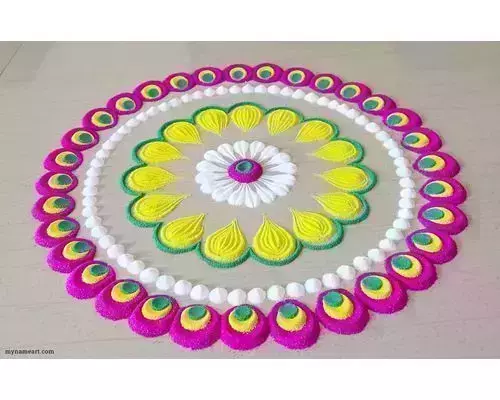 7. Easy Sand Rangoli
Here is an easy and impressive rangoli design which is made of sand colours and used the technique of the Sanskar Bharti rangoli pattern. The yellow designed petals, the white big dots and the pink outline feather-type design are simple and look elegant. It's an easy Rangoli art and can be made on a festival day, but also on a regular day.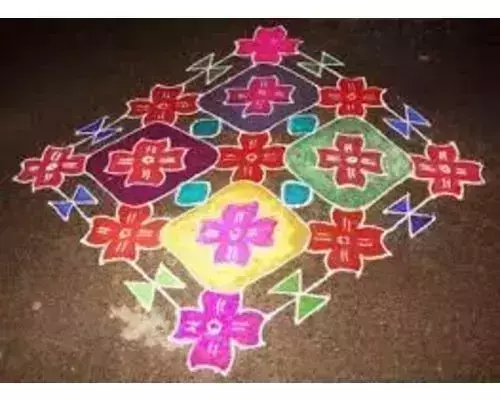 8. Sand Rangoli Design With Dots
This dot-created sand rangoli is an old way of rangoli making. The design is made of small dots, which are drawn initially and later they are joined together creating a simple elegant design. The dots are joined with fine lines forming the rangoli design. The floral rangoli design with different shapes is simple and beautiful.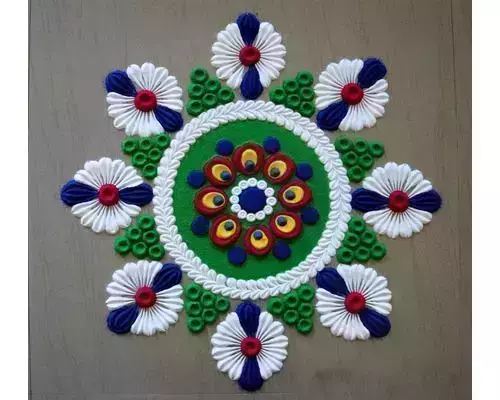 9. Elegant Rangoli Design
Rangoli making is still a very popular ritual during festivals. The festive decorations include Rangoli and this elegant sand rangoli will surely go for your occasion and is eye-catchy. Try making this pattern, with different colours and it will do wonders.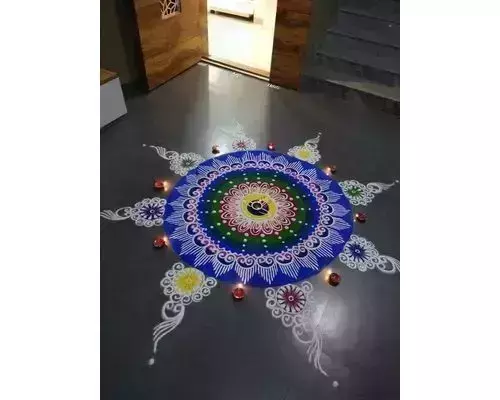 10. Intricate Rangoli Design
This sand rangoli design is surely for your big occasion and looks stunning. The intricate design inside the circle is mesmerising and looks impressive. This sand rangoli art is a masterpiece and is a work of a rangoli artist. One may need sufficient time to make this rangoli design as it's a huge design. All the colours from blue to green to white base look amazing. The outside of the circle is this white circular floral design which is perfectly completing the look.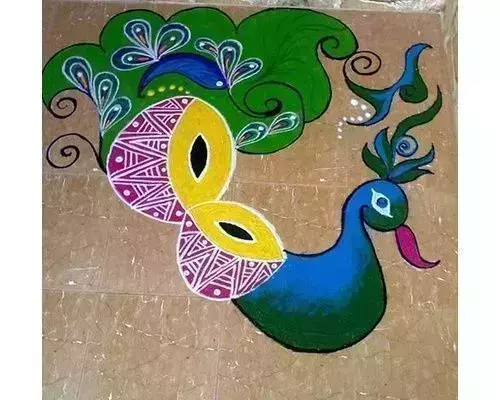 11. Peacock Rangoli Sand Art
Peacock symbolises good luck and prosperity, and its feather symbolises beauty. This Peacock rangoli sand art can be made at your home to bring good fortune always. Peacock has been a very popular element of Rangoli designs. This rangoli design will surely enhance the beauty of your place, where ever you draw this design. The drums in the rangoli design, make it look like a dancing peacock.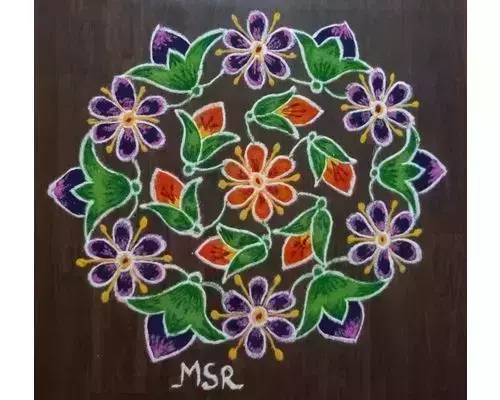 12. Traditional Dotted Art
Rangoli with dots is traditional. During earlier times, sand rangolis with dots were very prominent and popular. Such designs were seen at every alternative house, as in those times, the house ladies would draw such rangolis daily at their house entrance. You can surely try this classic floral sand rangoli design which is simple and easy and can be created by joining the dots.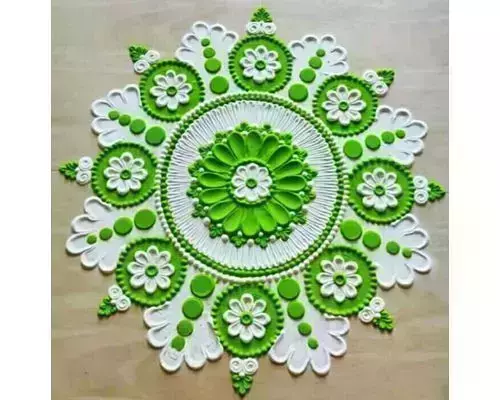 13. Dual Colour Sand Design
This rangoli design is created using only two sand colours. The light green and white colour of this rangoli design look beautiful. You can try replacing any two colours of your choice and create pretty designs.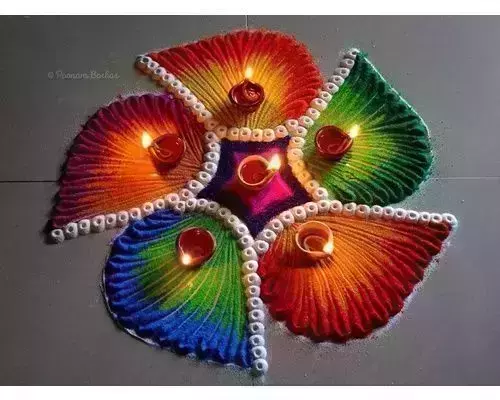 14. Twisted Rangoli Art
This colourful twisted half-leaf design with bright sand colours is trendy. This designer rangoli art is filled with beautiful colours and patterns. You can surely try this rangoli at festivals and decorate it with diyas.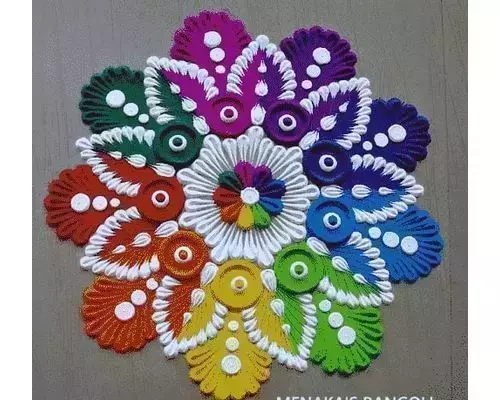 15. Vibgyor Design
Want to try a colourful rangoli design, which consists of all rainbow colours then do go for this charming and simple rangoli design. The use of bright sand colours in this rangoli is eye-catching. The rainbow colours, purple, indigo, blue, green, yellow, orange and red are clockwise used in the floral design. The outline of this rangoli is filled with a white base, which is complimenting the look.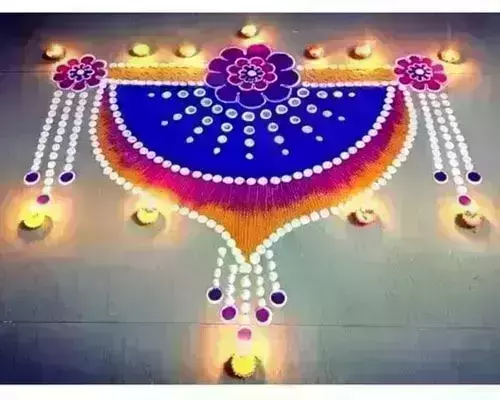 16. Entrance Rangoli Design
This rangoli design filled with sand colours is a bright pattern which can be used at your doorstep. This design will perfectly fit outside your door and can be an entrance sand rangoli design of your choice.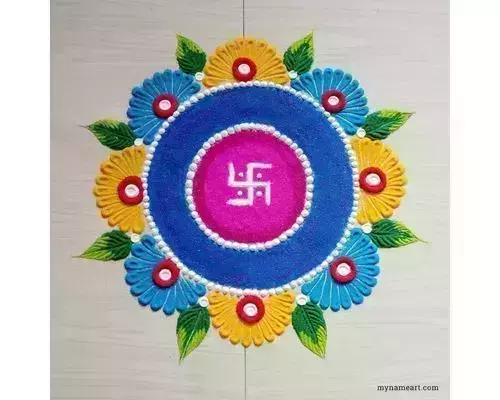 17. Swastik Rangoli
Swastik is a good fortune symbol and is used widely by people. The Swastik created at the centre of the rangoli design looks beautiful surrounded by colourful florals at the outline. This rangoli design is recommended during festivals and puja events.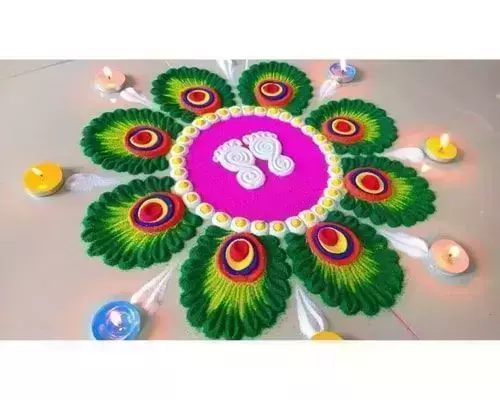 18. Footprint Design
This beautiful sand rangoli features a small footprint, which gives a spiritual touch of good luck and prosperity. The colours of this rangoli design are attractive. This design is made specially during Diwali and puja occasions.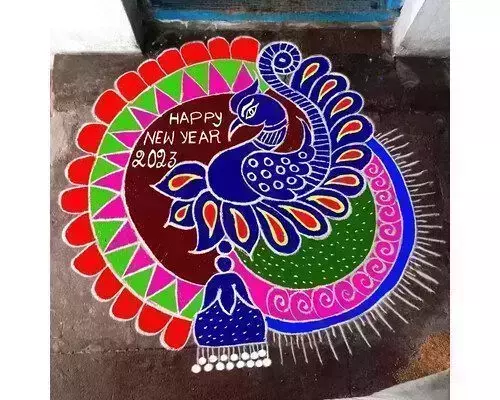 19. Designer Rangoli
A perfect combination of traditional and stylish rangoli design is this designer sand rangoli which consist of two semi-circles with different rangoli pattern. The peacock in the centre is pleasing. You can also mention your message inside the rangoli design.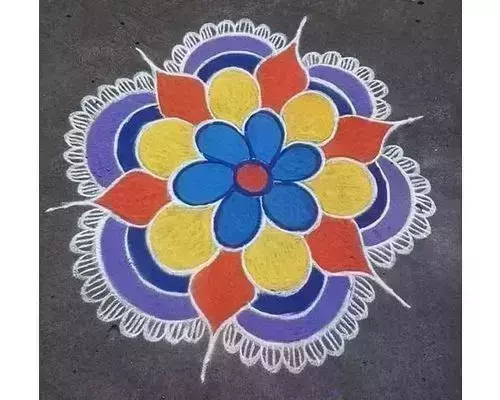 20. Beginner Sand Art
If you are new to rangoli art and looking for simple and easy designs, then you can surely try out this beginner rangoli art which is quick and can be made with ease. You can fill in your choice of colours and make it a pretty rangoli design.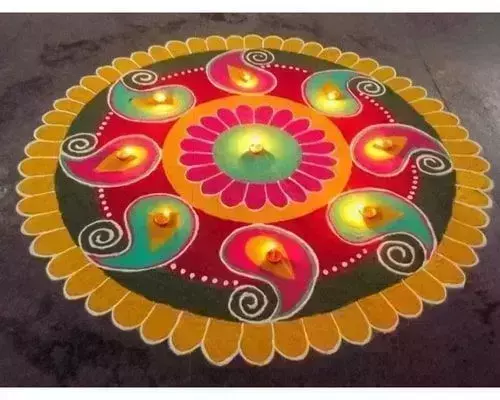 21. Leafy Sand Rangoli Design
A piece of elegant art, this rangoli design uses beautiful sand colours complimenting the pattern. You may call this rangoli design traditional, yet so elegant rangoli design. The paisleys used in this rangoli design are the main attraction of this rangoli.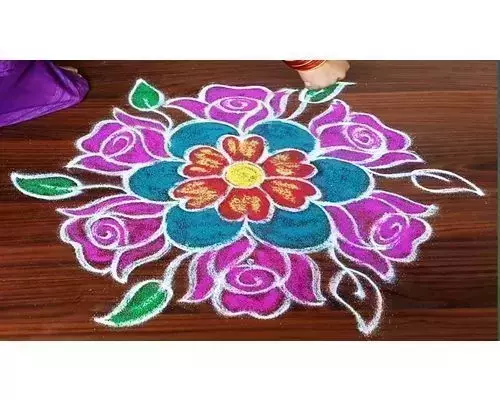 22. Floral Sand Rangoli Design
The pink florals are the prettiest. This sand rangoli design is simple and the flowers created with a broad white outline to these flowers are lovely. Florals are always a good choice for making designs, which look beautiful.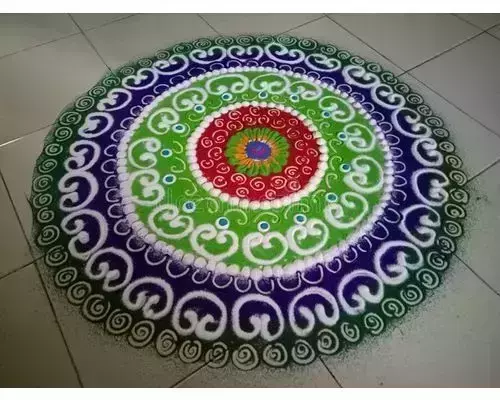 23. Delightful Art
The most eye catchy rangoli design is this delighting sand art which is a work of the artist. The entire rangoli with different base shades set at the background and white spiral work is amazing. A must-try rangoli design for all occasions.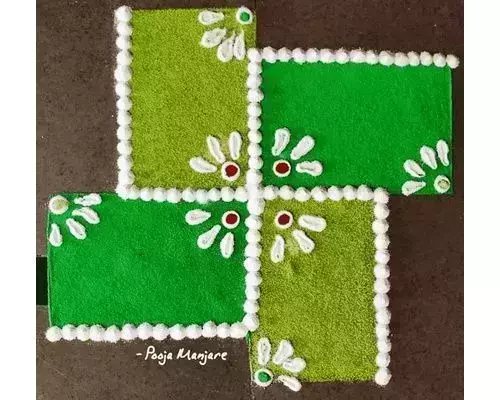 24. Colour-Shaded Art
Try making a rangoli design with two similar sand colours of light and dark shades. You can choose your favourite colour and make this easy pattern, which forms a Swastik sign with white dots.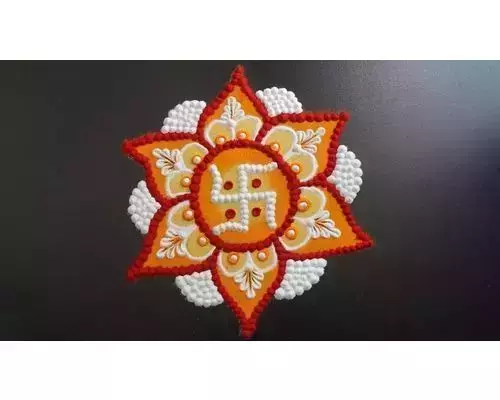 25. Elementary Sand Rangoli Design
Try this easy and simple sand rangoli design, which is beautiful and charming. One can write or make a symbol in the centre with white dots. The background colour base used in this rangoli is orange and red, which is soothing.