25 Gorgeous Wash And Wear Haircuts For Over 50 - 2023
KRITIKA GUPTA
Updated At 08 Sep 23
It's crucial to understand exactly what it means to create a wash and wear appearance before we offer you the lowdown on several haircuts to try. When you wear your hair in its natural curl pattern without using any style products, braids, or stretching, you are wearing it "wash and wear." So it's a wet set style, to put it another way. To obtain your desired appearance, follow the steps of using a sulfate-free shampoo, conditioner, leave-in conditioner, and style gel. 
A wash-and-wear haircut is a cut of any length that needs little to no styling. There is something liberating about owning a cut that will save you time and products. Wash and wear hairstyles for over 50 years old women are easy to be done and are equally easy to maintain. Here we have compiled few of the stunning hairstyles for over 50 which are trending this year.
25 Gorgeous Wash And Wear Haircuts For Over 50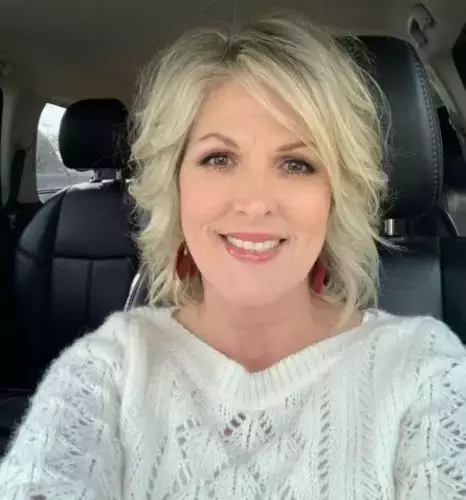 1) Swept Back Curls with Bangs
Curls that are swept back and styled with bangs are attractive and trendy. The best part about it is that maintaining it just requires minimal work. Such a hairstyle is classic with a dash of contemporary. Most people prefer this wash and wear haircut for mature women. One of the best short hairstyles for over 50, curls with bangs looks youthful and elegant.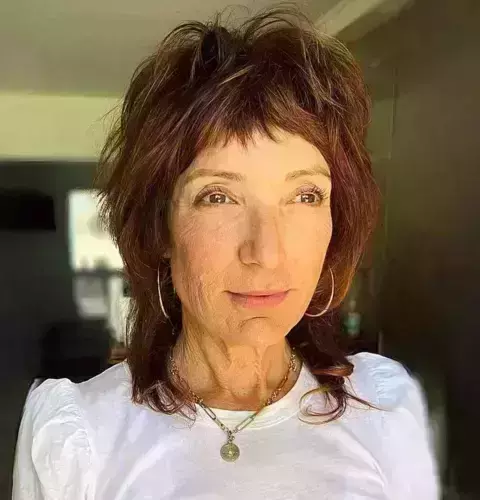 2) Razor Cut Shag 
If you want to give your thinning hair movement and texture, a razor shag haircut with piecey bangs is a terrific option. Be mindful that thicker, straighter hair textures work best for this style. Oval, pear, heart, and diamond face shapes go well with this look. Use a mild hold balm or wax to style your razor cut shag haircut to improve the way it looks.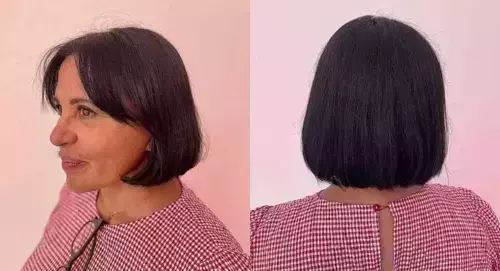 3) Dark Brown Bob
If you're looking for a straightforward and adorable design, think about a dark brown bob for straight hair. If you can, air dry your hair or rapidly blow dry it while smoothing it with your hands. On fine hair, we advise against using a round brush.Use your hands and your volumizing products now.
If you are looking for a variant of bob for mature women which is elegant, stylish and trendy, then this dark brown bob can be an amazing option.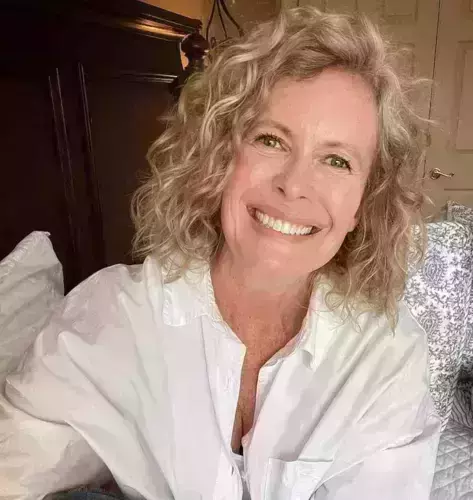 4) Medium-Length Curls
One of the finest methods to generate volume is with layers and a side part. Avoid combing or touching your hair with your hands to minimize frizz. Think about medium-length curls with a side part for a wonderful wash and go haircut for medium length hair.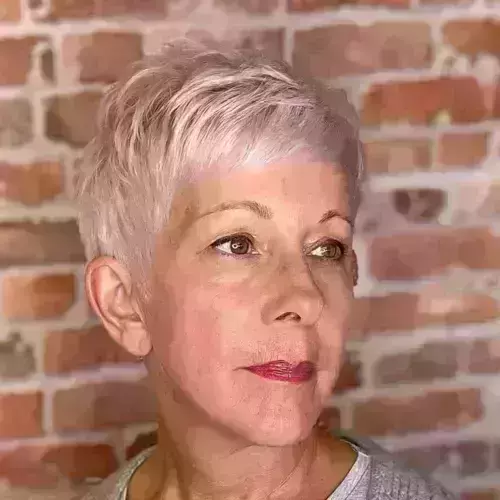 5) Light Blonde Long Pixie
For women who wish to express their personal style more, a blonde long pixie cut is ideal. Spending too much time on this appearance is not a concern. If you want a textured hold that will stay all day, think about adding molding paste!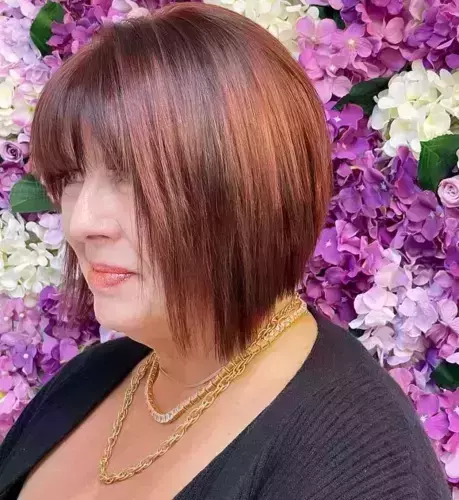 6) A Line Bob
One of the best wash and wear haircuts for over 50 is the A-line bob. A-line bobs are certain to look best on you due to the volume of your locks' natural root. Whatever your hair type or color, it is adaptable. It's not even a problem if you want to keep it simple with a black color and side bangs.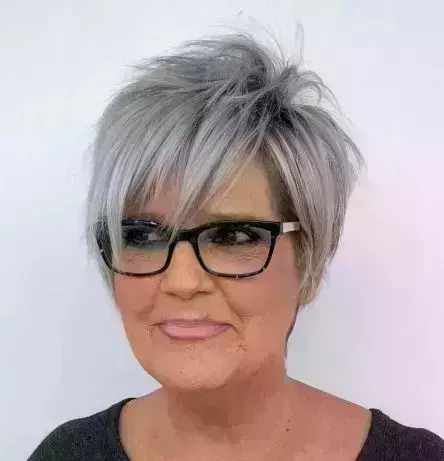 7) Messy Gray Pixie Cut
Here is yet another wash and wear haircut for over 50 with glasses. Think about getting a gorgeous messy gray pixie cut to make you adore your natural hair color even more! Ashy white blonde and grey in various tones merge together to produce such a distinctive dimension. Don't forget to add texture to your appearance to highlight more of the layers in the chop. One of the best hairstyles for over 50 with glasses, pixie cut looks stunning and is always in trend.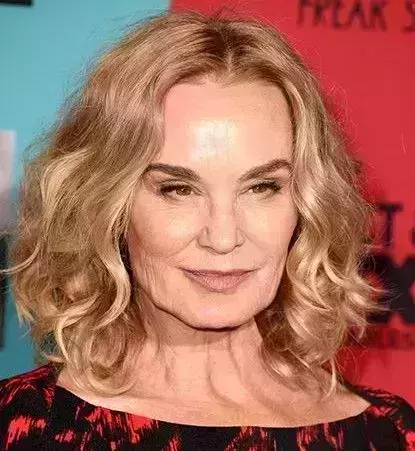 8) Wavy Lob for Thin Hair
Aim for a slight volume to give your hair the appearance of being thicker. Here is the ideal wavy lob for your fine hair. Use brown balayage to frame and brighten your face on a medium-length mane.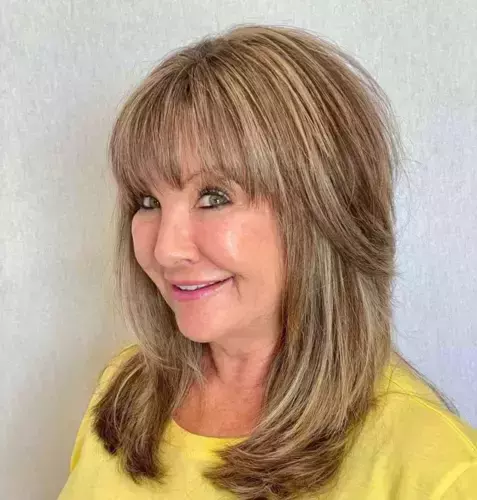 9) Face-Framing Layers
A face-framing haircut with layers will hide those annoying fine wrinkles. Layers that are shorter around your face are called face-framing layers. They can be customized to fit each individual to assist soften or blur aspects you don't like while highlighting features you do. Start the layering process around the cheekbone for clients over 50. Alternately, use a fringe to conceal forehead and eye wrinkles and fine lines by framing your face.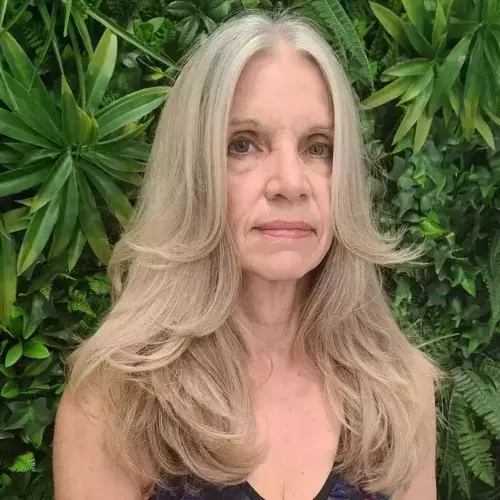 10) Mid-Length Layers
Instead of abrupt cuts, try these blonde mid-length layers. To enjoy foilayage's low-maintenance and organic look, combine it with a shadow root. The blowout style and additional bangs ensure that the payoff stands out from the crowd.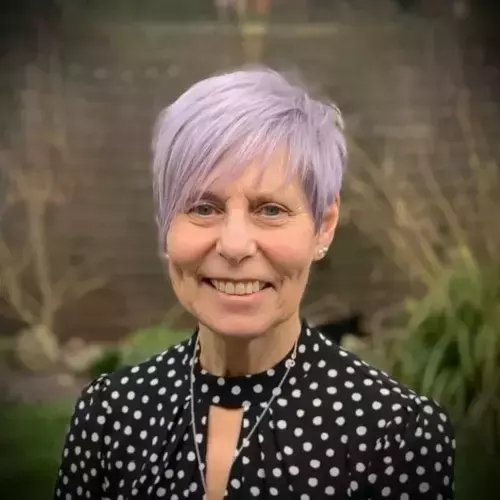 11) Asymmetrical Pixie
Take a look at a short pixie bob. It has a lot of fun styling options and requires little maintenance. It's the ideal way to make the switch to short hair. A bixie cut's modern elegance and abundance of volume and texture are its best features. Pixie cut for mature women always looks elegant and classic.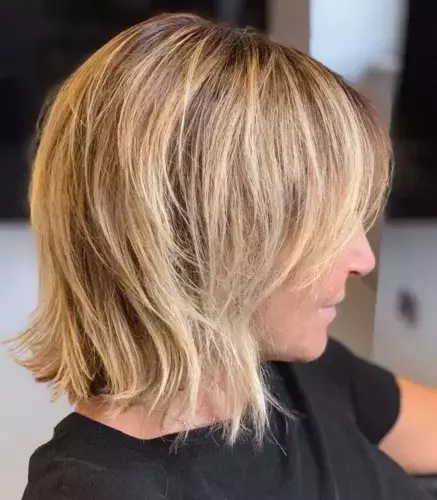 12) Cashmere Blonde
This wash and wear hairstyle for fine hair emphasizes the delicate appearance of a cashmere blonde. This elegant hairstyle is enhanced beautifully by these pale and delicate blonde tones. The secret to pulling off this gorgeous look is choosing the ideal warm blonde tones.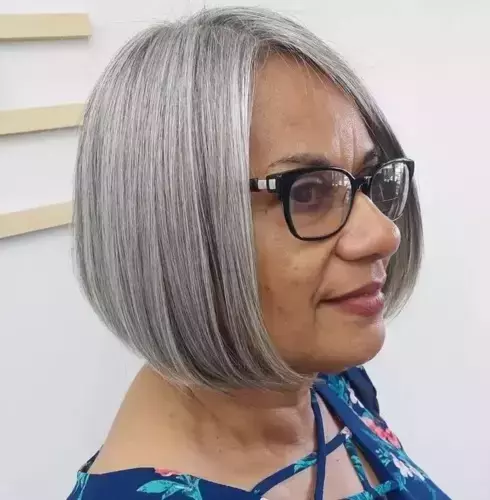 13) Sleek Choppy Bob
Adding to the category of wash and wear haircuts for over 50 with glasses, is this sleek, choppy hairstyle which is an epitome of effortless fashion. If your hair is naturally straight or curly, this cut will be simple to maintain and gorgeous when allowed to air dry.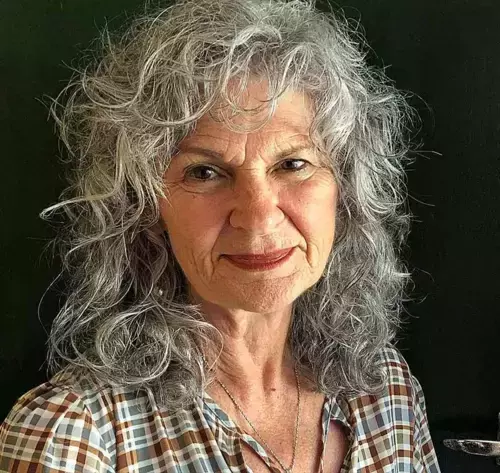 14) Wavy Wash and Wear Shag
Since natural waves in layers look dimensional and textured without styling, a shaggy haircut suits curly hair types well. This wash and go hairstyle for medium length hair is quite adaptable because, depending on the outfit, it can convey a casual, romantic, or sassy impression.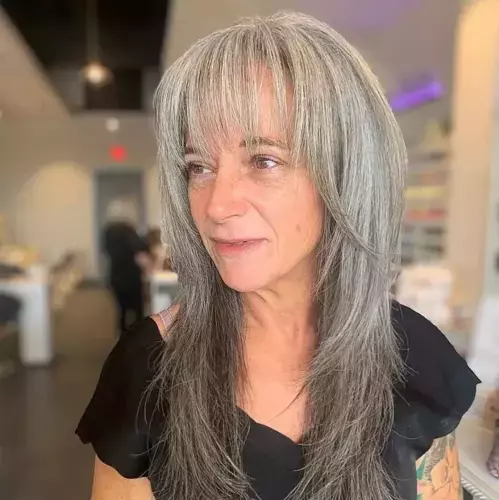 15) Long Shag
Shag cuts are very popular right now, and if your stylist did a good job, you can rock your best look without having to heat style your hair. By scrunching your dry hair with some salt spray, you can emphasize the modern wolf cut's deliberate messiness.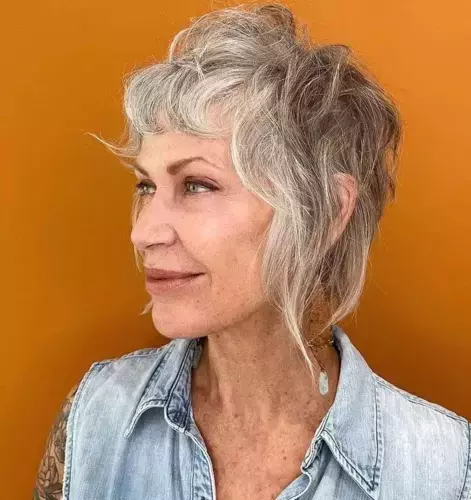 16) Wolf Cut
You won't ever regret going with this unkempt wolf cut because it works wonders on your long, fine hair! Choppy layers add an additional volume and texture to the hair without the need for professional styling because the hair looks cool already. Enjoy an edgy vibe with this short wash and wear haircut for over 50 year old women.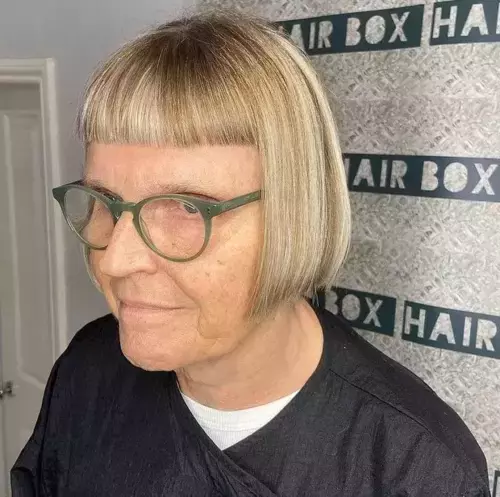 17) Wash and Wear Micro Bob
Here is a cute, simple-to-maintain micro bob with a side part. For those looking for a chic everyday hairstyle that will look great for a day at the office, a romantic date, and a fun party with friends, this is a great choice.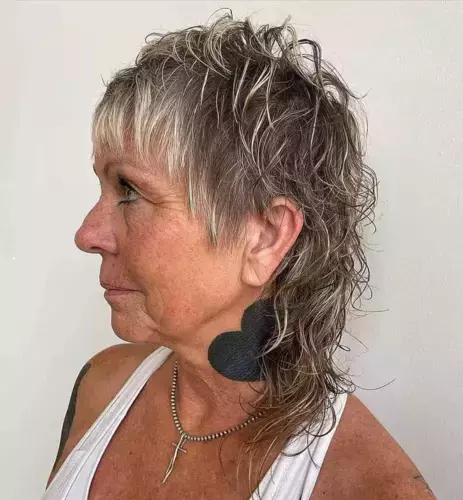 18) Mullet with Bangs
If your hair is naturally curly and you want to live the wash-and-go lifestyle, go for a short, shaggy mullet, which is currently in style. The cute bangs give this piecey style an extra feminine touch while maintaining an edgy, modern appearance.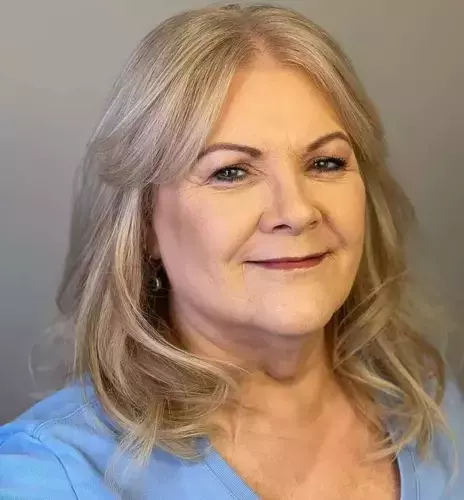 19) Curtain Fringe
Curtain bangs are low-maintenance and don't require any styling, but a little blowout can transform them. Whatever their texture, wear them with a short, medium, or long haircut to highlight the face and turn heads everywhere you go!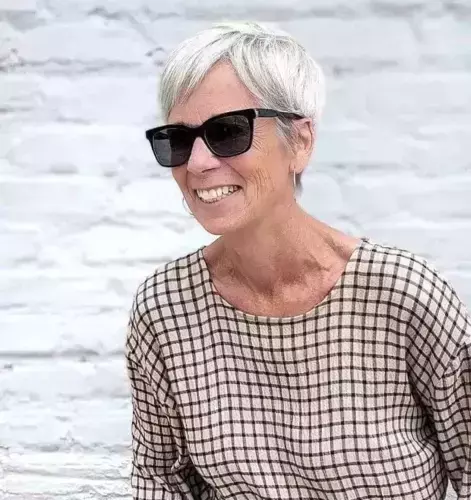 20) Simple Cropped Cut
A cropped pixie is the ideal hairstyle if you're looking for a daring hairstyle for your makeover! Your dark brown hair will look edgy with a straightforward cropped cut. The key to achieving a brush-up, textured style is to use a styling cream or wax.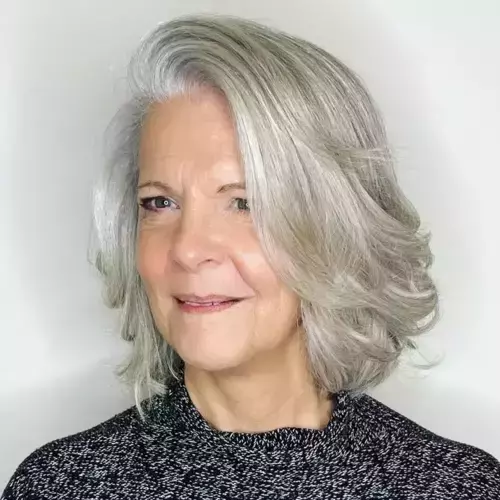 21) Blowout Hair
Here is yet another wash and go haircut for medium length hair. The style will be best complemented by a cut with few layers. Consider a deeper side part and pulling the front layers to one side for more movement and height on top.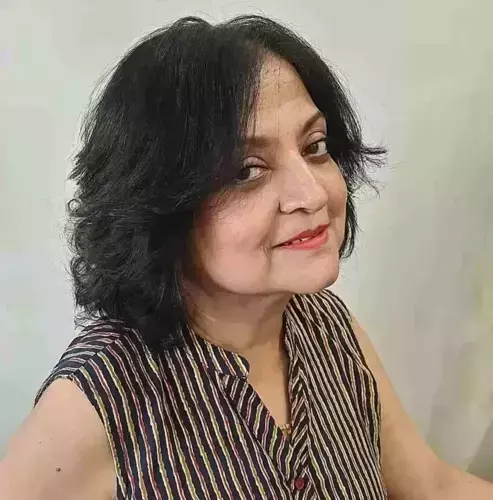 22) Butterfly Layered Cut
Try a short butterfly layered cut with a center part if you want short, wash and wear haircut for fine hair that has plenty of volume. Having a butterfly haircut will give your hair lots of movement because of the layers and texture. It also creates the appearance of volume.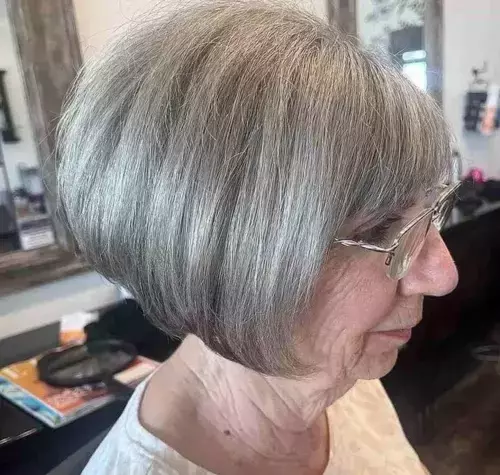 23) The Inverted Bob
This layered, feathered, classic bob cut is also very simple to style. When you simply don't know what to do with your hair any longer, this is always a fantastic go-to cut. Almost no effort is required to style and thus it is a perfect wash and wear haircut for fine hair.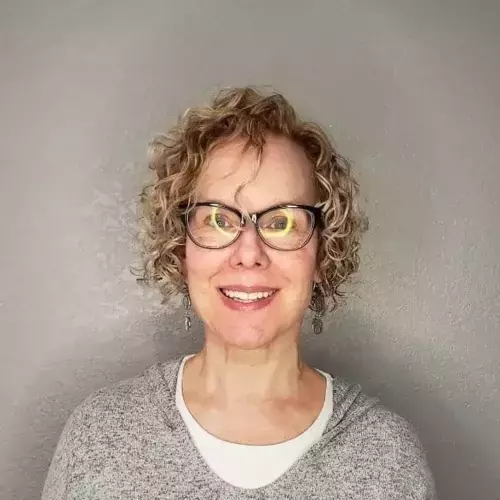 24) Airy Curly Bob 
Whether your curls are natural or permed, ask your hairdresser for layering that will allow the locks to spring up. From among the category of short wash and wear haircuts for over 50, this is an easy to do hairstyle.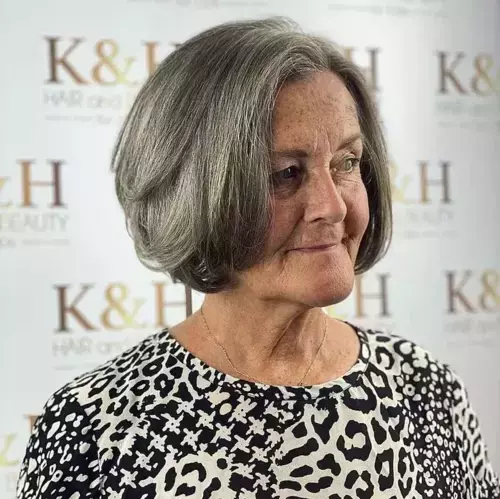 25). Balayage Bob
The hair stylist puts thick hair in the spotlight with this chic balayage bob. The dark golden hues and thick, gentle curls of this medium-length hairstyle for a 50-year-old woman give it a classic feel.